This post contains affiliate links, which means that if you click on one of the product links, I'll receive a small commission. Thank you so much for clicking through and helping to support this little blog business of mine! Read more about our site, privacy, and disclosure policies here.
Learn to decorate your Christmas tree like a pro this holiday season with these easy and amazing tree decorating ideas and step by step tutorials! 🎄
Happy holidays! It's the most wonderful time of the year! That's right, the holiday season is here. So as is holiday decorating and Christmas tree decorating!
It also SNOWED last night here in Boston, on the first of December. ❄️ Basically, I'm giddy. Aaaand, I have a wicked cold, because apparently this Miami girl cannot take the Boston winters. But it's December, so weakened immune system be darned. It's time to CELEBRATE!! 😜
One of the first steps to a very merry Christmas season is to decorate that Christmas tree! Christmas tree decorating has been a tradition for many years for so many families, and while some people think it's difficult to decorate their Christmas trees like a pro, it's actually not.
For starters, make it a fun family tradition! Put on the Christmas music (or a Hallmark Christmas movie), light a few candles, make a big pot of hot cocoa (with marshmallows, of course), spread everything you'll need for decorating out on the floor of the family room (see our huge essential items list below), and deck the halls … and that Christmas tree!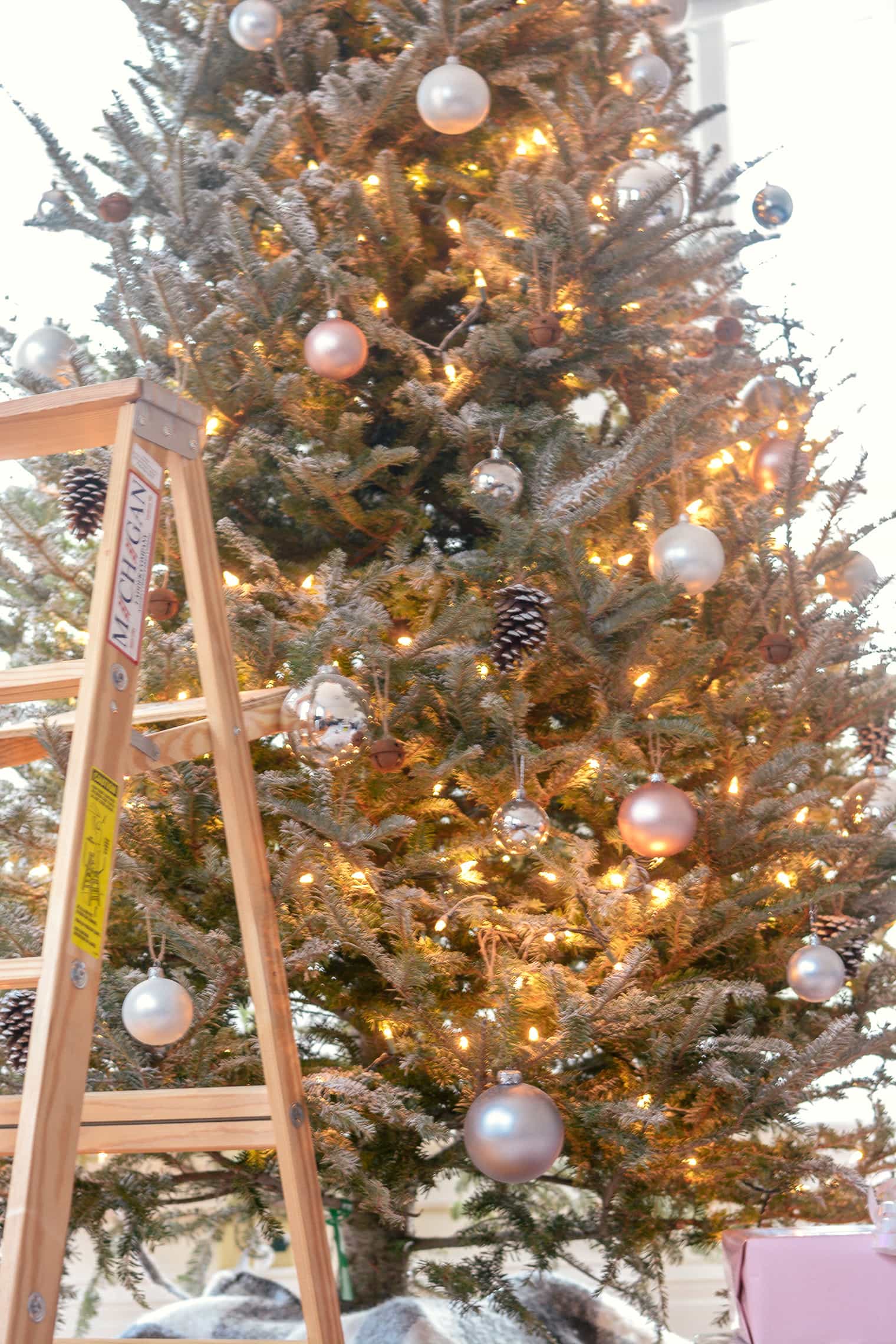 How To Decorate A Christmas Tree Like A Pro
Step 1: First, pick your tree and set it up in your home.
Step 2: Plan your design. Choose your color scheme or Christmas tree theme.
Step 3: Add lights. Wrap your lights around the whole tree, starting from the top of the tree.
Step 4: Add garland.
Step 5: Add tinsel.
Step 6: Add ornaments and decorations.
Step 7: Add your Christmas tree topper.
Essential Items For Christmas Tree Decorating
These are the most important items both that go on the Christmas tree and things you'll need to make decorating your tree easy as could be. Happy decorating!!
Christmas Tree
Head to a Christmas tree farm and with the help of your family, pick out your favorite tree!
Tree Stand
Ladder
Be sure to have a sturdy ladder on hand for reaching the top of the tree.
Ornaments
Go for a color scheme, or have fun with various shapes, sizes, designs, and textures. (You can also make homemade salt dough ornaments, wine cork snowman ornaments, mason canning jar lid Christmas wreath ornaments, or our favorite DIY Folded Fabric Pinecone Ornaments.)
Tinsel
Draping tinsel around your tree can add a metallic snowy effect and looks oh so pretty by the fireside and in pictures.
Tree Skirt or Tree Collar
There are so many stylish tree skirts and tree collars out there! Target has a huge (and affordable) selection of tree skirts right now. (I mean … $10 for the chicest tree skirt around; yes, please!!) And the tree skirts and tree collars at Crate & Barrel are gorgeous too; and on sale!
Multiple Strings of Tree Lights
Whether you go for white lights or color lights, or even dimmable string lights, it's the lights that really brighten up a Christmas tree and make your home feel like a magical wonderland in the evenings.
Fresh or Artificial Garland
Anything from flowers to pinecones to pom poms to a chic wood beaded garland goes.
Natural Accents
Here's how we made our own DIY garland using things like popcorn, gold bells, cranberries, cinnamon sticks, acorns and pinecones.
Tree Topper
Love stunning tree toppers for the top of the tree – it's the perfect way to tie in the full design of your tree – especially those with a special meaning. Anthropologie has such stunning tree toppers and they're all collectibles, so it's the perfect piece to use year after year. (Pro tip: be sure to measure the height of your ceiling to be sure your tree, plus tree topper, will fit.)
Wide Ribbon
Ribbon is a great way to add in color to your Christmas tree and really elevates the look of a decorated tree. (Pro tip: use ribbon with wired edges; they're easier to sculpt into loops or rolls, and hold shapes better than non-wired ribbons.)
Scissors
You'll want a pair of sharp crafting scissors for cutting ribbon, garland, and trimming small tree branches. (I have and love these.)

Christmas Tree Decorating Inspiration
Now let's get the incredible Christmas tree decorating inspiration! These bloggers are sharing great tips for decorating a tree like a pro, steps for decorating (psst … start at the top of the tree), totally gorgeous tree toppers and Christmas tree decorations, and more.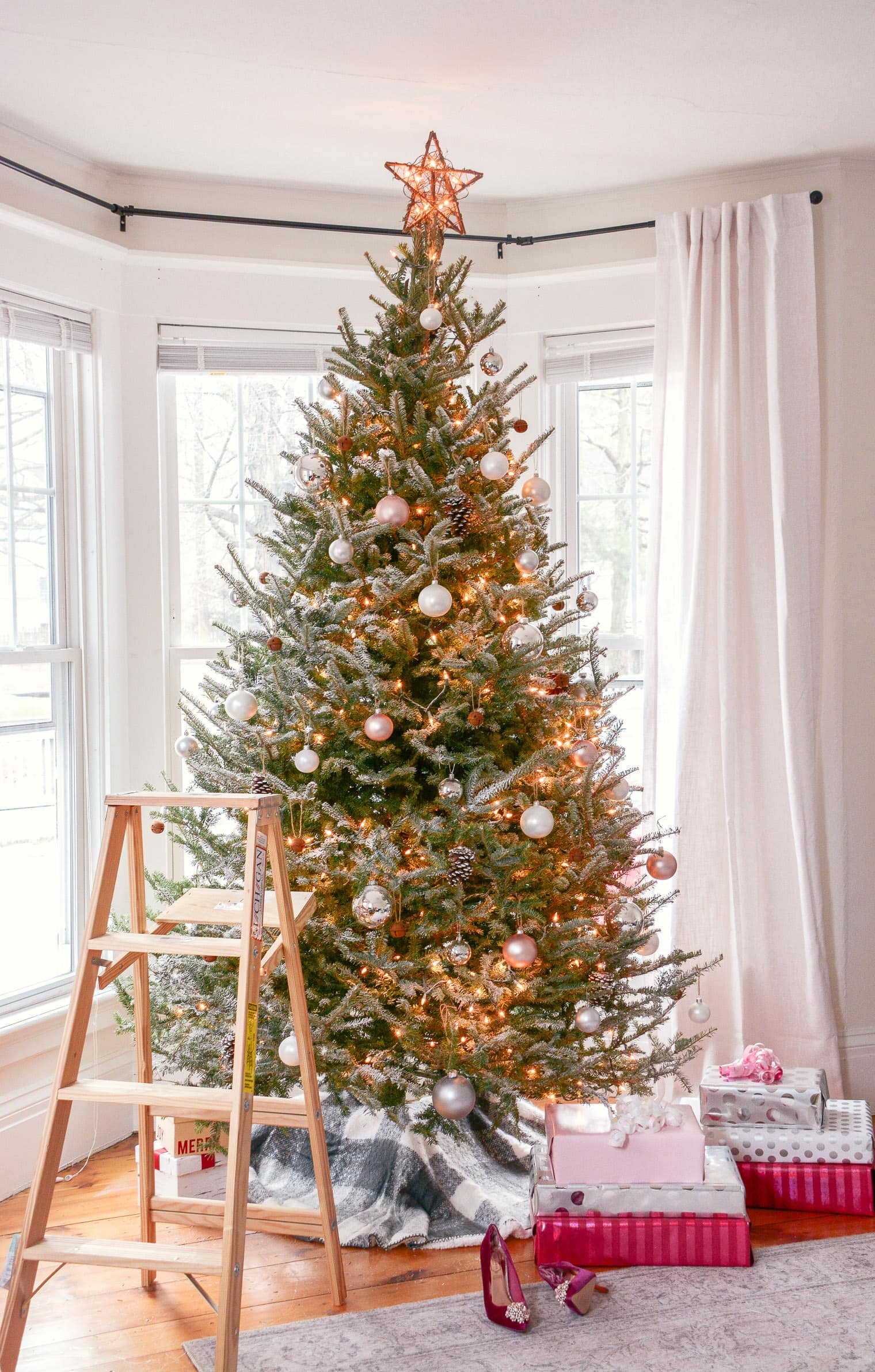 I absolutely love the blush tones on this Holiday home setup. Plus, Alex shares all about how to flock a real Christmas tree, and it's actually a lot easier than you might think!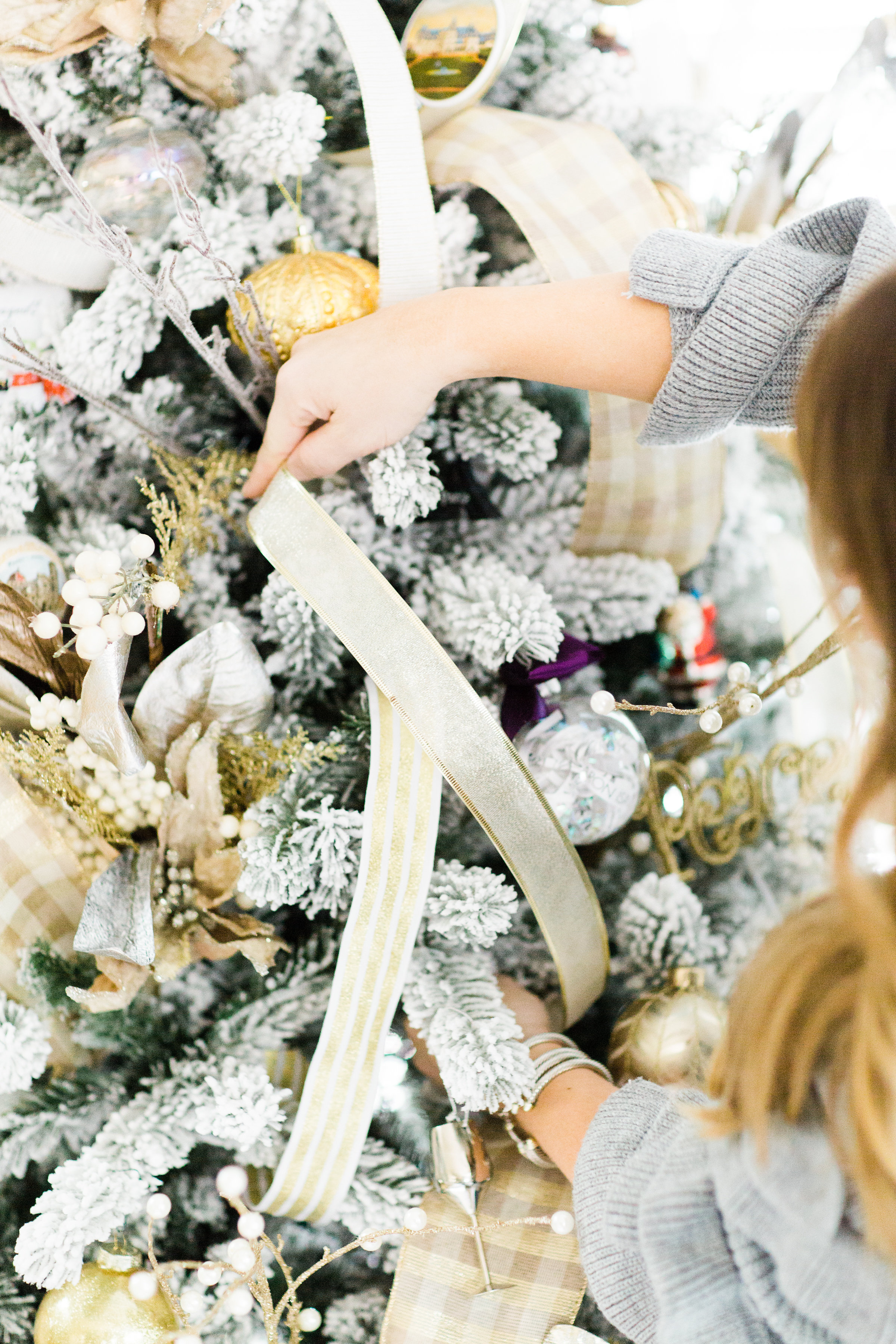 Amy, one of my fave blogger BFF's (we met during our Durham days!), has the most impeccably styled home, so it's really no surprise that her tutorial, all about how to ribbon your Christmas tree, is total perfection.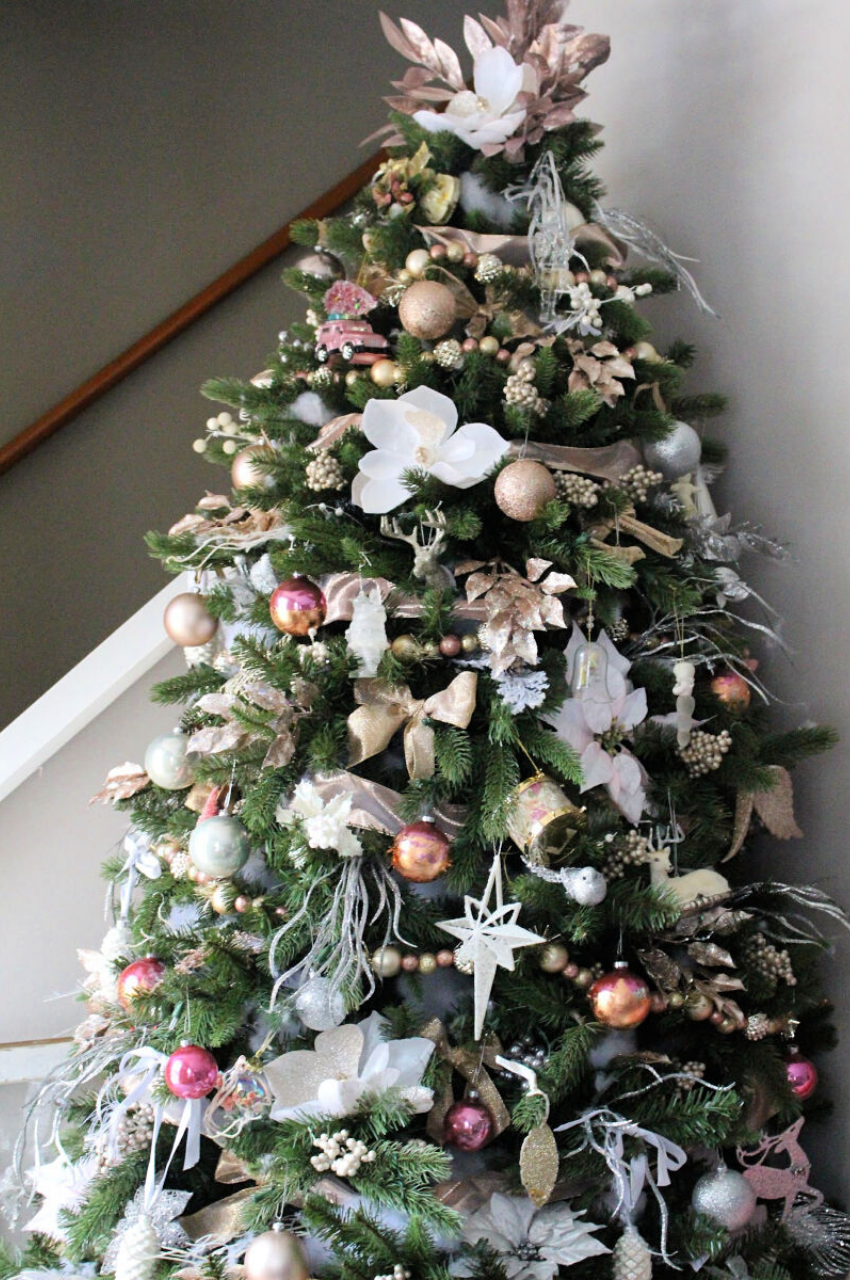 Love this elegant Christmas tree decorated in blush and metallics, plus how Michelle put the whole beautiful tree together in such a pretty color scheme.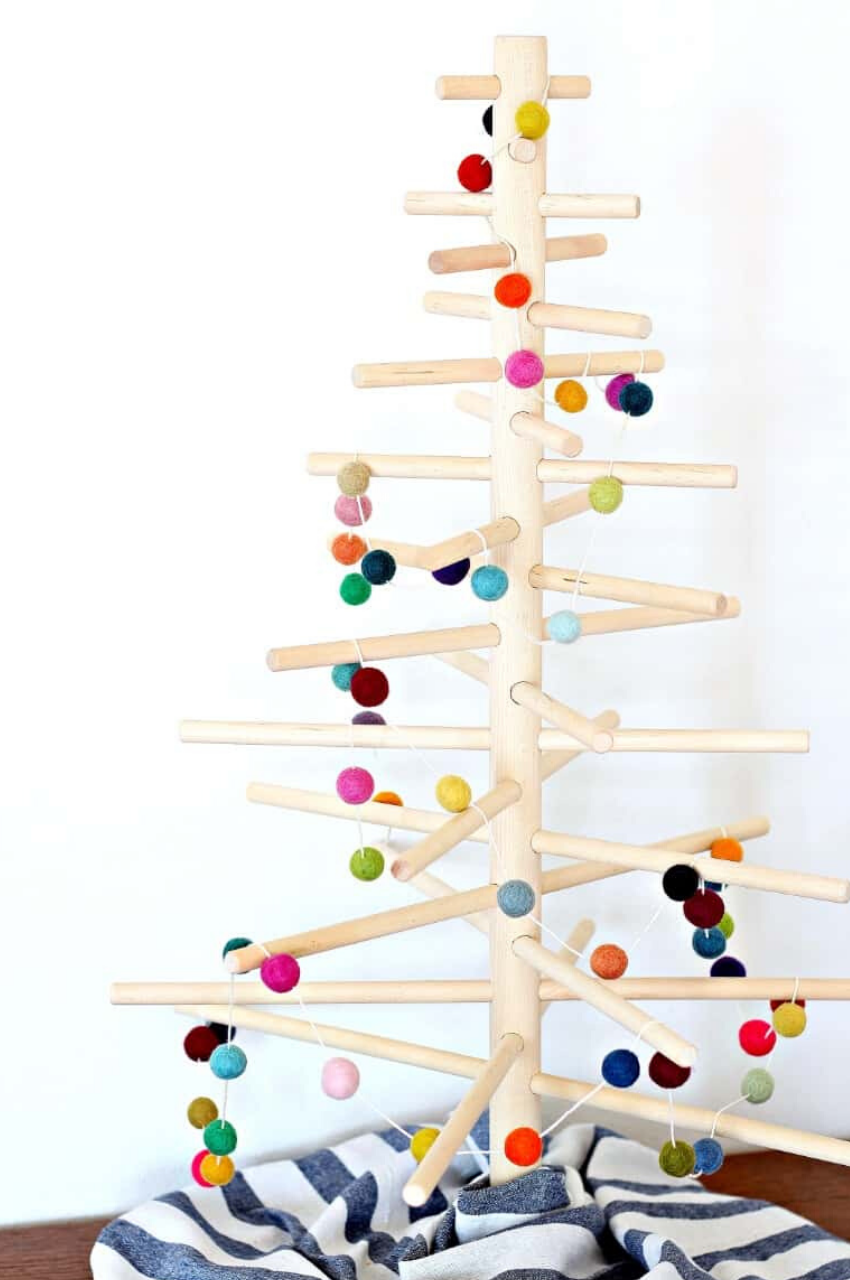 Marissa is teaching us how to make a Colorful Felt Ball Garland in 15 Minutes, including a super helpful video. This would look so cute on a mantel or Christmas tree!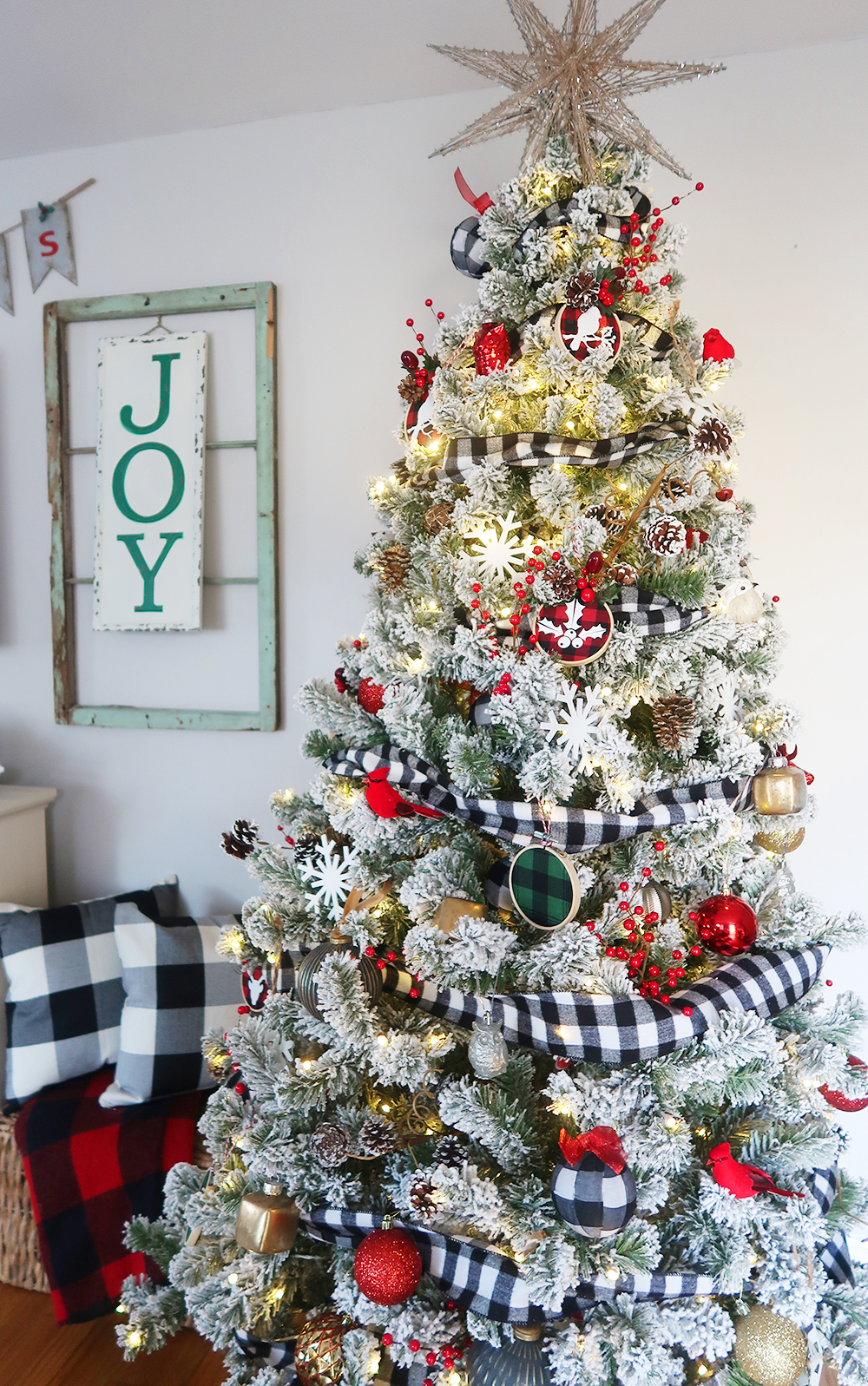 Michelle shares how to decorate a beautiful flocked buffalo check Christmas tree with pops of red in an otherwise neutral black and white color scheme.
Have you decorated your Christmas tree yet? Do you have any favorite Christmas tree themes?
SHOP THE CHRISTMAS TREE DECORATING POST | CLICK LEFT & RIGHT ARROWS TO EXPLORE

I hope this post gives you plenty of ideas and inspiration for your own Christmas tree décor. If you decorate your tree this season, be sure to tag me @glitterinclexi in your pictures on Instagram so that I can live vicariously through all of your stunning holiday creations!
And be sure to check out the ALL NEW Glitter, Inc. Holiday Page for heaps of inspiration!!!
first image via Chasing Daisies (How to Flock a Real Christmas Tree)