This post has been sponsored by Layer Cake. All thoughts and opinions are my own.
Looking for your next holiday party idea? Sip on wine and nibble on snacks while you make beautiful DIY holiday garlands with friends! (Bonus: The DIY holiday garland making party sets the stage for the perfect girls night in!)
I adore a good holiday party, and I think I may have discovered the perfect excuse to get together with girl friends this holiday season to craft and sip wine over great conversation: the DIY holiday garland party!
We all love a whimsical and nostalgic holiday garland to decorate our trees, mantles, staircases, front porch railings, etc. Getting together with friends for a memorable girls' night to make a few pretty and fun garlands to take home, plus a chance to try all of the amazing Layer Cake wine varietals—well that's just a great excuse to have it all!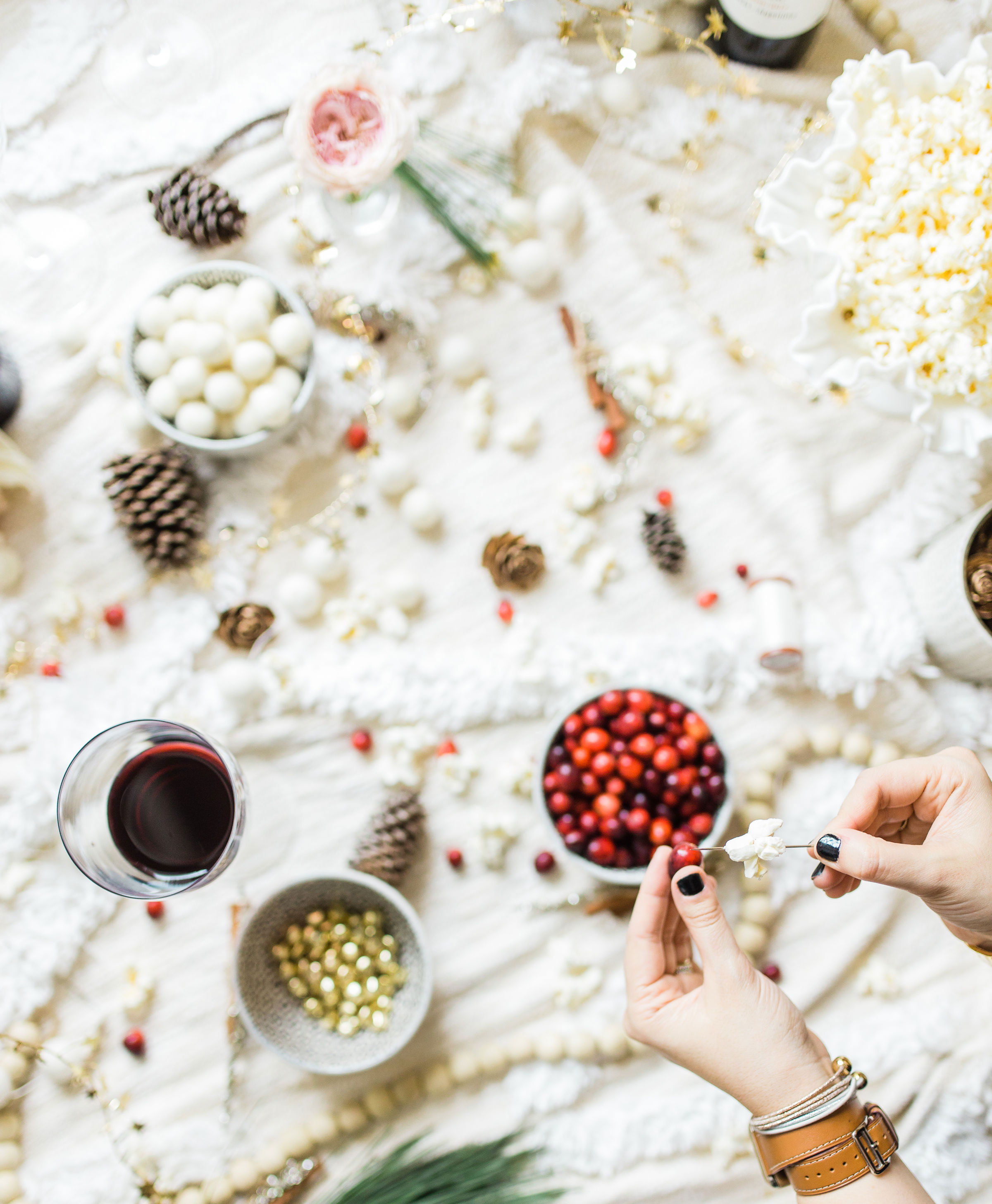 Girls Night: DIY Holiday Garland Party
For our first annual DIY holiday garland party (a.k.a., the perfect girls' night!), we went with mostly the classics for making a great holiday garland, like popcorn, gold bells, cranberries, cinnamon sticks, acorns and pinecones, and then threw in a few more modern trends, like felt pom pom balls and wood beads. We also spray painted a bunch of cedar roses (a.k.a., rose pine cones from a deodar cedar tree) with gold spray paint for an added glamorous touch.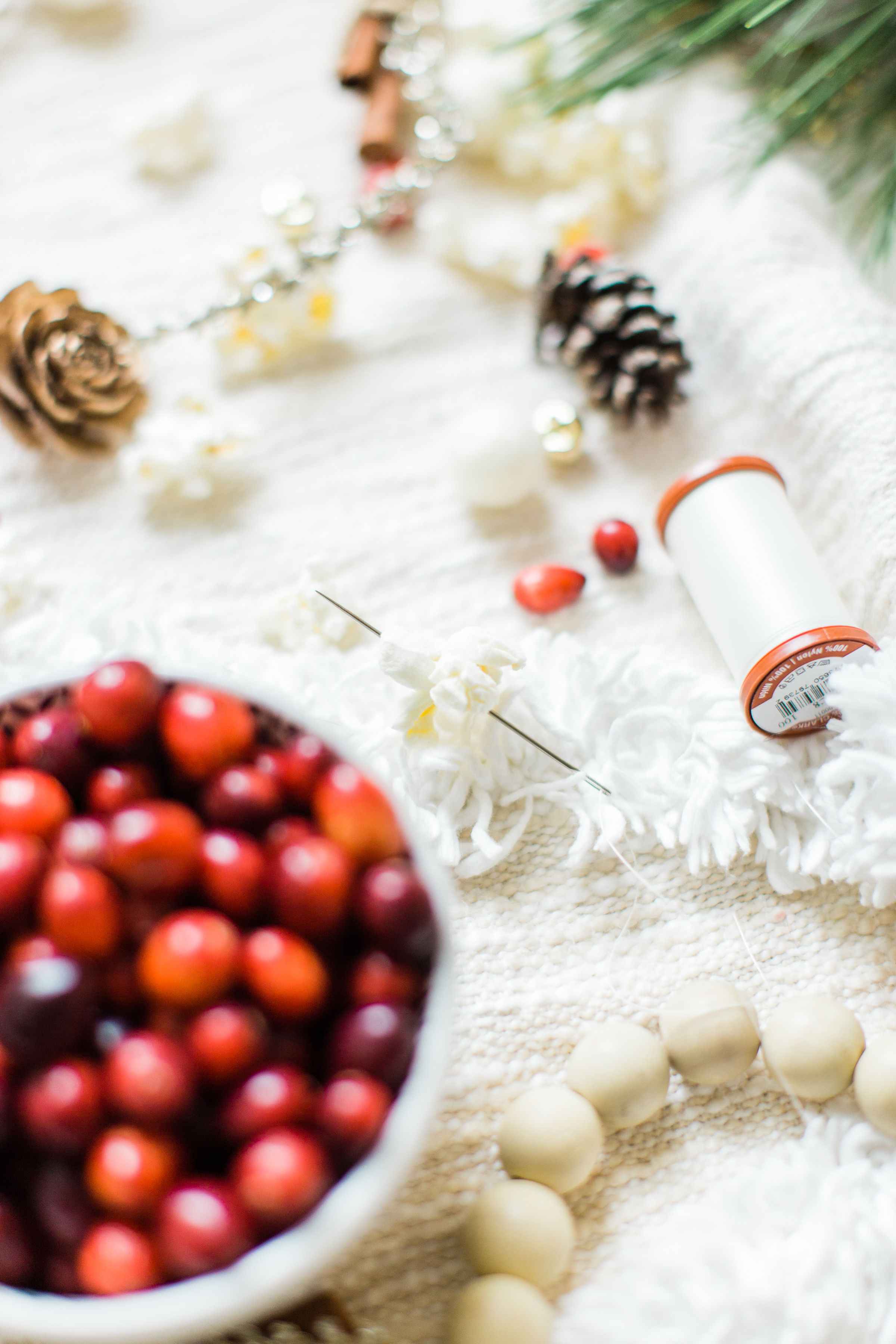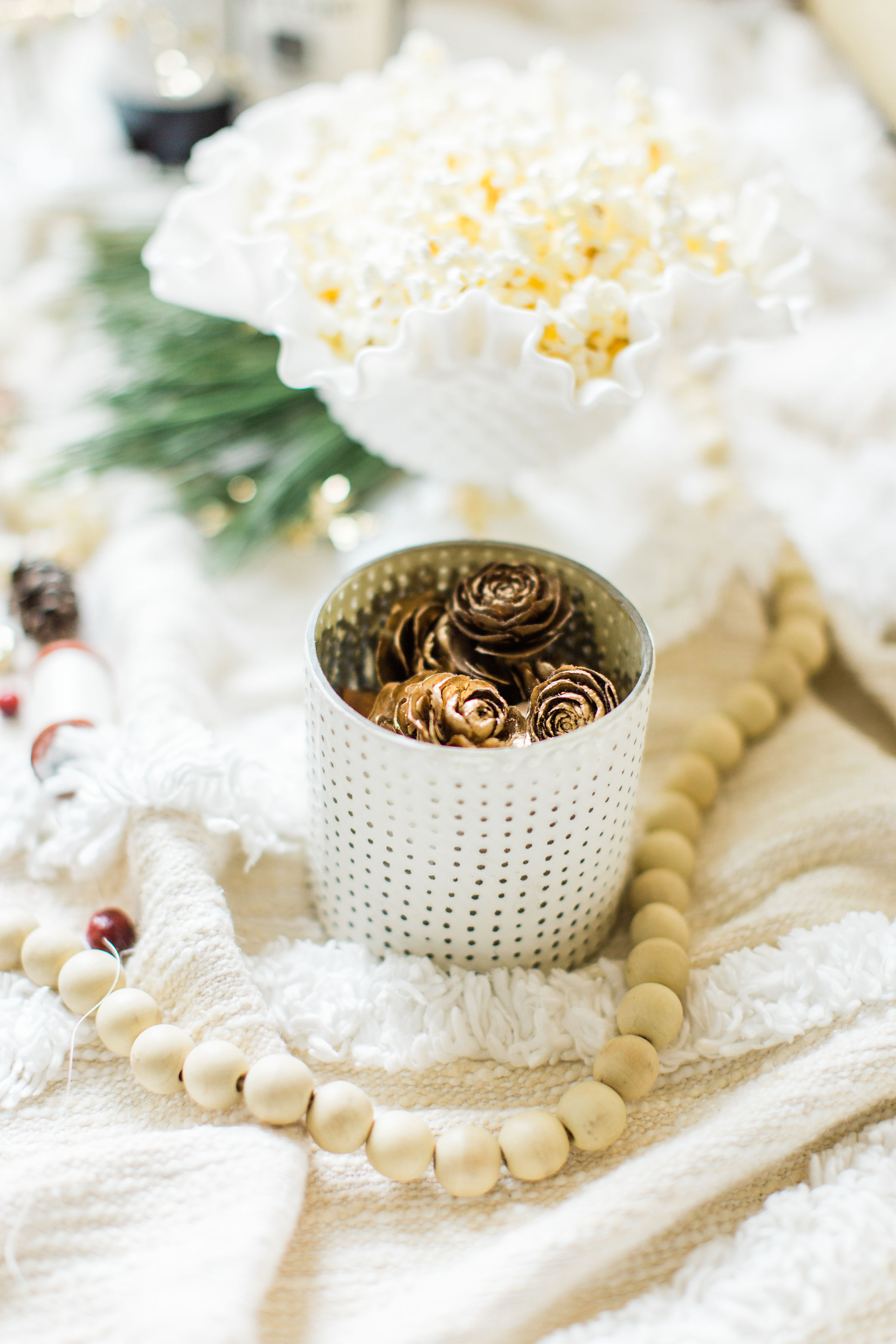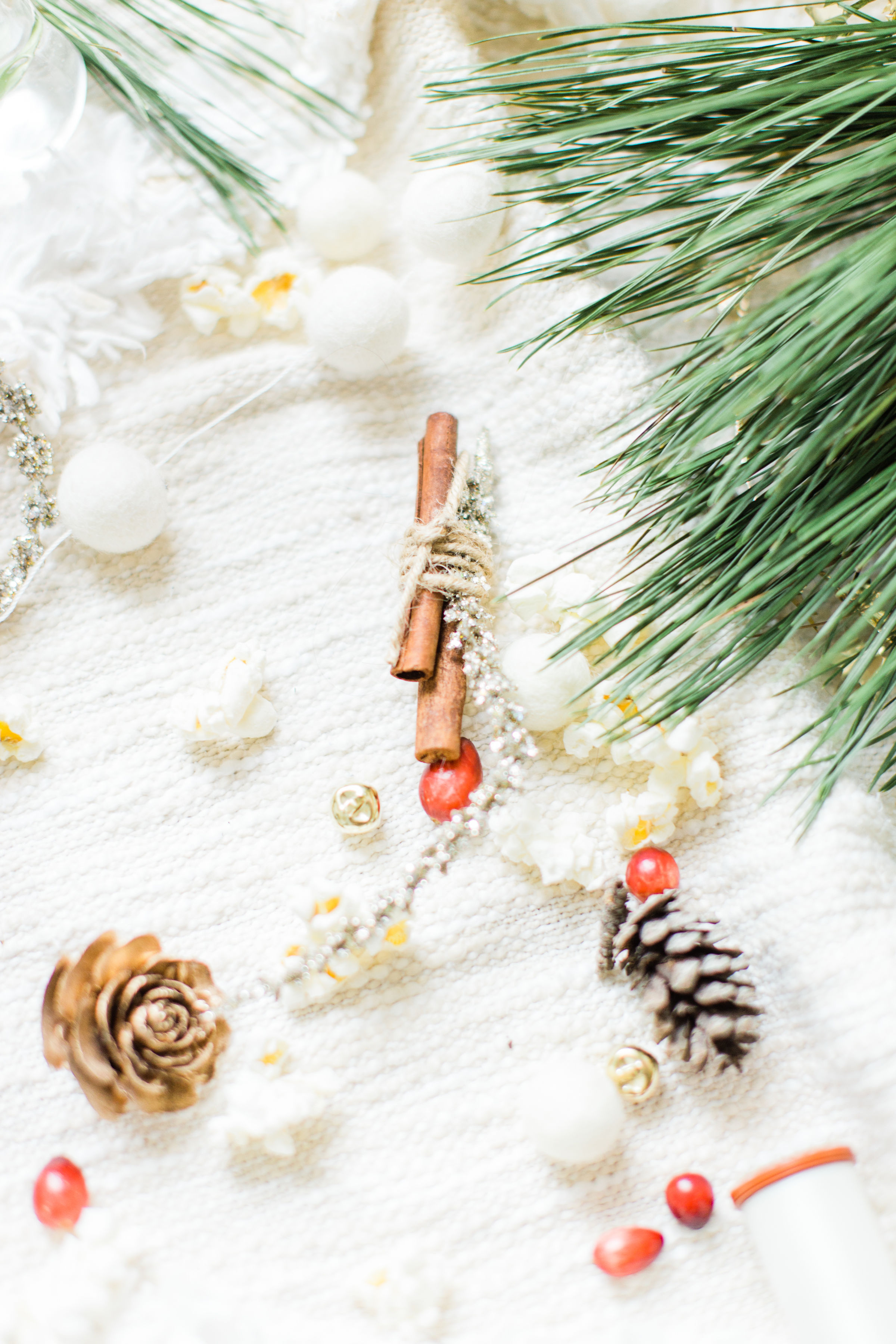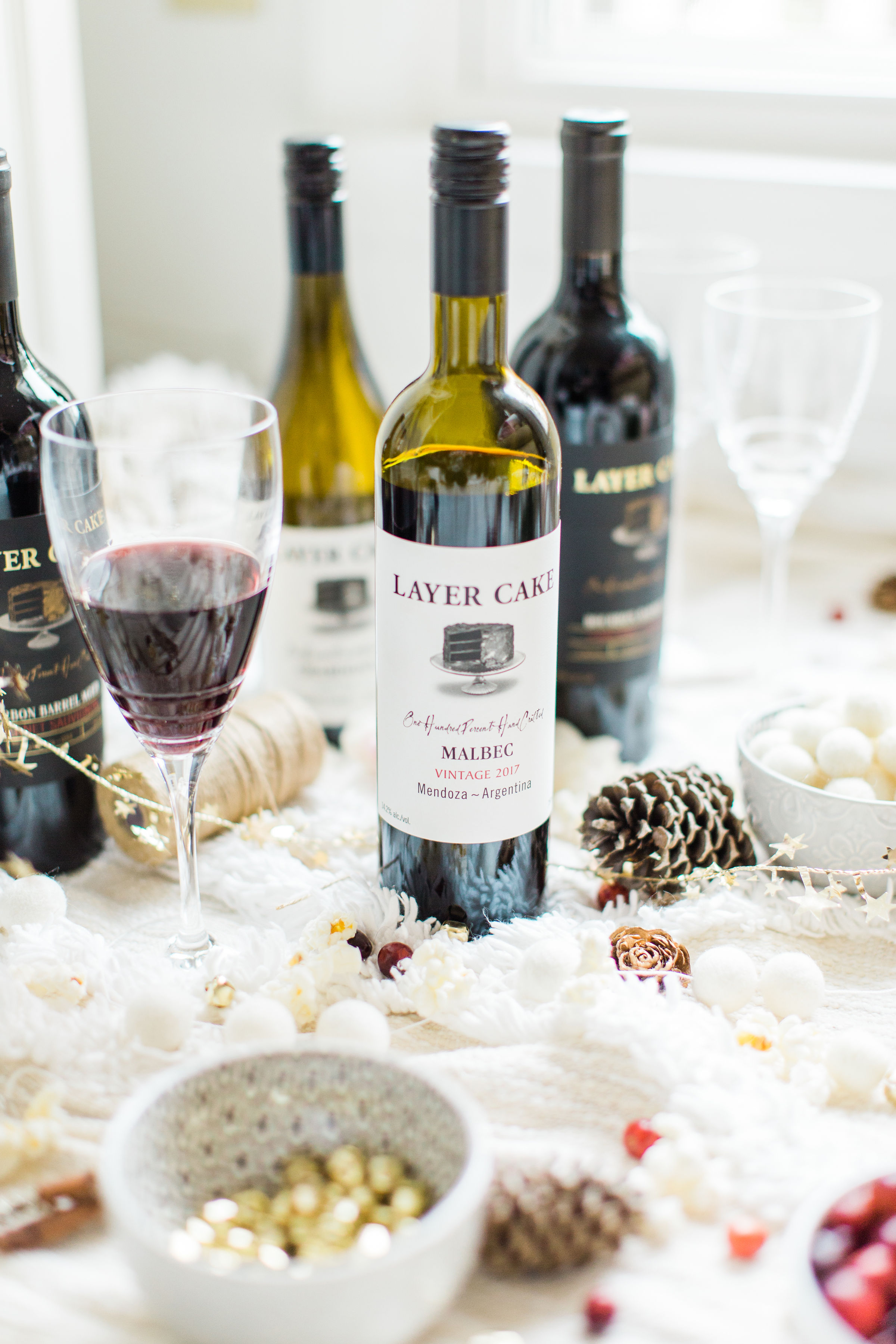 I love Layer Cake wine for entertaining, especially because there really is something for everyone. Layer Cake wines are richly layered, complex, full bodied wines. I love that Layer Cake brings the classical varietal styles of the world's most iconic regions within reach. For this DIY holiday garland station, we had our pick of Layer Cake Cabernet Sauvignon, Layer Cake Bourbon Barrel Cabernet, Layer Cake Malbec, Layer Cake Pinot Noir, Layer Cake Shiraz, Layer Cake Primitivo, and Layer Cake Chardonnay. I'm a big fan of of Layer Cake's Malbec and Sauvignon Blanc, and their Chardonnay is always a big hit with my friends.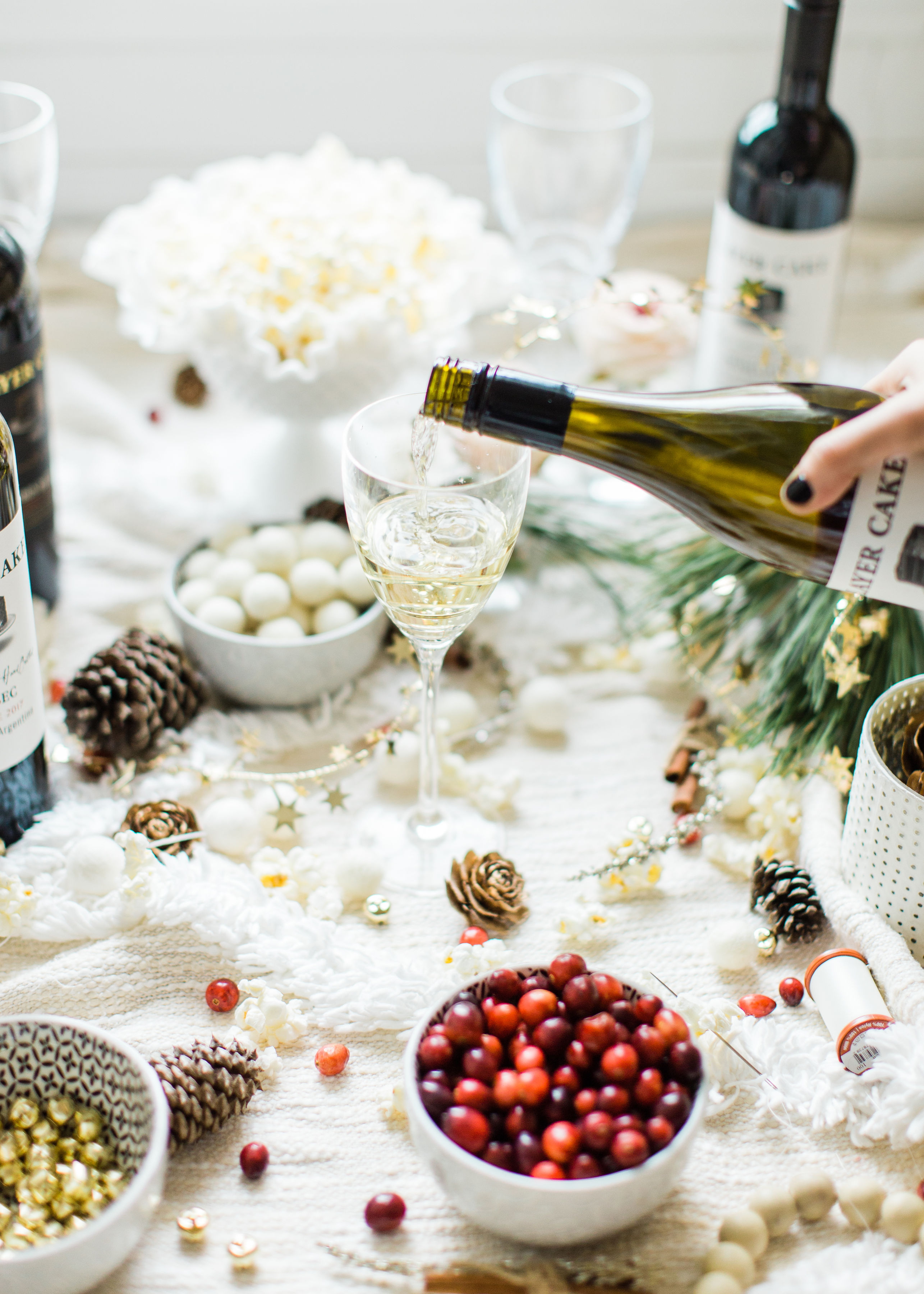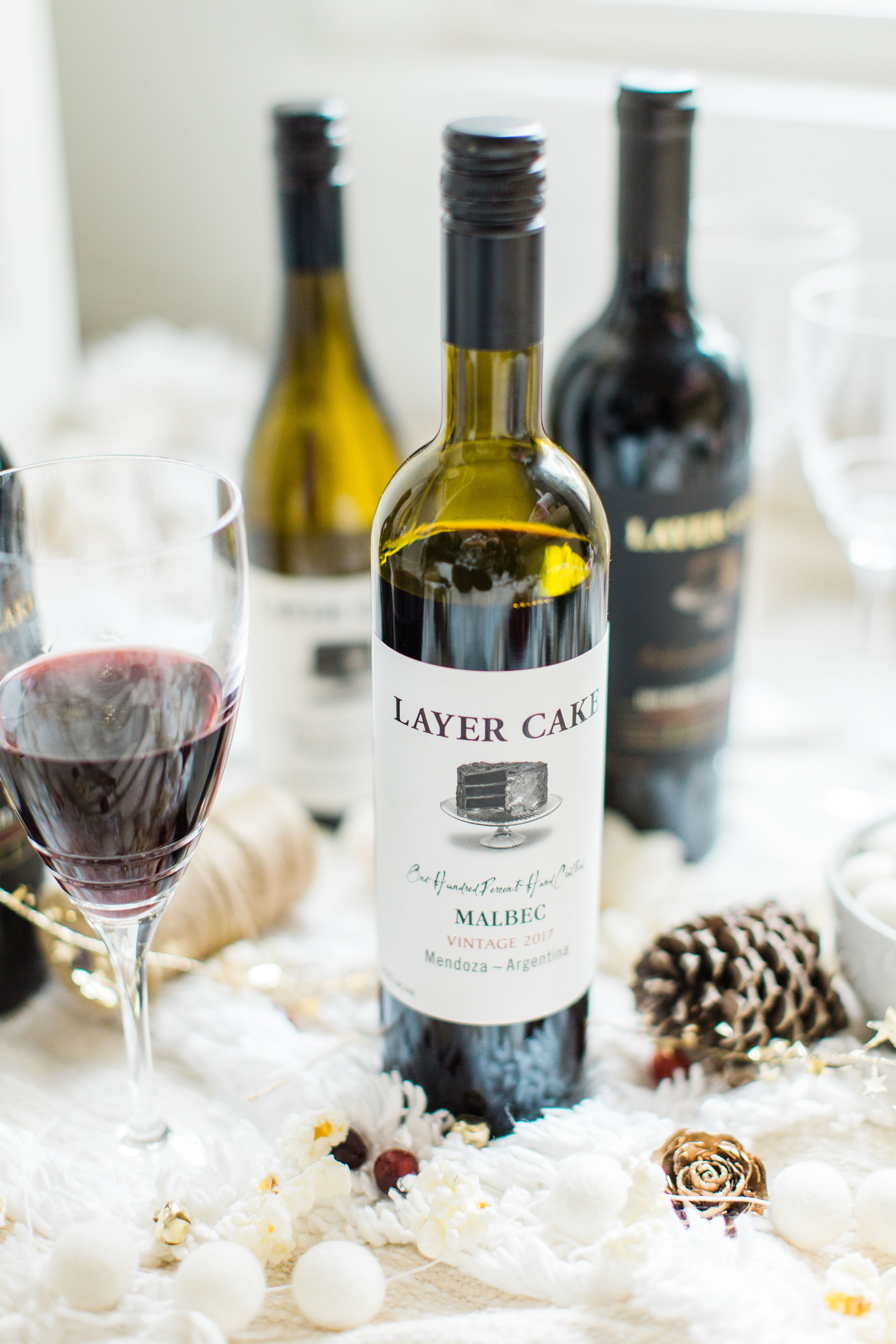 Any time I serve wine at our parties, I like to serve both red and white. I always chill the white or sparkling varietals and open at least one of each – red and white – so that no one has to feel shy about opening a bottle up. Also, I keep bottle openers readily available. I like to put out different types of wine glasses in case our guests have a preference.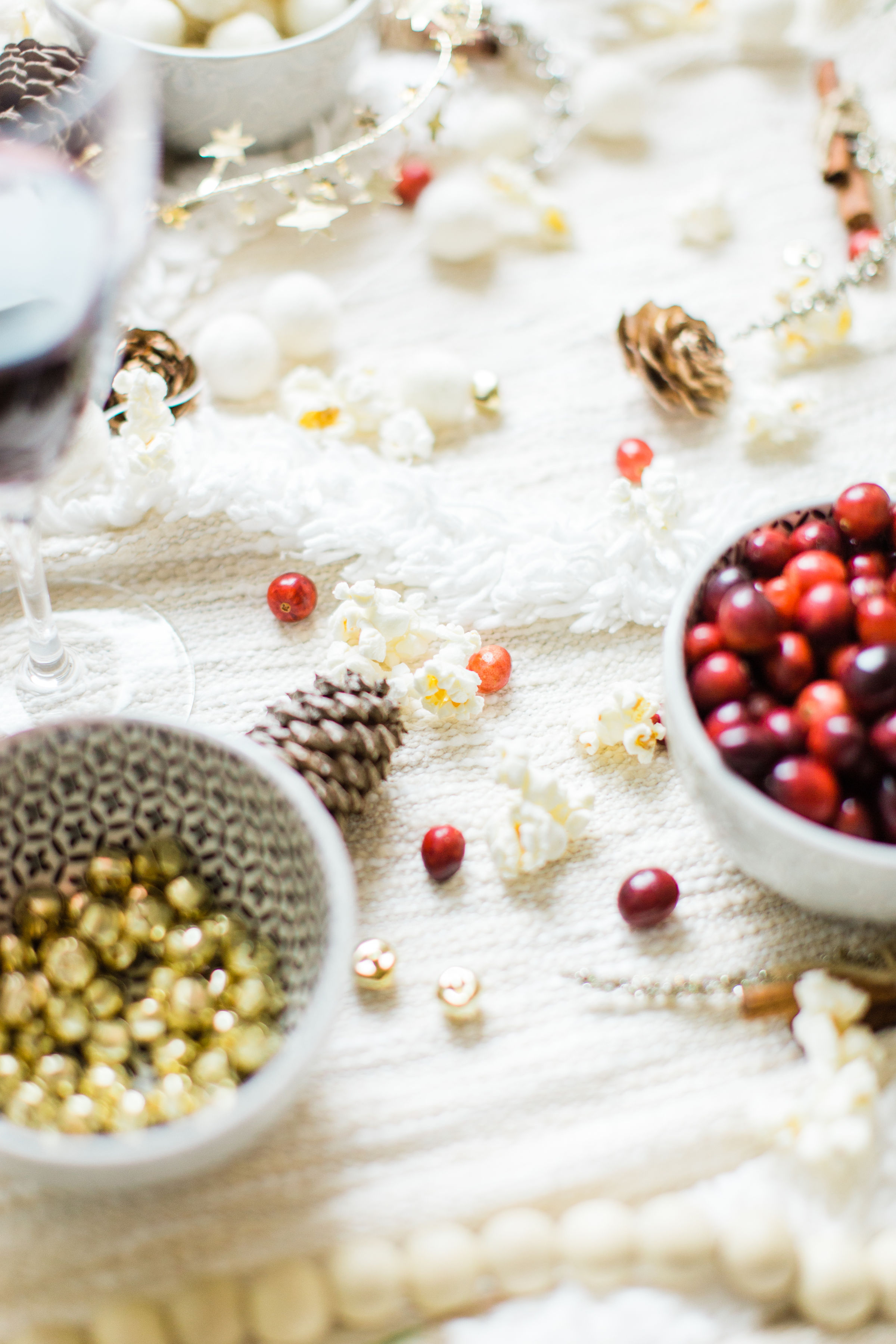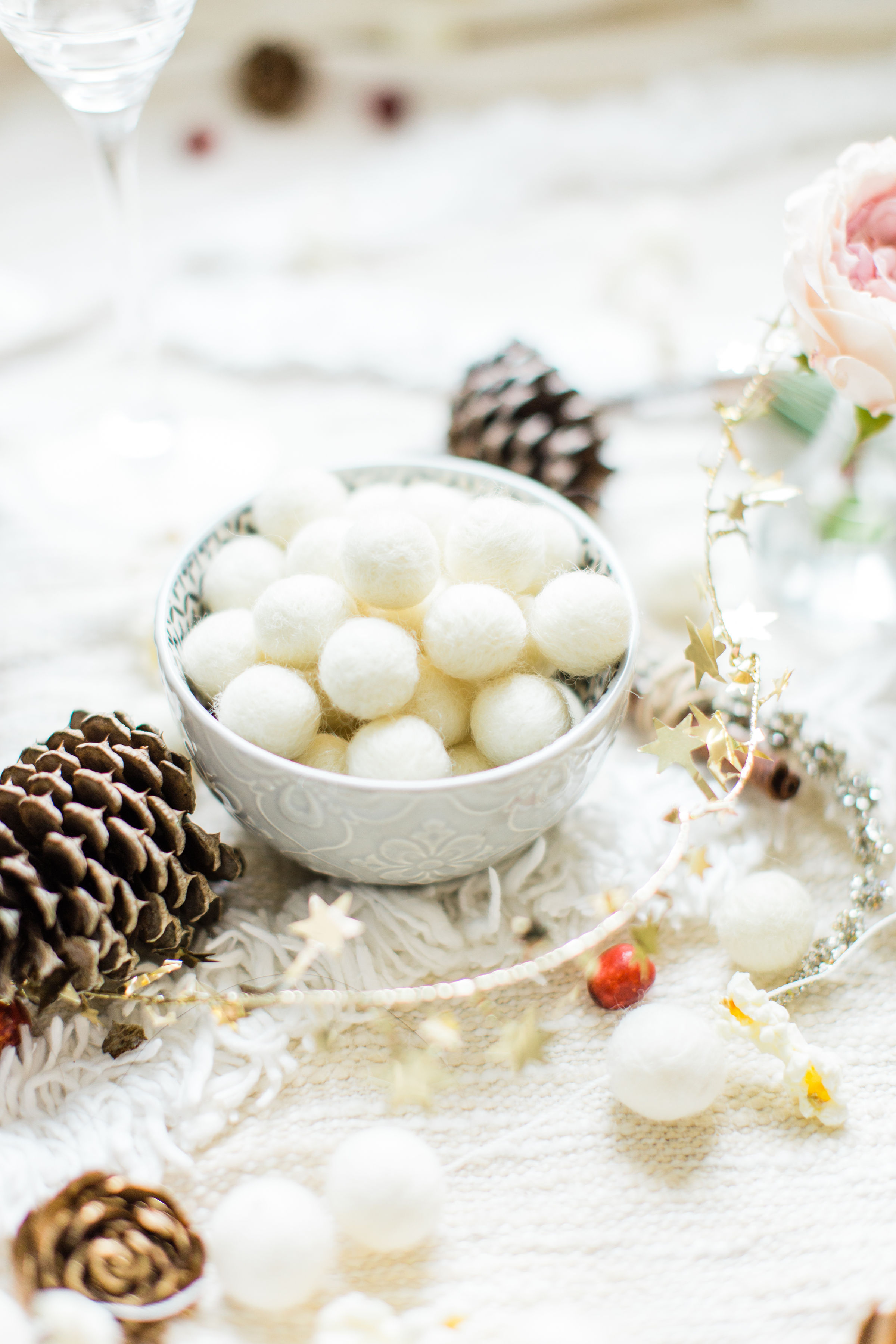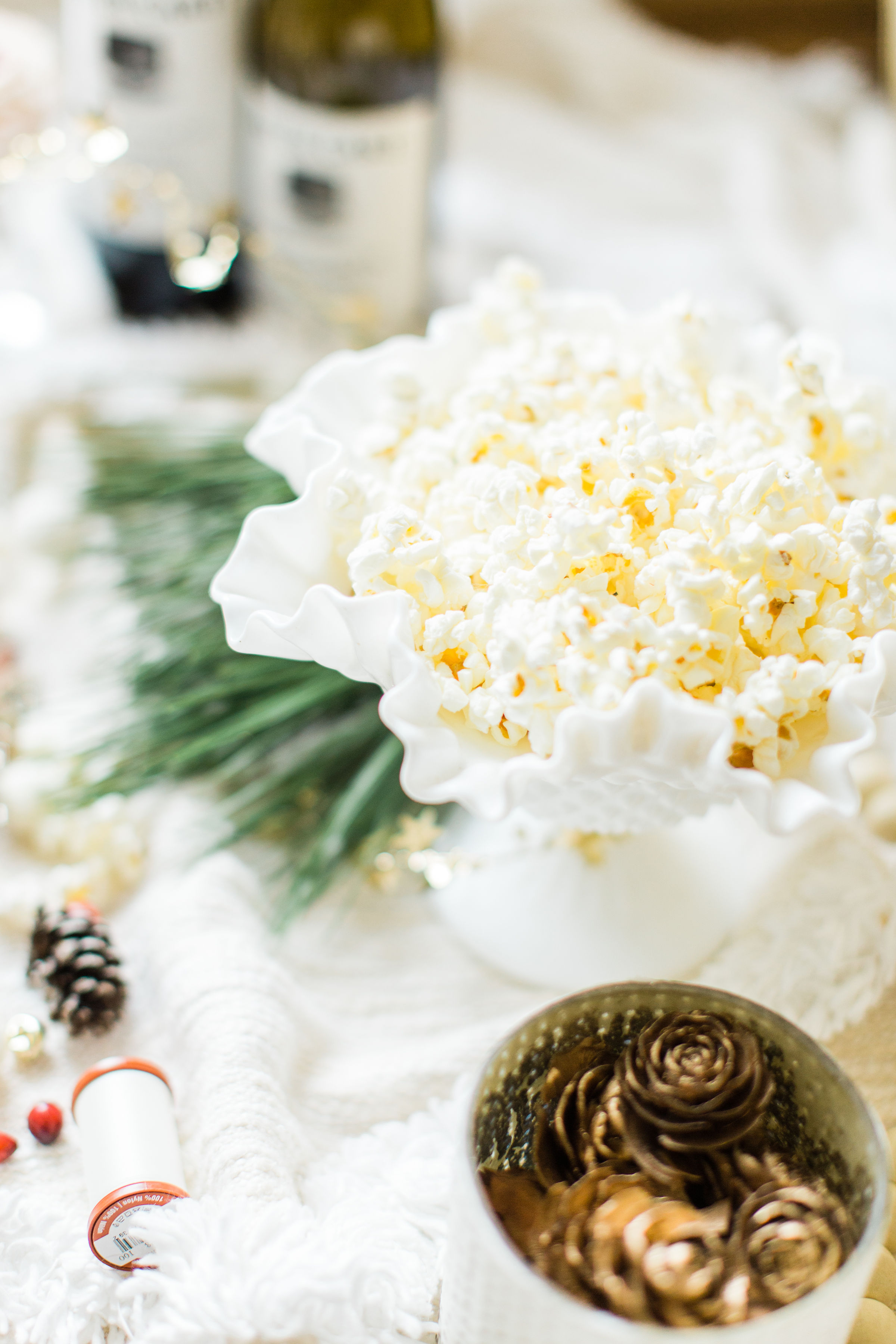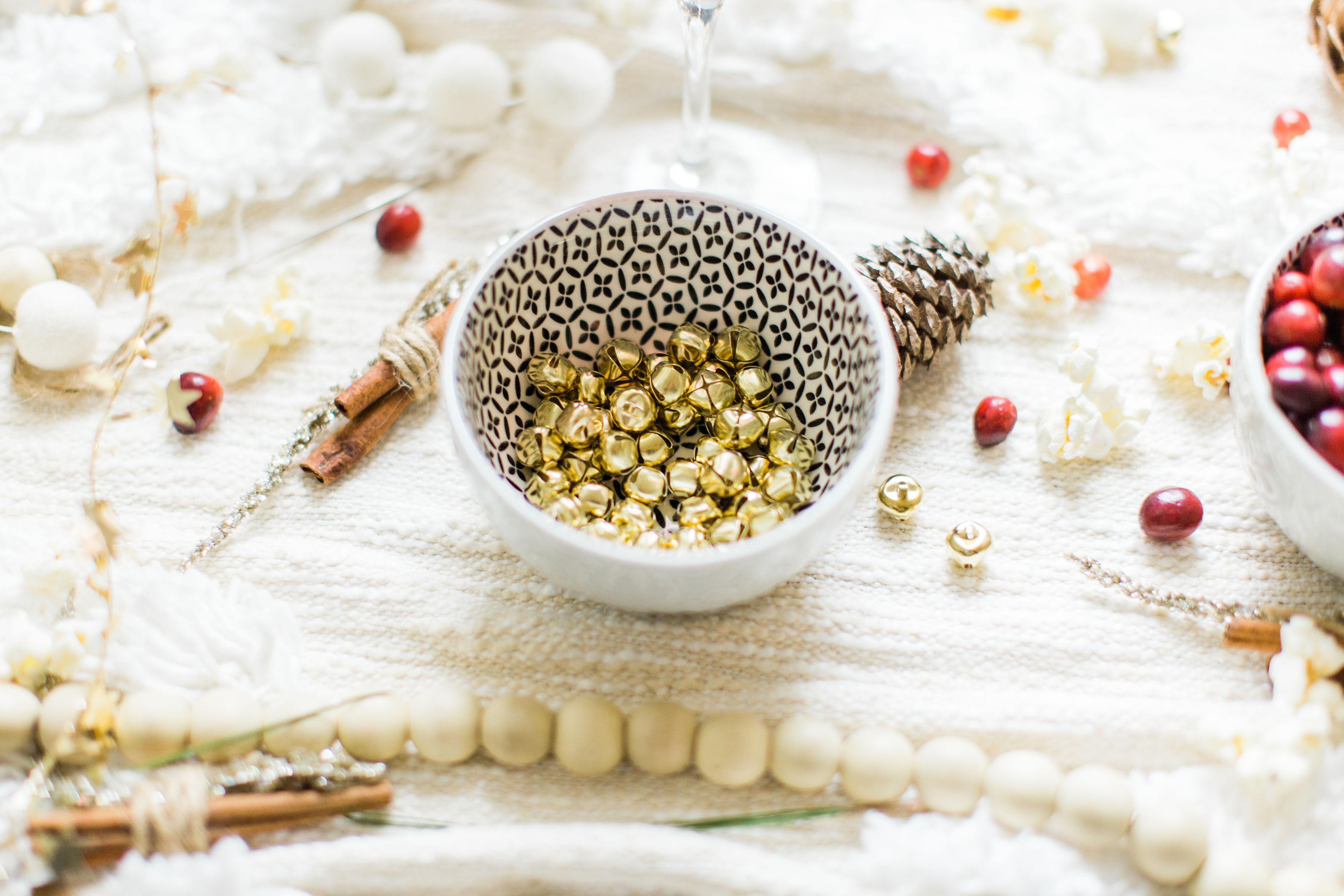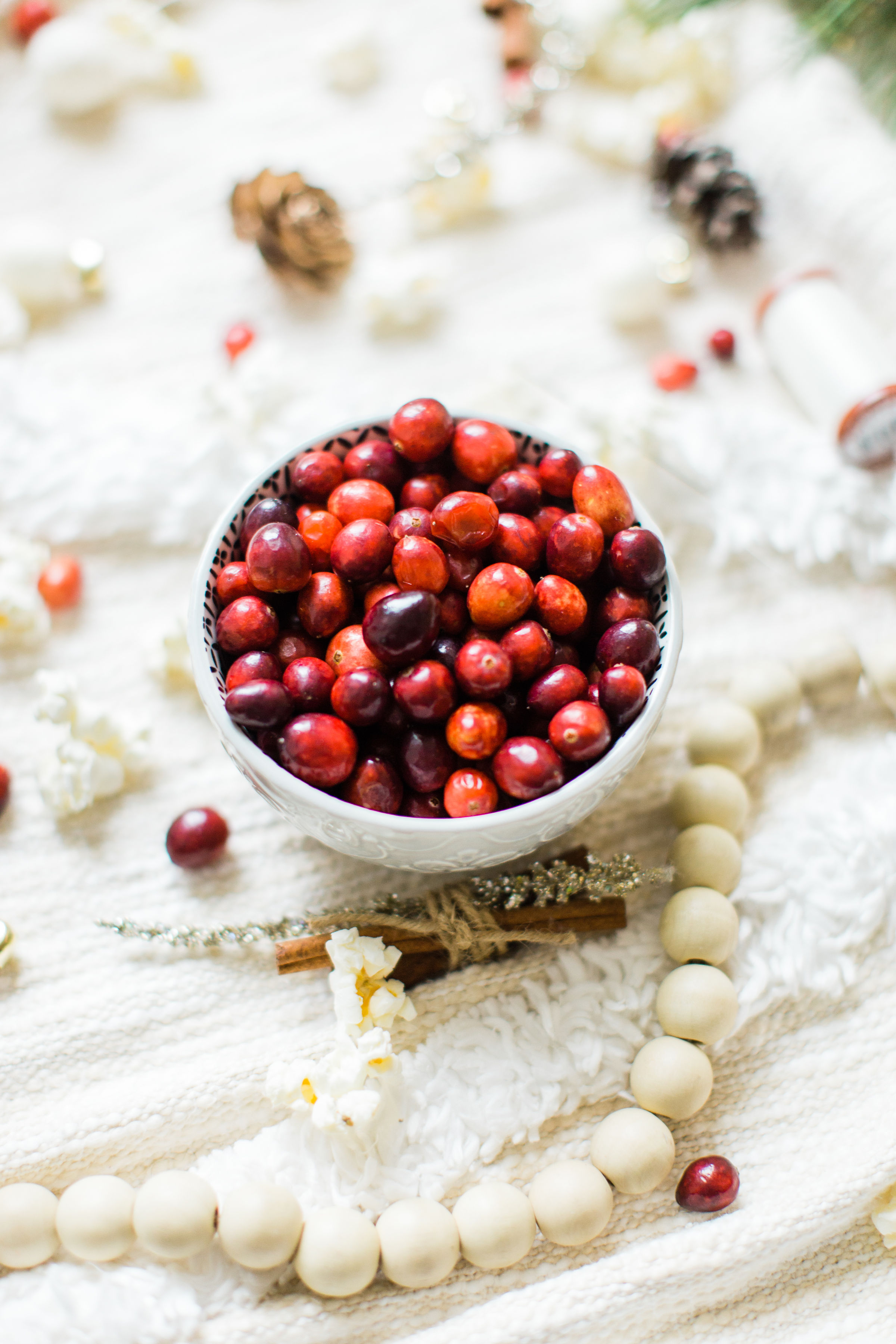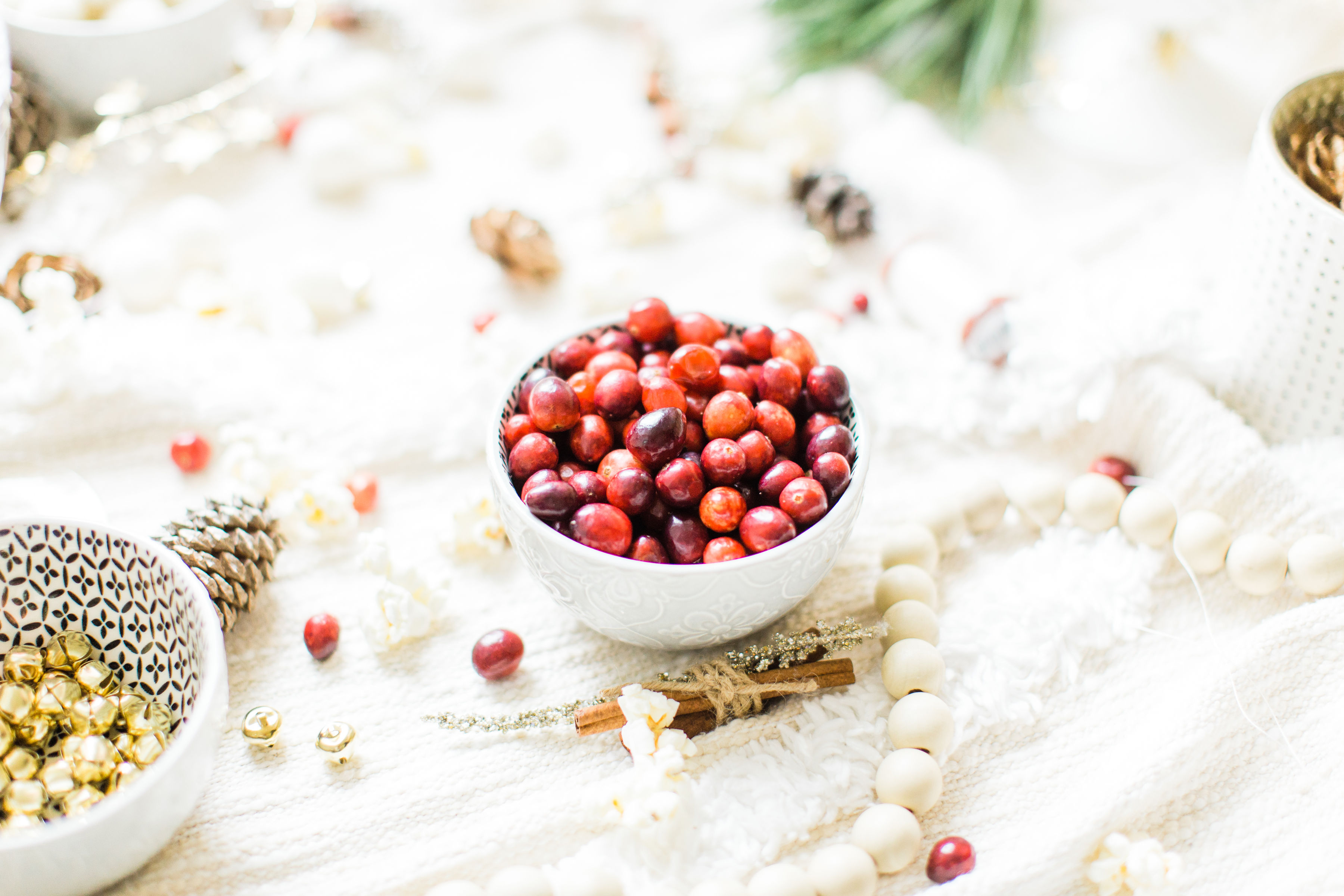 How to Set up a DIY Holiday Garland Station
As for the specifics of our DIY garland set-up, I tried to keep the craft component casual and fun. I set out bowls of our materials, plus thicker needles and thread.
WHAT YOU'LL NEED FOR A DIY GARLAND STATION:
popcorn
gold and/or silver bells (12mm and larger)
fresh cranberries
cinnamon sticks
acorns
pinecones
cedar roses (a.k.a., rose pine cones from a deodar cedar tree)
felt or wool pom pom balls (about 20mm in size)
wood beads
thick needles like heavy duty hand needles (enough for each guest to have a needle)
strong thread like extra strong upholstery thread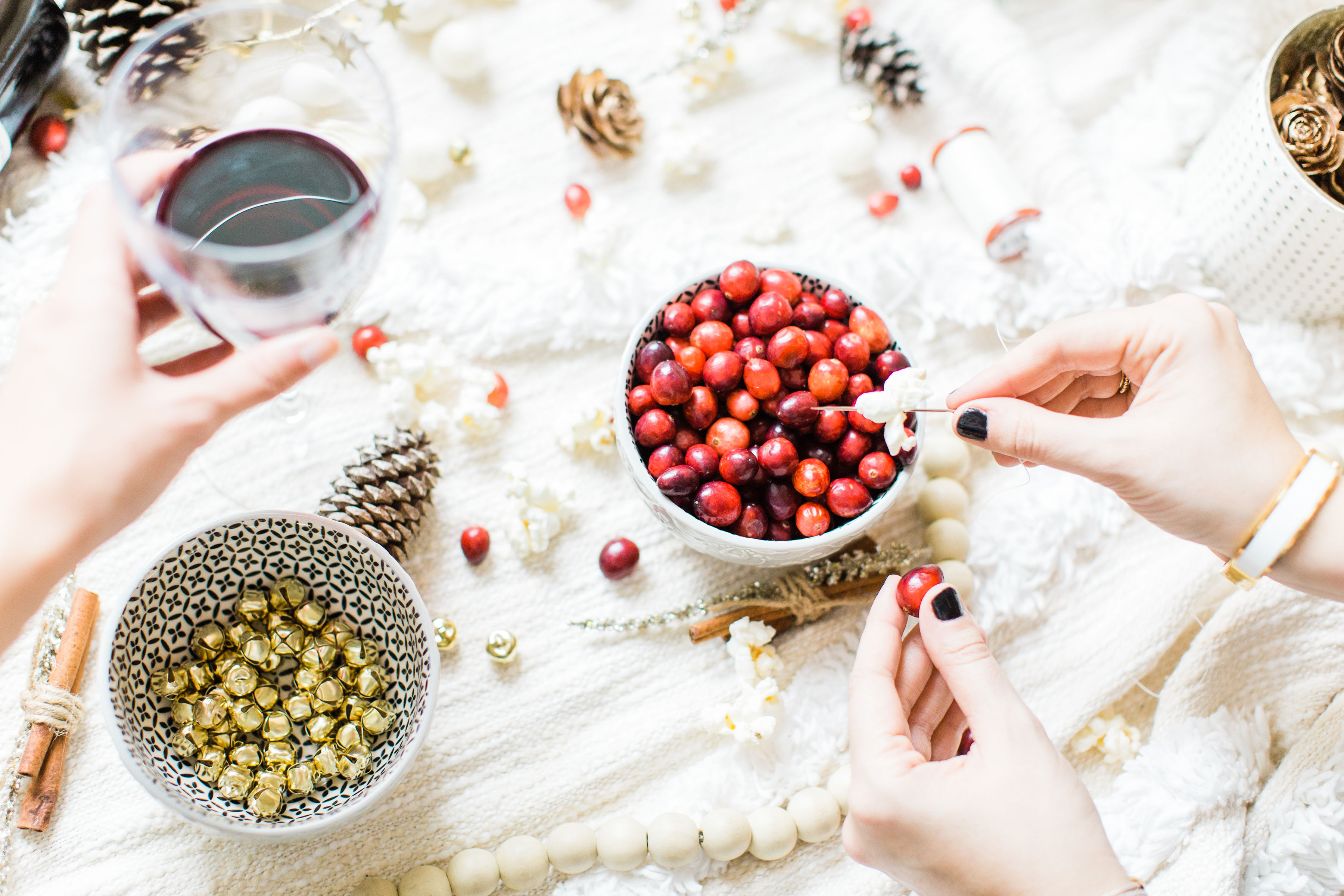 As with any good party, keep the wine flowing and put out a few fun snacks for your guests to nibble on while they're sipping and crafting. My picks for a DIY holiday garland party like this one: a caprese salad platter with wow factor or these simple caprese skewers with balsamic glaze, a Southern-inspired charcuterie cheese board, a sausage and brie puff pastry, candied cinnamon-roasted almonds, followed by fudgy red wine brownies (that would bake up beautifully with any of Layer Cake's red wines), frosted pistachio cranberry shortbread cookies, salted butter chocolate chunk shortbread cookies, frosted chewy gingerbread cookies, or as part of an epic dessert charcuterie board. No matter which snacks you choose, you can rest assured Layer Cake will have a wine that will pair perfectly! Check out the full product list and learn more here!
Do you make your own DIY garland for the holidays?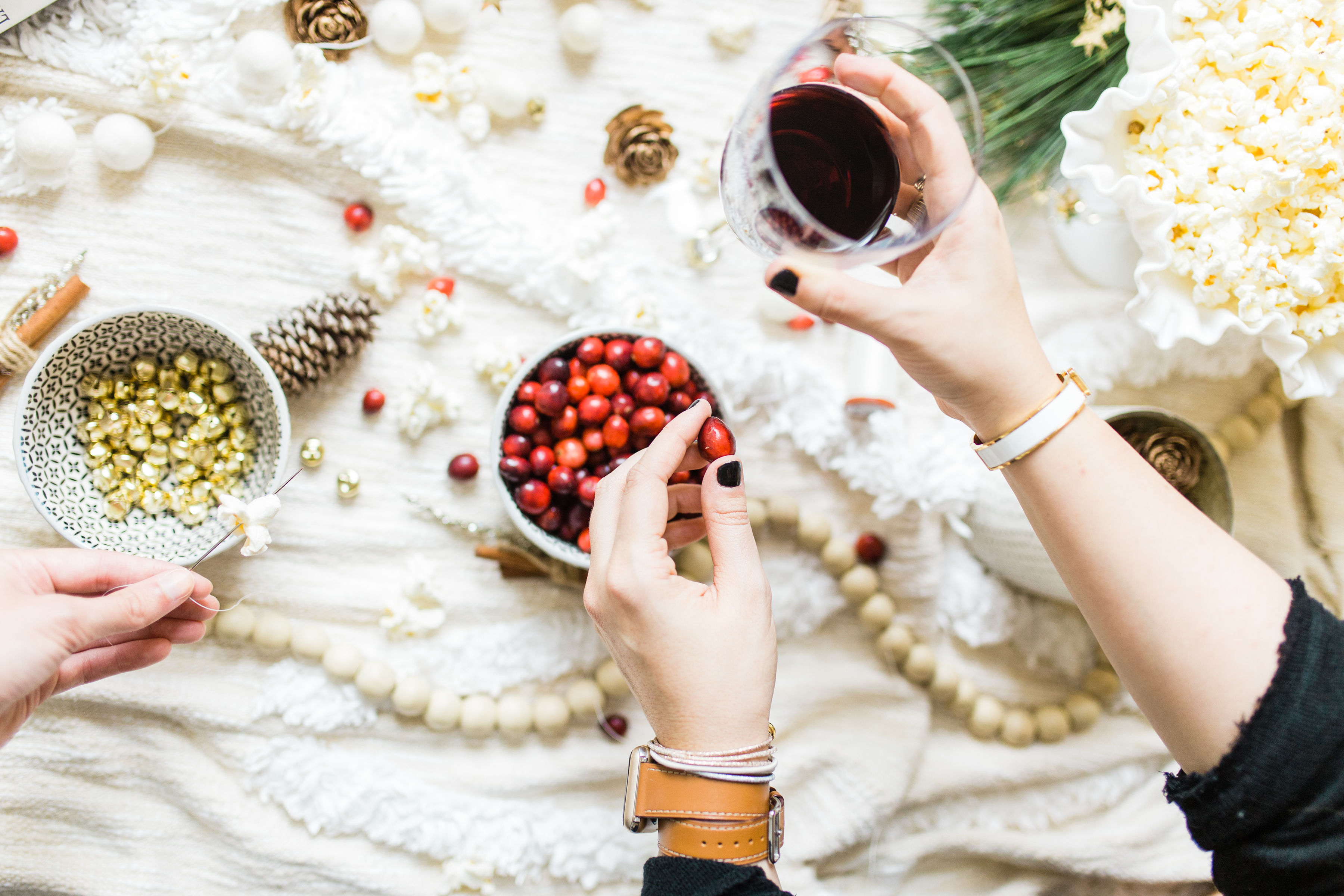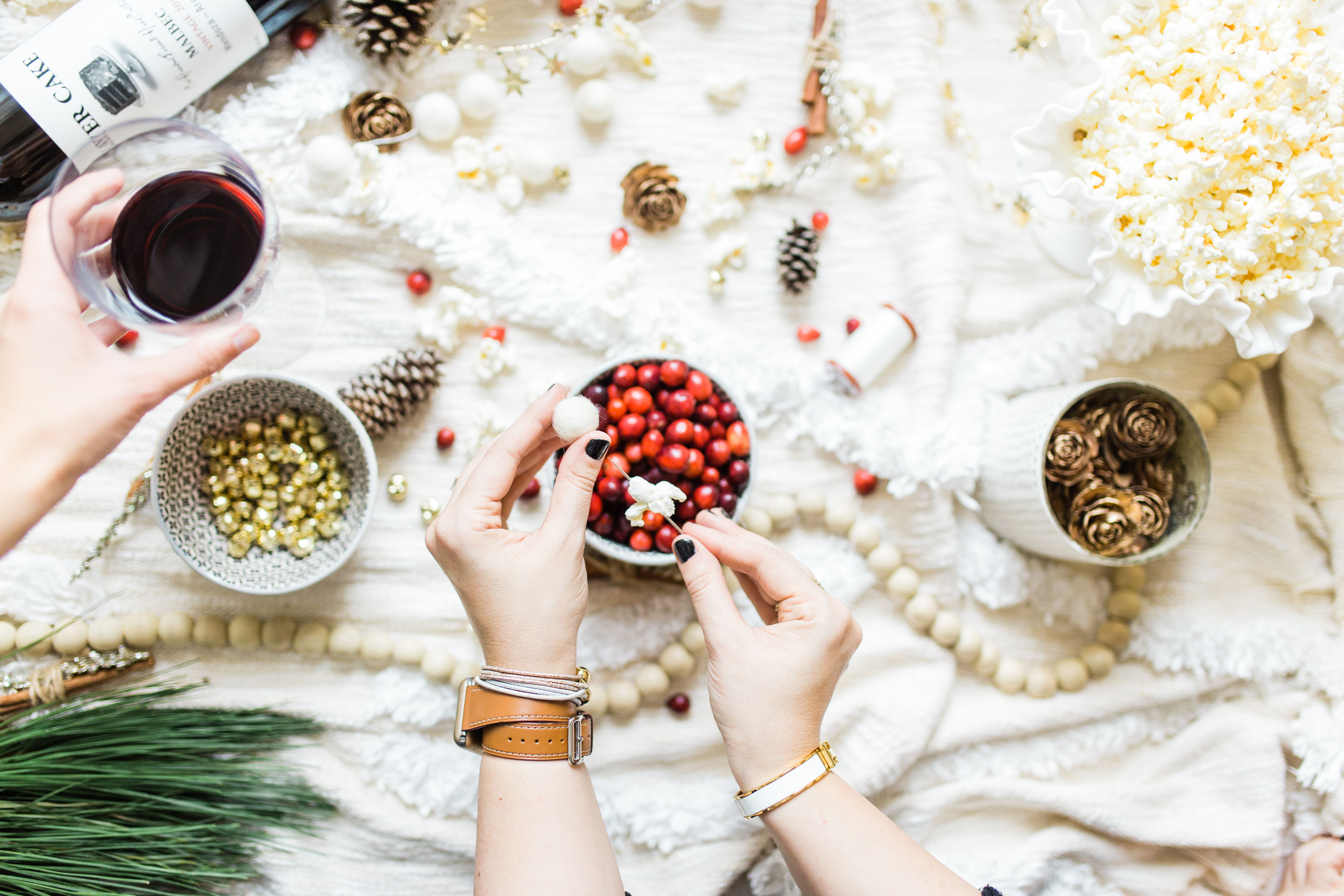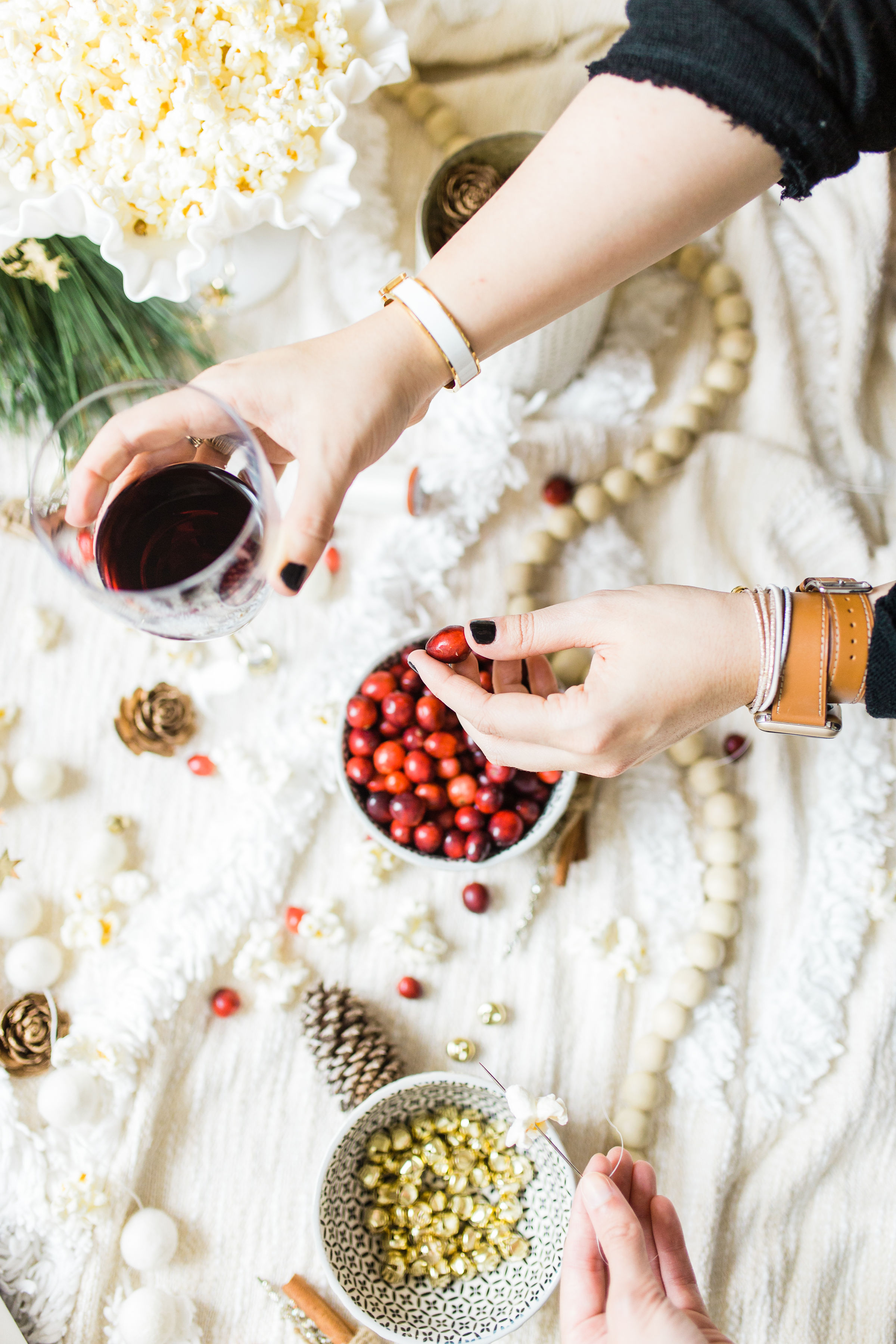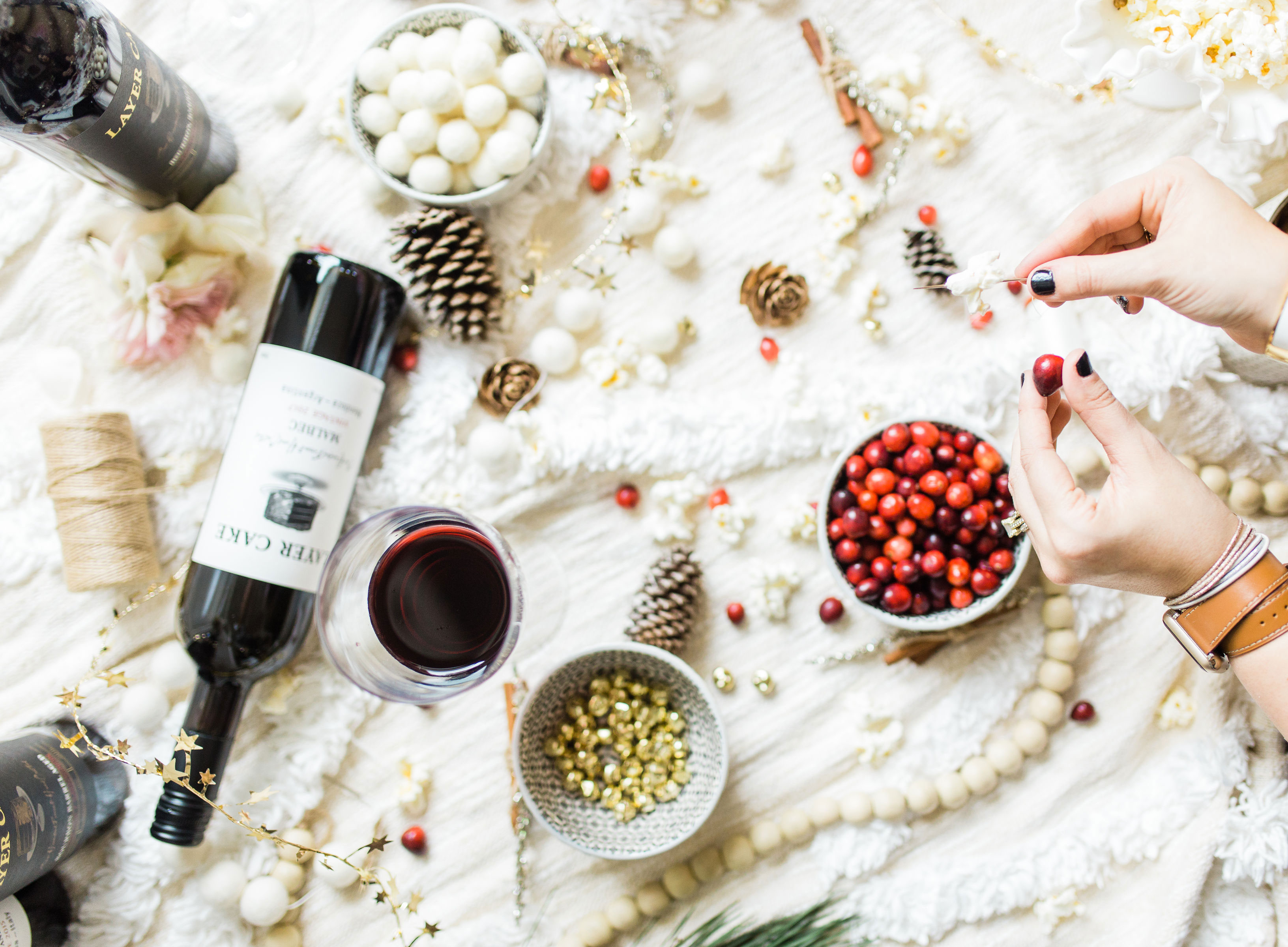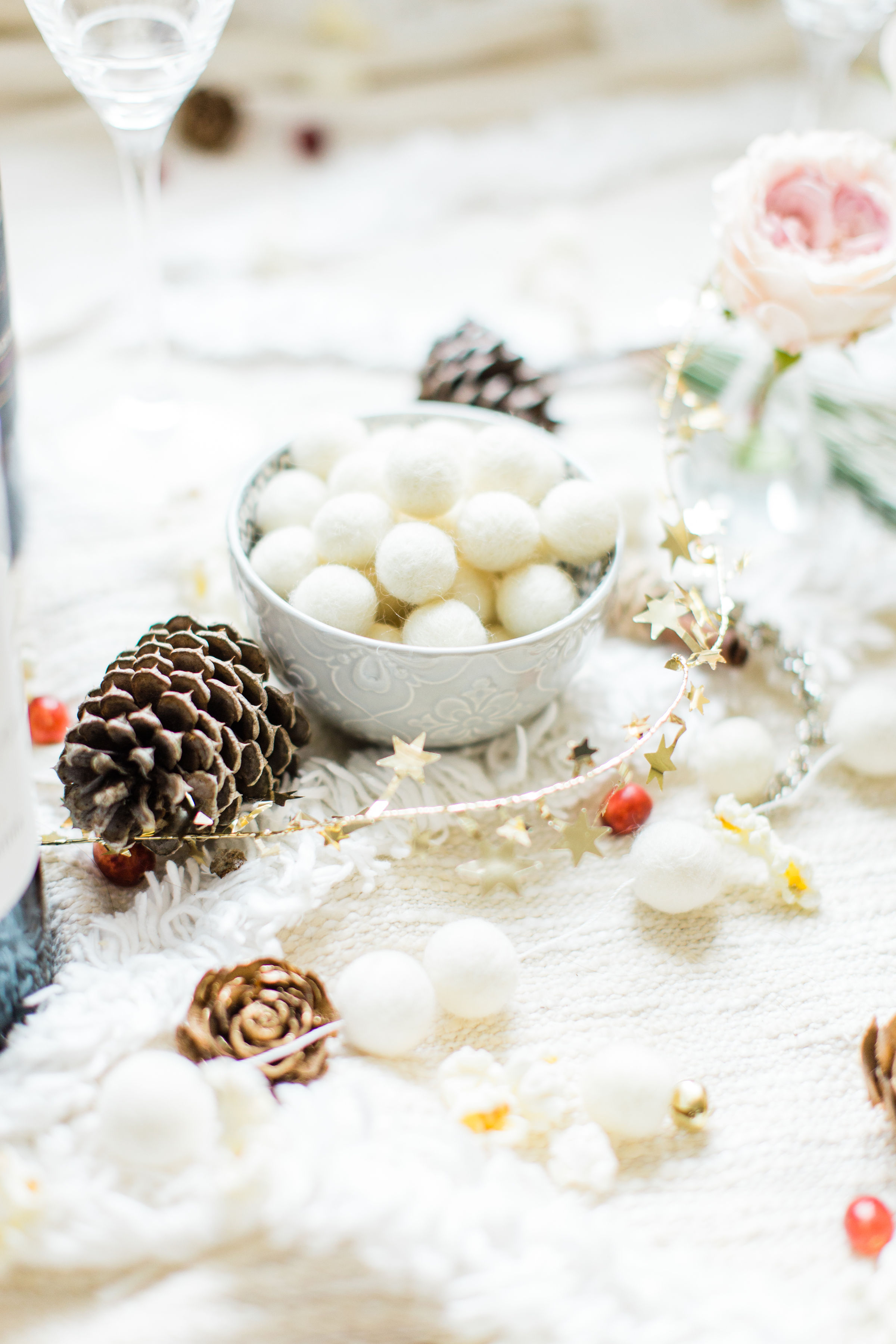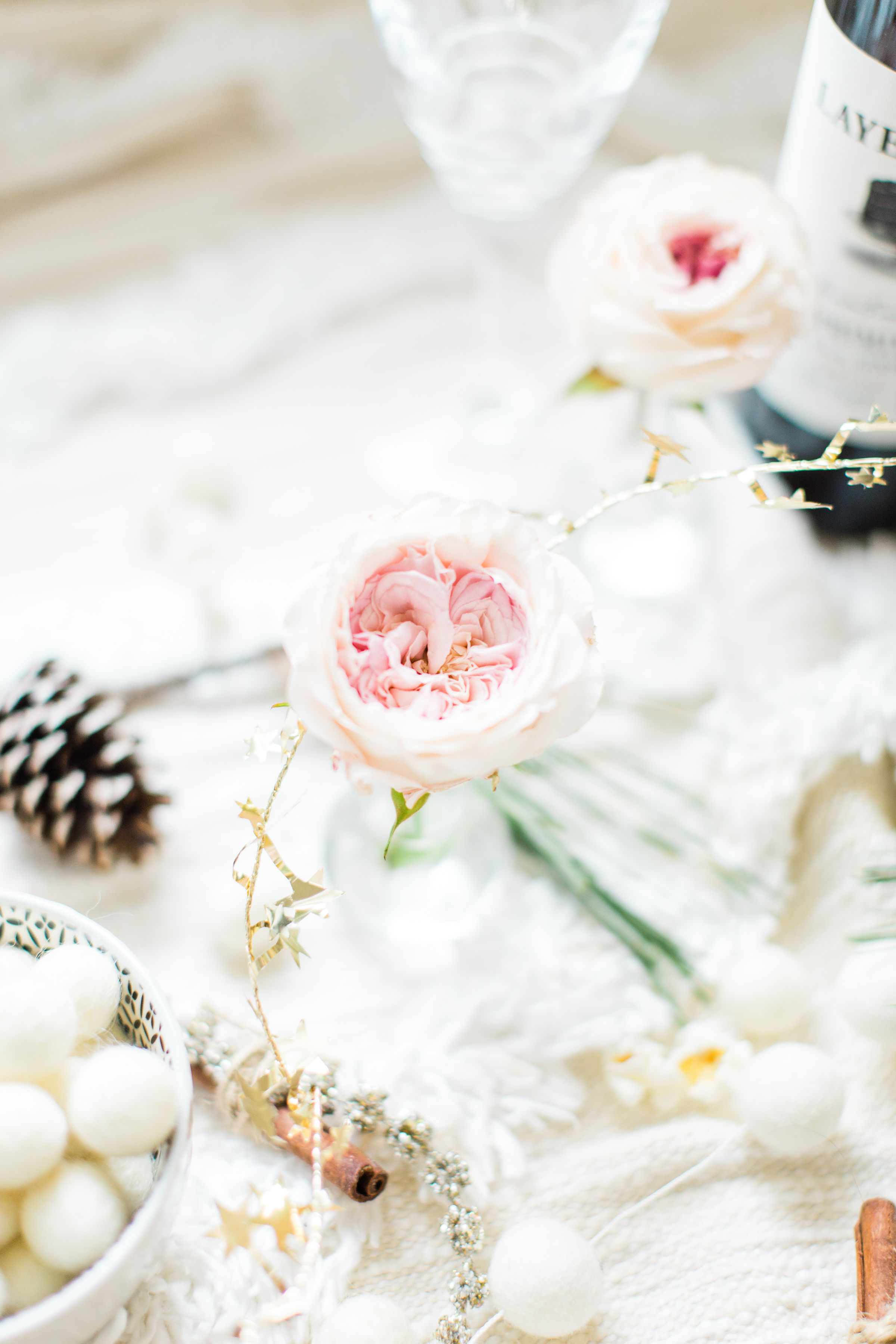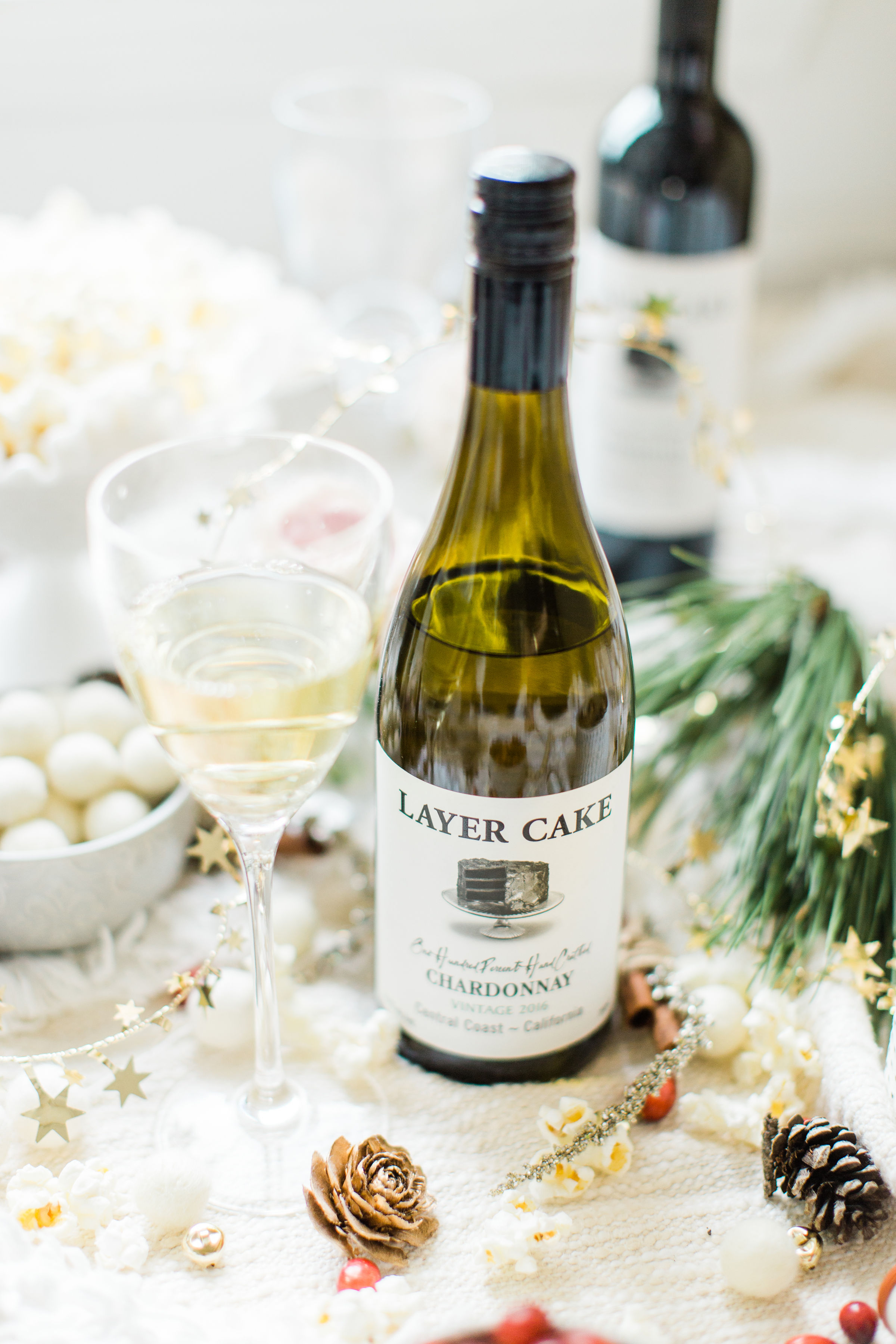 Do you make your own DIY garland for the holidays?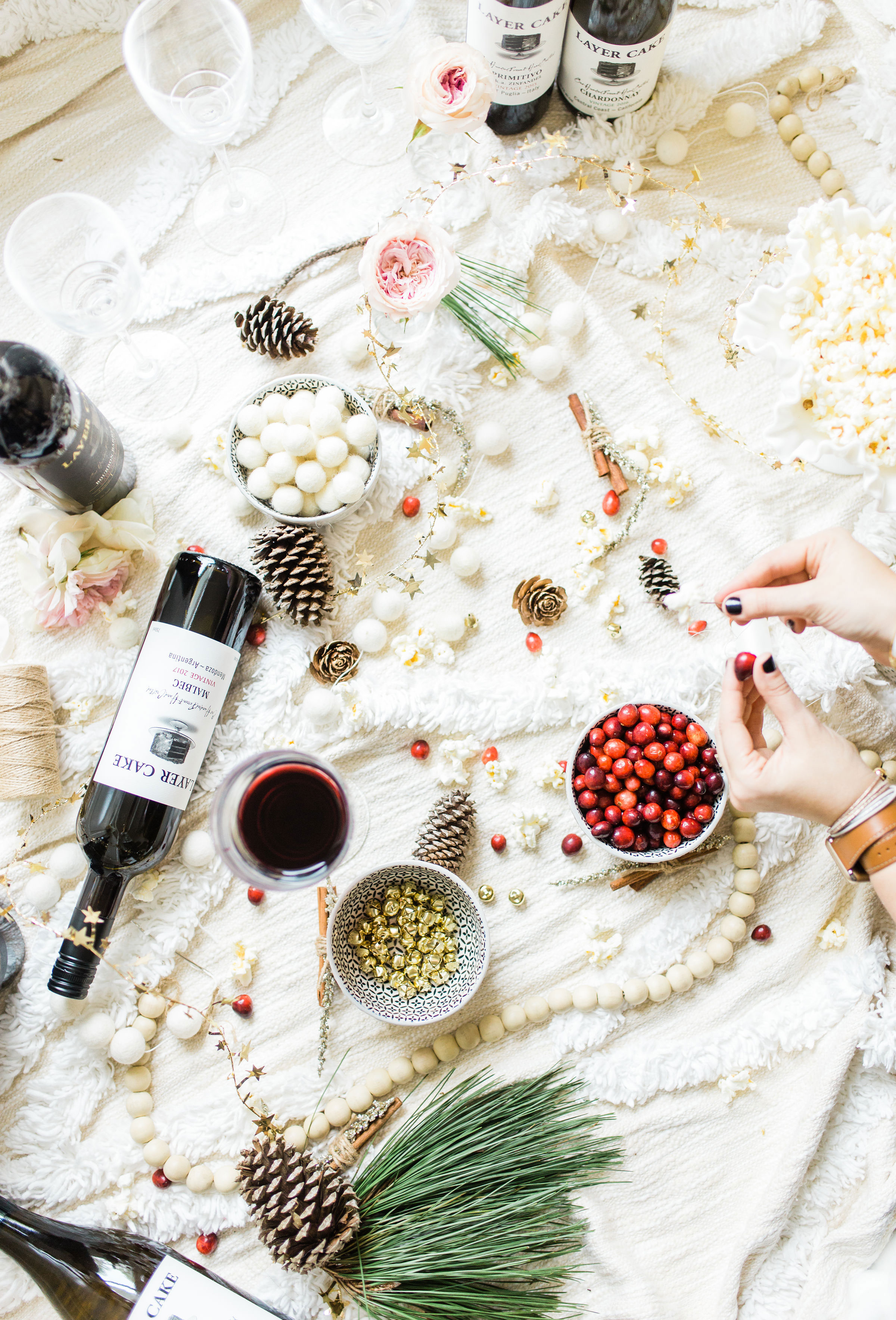 Love this celebration? Check out all of our parties here; and if you put together your own DIY holiday garland party, be sure to tag me on social media (@glitterinclexi) so I can live vicariously through all of your festive parties and girls nights!
Photos by Annie Timmons Photography for Glitter, Inc.