This post contains affiliate links, which means that if you click on one of the product links, I'll receive a small commission. Thank you so much for clicking through and helping to support this little blog business of mine! Read more about our site, privacy, and disclosure policies here.
Want a pumpkin muffin (or pumpkin bread) recipe that will easily stand the test of time? These heavenly pumpkin muffins topped with brown sugar cinnamon glaze are utterly perfect and can easily be made dairy free (and/or gluten free!)
Guys, I've found it: one very fabulous pumpkin muffin recipe. And then I went and topped the fluffy, moist, pumpkin muffins with a brown sugar cinnamon glaze and ZOMG they're so gooooooooood. 🤩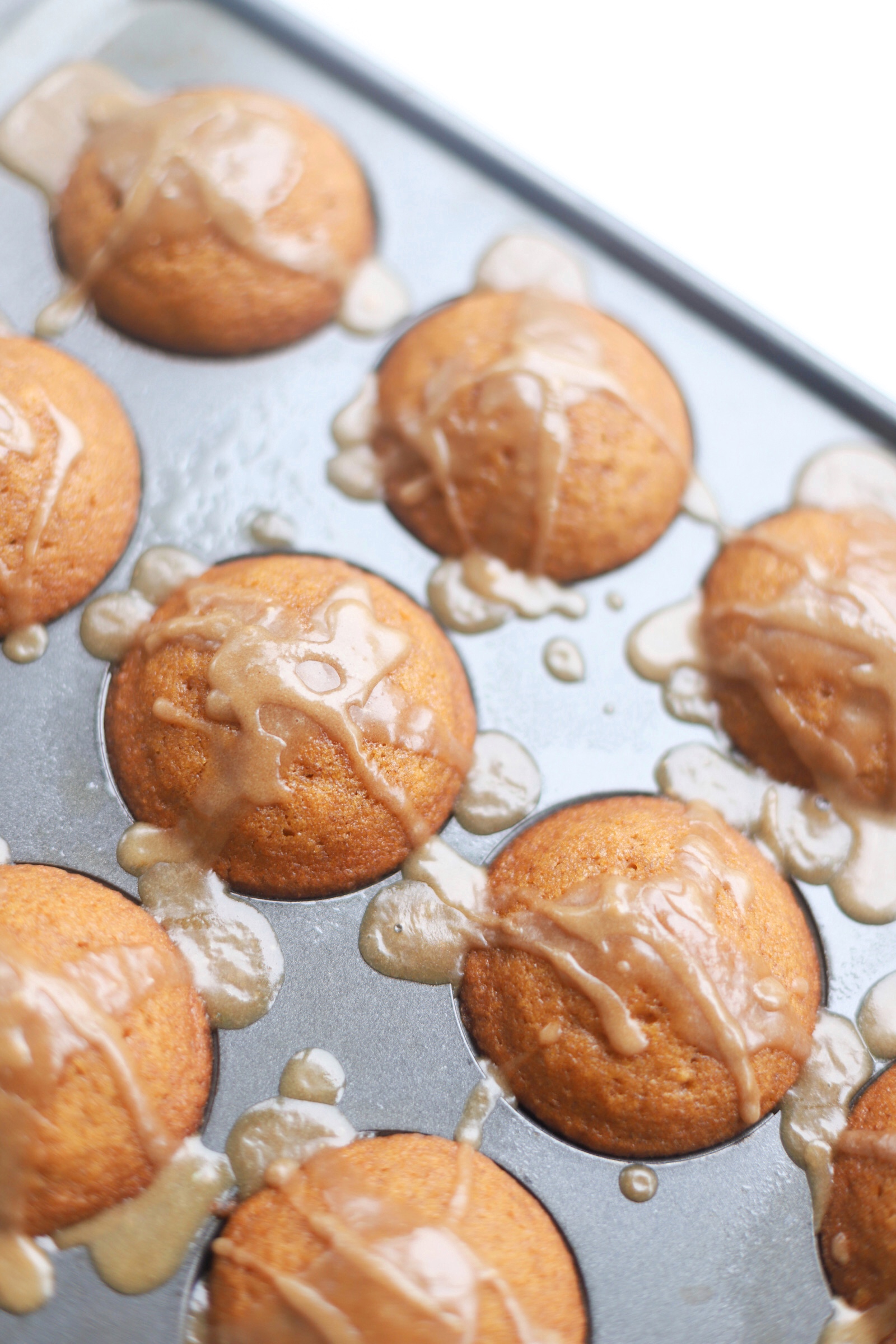 I've been working on this pumpkin bread recipe for a while now. At the start of this fall, I was determined to whip up one incredible pumpkin bread/cake/muffin recipe. The results on this one are total perfection and I couldn't be more excited to have a pumpkin muffin recipe that I can now use year after year.
This pumpkin muffin recipe is also surprisingly easy to throw together. Seriously, just toss all of the ingredients into a bowl or your mixer, mix, pour into your muffin tin, and bake.
The brown sugar glaze is actually something I tweaked ever so slightly from the Simple Vegan Blog. The pumpkin muffins themselves, while not vegan, are dairy free, making them perfect for our oldest daughter who's allergic to milk protein. I knew I'd want a dairy free icing to top these incredible little muffins, and a brown sugar glaze sounded like just the ticket. (The pumpkin muffins just happen to be dairy free as well and can easily be made gluten free! Details in the recipe below. Woo hoo!!)
Full disclosure: I've made these pumpkin muffins – in pumpkin bread form – once before this version – without any icing, and it was totally delicious. The brown sugar cinnamon glaze on these pumpkin muffins makes these next level.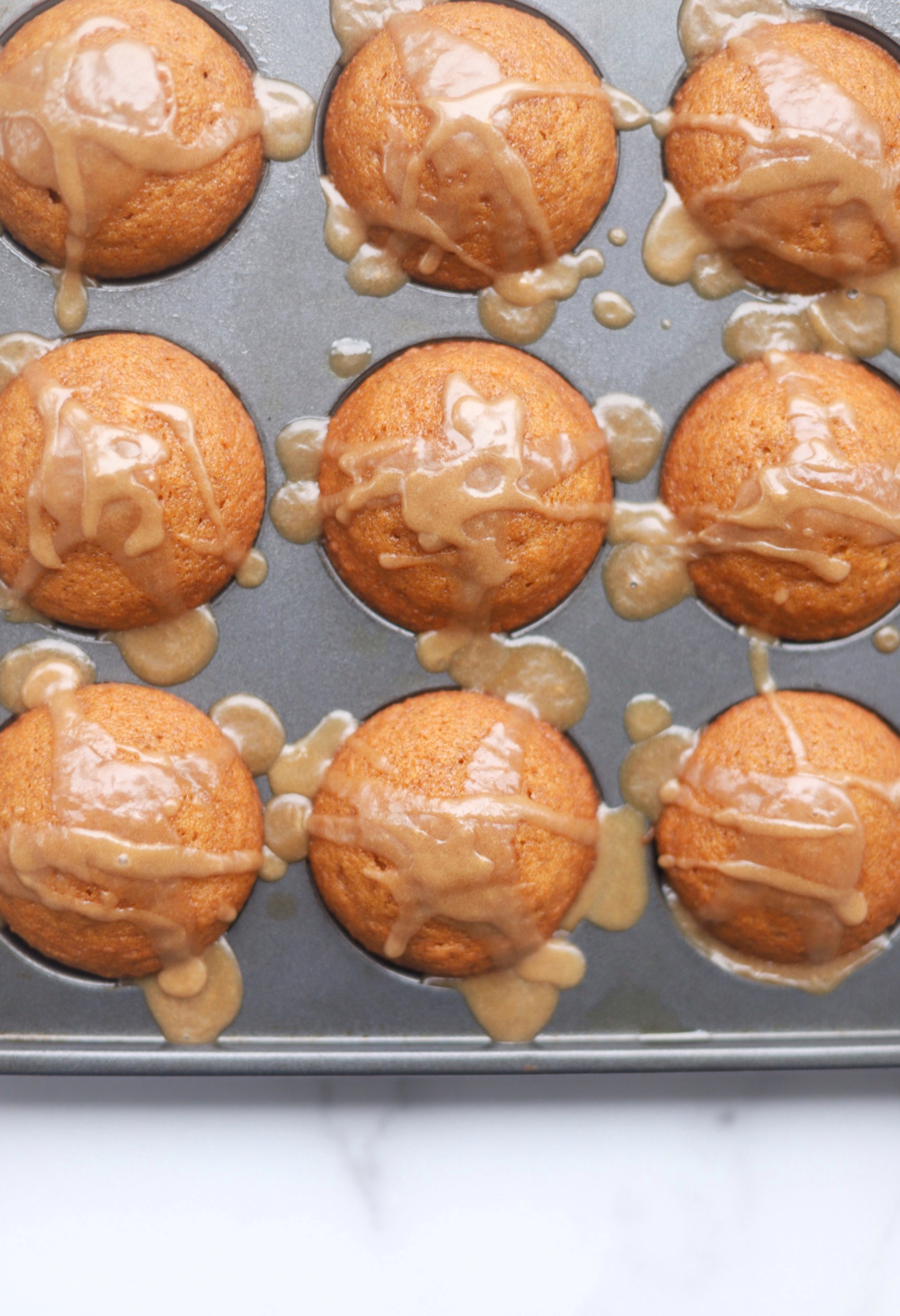 What makes this icing/glaze extra special is the powdered brown sugar.
Did you know that you can turn brown sugar into a powdered sugar? Yep! How cool is that?
To make powdered brown sugar, just toss your brown sugar into a powerful blender – like a Ninja NutriBullet or a Vitamix Blender – and in just 30 seconds you have homemade powdered sugar.
While traditional sugar glazes and icings are usually made with confectioners sugar (a.k.a., icing or powdered sugar), whole milk, and vanilla extract, this recipe for vegan brown sugar cinnamon glaze actually uses a combination of powdered brown sugar, soy milk (or any other plant or nut-based milk), and vanilla. And then I added in a touch of cinnamon to really bring out those delicious fall flavors.
For this recipe, if you don't have the time to whip up a homemade powdered brown sugar, store bought powdered sugar works just fine, it just won't taste quite as toasty rich as the brown sugar version.
Do try this brown sugar glaze at least once. The brown sugar cinnamon glaze is basically perfect on anything sweet. Try drizzling it on bundt cakes, donuts, muffins, scones, cookies, bread pudding, and more. Or just pour it all over these incredible pumpkin muffins and try not to eat just one!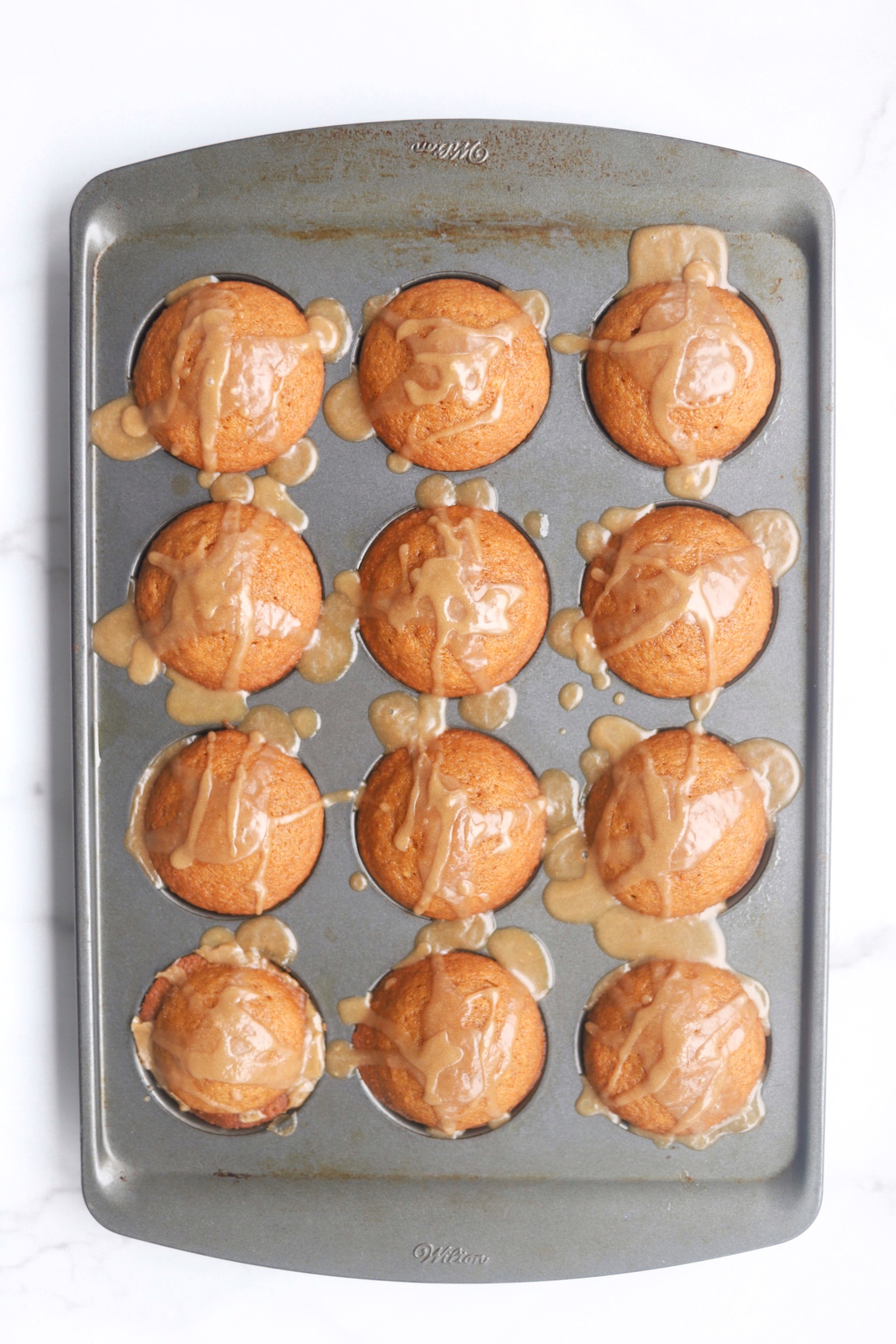 How to Make Pumpkin Muffins With Brown Sugar Cinnamon Icing
Fluffy, moist, delicately sweet, perfectly fall-spiced pumpkin muffins topped with a brown sugar cinnamon glaze; it's basically a match made in heaven. And this epic dessert is fairly simple to throw together …. so, let's bake!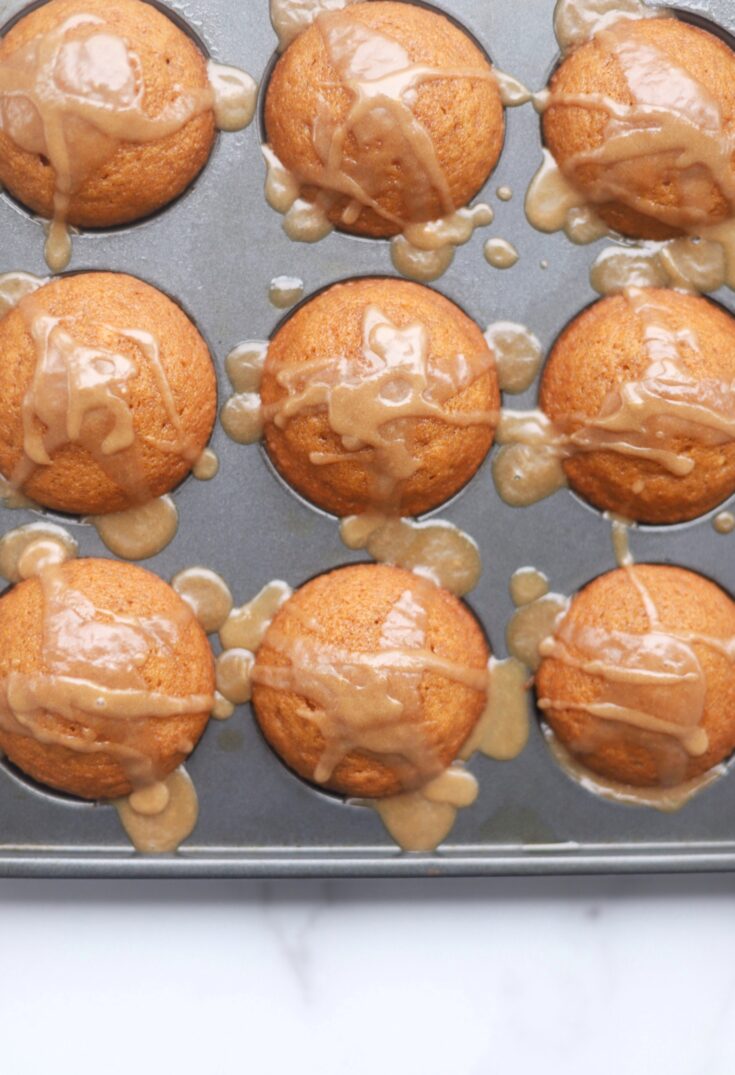 Yield:
Pumpkin Muffins With Brown Sugar Cinnamon Icing
Ingredients
PUMPKIN MUFFINS
2 cups flour (and also use gluten-free all purpose flour that has xanthan gum in the mix, i.e., Bob's Red Mill Gluten Free All Purpose Baking Flour)
2 cups sugar
1 15 oz canned pumpkin (or about 2 cups pureed pumpkin)
1 cup canola oil
2 teaspoons baking soda
1 teaspoon cinnamon
1 teaspoon pumpkin pie spice
½ teaspoon salt
4 eggs
BROWN SUGAR CINNAMON ICING
1 cup brown sugar
3 tbsp milk or milk substitute (I used soy milk)
1/2 tsp cinnamon
1/2 tsp vanilla extract 
Instructions
For the Muffins:
Preheat oven to 350 degrees F and grease or spray with baking spray a 12 cup muffin tin well. (The batter makes about 18 muffins, so you may want to use two pans and fill the empty cups with a bit of water when you bake the tin.)
In a large bowl or mixer, mix all ingredients together well and pour the batter into the greased muffin tin, filling each cup about 2/3 full.
Bake for approximately 20 minutes or until edges start pulling away from the pan. (IF the center is still a bit wet, bake for another 2 - 4 minutes or so.)
Allow muffins to cool before topping with the icing.
For the Icing:
Add the brown sugar to a blender - like a Ninja NutriBullet or a Vitamix Blender - and blend until you get a powdered texture.
Add the sugar to a bowl, along with the milk, cinnamon, and vanilla extract. Stir until well combined. If the glaze is too thick, add more milk and if it's too thin, add more powdered brown sugar.
Drizzle icing over your muffins and allow to cool completely so that the glaze sets. Enjoy!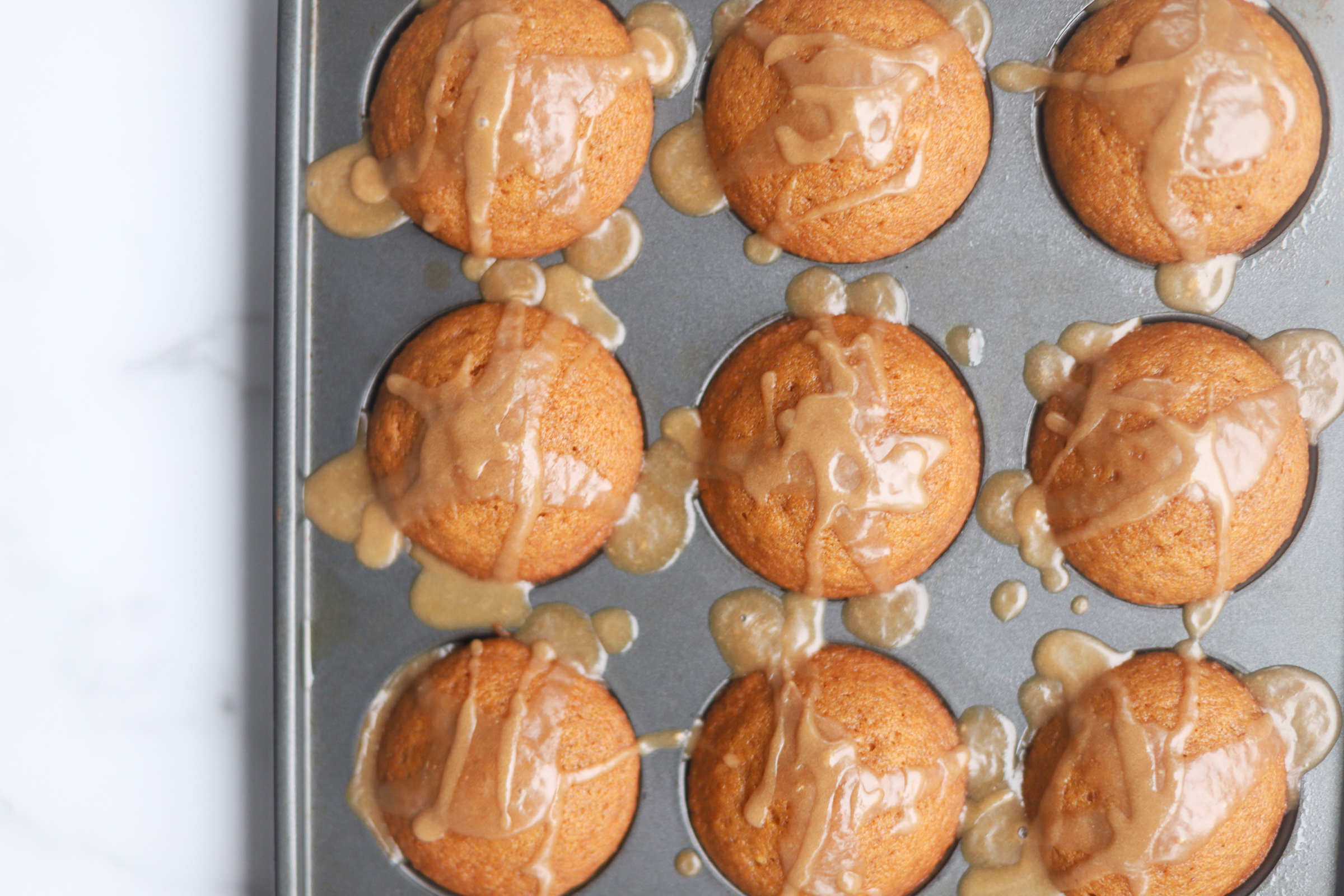 So there you have it: the most incredible fluffy, moist, delicately sweet pumpkin muffins topped with my new favorite brown sugar cinnamon glaze.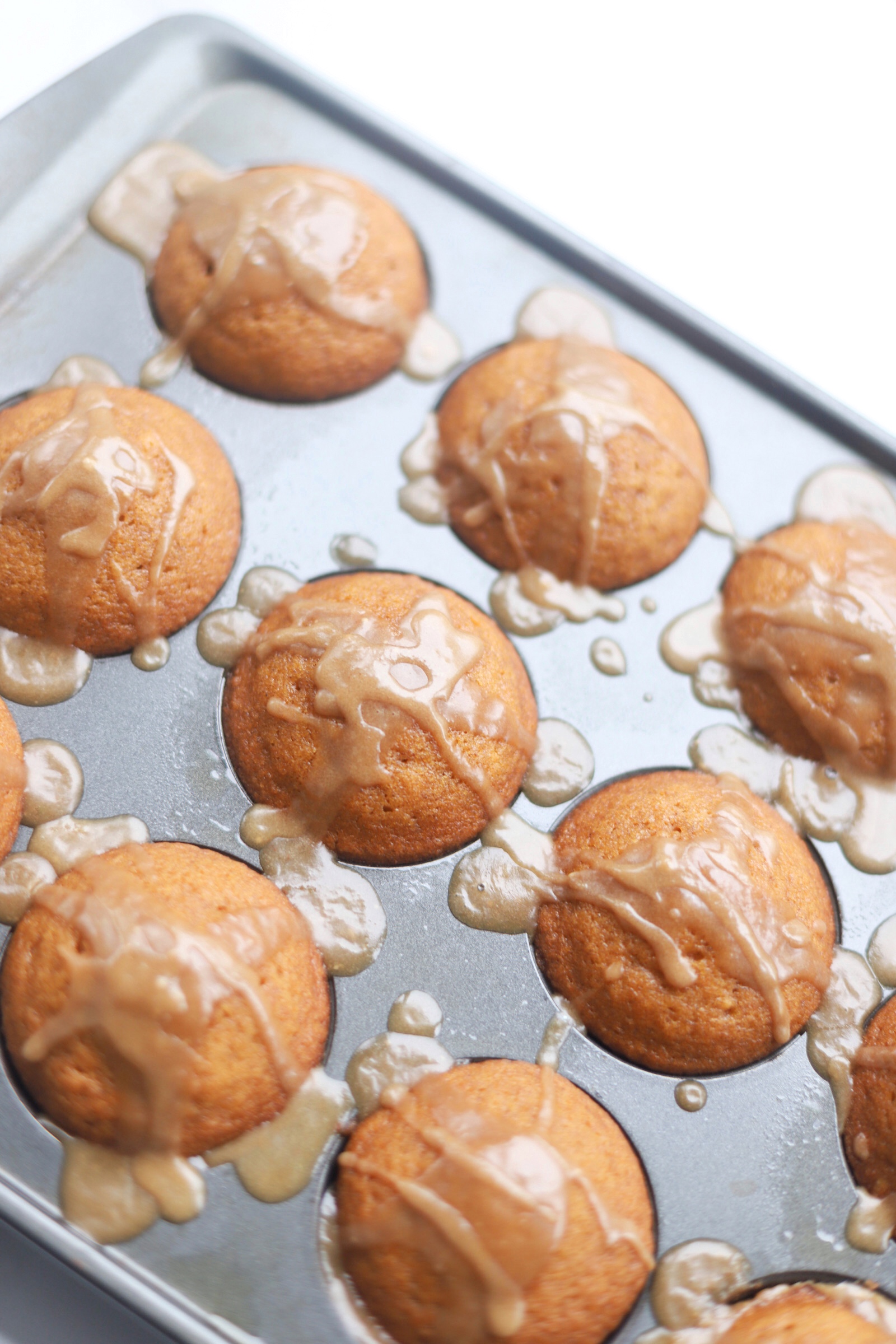 SHOP THE PUMPKIN MUFFINS POST | CLICK LEFT & RIGHT ARROWS TO EXPLORE

Be sure to head to our recipe page to check out what else we're dreaming up in the kitchen. If you make your own pumpkin muffins with brown sugar cinnamon icing, tag me on social media (@glitterinclexi) so I can live vicariously through all of your delicious sweet creations!