This post is sponsored by Adero. Thank you so much for helping to support this little blog business of mine! Read more about our site, privacy, and disclosure policies here.
Want to avoid the morning chaos? I'm sharing 8 tips for avoiding that mad scramble, including actionable ways to stay on time, keep organized, and find a little bit of morning calm, including one very awesome mom hack that now has a permanent spot in my diaper bag.
If you know me, you'll know that I loathe being late. I hate that panicky feeling I get any time I'm running behind, and as a mom, that feeling is totally magnified when you've got a whole family relying on you. Ever notice how a bad morning rush can derail your entire day? 'Aint nobody got time for that. So, to avoid the mad scramble in the mornings, especially with getting two kids under 4, plus my hubby, ready and out the door, through carpool and onto the next activity for the baby, etc., I've gotten pretty darn good at being organized way in advance.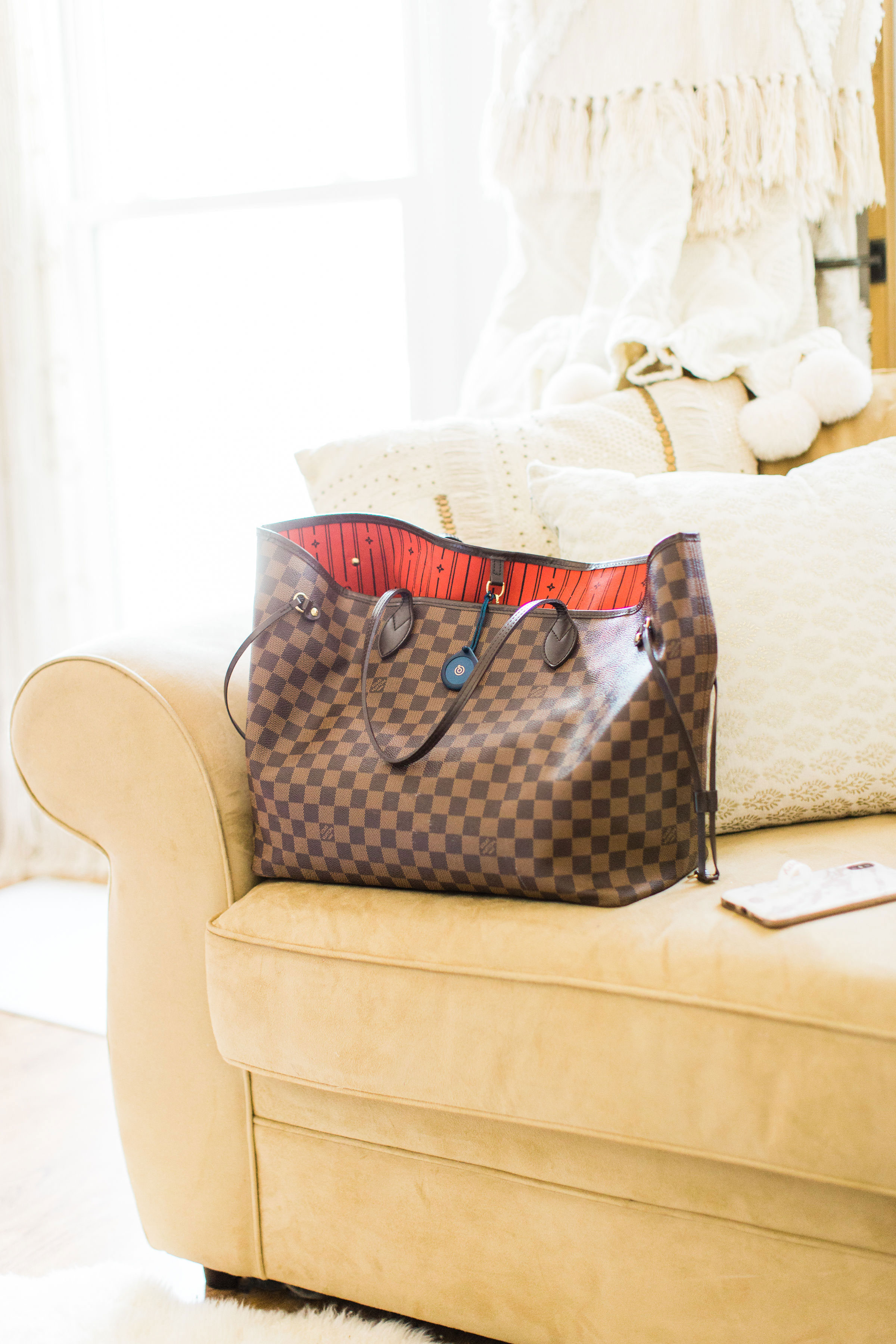 8 Tips for Avoiding the Morning Chaos
These are a few of my tried-and-true tricks for avoiding the morning rush:
Pack lunches the night before.

Some nights, admittedly, it's the last thing I want to do, but getting that task done the night before saves so much time and stress in the morning. You could even meal prep and pack lunches for the whole week on Sunday nights.

If you're super motivated, lay out breakfast as well.

Set out the cereal, a banana, bowls and spoons, bread for toast, etc. the night before.

Get the coffee ready the night before.

Grind the coffee, set out to-go mugs, etc. If your coffee pot has a schedule function, set it to brew at a certain time each morning so that you have a hot pot of coffee ready and waiting for you.

Choose outfits for all of the kids the night before.

If you have picky dressers, let them pick out their outfit the night before; that way there's no drama come morning, since they helped to choose the outfit.

Same goes for you, Mama:

Set your outfit out the night before. It takes the stress and guesswork out of the morning rush, and you'll feel so much more put-together for the day in an outfit you actually wanted to wear, rather than one you grabbed off of a pile on the chair in the bedroom, etc. (Tell me I'm not the only one with "the chair?" You know the one; the one that gets piled with all of the stuff. Eegads.)
Have everything, aside from lunch, ready and waiting in backpacks the night before.

Including anything your kids might need for school that day. (i.e., on Mondays, the water bottle goes to school, and so on.)

Wake up before the kids.

I'm decidedly not a morning person, but even waking up 10 minutes before the kids saves  me a whole lot of stress. I can climb out of bed, rather than hurriedly falling out of bed, brush my teeth, slip into my outfit, throw on a swipe of blush and mascara so that I no longer look like the living dead, take a few sips of coffee, etc., all before heading up the stairs to wake up the girls. It's my 10 minutes of morning calm before the storm, and it has helped so much.

Use Adero Intelligent Organization to tag the things you use (and lose) most often, to avoid forgetting something important.

More on that below!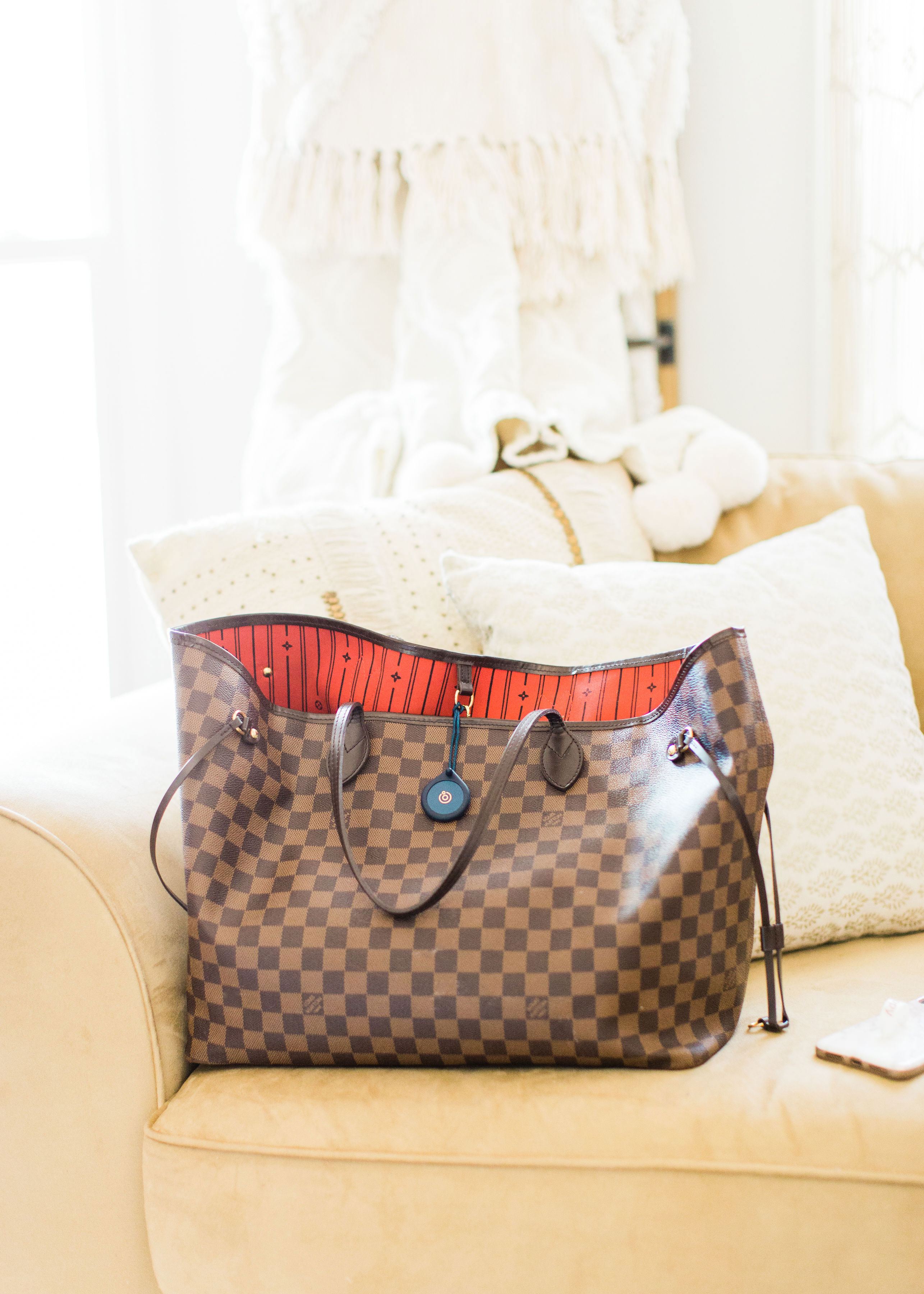 My New Favorite Mom Hack
As a working mom, I'm CEO of our entire family, plus my business, Glitter, Inc. It drives me crazy to run behind, and one of the biggest culprits of running behind for me: forgetting something important.
Adero is the first intelligent organization system built to enable your essentials to keep track of themselves so you never leave them behind.
Before I started using Adero, I swear I misplaced my keys, wallet, or the baby's changing clutch at least once a week.
But not anymore!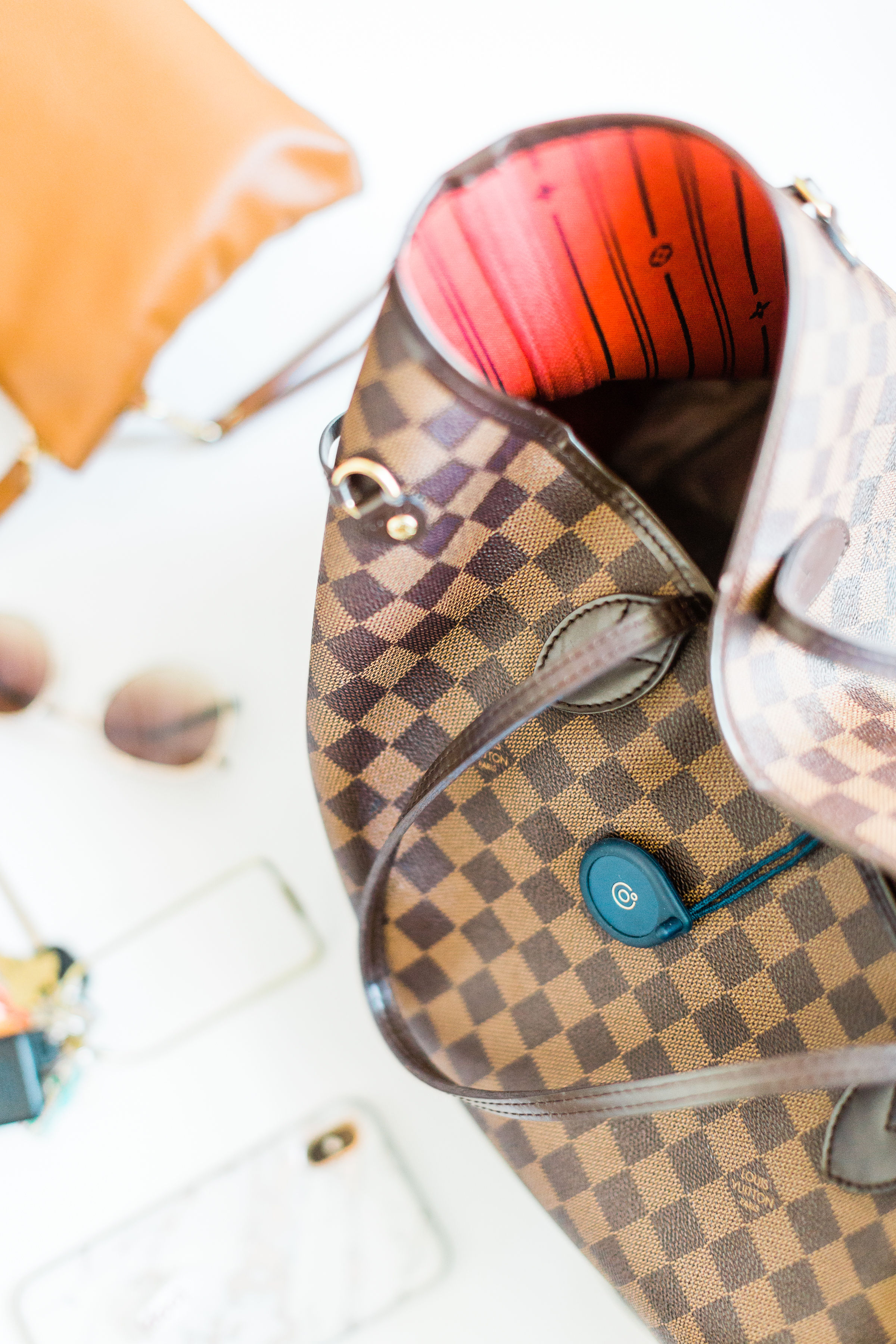 Basically, you attach a lanyard and tag to your purse straps; a.k.a., the "Smart Tag," and the smaller tags; a.k.a., "taglets" are attached to the essential things you need every day. For me, those purse essentials are my wallet, the baby's diaper clutch (with wipes, diapers, a change of clothes for the baby, and a changing pad), and on my keys. Each of those items gets a "taglet," which allows your bag and the items tagged to it to "talk" to each other.
I switch my Smart Tag between bags: tote, diaper bag, work bag, etc., and taglets between wallets, clutches (changing/diaper clutch vs. makeup bag).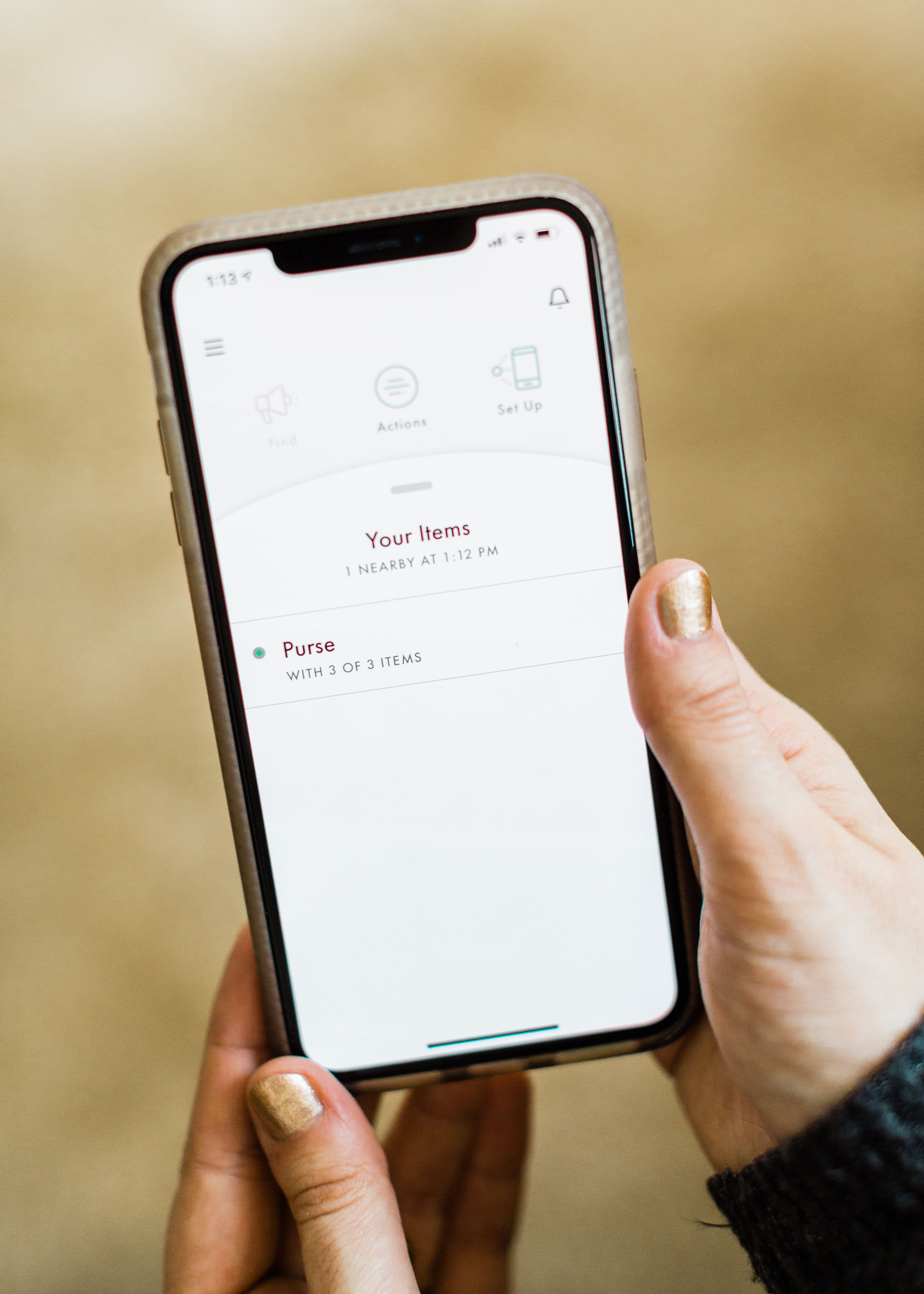 The Adero app keeps track of everything and alerts you if something is missing, plus, it can tell you what and when you need it based on specific times of the day; i.e., carpool time, etc.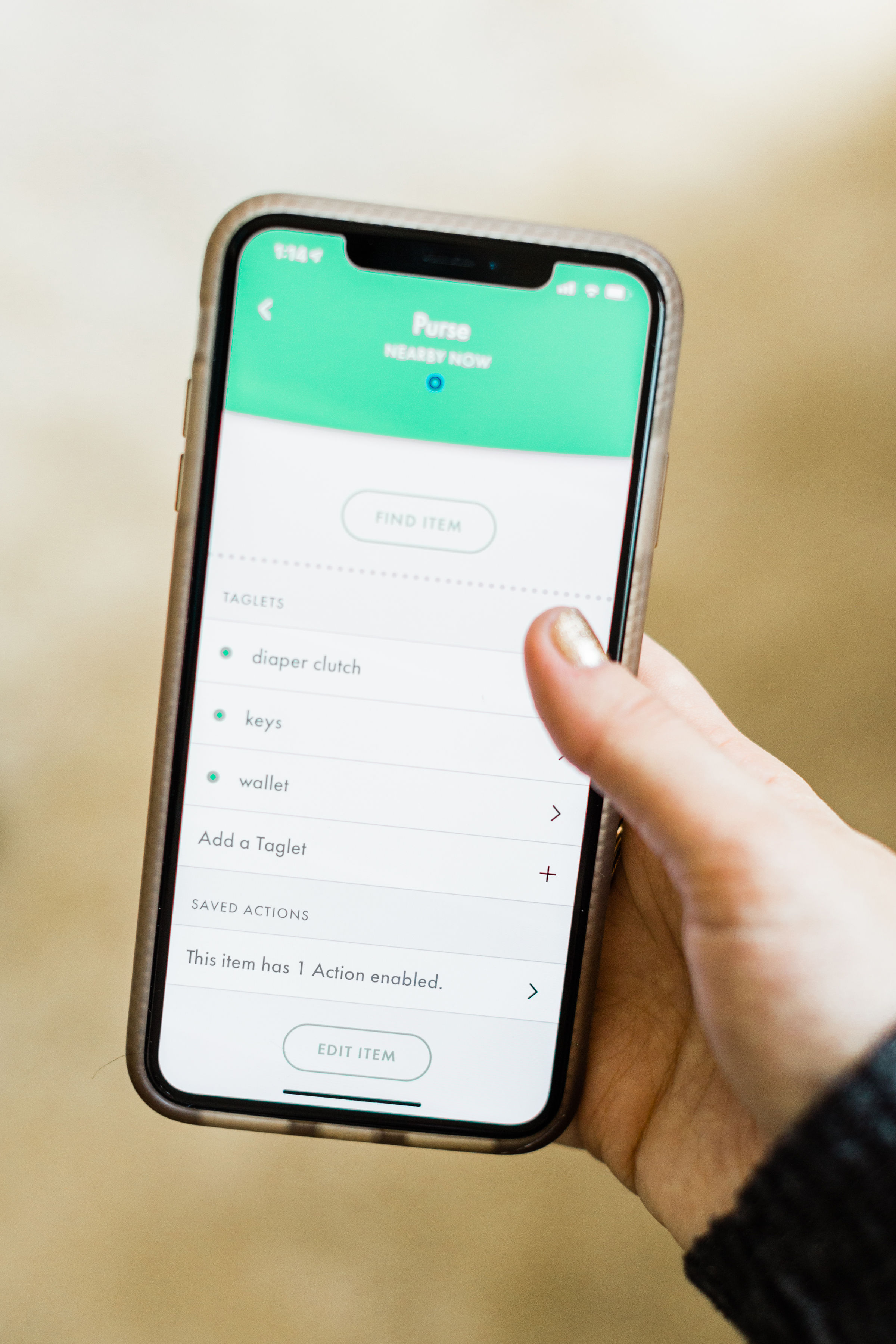 I have a daily alarm set for 2:30pm to remind me to gather all of my things for daily carpool. Genius.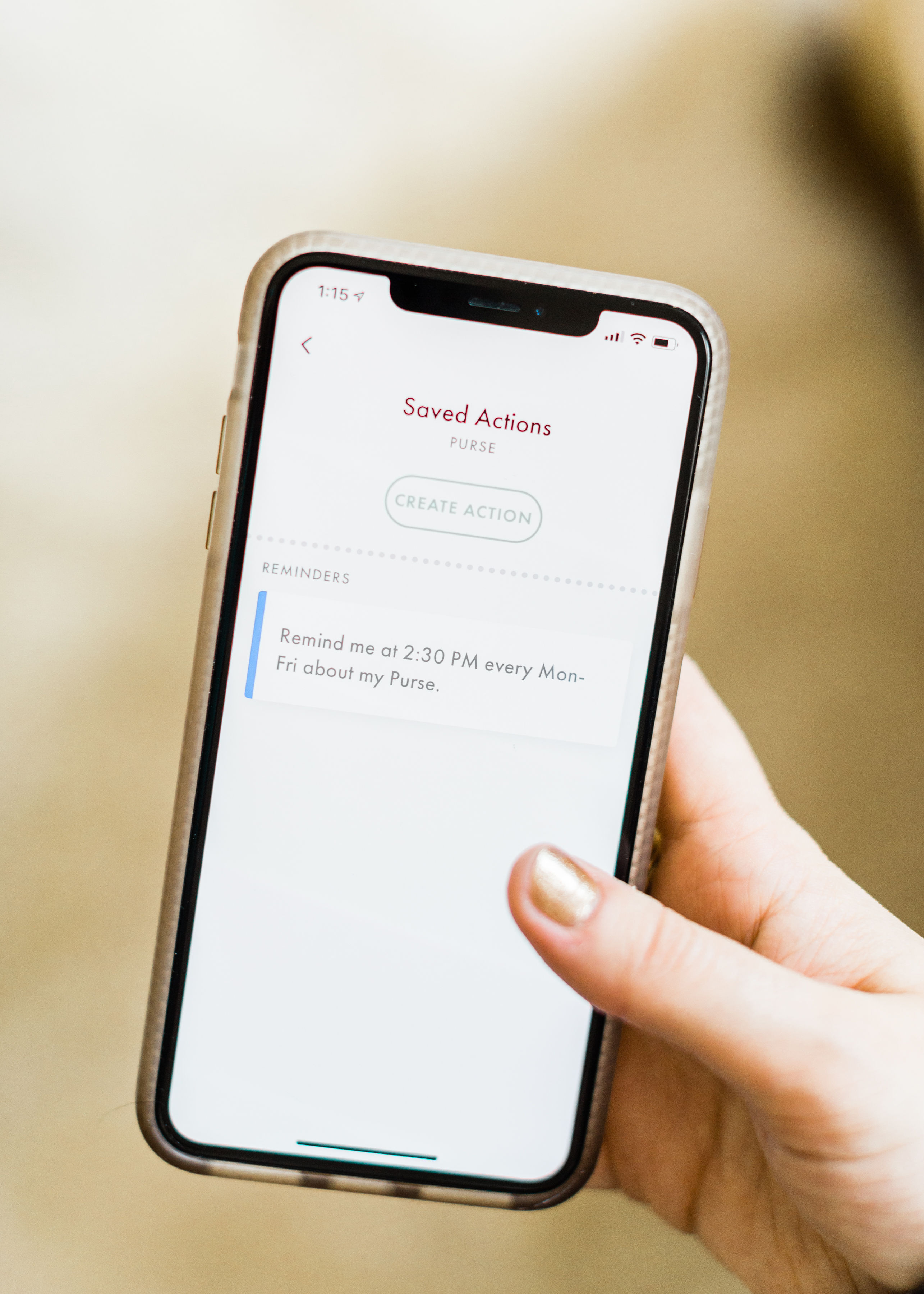 Guys, Adero is a lifesaver, and my new favorite mom hack!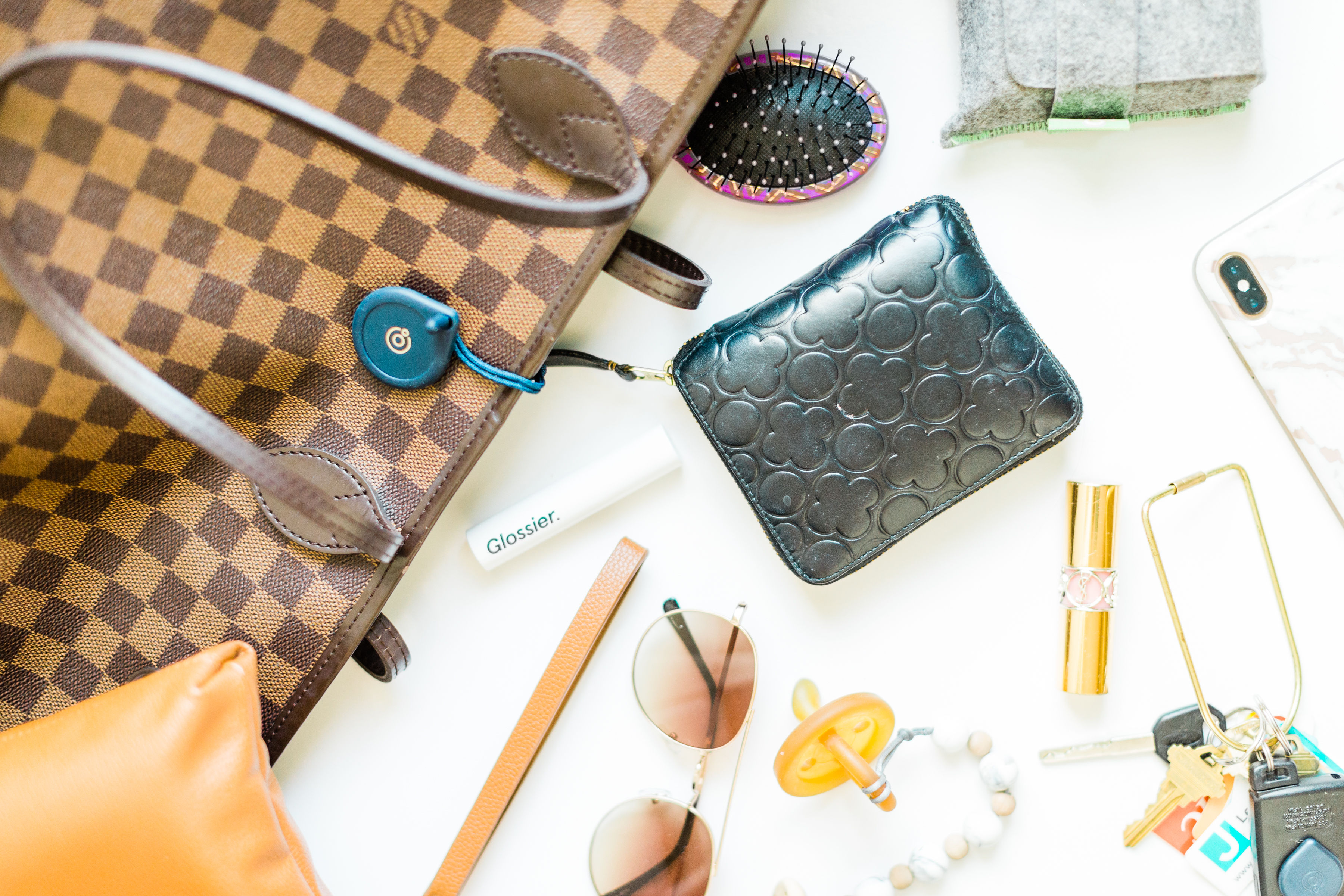 The taglets themselves are nice and sticky and you won't need to worry about the taglet somehow falling off. I always keep one taglet permanently on my keys, because lost keys seem to be my kryptonite. Honestly, before Adero, I was always.losing.my.keys.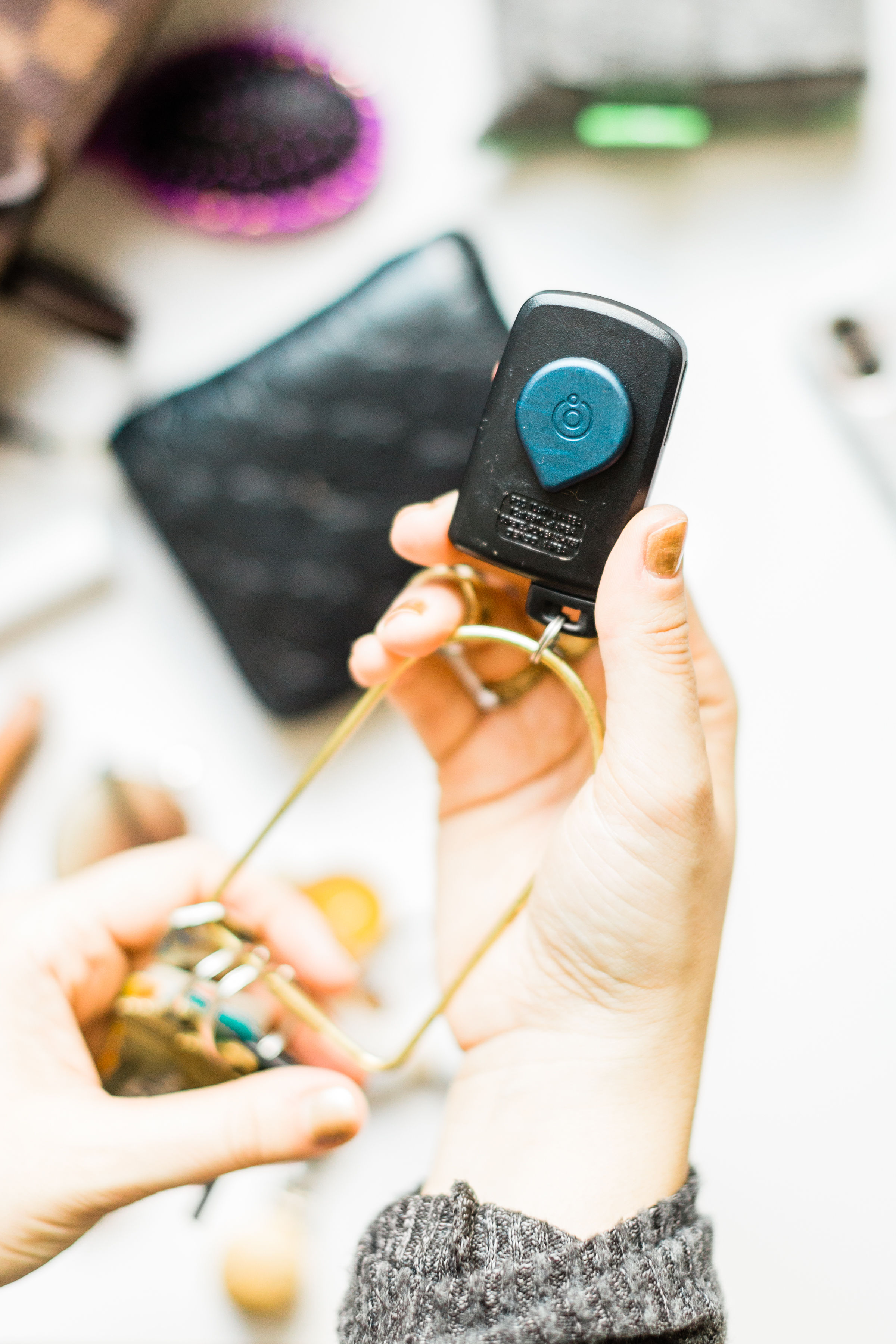 The other taglets I slip in and out of things like the diaper changing clutch and my wallet, mostly because I sometimes switch things up with different wallets, etc. You can also purchase other tags in case you want to use different bags like a diaper bag, date night bag, etc. with the system. No matter what bag, before you walk out the door, you can tap on the Smart Tag (the one attached to your bag), and if it flashes green, you're good to go. If the Smart Tag flashes red, just open up the app and it will let you know what you're missing. No more digging around in a panic searching through a cluttered bag!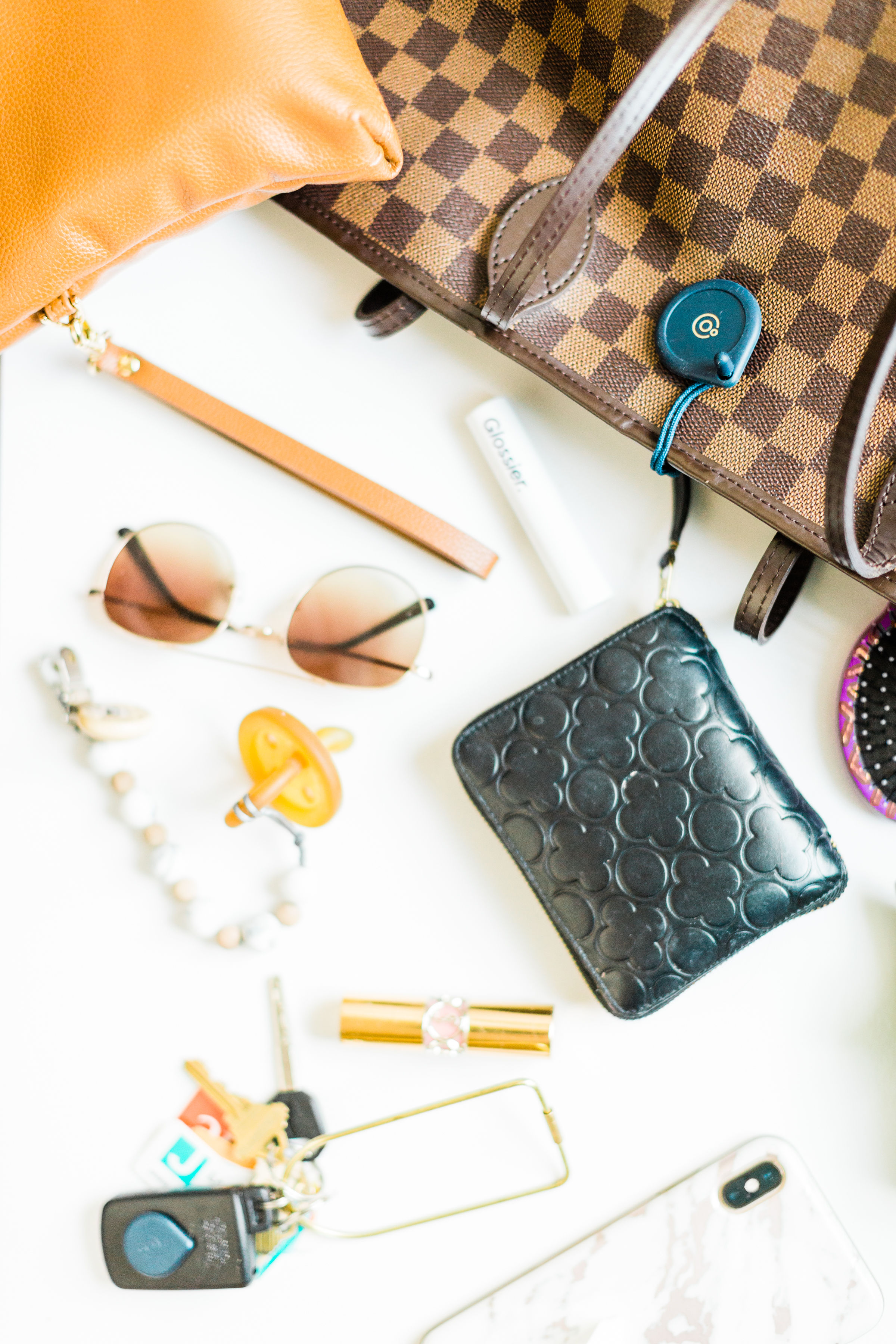 By the way, Adero's Smart Tags are all rechargeable, though you really only need to recharge about once every two months or so.
The whole thing also takes no more than 10 minutes to set up, is available on the iOs and Android store, weighs nothing, and is my new favorite mom hack, hands down.
Both hubby, and my photographer, Annie, have already gushed over it, and both want them for their own bags; hubby for his work bag, and my photographer for her tote. (I mean, really, how great is this for photographers who shoot weddings and need a lot of equipment?)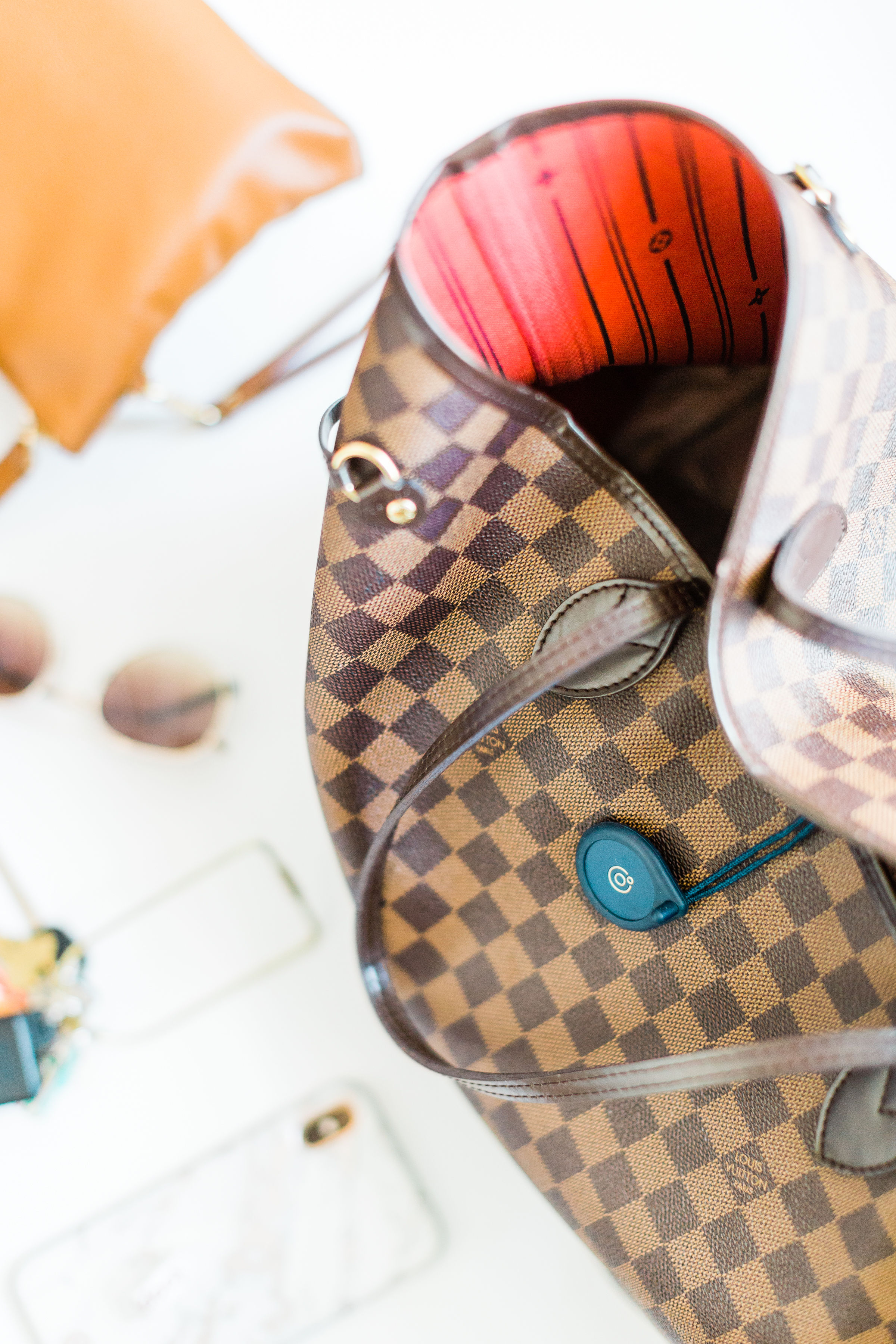 You can also check out this sweet little video we created to show you just how to use Adero to help keep your day-to-day organized, so that you never forget something important again! (Emme makes the sweetest guest appearance. Just sayin'.)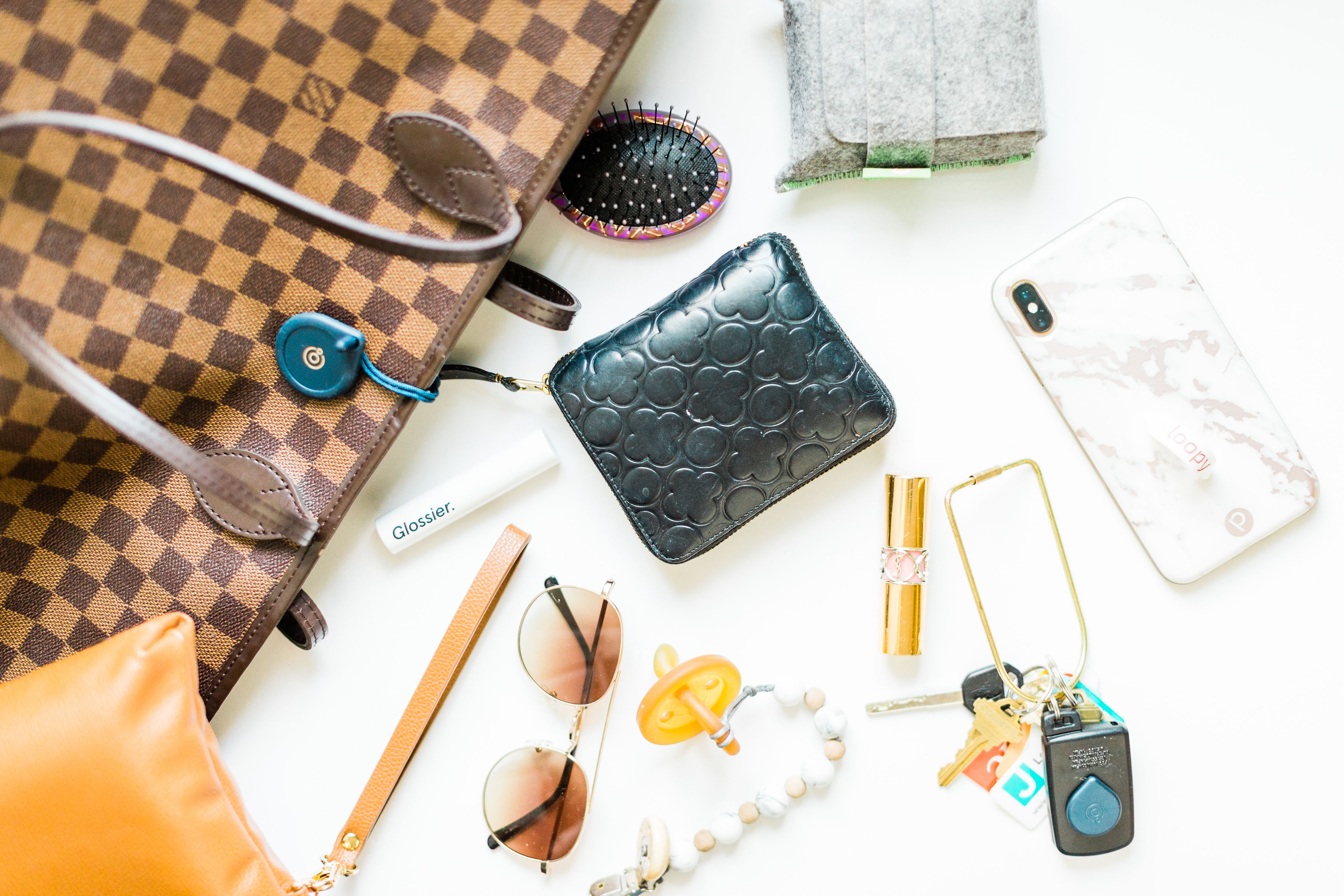 IF YOU LOVED THIS MOM HACK POST, YOU CAN SEE MORE BEHIND-THE-SCENES OF OUR LIFE WITH TWO LITTLE ONES, PLUS OUR FAVORITE PARENTING HACKS HERE, INCLUDING: 
How I Keep My Purse and Diaper Bag Organized
The Best Toys and Activities to Bring on a Plane for Kids, Toddlers, and Babies
How to Travel with Young Kids: 10 Tips for Smooth Road Trip or Flight
How we Taught Our Baby to Sleep Through the Night (this post is hugely popular!)
The Best Snacks to Bring on a Family Road Trip
How to Make Your Own First Birthday Smash Cake
7 Tips for Helping Babies with Acid Reflux
How we Transitioned Baby from a Bottle to a Sippy Cup
Must-Have Baby Items for the First Year: What You Really Need on a Baby Registry
How to Create Healthy Snack Bins for Kids
How do you keep track of all of the important things? Any mom hacks for keeping the diaper bag organized? Have you tried Adero?
SHOP THIS MOM HACKS POST | CLICK LEFT & RIGHT ARROWS TO EXPLORE

Photos by Annie Timmons Photography for Glitter, Inc.