This post contains affiliate links, which means that if you click on one of the product links, I'll receive a small commission. Thank you so much for clicking through and helping to support this little blog business of mine! Read more about our site, privacy, and disclosure policies here.
Have your eye on the Amazon makeup organizer travel bag everyone is buying? I'm sharing a complete review of the affordable and chic train case. Plus a comparison of the sizes, and how to choose which one is best for you.
Over the last few weeks you may have noticed a makeup organizer travel bag popping up again and again on your instagram feed. The Amazon makeup organizer travel bag, which looks like a spin on a hard-sided train case, is taking the beauty world by storm, not only because the makeup bag is uber functional, but because the makeup travel bags are super affordable.
Ranging in price from about $20 to $40 on Amazon, these makeup organizer travel bags are the height of chic and affordable functionality.
The removable dividers make the bag totally customizable, and the built in makeup brush storage is a dream. Even the smallest case also fits full-sized makeup palettes, which is any beauty-loving travelers happy place. I always hate having to leave my favorite Naked palettes behind when I travel, but not anymore!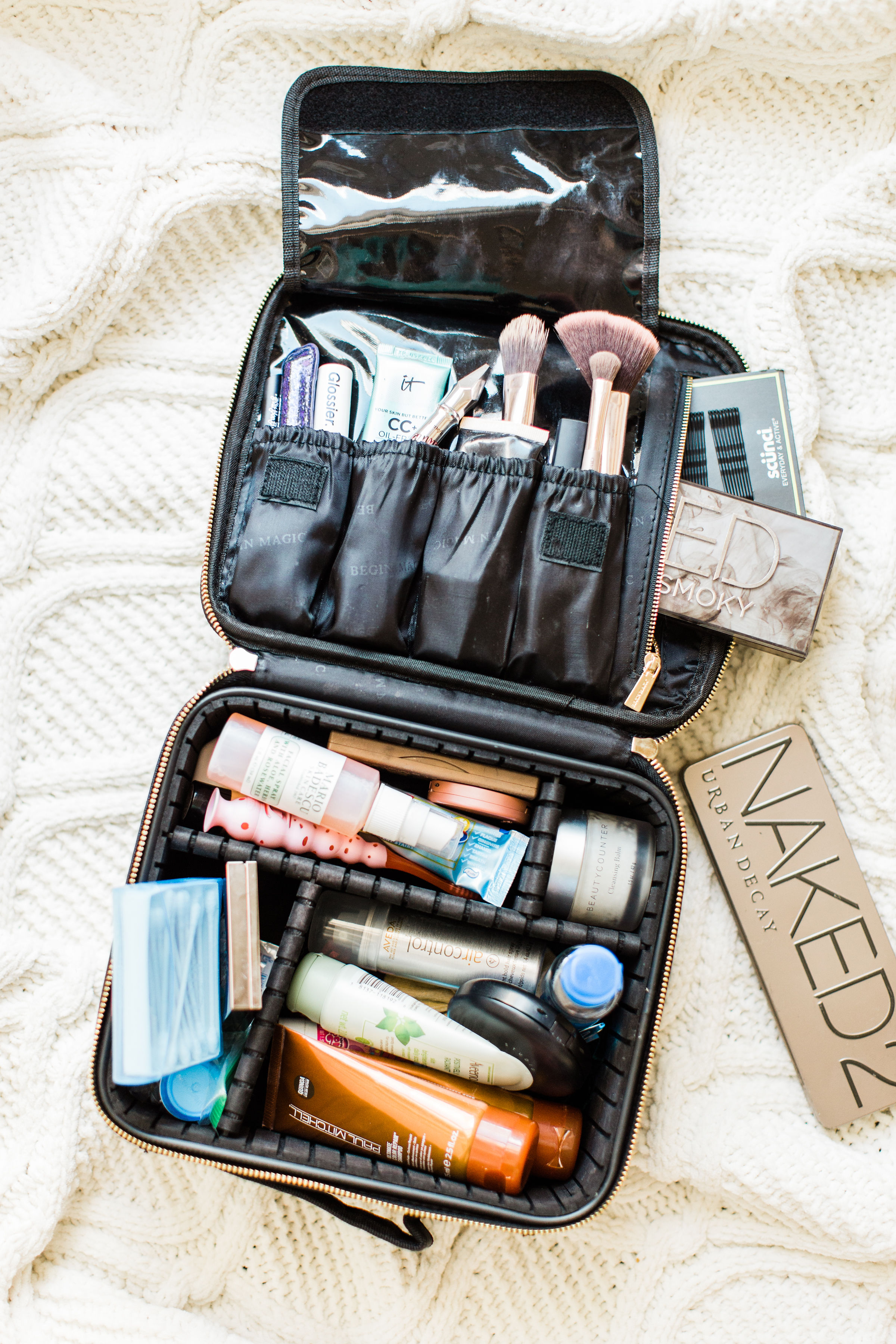 I'm extra smitten with the makeup organizer train case/travel bag because it solves a big issue I'd always had when traveling; having to bring so many darned bags to store all of our toiletries and my cosmetics. Typically when we travel, I find myself with a cosmetics bag for toiletries like toothbrushes and toothpaste, deodorant, contact solution and contacts, etc., a makeup bag with just my travel makeup, and a hair bag with a travel shampoo, conditioner, styling cream, a brush and a comb, etc. Sometimes, we'll even wind up having to bring the dreaded ziploc bag with spillover items that we couldn't fit into one of the toiletry bags … UGH.
A few bags, I can deal with, but the trouble is, trying to find what I need in a dark hotel room, digging between three different travel bags, can wind up feeling like a total goose chase. I've tried so many travel bags for cosmetics and makeup in the past, and none have even come close to solving this problem. That is, until I stumbled upon this Amazon makeup travel bag. With these Amazon makeup organizer travel bags, the days of an eyeshadow brush or bottle of aspirin getting lost in the darkest recesses of your cluttered beauty bag are long gone.
Everyone is buying these beauty bags up, because they're just that awesome.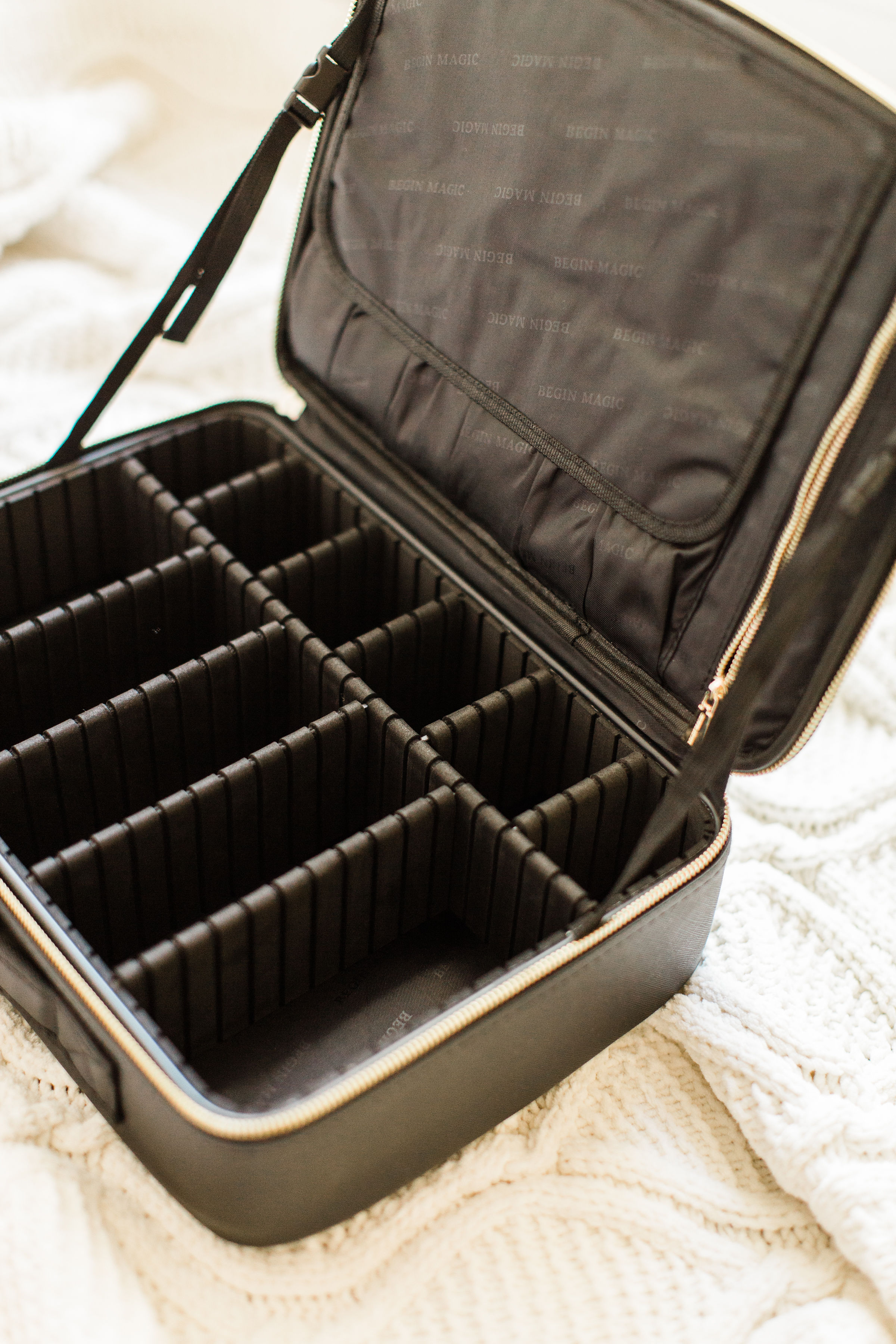 Having a structured makeup bag is such a revelation. I don't know why I didn't switch to something like this years ago. This makeup organizer travel bag is designed incredibly well. The hard sides of the makeup case keeps everything inside safe and well-protected. We're talking super durable, sturdy, and surprisingly roomy. Both the small and medium sizes are lightweight. (More on sizing, below.) The entire train case is waterproof and the inside is spill-proof. The whole thing wipes clean as well. I've now flown with this twice – once in a carry-on and once in our checked luggage, and both times, all of our toiletries and my makeup stayed in perfect shape.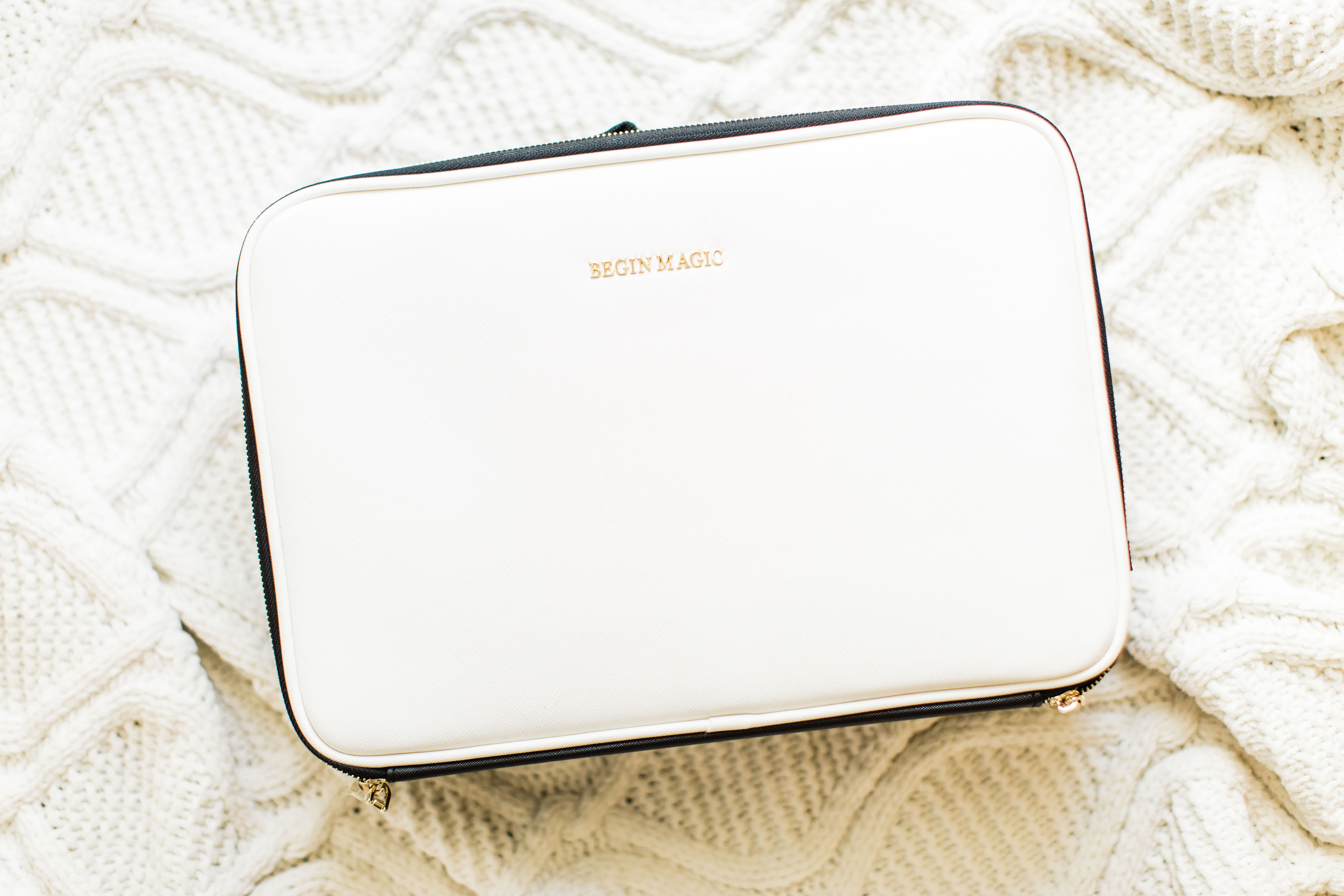 After doing a ton of research and reading ALL of the Amazon reviews, I went with the BEGIN MAGIC Makeup Train Case/Travel Makeup Bag/Professional Cosmetic Organizer Case. I liked the gold hardware, the black and white and the upgraded wipeable leather on the outside. The NiceEBag Makeup Bag is also super popular, and at just $20 for the small size, is probably the least expensive of the options; but I wound up choosing the BEGIN MAGIC version because the leather on mine had much better ratings and looked as though it could be cleaned much easier, and would hold up better. I love the quality of the BEGIN MAGIC makeup organizer travel bag, and the gold details, including the heavy gold zipper, make it feel much more luxe. (Note: there is also an all-black Professional Portable Cosmetic Bag Makeup Artist Bag version by ROWNYEON with gold hardware.)
And did I mention I liked the BEGIN MAGIC makeup organizer travel bag so much, I bought TWO? Yep! One in the small size – 10″ x 3.5″ x 9″ – and one in the medium size – 14.5″ x4″ x 10″ – which is actually quite large. I purchased both with the intention of returning one, but I just can't bring myself to give one up, and since they're so affordable, I've actually decided to hold onto both. I'll tell you why I love each size, and which size might best suit your needs!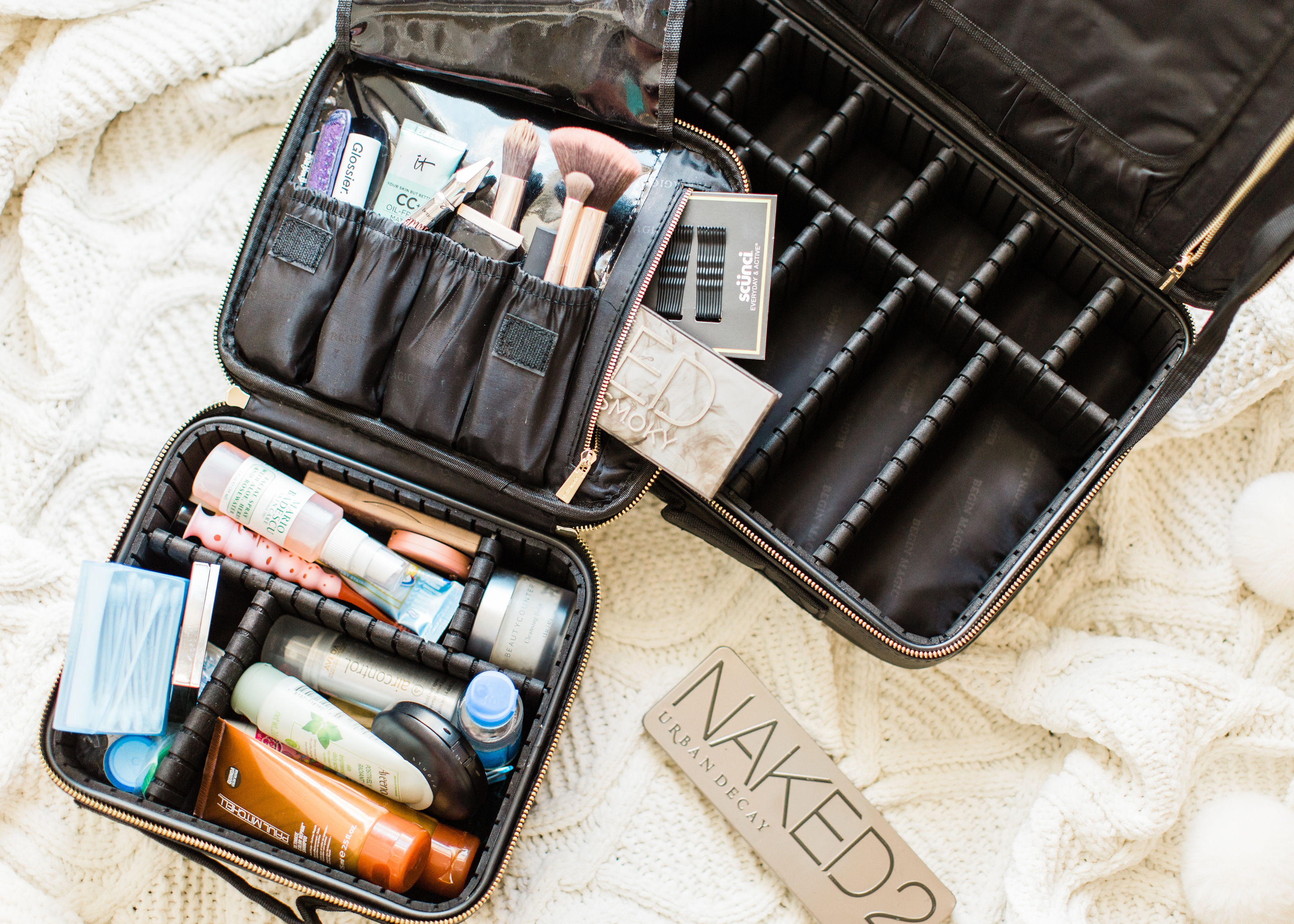 A Comparison of the Makeup Travel Case Sizes:
The Amazon Makeup Organizer Travel Bag in the Small Size – 10″ x 3.5″ x 9″
The small version of the train case is ideal for short trips, long weekends away, etc. It fits perfectly in a carry-on luggage.
It has plenty of room for makeup and a handful of beauty brushes. The interchangeable dividers allow you to organize your makeup and toiletries however everything fits best. There are 4 flexible makeup brushes holders that hold plenty of brushes (8") with a transparent plastic cover to avoid staining, and the 1 large zipper pocket behind the brush holders can fit a full-sized eyeshadow palette and a few other flatter items. I'm kind of amazed at how much can fit in this additional zippered pocket space.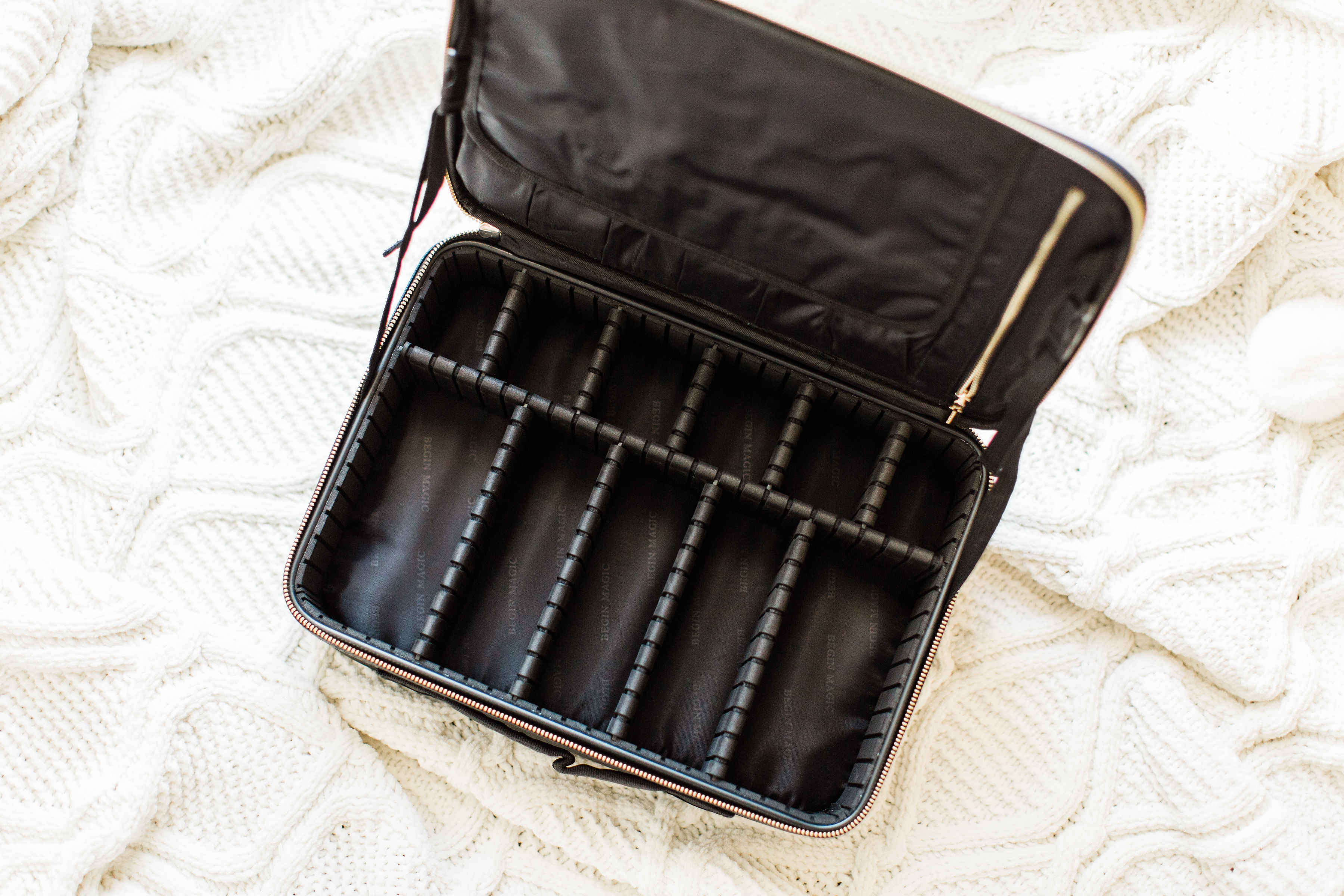 The Amazon Makeup Organizer Travel Bag in the Medium Size – 14.5″ x4″ x 10″
The medium size is a beauty lovers dream. If you have a lot of makeup, this is your case. Alternatively, if you travel with a family, and pack not only your makeup, but also your group's toiletries, this case is amazing.
The medium size has 9 adjustable dividers to customize how your store everything. It also slips over the extended handle of luggage and has interior support straps to keep the lid propped open. A feature that I love.
It has more than enough room for both everyday makeup, brushes, and travel toiletries and necessities. The medium bag has 6 roomy makeup brush pockets, with a larger transparent cover to protect the brushes and vice versa, and 1 large zipper pocket behind the brush holders for a few full-sized makeup palettes. Again, so much hidden room in this zippered pocket section.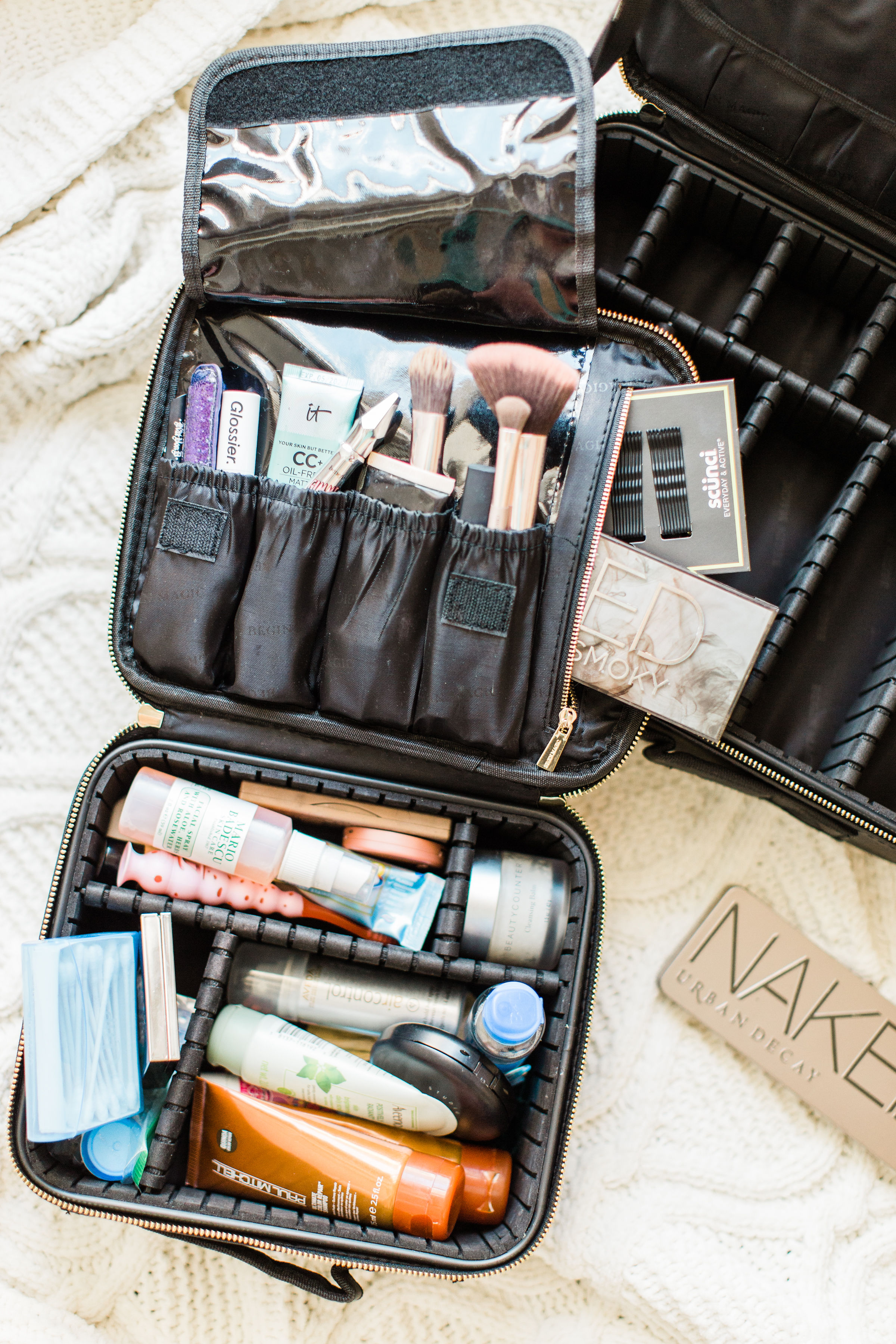 Where and When to Use the Different Size Makeup Organizer Travel Bags
I will say that we went to Boston a few weeks back for a long weekend, and I managed to pack my makeup and the family's toiletries into the small size, but just barely, and only because we brought travel-sized toiletries (since this was going in our carry-on hard-sided small luggage.) Still, it was doable, and I loved being able to fit everything into one small case. Truly, the small worked beautifully for a long weekend – makeup and toiletries in one small travel bag; however, had we been gone any longer than a few days, and had we checked a luggage, I would have 100% brought the medium size.
The medium size just makes sense for a week+ trip away. Especially for a family, or someone who really likes to bring a good selection of their makeup with them.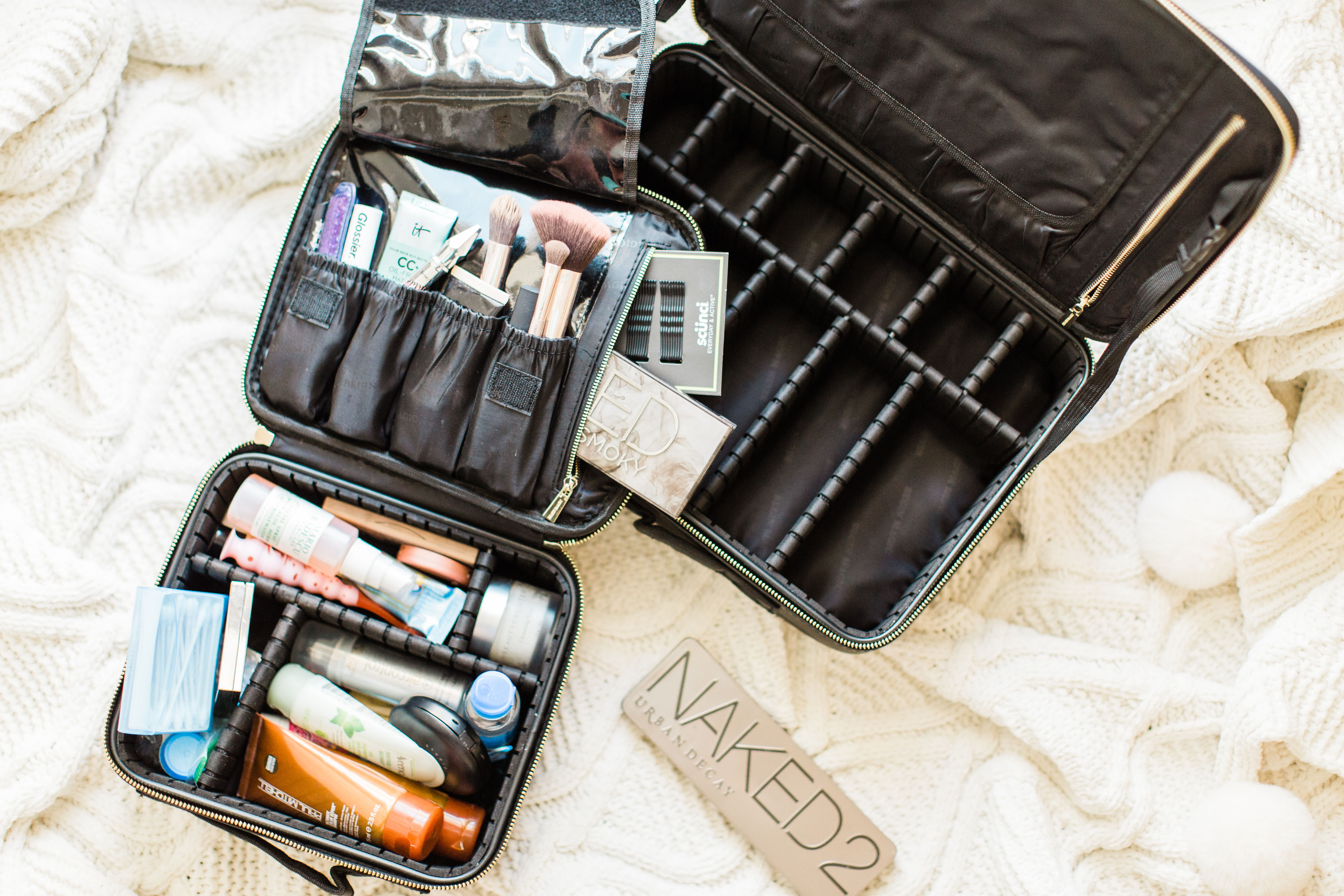 Guys, I'm obsessed.
Beyond travel, I love the idea of storing my makeup in the medium size. Either size would also be great for storing nail polish, the small could be a great shaving kit for him or a place to store medicine. The options are pretty endless.
If you're tired of digging through a mess when traveling with your cosmetics and toiletries, this makeup organizer is for you. I love mine so much! I'm thinking the small size would make an amazing gift for the holidays.
You can find these makeup organizer travel bags on Amazon here, here, and here.
SHOP WHAT'S IN MY AMAZON MAKEUP ORGANIZER TRAVEL BAG | CLICK LEFT & RIGHT ARROWS TO EXPLORE

Love this post? Be sure to check out all my beauty favorites right here, including the beauty products I can't stop reaching for lately.
Photos by Annie Timmons Photography for Glitter, Inc.