This post contains affiliate links, which means that if you click on one of the product links, I'll receive a small commission. Thank you so much for clicking through and helping to support this little blog business of mine! Read more about our site, privacy, and disclosure policies here.
Looking for something fun to do with your little ones? Podcasts for kids are an amazing learning tool, help to avoid screen time, are the perfect activity for road trips, keep kids wildly entertained, and they are totally free!
Podcasts are all the rage these days. And did you know, that while podcasts are on the rise for adults, they've become just as popular for kids and families too?! Because we take a lot of road trips in particular, we've started to get into tuning into kid-friendly podcasts. I have to say, we totally love them.
We have young kids, yet I've been amazed at how much these podcasts captivate our little ones.
Podcasts are a fantastic way to help your kids LEARN all while being entertained.
And, since we're totally hooked, I've gone and done the research for you. Today, I'm sharing 12 incredible podcasts your kids will love, plus the benefits of listening to podcasts with your family, and how to get your kids to listen in and ask for more.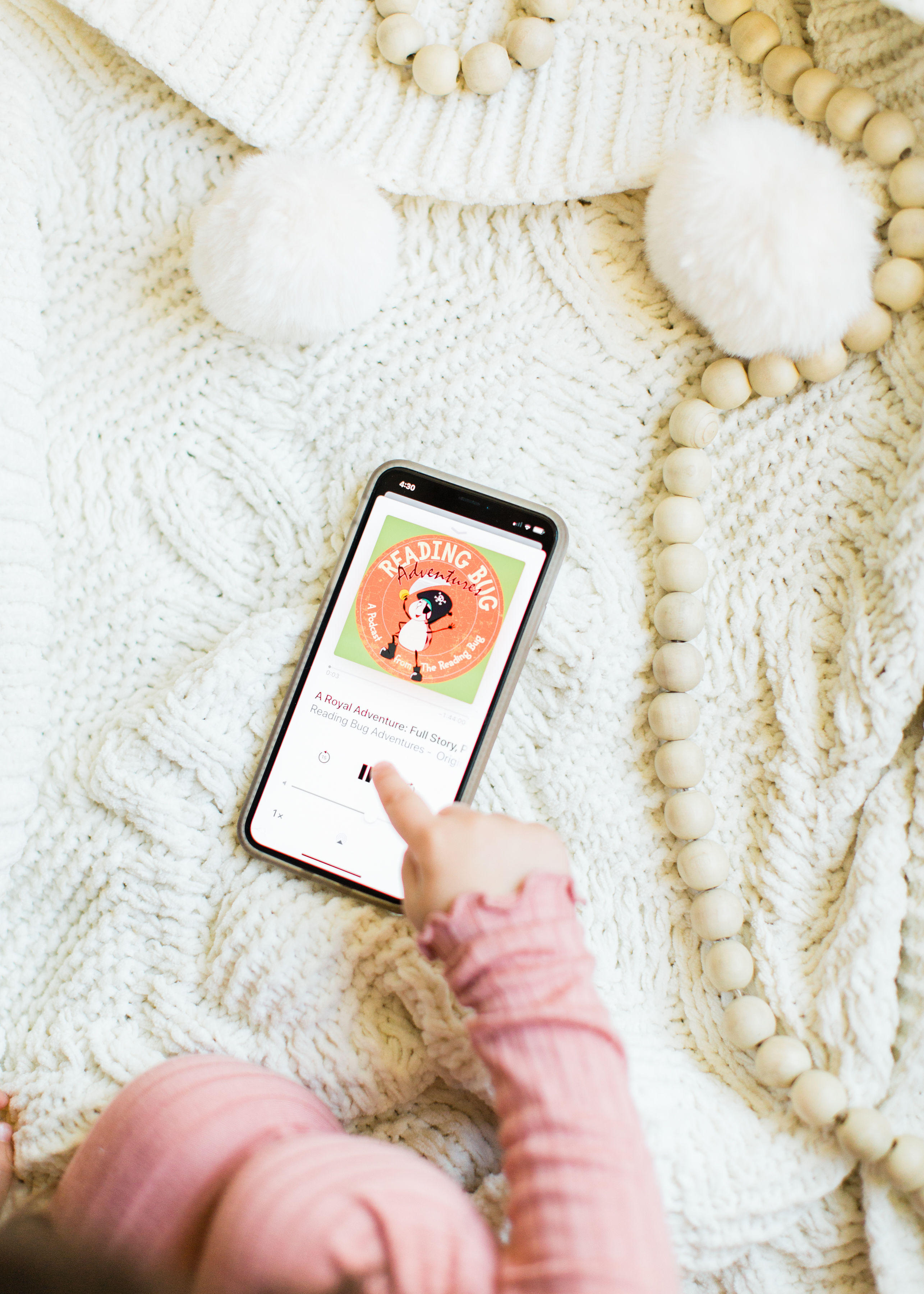 The Benefits of Listening to Podcasts With Your Family
We absolutely love podcasts for so many reasons:
Podcasts help to cut down on screen time.
Podcasts are totally free! We tune in on Podcasts, the original Apple iOS podcast app, but there are plenty of free apps you can download to listen to podcasts on; i.e., Stitcher Radio for Podcasts, Pocket Casts, and Kids Listen.
Because we travel a lot, we're always looking for fun ways to help pass the time, and though we do sometimes rely on the ipad for a movie or two on longer road trips, podcasts and other fun car activities really help to cut down on road trip screen time. (By the way, if you're looking for some awesome travel activities for your kids, you do not want to miss this HUGE list of the best toys and activities to bring on planes, trains, road trips, etc.) Podcasts can actually help to substitute screen time in general, whether at home orin the car.
Podcasts, and in particular, stories on podcasts, have major benefits like improving imagination, focus, and teaching kids to use different senses to experience stories.
And if you listen to podcasts together it can become a special time for the whole family. I can't help but feel this was how families of the past gathered around the radio to listen to their favorite radio show. It's such a great dose of nostalgia merged with a modern love of learning. Hubby and I actually really love podcasts – both for kids and grown-ups. They help to pass the time, are fun to listen to, and always get us thinking.
Plus, every time your kids listen to podcasts, they leave with a million more questions; such a great way to get your family engaged and talking.
And did I mention, kids love them?!
How To Get Your Kids To Listen To Podcasts
When we decided to start introducing our kids to podcasts, we just dove right in. Playing a short podcast on a long drive or road trip is the perfect way to introduce podcasts to your kids. You can also play them at night when your little ones are going to bed, at story time, with headphones waiting for an appointment, or really any time in the car; i.e., in the carpool line, on a road trip, etc.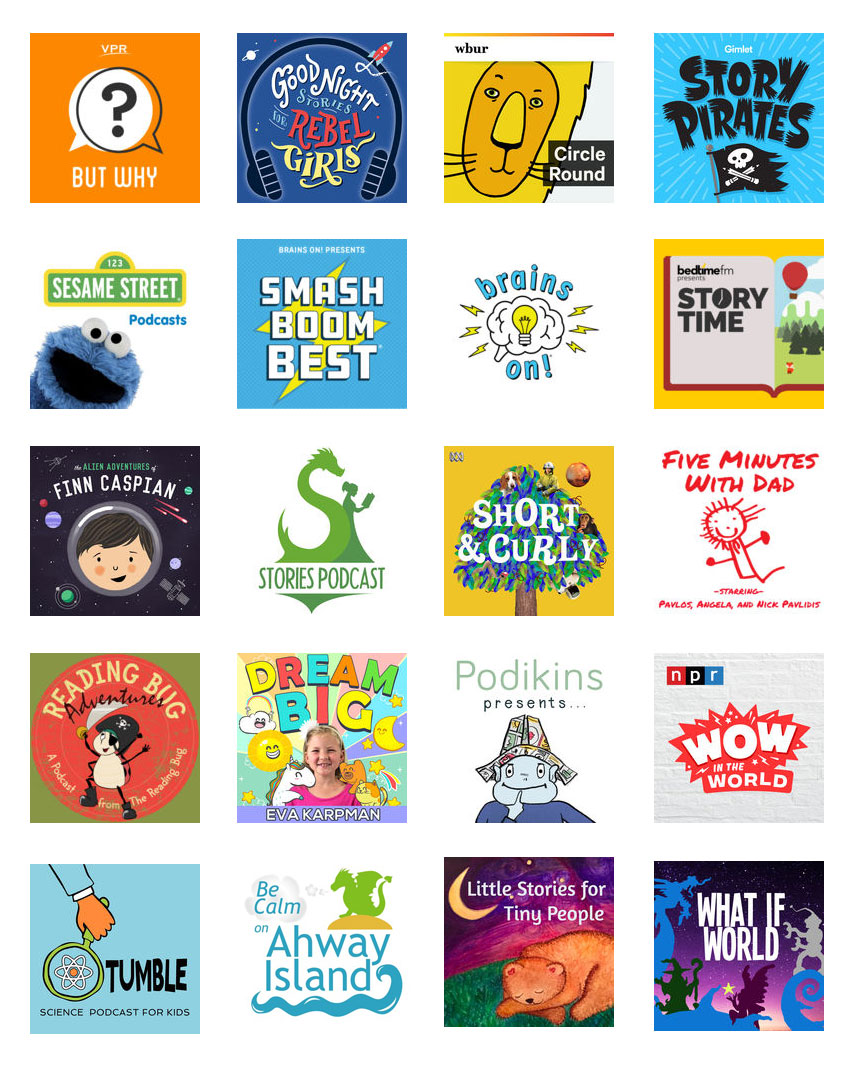 Podcasts For Kids
These are the 20 Best Podcasts For Kids:
Reading Bug Adventures is a really sweet story podcast that our girls love. Each episode includes a new adventure — just hop into the Reading Bug's magic book bag, and you'll be transported to whatever time or place is in the books. This one is a really fun way to introduce kids to new concepts and new worlds.
The stories podcast is just that – narrators perform a new story every week. The stories range from retellings of fairy tales like Snow White to classic stories like Peter Rabbit and even completely original works.
Great for bed time, Story Time is an audiobook podcast for children ages 2-13. Each story is usually less than 20 minutes long, and is perfect for toddlers, preschoolers, and young kids.
Often compared to a kid-friendly Radiolab, this podcast not only addresses fascinating topics but also tries to foster a love of science itself by interviewing scientists about their process and discoveries. The hosts don't assume that listeners have a science background — but even kids who think they don't like science may change their minds after listening to this podcast.
Brains On! is a science podcast for curious kids and adults. Co-hosted each week by kid scientists and reporters from public radio. The topics discussed range from the science behind sneezing to how to translate the purr of cats to how elevators work to life on other planets.
From NPR, hosts Mindy Thomas and Guy Raz guide curious kids and their grown-ups on a journey into the wonders of the world around them. The podcasts goes inside our brains, out into space and deep into the coolest new stories in science and technology.
This serialized podcast tells the story of an 8-year-old boy living on an interplanetary space station who explores the galaxy and solves mysteries with his friends. With no violence or edgy content and with two seasons totaling over 13 hours of content, this sci fi adventure is perfect for long car rides.
This sweet podcast series stars a dad and his two young kids, and features genuine conversations between the three of them about everyday things like courage, kindness, how to show love, and being a good sport. This authentic podcast lets its audience listen in to teachable moments and how a caring dad interacts with his kids.
The "But Why" podcast is awesome. Kids from all over send in questions in audio messages (they are so cute!) and the podcast explains the answers. It tackles topics large and small, about nature, words, and the world.
Podikins Presents is a kids podcast channel featuring activities, stories, and skits designed to promote collaborative and creative thinking. For kids, families, and curious minds, ages 0-99.
This family-friendly podcast inspires kids (and grown-ups!) to pursue their passions in life and take action to make their dreams a reality. Hosts Eva Karpman (currently 9-years-old in the 4th grade) and mom Olga Karpman interview world-class performers who do what they love and live their dreams each and every day. Its 20-30 minute format makes for the perfect length for parents and kids to listen in the car and before bed/nap-time.
Story Pirates is a super cute podcast featuring stories written by kids and acted out by professionals like real actors, comedians, and entertainers. The idea: the not-so-typical swashbuckling sailors search for a different kind of treasure – kids' wildest, most imaginative stories, with episodes like "Eat a Spider Day" and "Princess Lifeguard Camp". (Bonus: it helps to inspire children to write their own stories.)
This one is actually a kids debate show. Every episode takes two cool things, smashes them together and let's you decide which is best. They debate fun things like Tacos or Pizza? Super Speed or Super Strength? This one totally gets the kids comparing ALL of the things.
This podcast actually makes ethical questions entertaining, and it does a brilliant job of diving into ethics in a fun way. From serious questions like "Is it ever OK to lie?" to sillier ones like "Should you move to Mars?", Short and Curly makes kids think about decisions based on what they know (and are learning) to be wrong and right and helps parents to engage in big discussions with their kids in a great way.
This is another podcast that answers all of kids great questions; everything from, "What if cars could talk?" to "What if it rained candy?" For a moment in time, What If World makes these questions reality, and describes what these worlds would be like in vivid, imaginative detail. So cool.
Be Calm on Ahway Island features short stories for kids to listen to help get little ones relaxed. Each relaxing story contains a guided meditation, breathing exercises, and a positive message.
Circle Round is a storytelling podcast for kids ages 3 to 10, that tells carefully-selected folktales from around the world with an eye towards inclusivity. Stories are adapted for today's families into 10 to 20 minute diverse episodes that delve into topics such as kindness, persistence, and generosity.
Rebel Girls is a fairy tale podcast about the extraordinary women who inspire us. This show is based on Good Night Stories for Rebel Girls, the global best-selling book series written by Elena Favilli and Francesca Cavallo, inspiring millions of girls and women around the world to dream bigger, aim higher and fight harder.
Did you know that there's a Sesame Street podcast?! It features the adorable characters your kids know and love, including Elmo, Abby, Cookie Monster, and the newest character, Julia. Fun stories, kids music, and ABC activities with their familiar friends will keep the love for the Sesame crew going, even when the TV is off.
This series is a great way to test out your kids' interest in podcasts, since most of the stories hover around the 10-minute mark. Some are shorter, some are longer, but all are original stories that primarily feature whimsical tales about animals. Also, there are a few bedtime stories in the mix that are more low-key to help kids wind down for the night.
SHOP THE PODCASTS FOR KIDS POST | CLICK LEFT & RIGHT ARROWS TO EXPLORE

IF YOU LOVED THIS POST, YOU CAN SEE MORE BEHIND-THE-SCENES OF OUR LIFE WITH TWO LITTLE ONES, PLUS OUR FAVORITE PARENTING HACKS HERE, INCLUDING: 
The Best Toys and Activities to Bring on a Plane for Kids, Toddlers, and Babies
How to Travel with Young Kids: 10 Tips for Smooth Road Trip or Flight
How we Taught Our Baby to Sleep Through the Night (this post is hugely popular!)
The Best Snacks to Bring on a Family Road Trip
How to Make Your Own First Birthday Smash Cake
7 Tips for Helping Babies with Acid Reflux
Must-Have Baby Items for the First Year: What You Really Need on a Baby Registry
How we Transitioned Baby from a Bottle to a Sippy Cup
How to Create Healthy Snack Bins for Kids
What are your favorite podcasts for kids? Do your kids love podcasts as much as mine do?
Photo by Annie Timmons Photography for Glitter, Inc.