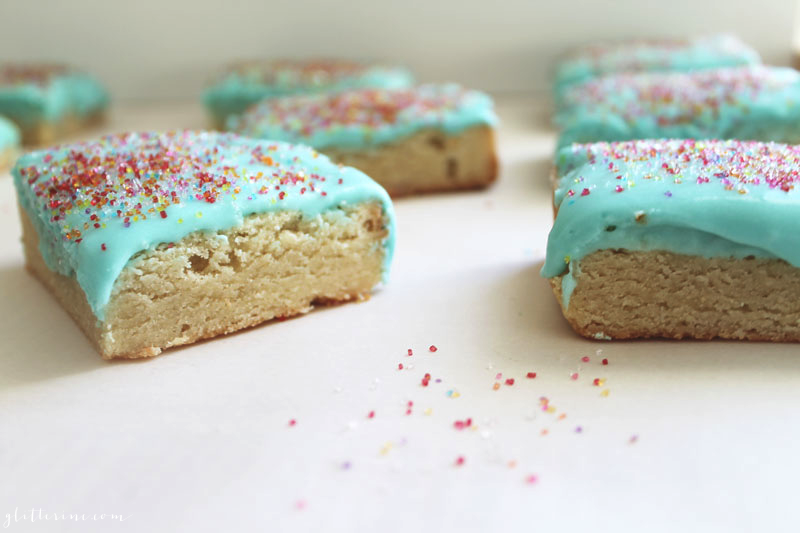 By now you might be noticing a trend with my recipes.  I've always loved to bake, and cook, and I know pretty quickly when a recipe works, when a recipe doesn't really work, and when a recipe is a home run (Exhibit A: The Best Red Velvet Cupcakes, Ever.)  So from here on out, I vow to share with you only my very favorite recipes, a.k.a., the recipes that had everyone begging for seconds, and thirds, and the recipes I knew, were the type I had to make again and again.  (The sign of a great recipe, is how many times you make that recipe again in the future.  And this sugar cookie recipe tops that list!)  I may not be a gourmet chef, and I can't promise you'll love the recipes in the same way that I do (though I'm betting you will!), but from here on out, I'm sharing only those recipes I love and truly think are the best, ever.
With that, I give you, the most amazing sugar cookie bars, ever.  These bad boys are not for the faint of heart.  They are dense and rich and oh-so-sweet, but they are also delicious.  (And perfect for Spring, Easter, really all holidays, general merriment.)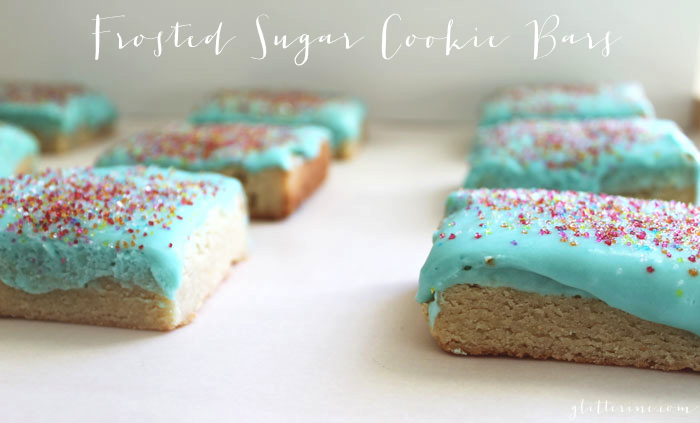 FROSTED SUGAR COOKIE BARS
makes about 12 large cookie bars (can easily be cut into 24 squares – they are that rich!)
INGREDIENTS
Sugar Cookie Dough
½ cup unsalted butter (1 stick), softened
1 large egg
1 tsp. vanilla extract
1 cups + 1 tbsp. white sugar
1 and ¼ cups all-purpose flour + 1 tsp. flour or cornstarch
¼ tsp. salt
¼ tsp. baking powder
Frosting Layer
3 and ½ cups powdered sugar
5 tbsp. butter, melted
3 ounces of cream cheese (optional)
3 tbsp. milk or heavy cream
1 tsp. vanilla extract
½ tsp. gel dye food coloring (regular food coloring works fine as well)
DIRECTIONS
Sugar Cookie Layer
Preheat the oven to 350 degrees F. Line an 8 x 8 pan with parchment paper and set aside.
Combine the butter, eggs, vanilla extract, and white sugar in a large bowl. Beat until the mixture is light and fluffy or about 2-3 minutes.
In another bowl, combine the flour, tsp. of flour or cornstarch, salt, and baking powder. Whisk together.
Slowly combine the flour mixture to the wet ingredients and beat until combined, making sure to scrape the edges of the bowl occasionally.
Spread the cookie dough along the bottom of the pan and cook for about 25-30 minutes or until lightly browned along the edges. Do not over-bake. Allow to cool completely.
Frosting
Combine the powdered sugar, butter, milk or heavy cream, vanilla, and food coloring.  (Note:  I also added cream cheese to this frosting recipe to thicken it up some.  The frosting is a bit more wet – and can be poured over the bars – without the addition of cream cheese – but in my book, cream cheese makes everything taste heavenly.)  Beat on medium speed until completely smooth.
Spread on the completely cooled sugar cookie layer.
Top with sprinkles or nonpareils.  Allow to set.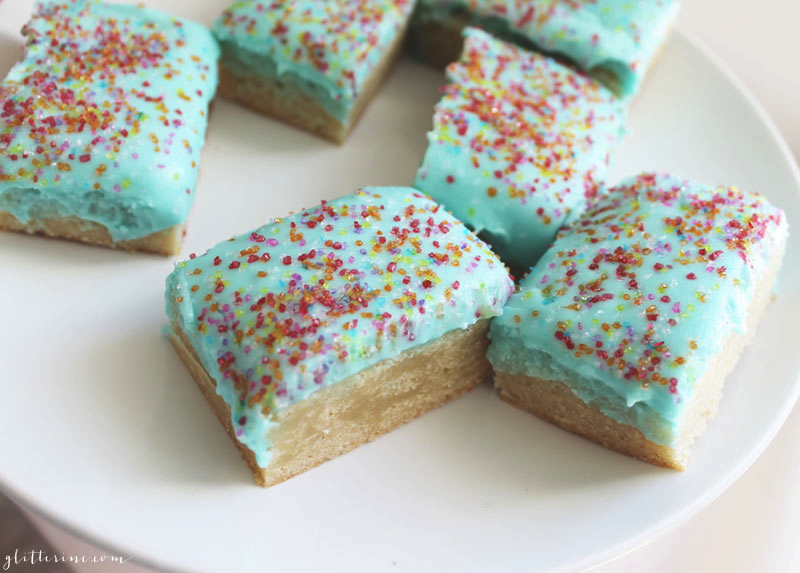 Recipe adapted via Chelsea's Messy Apron