This post contains affiliate links, which means that if you click on one of the product links, I'll receive a small commission. Thank you so much for clicking through and helping to support this little blog business of mine! Read more about our site, privacy, and disclosure policies here.
This post has been sponsored by MARS in partnership with Ahalogy. All thoughts and opinions are my own.
These s-mores cookie bars may very well be one of the very best things I have baked, and that's saying a lot. (Mostly because I can't get my butt out of the kitchen.) Of the desserts I get the most repeat requests for, these are probably in my top three. I'm talking parties, dinners, family hangouts; this is the dessert our family and friends constantly request. I mean, what's not to love … okay, obsess over? These s'mores cookie bars are decadent. And the best part is, they're actually way easier to make than you might think; i.e., more time to enjoy time with my family, and less time spent in the kitchen.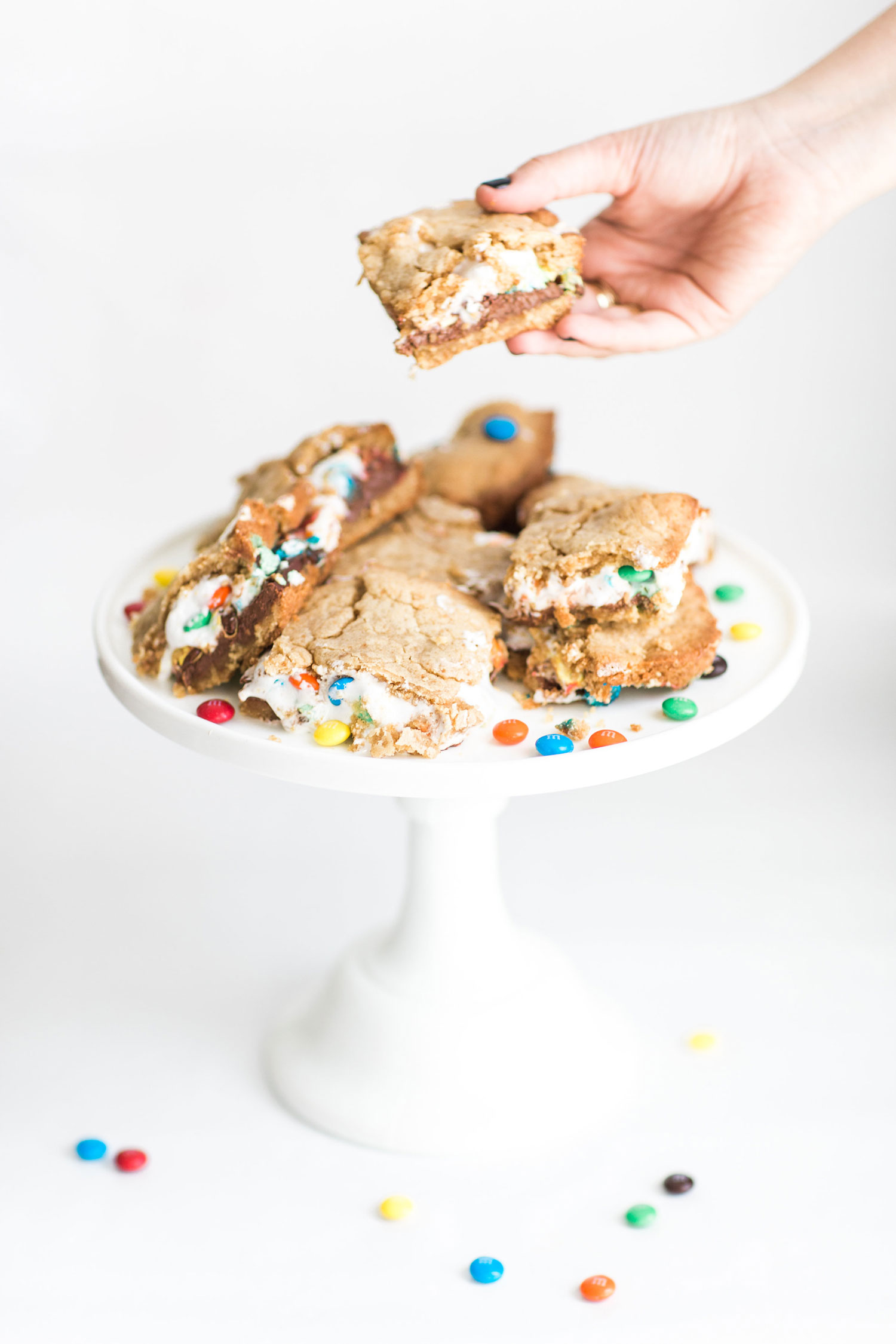 As for the colorful candy addition – since I can never, ever leave well enough alone – I just had to add in a generous sprinkle of M&Ms for a little extra sweet crunch. Let's just say I was wandering the aisles of our local Kroger before making this recipe when I stumbled upon all of the sweet M&M treats in the Kroger Bakery and Candy Aisle. Yeah, I couldn't resist. It would also be so much fun to serve these s'mores bars warm out of the oven (and cut into squares) on a "S'mores Station" of sorts, with different kinds of M&M's like milk, peanut, and peanut butter, so that kids can get in on the fun and decorate their own bars.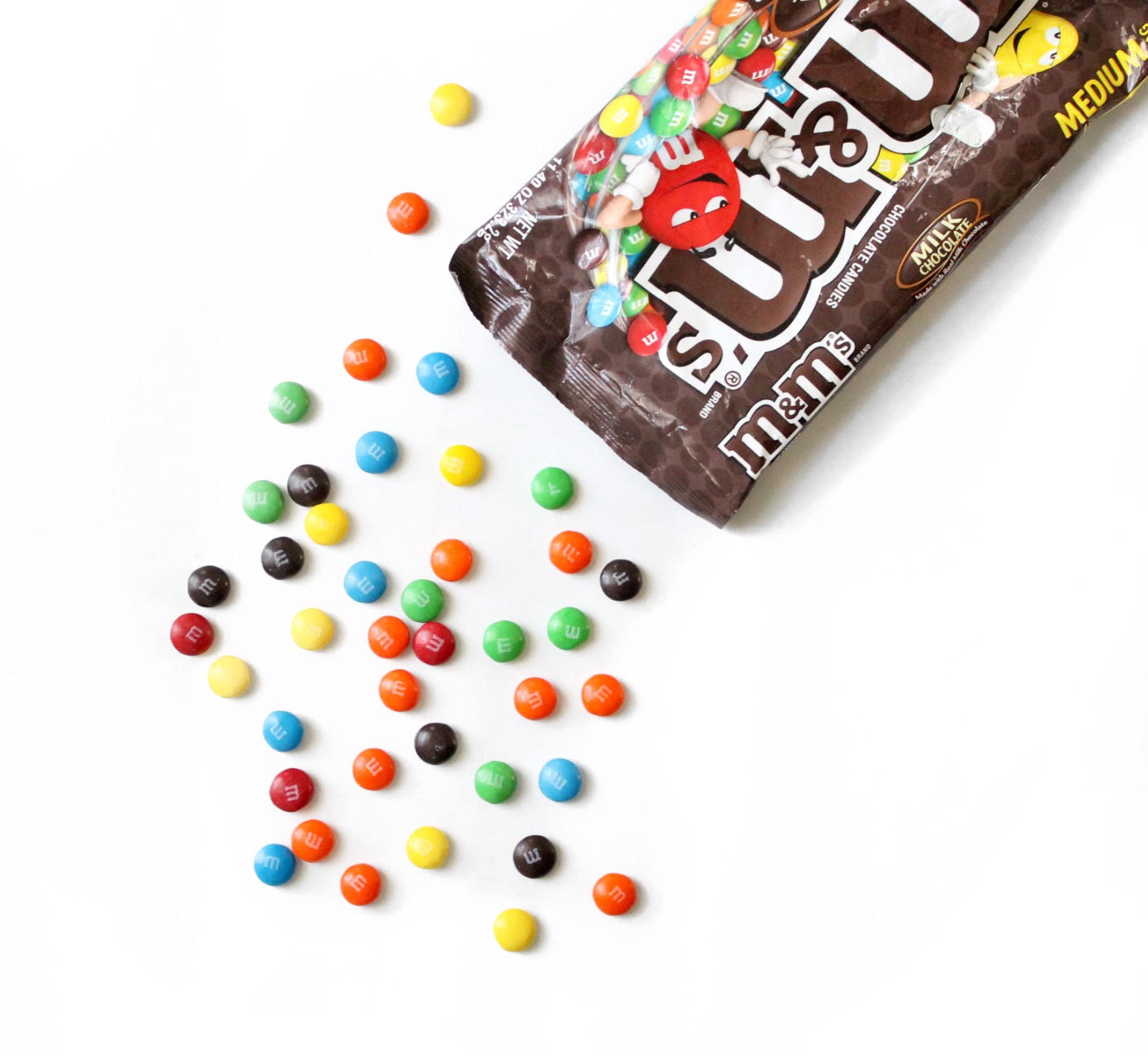 By the way, if you don't have time to make yummy treats with M&Ms, you can always go to your local Kroger bakery and purchase M&M cookies made fresh from the Kroger bakery. (Always a hit in our house!)
And did you know that 2016 is M&M'S® 75th Anniversary? That alone calls for one great reason to celebrate … with M&M s'mores bars, of course.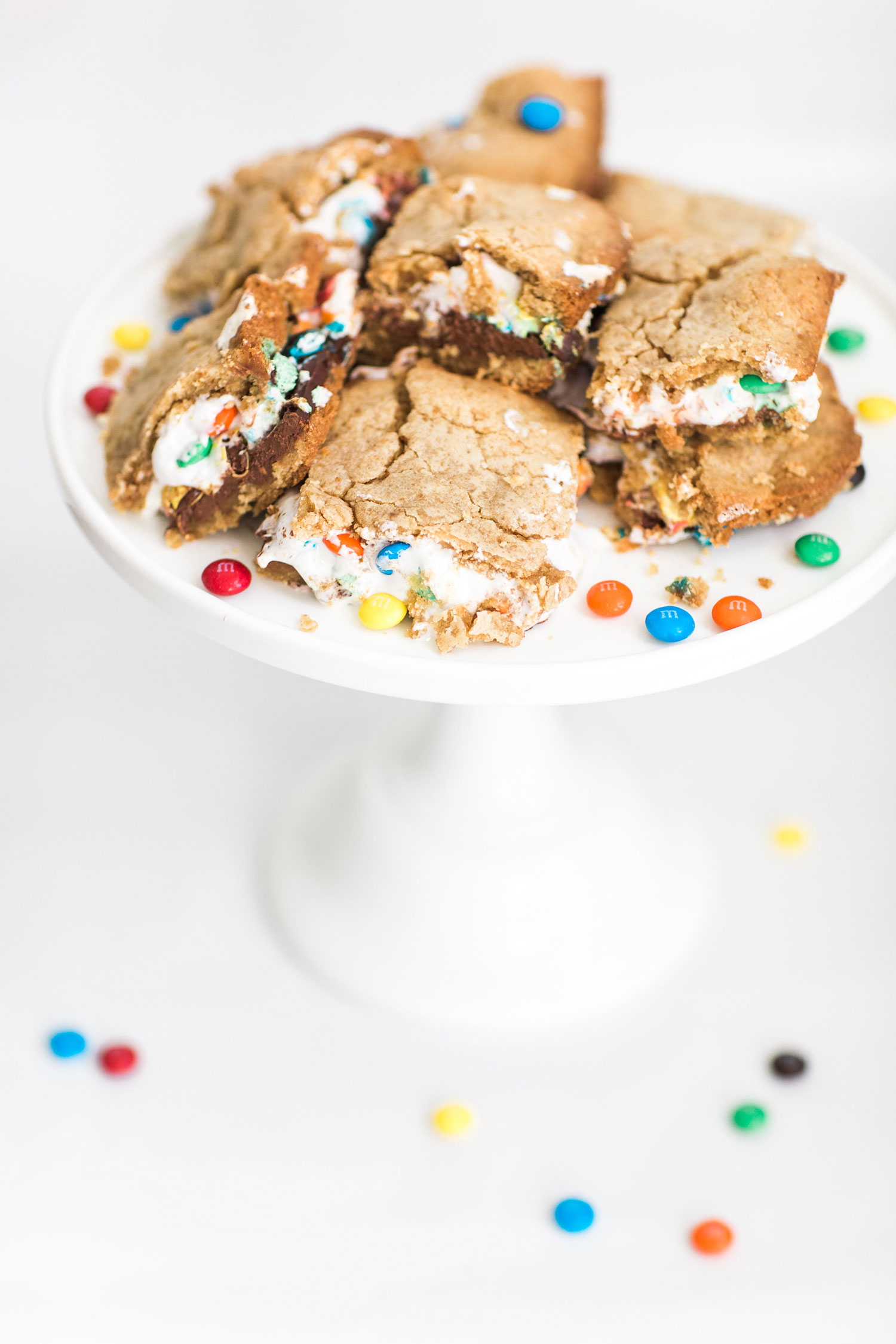 I love making festive desserts like this for little family celebrations and parties. And don't s'mores remind you so much of childhood?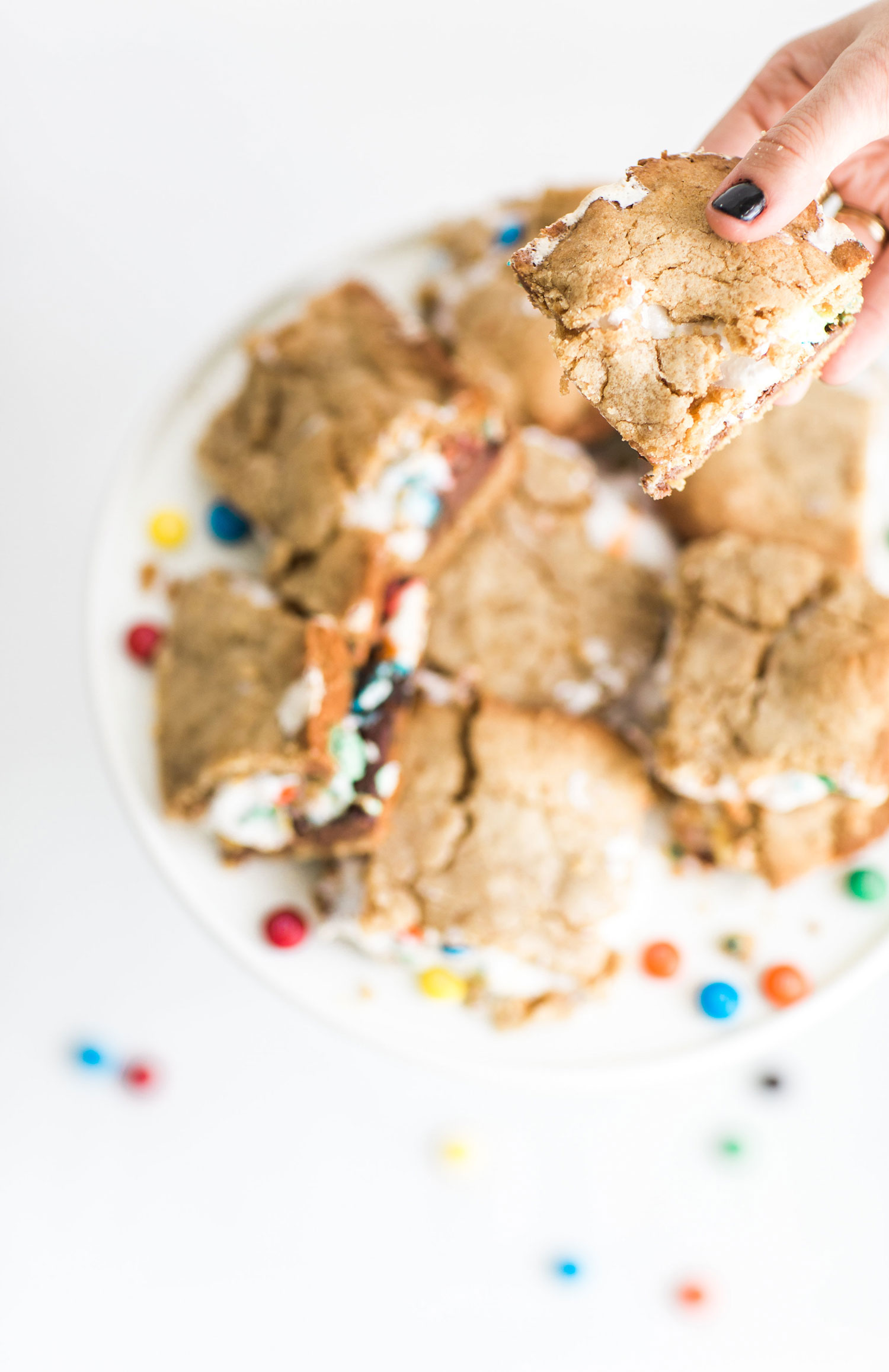 HINT: These s'mores cookie bars are best when warm – because the chocolate and marshmallow inside are all gooey and you really get that whole campfire feeling. I've been known to microwave* a bar the next day, just to recreate the ooey-gooey-ness all over again. (*If you're craving that toasty goodness after they've cooled, just microwave refrigerated cookie bars for about 10-15 seconds before eating.)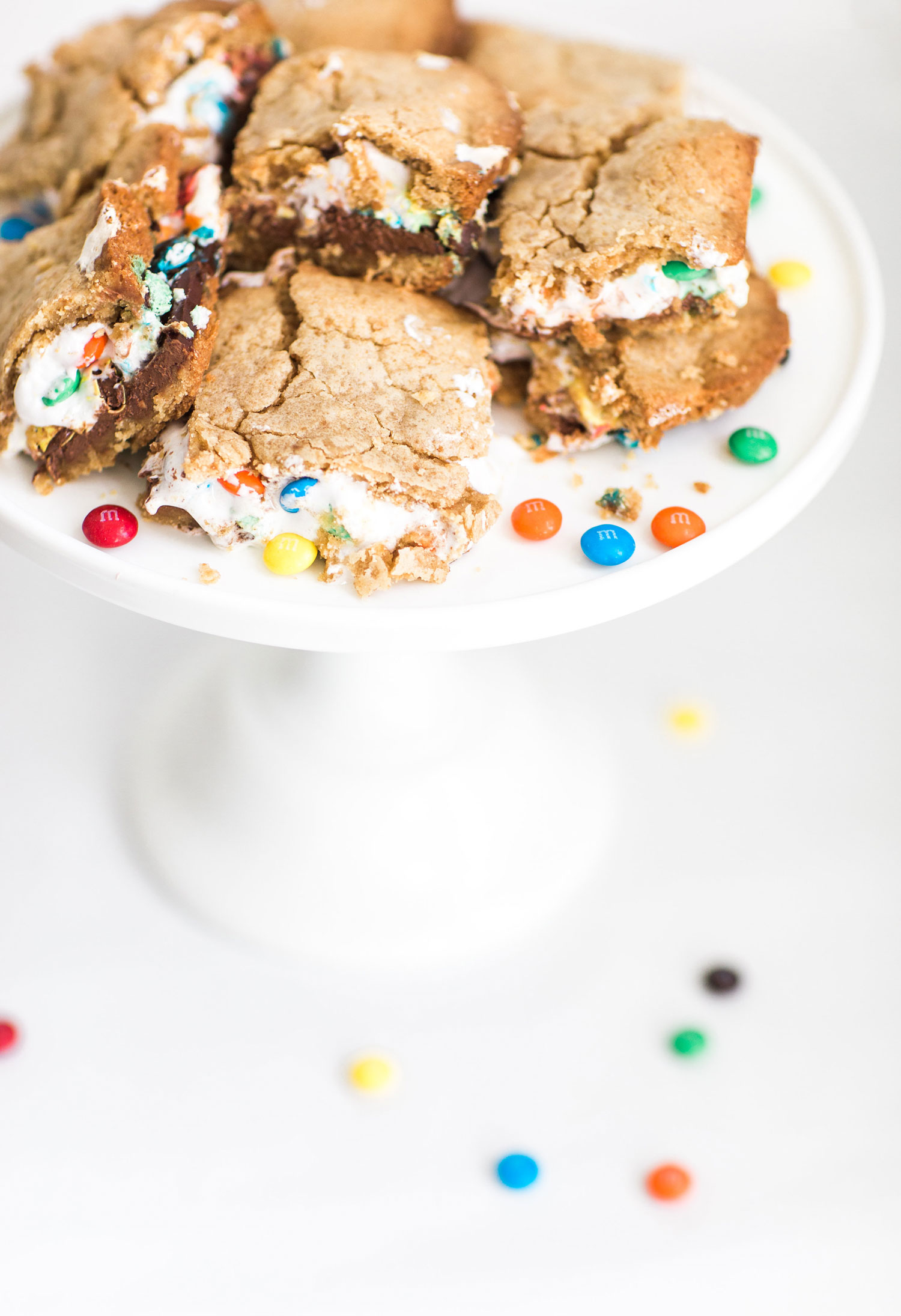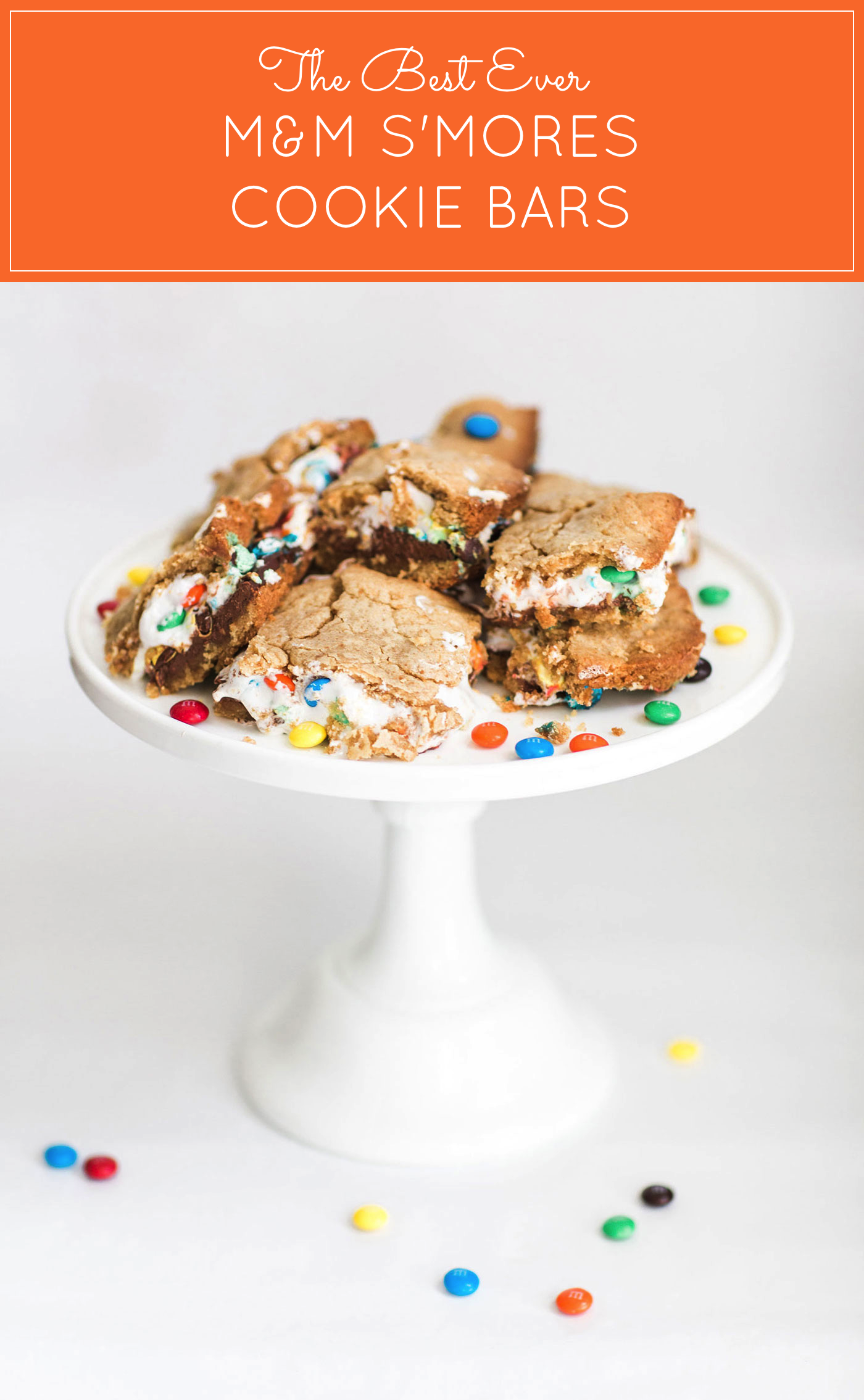 S'MORES COOKIE BARS WITH M&Ms
Makes 9 large bars or 12 medium bars
INGREDIENTS
1/2 cup butter, room temperature
1/4 cup brown sugar
1/2 cup sugar
1 large egg
1 tsp vanilla extract
1 1/3 cups all purpose flour
3/4 cup graham cracker crumbs
1 tsp baking powder
1/4 tsp salt
2 king-sized or 4 regular milk chocolate bars
1 1/2 cups marshmallow creme/fluff (not melted marshmallows)
1 Medium Bag of M&Ms
DIRECTIONS
Preheat oven to 350°F.
Grease an 8-inch square baking pan.
In a large bowl or stand mixer, cream together butter and sugar until light. Beat in egg and vanilla.
In a small bowl, whisk together flour, graham cracker crumbs, baking powder and salt.
Add dry mixture to butter mixture and mix at a low speed until combined.
Divide dough in half and press half of dough into an even layer on the bottom of the prepared pan. Place chocolate bars over dough. Break the chocolate (if necessary) to get it to fit in a single layer no more than 1/4 inch thick. Spread chocolate with marshmallow creme or fluff. Sprinkle contents of bag of M&Ms on top of the marshmallow spread. Place remaining dough in a single layer on top of the fluff. (This is most easily achieved by flattening the dough into small shingles and laying them together).
Bake for 30 to 35 minutes, until just lightly brown. All to cool completely before cutting into squares.
Recipe Adapted via Lovin' From the Oven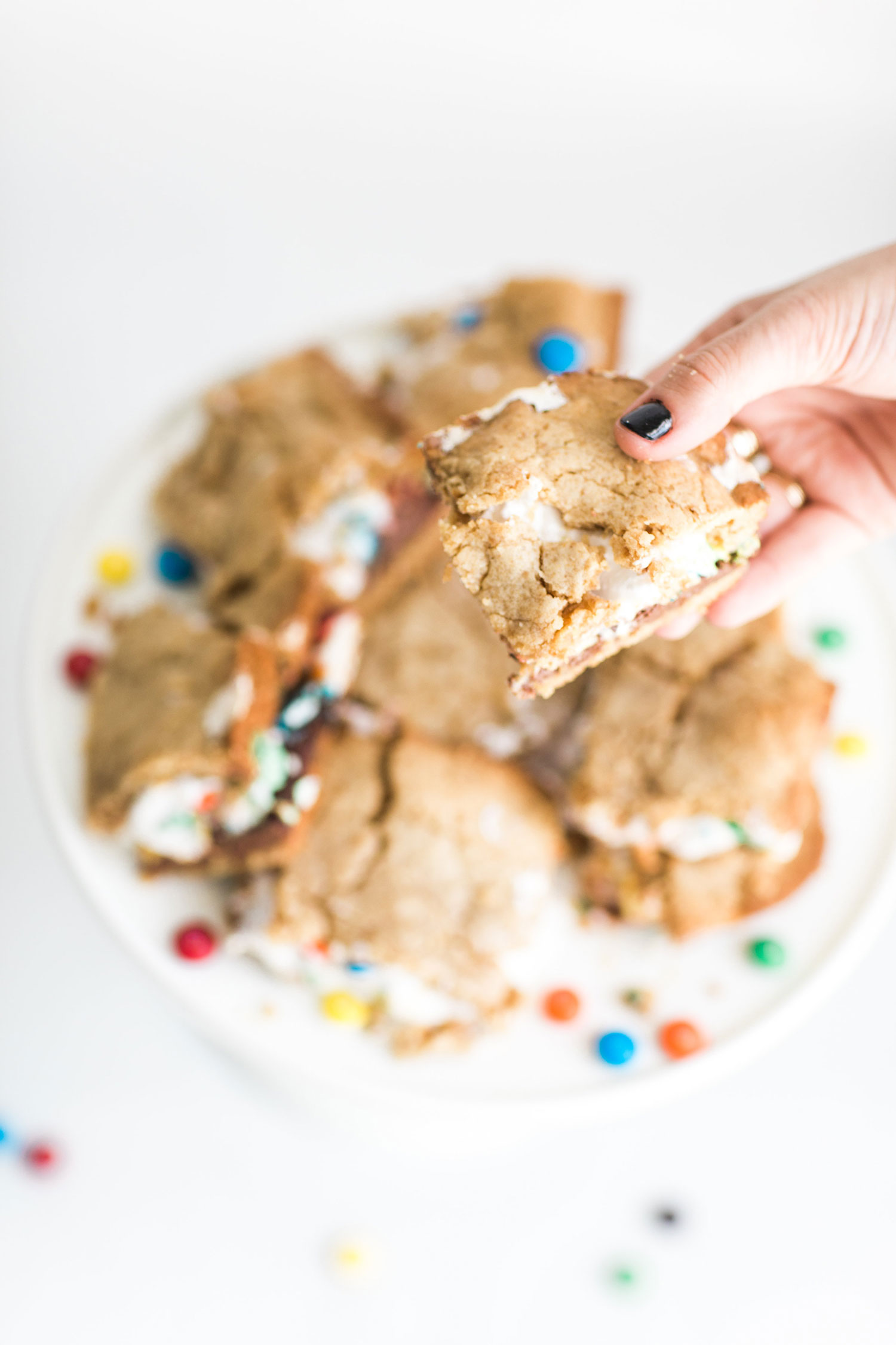 Messy, gooey, rich, and delicious; you have to try these s'mores bars, stat. Let me know in the comments if you bake up a batch! 
Photos by Annie Watts Photography