There are pretty much always apples in our house. Scarlett is obsessed, and I can't stop picking up local apples every chance I get. We even went to an apple orchard earlier this fall. (Such a fun experience!) There's also not a dessert in the world that I don't like with apples. My husband basically thinks I'm the weirdest person ever for choosing any apple dessert over chocolate, cookies, or ice cream. Yep, I'm that devoted.
The point is, I've tried them all, and this is by far one of the most decadent, incredibly yummy apple desserts around. It also happens to be a great dessert for Thanksgiving or the holidays because these apple crisp shortbread bars are actually a lot simpler to make than a pie, but pack all of the same delicious flavor, and bars are portable, so they're ideal for parties.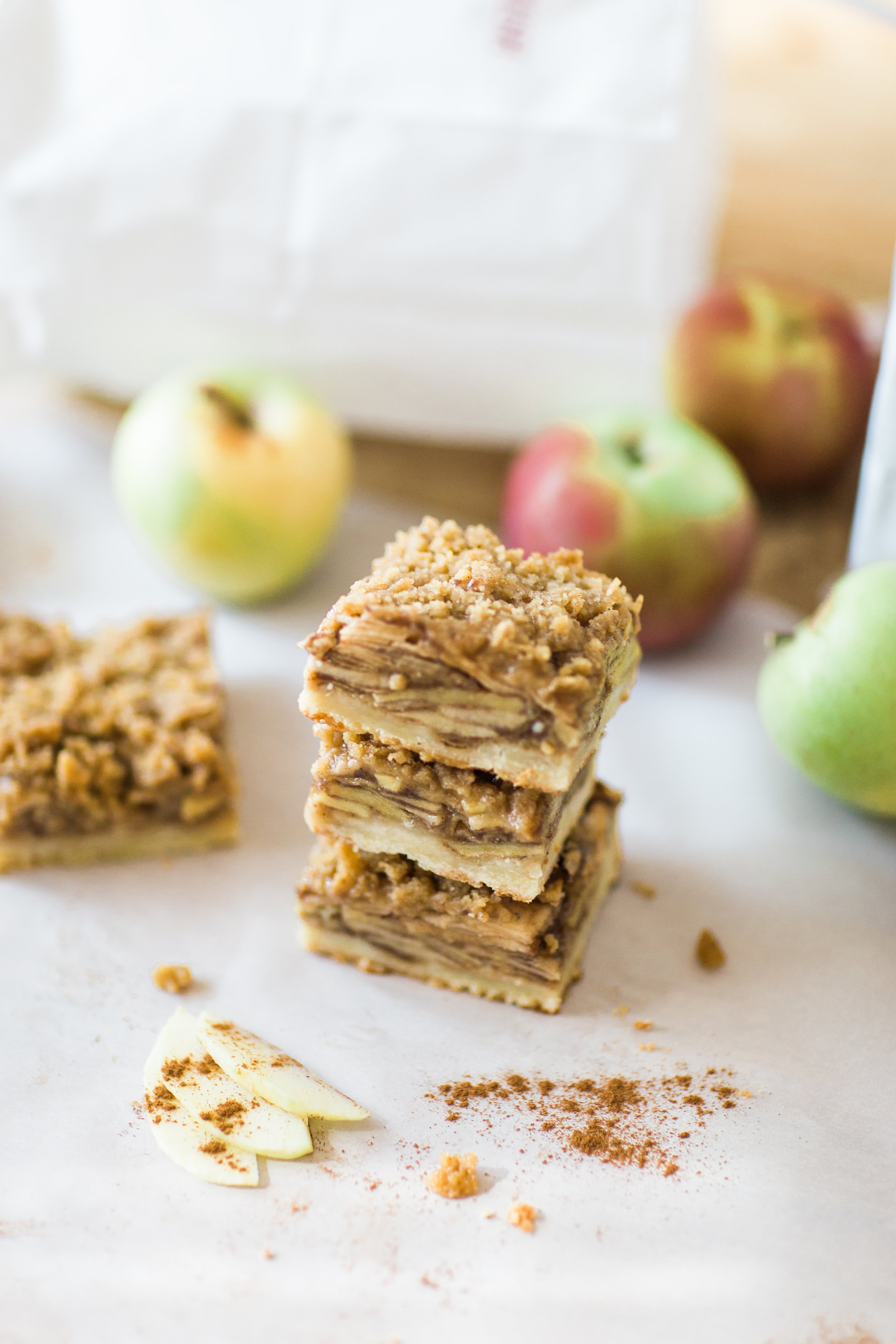 Don't let the layers scare you; these apple crisp shortbread bars are actually surprisingly easy to throw together and the end result is something incredible: a buttery, rich shortbread cookie bottom, topped with moist caramelized apples and the most perfect toasty crisp. It's the kind of dessert that when you take your first bite, you want to sing or cry or eat the rest of the pan.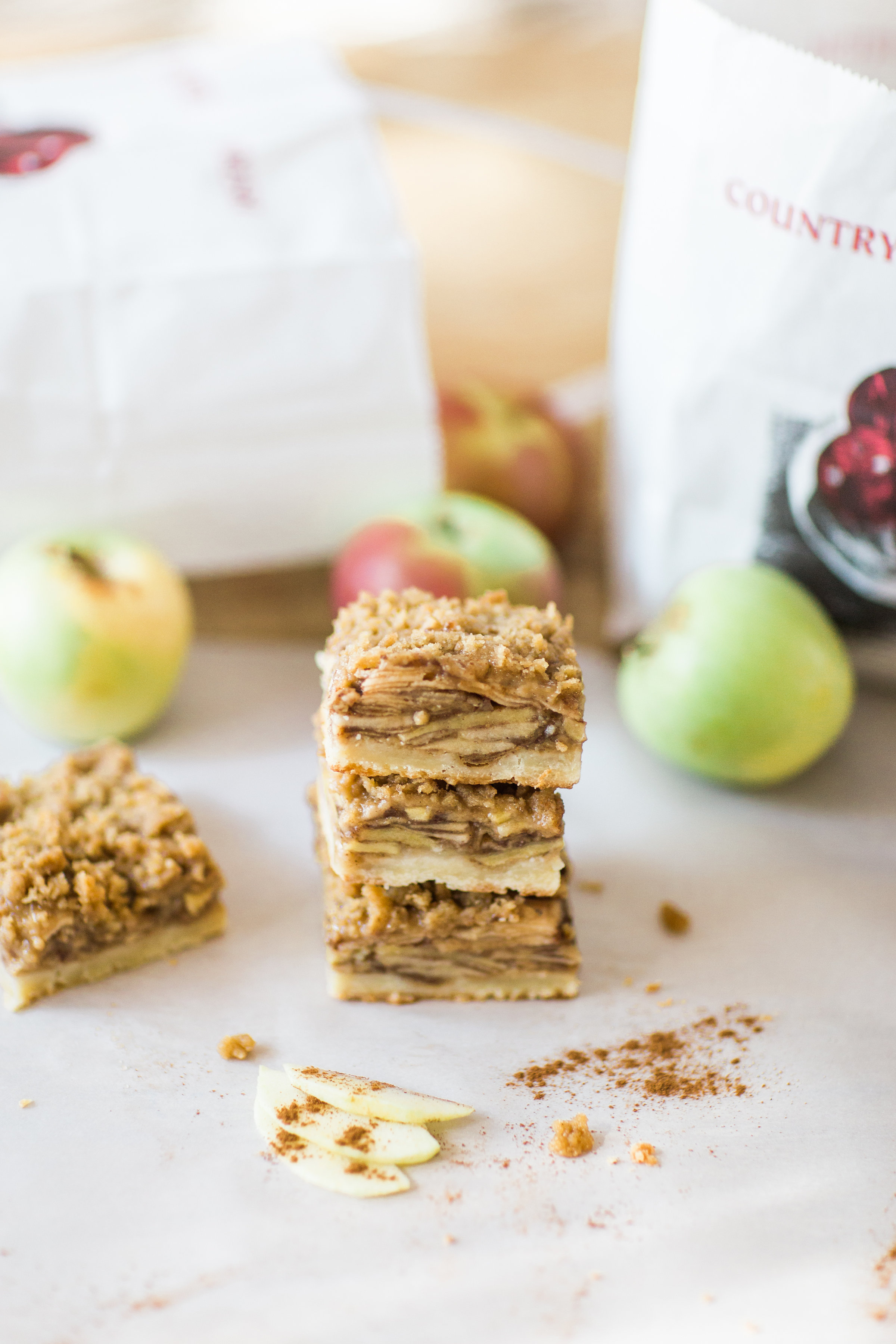 I mean, just look at them. I was amazed at how pretty the layers look.

How to Make the Most Amazing Apple Crisp Shortbread Bars
INGREDIENTS
Shortbread Base:
1/2 cup unsalted butter, room temperature
1/4 cup sugar
1 teaspoon vanilla extract
1/4 teaspoon salt
1 cup all-purpose flour
Apple Filling:
3 large apples, peeled and thinly sliced (This apple peeler peels and makes those thin slices!)
2 Tablespoons all-purpose flour
2 Tablespoons sugar
1 teaspoon ground cinnamon
1/4 teaspoon ground nutmeg
Topping:
1/2 cup all purpose flour
3/4 cup brown sugar
1/4 cup butter (room temperature)
DIRECTIONS
Preheat your oven to 300 degrees F and line an 8×8 baking pan with parchment paper. Be sure to use a large enough piece of parchment so that some is up and over the sides – it makes it easier to lift out later.
Shortbread Base:
Put the butter into your mixer and turn on high for 5 minutes or until the butter turns white rather than yellow; that's how you'll know it's creamed. Next mix in the sugar, vanilla, and salt. Once combined, add in the flour and stir well. Press the mixture into the parchment lined pan and bake in the pre-heated oven for 15 minutes.
Apple Filling:
In a bowl, combine the apples, flour, sugar, cinnamon and nutmeg until the apples are well coated. I did this by gently tossing with my hands.
Topping:
Mix flour, 3/4 up brown sugar. Cut in the softened butter and knead together. I just do this with my hands in a medium-sized bowl.
Remove the crust from the oven and turn the heat up to 350 degrees F. Sprinkle one half of the topping over the shortbread, then layer the apples on top. You will have multiple layers so try to keep it level. Once this is finished, sprinkle the remainder of the topping evenly on top of your apples and place the pan in the oven to bake for 30-35 minutes.
Remove from the oven and allow to cool fully before placing in the fridge to set for at least 2 hours. Once it's set, remove from the baking dish by lifting out the parchment paper and cut into 16 squares.
Recipe adapted via Sober Julie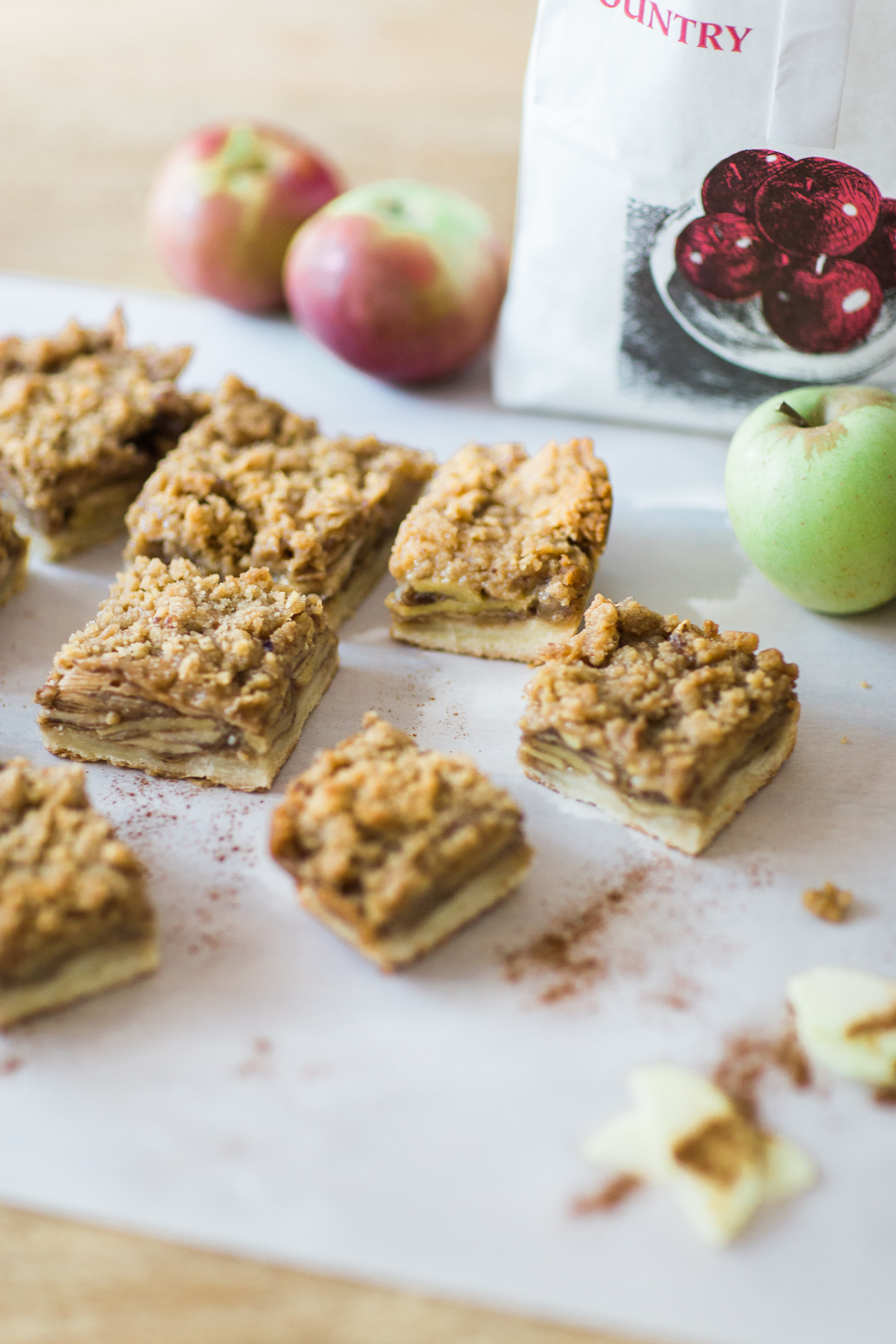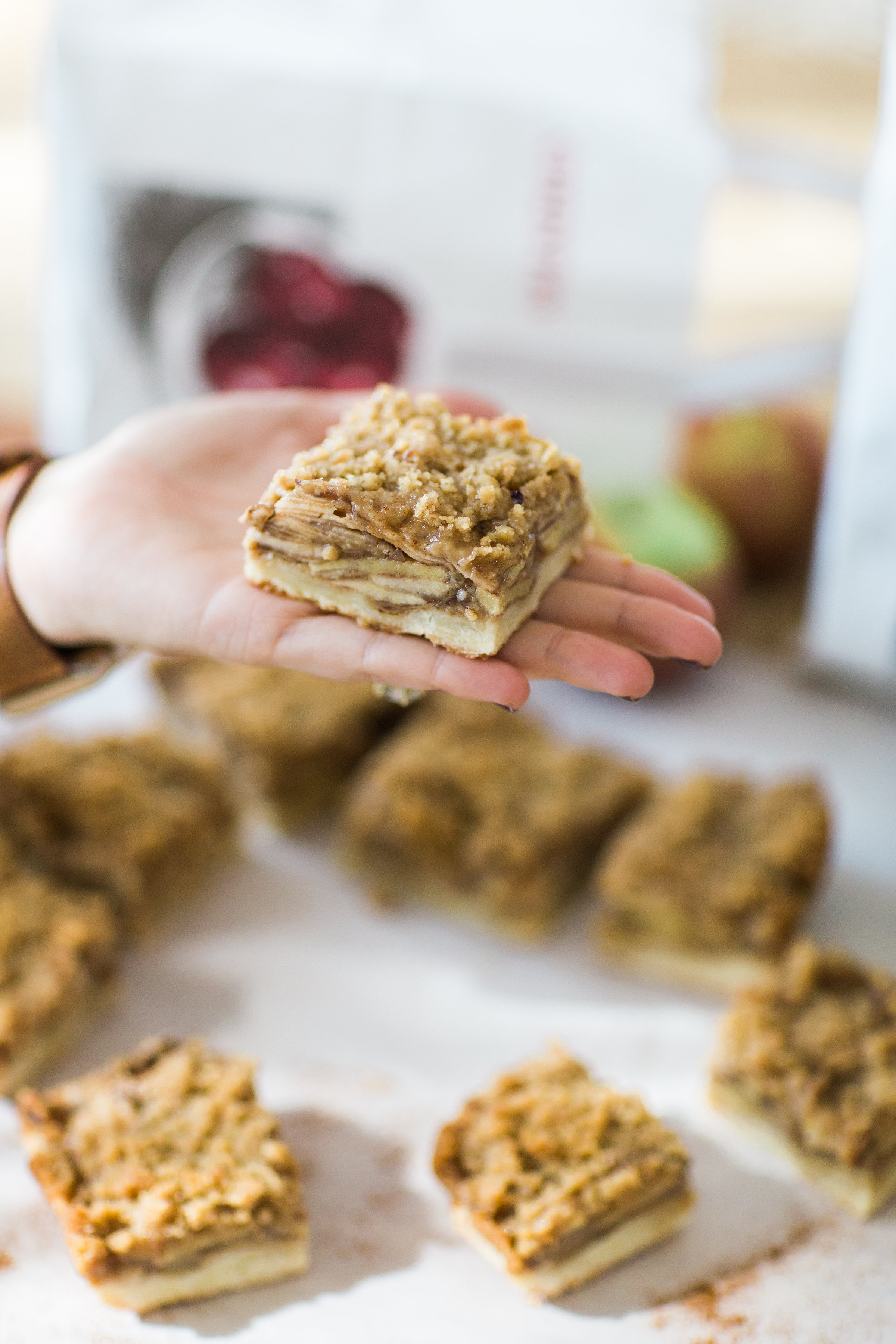 These bars taste great at room temperature or cold, just out of the refrigerator. I may or may not have popped one square into the microwave for about thirty seconds just to make it extra ooey gooey. I'm a glutton.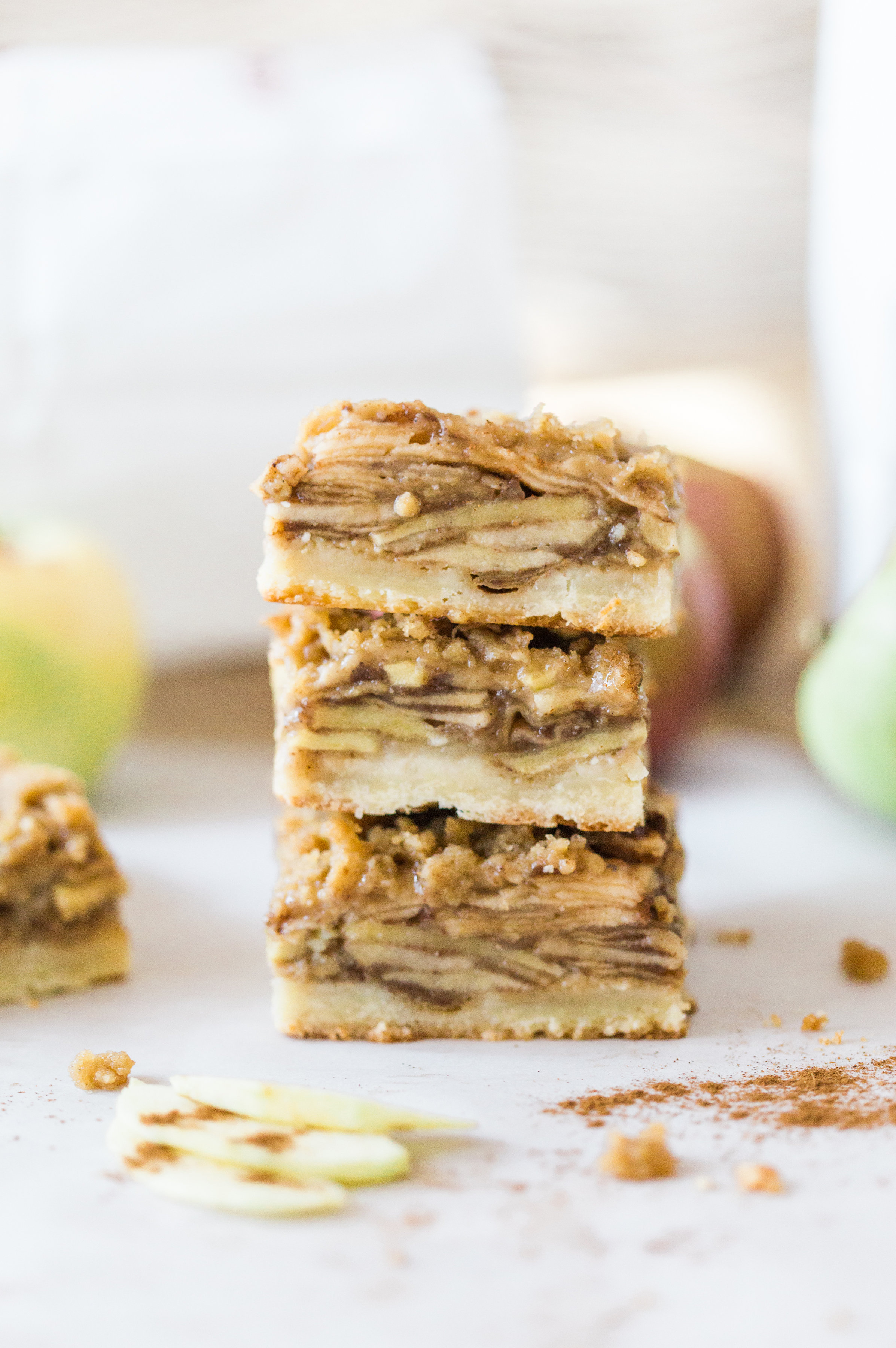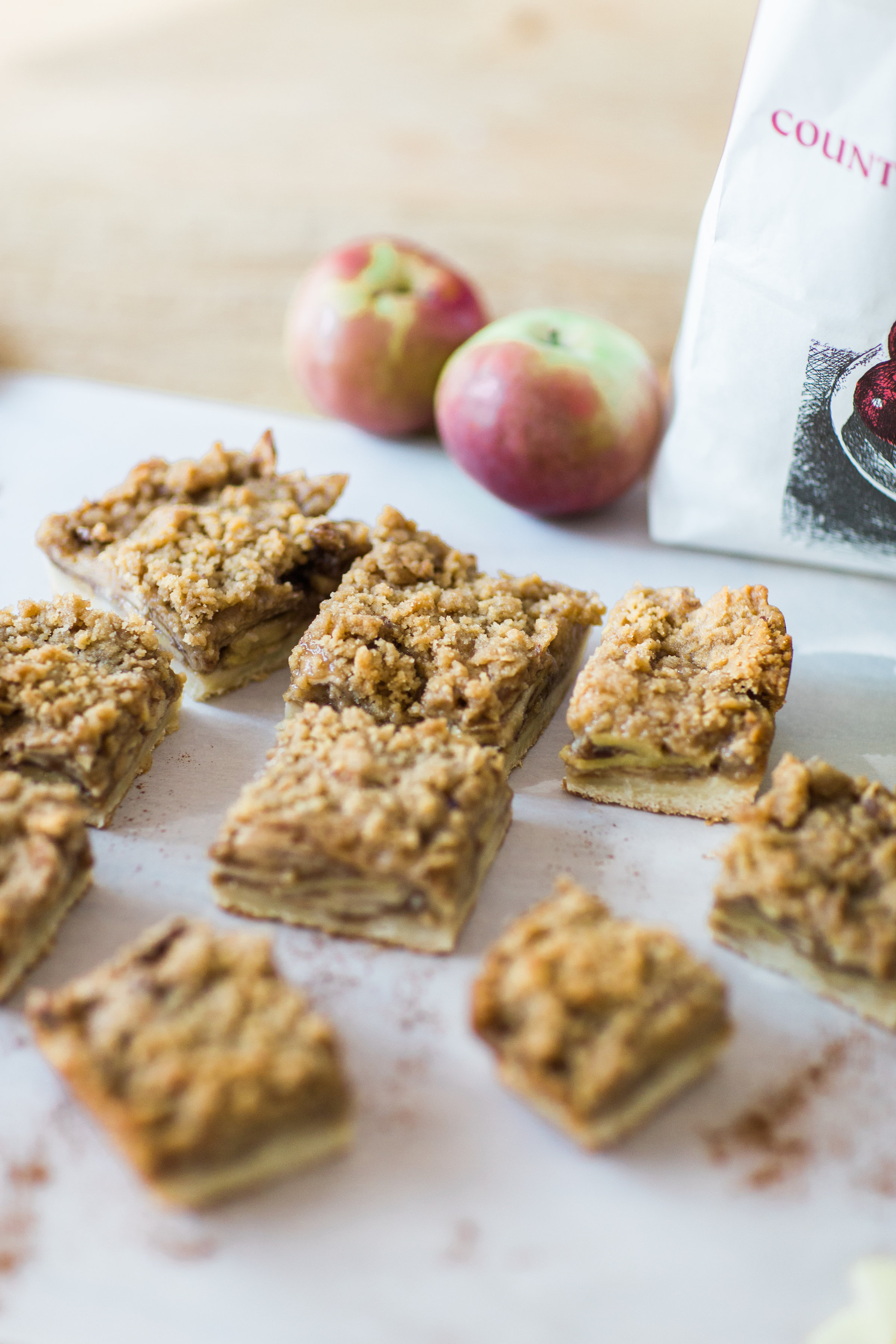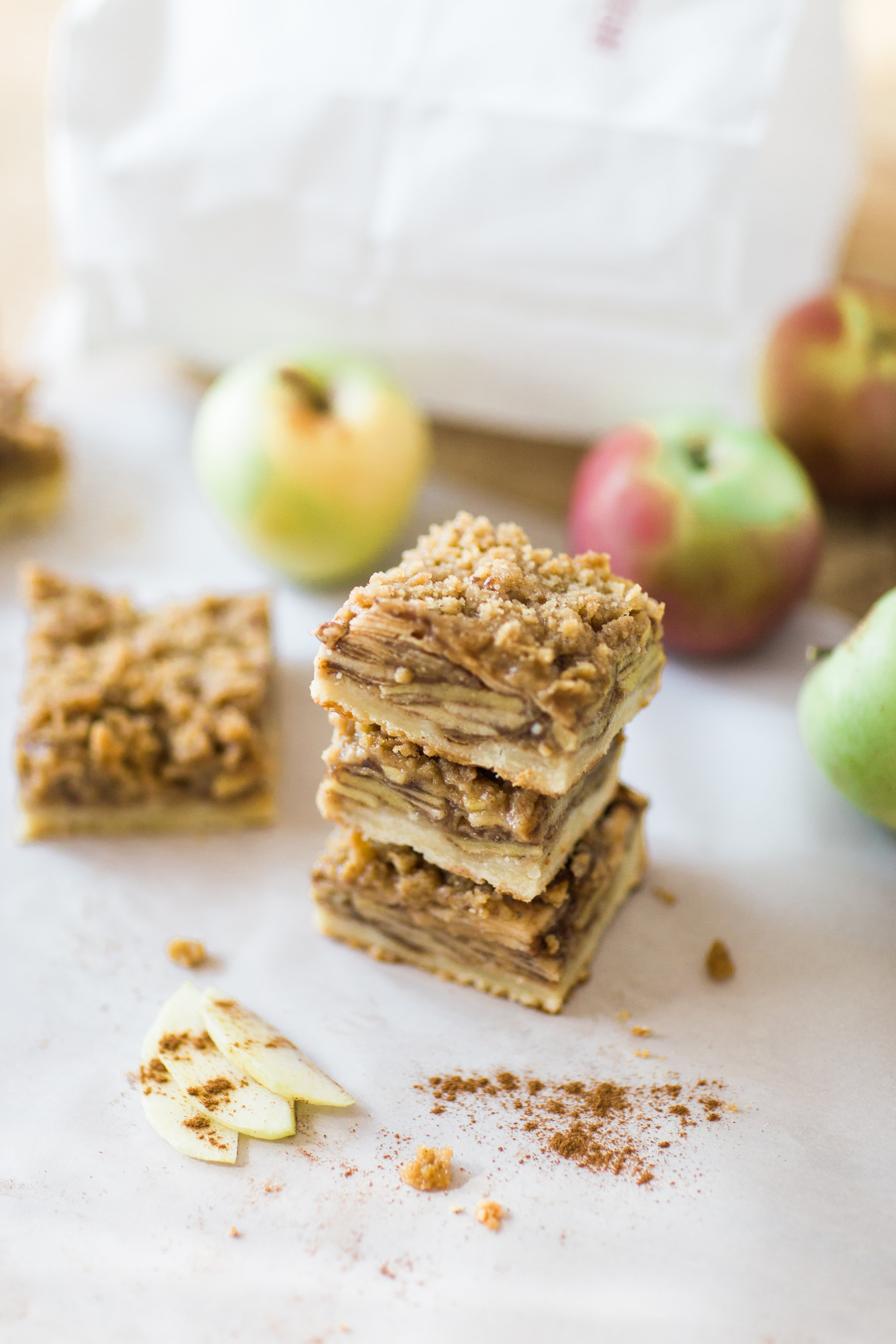 Be sure to let me know in the comments or on social media (@glitterinclexi) if you make these bars! I'd love to hear how they turn out (and if you're just as obsessed as I am!)
Photos by Annie Watts Photography
This post contains affiliate links, which means that if you click on one of the product links, I'll receive a small commission. Thank you so much for clicking through and helping to support this little blog business of mine! Read more about our site, privacy, and disclosure policies here.