This post contains affiliate links, which means that if you click on one of the product links, I'll receive a small commission. Additionally, as an Amazon Associate I earn from qualifying purchases. Thank you so much for clicking through and helping to support this little blog business of mine! Read more about our site, privacy, and disclosure policies here.
The girls shared mermaid bedroom is finally here!
You may remember a couple months back I shared my plans for the girls whimsical mermaid bedroom design and the room is finally (mostly) complete, so I wanted to share our progress so far.
While I love gorgeous home design. I'm definitely love playing with home décor, I'd say our home style is comfortable, lived in. Also, with plenty of traces of kids in every corner. 🙈
I really wanted the girls' first shared big girl room to feel like it was truly theirs. They had a pretty clear vision of what they wanted – "mermaids and fishies." Though I added in my favorite muted pops of white and gold, the end result feels very them.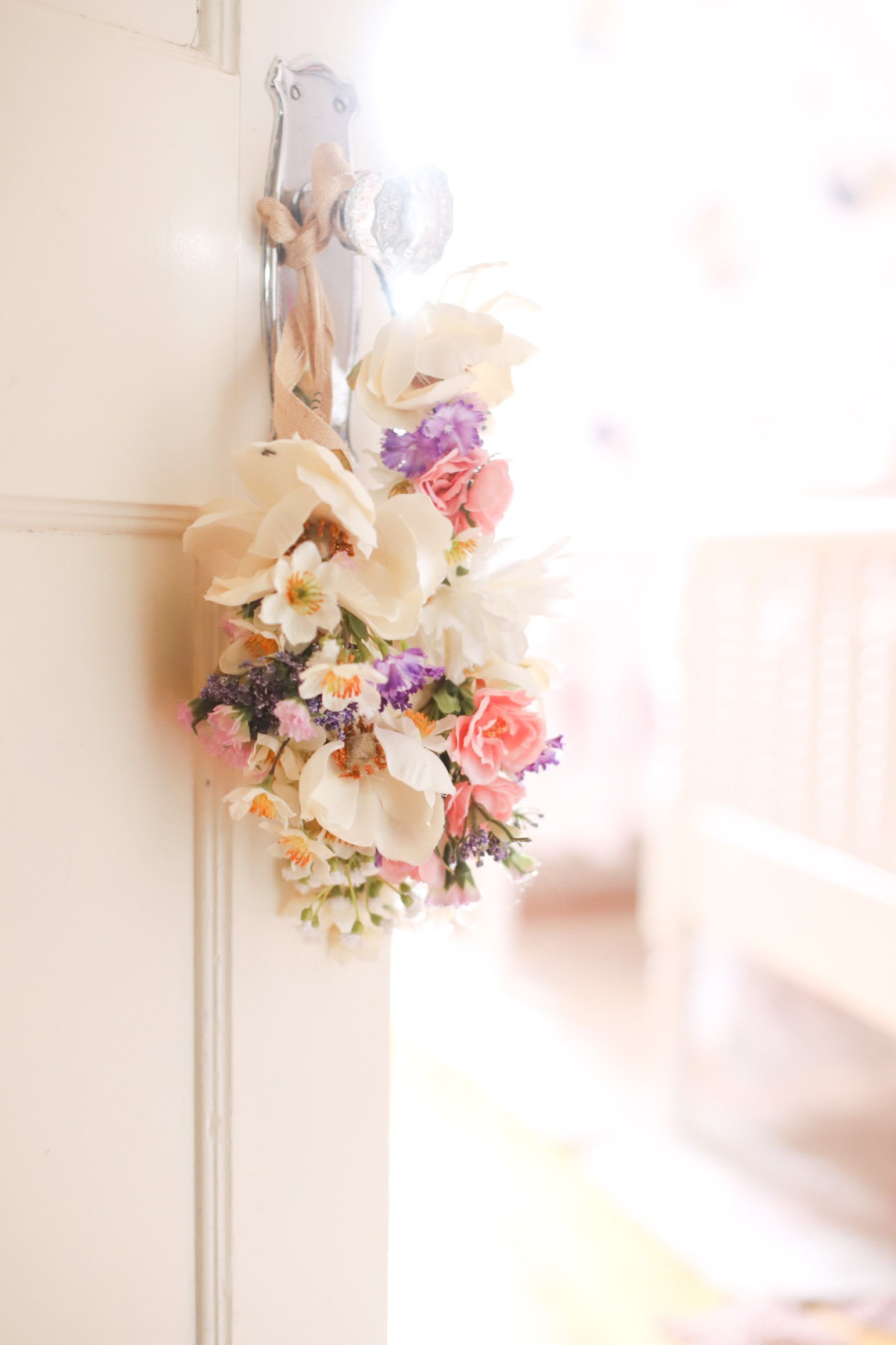 By the way, I made a quick Instagram REEL so that you can watch our little room tour in real time! All of the pictures, details, and links to everything that I could find online are below.
Room Tour of The Girls Shared Mermaid Bedroom
In terms of decor, a few things really pulled the room design together for us.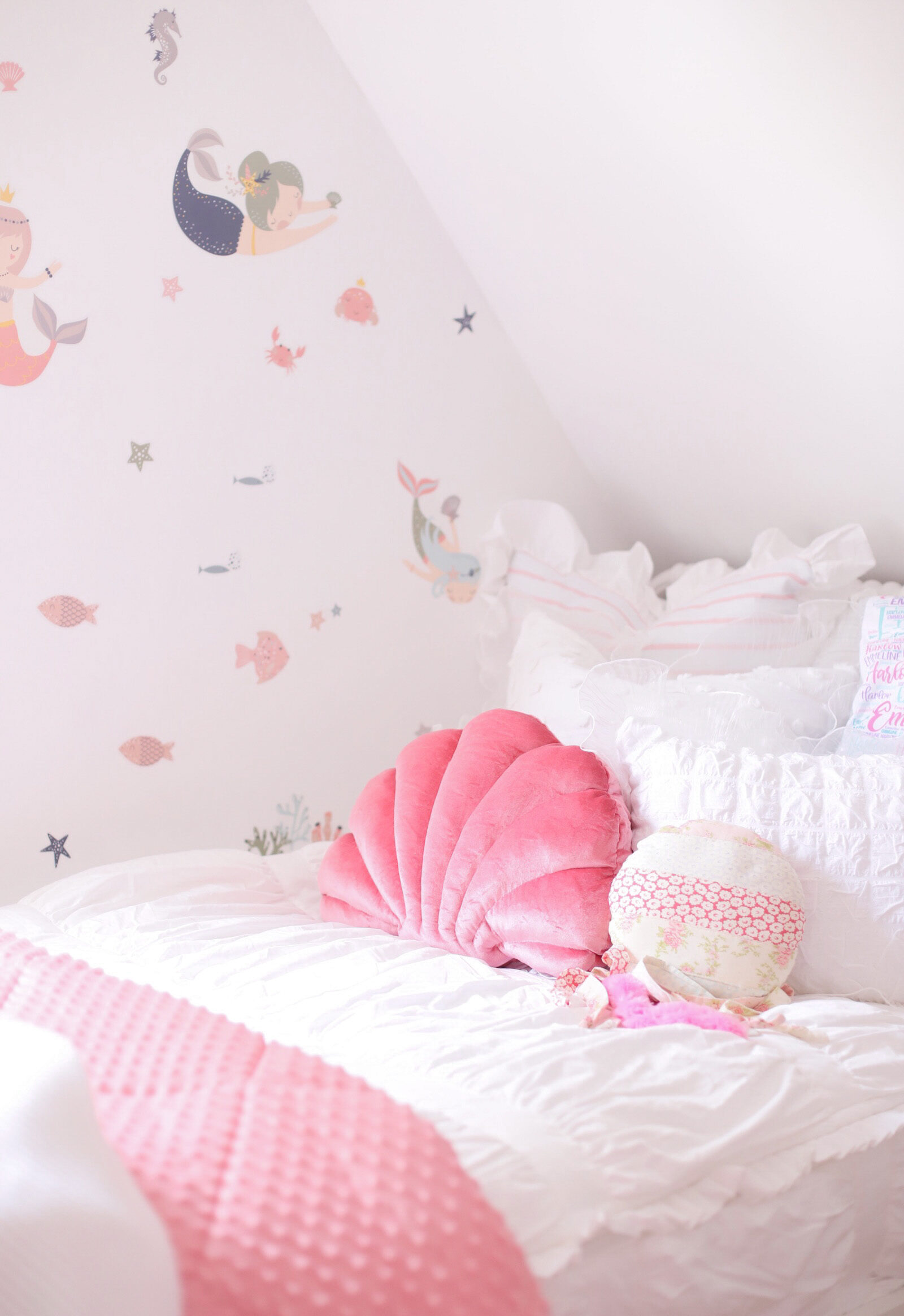 Our Favorite Kids Bedding
For starters, we got all new Beddy's bedding and pillows. We've loved Beddy's for years and years both because of how insanely practical it is to have all-in-one bedding with a cover that ZIPS off and on for easy bed-making, washing, etc. and also their super popular minky-lined fabric is undeniably the coziest around.
This is the Sugarcoated Luxe (Minky) set in twin paired with the Sugarcoated Accessory Bundle and a Flutterby Luxe Large throw blanket.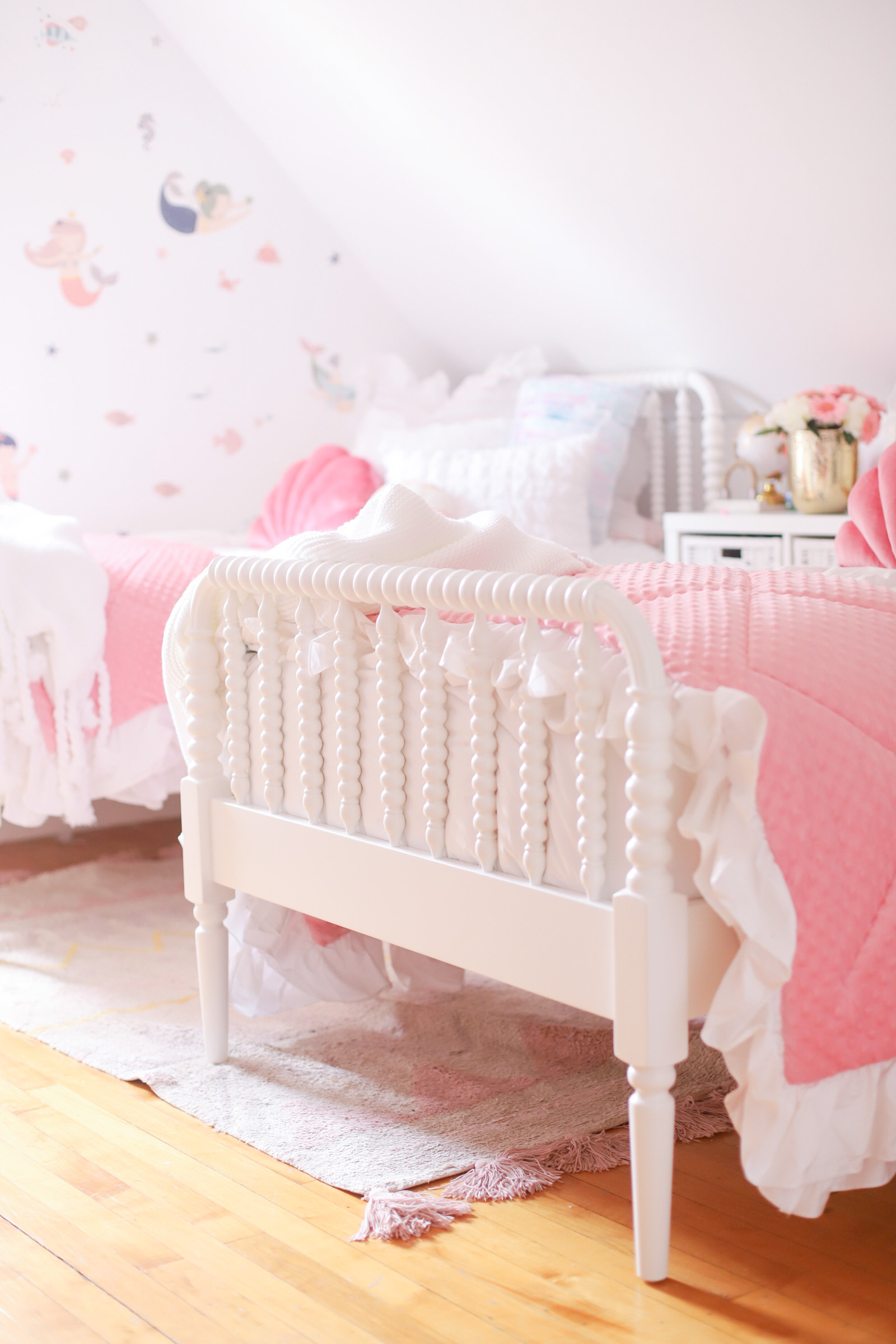 Jenny Lind Twin Beds
I have wanted matching Jenny Lind beds for our girls from pretty much the moment I found out I was having a second girl when pregnant with Emmeline. (Now that we have a third girl on the way, odds are, someday our house will be full of Jenny Lind everything.)
I love the classic design of Jenny Lind beds. (And I've seen these beds used in room designs for both boys and girls and they always look incredible.)
When I was dreaming up what a mermaid-themed room could look like for our girls, I realized that the intricate carvings on the posts of the Jenny Lind beds actually look like bubbles. PERFECT.
The wood, the finish, the classic styling, it's all so beautiful on these Jenny Lind beds. The beds were on backorder for months, but I'm honestly so happy with them, that I do feel it was worth the wait. I'm thrilled that the design on the Jenny Lind beds means you don't need a box spring, and though a tiny bit high, I think they're a great height for kids. I also really like that I can buy a matching trundle bed frame eventually to add even more sleeping options in their room.
We also have a toddler rail from Crate & Barrel for Emme's bed and we pushed the other side of her bed up against the wall to keep her nice and safe.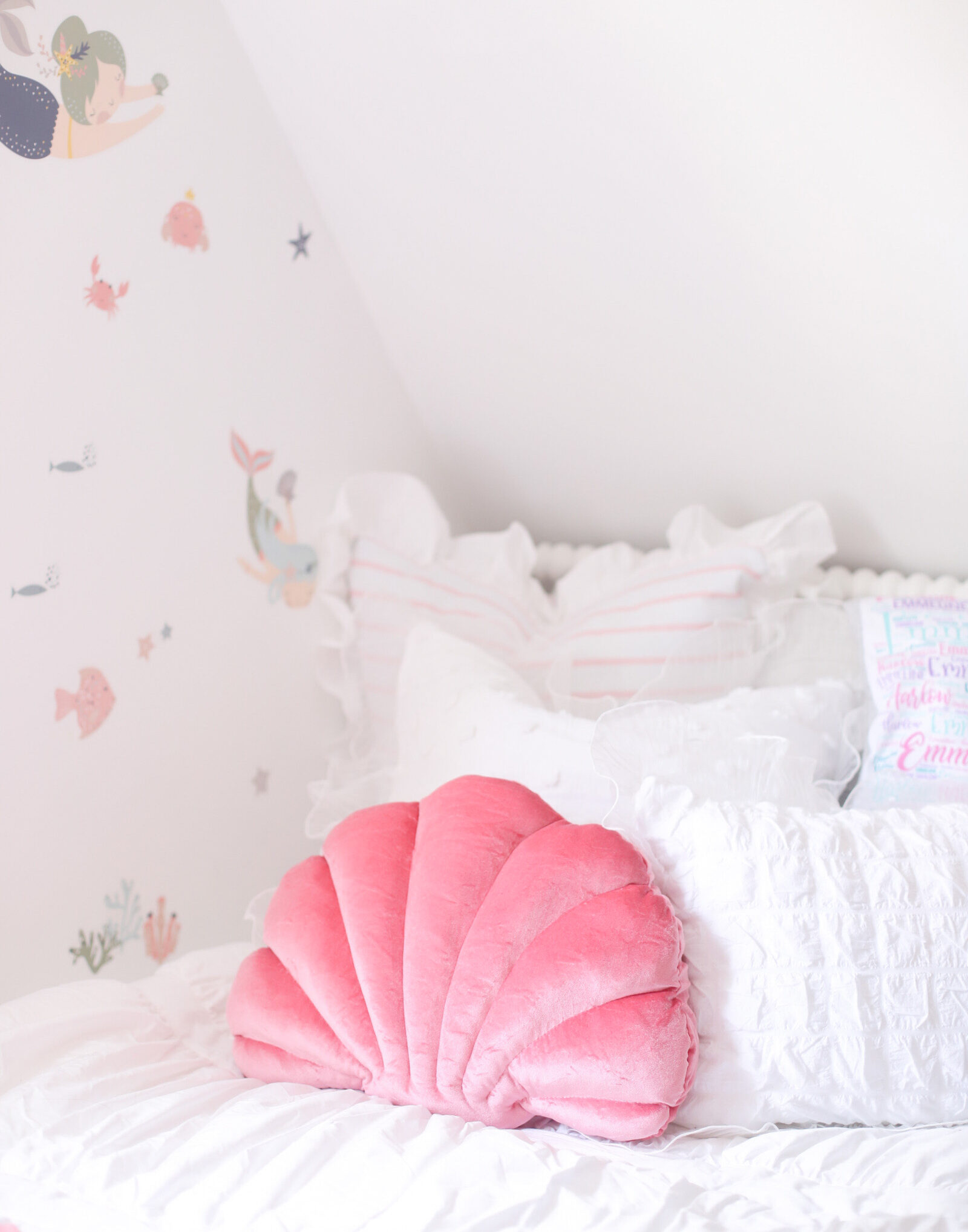 Mermaid Wall Decals
I had also been on the hunt for a wallpaper alternative that had that distinct mermaid look without all of the work involved in a typical wallpaper job. We've used wall decals in the past with great success. Wall decals are so easy to put on and remove (great in rentals) and they're also a really affordable way to add a big splash of color and personality to a room. I'm a huge fan of creating one accent wall in a room to really draw attention, without making the room feel too visually crowded by putting that design on all four walls.
I actually found a really inexpensive set of mermaid wall decals on Amazon, of all places, and I figured, even if they wound up looking cheap or tacky, we'd just take them down and use them in the closet instead. Lo and behold, the $14 Amazon mermaid decals wound up completely making the room and everyone who has seen it so far, squeals over how cute the accent wall is.
And the best part: the wall decals look like wallpaper! Minimal effort with maximum impact; love it!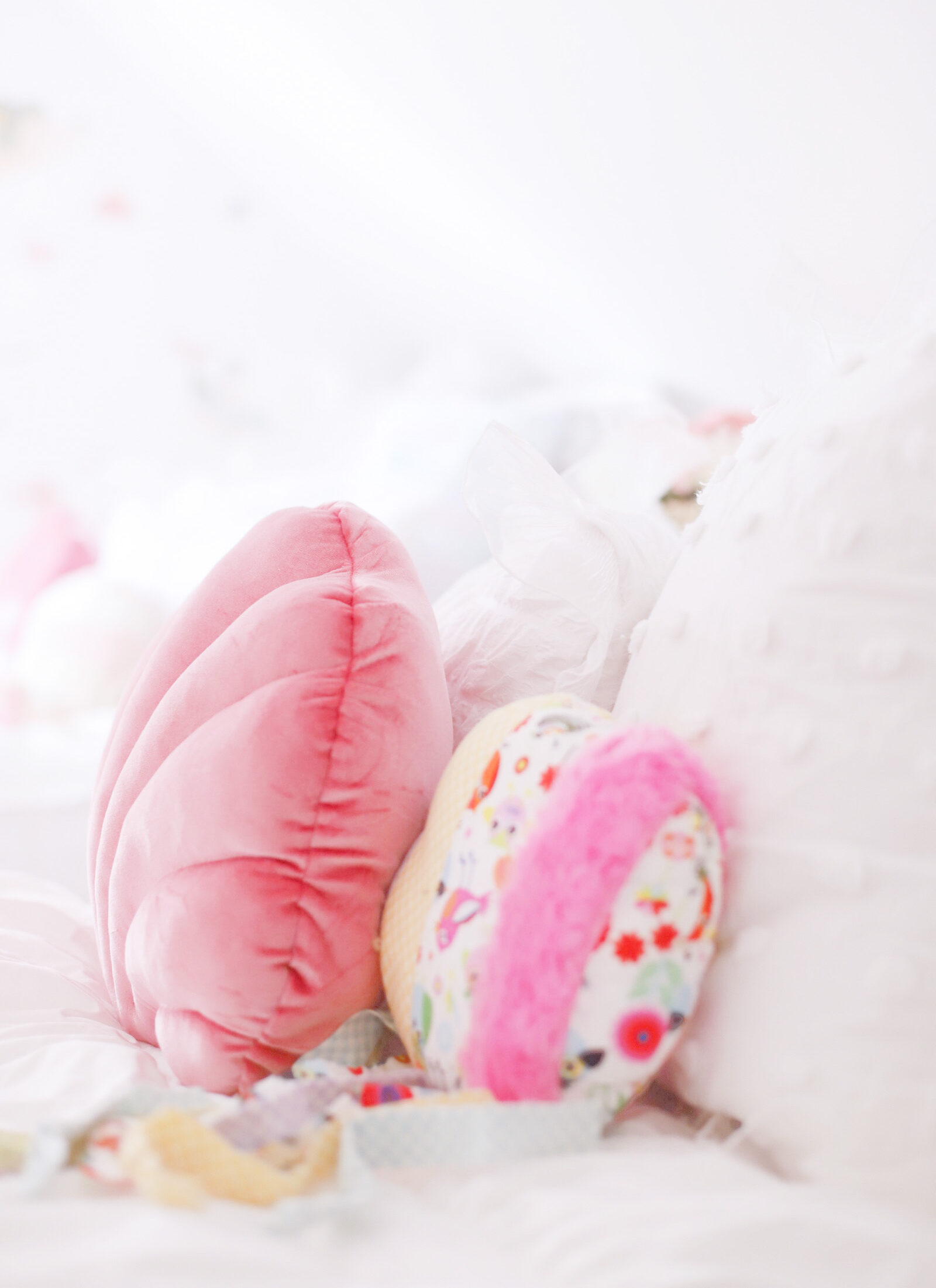 Throw Pillows
Throw pillows are another simple way to add a theme to a room without a whole lot of effort. I found these adorable velvet seashell pillows on Amazon (the quality is really impressive!), my mom actually quilted the girls' octopus pillows and made those adorable name fabric pillows (they say, "Scarlett Everly" and "Emmeline Harlow" all over each of their name pillows) especially for their new shared room, and the rest of the pillows are from Beddy's.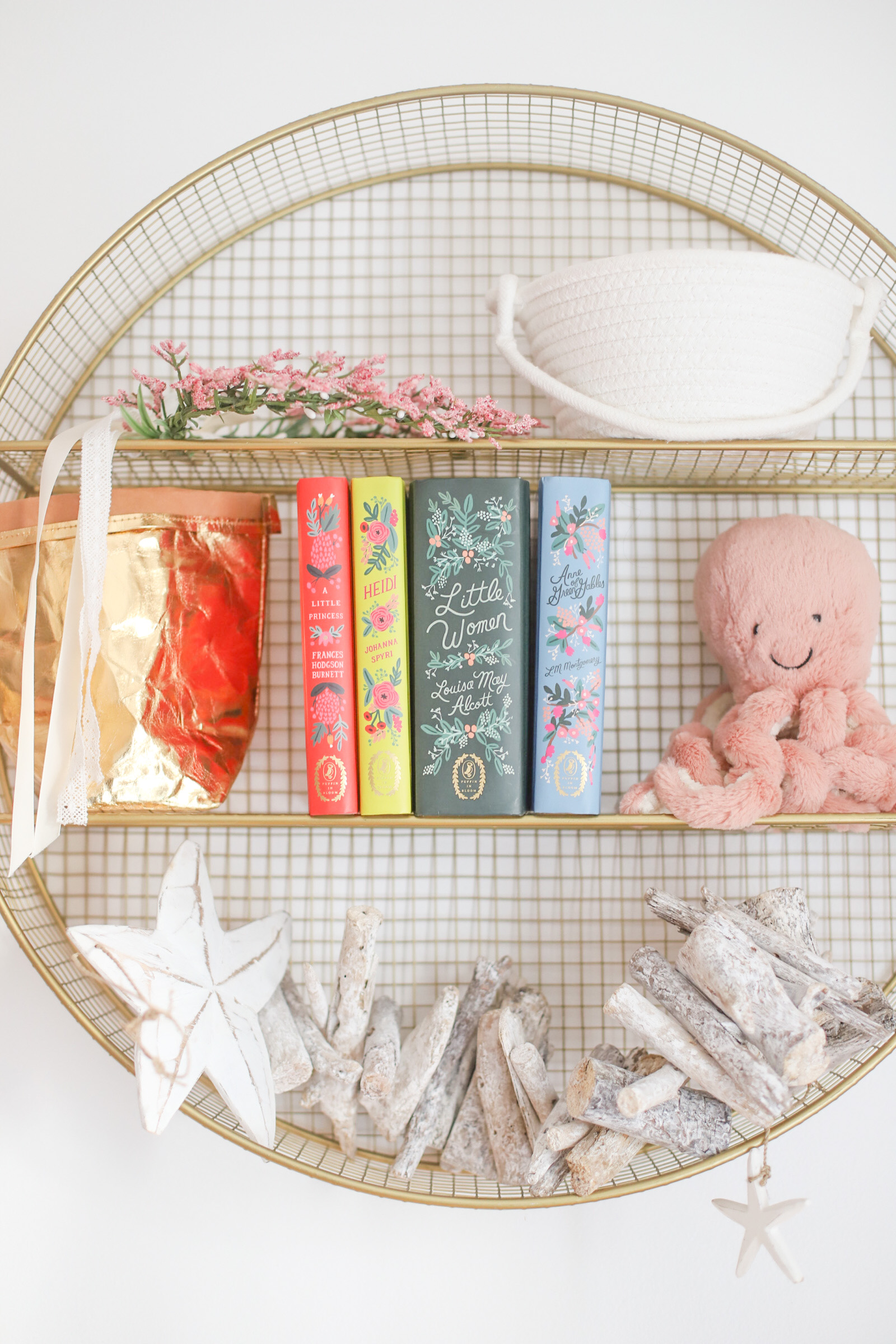 Various Mermaid and Nautical Décor
The gold round shelf is a piece I've had for years. We found it at Target back in our Durham, NC days and we've moved it to every place soon because I could never part with it. (I'm pretty sure it was from an older Pillowfort for Target collection.)
The gold round shelf wound up fitting in so well with the mermaid-meets-nautical theme, and I have a feeling I'll be styling and re-styling those shelves over and over again.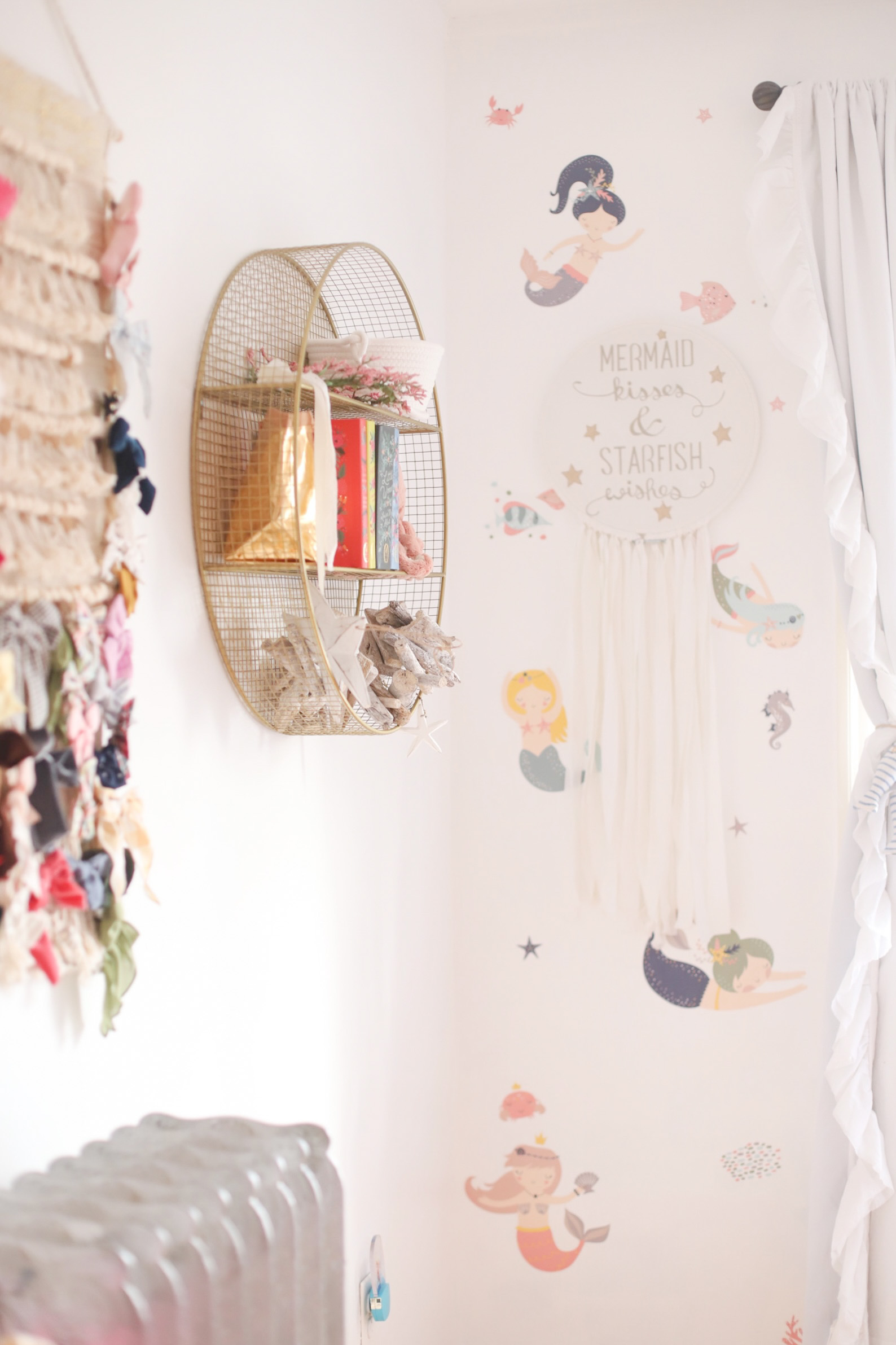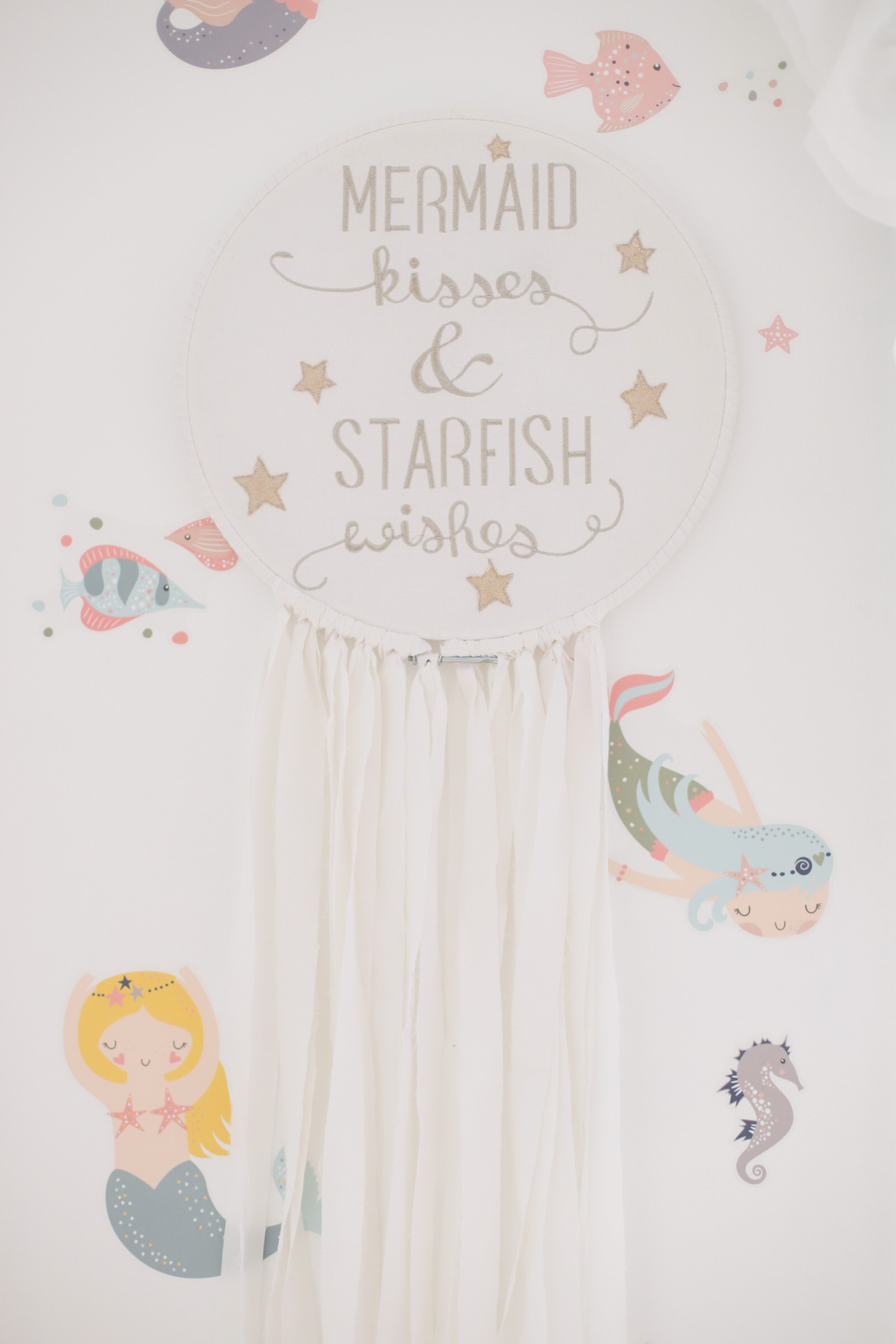 The "Mermaid Kisses and Starfish Wishes" dreamcatcher is another piece we've had for years. I bought it back in North Carolina at Pottery Barn Kids, and you may actually remember it from Scarlett's 3rd magical mermaid birthday party.
The girls shared room has one large window so we used our favorite Pottery Barn Kids blackout curtains. I'm still on the hunt for a pretty gold sea shell curtain hook, but these fish on a rope worked quite well and I may just leave it there. I might eventually spray paint the existing curtain rod gold as well.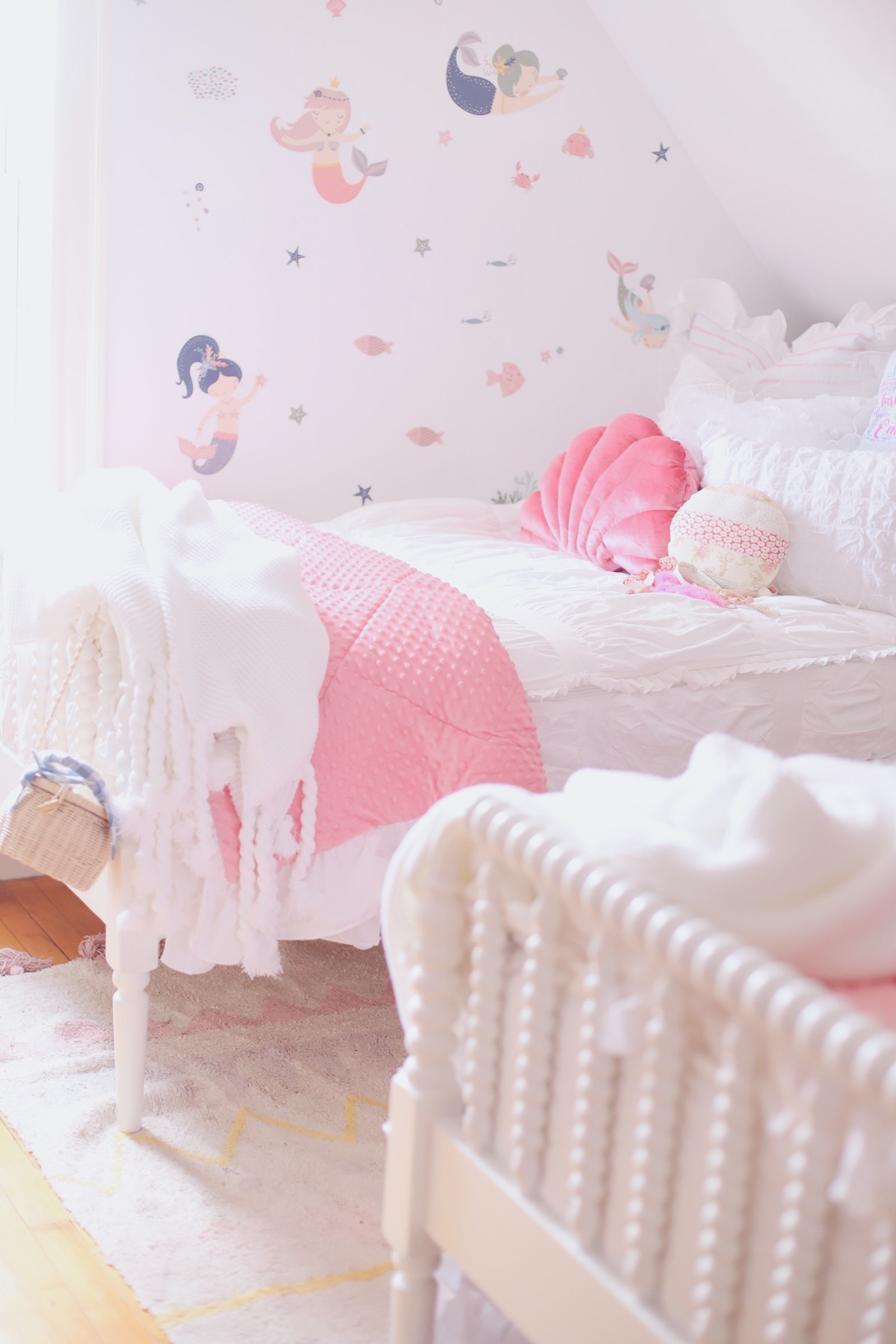 For now, we're using our well-loved and washable Lorena Canals rugs; though this Lulu & Georgia rug has the look I'm going for, so I eventually may swap the rug out.
I may also set up a reading nook with their book shelf, a few pretty floor cushions, and one hanging macramé canopy in that eventual reading corner, but that's for another day.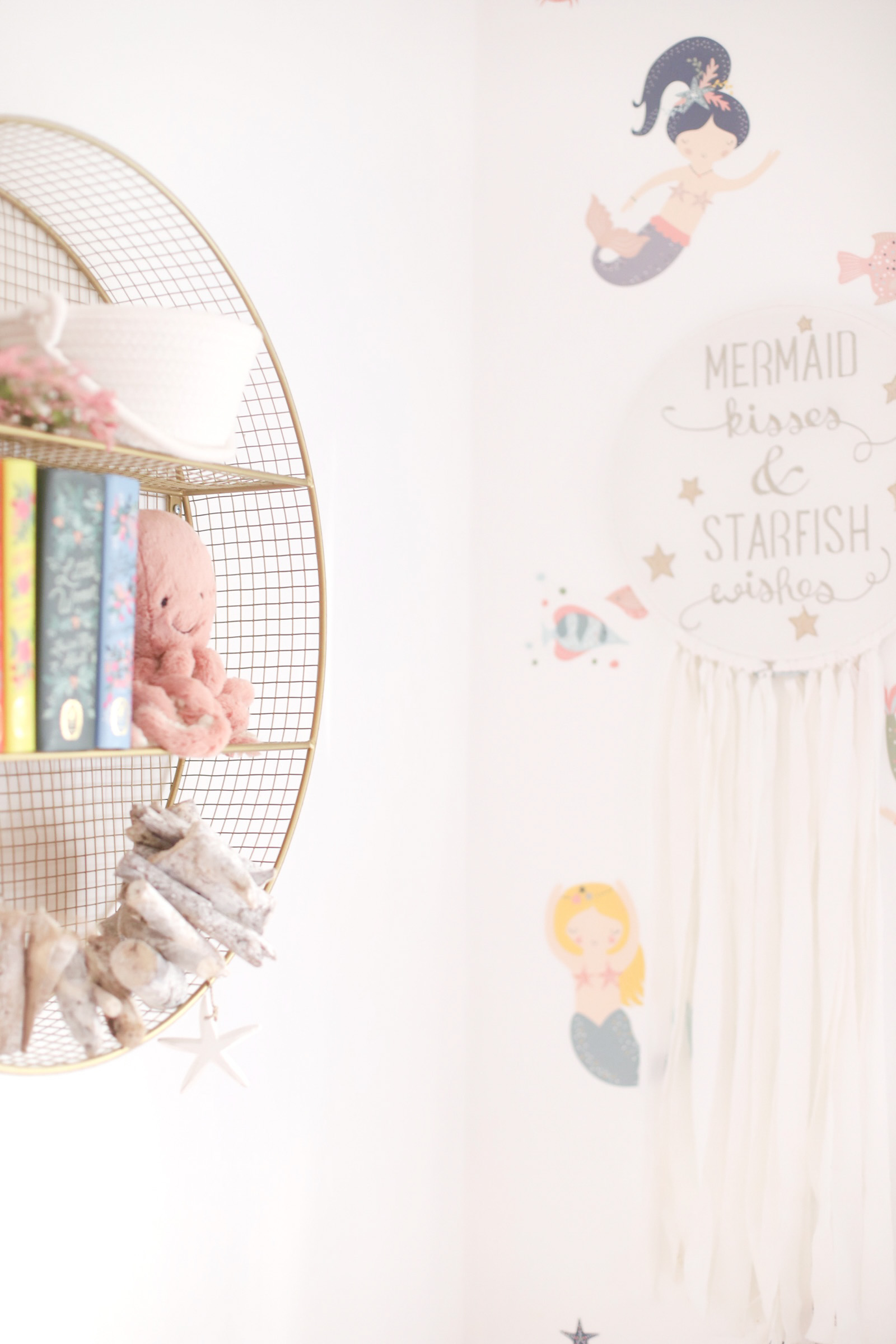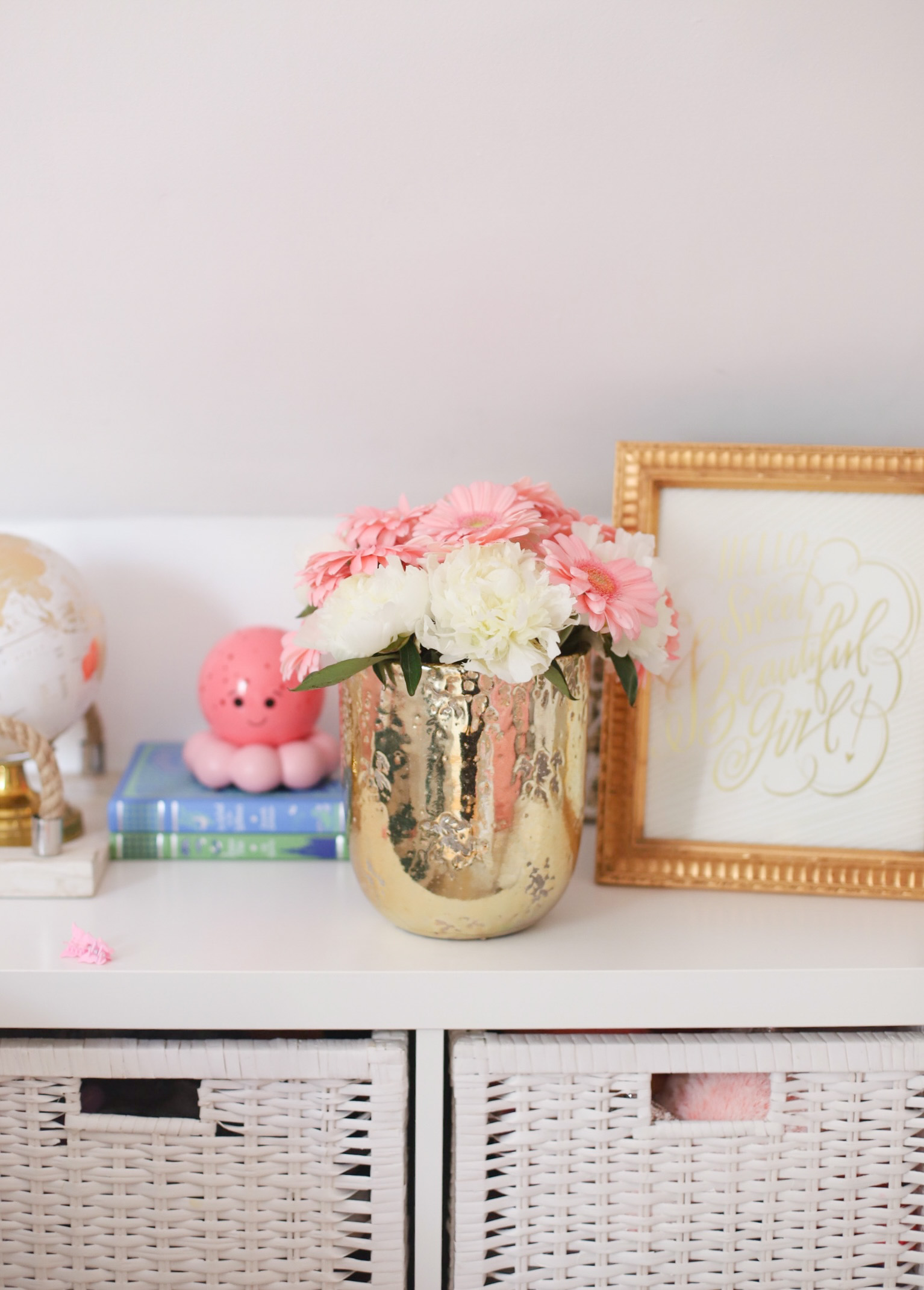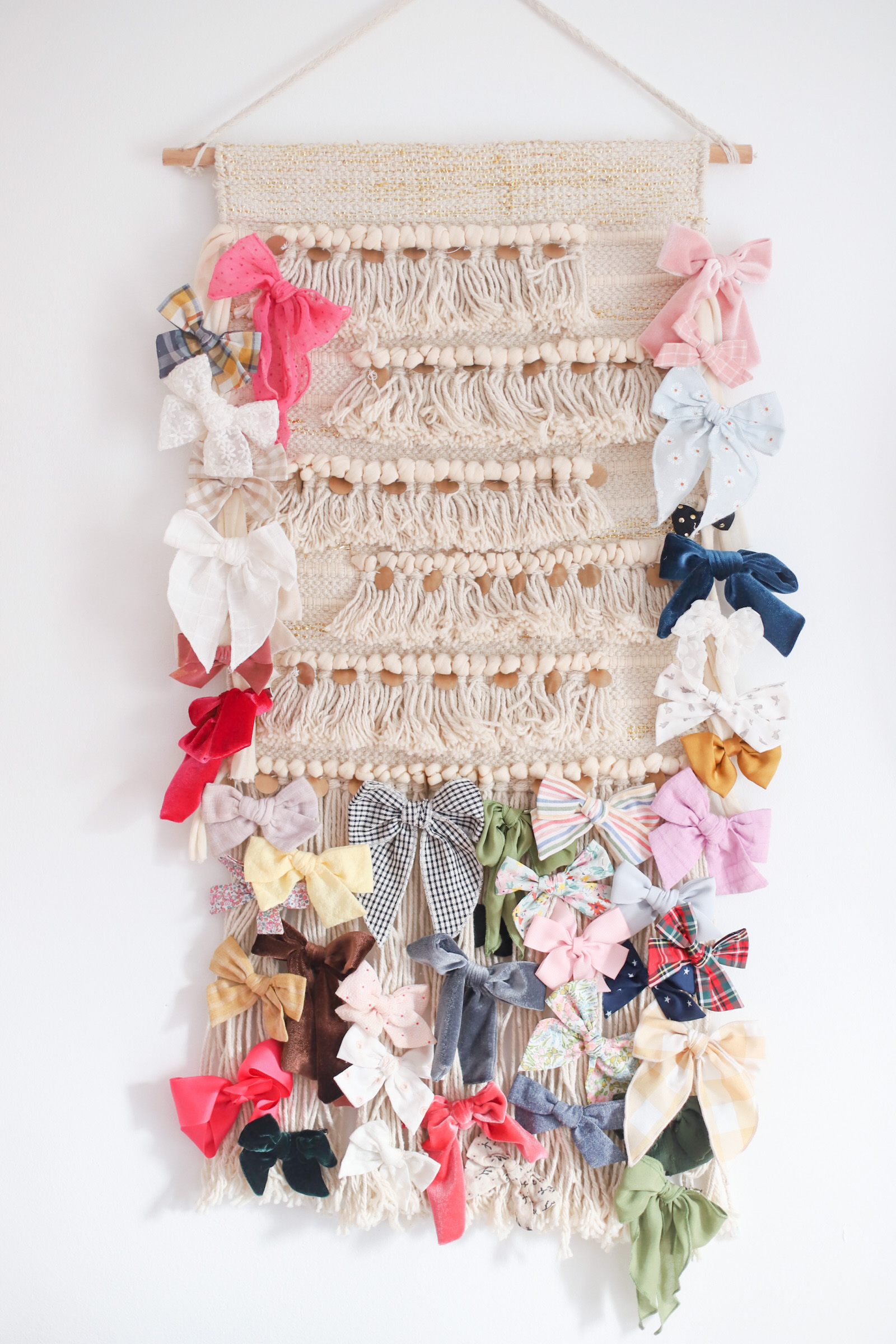 What's not to love about a macramé wall hanging covered in little girls bows? I'll love this simple bow storage solution forever and ever. 😍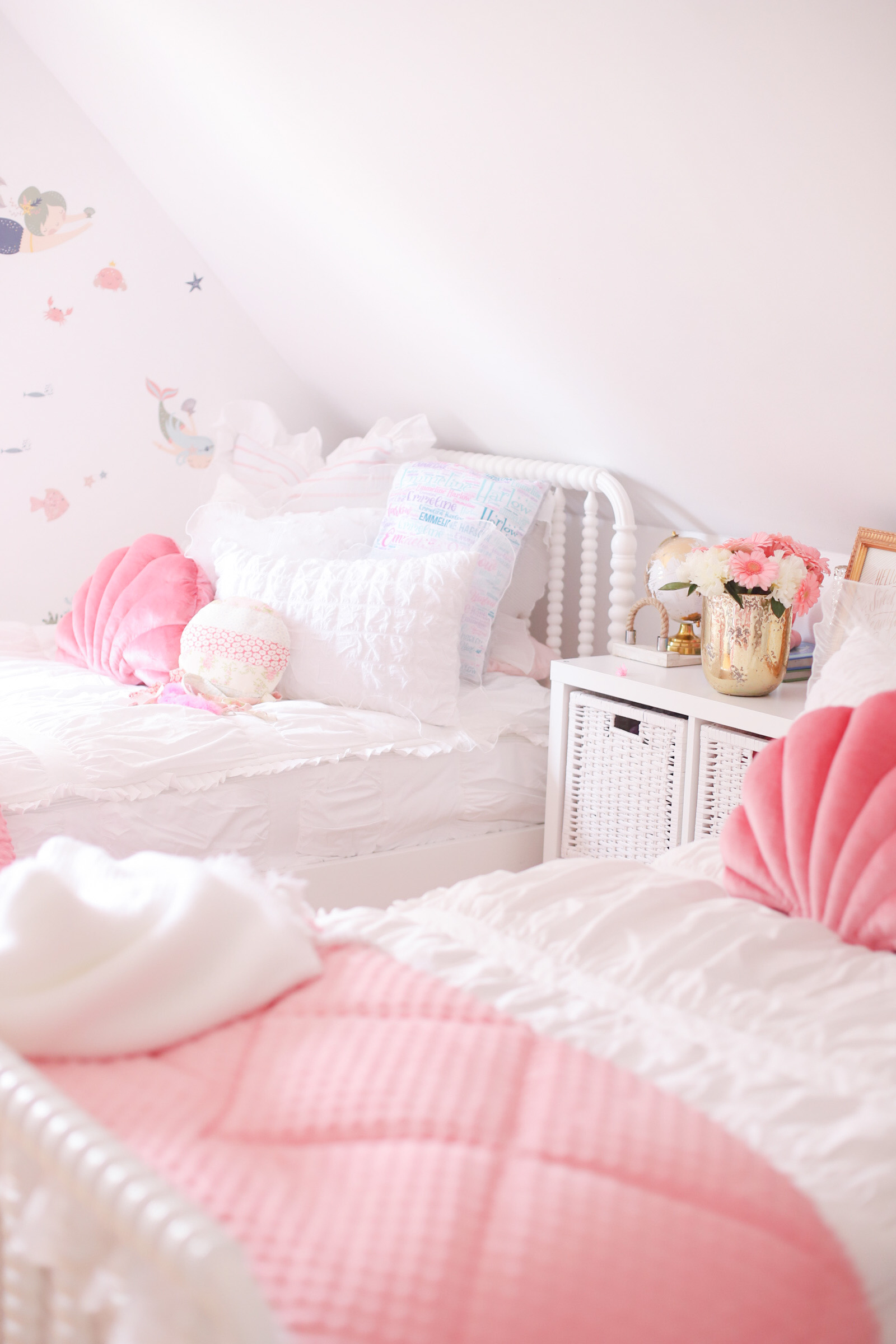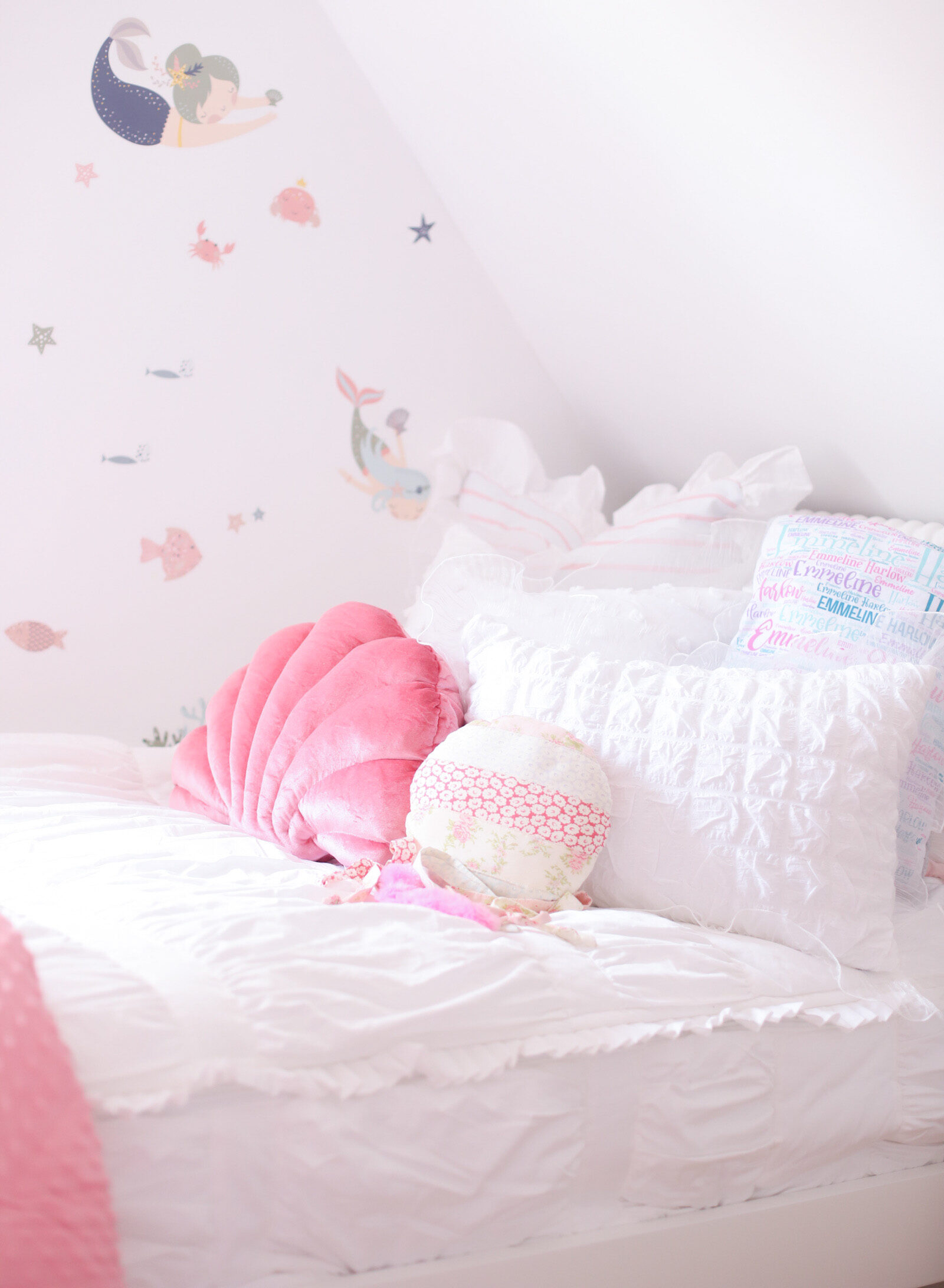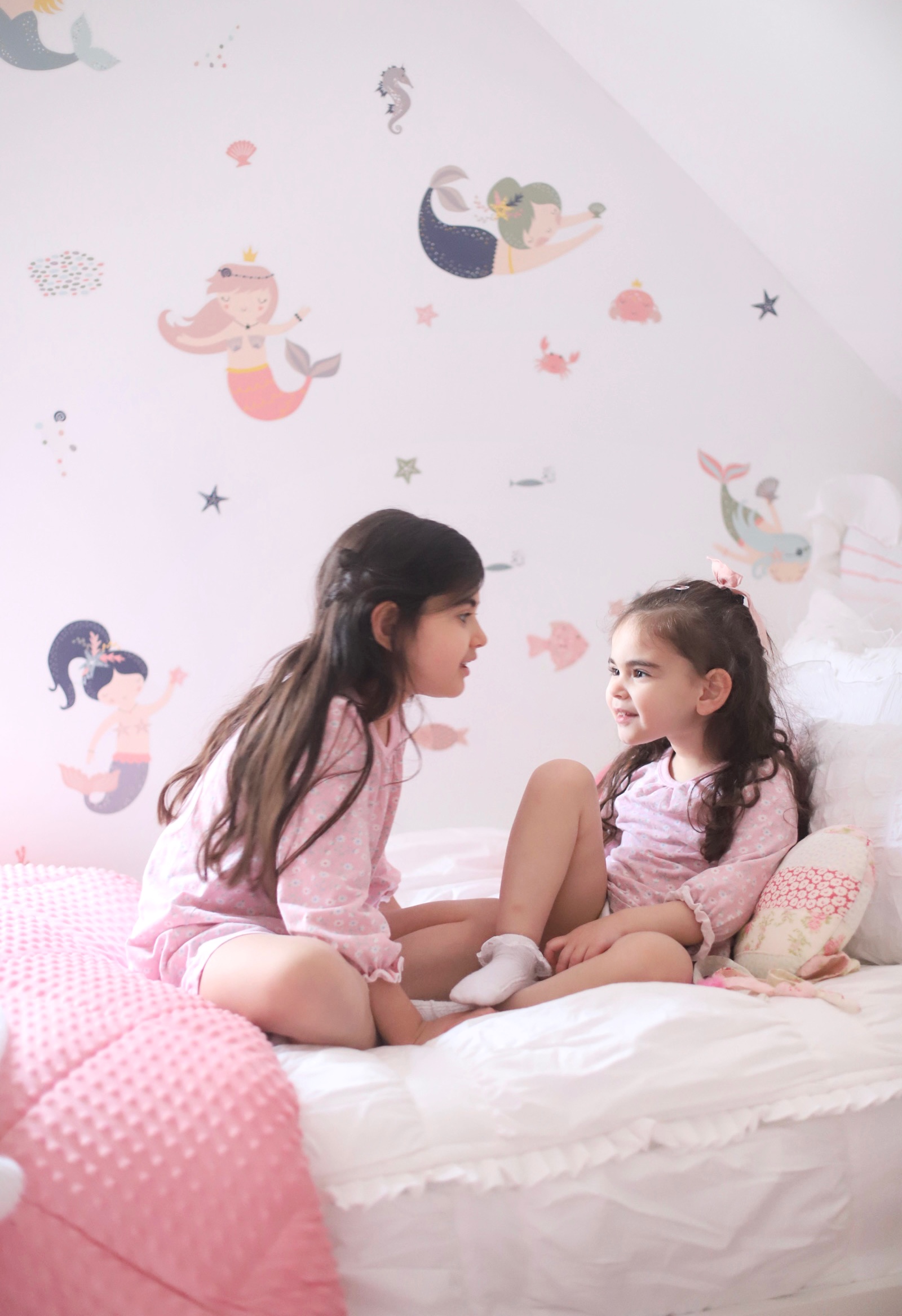 Just last night, our littlest, Emmeline, couldn't stop exclaiming, "I love this room! It's perfect!"
And that, friends, makes my mama heart oh so happy.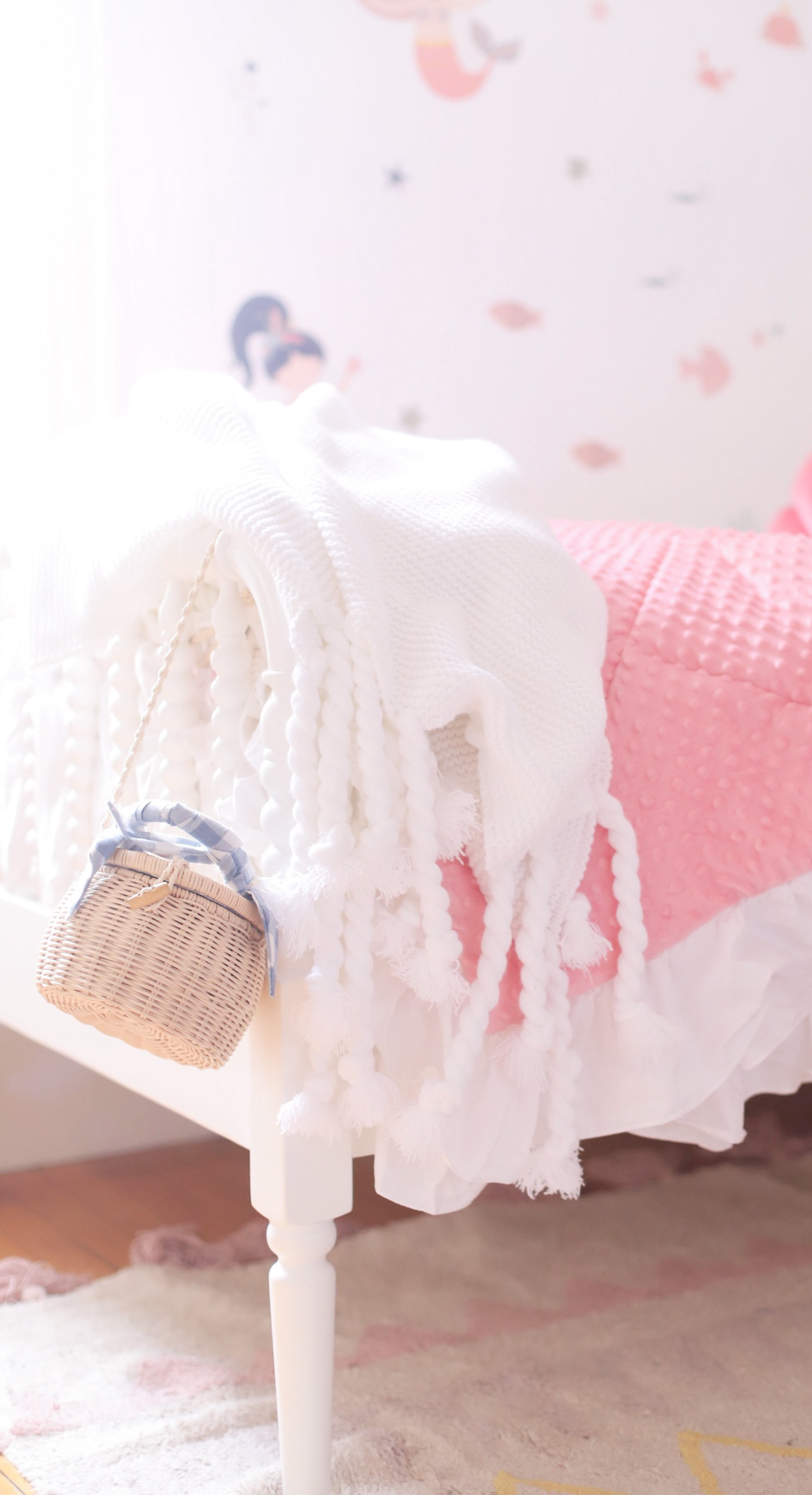 Knowing myself, I'll admit that the girls shared bedroom is still very much a work in progress. I have plans for their tiny shared closet and dresser area. I'm still trying to figure out a better system for all of their shoes. For now though, I'm so happy with how it's turned out so far. Most importantly, the girls adore their big girl mermaid room! 🙌🏻
The Girls Mermaid Shared Room Design
Click each image below to shop your favorite picks from my shared room design plans!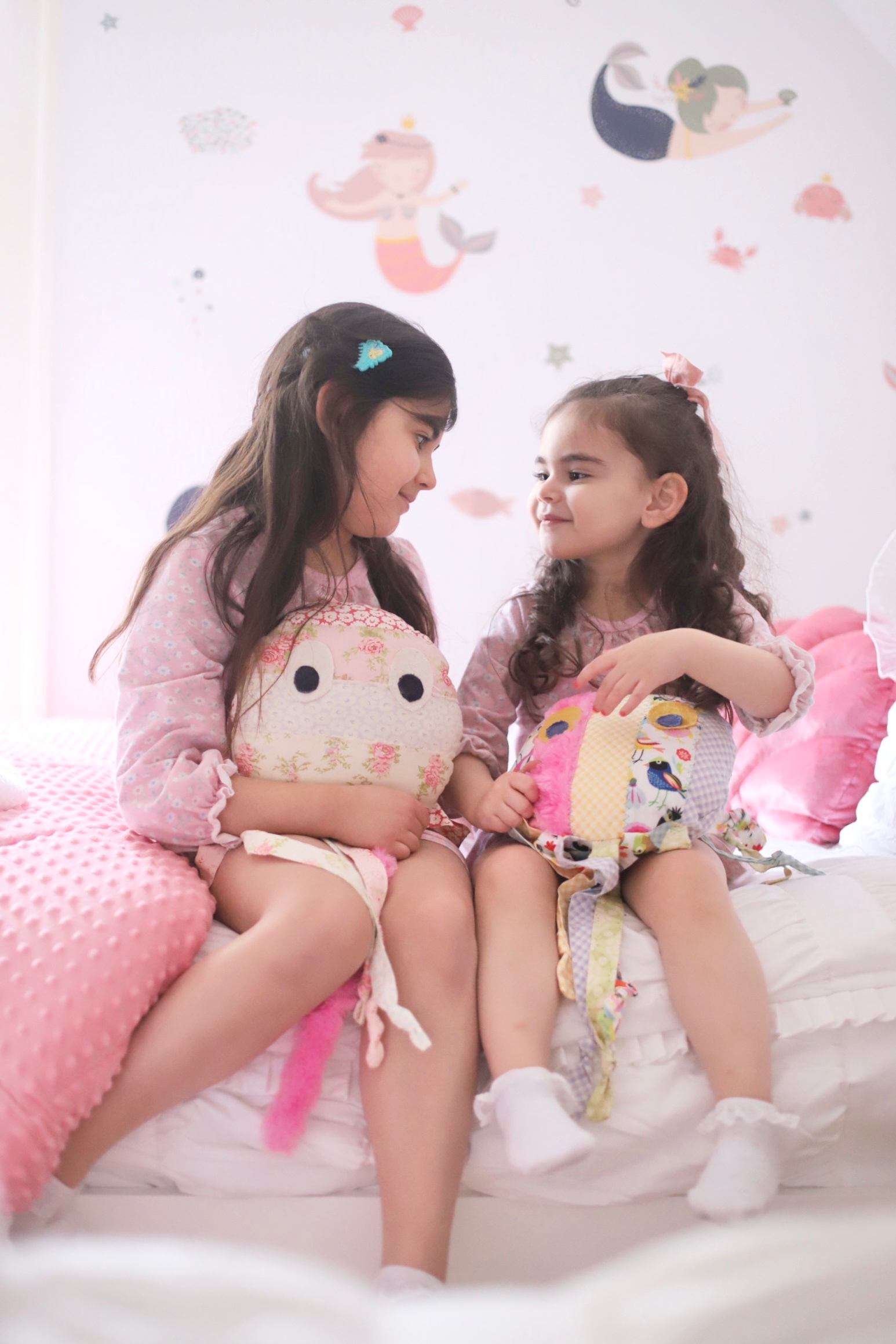 So there you have it: the girls mermaid shared room design in our all new city home! We hope you love it as much as we do. ❤️
SHOP THE SHARED MERMAID ROOM DESIGN | CLICK LEFT & RIGHT ARROWS TO EXPLORE