This post contains affiliate links, which means that if you click on one of the product links, I'll receive a small commission. Thank you so much for clicking through and helping to support this little blog business of mine! Read more about our site, privacy, and disclosure policies here.
This amazing skillet apple crumble is filled with juicy apples baked into sticky, caramel-y, gooey perfection, and topped with a buttery crisp meets crumble topping that is decadently crumbly, a little bit doughy, with plenty of crunch.
Whether you call it apple crumble or apple crisp, this classic dessert is a favorite of so many; and for good reason. I'm also fairly certain a great apple crisp or apple crumble is my favorite dessert … EVER; and that's saying a lot, because I really, really love dessert. I mean, I am so dedicated to the dessert that I've already shared this totally popular slow cooker/crockpot apple crisp (that we make all of the time) and these insanely amazing apple crisp shortbread bars (that have become my number one most requested item for Thanksgiving.)
And honestly, everyone should have a simple apple crumble or apple crisp recipe in their back pocket.
It's a simple favorite that works just as well for dessert with a big scoop of ice cream on top as it does for breakfast with plain whole-milk or greek yogurt.
This perfect skillet apple crumble recipe is sort of a crisp-meets-crumble hybrid, because it utilizes both a flour-based streusel topping, and quick cook oats, which add to the texture and chew. Plus, crumble is awesome because it makes for the most delightful textural contrast between gooey, tender fruit, and a hefty serving of buttery sweet crisp. This perfect apple crumble also baked up in a cast iron skillet pan, which has its own benefits. (More on that later!) The end crisp/crumble result crumbles when you serve it – hence the name
– but still maintains plenty of chunks that hold together, like a great chunky granola, but softer.
A great fruit crumble has a baked fruit base that cooks down and becomes almost jam-like, with fresh chunks of fruit coming through each and every bite, plus a buttery sweet crumbly streusel topping that defines the dessert. Apples are pretty typical of fruit crumbles and crisps, but we're pretty big fans of berry crisps as well.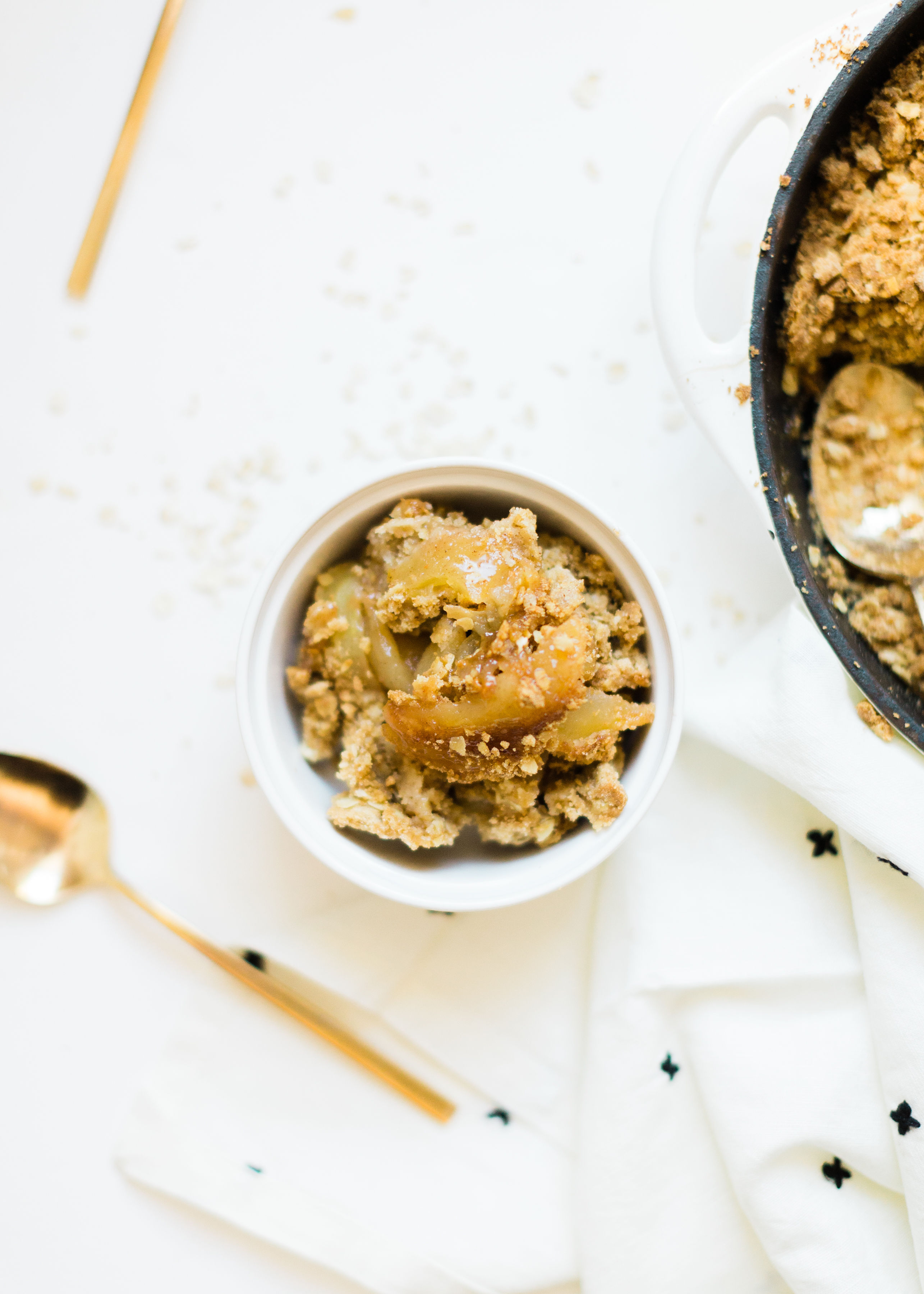 I've tried SO many crumble and crisp recipes, and this one is up there.
The sliced apples baked into caramel-y perfection, with bites having just the right touch of gooey, sugar-y perfection. The crumble topping is perfectly crumbly, a little bit doughy, with plenty of crunch. The crumble, paired with with fresh, bursting bites of apple-y favor, and a sticky caramel-y filling, well, I'll let you be the judge. Because obviously, YOU NEED TO MAKE THIS.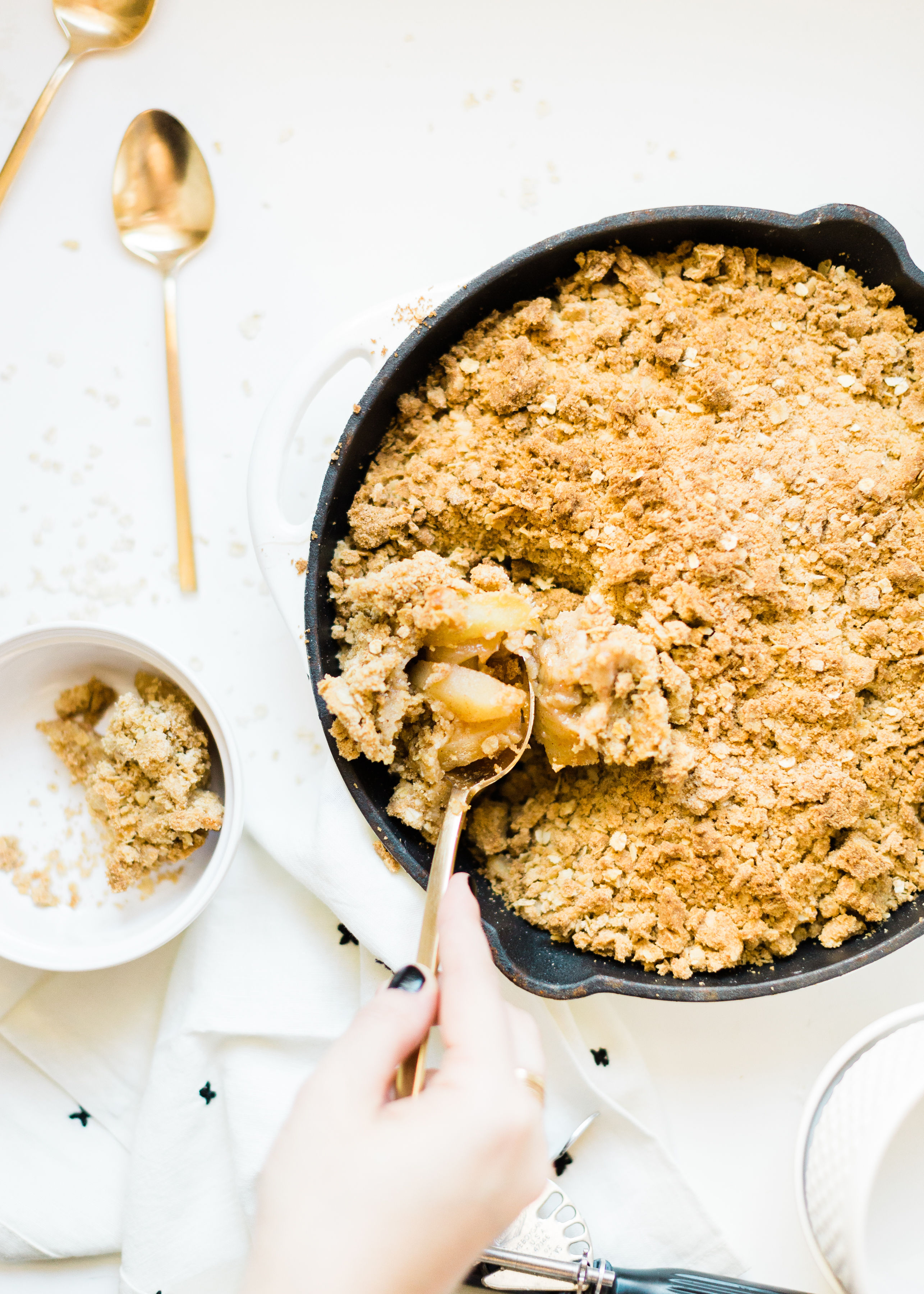 I've also been wanting to flex my cast iron skillet baking muscle, and because a great fruit crumble is pretty much foolproof, I thought I'd give this recipe a whirl in my favorite heavy cast iron skillet.
Of course, you could bake this apple crumble in any small-ish baking dish you have on hand (we sometimes use a 9" round glass baking pie dish), but there's something about the cast iron skillet that provides that extra baked up heat.
Why Bake in a Cast Iron Skillet?
Did you know that one of the main reasons cooks like to use a cast iron skillet is because it provides an even, steady heat? Bakers love cast iron for its ability to retain heat, which ensures whatever is being baked inside the skillet pan will be tender and evenly cooked without burning the sugary glaze. Baking an apple crumble in a skillet is going to produce caramel-y apples that are gooey throughout, with nice chewy edges, and a perfectly crumbly topping.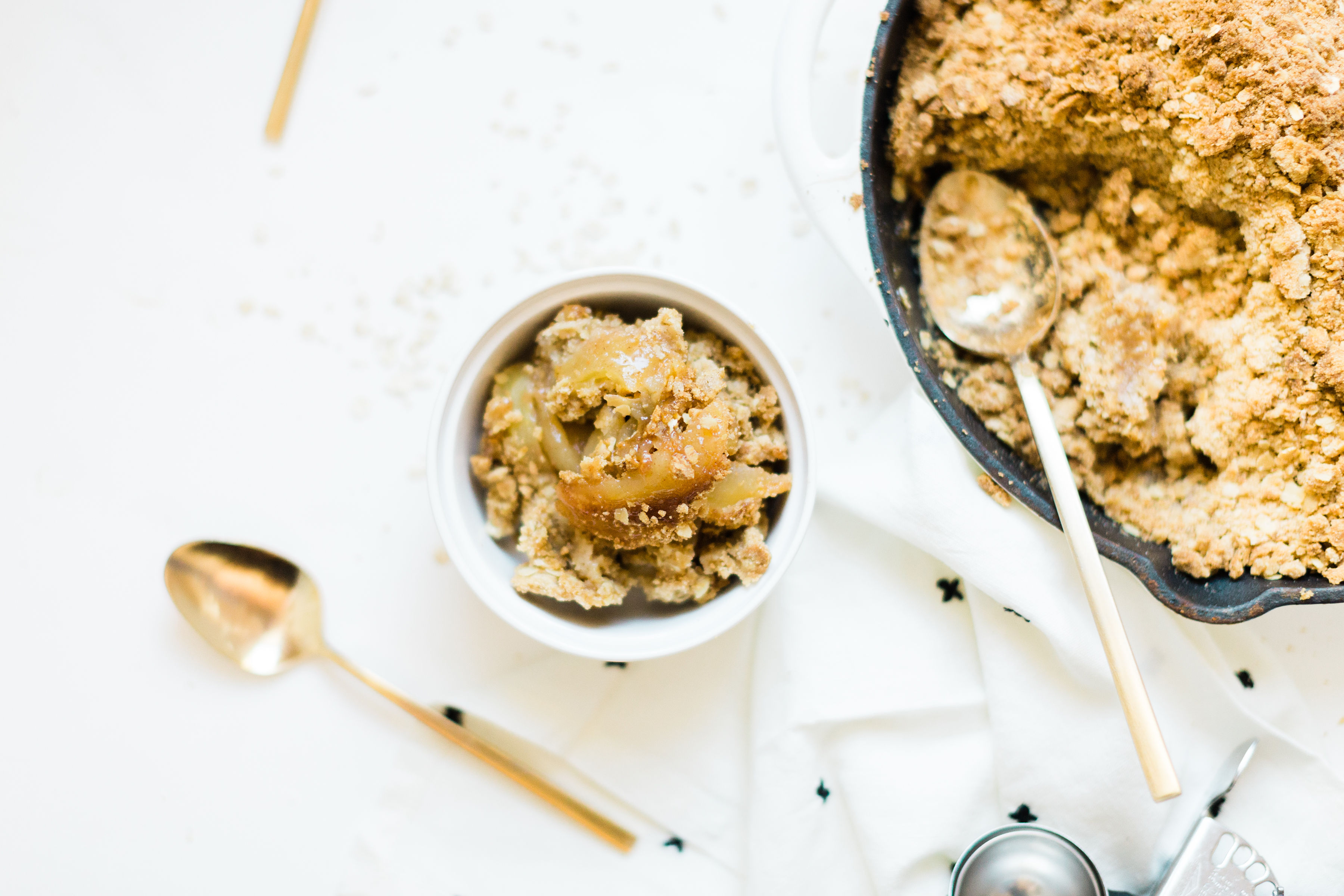 As for the apples in our favorite skillet apple crumble, I love mixing different types of apples together to make my perfect crumble. My favorite apples to use in a crumble or crispy are honeycrisp, gala, and pink lady apples.
Though I love granny smith apples – because they are more tart than most other apples – they sometimes need a bit more sugar to combat that tartness; so just keep that in mind if and when you use green apples to bake.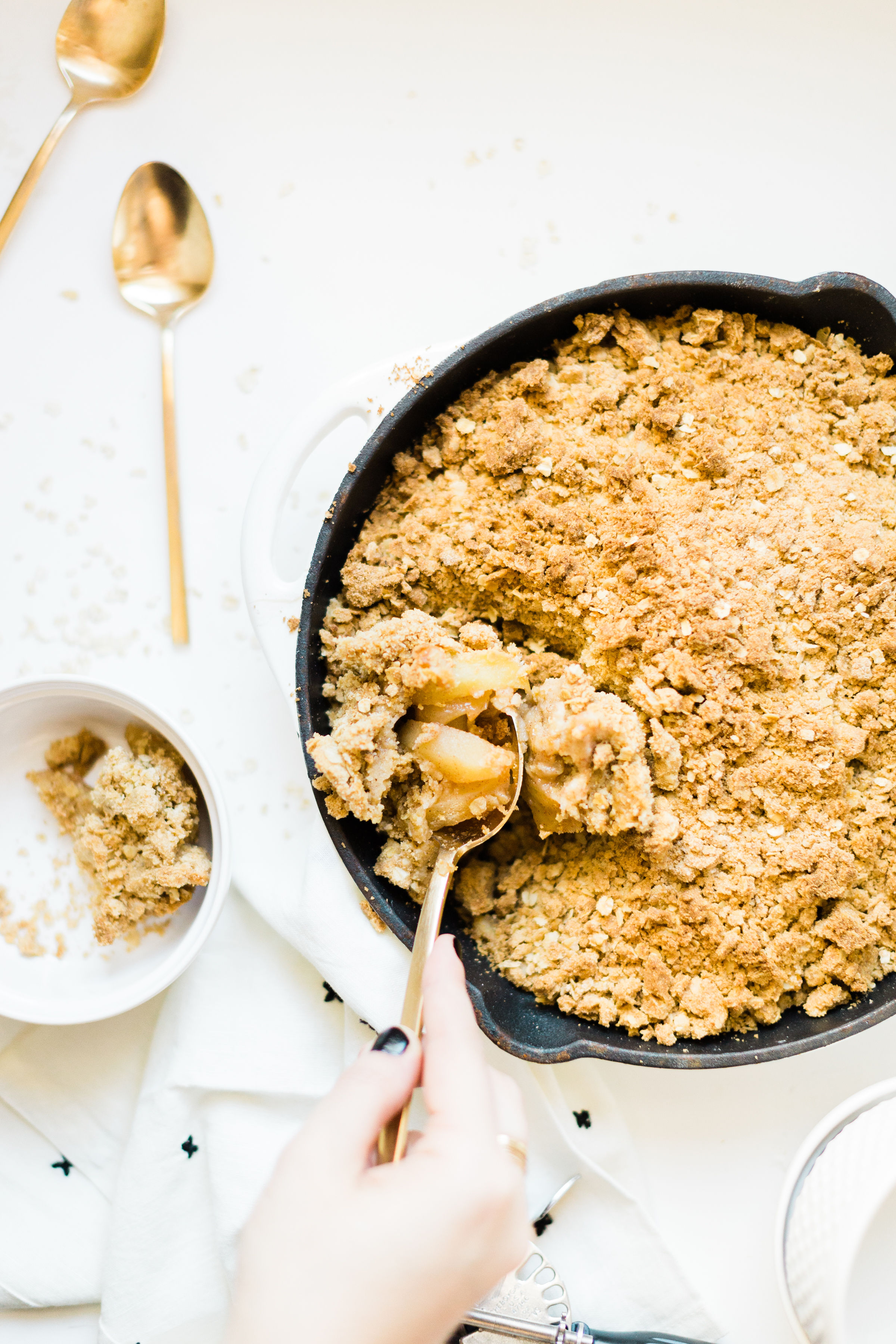 How to Make Our Favorite Perfect Skillet Apple Crumble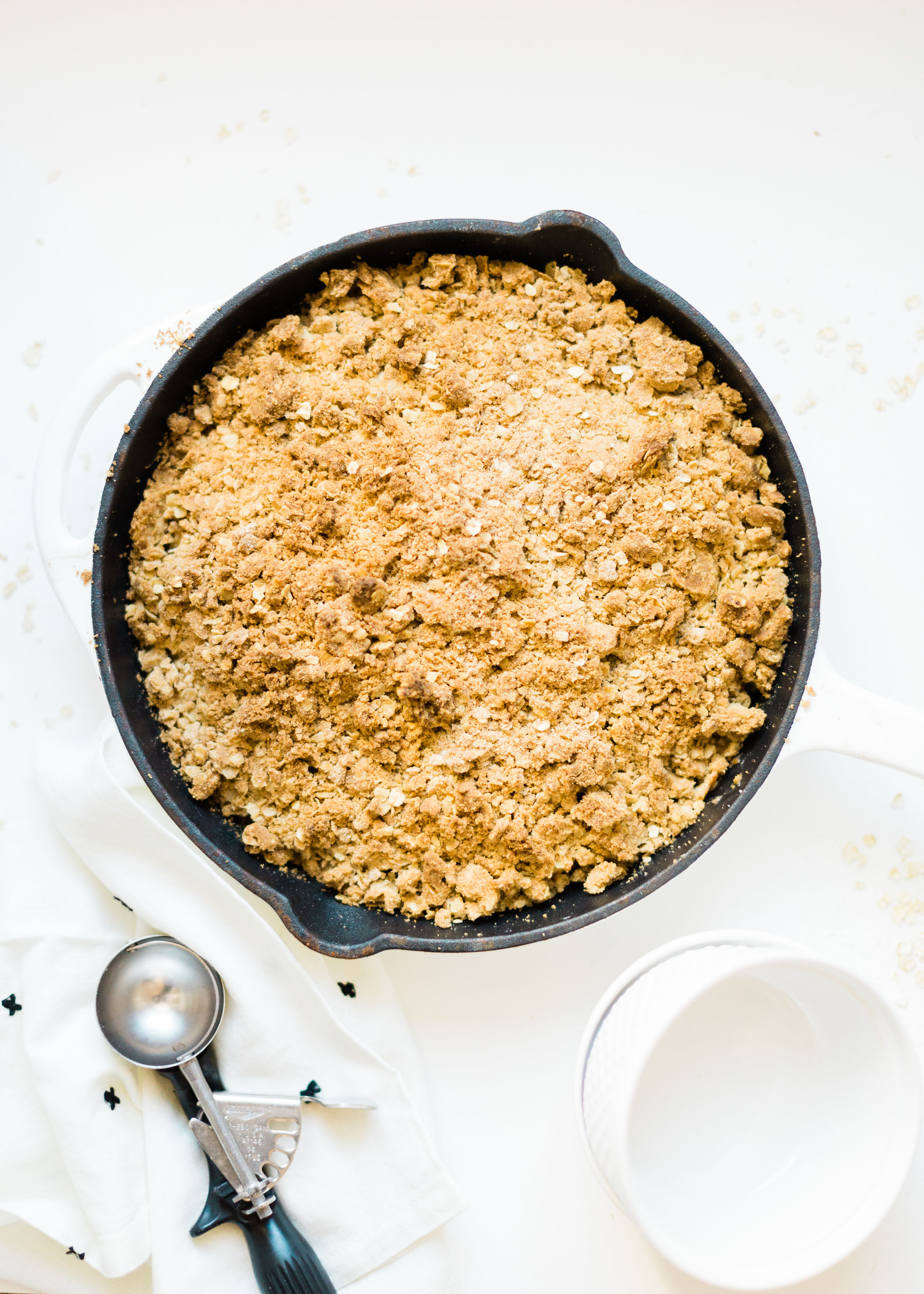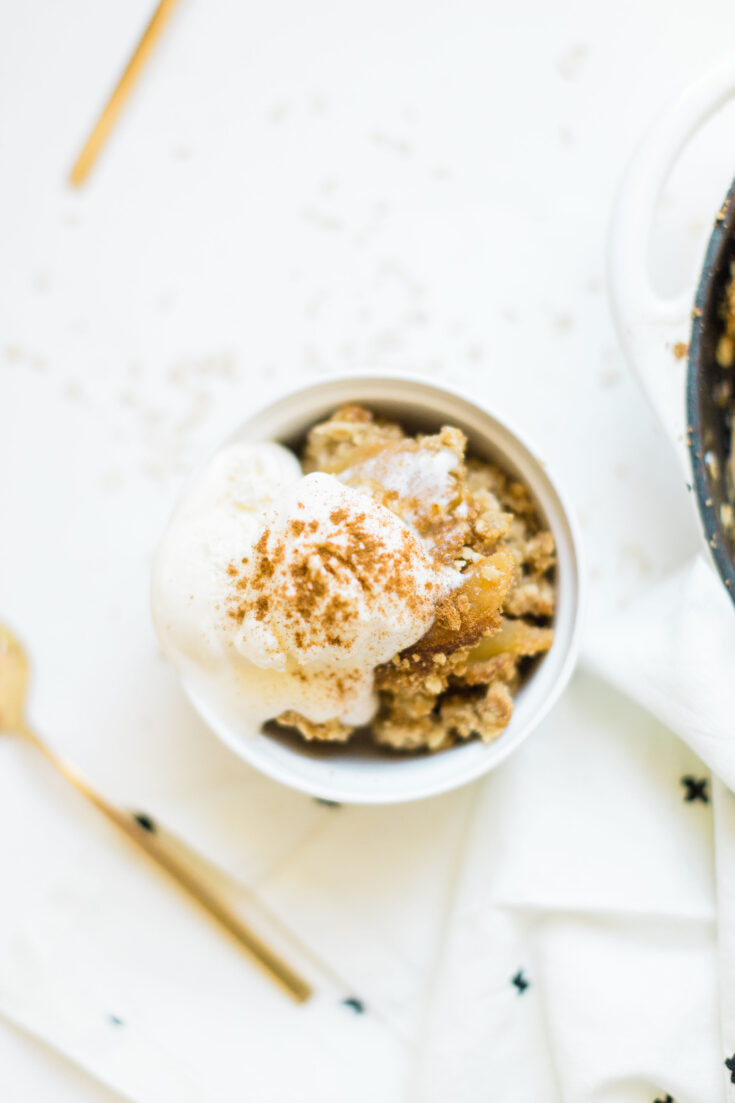 Yield:
The Yummiest Perfect Skillet Apple Crumble
Ingredients
6 large apples, peeled and sliced
½ cup granulated sugar
1 tablespoon flour
1 teaspoon ground cinnamon
1 cup quick cooking oatmeal
1 cup flour
1 cup packed brown sugar
½ teaspoon cinnamon 
¼ teaspoon nutmeg (optional)
¼ teaspoon baking soda
¼ teaspoon baking powder
¾ butter, melted
Instructions
Preheat your oven to 350 degrees.
Lightly butter the bottom of your cast iron pan or baking dish.
Peel, core, and slice apples and place in a large bowl. (I like to slice my apples fairly thin so that they cook through easily and have enough time to really cook down and get all gooey.)
In your apple bowl, add in the ½ cup granulated sugar, 1 tablespoon flour, and cinnamon, and toss with the apple slices. Transfer to your buttered pan/dish.
In the same (now empty) bowl, stir together the quick cook oatmeal, flour, brown sugar, cinnamon, nutmeg, baking soda, and baking powder, top with melted butter, and mix until crumbly. Top the sliced apples evenly with the crumbly oatmeal mixture.
Bake for 45 minutes. Allow to cool for about 10-15 minutes; serve warm and top with ice cream or whipped cream.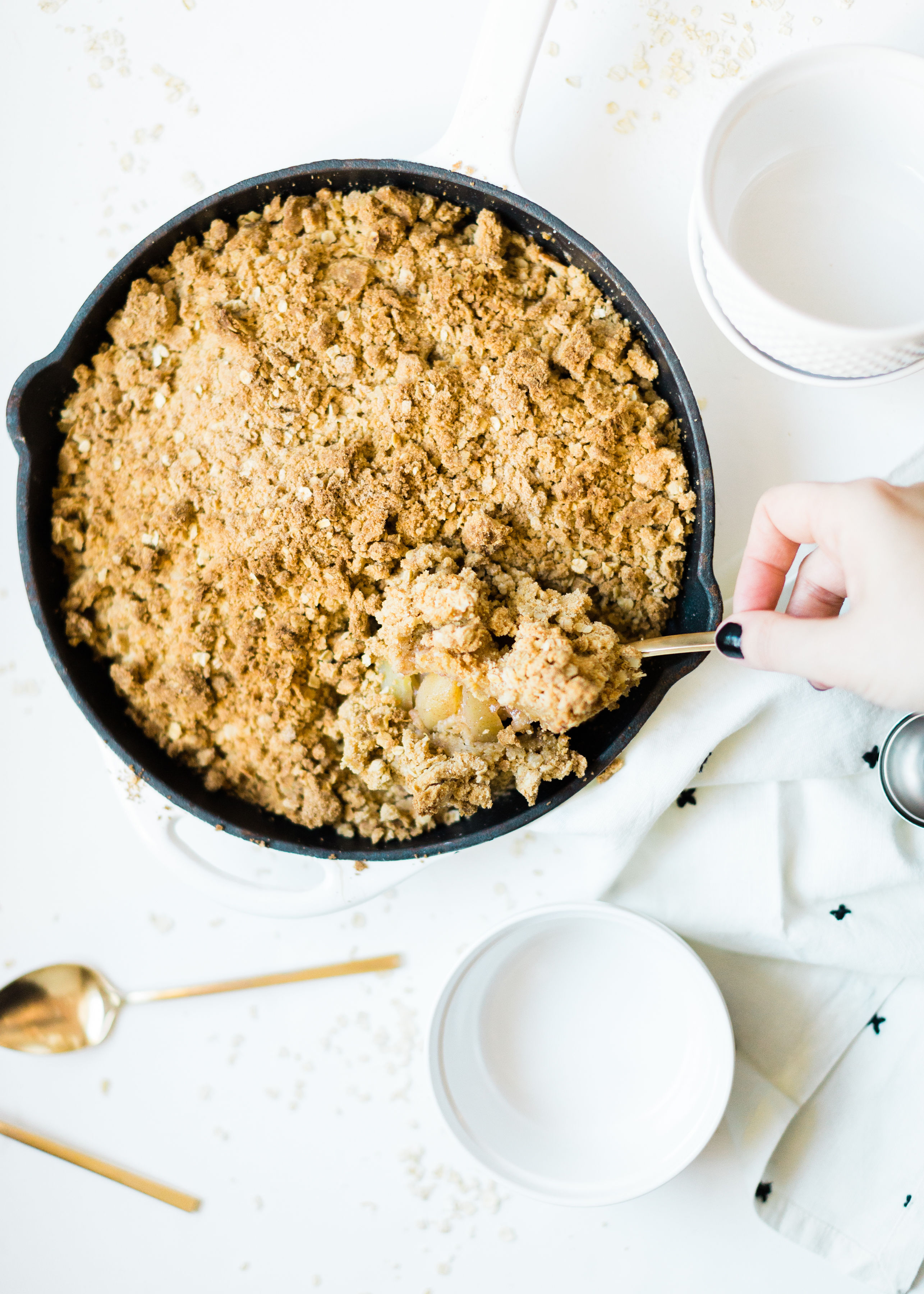 NOTE: In case you want to make this skillet apple crumble vegan-friendly and/or dairy-free, substitute a vegan butter (melted) – we like Earth Balance, or use melted coconut oil. Both work great!
(Scarlett, our oldest daughter, is allergic to milk protein, so we're always experimenting with vegan and dairy-free recipes.)
Psst … you may also like this vegan triple berry crumble/crispvegan triple berry crumble/crisp!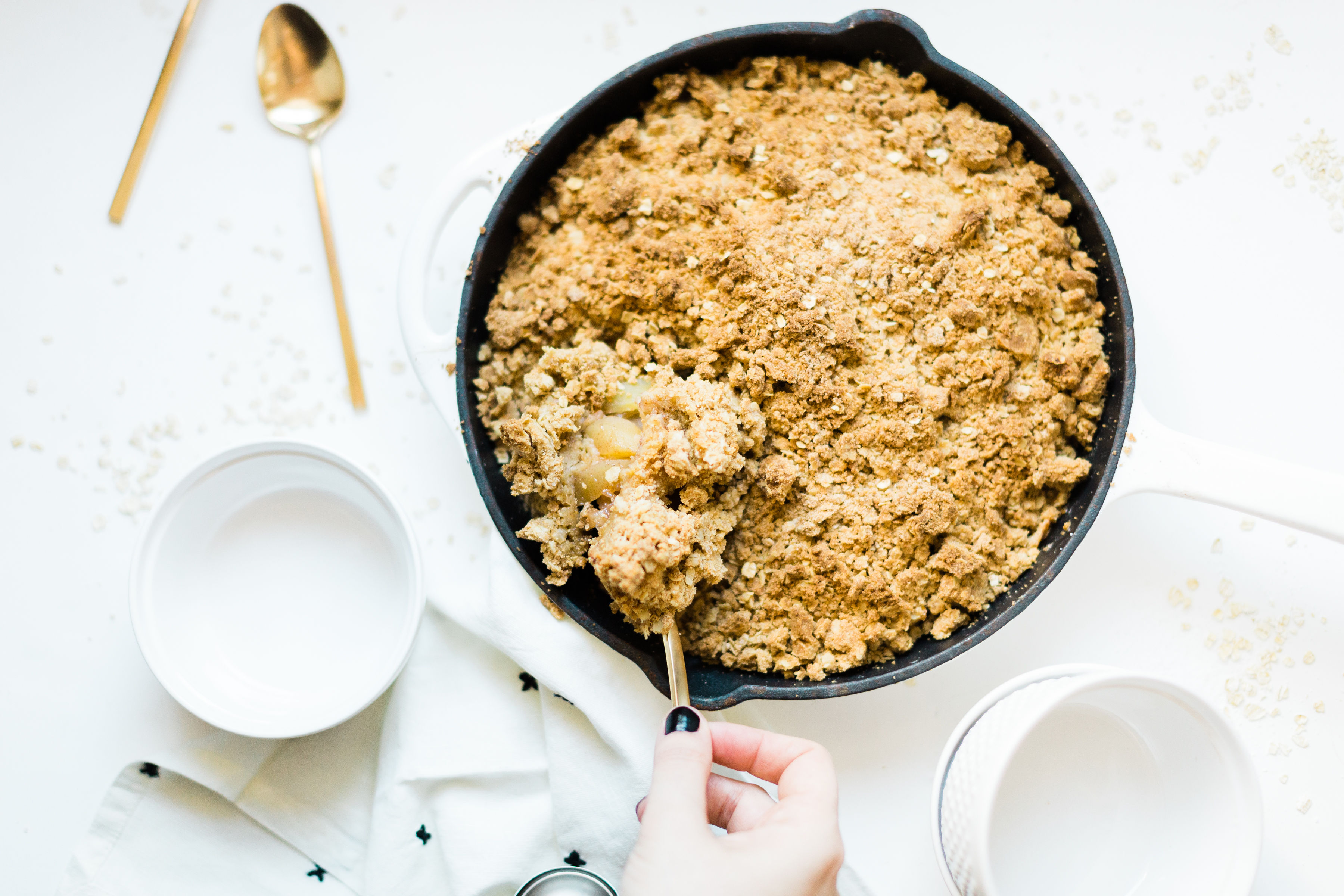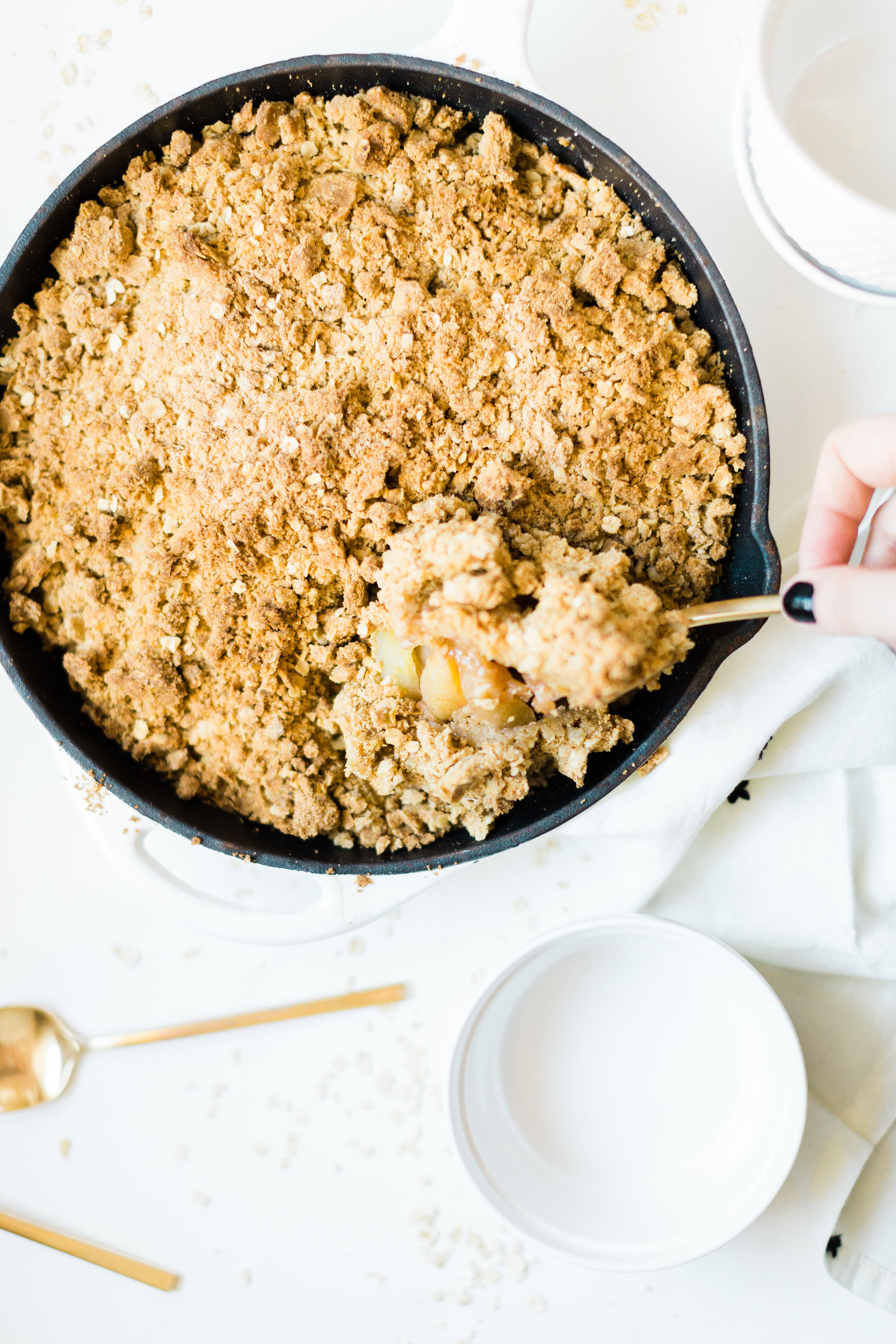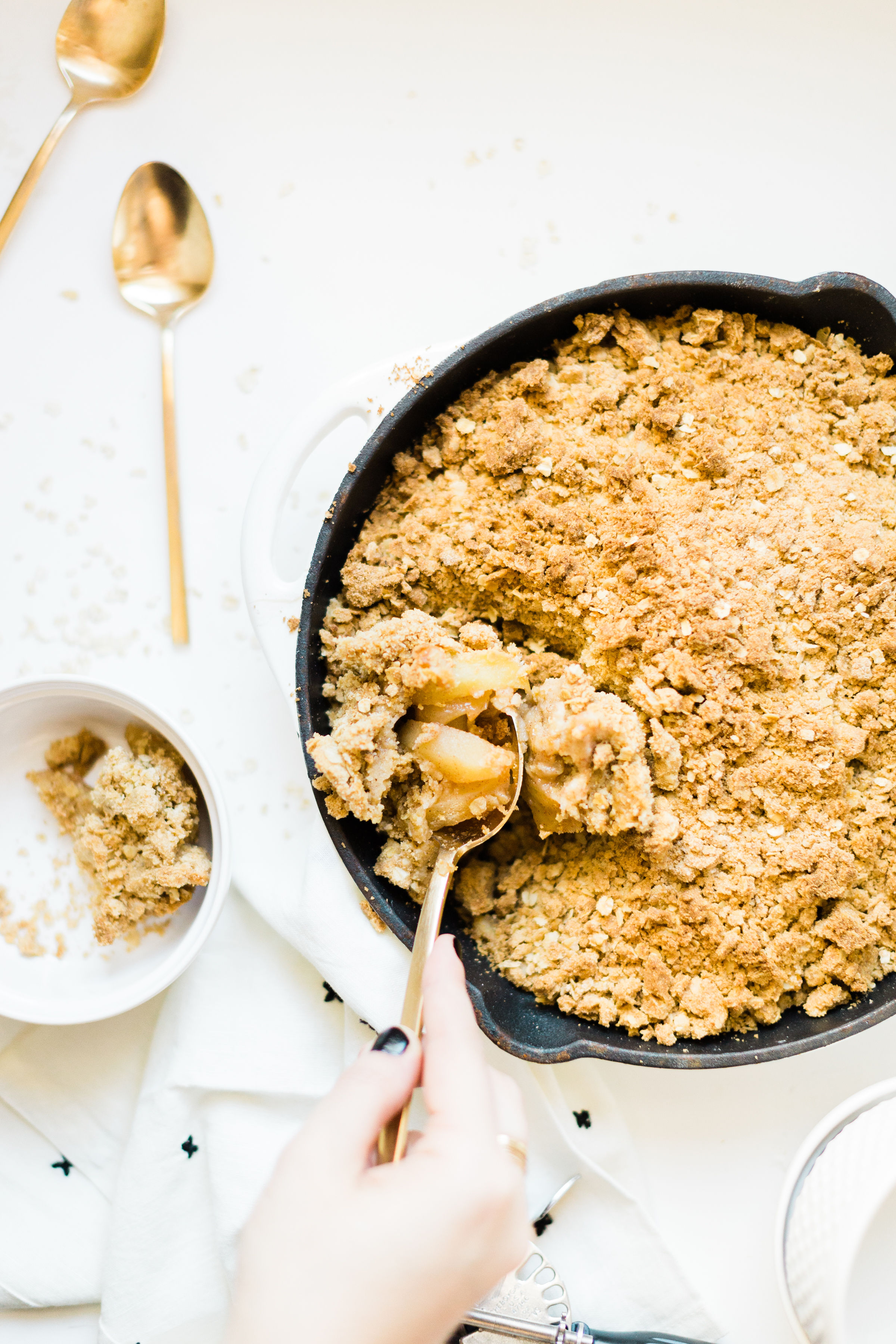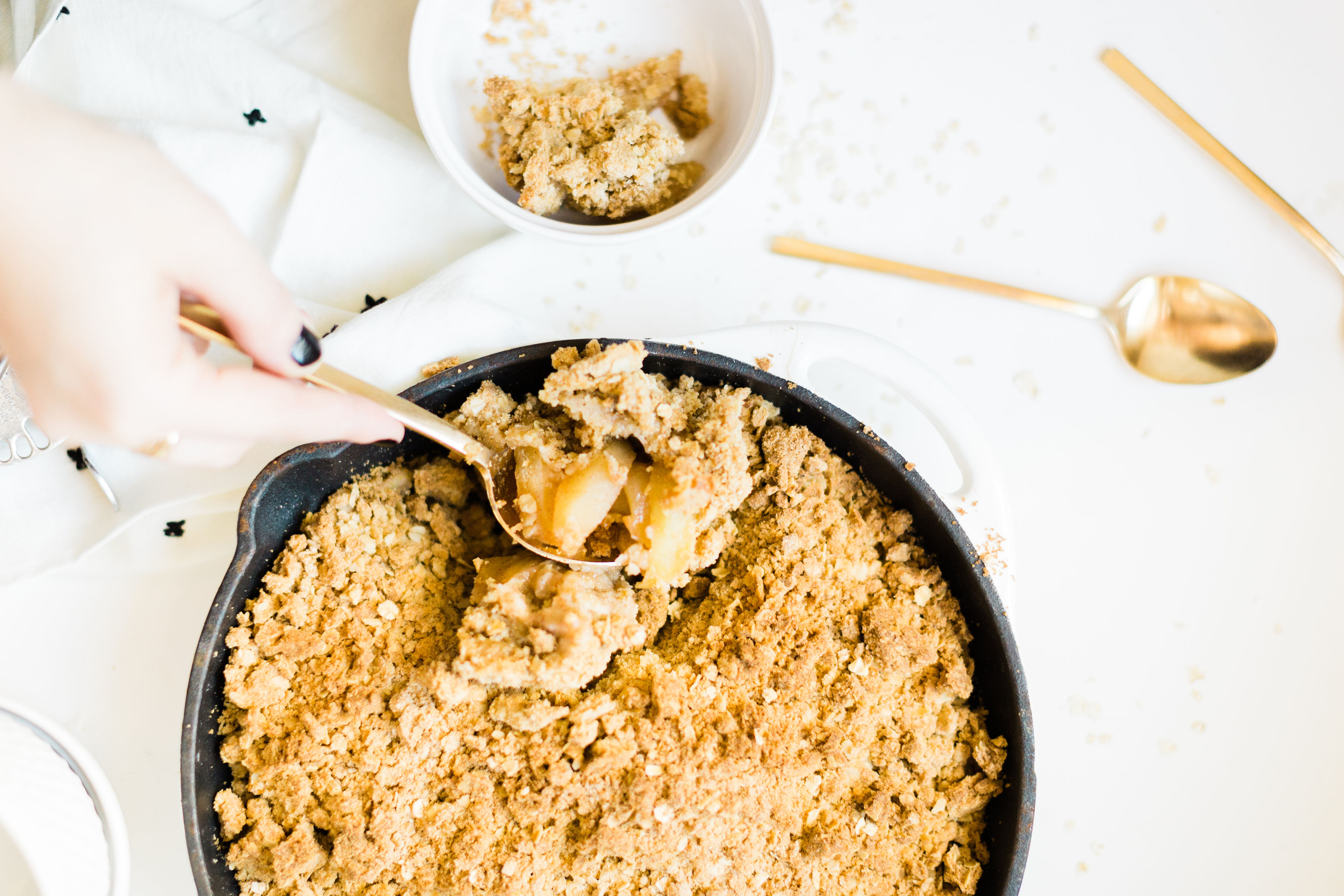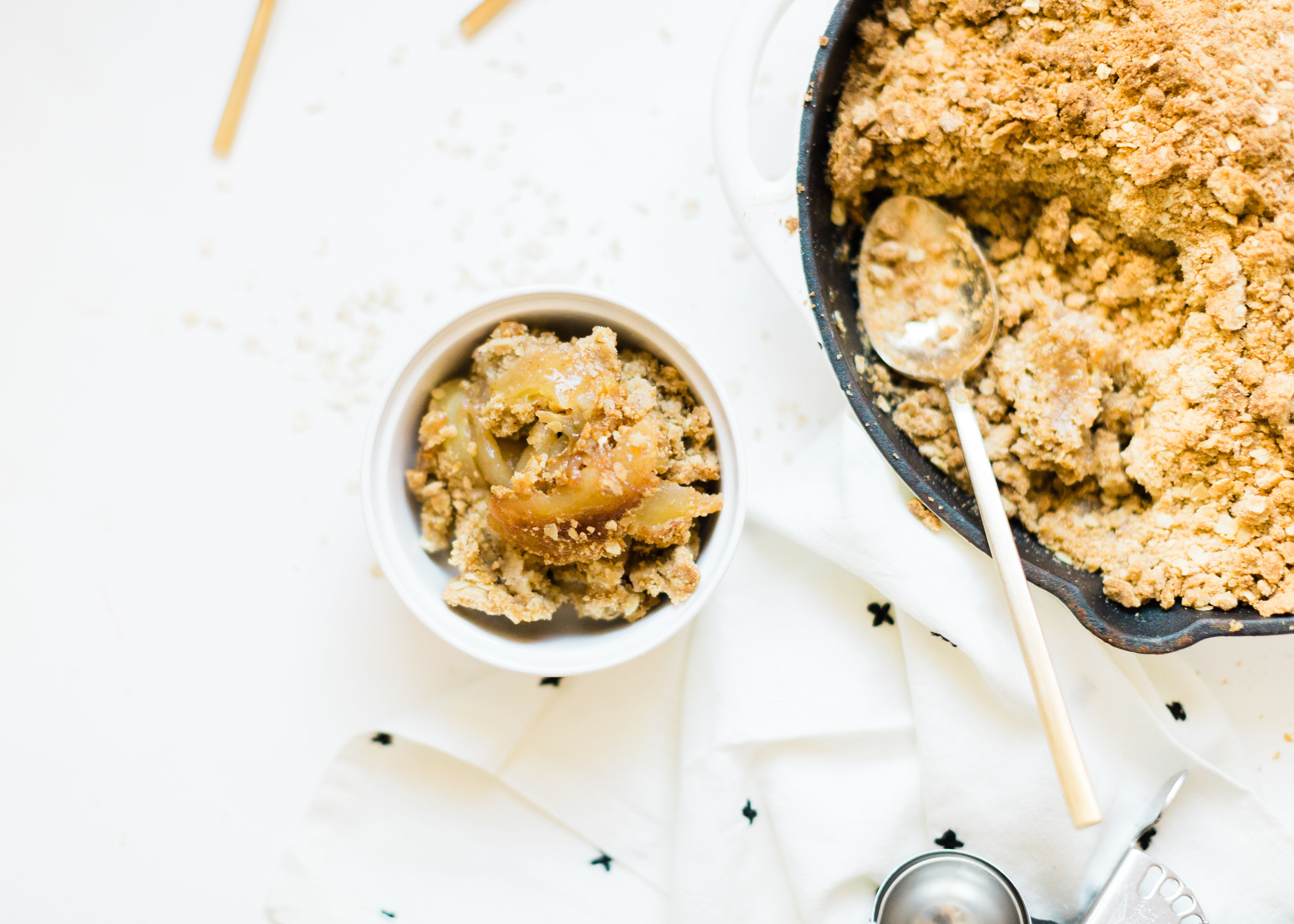 No one will judge you if you scrape right to the bottom of the skillet pan to get all of that browned, buttery caramel-y apple filling goodness.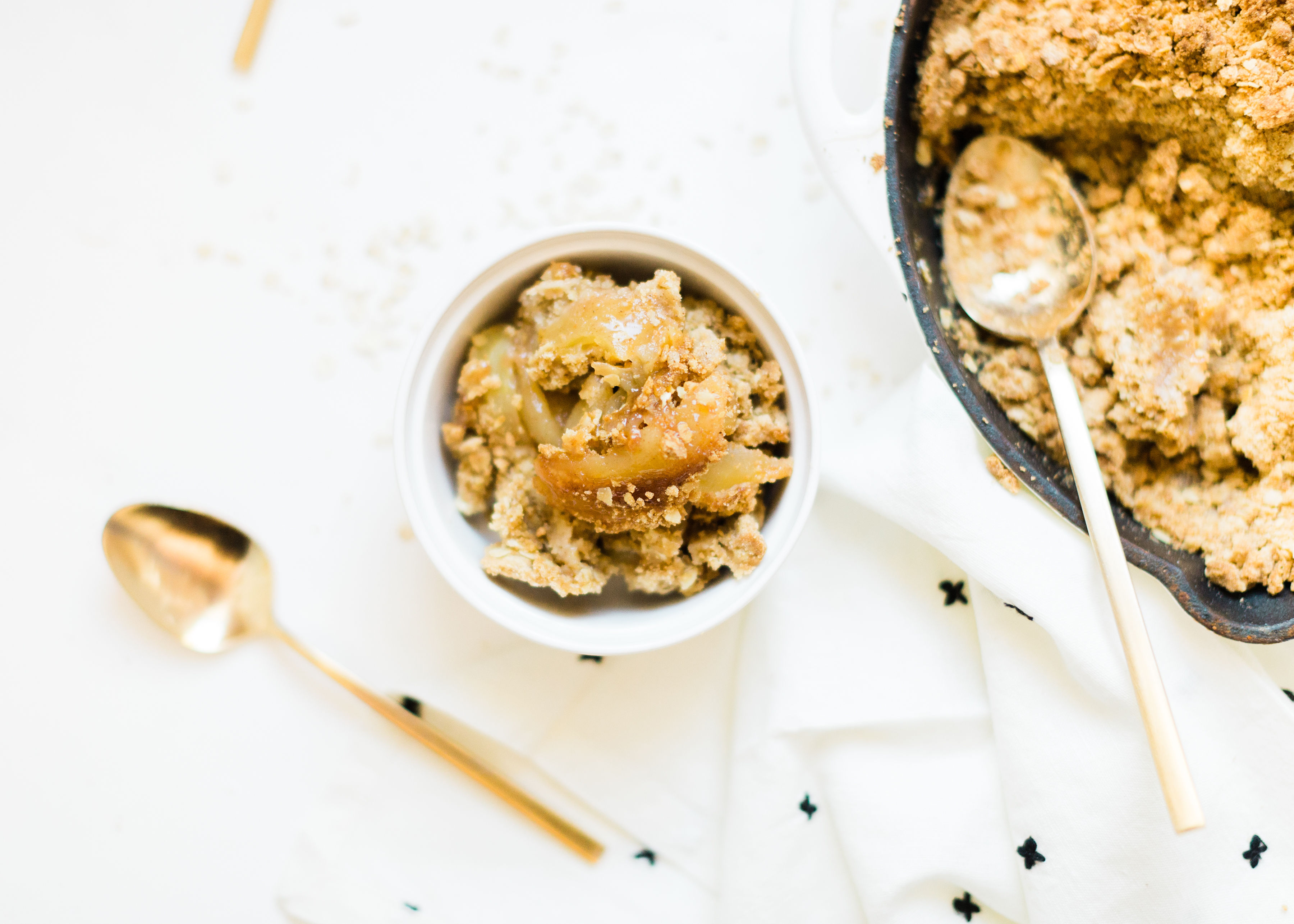 Serve this decadent apple crumble warm, and topped with vanilla bean ice cream; because, why not??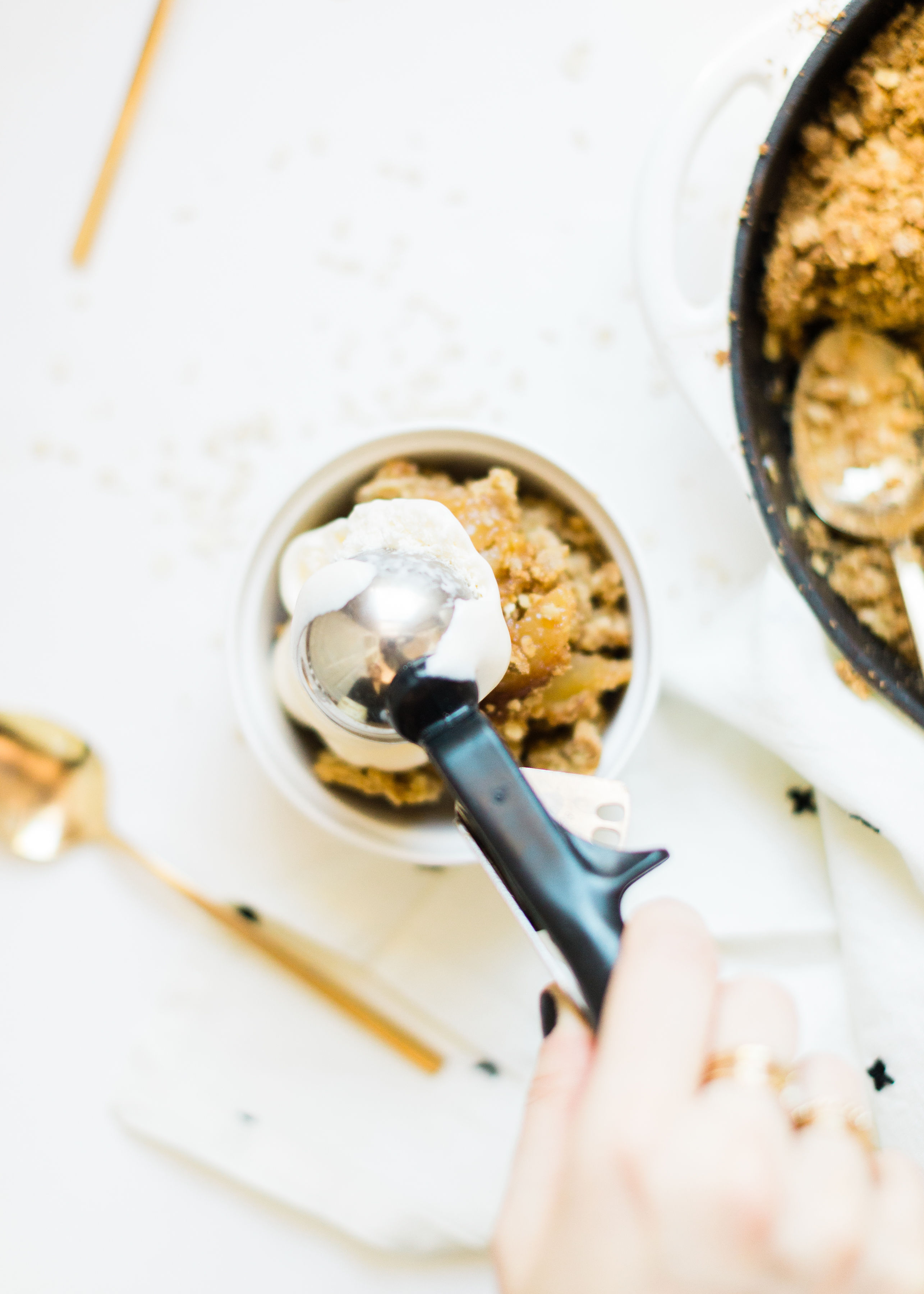 Mmmmm, ice cream.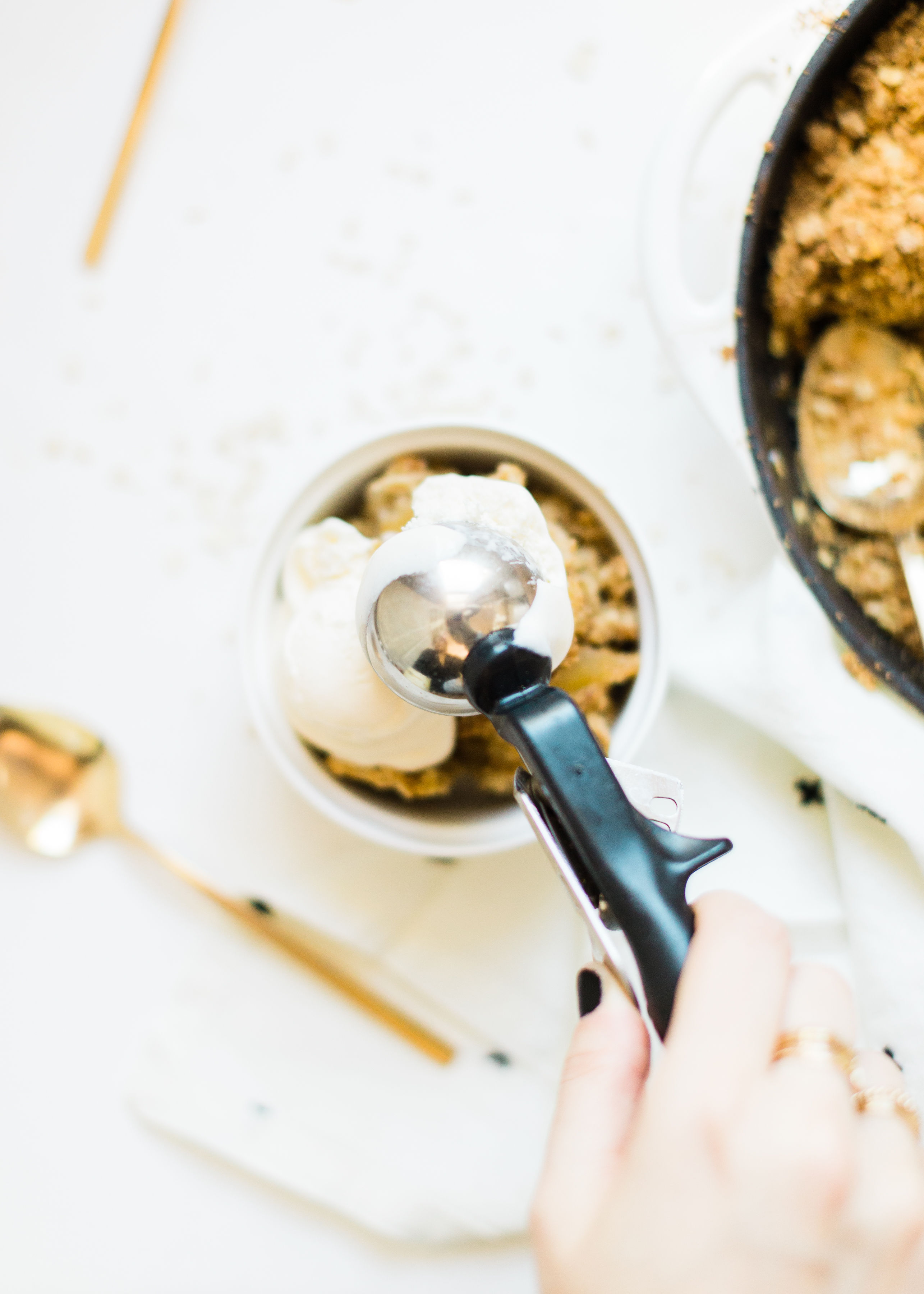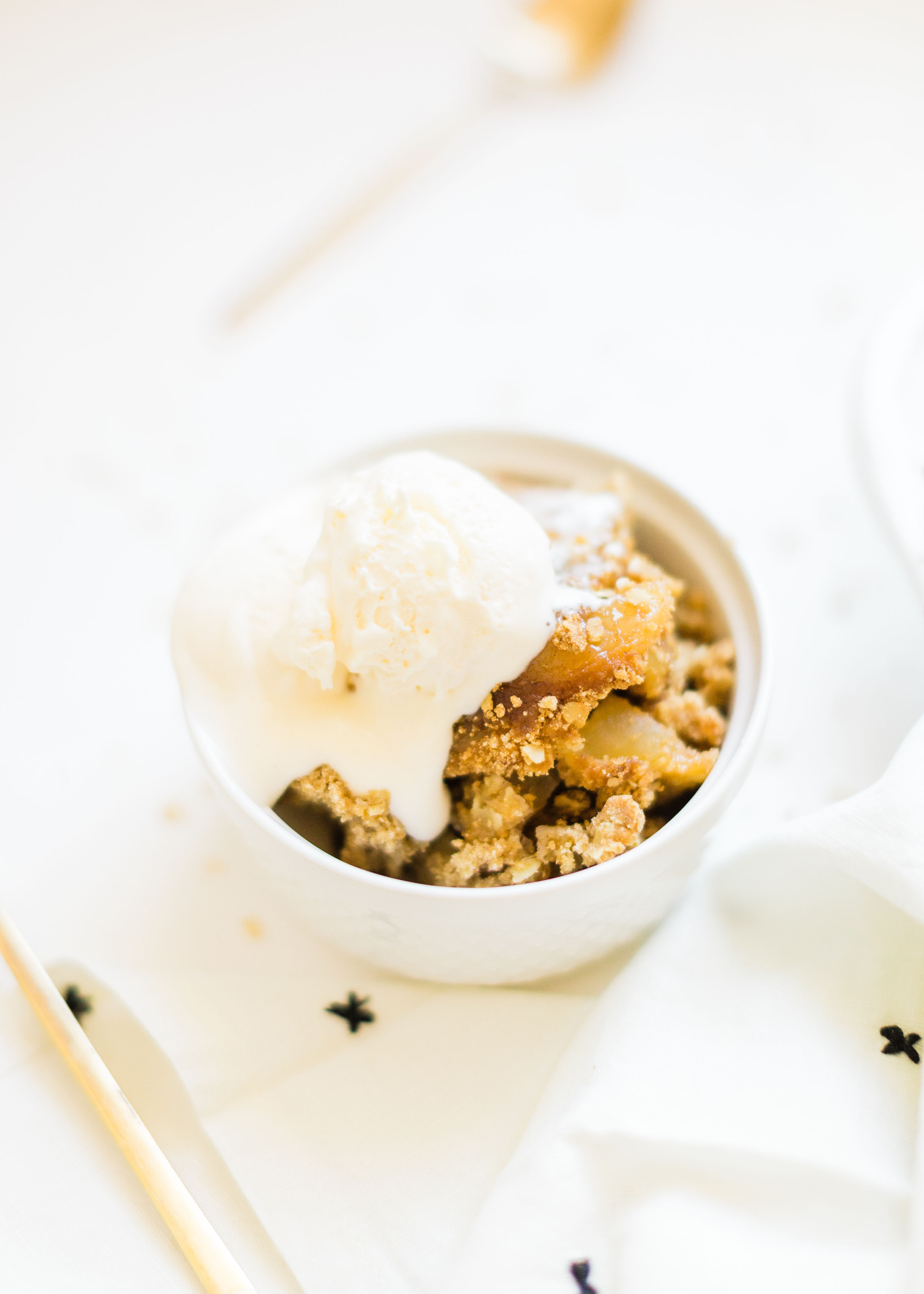 You can also top your ice cream with cinnamon or a little caramel drizzle.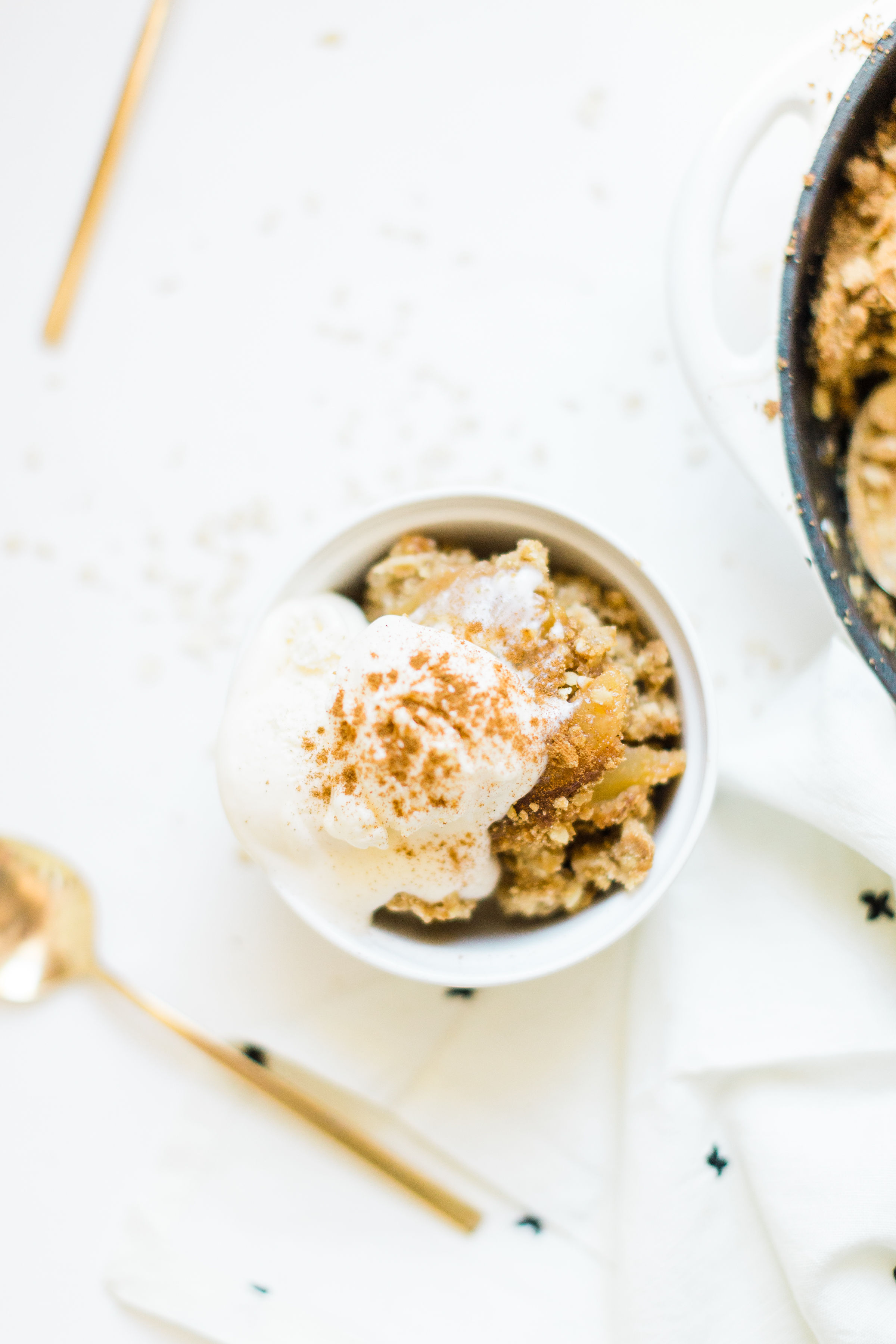 Goodness, now I want a big, ooey gooey, bowl of sticky, caramel-y, crumbly homemade apple crumble.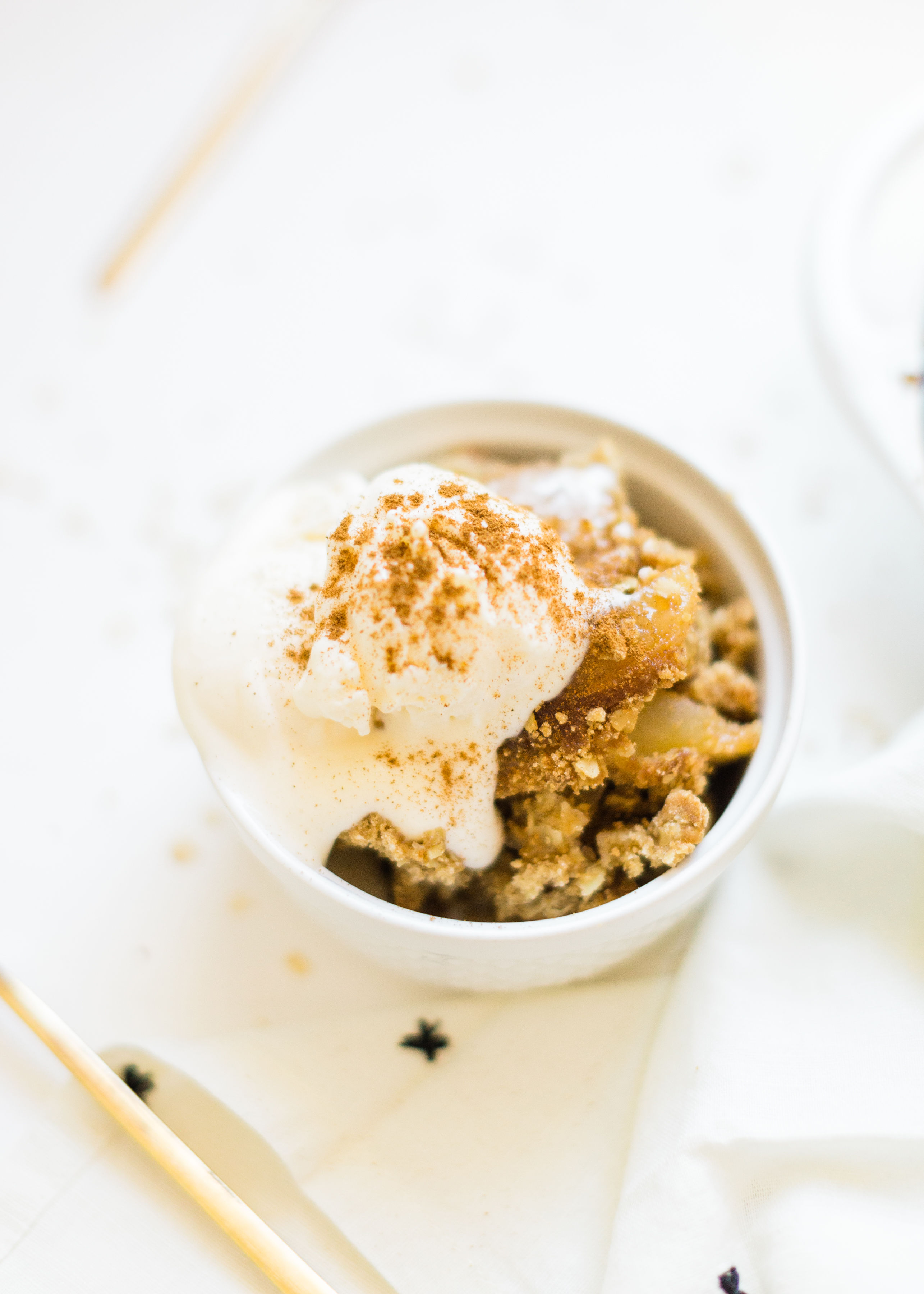 If you make your own apple crumble, be sure to tag me on social media (@glitterinclexi) so I can live vicariously through all of your sweet creations!
More Delicious Dessert Recipes from Glitter, Inc.:
quick strawberry fruit bread with strawberry glaze (so good!)
the most incredible s'mores cookie cups
the best sugar cookies for decorating
easy, fudgy, chewy, cakey better than box mix brownies
marbled graham cracker toffee bark
Levain Bakery chocolate chip cookies
SHOP THE APPLE CRUMBLE POST | CLICK LEFT & RIGHT ARROWS TO EXPLORE
Love this yummy skillet apple crumble? Head to our recipe page to check out what else we're baking up in the kitchen! 
Photos by Annie Timmons Photography for Glitter, Inc.