This post contains affiliate links, which means that if you click on one of the product links, I'll receive a small commission. Thank you so much for clicking through and helping to support this little blog business of mine! Read more about our site, privacy, and disclosure policies here.
Say hello to your new year-round, no-fuss dessert hack: apple crisp, made in a crock-pot or slow cooker. Yes, it can be done! I mean, really, is there anything a crock-pot can't do? I've only recently come around to its wonders, but I'm must say, I'm impressed, and less stressed.
Dinner makes sense in a slow cooker. (Both this 3-Ingredient Trader Joe's Thai Coconut Curry Chicken and Hearty Chicken Vegetable and Quinoa Soup have become slow cooker staples in our kitchen, since this mama got her proverbial slow cooker feet wet. By the way, this Instant Pot basically does it all – slow cooker, rice cooker, pressure cooker – and you'll love it.)
We've all heard so many of the easy slow cooker dinner recipes; but dessert? It totally works! And this one in particular – slow cooker apple crisp – it's one of my favorite slow cooker discoveries to date. That's a cooking (and baking) win.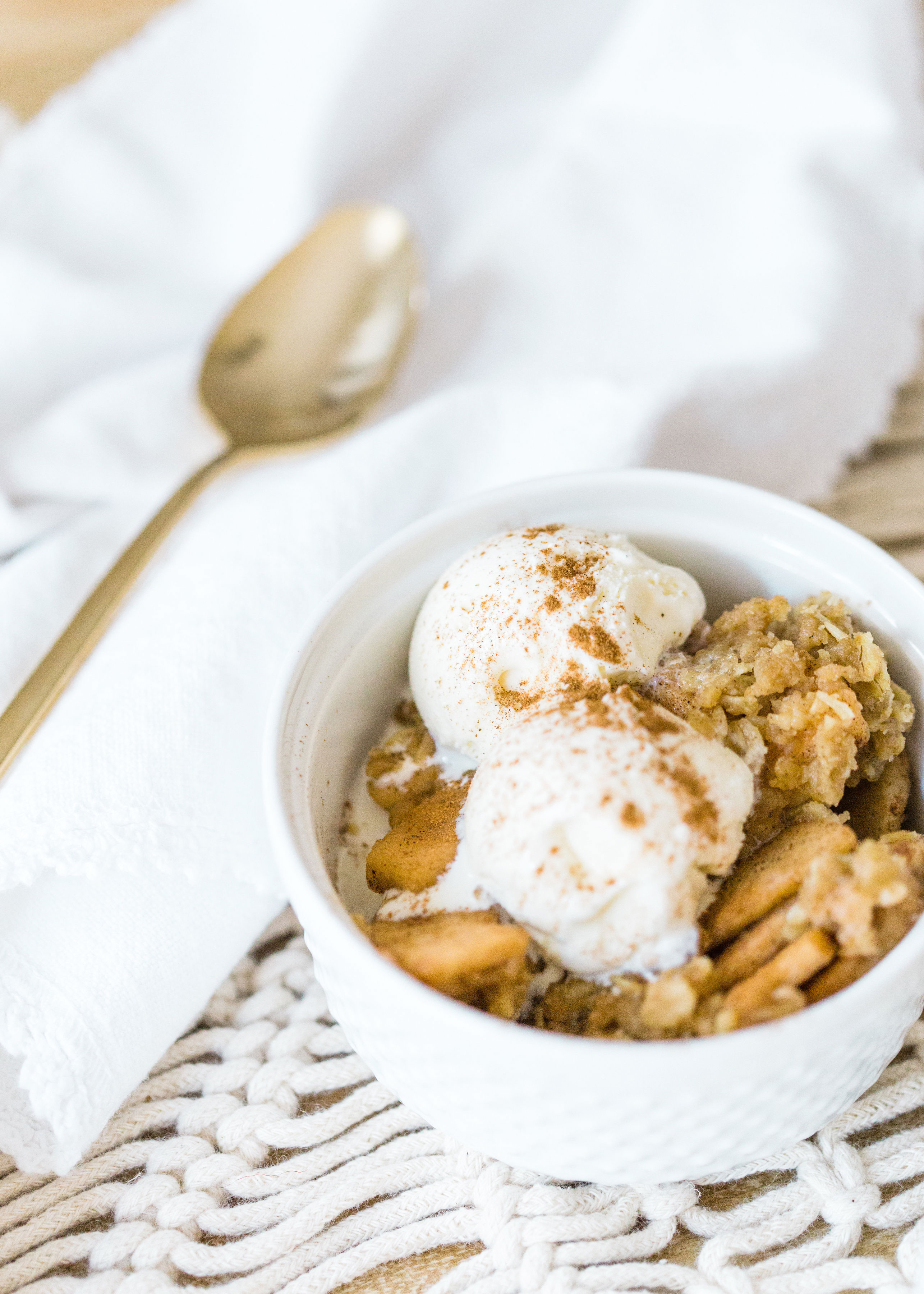 Now I know apple recipes are typically reserved for the fall – but truth is – we eat them year-round – and I also happen to be a dessert fiend; so in summer, when the temperatures just keep on rising, I'm always on the hunt for no-fuss sweets that don't require a whole lot of legwork.
Making anything in a slow cooker is great (I mean, really really great!) because it's kind of a dump-and-wait recipe. Seriously, you just throw all of your ingredients into the crock-pot, and a few hours later, you have a home-cooked meal, orrrr, in this case, a homemade, warm, gooey dessert … just begging to be topped with cold vanilla ice cream, I might add.
And, added bonus: a slow cooker won't heat up your kitchen on hot summer days the way turning on your oven would.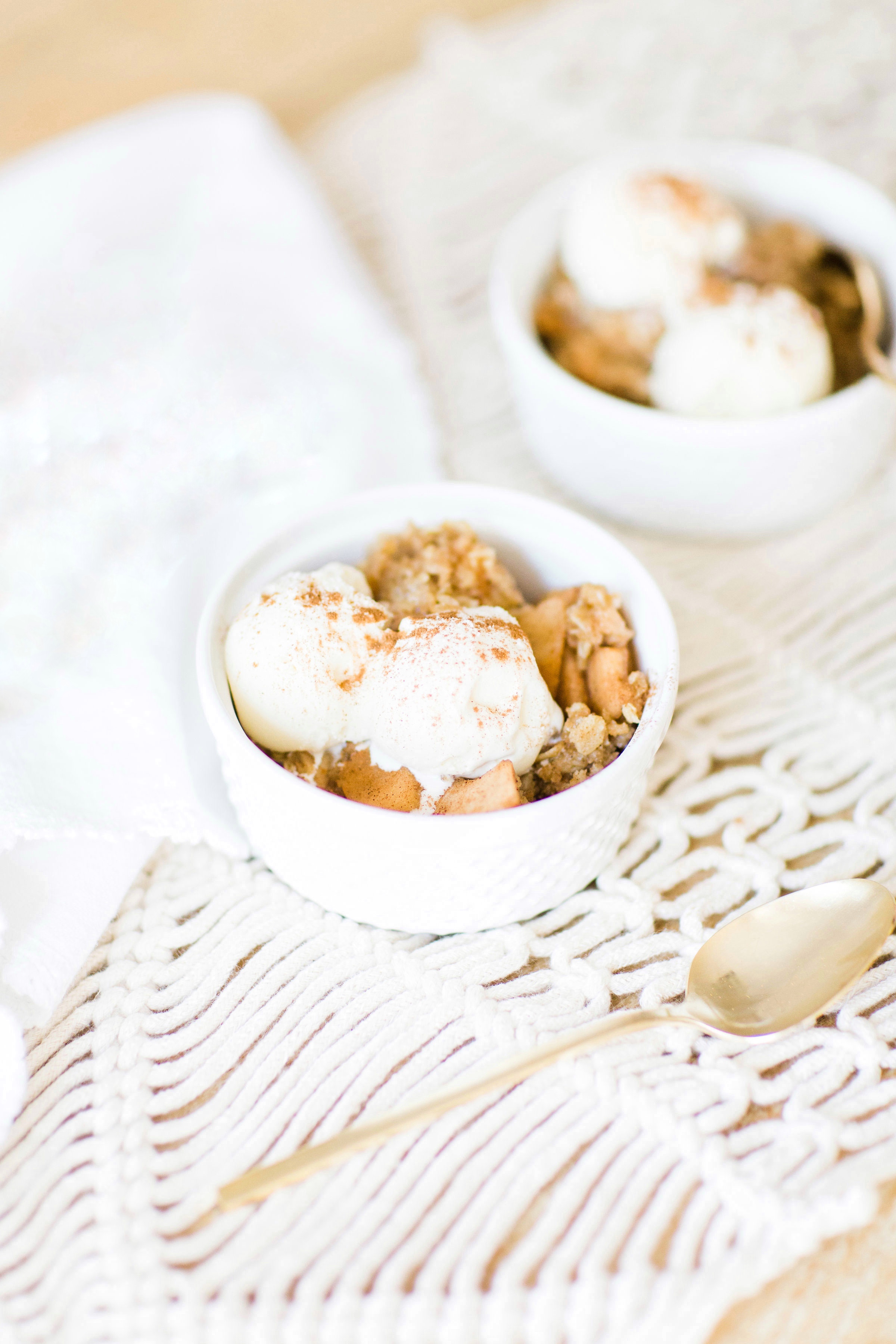 Now back to this dessert I keep raving about: this slow cooker apple crisp is cooked entirely in a crock-pot. Yep, it's awesome. The oh so easy dessert is packed with juicy apples, warm brown sugar, and a buttery crumbly oat crisp topping.
While the apple crisp cooks low and slow in the slow cooker, the apples get soft and juicy, and they combine with the sugar and spices to create a perfect caramel-y sauce. The oatmeal topping crisps up, and has that crumbly, buttery texture you know and love. Slow cookers really are magic, aren't they?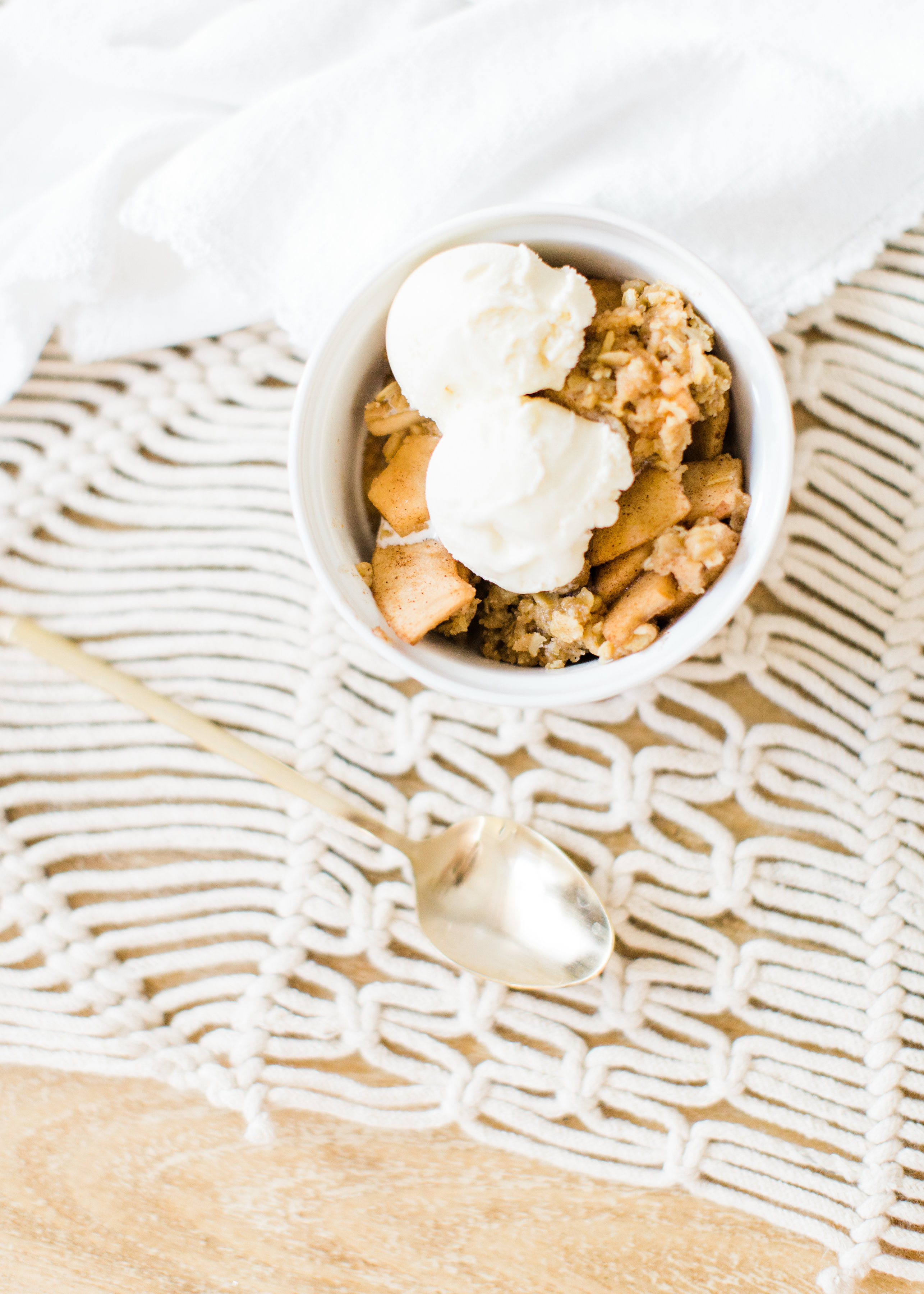 But I digress. Here's how to make the most amazing, and simple, slow cooker apple crisp …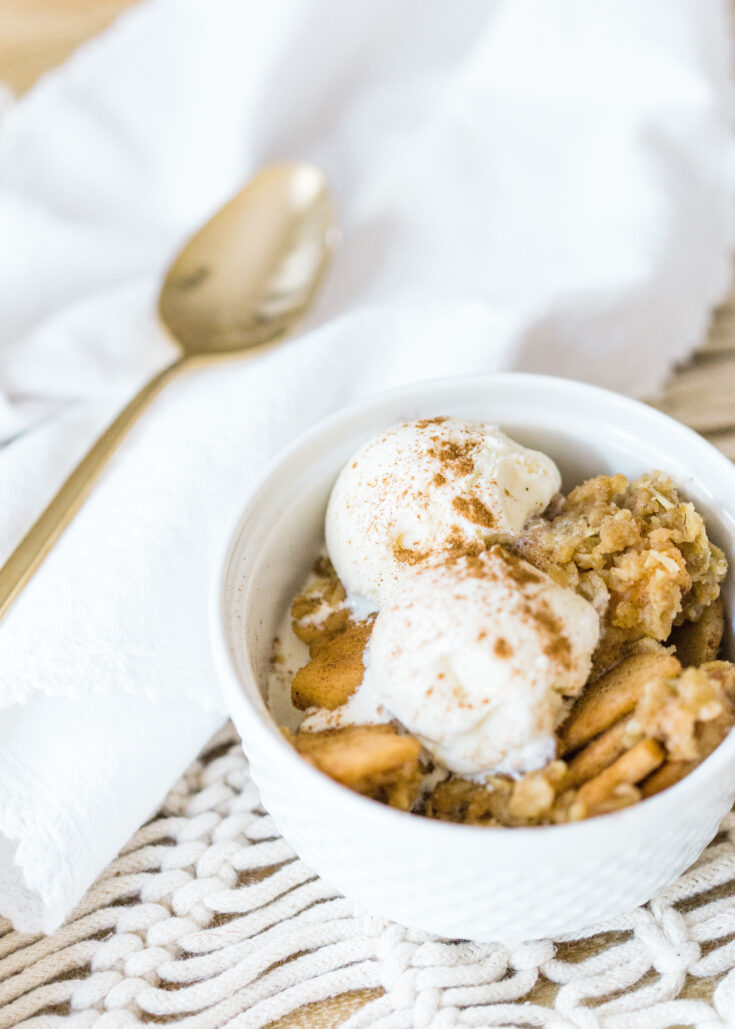 Yield:
How to Make Homemade Apple Crisp in a Slow Cooker
This simple-as-could-be slow cooker apple crisp is packed with juicy apples, warm brown sugar, and a buttery crumbly oat crisp topping.Top with a heaping scoop of vanilla ice cream and a sprinkle of cinnamon, because you know you wanna. 
Ingredients
For the apple filling:
8 Granny Smith apples, peeled, cored, and cut into ¼-inch thick slices
½ cup packed light brown sugar
2 tablespoons granulated sugar (optional; I skipped it, mostly because I don't like my desserts too sweet)
2 teaspoons cinnamon
¼ teaspoon nutmeg
¼ teaspoon salt
For the oatmeal crisp topping:
1 cup old-fashioned oats
¾ cup white whole wheat flour
¼ cup packed light brown sugar
1 teaspoon cinnamon
¼ teaspoon salt
½ cup cold unsalted butter, cut into cubes 
Serve with vanilla ice cream on top for the ultimate dessert! (optional)
Instructions
To make the apple filling:
Place sliced apples in the slow cooker. Add brown sugar, granulated sugar, cinnamon, nutmeg, and salt. Stir. (Be sure to use a non-metal spoon so as not to scratch your slow cooker bowl.) Allow the apple filling to sit while you put together the oatmeal crisp topping.
To make the oatmeal crisp topping:
Combine oats, flour, brown sugar, cinnamon, and salt in a large bowl. Stir until well combined.
Add in the butter, and using your fingertips, work the butter into the oat mixture until the mixture starts to clump together.Stir the apple mixture in your slow cooker once more and then spread the apples out into a somewhat even layer. Sprinkle the oatmeal crisp topping over the top.
To cook the apple crisp:
Replace the lid. Cook on high for 2 hours or on low for 3-3½ hours, until apples are soft. Turn off heat and let stand for at least 30 minutes and up to 1 hour before serving (keeping the lid on).
Serve in bowls with heaping scoops of vanilla ice cream and a sprinkle of cinnamon. Hello, easy dessert!
Recipe adapted via Kristine's Kitchen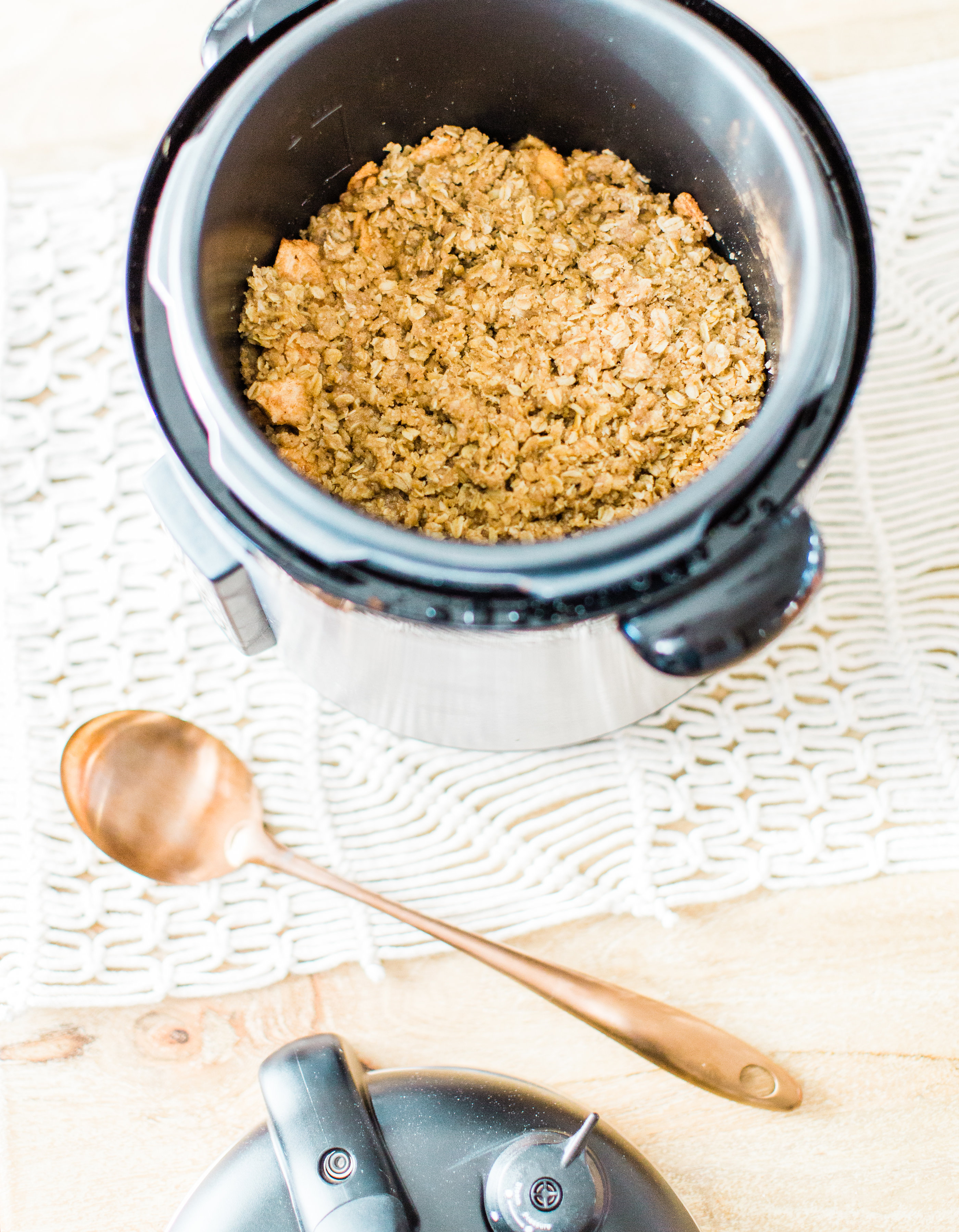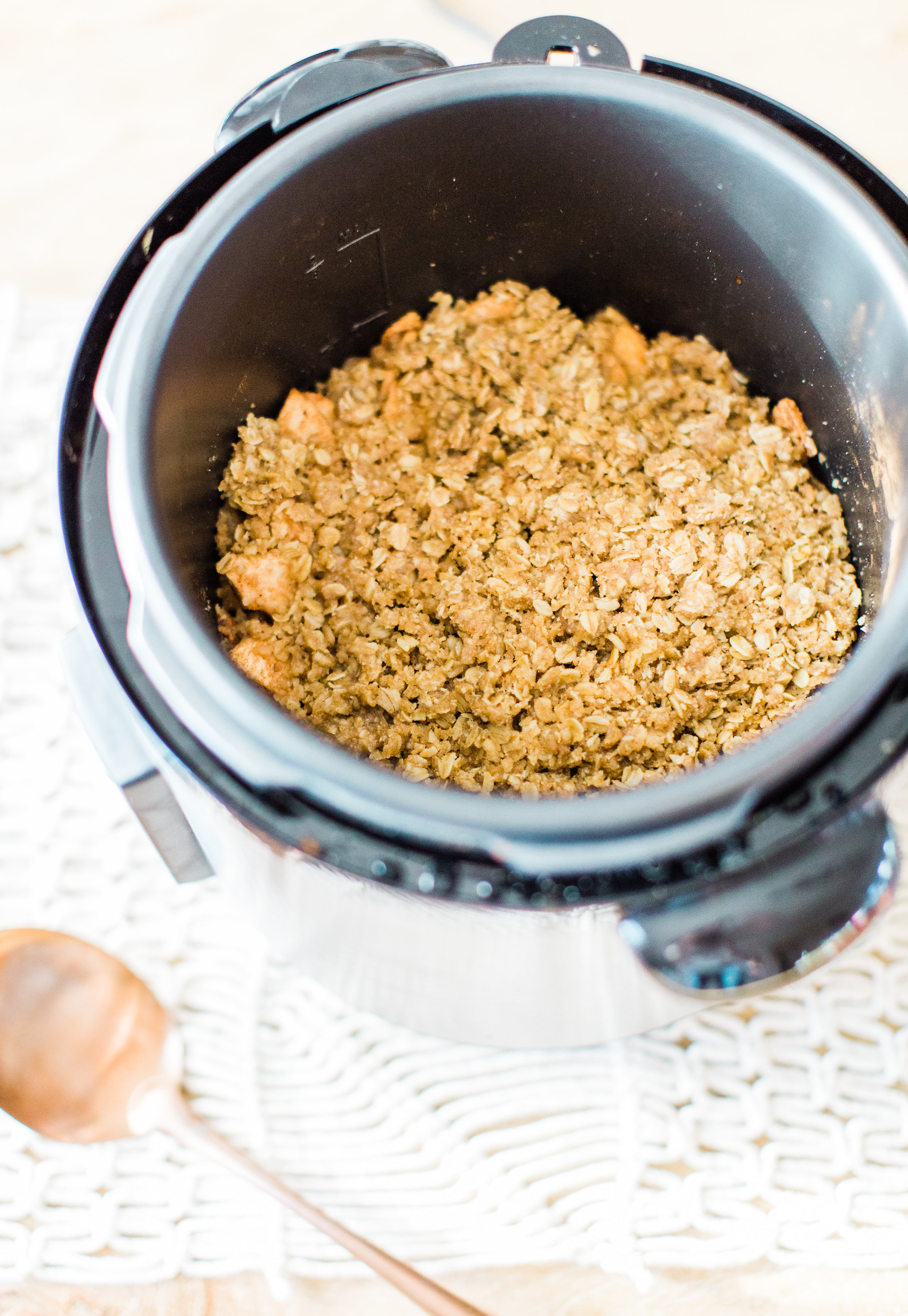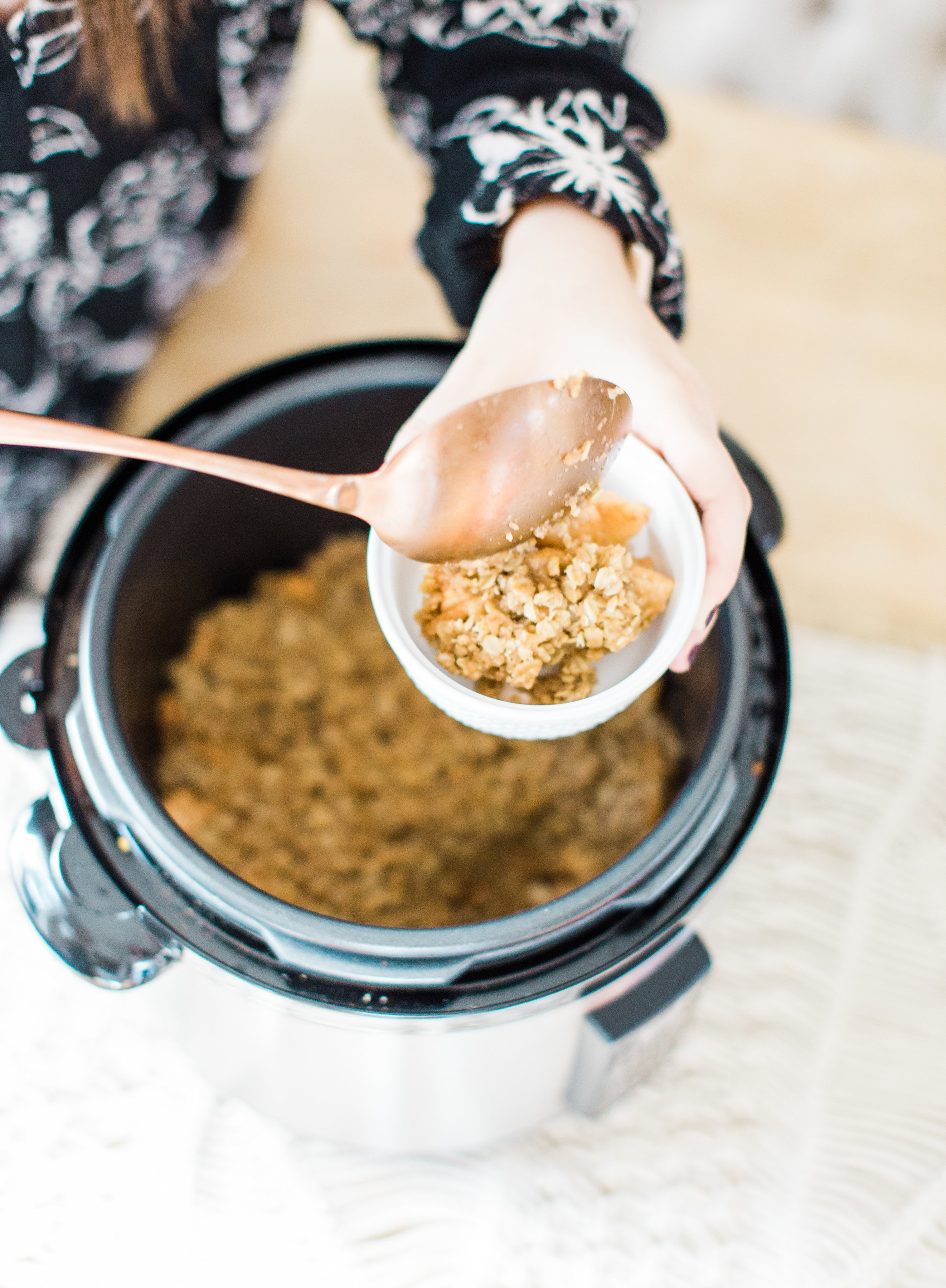 Serve this up warm out of the slow cooker, or re-heat portions throughout the week, by microwaving a bowl at a time.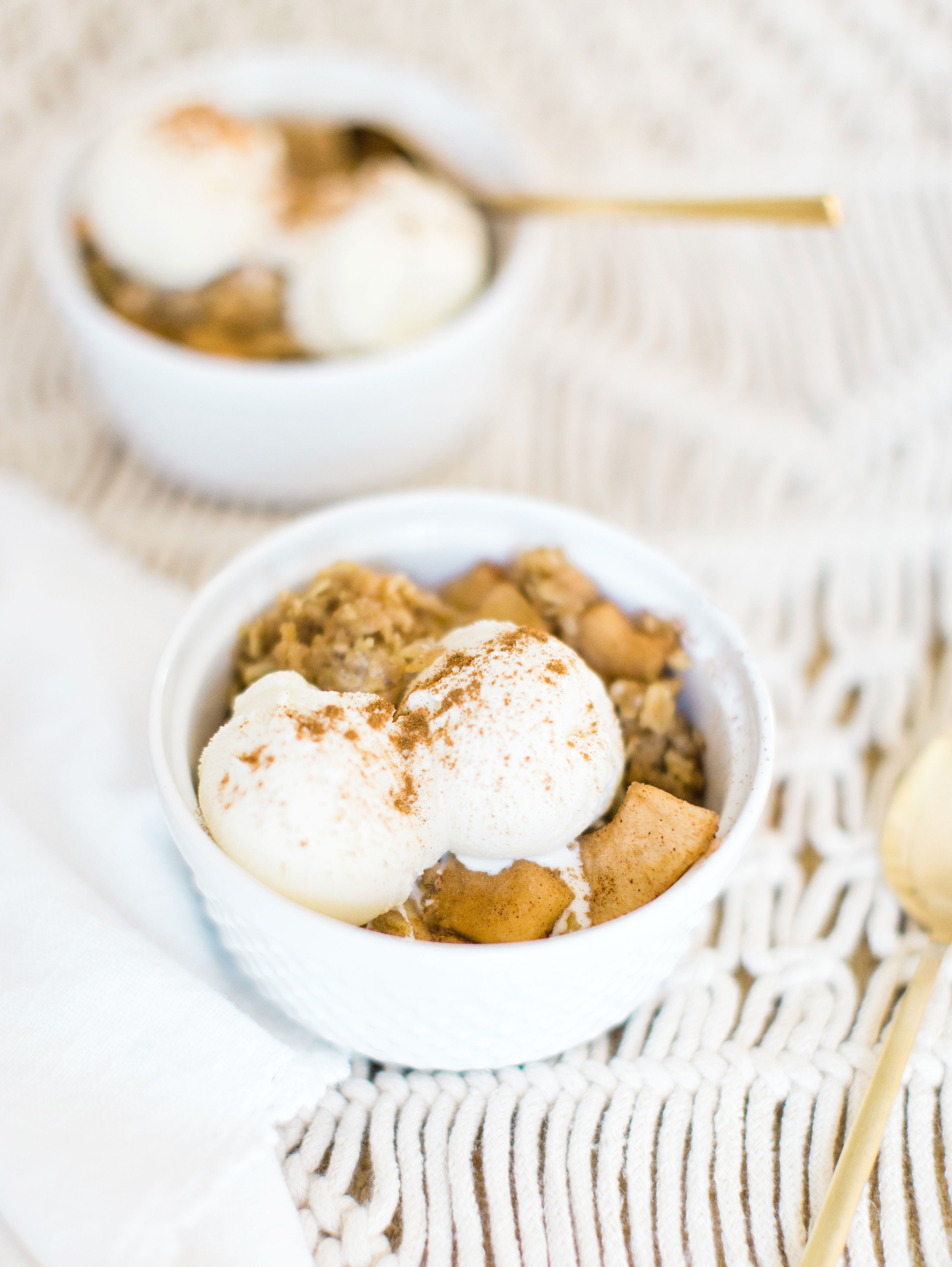 Apple crisp is a great dessert, but feel free to scoop up a bowl for breakfast. I won't tell! It has fresh apples and oats, after all.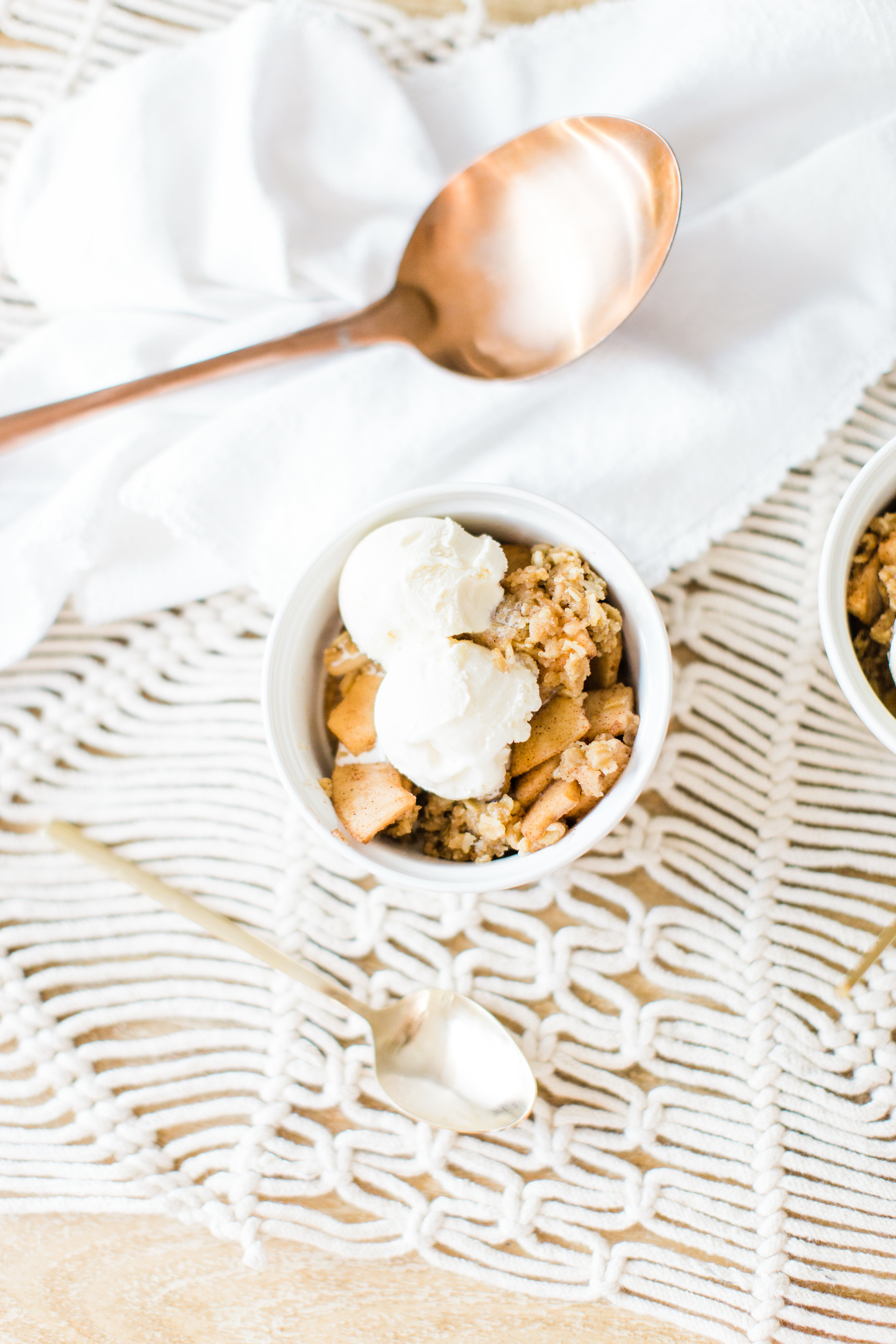 This easy slow cooker apple crisp will quickly become a favorite in your house!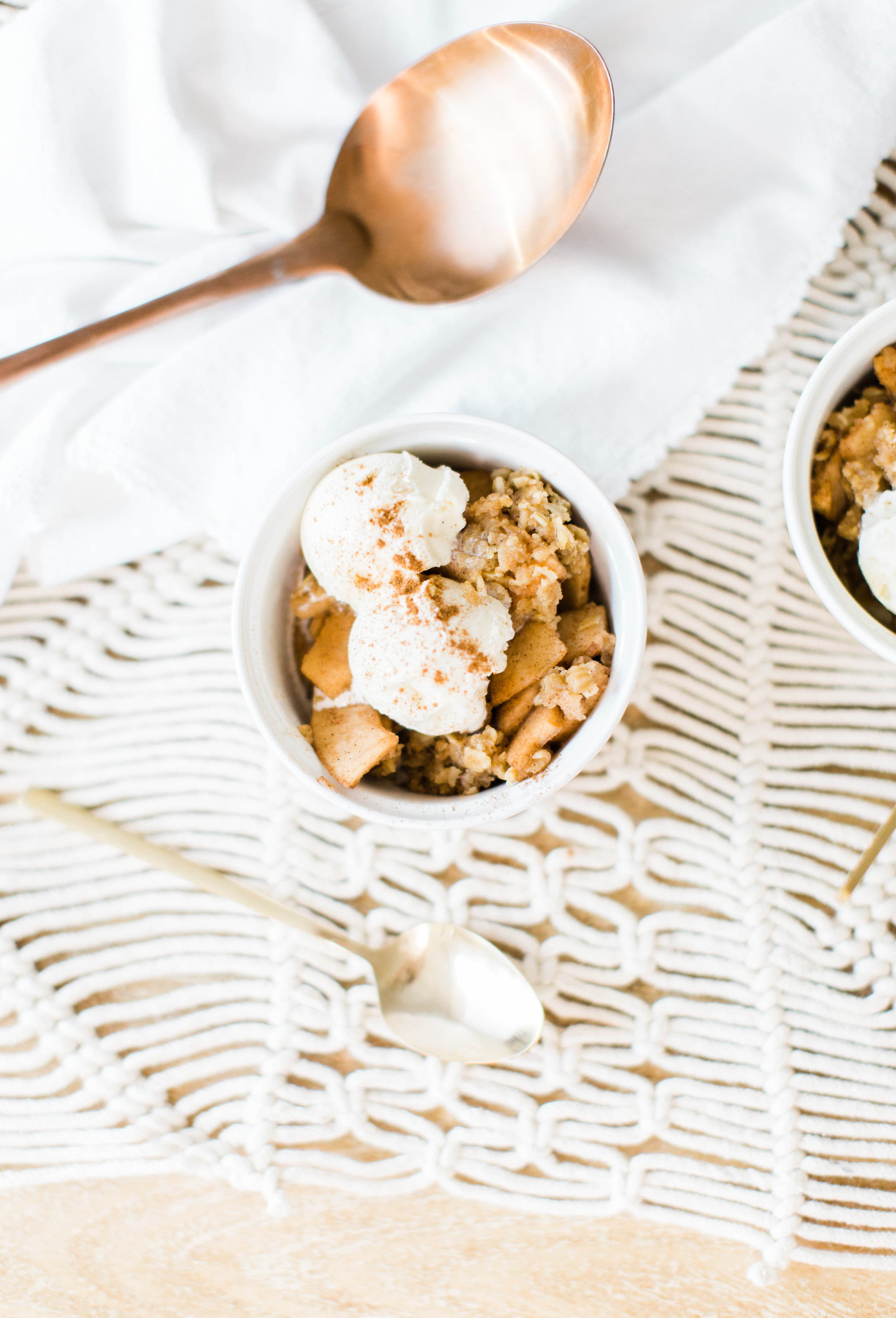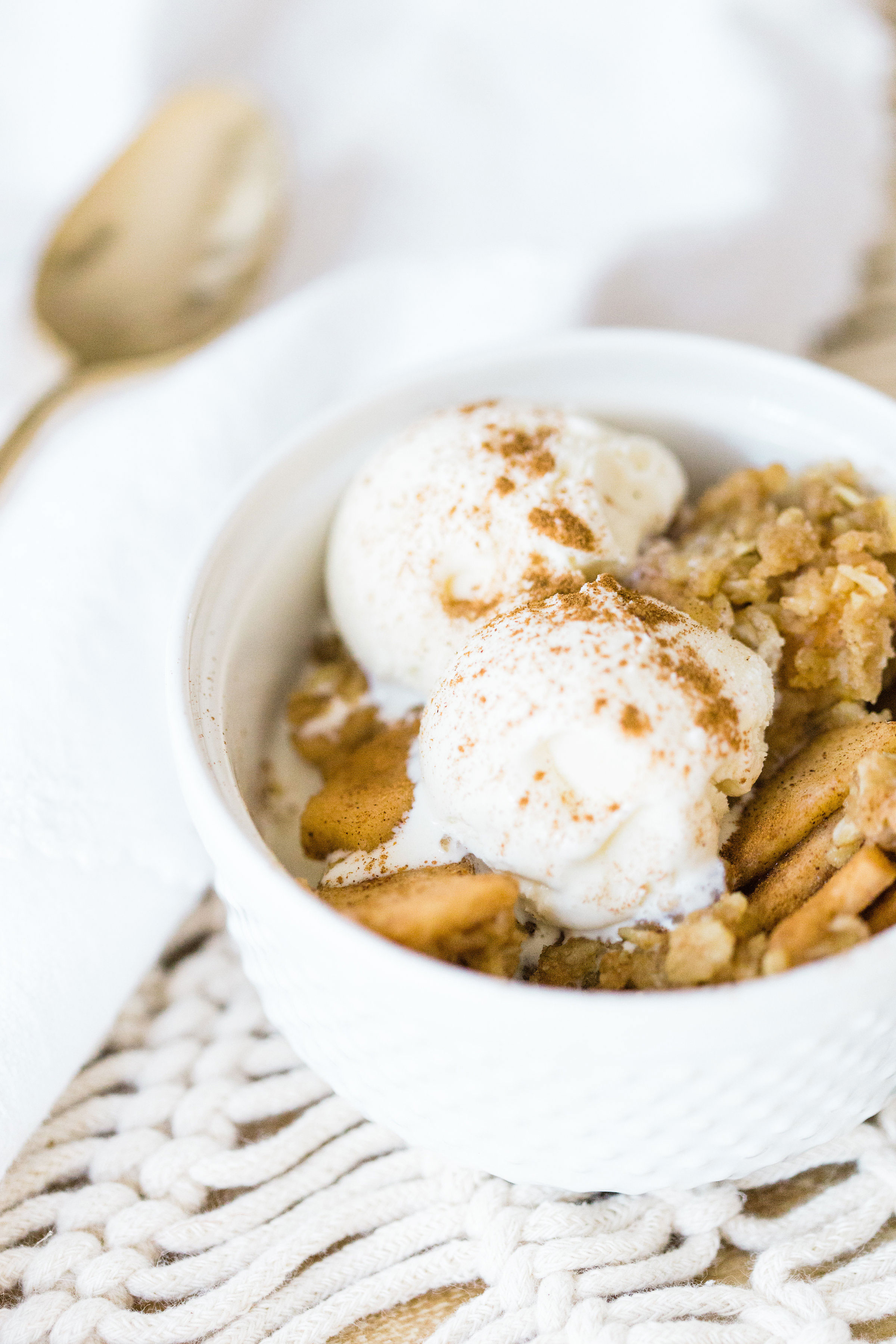 If you make your own apple crisp in a slow cooker, be sure to tag me on social media (@glitterinclexi) so I can live vicariously through all of your yummy no-fuss desserts!
You can find our favorite slow cooker here.
And tell me – how about you? Have you hopped on the Instant Pot bandwagon yet? What other slow cooker meals and desserts do you love? Send me your suggestions!
Photos by Annie Watts Photography