This post contains affiliate links, which means that if you click on one of the product links, I'll receive a small commission. Thank you so much for clicking through and helping to support this little blog business of mine! Read more about our site, privacy, and disclosure policies here.
This classic peach cobbler is everything an amazing homemade fruit cobbler should be: gooey fresh fruit filling, topped with a layer of moist, buttery, doughy cobbler. If you are on the hunt for the perfect peach cobbler this is it!
This classic peach cobbler recipe took love, and several tweaks, but I finally think I've got it: an absolutely incredible homemade peach cobbler, with a moist sugar cookie like doughy crust. As in, you must, must, must make this recipe. You will not be sorry. Actually, you'll be really happy. And full of caramelized peaches and sugary dough. And happiness. Seriously, so much happiness.
Let's talk peaches. I love them. They're basically a perfect vehicle for dessert. And though I'm making this peach cobbler right now at the peak of summer peach season, truly, canned and/or frozen peaches work so well in cobbler too.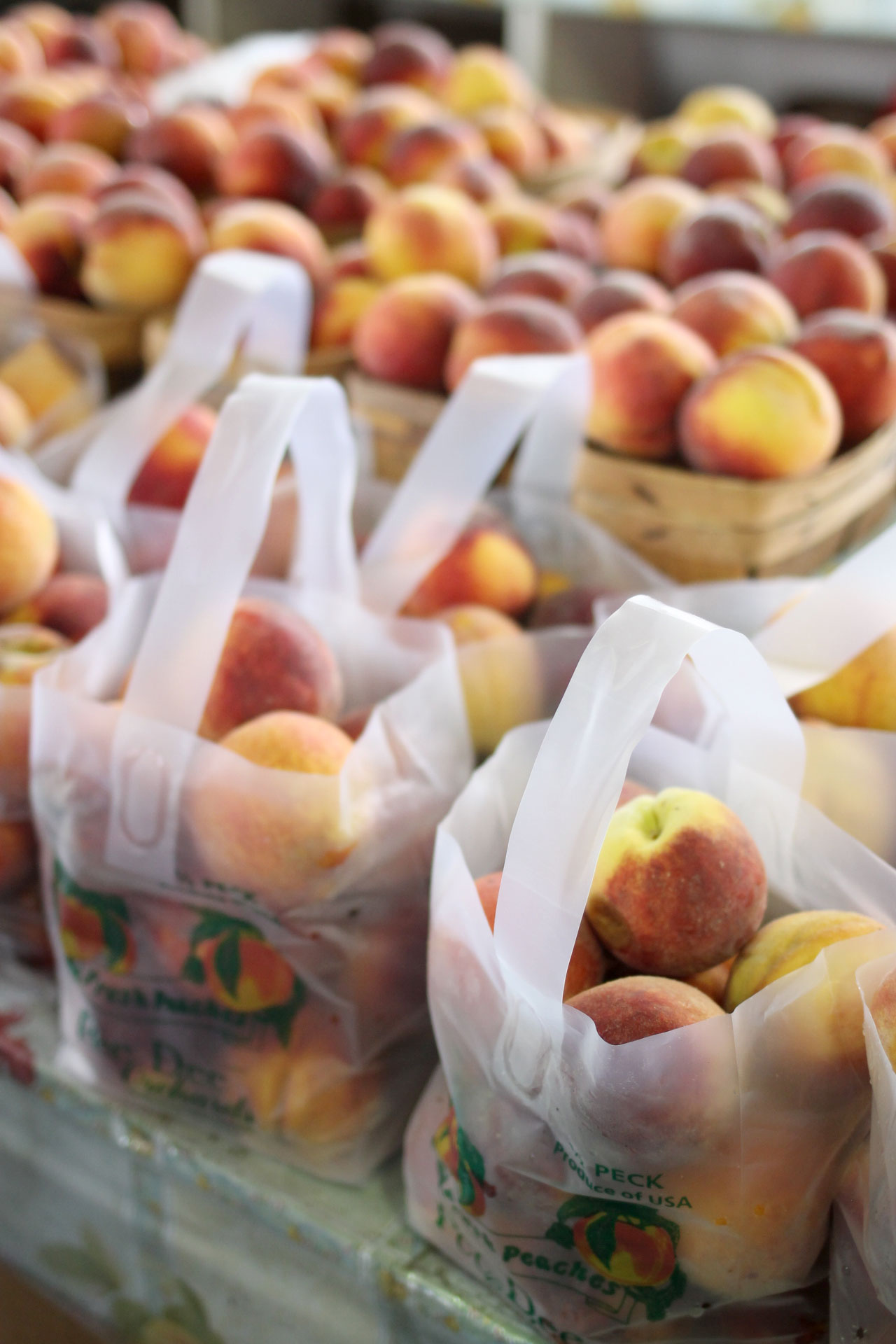 I actually scored a whole basket of freshly picked peaches a few weekends back at our local farmer's market, which prompted me to want to make ALL of the peach things.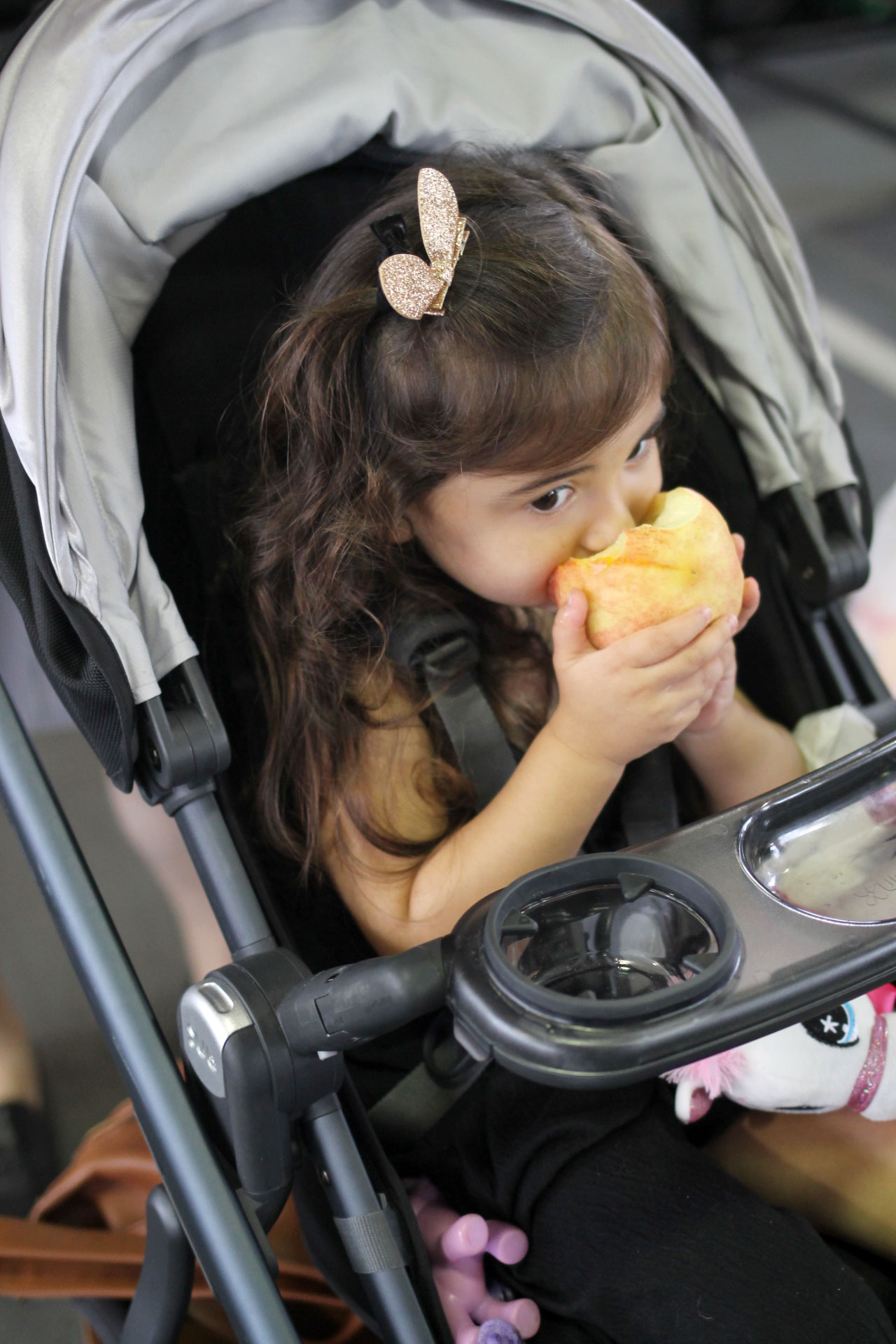 Well, those peaches we could actually get home.
I thought about making something more elaborate, but then I realized, what I really wanted was a classic peach cobbler. (Oh, and these amazing 10-minute peach dumplings, roasted peaches with yogurt and homemade streusel, peaches and cream muffins with cream cheese frosting, the perfect peach cake, and roasted peach and oatmeal cookie no-churn ice cream.) Sometimes I worry that a recipe can be too overdone to share it here on the blog, but truth is, it's those classic comfort foods that are some of my favorites. And when it comes to desserts in particular, I LOVE a tried-and-true sweet treat. And cobbler. I mean, oh my gosh. It's so good. I love basically any fruit-based dessert; both this vegan triple berry crisp and slow-cooker apple crisp are just a few favorites, and really, if you scroll through our recipes, you'll find so many desserts where fruit is the star of the show.
So classic peach cobbler it was!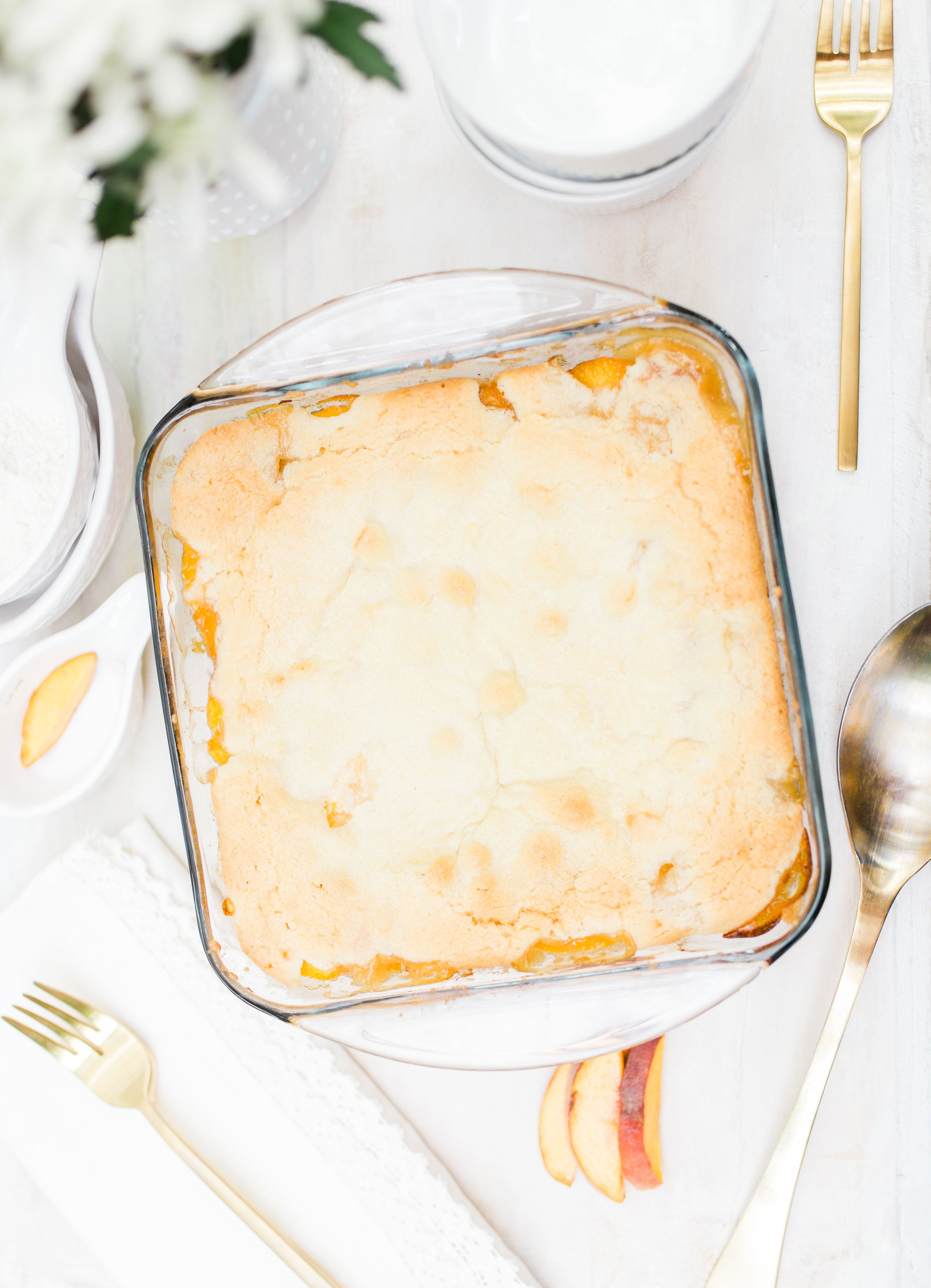 How to Make a Classic Peach Cobbler
Traditional cobbler is a baked fruit dessert topped with a homemade batter or biscuit crust; unlike a crisp or crumble that's more of a baked fruit dessert topped with a homemade streusel or granola. This version of cobbler, one of my favorites, has an almost doughy sugar-cookie-like crust that you won't be able to get enough of.
There's something so satisfying about cooked-down peaches. They have this amazing roasted, caramelized quality to them, that almost tastes sugary and buttery all on it's own. Then of course, there's the cobbler crust. I've tried a lot of cobblers, and this one, that resembles a doughy sugar cookie dough, is just right for cobbler. It's thick, and sweet, and buttery, and did I mention it tastes like a warm-baked cobblery sugar cookie?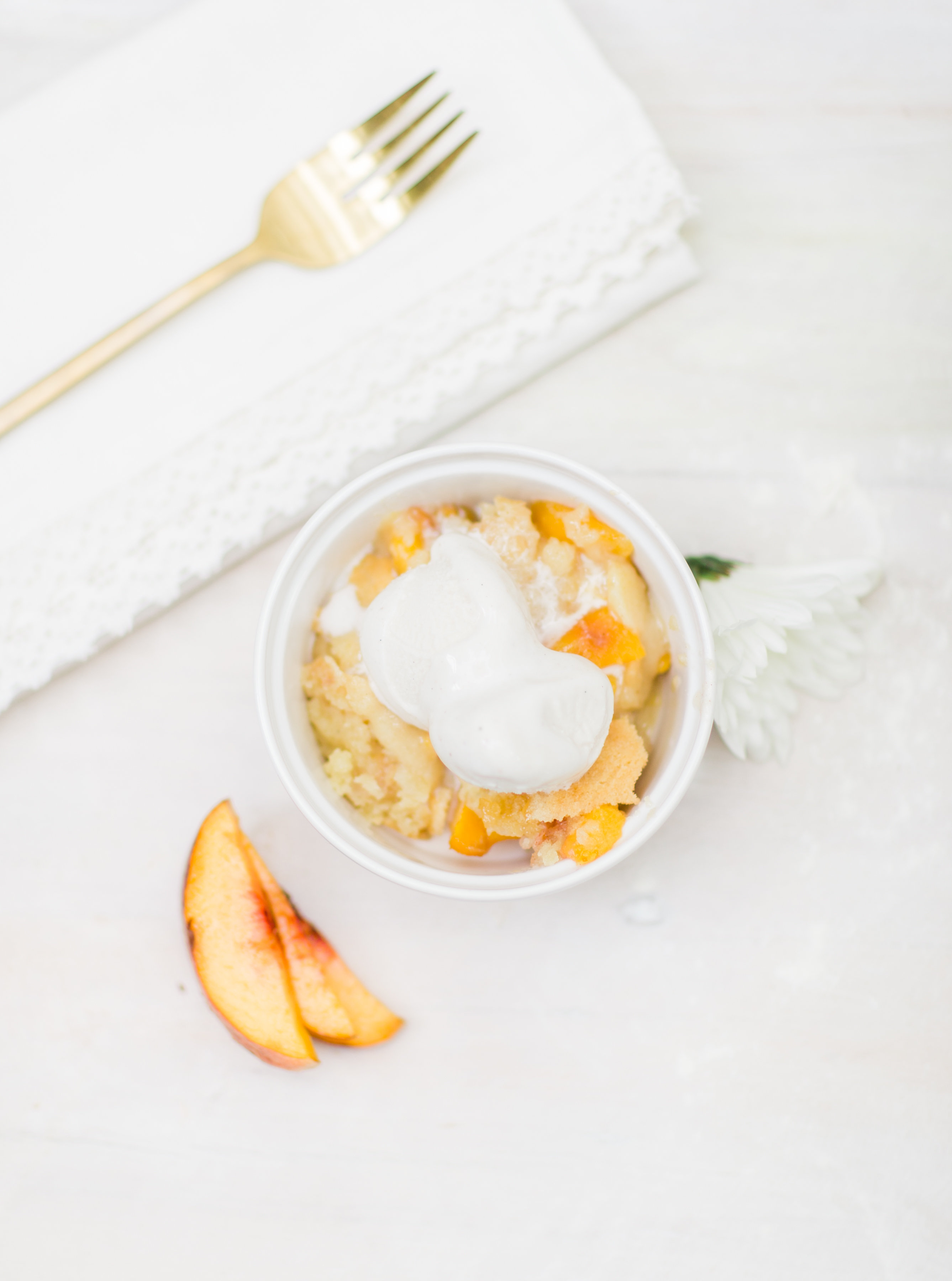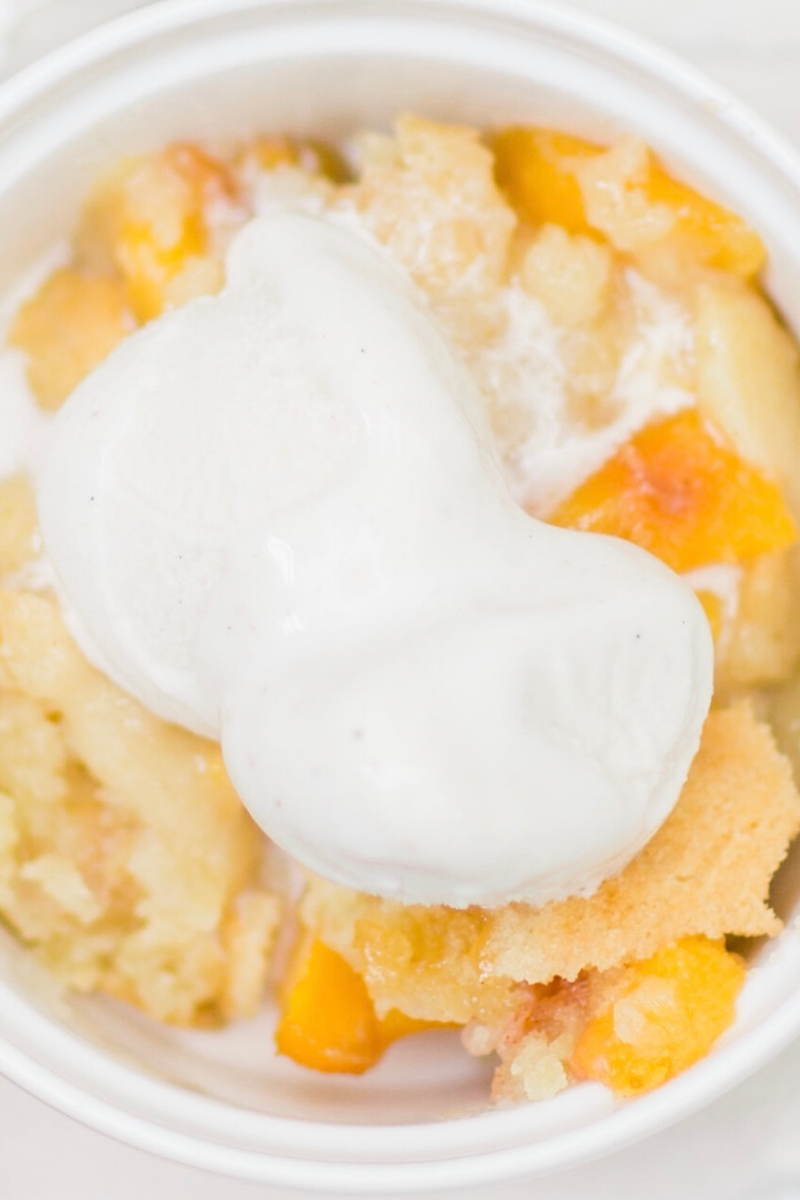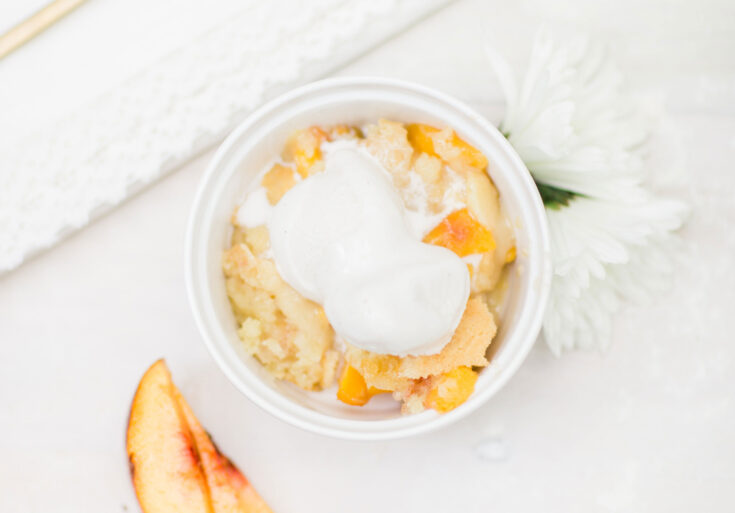 Yield:
Classic Peach Cobbler
You are going to absolutely LOVE this version of a classic peach cobbler! Caramelized, cooked down peaches are topped with an almost sugar-cookie-like doughy crust that you won't be able to get enough of. YUM.
Ingredients
2-3 cups sliced and peeled peaches and/or nectarines* 
1-2 Tablespoons + 1 cup granulated sugar (can use 3/4 cup of sugar to keep sugar down), divided
1 pinch of cinnamon (optional)
½ cup butter, softened slightly
1 Tablespoon + 1 cup all-purpose flour, divided
1 teaspoon baking powder
pinch of salt
pinch of nutmeg (optional)
1 large egg
1 teaspoon vanilla extract
*I used fresh peaches this time around, but frozen and thawed or canned and drained works great too!
Instructions
Preheat oven to 350 degrees F. Grease a 2 quart baking dish with non-stick spray or butter.
Spread sliced peaches out in a single layer in prepared dish. Sprinkle tops of peaches with 1 or 2 tablespoons sugar and 1 tablespoon of flour and cinnamon (optional); toss gently.
In a mixer, or in a medium bowl with an electric hand-mixer, beat 1 cup sugar and softened butter together until well combined. Add flour, baking powder, salt (and nutmeg if using). Stir once more. Add in your egg and vanilla. Continue to mix together until just combined. (Batter will be the consistency of soft cookie dough batter.)
Using a spatula, carefully spread batter over the tops of your peaches, trying to spread out as evenly as you can and covering most of the peaches. (I use my hands to help spread it as well.)
Cover loosely with a sheet of tin foil and bake in preheated oven for 35 to 40 minutes, then remove the foil and bake for another 5 to 10 minutes, or until crust is golden brown. Remove from oven and let stand about 10 minutes before serving. Top with vanilla ice cream or whipped cream, because, why the heck not?! YUM.
Classic cobbler is classic for a reason. It's simple to make, reminds you of home, and is filled with all of the best ingredients: fruit, sugar, and butter. What's not to love?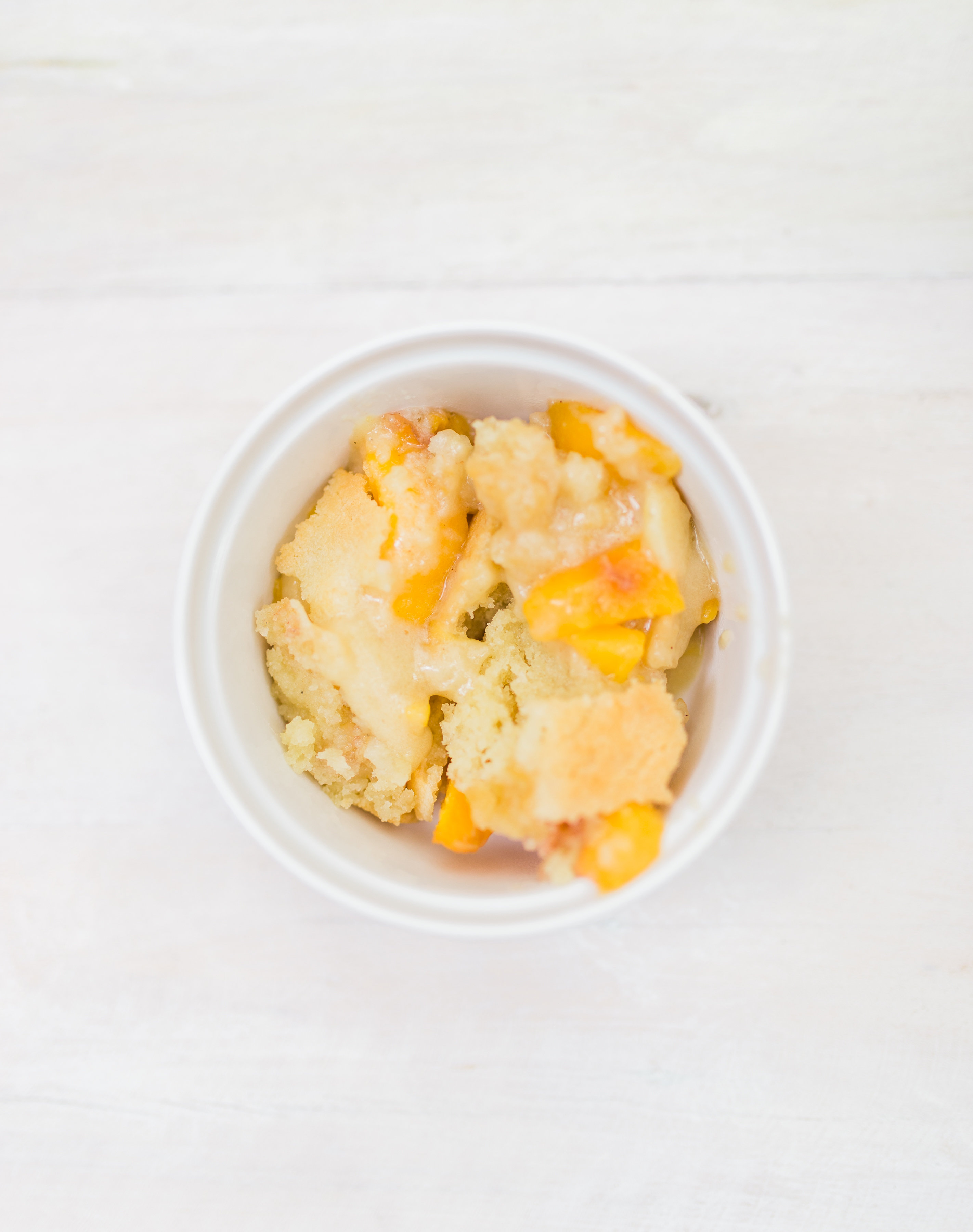 And you can change your cobbler up with the changing of the seasons. Experiment with fruit. Apple cobbler, plum cobbler, strawberry cobbler; have fun with it! The star of the show is that cobbler topping, so help it shine with the best in-season fruit.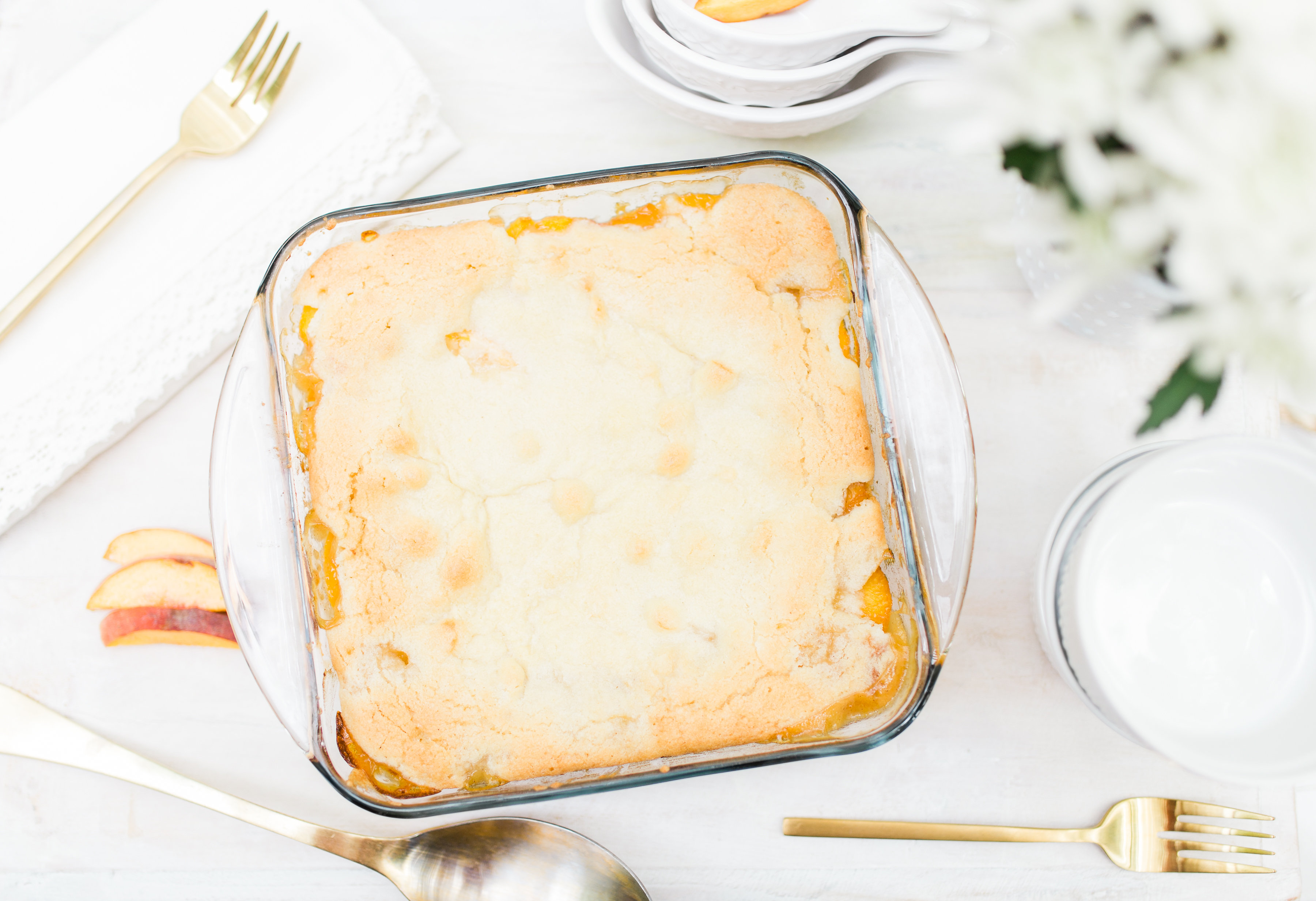 And ice cream. Always remember the ice cream. Melted vanilla bean ice cream running all over warm cobbler is basically dessert perfection.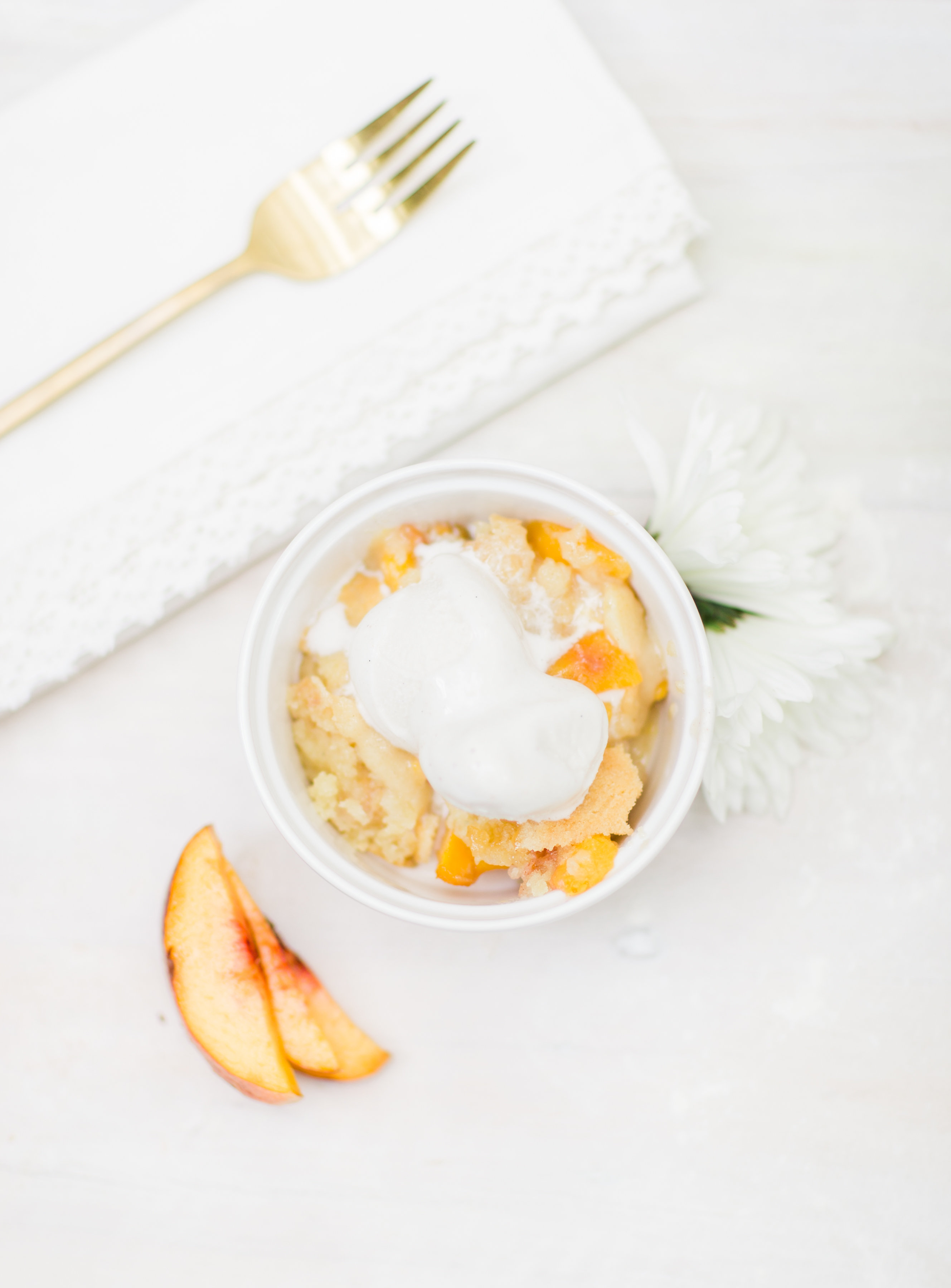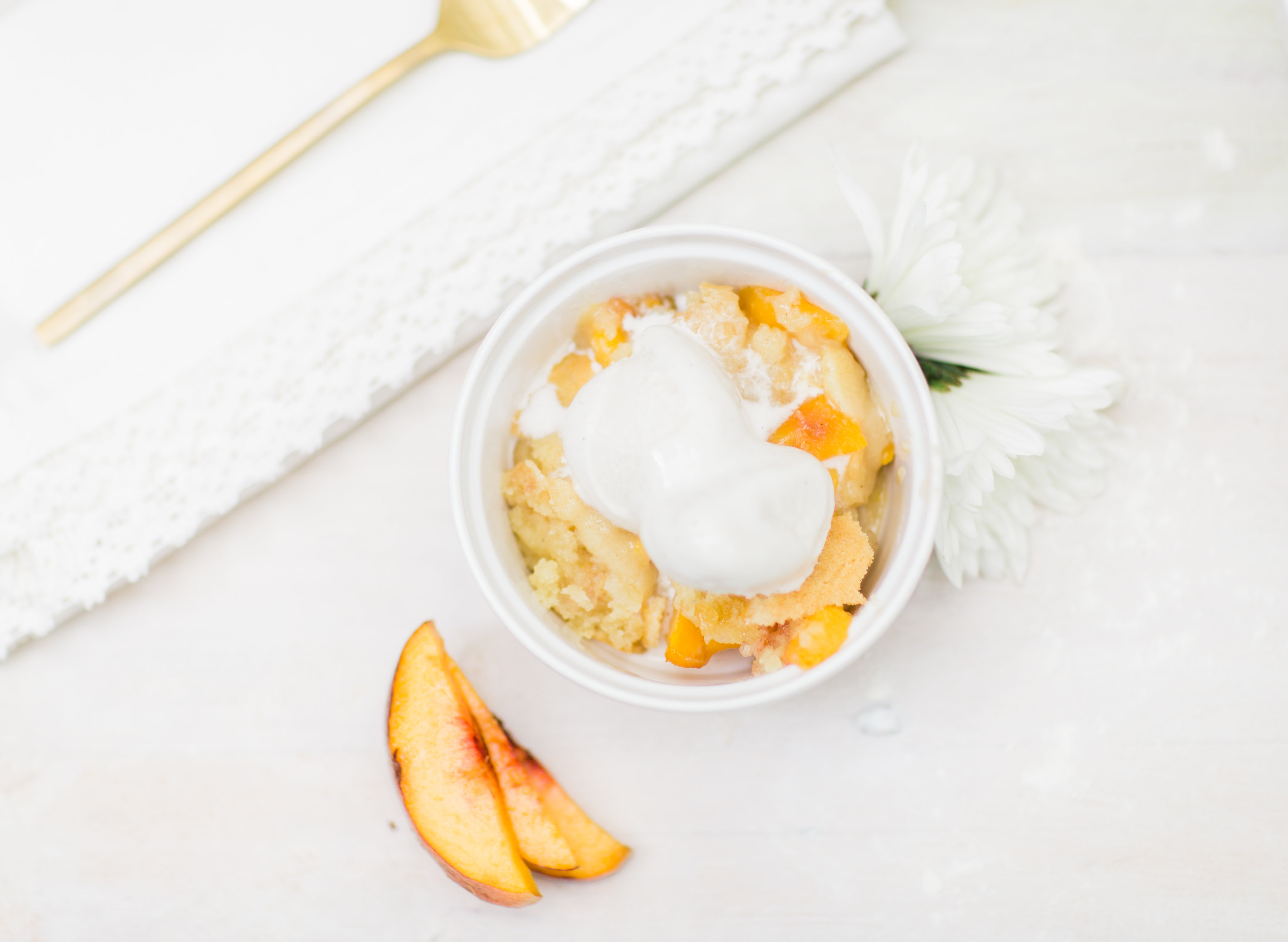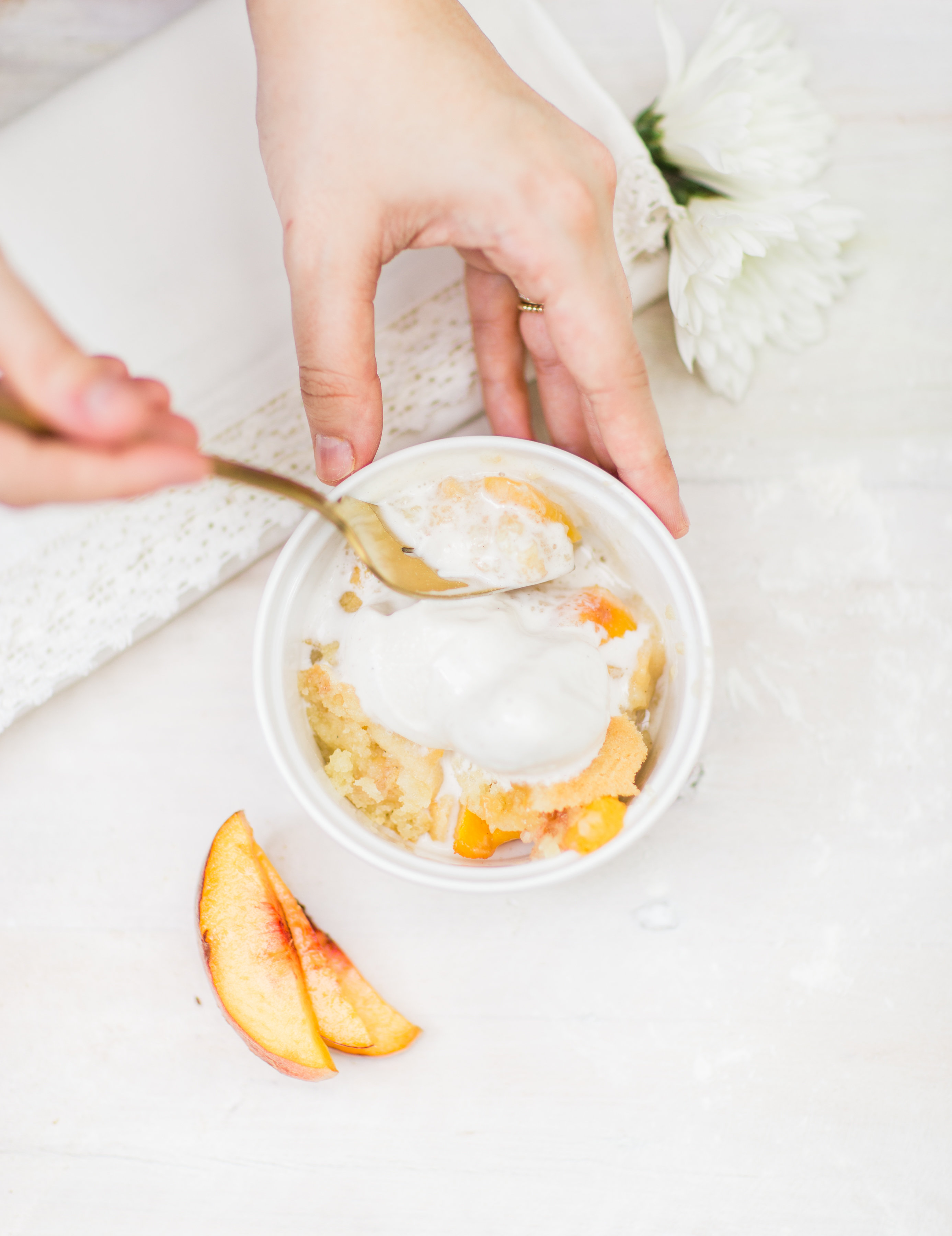 If you make your own classic peach cobbler, be sure to tag me on social media (@glitterinclexi) so I can live vicariously through all of your yummy desserts!
Photos taken by Annie Watts Photography For Glitter, Inc.