This post contains affiliate links, which means that if you click on one of the product links, I'll receive a small commission. Thank you so much for clicking through and helping to support this little blog business of mine! Read more about our site, privacy, and disclosure policies here.
Last week we celebrated the girls' official last day of school (at home). We ended the school year in our living room; Kindergarten for Scarlett and the 2's program in preschool for Emmeline.
The girls barely seemed to mind that school was "over". Mostly, Scarlett was thrilled for "Summer" with "camp Mommy" as she calls our summer plans at home this year. She definitely misses school and her teachers and friends, but honestly, she's taken to the whole online zoom school thing so much better than I ever could have imagined. Emme, on the other hand, has no interest at all in online school – she's 2, so who can blame her?
I, on the other hand, have been a puddle of emotion surrounding the girls' last day of school. Any other mamas feeling really sad about how this school year ended for our kiddos?
Obviously, our number one priority will always be to keep our kids safe, but the loss of in-person school the last three months of this year felt so tough. I'm probably just projecting on my kids all of the expectations I had built up – a kindergarten graduation, the end of Emme's first year of preschool, etc. – but as my mom so astutely pointed out to me the other day, "They don't know they've missed those things." Kindergarten "graduation" is sort of meaningless to Scarlett, since she's honestly never had that. It helped me shift my perspective. The girls are happy. They miss their friends and teachers, but they also love summer and have our big move (and a new playroom!) to look forward to.
The Girls' Last Day of School (At Home)
All that to say, our girls finished their first year of school here in Boston, amidst a pandemic and a 3-month shutdown, and they did it with flying colors. I am SO proud of them.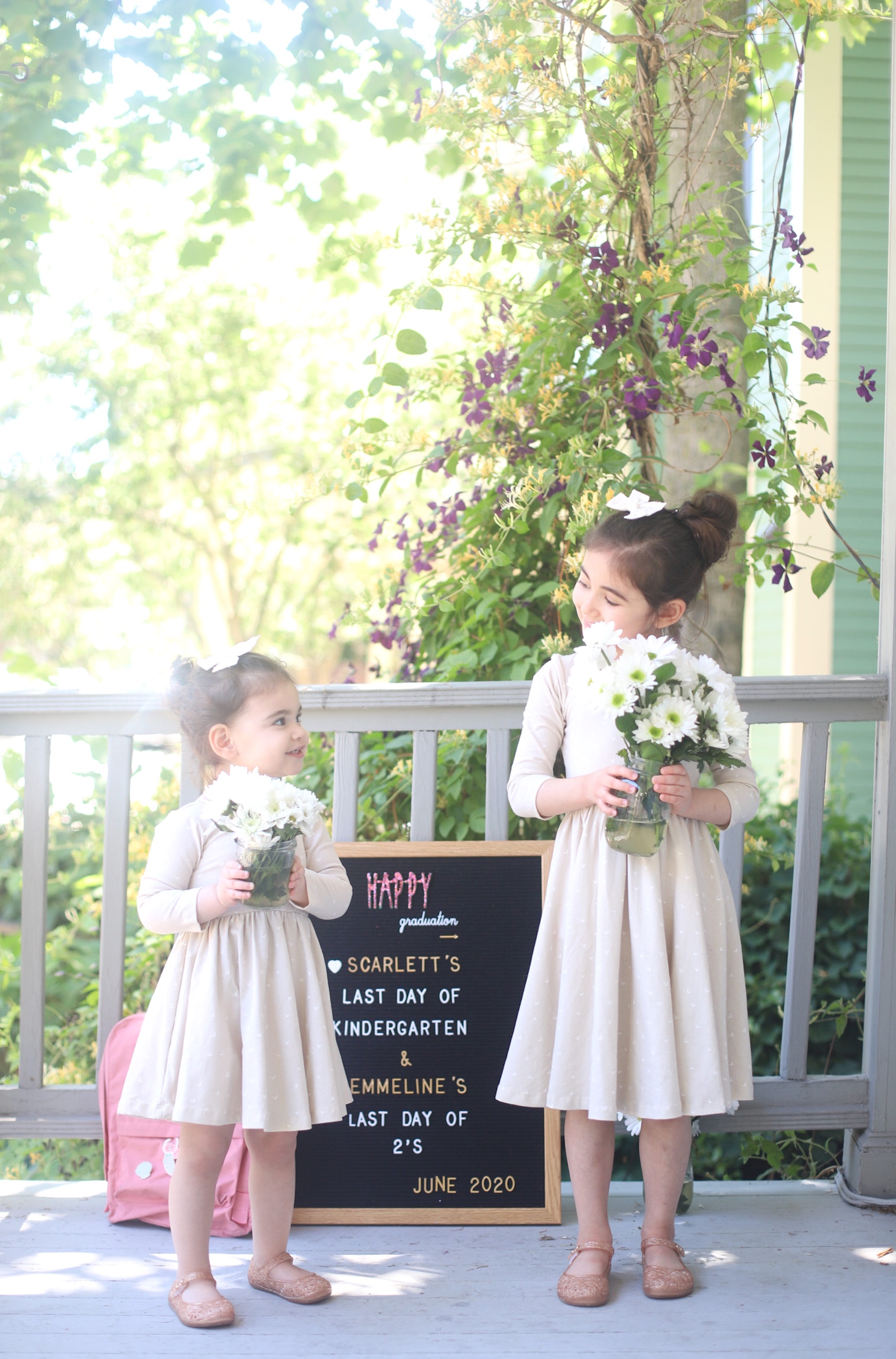 And goodness am I ever glad that they have each other! ❤️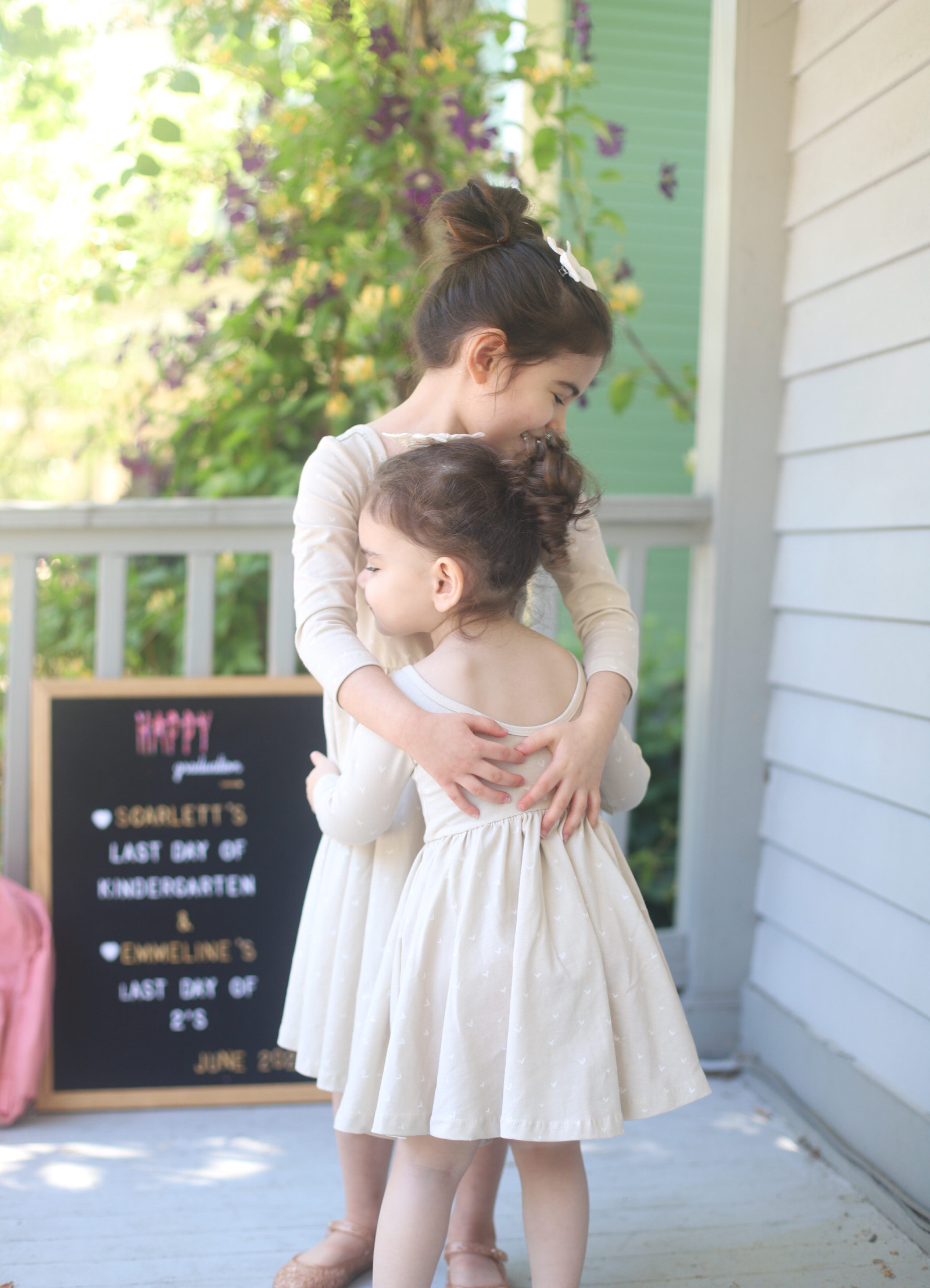 (By the way, they insisted on a whole series of "hug photos." OMG, my heart.)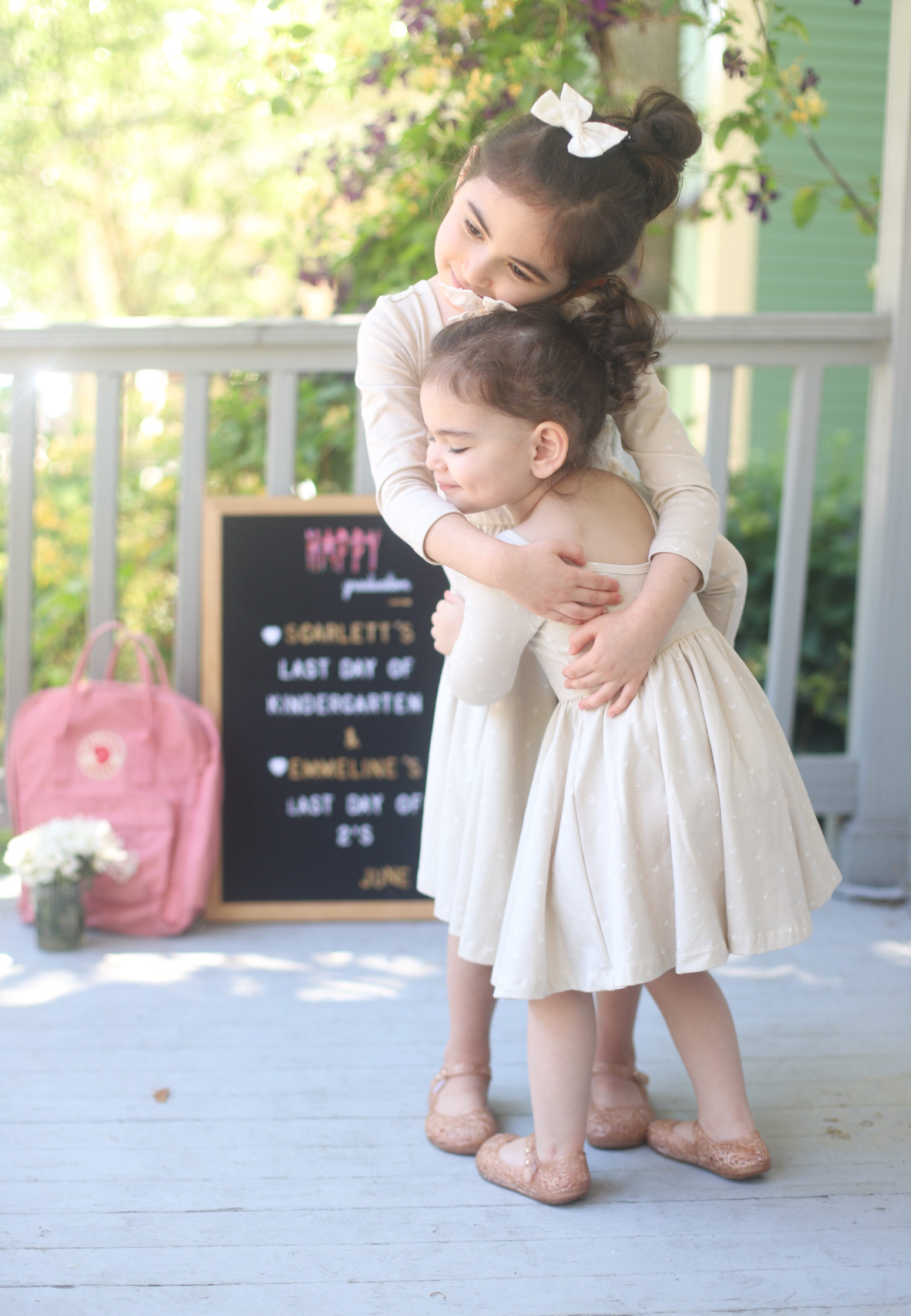 We naturally celebrated with porch photos, pizza, and ice cream.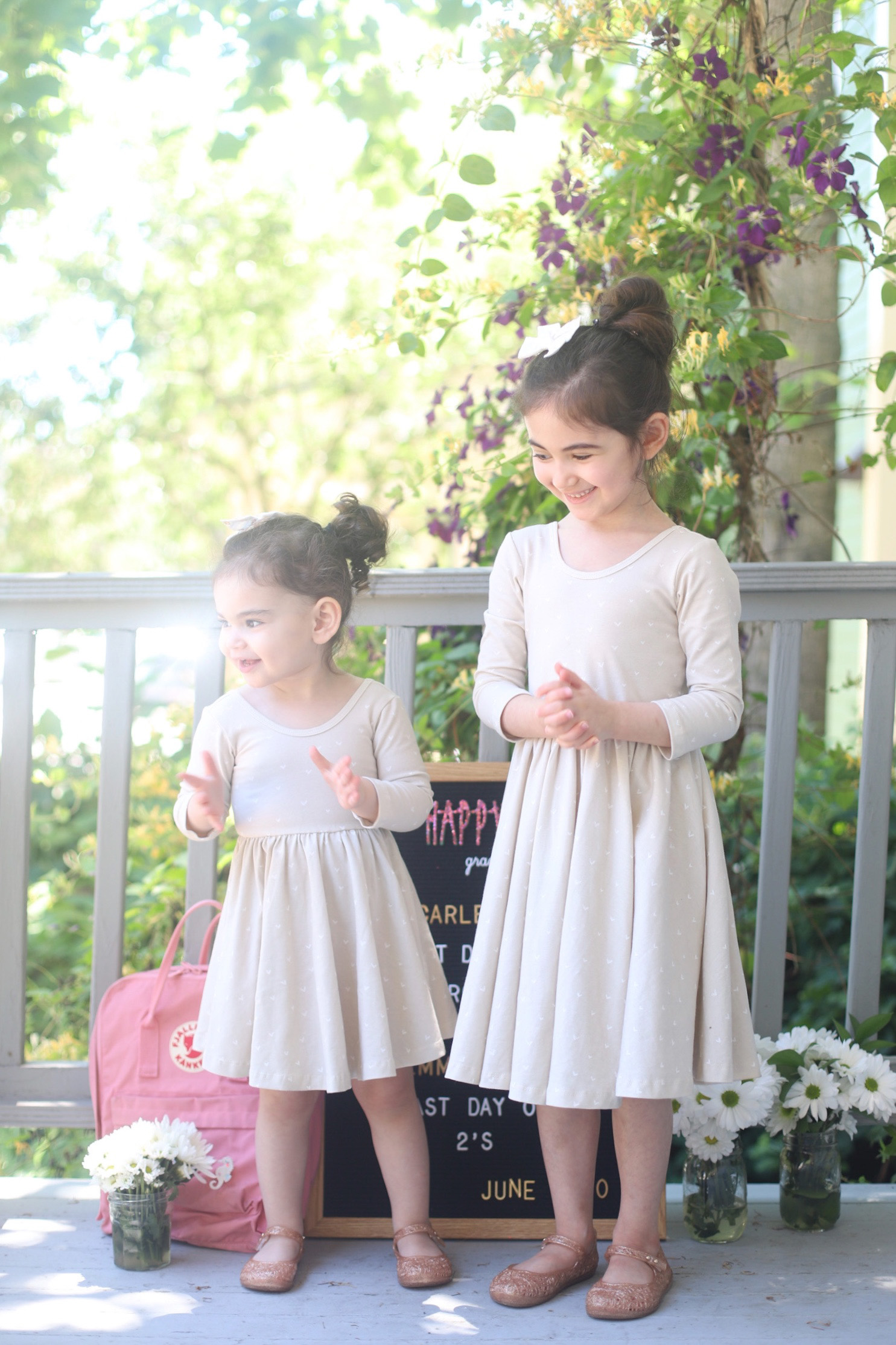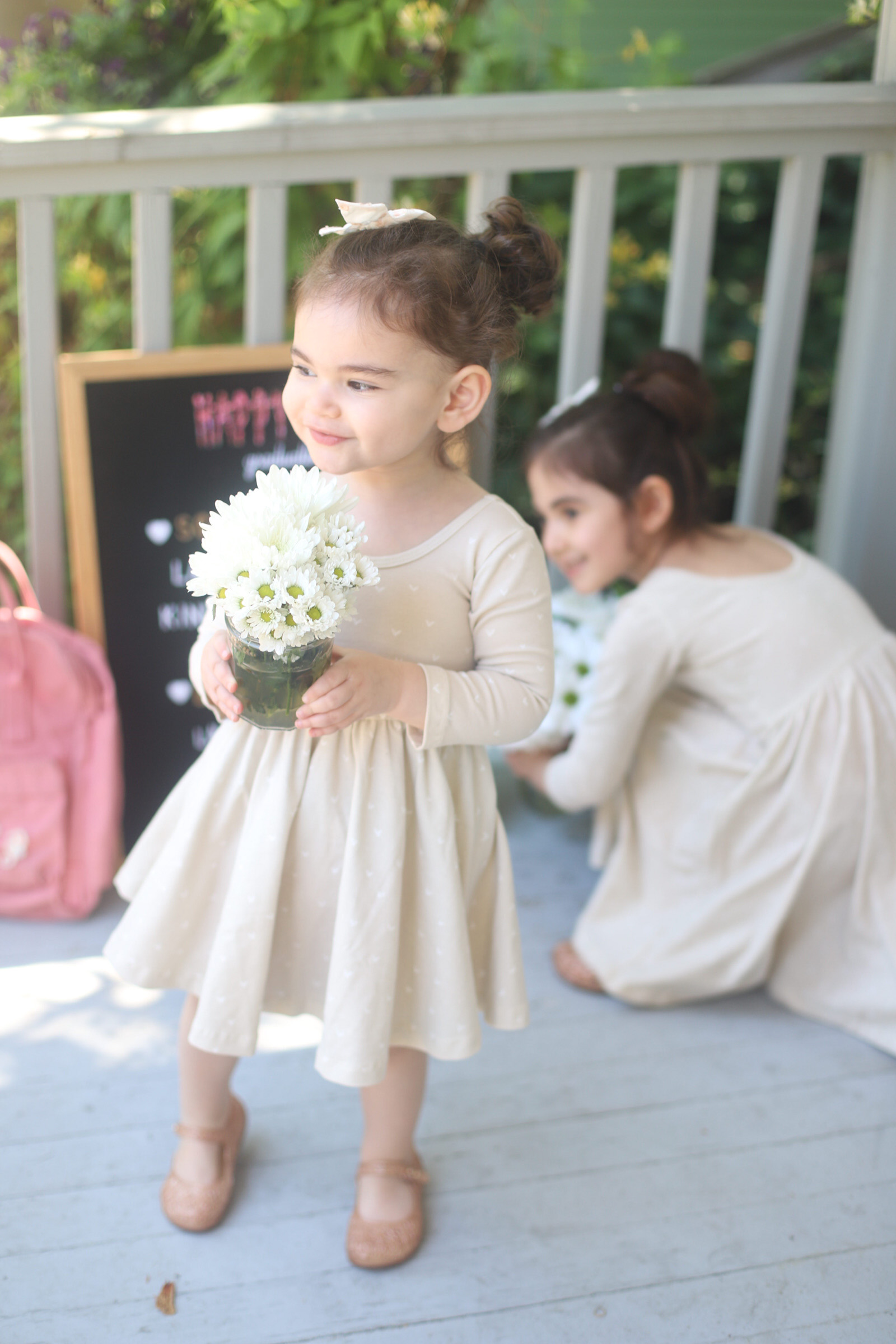 In case you want to see the adorable comparison, here's the post from last September on the first day of school when Scarlett started kindergarten and Emmeline started preschool!
Here's to a great summer at home (more on that coming soon!)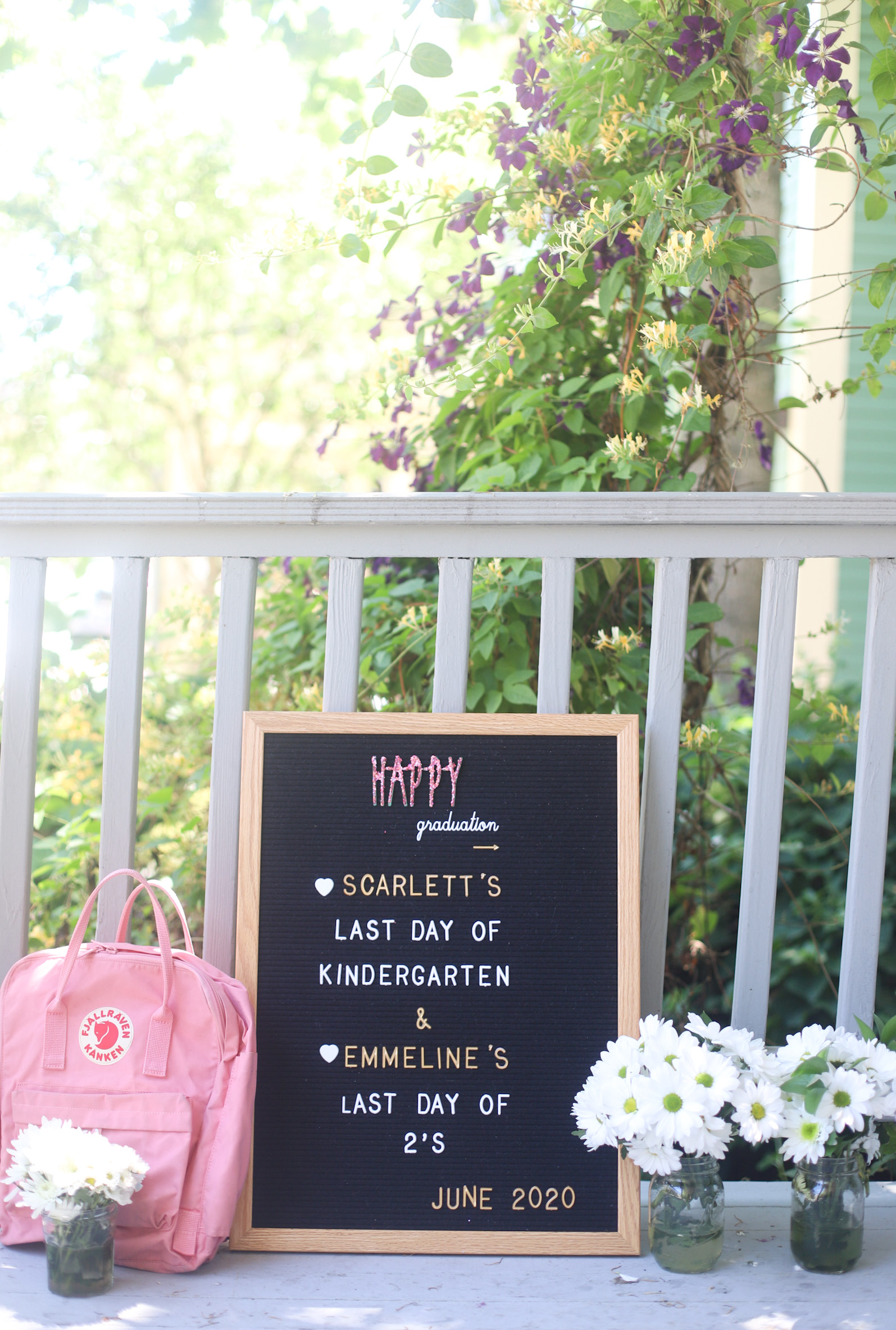 By the way, any time I share our retro letter board, I always get a ton of questions about our favorite letter board accessories, so I'm sharing the details here!
Favorite Letter Board Accessories:
American Crafts 4 Piece Word Pack Planning Die Cuts (There's also a "Happy" Set, a "Home" Set, and a "Fall/Winter" Set!)
DCWVE Die Cuts with A View Word Pack Letterboard Glitter
Navaris 1 Inch Extra Letter Set – 151 Pieces Plastic Shiny Gold Alphabet Letters, Numbers, and Symbols (Also available in Silver.)
Letter Board Letters, 558 PRE-Cut Characters (3/4 and 1 Inch, White) in Organizer Box (The box it comes in makes keeping organized SO much easier!)
I also have my eye on this Rustic Whitewash Barnwood Framed Letter Board. We currently have a large black felt retro letter board and a small white felt letter board.
Hope that helps!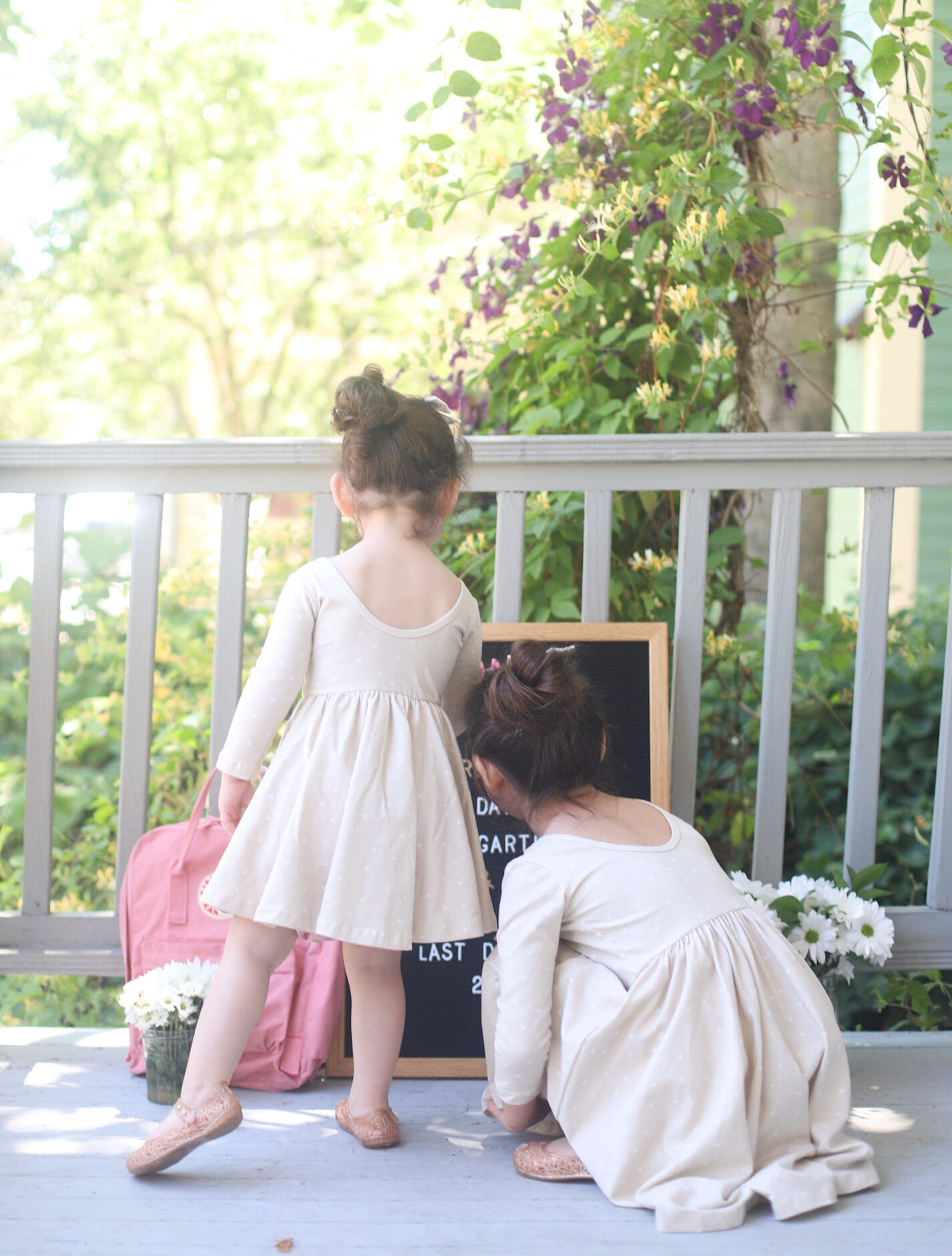 SHOP THE LAST DAY OF SCHOOL POST | CLICK LEFT & RIGHT ARROWS TO EXPLORE

IF YOU LOVED THIS POST, YOU CAN SEE MORE OF OUR LIFE WITH TWO LITTLE ONES HERE. AND IF YOU'RE LOOKING FOR THE CUTEST TWIRLY DRESSES FOR YOUR KIDS, HERE'S WHERE WE FIND ALL OF OURS.