This post contains affiliate links, which means that if you click on one of the product links, I'll receive a small commission. Thank you so much for clicking through and helping to support this little blog business of mine! Read more about our site, privacy, and disclosure policies here.
It feels both like just yesterday and a lifetime ago that I wrote the post – "A Big Week of Last Days" – as we were wrapping up our final days of school back in North Carolina. And just this past week, both of our girls – Scarlett and Emmeline – wrapped up their first week(s) of school in our new home in Massachusetts. What a difference a summer makes.
It feels so surreal to finally be "IN" just what we had prepared for for months. I remember, planning back in Durham, and agonizing over all of the decisions; where we would live in Boston, what school we would send our oldest, Scarlett to. Fast forward to today and we're so happy that we settled on this area.
And lo and behold, we made the decision to start Emme in a morning preschool as well. Mostly, the convenience of it and awesome location for us was hard to beat … and a spot opened up just in the nick of time. I swear I barely know what to do with my mornings now. I have so much work to do for this site, but I'm also incredibly used to juggling it in between being with the girls, working mostly late at night, etc. Having daylight working hours again is strange, and totally amazing. And maybe, just maybe, I'll be a little selfish and take a class or walk to get a coffee or head to pilates. You guys, free MORNINGS!! The possibilities are endless. 🤣
But I digress.
Long story short: despite all of the worry, and of course, with plenty of research along the way, we've fallen into such a great rhythm and a seriously perfect situation for our little family. (At least for now!)
And both of my baby's STARTED SCHOOL this past week!! They each had their first days: Scarlett started KINDERGARTEN and Emmeline started PRESCHOOL, and Scarlett rode the school bus for the first time; and I'll be over here bawling my eyes out in case you need me …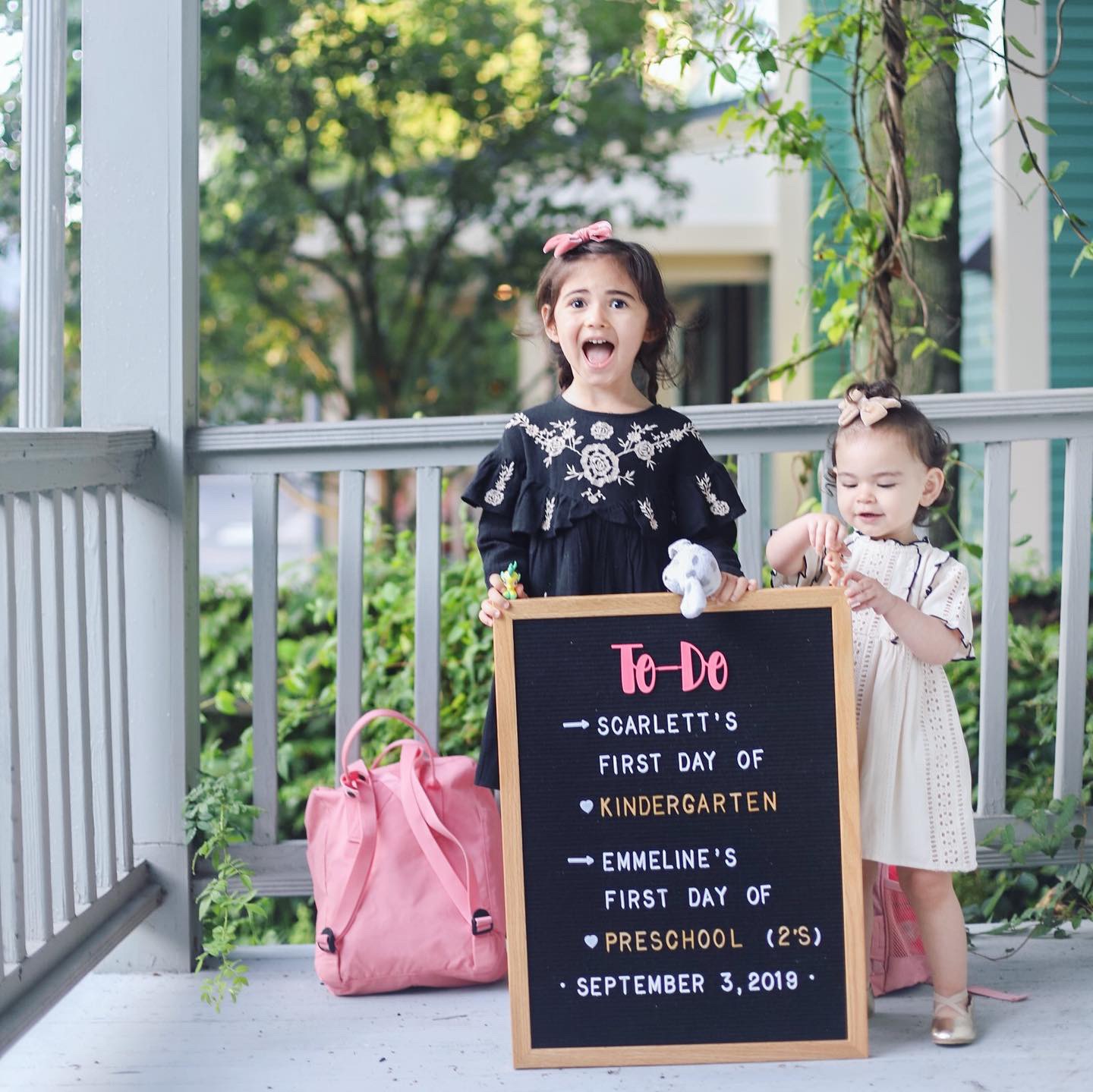 Obviously, Kindergarten is a very big deal, and preschool for the first time ever … OH MY GOSH.
How are my two BABIES starting such big first days of school??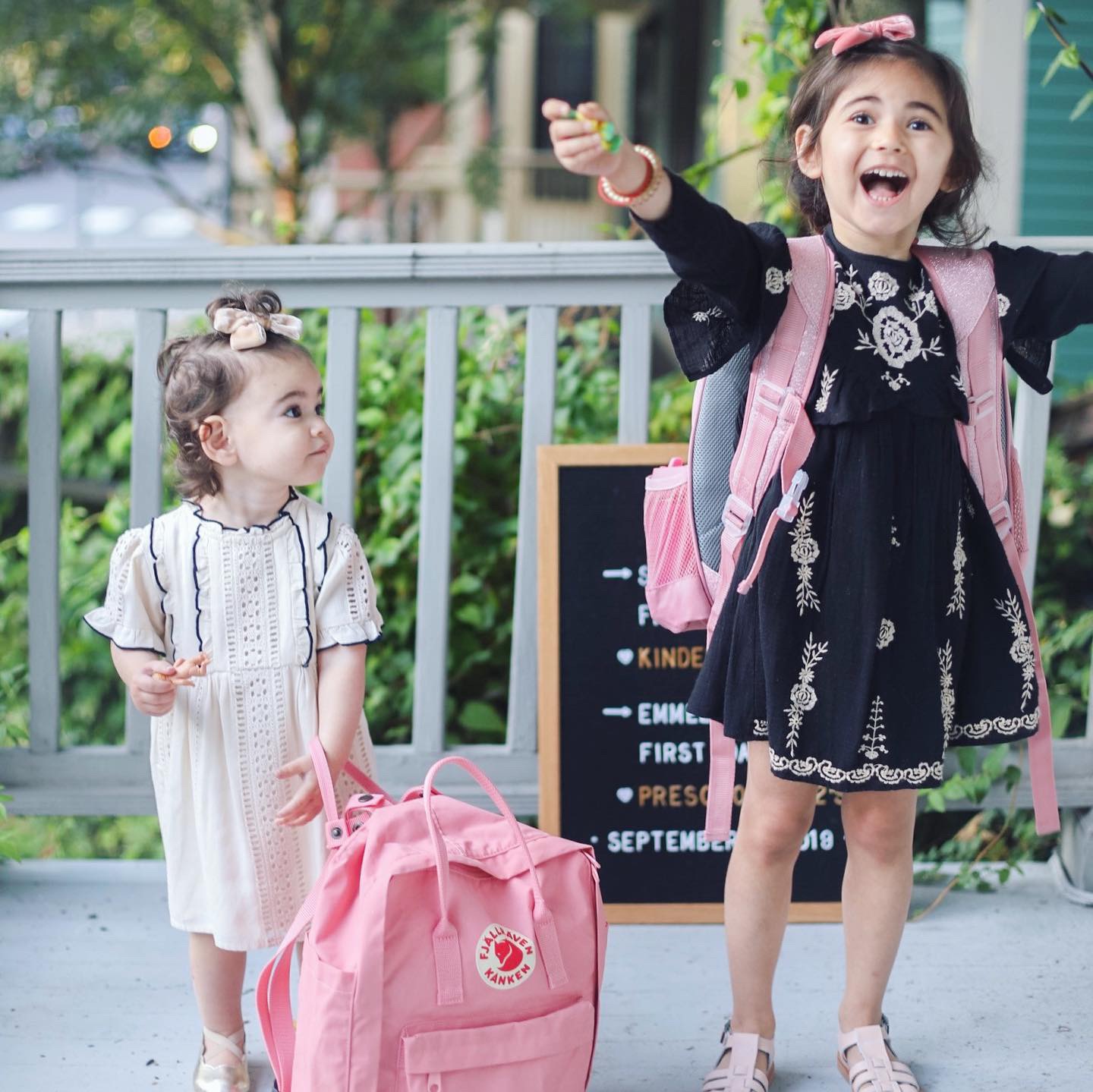 Thankfully, Scarlett has absolutely thrived in Kindergarten so far. I know it will have it's bumps and challenges along the way; still, she seems so happy to be there, so happy to make new friends, such a fan of her new teachers and classes.
She even started riding the bus for the first time ever like a trooper. (I saved a peek at the girls' first day of school, and Scarlett's first bus ride, under the FAMILY tab on my Instagram. She looks so tiny climbing up onto a school bus. Ahhh, my sweet baby girl.) 🚌❤️
Emmeline started preschool for the first time. This has been the first time she and I have really been apart in her nearly two years of life and it's definitely been a big change. Each day has gotten a bit easier; no small task for a little one who is ALWAYS attached to mama's side. I think the week has been hard on both of us – especially the separation – but every day she smiles more and cries less.
Thankfully, she's my second baby, and Scarlett was no different, so I know this is normal. By the third week, Scarlett was practically running from me to get to preschool; she loved it so much. I know Emme will be there in no time.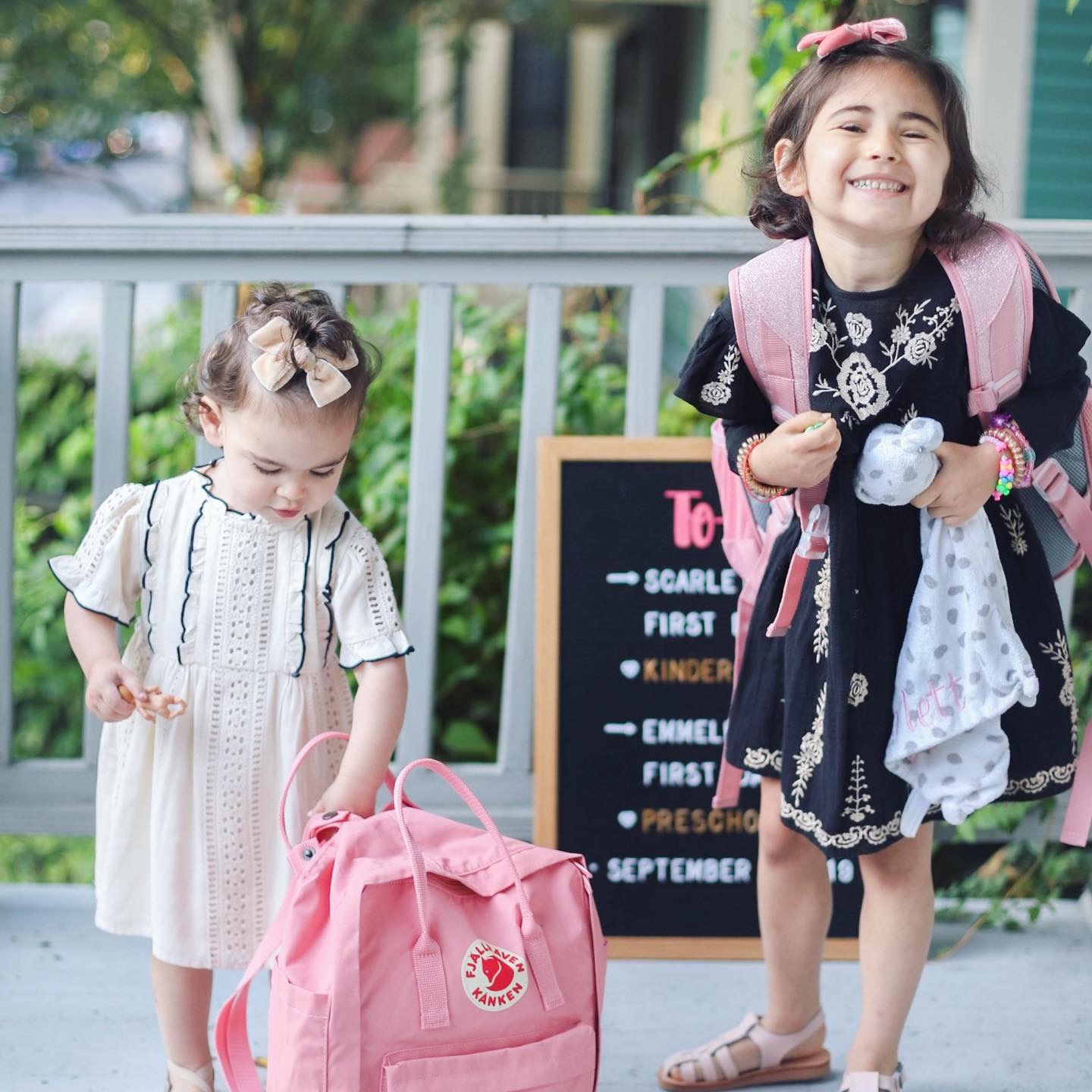 Not gonna lie: I've cried more times this past week than I should admit.
Thankfully, I've managed to keep a smile on my face in front of the kids, and both have stayed really positive.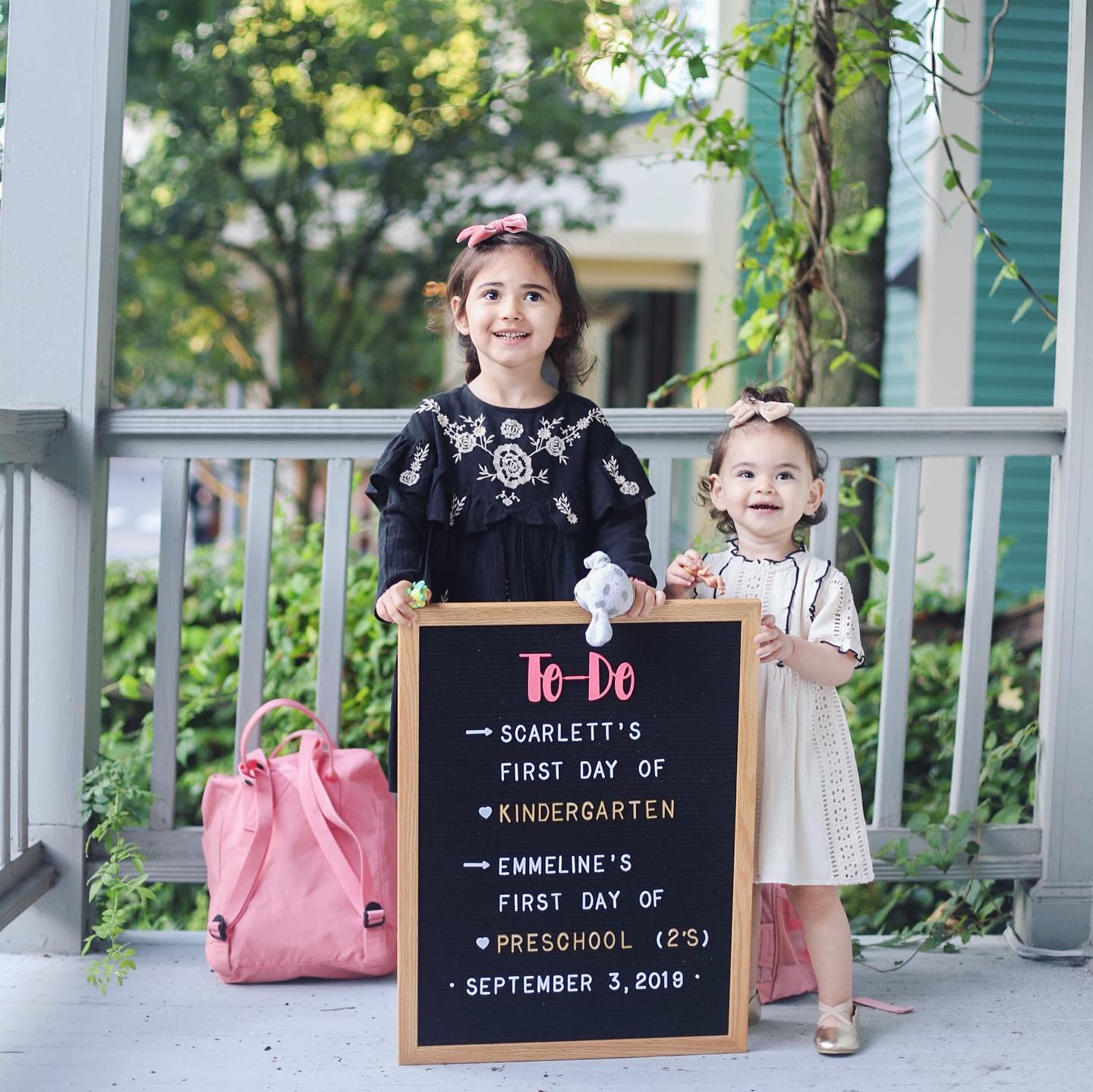 Time: please slow down.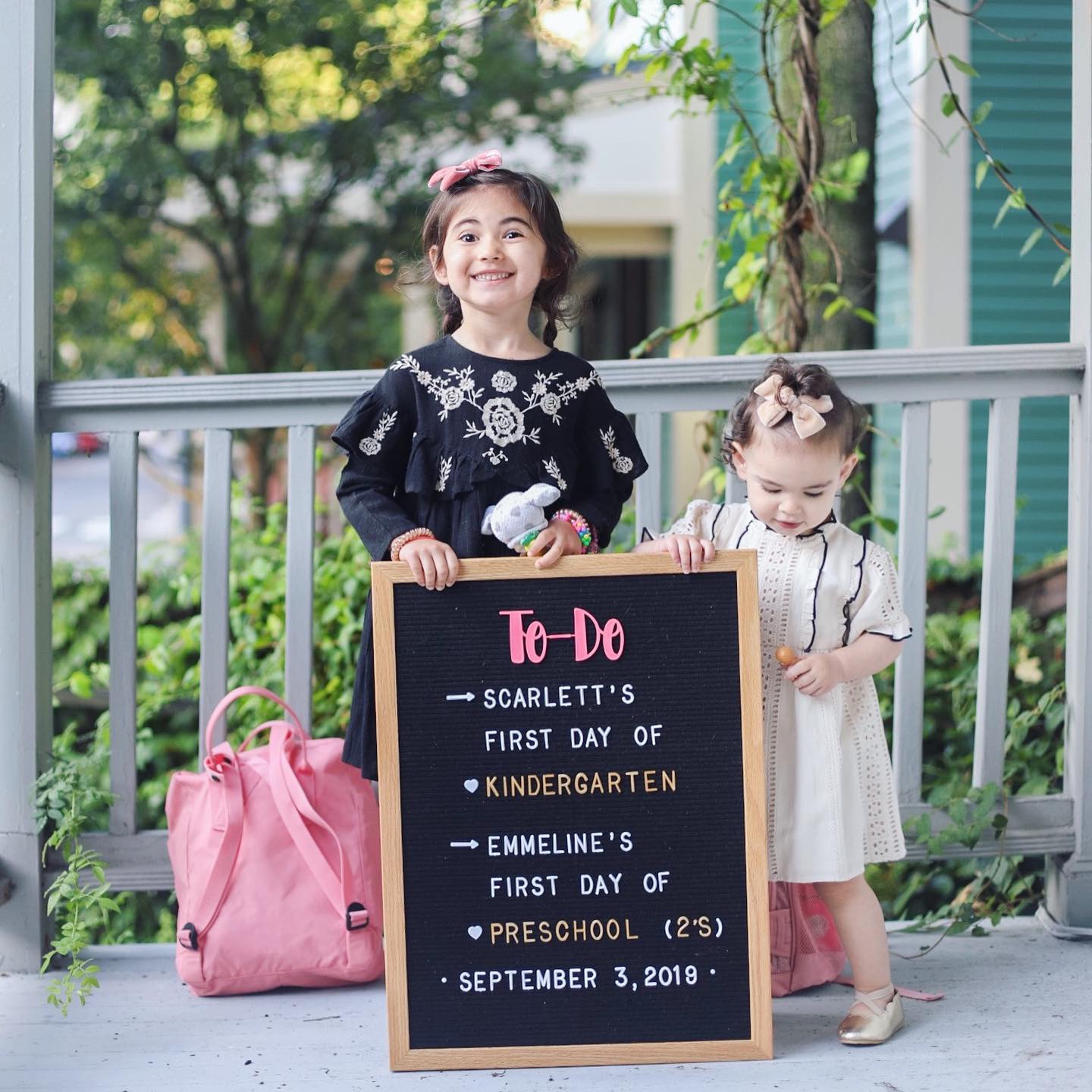 Happy first week of school, babies! 🥰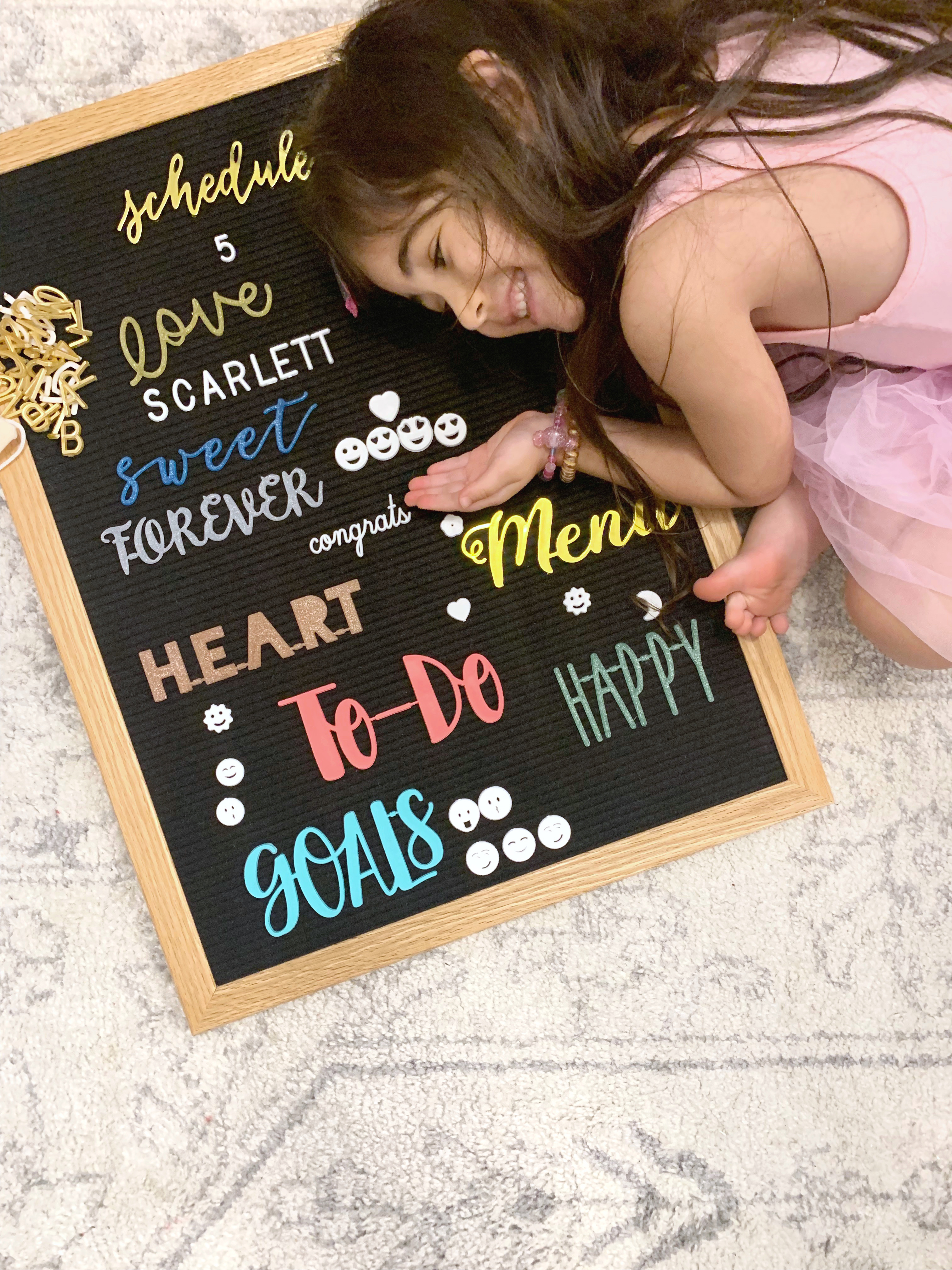 By the way, we've been having tons of fun playing with our new letter board accessories, and I've gotten a few questions about them, so I thought I'd share here! (Scarlett's tutu leotard is from Amazon. You can find it here. Both girls have them and love them, and they wash/hold-up well.)
Favorite Letter Board Accessories:
American Crafts 4 Piece Word Pack Planning Die Cuts (There's also a "Happy" Set, a "Home" Set, and a "Fall/Winter" Set!)
DCWVE Die Cuts with A View Word Pack Letterboard Glitter
Navaris 1 Inch Extra Letter Set – 151 Pieces Plastic Shiny Gold Alphabet Letters, Numbers, and Symbols (Also available in Silver.)
Letter Board Letters, 558 PRE-Cut Characters (3/4 and 1 Inch, White) in Organizer Box (The box it comes in makes keeping organized SO much easier!)
I also have my eye on this Rustic Whitewash Barnwood Framed Letter Board. We currently have a large black felt letter board and a small white felt letter board.
Hope that helps!
SHOP THE BIG WEEK OF FIRST DAYS POST | CLICK LEFT & RIGHT ARROWS TO EXPLORE
READ MORE ABOUT OUR LIFE WITH TWO LITTLE ONES HERE.