This post contains affiliate links, which means that if you click on one of the product links, I'll receive a small commission. Thank you so much for clicking through and helping to support this little blog business of mine! Read more about our site, privacy, and disclosure policies here.
Need a few easy kids activity ideas? These are our favorite independent kids activities, learning toys, and hands-on adventures from Amazon that promote fun independent play for toddlers and young kids.
If you've ever gone hunting on Amazon for something specific, you'll know that Amazon is basically a black hole of ALL OF THE THINGS. It can also be amazing because most things hat you can get on Amazon can be delivered to your doorstep in no time. Luckily, I am up for the challenge. 😍
My most recent Amazon quest? Finding all of the very best kids activities available on Amazon to fill the long days at home.
Why Easy Kids Activities Are So Great to Have on Hand
Having several, ready-to-go, easy kids activities on hand makes my life as a work-from-home mom SO much easier. Honestly, some days, trying to juggle my own work, the house, and our two little kids can feel totally overwhelming.
And though we do rely on screen time some of the time, I really want our kids to explore and play throughout the day.
When it comes to our favorite kids activities, I love activities that keep my young kids entertained for extended stretches of time, can be done independently, don't require a whole lot of set up, can be played with and used again and again, and aren't unbelievably messy. We live in a small city duplex, so we try hard to keep the kids activities relatively organized and mostly mess-free. Anything that's super messy, we either use on our indoor splat mat (this one is great because it's waterproof and machine-washable!) or we take it outside to play on our front porch.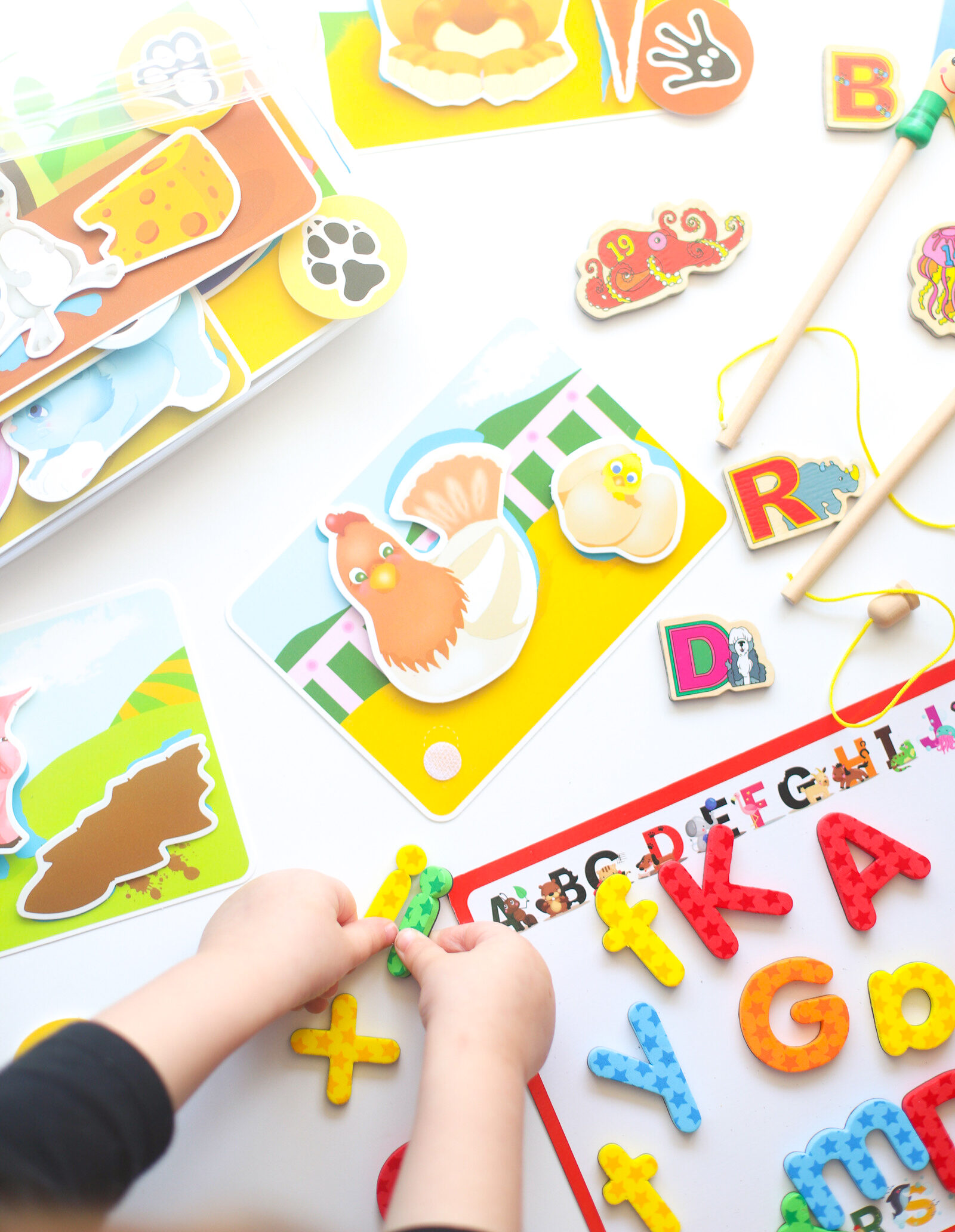 And of course, I do love to craft and bake with the kids, but some days, especially when I'm busy with my own work, I just don't have the energy, time, or bandwith to painstakingly put together an elaborate project for our kids to do. Thus why I lean on having an arsenal of easy and fun kids activities on hand that they can use and play with for the most part in a self-directed way.
I also try to contain and put away each of the activities as the kids are done playing with them. And then bring them back out days or weeks later so that the novelty doesn't wear off. These plastic cases are GREAT for storing individual activities because they always seem to be the perfect size, are clear so that you can see what's inside of them, and they stack easily on shelves, in cubbies, etc.
In today's post, I'll walk you through our personal favorite kids activities on Amazon, plus a few crafts, educational toys and games, and fun hands-on adventures that we have either used or came highly recommended.
In addition to this post, I also have an ever-growing list on my Amazon Storefront with favorite kid activities and if you're up for a little crafting, this post is basically just a huge list of fun and educational activities you can do at home for young kids.
Now let's talk about those kids activities on Amazon! (And of course, let me know if you grab anything great from Amazon or if you have any other activities that our kids love. I'll keep on adding to this list as we find great activities, learning games, puzzles, crafts and more.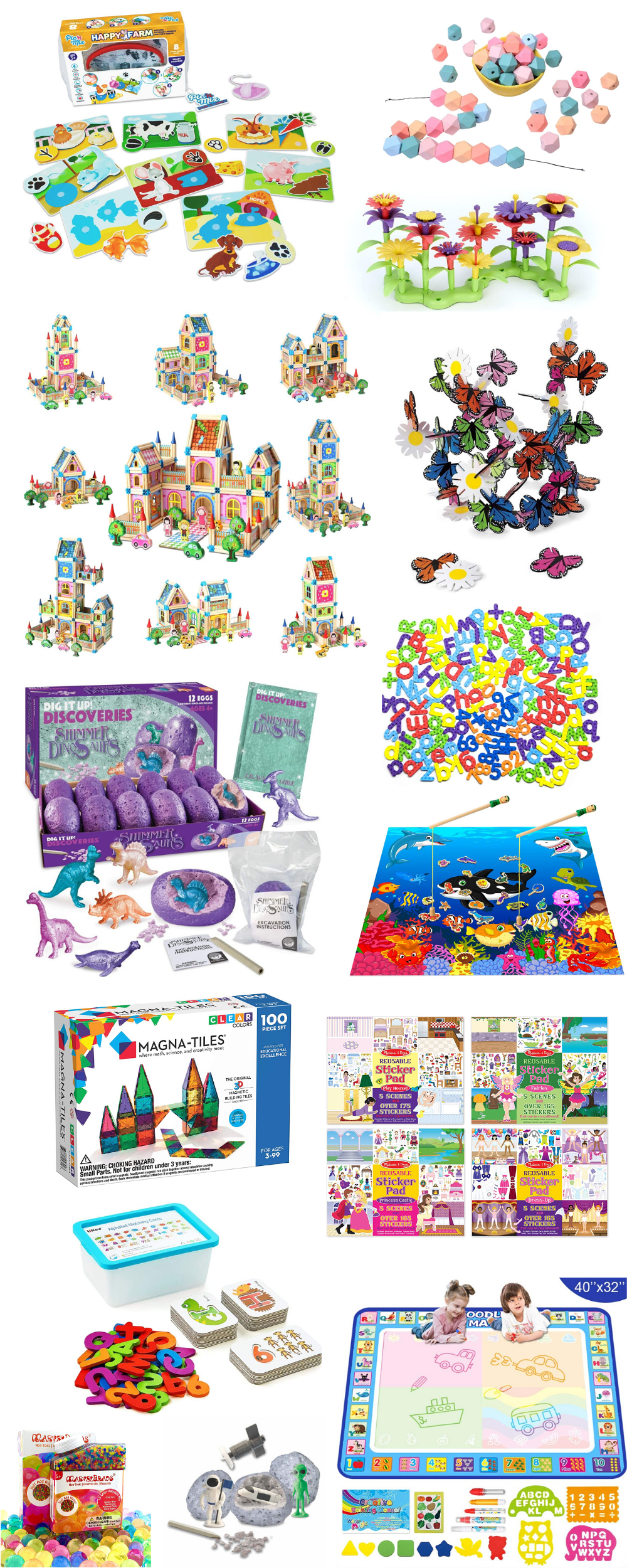 Our Favorite Kids Activities on Amazon
These are our favorite kids activities, learning games, puzzles, crafts, and so much more, that you can get on Amazon!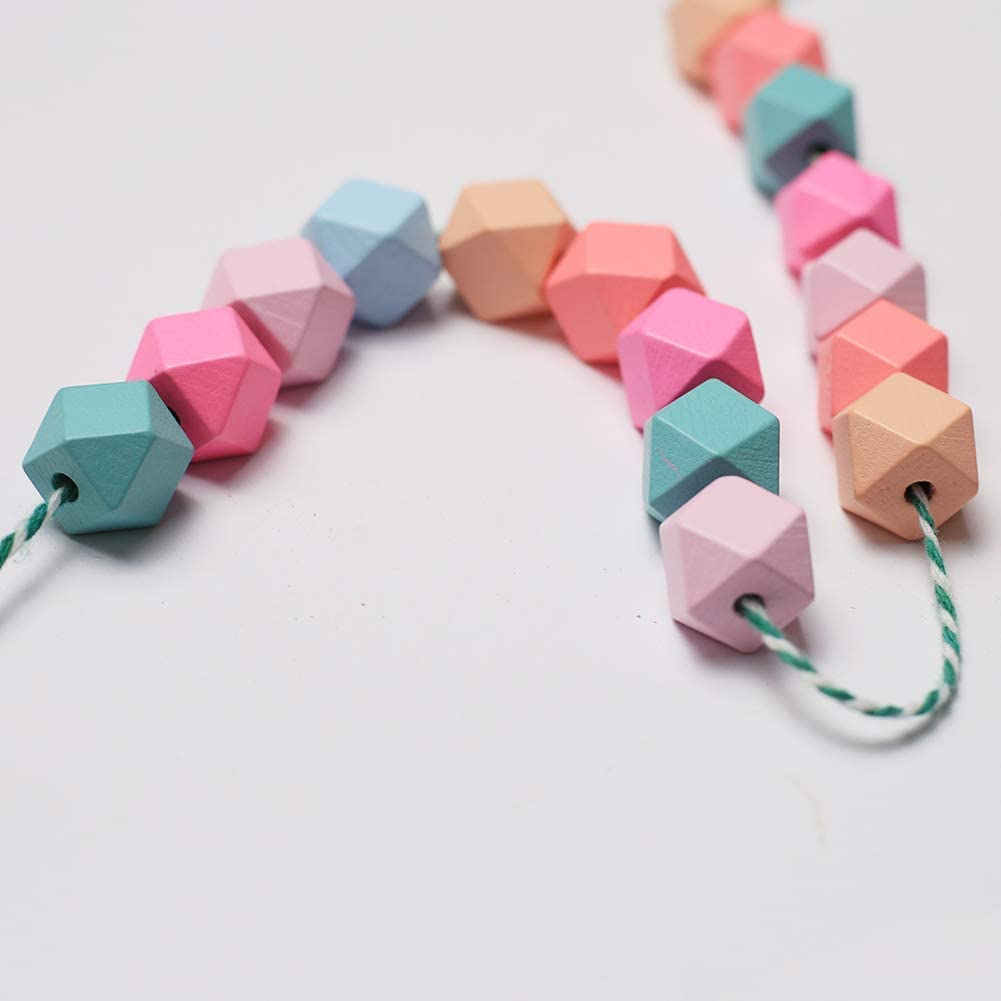 These beads are amazing because they are both beautiful and BIG. Since we have a 5 year old and a 2 year old, I'm always cognizant of the size of small pieces in activities. Beads are often too small for a toddler, but not these beads: they are jumbo sized, easy to manipulate with little hands, but still beautiful enough to make our picky 5 year old happy. They also sell a neutral version that I'm thinking of buying for a rainy day painting activity. I'm betting our kids would love painting and decorating their own beads for their next necklace or keychain project!

Our kids LOVE this magnetic fishing set and the best part: it's learning that works well for both our 5 year old and 2 year old. We use the flashcards to guide our "fishing" with the magnetic poles and the girls love identifying the letters, numbers, and sea creatures. (it's also on sale for just $9.99 right now!!)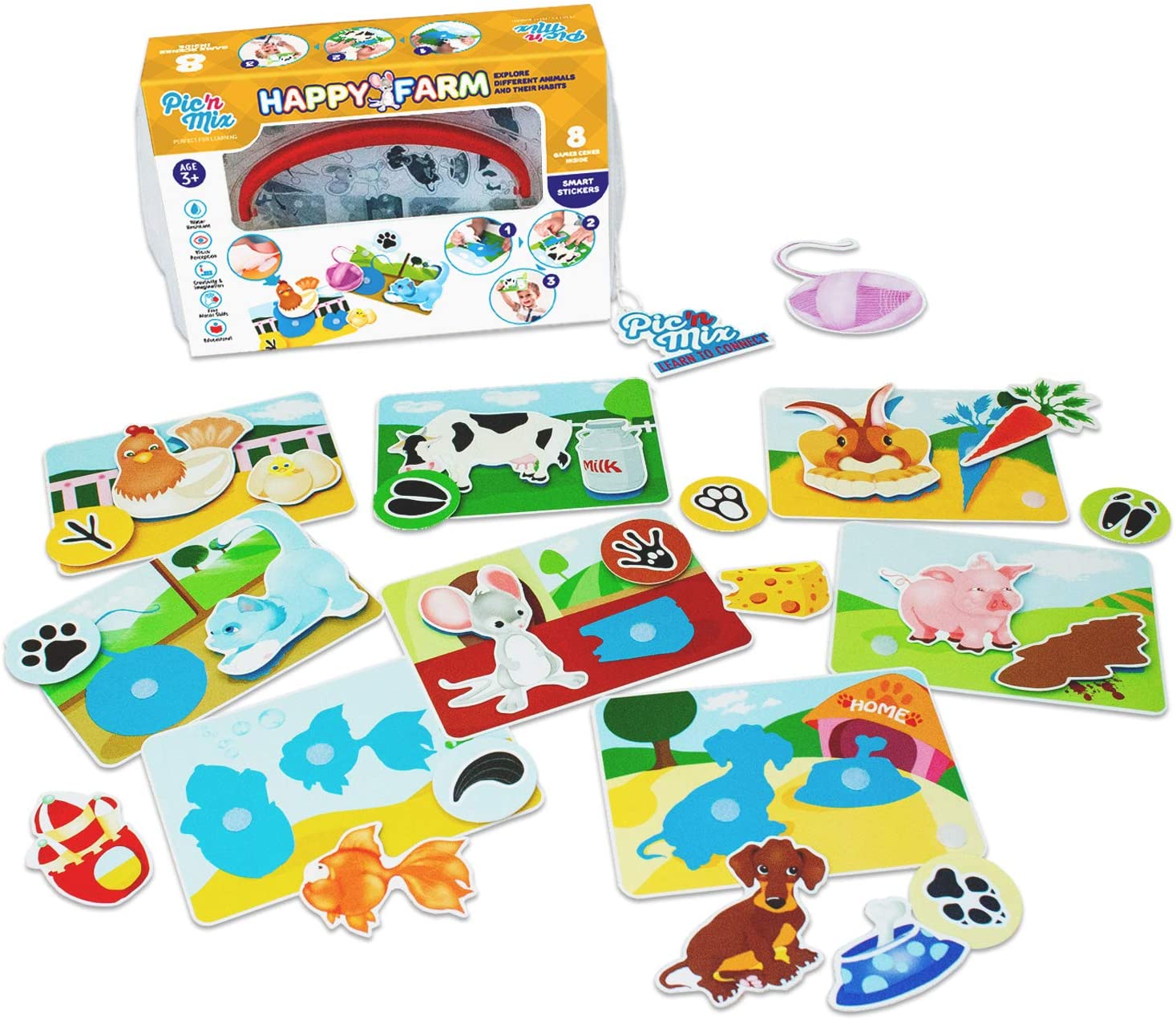 We actually just recently got this set and we love it so far. A friend of mine who is a kindergarten teacher highly recommended it, especially for our toddler, and I'm so glad she did. It's the perfect little activity for our toddler to do while our older daughter is doing her homeschool assignments and classes and I need a way to entertain the younger one. I also really like that the pieces are durable, are easy to clean, and can all be put away in the small plastic container it comes with.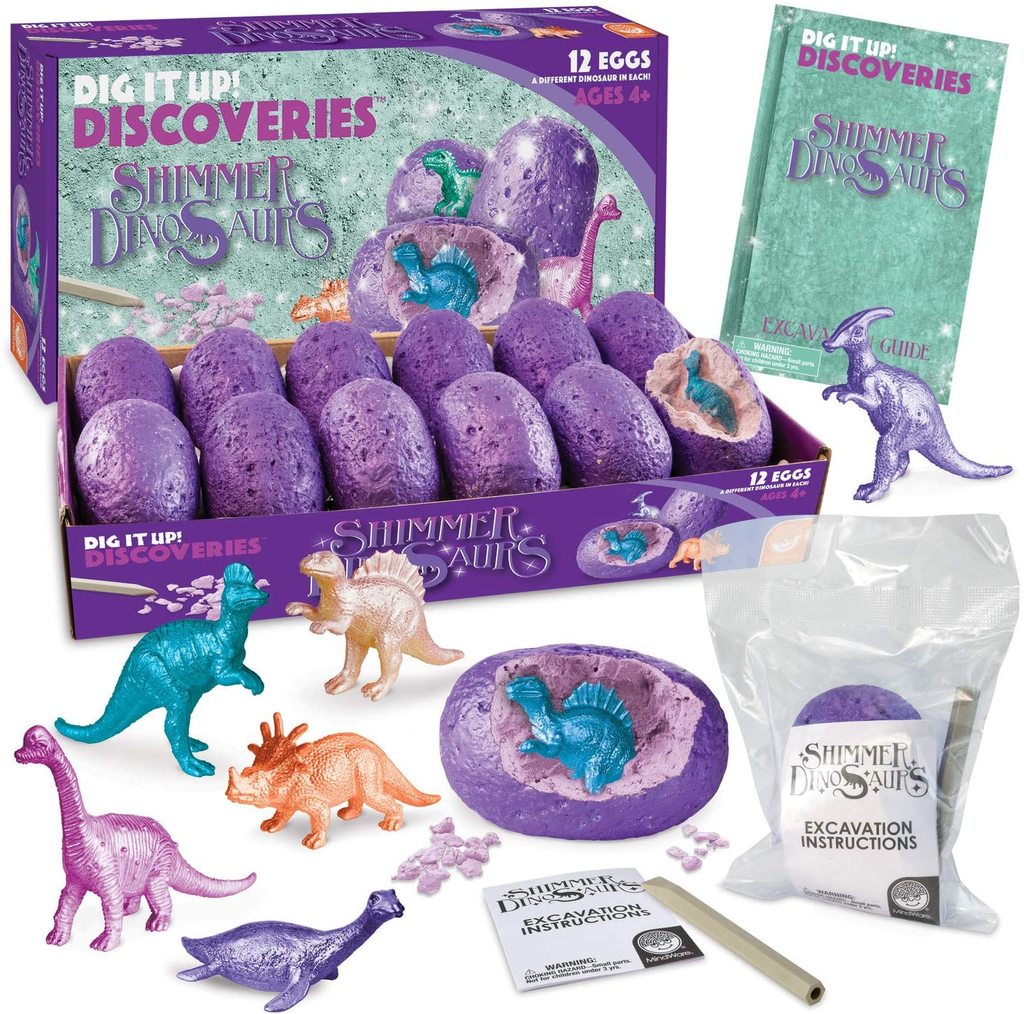 My kids are OBSESSED with digging and excavating things. When I stumbled upon these Dig It Up! Discoveries fossil eggs, I knew I had struck gold. In addition to the above "Shimmer Dinosaur" set, the brand sells dragon eggs, fairies, space, mermaids, giant gems, puppies, sea life, and wild animals. Each fossil egg is individually wrapped with all of the tools your kids will need to excavate their egg, and every single egg has something different inside, so there's a great element of surprise. The results are a little messy, so we keep this activity to the front porch, but still, they get excited EVERY SINGLE TIME I take these out.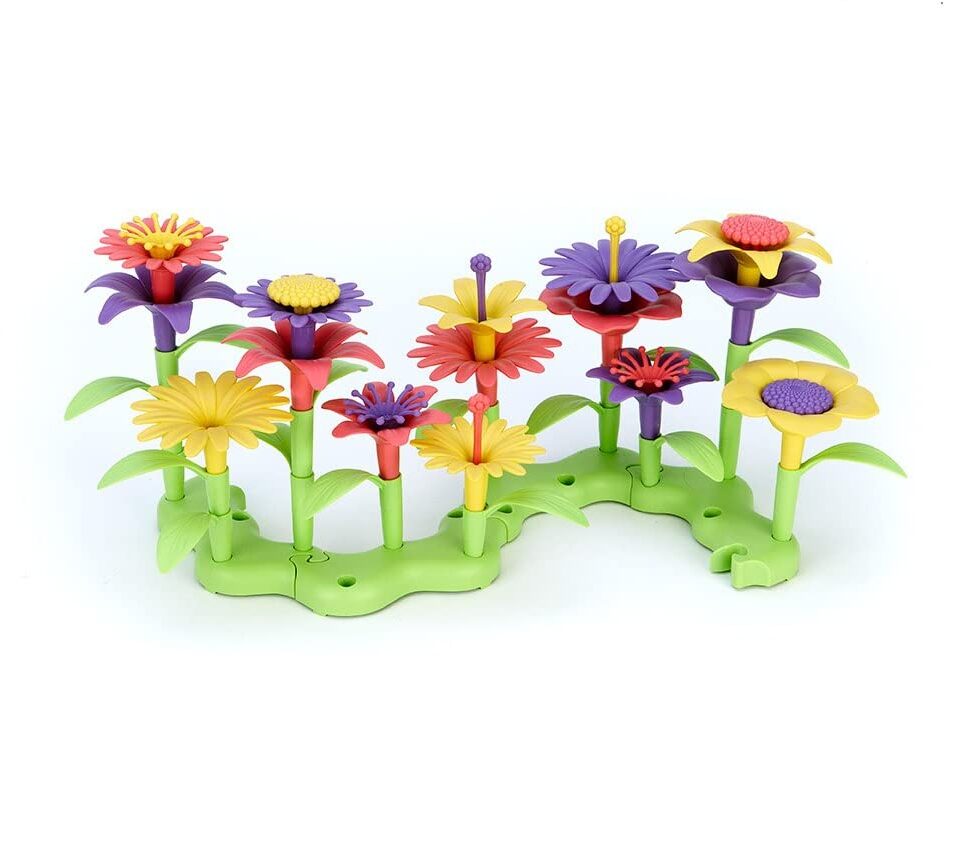 I totally love Green Toys for our kids and this Build-a-Bouquet Floral Arrangement Playset is no exception. This set keeps our kids busy for a long time. It's so good for developing fine motor skills in toddlers and young kids. It's also made of BPA free plastic so it's super easy to clean.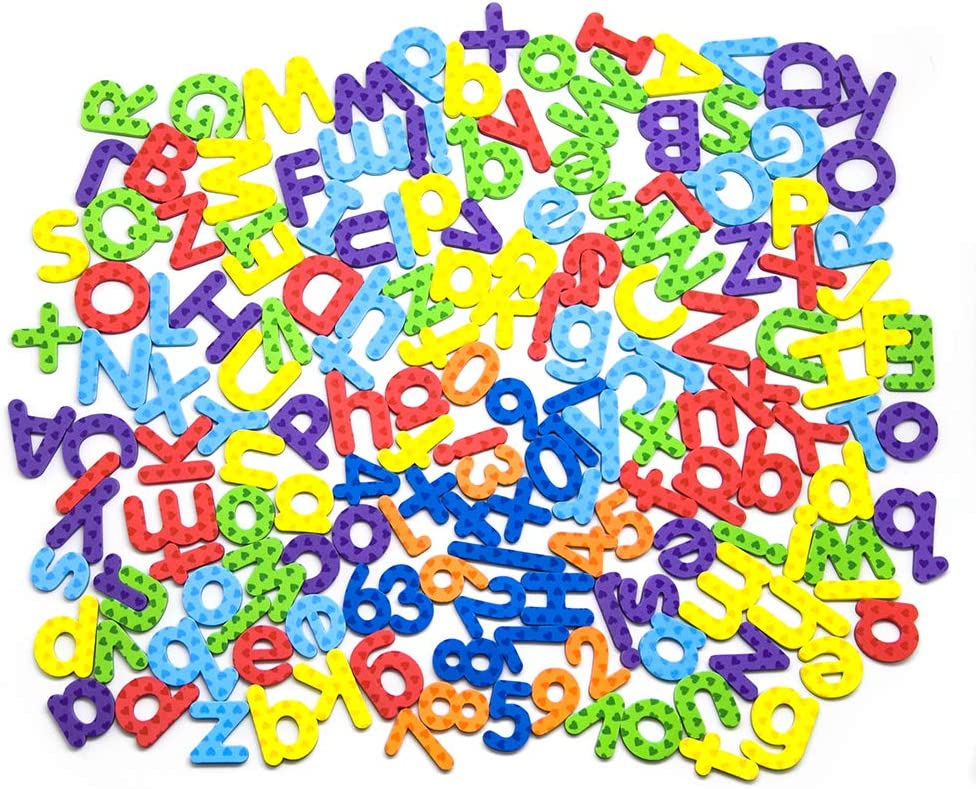 I use our set of magnetic letters and numbers for so many things. We create words on the included board, use these on our refrigerator, trace them, use them to find toys around the house that start with the letter we're practicing, and more. These are super cute, colorful, durable, and so versatile.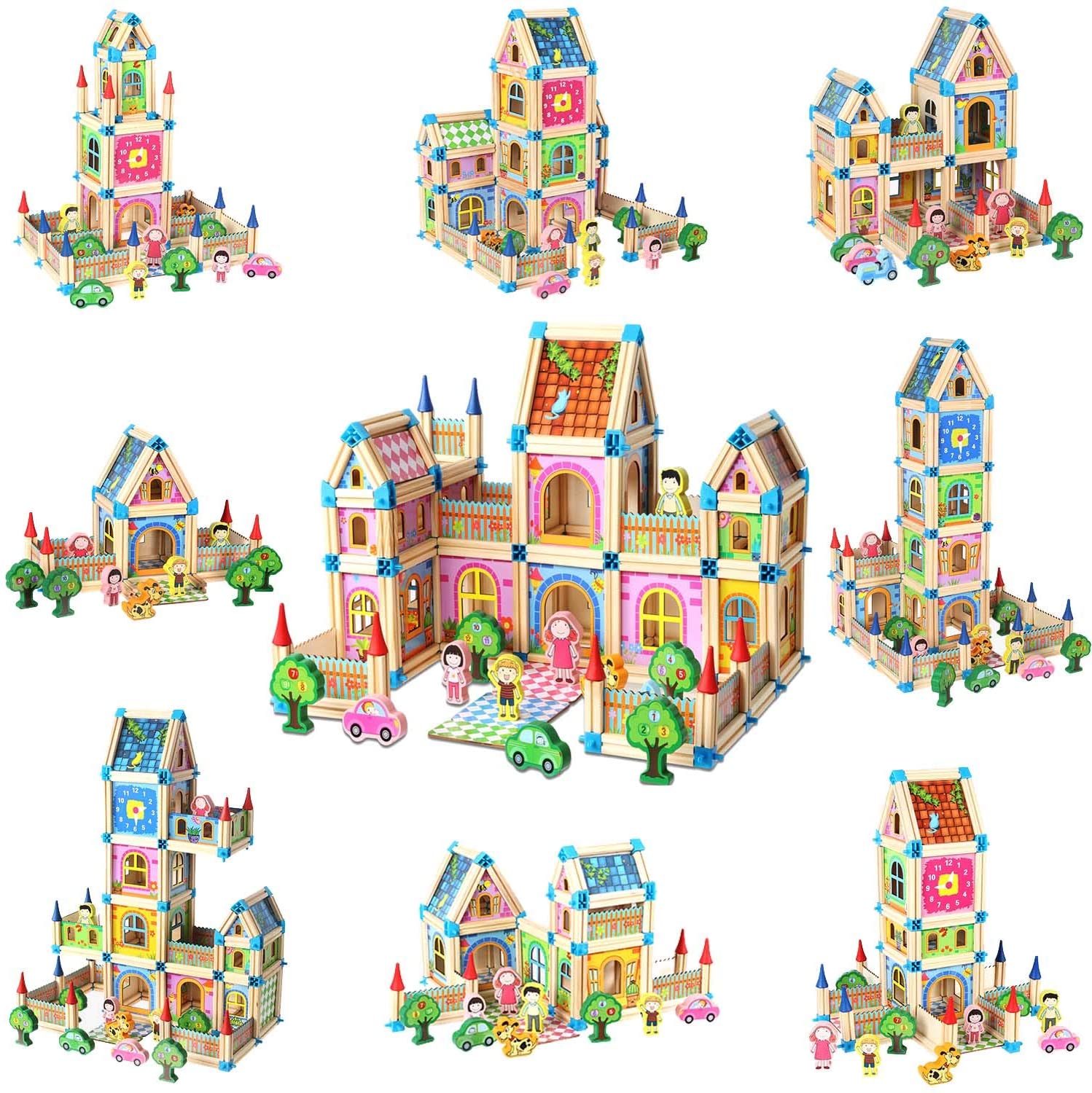 I'm a big fan of building sets for our girls. It really let's their imaginations soar and can entertain kids for a long time. This giant wooden building blocks set (it comes with 268 pieces!) is beautiful and oh so cool. It is 100% on my wishlist for our kids.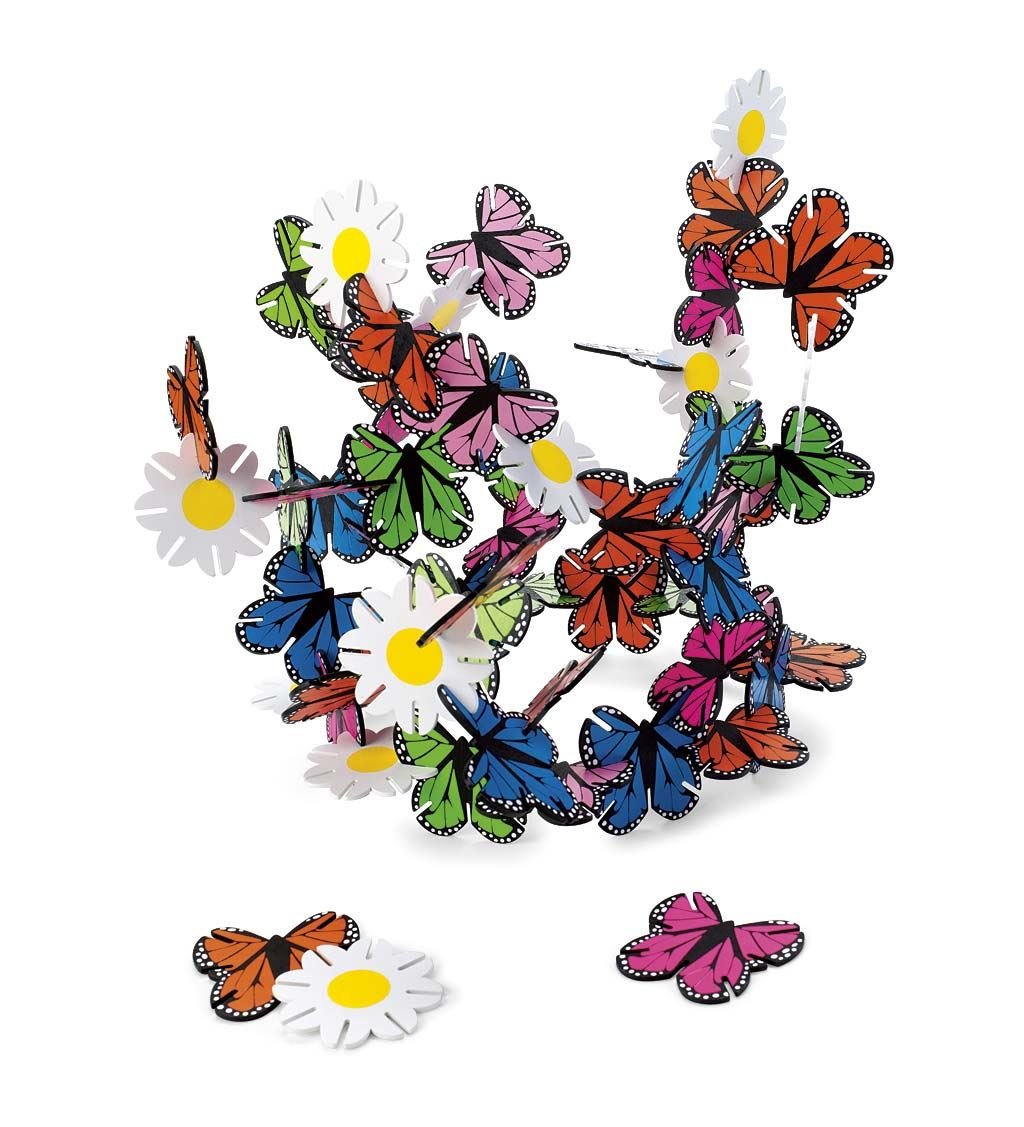 We haven't actually tried this set out yet, but the reviews are amazing, and it looks like such a fun and sweet building activity.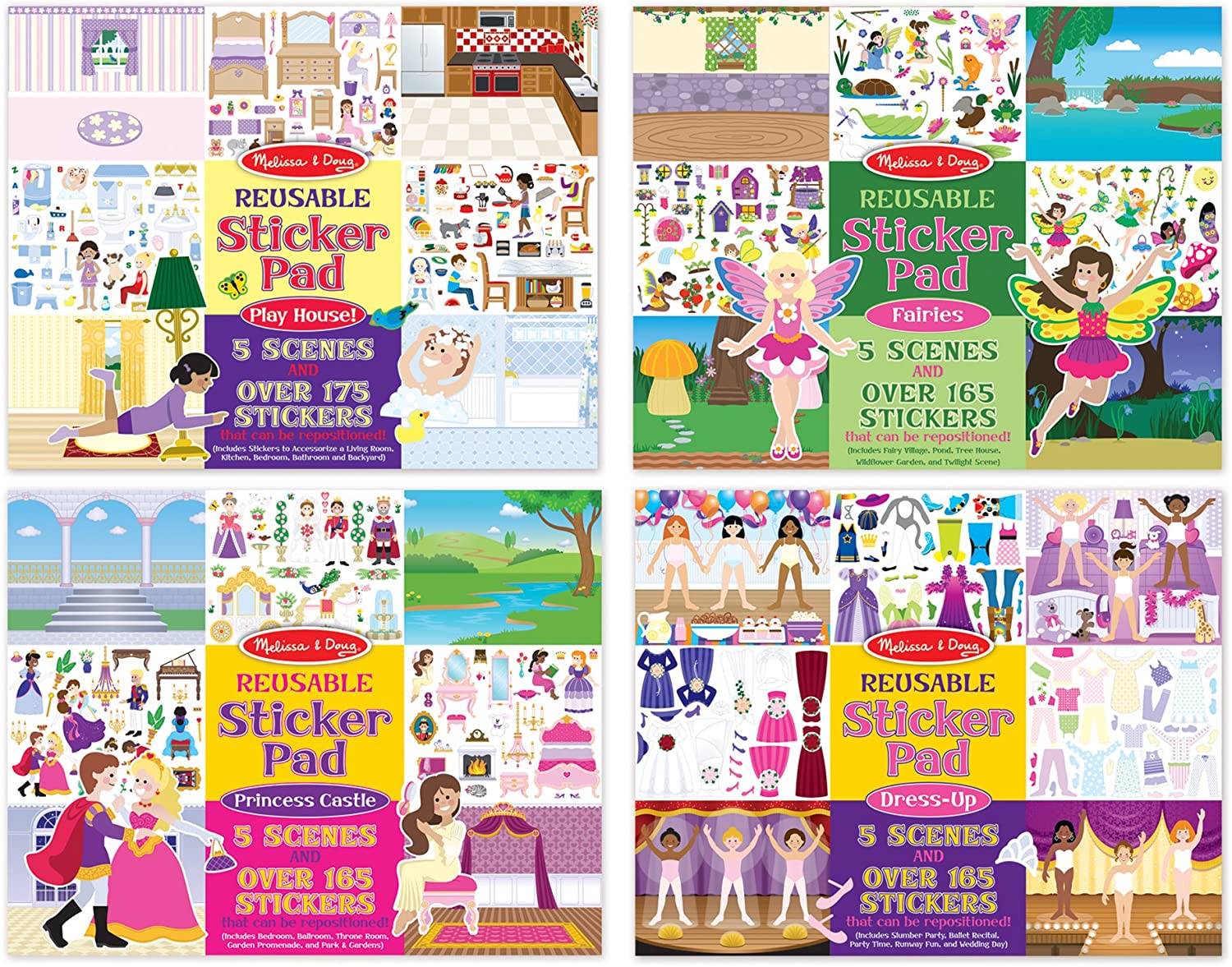 Another toy brand favorite in our house: Melissa & Doug. These reusable sticker pads are especially great because they're huge. The vinyl stickers can be used again and again, and each book comes with so many play scenes.
The link above is for our Fairies, Princess Castle, Play House, Dress-Up set, but they also sell a really sweet Jungle, Farm & Under The Sea set that I plan on getting for our girls this summer.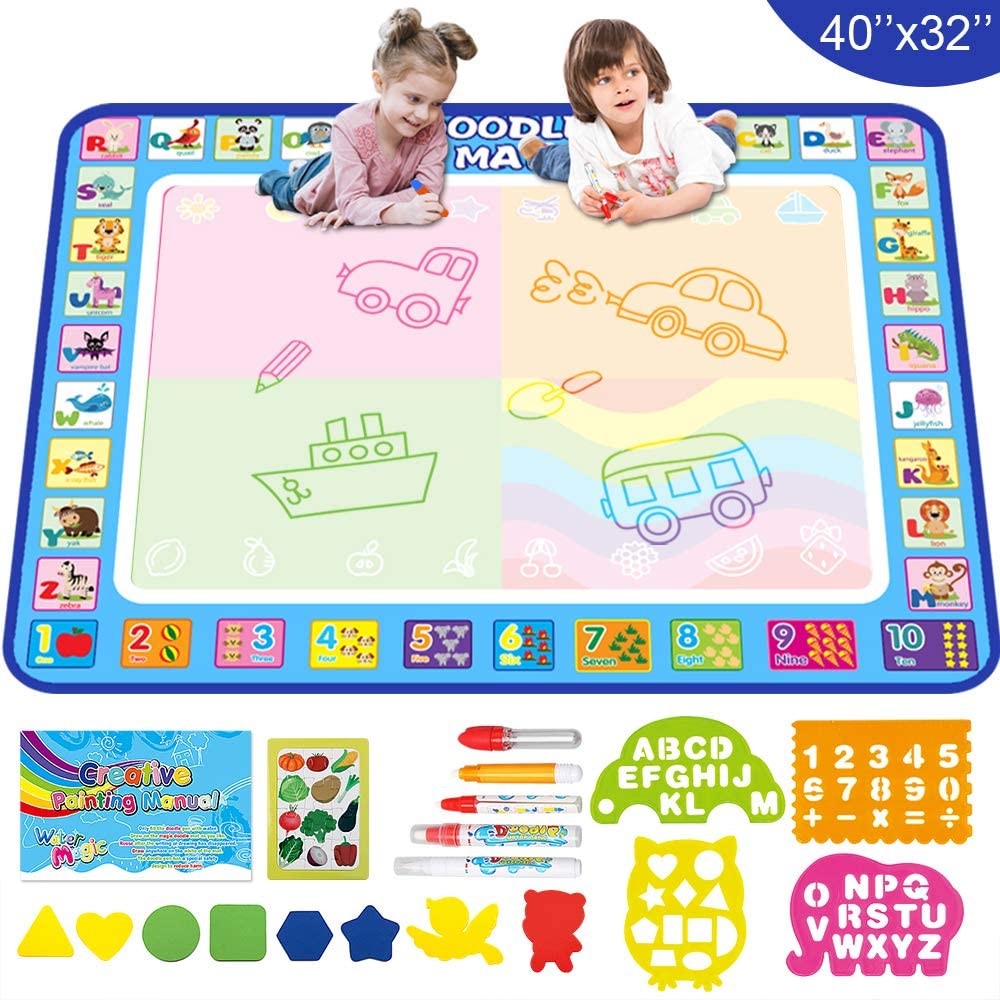 Our kids love these so much, we actually have two different versions. Not only is this activity totally mess-free, similar to Melissa & Doug Water Wow! books, the drawings disappear once the surface is dry and kids can play again and again.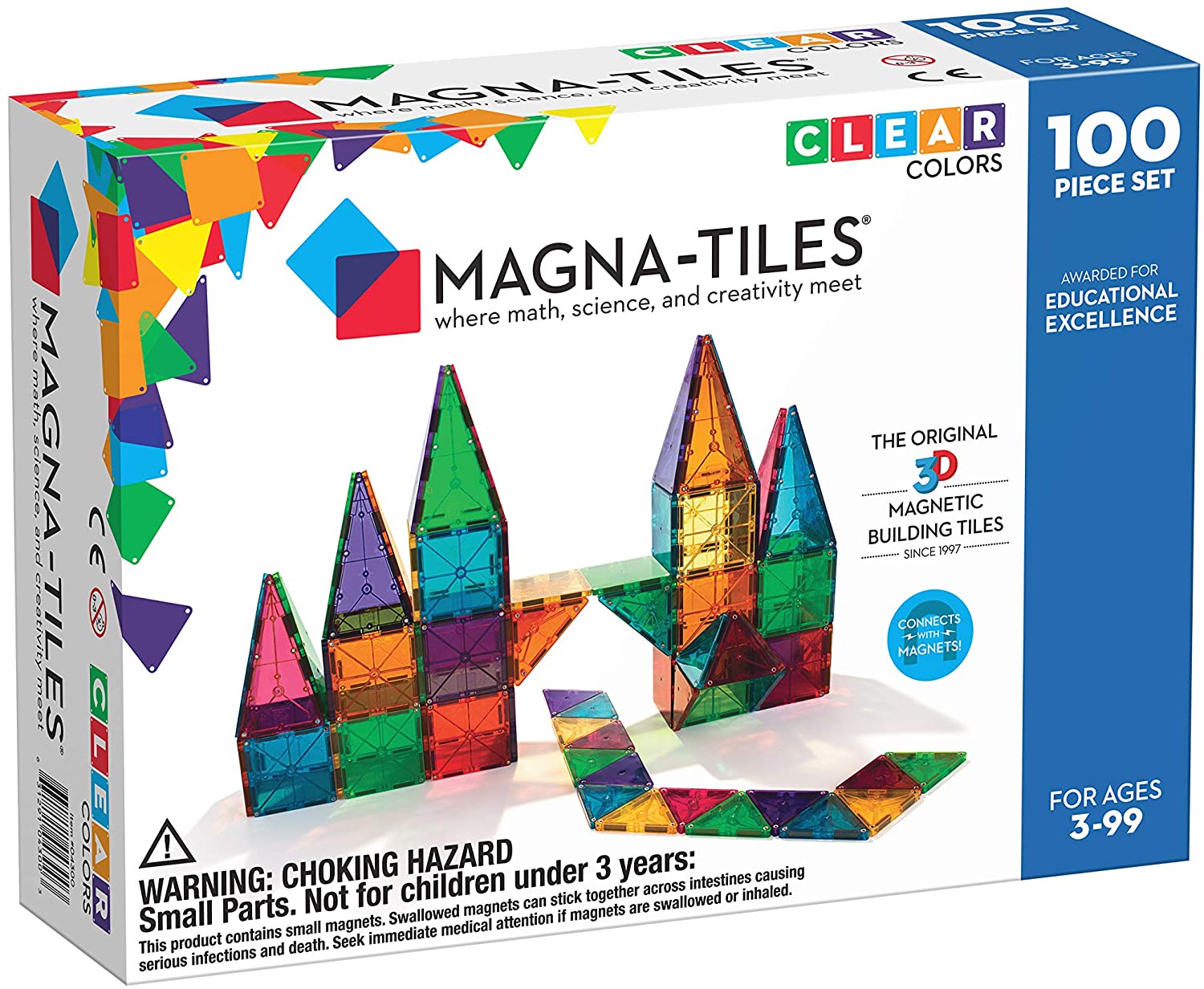 Magna-Tiles are the best. We have a big bin that we keep ours in and I pull them out whenever I'm out of inspiration. The girls build castles bridges, cities, you name it. I also love that this is the kind of toy set we'll have for years to come (and they hurt way less than legos when you step on them!) 🤣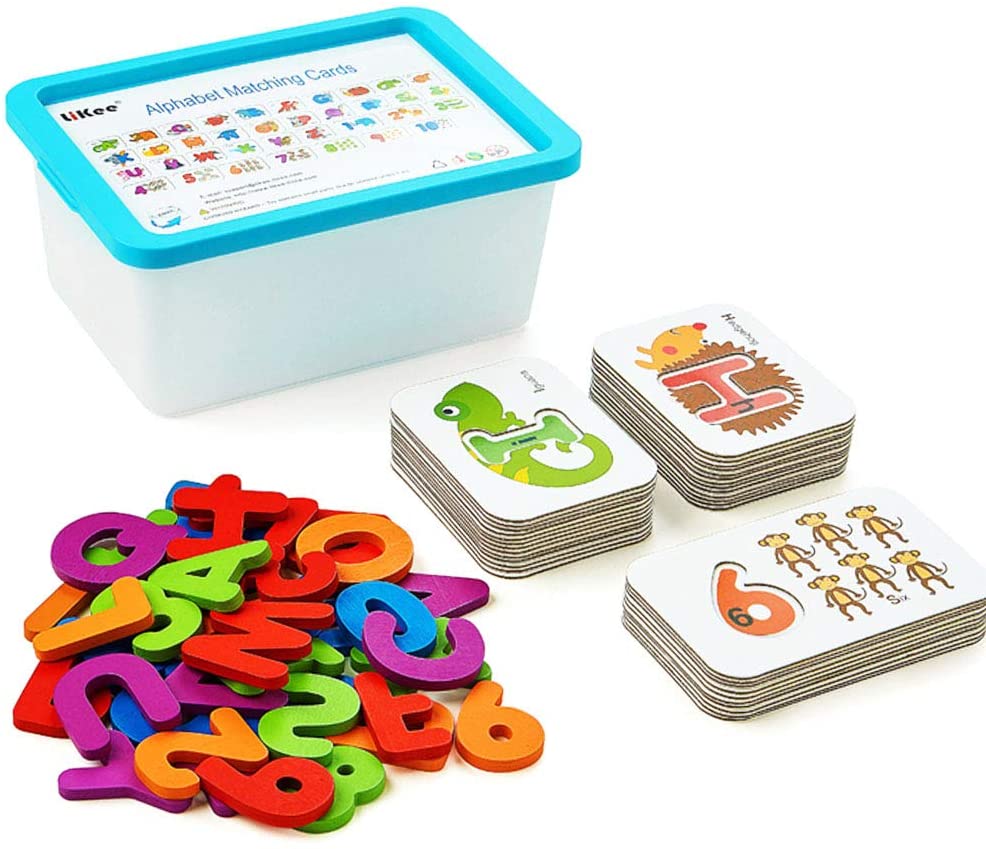 This alphabet set is great for Montessori style learning. I also love that it's easily contained in the included bucket and the pieces are well made and hold up.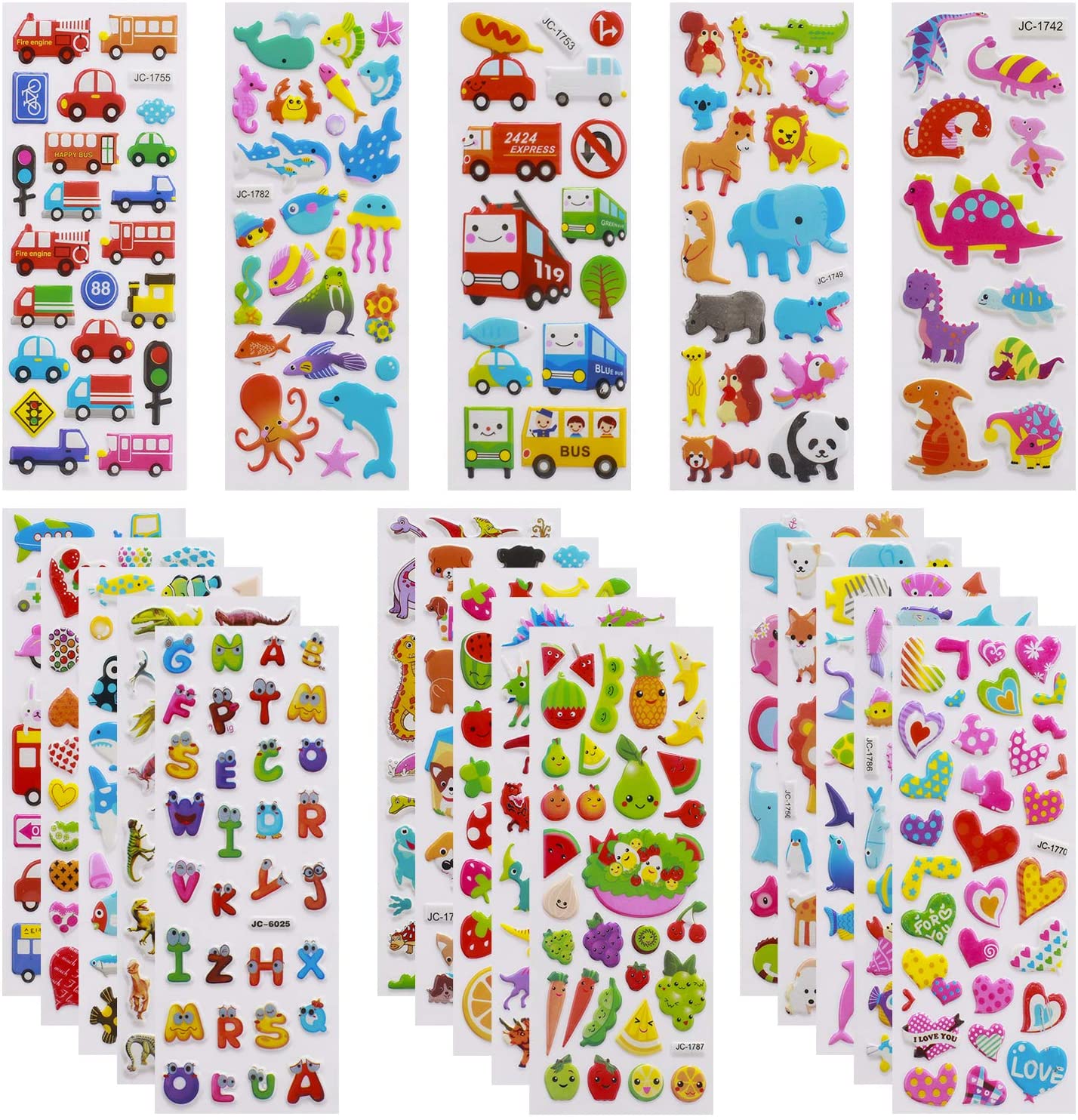 It may seem simple, but kids LOVE stickers. I give my girls a notebook or a sheet of paper and several sheets of stickers. It entertains them for a good thirty minutes. We have these stickers and they are great; especially because they're puffy and easy for even our toddler to peel off of the sticker sheets. A+.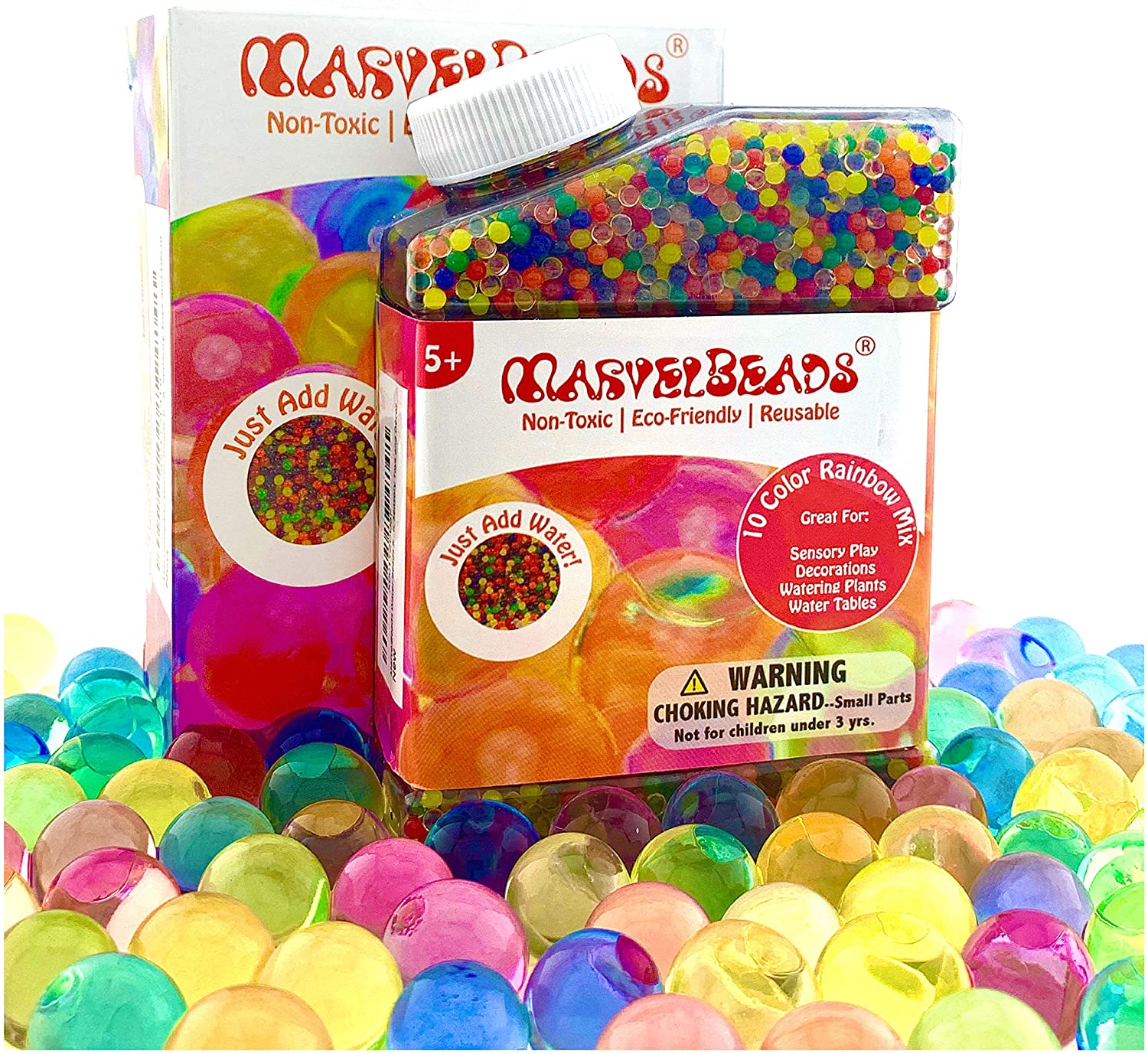 We LOVE water beads. They're totally great for sensory play and our kids request them ALL of the time. We even fill our water table with them when it's not quite warm enough outside to fill it with water. I definitely want to try out these giant water beads with the girls next.
I share exactly how we play with and store our water beads, plus our favorite water beads accessories, in this post.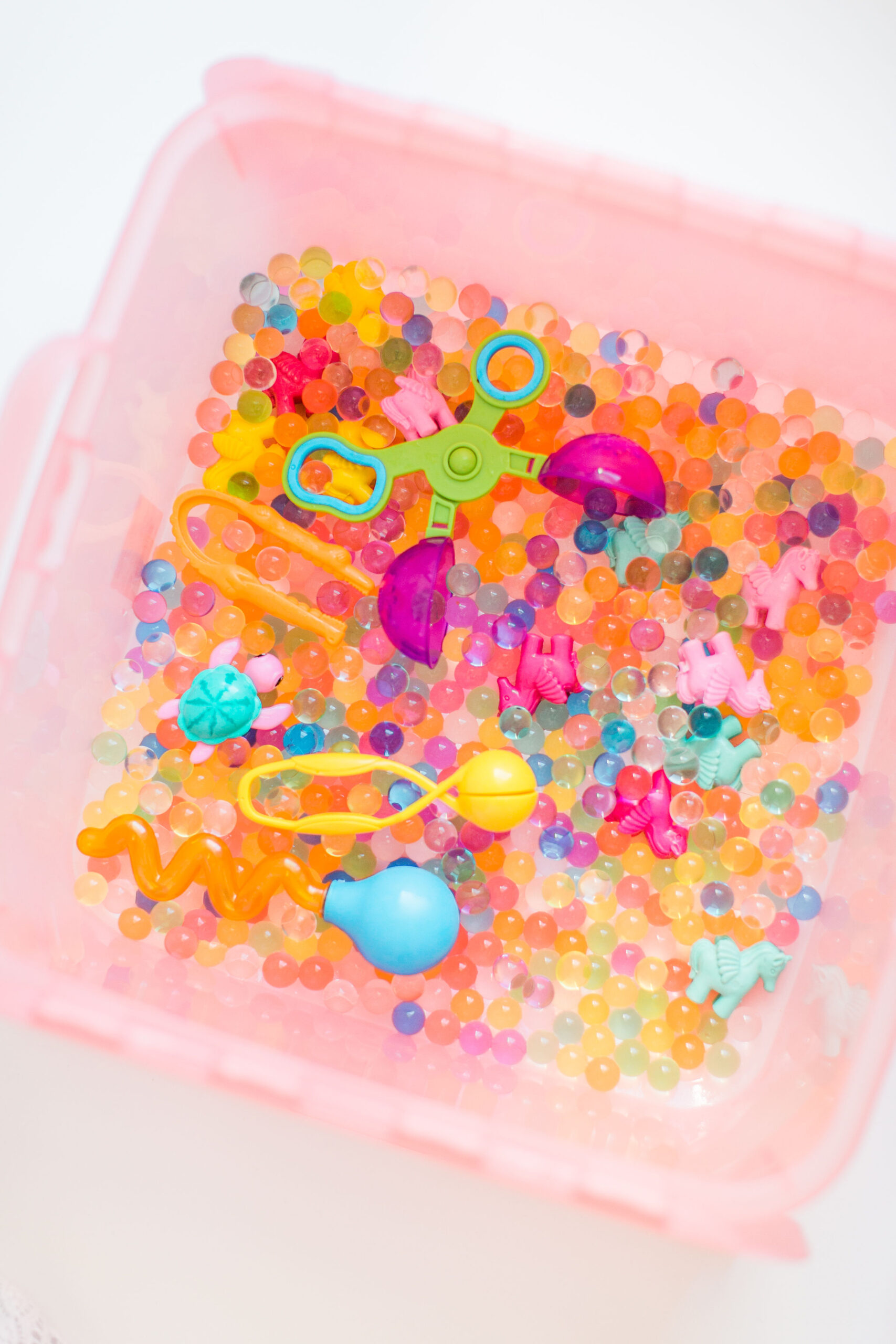 IF YOU LOVED THIS POST, YOU CAN SEE MORE OF OUR LIFE WITH TWO LITTLE ONES HERE AND ALL OF OUR KIDS ACTIVITIES AND CRAFTS HERE.