This post contains affiliate links, which means that if you click on one of the product links, I'll receive a small commission. Thank you so much for clicking through and helping to support this little blog business of mine! Read more about our site, privacy, and disclosure policies here.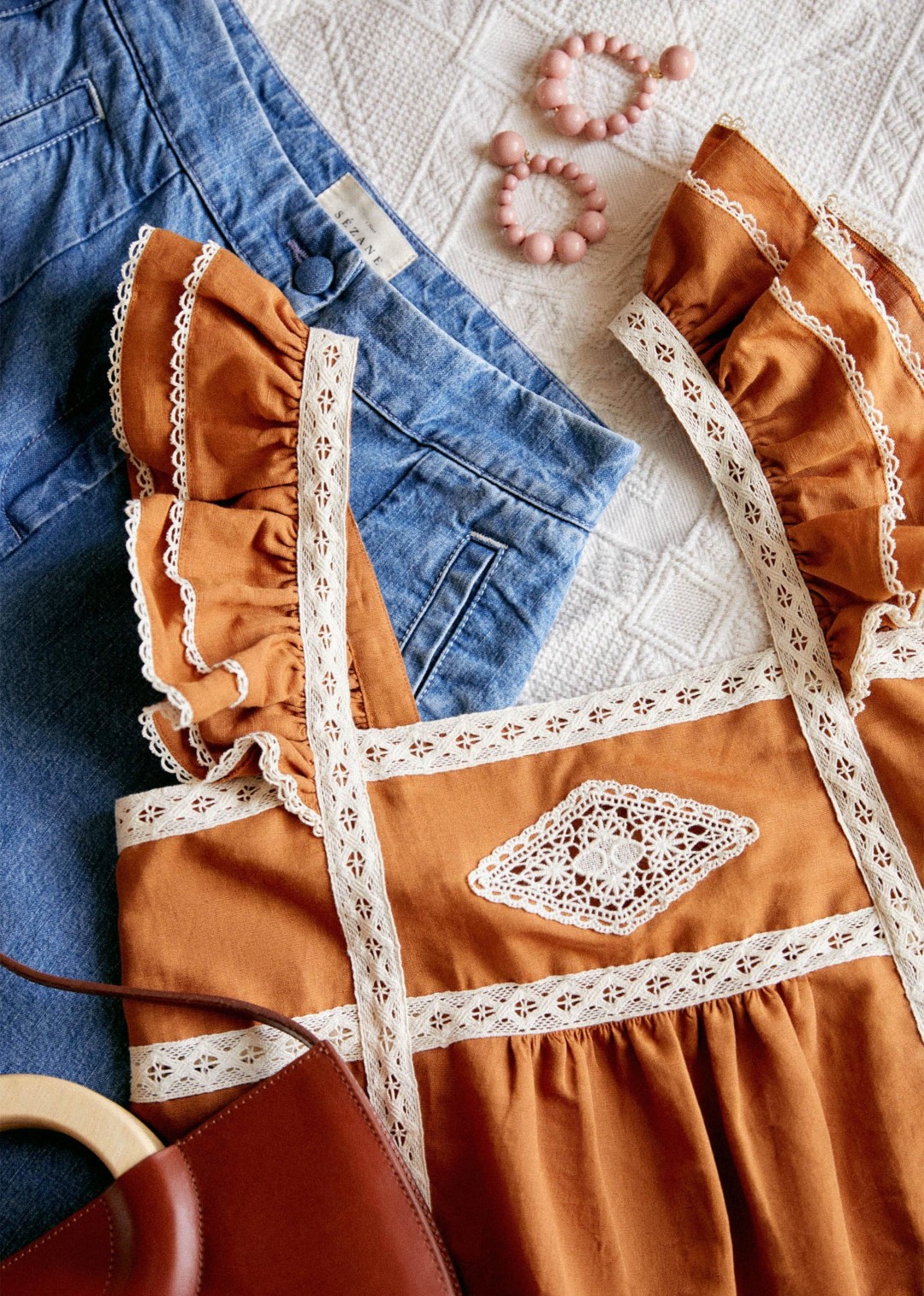 A Mini Life Update
Happy Friday!! (It's Friday, right?) This week has both rushed by and gone painfully slow at moments. Scarlett has been busy with online school and I've been busy chasing after Emmeline and coming up with a millions things for both of them to do. Their new favorite phrase is, "What activity are we doing today, Mom?" Followed closely by, "Can I have a snack?" 🤣 (By the way, I share behind-the-scenes of all of our easy at-home kids activities on my Instagram Stories – just click on the "Kids Activities" story highlight to see them; and of course, here on the blog, you can find a ton of kids activities, crafts, and DIY projects.)
I had two big styled shoots to put together and photograph this week.
And have felt busier than ever with the blog. (Which is totally amazing!) Our online GLITTER MOMS community just keeps on growing as well, and for that, I am so excited.
The weather here in Boston has been beautiful and we played outside yesterday – on our front porch, so not a big outing, per se, but hey, I'll take all of the sunshine I can get. ☀️
Tonight, Mike is back at the hospital, which has me twisting in knots of anxiety, but also, I have the kind of personality where I'd rather just get it over with – rip the bandaid, so to speak – so knowing that him getting back into the hospital was inevitable, makes me feel like we might as well start easing back into it. Honestly though, the last two weeks, with him working remotely have been kind of cool. Granted, keeping two little kids quiet and out of his hair ALL DAY in a tiny apartment day after day has been interesting, but still, we've seen him a whole lot more than we're used to.
Hooray for tiny victories!
Speaking of tiny victories, today I blew out my hair. I did one of those rough, half blow dries. But still – it's progress. I read this discussion in a mom's group I'm in, asking whether fellow moms were actually "getting ready" on these long days at home. I for one, have not. 🙈 Short of putting a (very comfy) bra on, it's been pj's and loungewear for me, day in and day out. But the conversation inspired me to try … sort of? It's interesting how blowing out my hair, putting on a dab of cc cream or blush, taking off my glasses and putting in contacts, etc. can really improve my mood, my confidence. Will this last? Who knows. But today, it felt good. Do you dress up on days you're home? Do you wear makeup? Jeans? Jewelry?
As for the weekend, it's more of the same, with a whole lot of organizing and purging mixed in. Who else is taking this as an opportunity to organize and get rid of stuff?
In case you don't yet follow along, I'll be sharing what we're up to throughout the weekend over on instagram (lots of fun behind-the-scenes on my insta stories too!), facebook, and twitter. Follow along! So how about you? Any exciting weekend plans?
With that, a few little love notes to the things I loved most this week …
Dear Instagram Crushing, @randahaddadin takes art to a whole new medium – her own skin – and it is stunning. Her sketches on her own legs are incredible and make doodling look so chic.
Dear design tweaks, if you've been eyeing the pampas grass trend, but didn't love the steep price tag, this super affordable fluffy pampas grass on Amazon is the way to go.
Dear Sunday plans, Dunkin' is selling DIY donut kits that come with a bunch of frostings and sprinkles. And how cute is that?
Dear weekend giggles, have you been watching SNL at Home? I've been so impressed with how SNL managed to create full shows, all from home. And the skits are totally funny! I'm actually pretty bummed that the season finale just aired, but we're catching up this weekend.
Dear travel lust, 22 hotels that will have you dreaming of traveling again.
Dear beauty upgrades, don't ask me how, but Armani Beauty is taking 40% off right now!! Stocking up on my favorite in the whole entire world Power Fabric Foundation and Lip Maestro Liquid Lipstick.
Dear kitchen know how, Queer Eye's Antoni Porowski is filming a Netflix cooking show straight out of his Austin kitchen and I cannot wait!
Dear weekend baking, paleo coconut flour chocolate cupcakes.
Get the origins of these sweet little love notes, here, and catch up on love notes of the past.
SHOP THIS WEEK'S LITTLE LOVE NOTES POST | CLICK LEFT & RIGHT ARROWS TO EXPLORE

Has anything inspired you this week around the web? Send it my way!
image via Sézane (Zora Top)