This post has been sponsored by Thicker Fuller Hair. All thoughts and opinions are my own.
Want thicker, healthy looking hair? I'm sharing my secret weapons for thicker fuller hair.
Post-partum hair thinning is no joke. I've often laughed with fellow mom friends how, during pregnancy, your hair looks thick, lustrous, and just plain INCREDIBLE. I mean, seriously, I rock shiny, gorgeous hair during my pregnancies; and then, once I've had my baby, suddenly my hair just starts shedding in droves. Especially the first few months post-partum, I find my long strands of my hair all over the house: the shower drain, stuck in my beloved brushes, just everywhere. It's a sad sight to behold.
Couple that with the fact that I had cancer in my twenties, and sometimes it feels like I've been battling thinning hair for what feels like ages.
Because of that, I've always been really careful about taking care of my hair. I have tried and true tricks for maintaining thicker, fuller, healthy feeling hair, including my secret weapons for thicker fuller hair with the Thicker Fuller Hair® 4-step system. And right now you can save $3 on 1 Thicker Fuller Hair Product!
My Tricks for Thicker Hair
Use The Right Hair Products
a.k.a., My Secret Weapons for Thicker Fuller Hair
Thicker Fuller Hair Products: I'm talking about Thicker Fuller Hair Strengthening Shampoo, Thicker Fuller Hair Repairing Conditioner, Thicker Fuller Hair Root Lifting Serum, and Thicker Fuller Hair Nourishing Daily Scalp Tonic. The 4-step system is a four-step scalp-to-strand regimen for thin and thinning hair. With the Thicker Fuller Hair regimen, I saw results over time to thicken my hair thinning hair.
Because yes, hair products matter when it comes to promoting healthier feeling, thicker hair. Overuse of hair chemicals and harsh cleaning agents are guilty of stripping the hair and disrupting the scalp skin pH balance. Sticking to a way better for your hair regiment like the Thicker Fuller Hair line of products will help to maintain balance on your scalp and promote healthier feeling hair.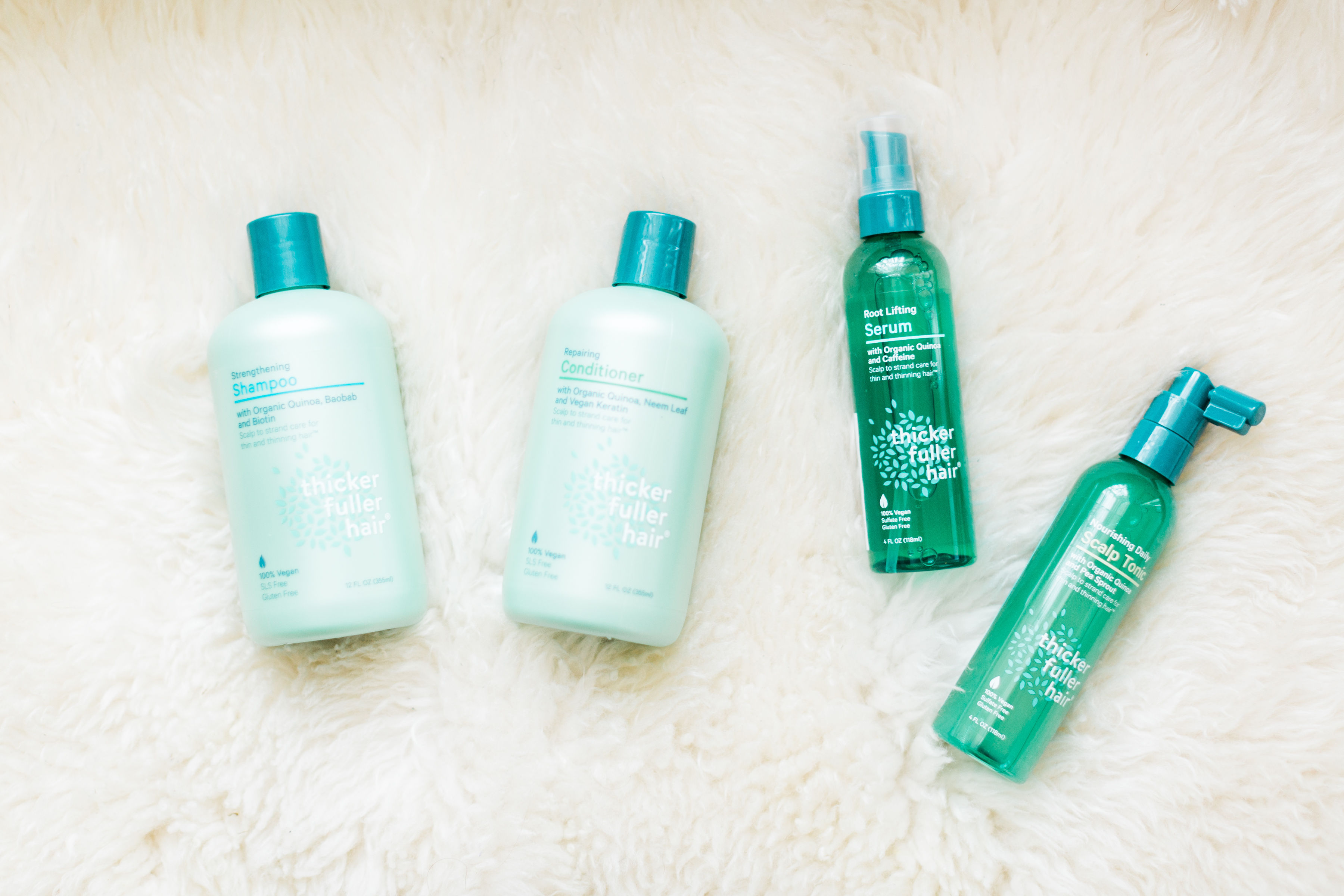 The Thicker Fuller Hair products are made with things like organic quinoa, baobab, biotin, neem leaf, and vegan keratin that work to strengthen and repair each individual strand. All of the products feel lux and smell amazing.
Seriously, I had no idea quinoa anything could smell SO good.
They also leave my hair feeling soft and silky, and provide some much-needed added thickness and volume when used together.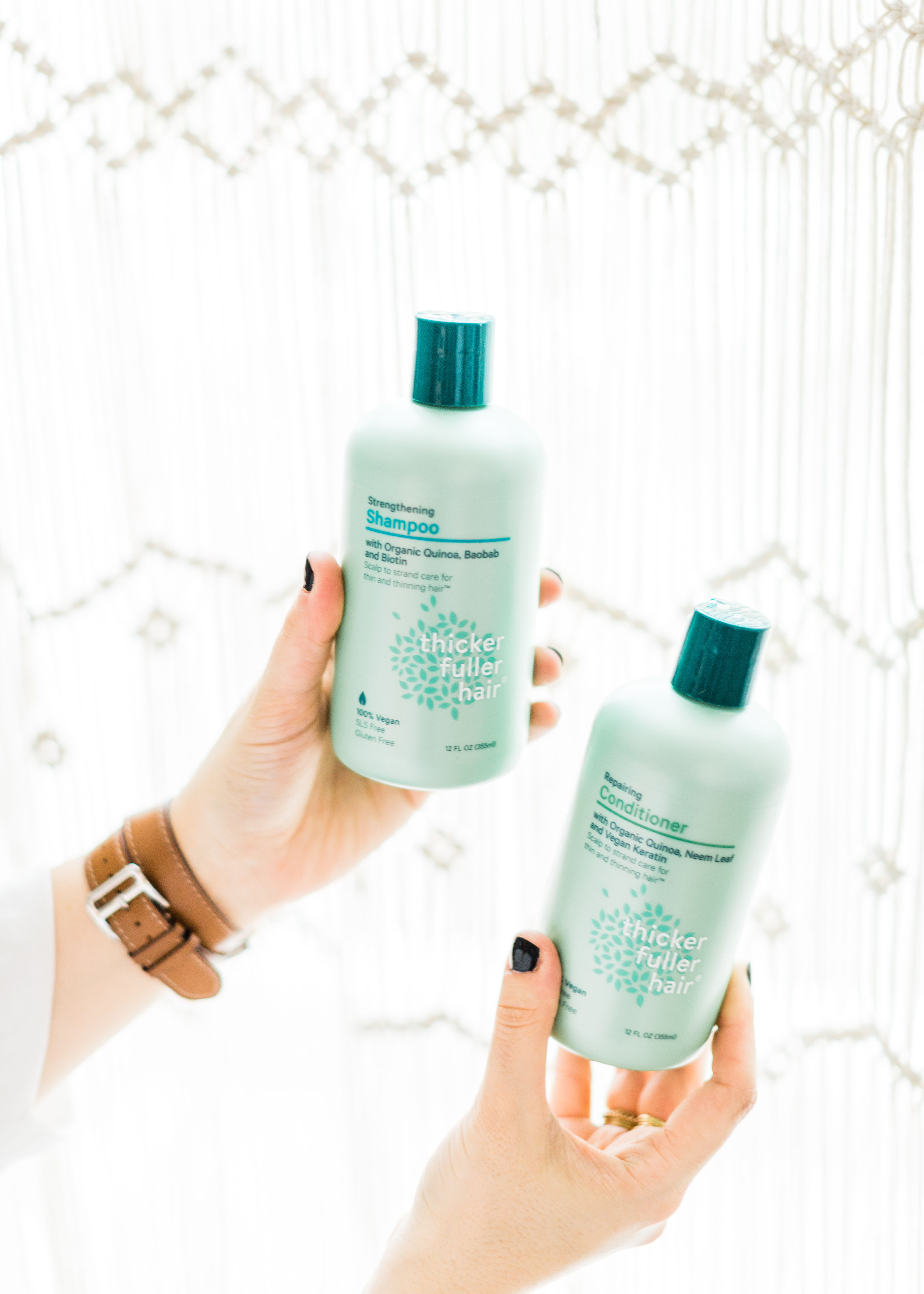 I start by washing my hair regularly with the Thicker Fuller Hair Strengthening Shampoo and the Thicker Fuller Hair Repairing Conditioner. Both the shampoo and conditioner leave my hair feeling really soft and super clean. I even catch my hubby using the shampoo and conditioner on the regular.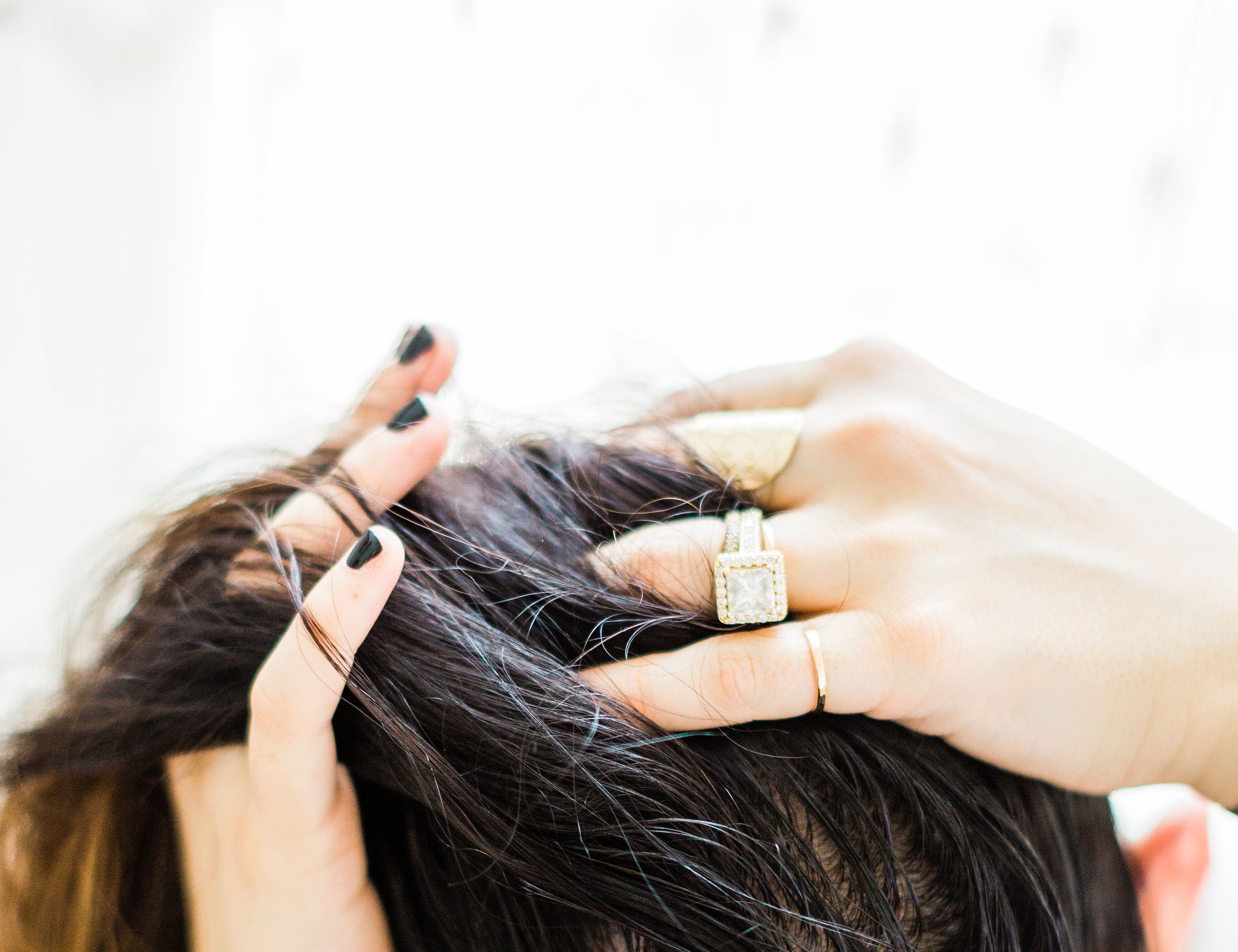 After that, at least a few times a week, I try to work a bit of the Thicker Fuller Hair Nourishing Daily Scalp Tonic, giving my scalp a super-shot of essential nutrients to help create the optimal conditions for thicker, fuller-looking hair. The tonic is super lightweight and doesn't make your hair greasy or weigh it down.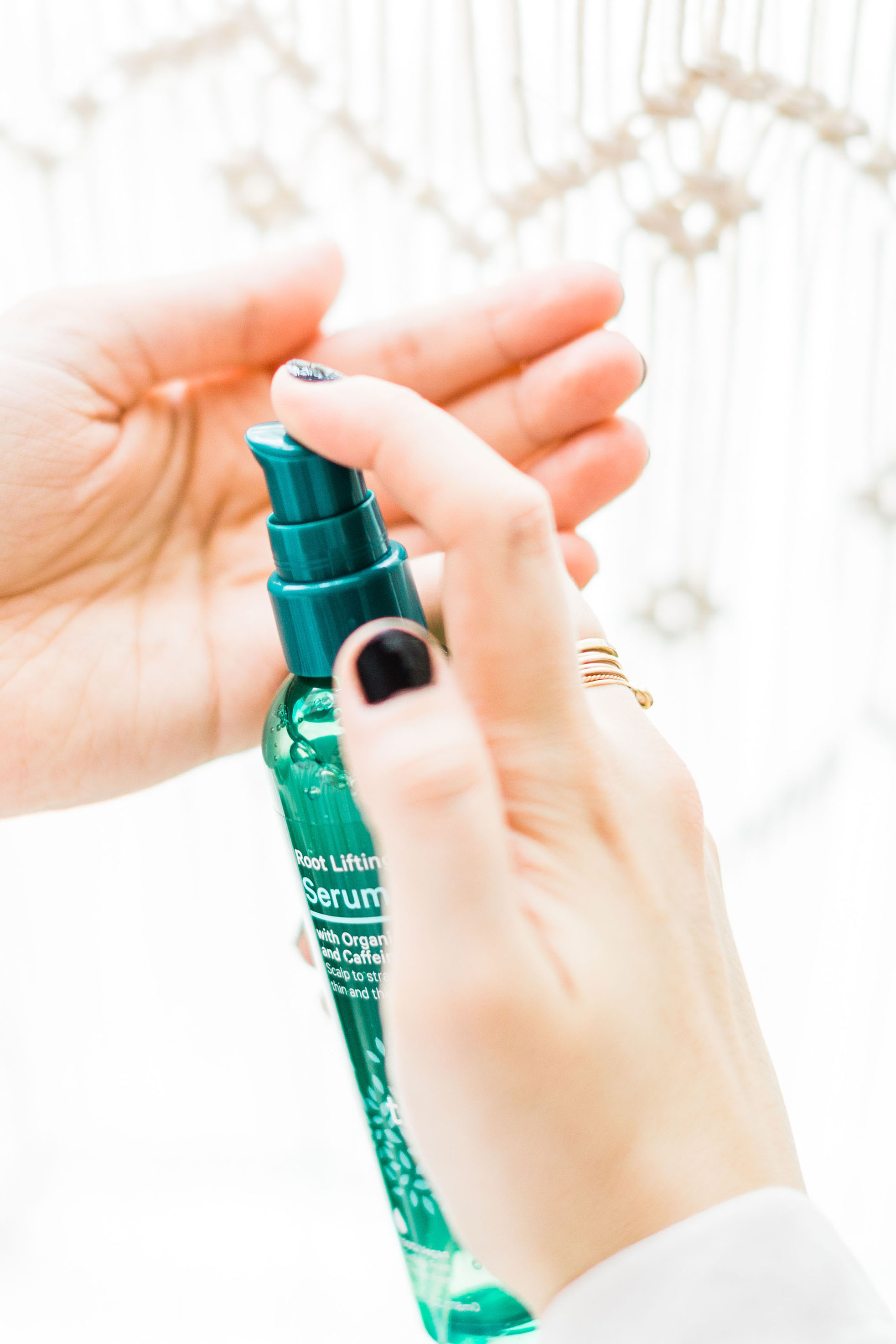 I love using the Thicker Fuller Hair Root Lifting Serum before styling my hair. A caffeine fix for thin and thinning hair, the serum contains a triple shot of powerful botanicals to lift hair at the roots and provide all-over protection, thickness, and volume. To use this one, I just apply a small amount to my clean, damp hair and work from roots to ends. This also might be my absolute favorite product from the line. It smells heavenly, makes my scalp feel all tingly and healthy, and once I've blow-dried my hair, it looks so silky and shiny.
Oh, and did I mention Thicker Fuller Hair products are also 100% vegan, SLS free, paraben Free, phthalate Free, and color safe? (Which I love!)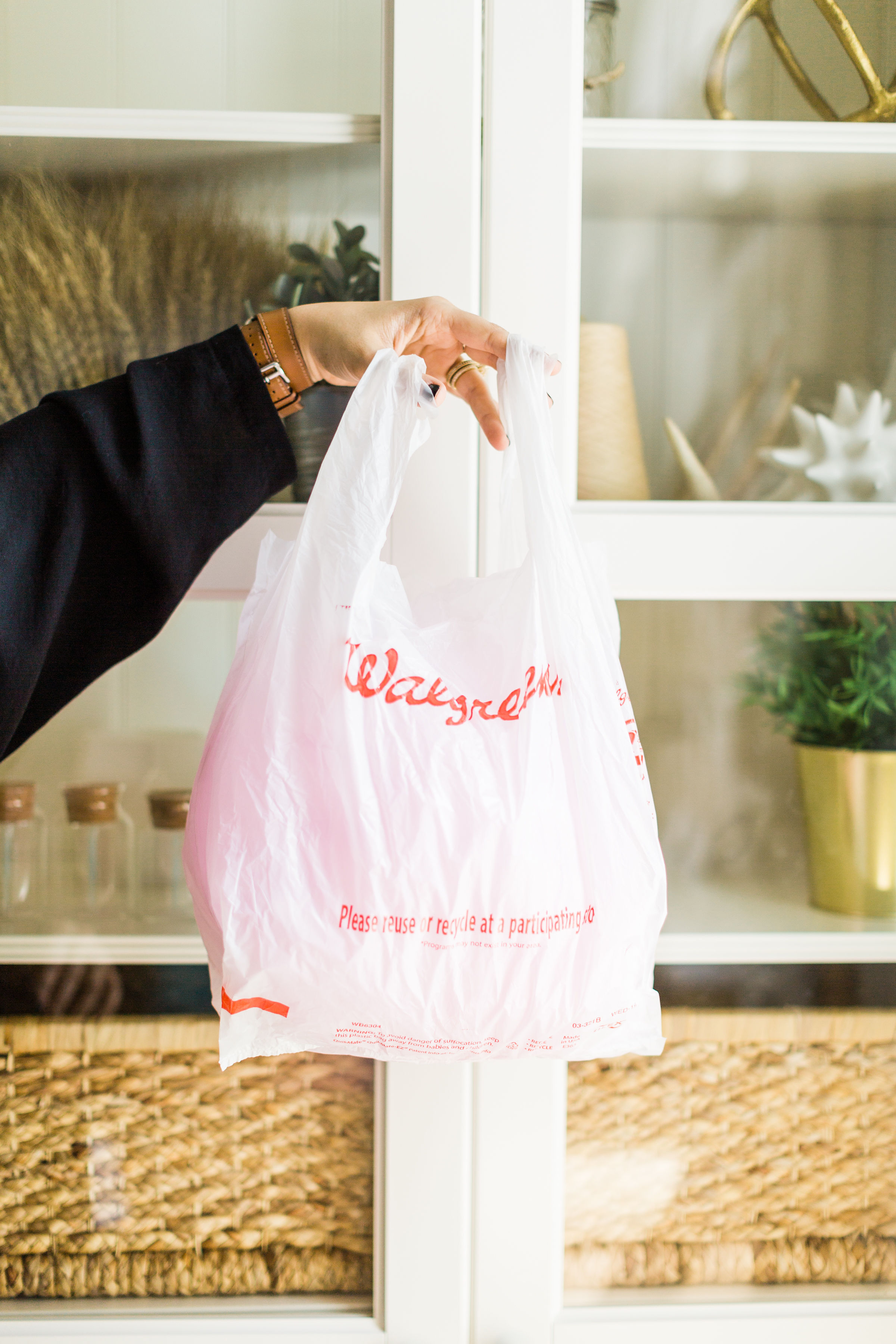 You can find all of the Thicker Fuller Hair products at Walgreens and don't forget to use the coupon $3 off one product!
The Right Hair Brushes
Having the right hair brushes in my beauty arsenal was pretty life-changing. Even more so with my battle against thin and thinning hair. My ideal hair brush shouldn't snag or pull out any extra hair, but should remove dead hair. I have found that regular brushing positively affects my hair's thickness, because it helps distribute the natural oils and exfoliates the scalp, helping to protect hair from damage and add natural shine.*
More on my two favorite hair-saving brushes you never knew you needed here.
Lay Off the Hot Tools
Though it pains me to say it, I always see an improvement in the health of my hair when I give the hot tools – namely my curling iron and flat iron – a rest.
Keeping my hot tool use to a minimum lessened my hair damage and made a noticeable difference in the health and thickness of my hair.*
Eat a Healthy Diet
When I consume good quality protein and good fats like olive oil and Omega 3 (think foods like salmon, avocado, tofu, nuts, coconut oil, olive oil, vegetables, and fruit) it helps me to get all of my key nutrients needed for stronger, healthier hair, promoting hair growth, and ultimately, thicker hair.*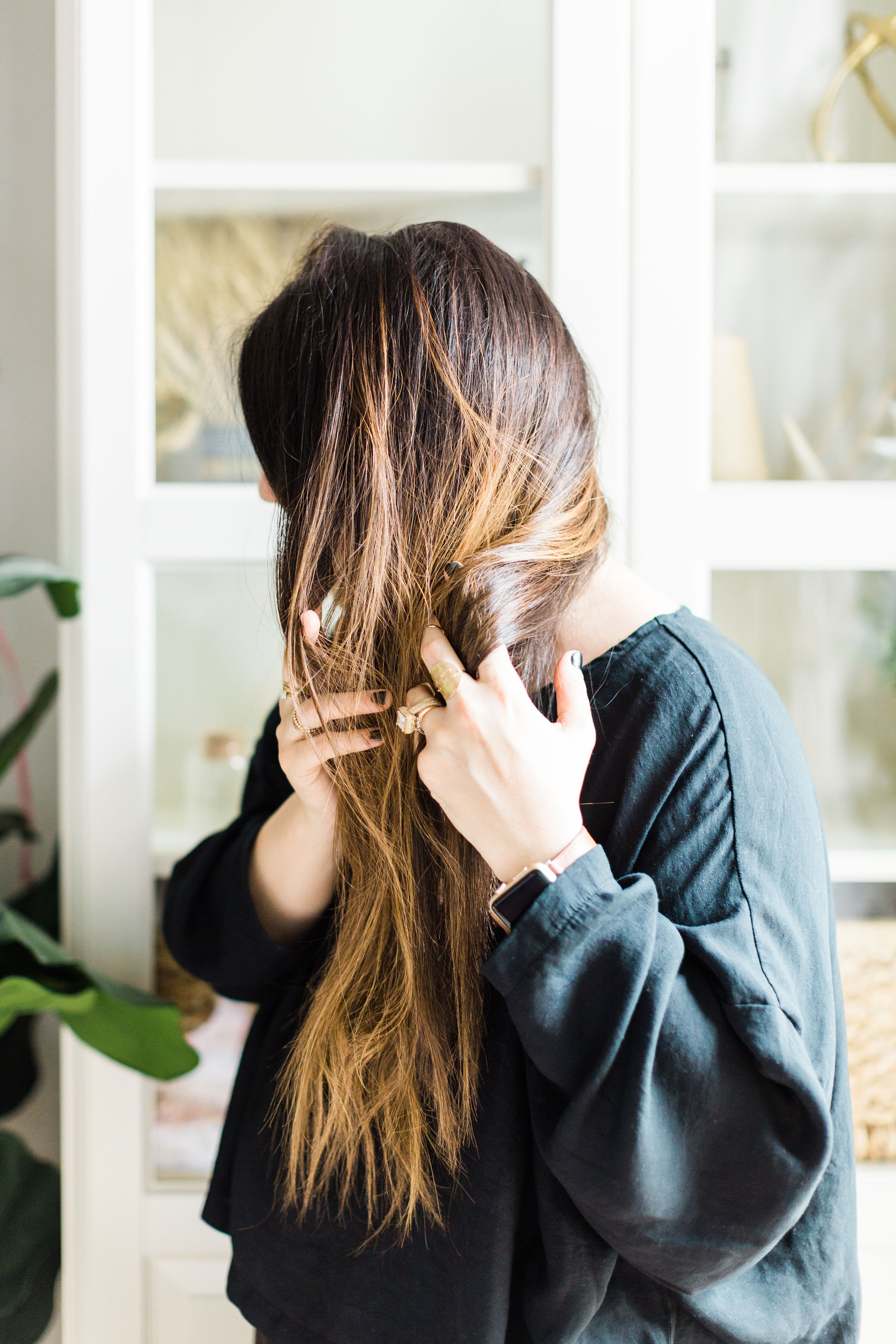 So there you have it: my tricks for thicker hair, including my secret weapons for thicker fuller hair!
Do you have any tried and true tips for thicker hair? How do you keep your hair looking healthier and growing?
Love this post? Be sure to check out all my beauty favorites right here, including the beauty products I can't stop reaching for lately.
Photos by Annie Timmons Photography for Glitter, Inc.
*claims not endorsed by High Ridge Brands