This post contains affiliate links, which means that if you click on one of the product links, I'll receive a small commission. Thank you so much for clicking through and helping to support this little blog business of mine! Read more about our site, privacy, and disclosure policies here.
Looking to update your beauty stash for the cooler seasons ahead? I'm sharing my current favorite beauty products, recent finds, and must-haves, including a few can't miss makeup items and skincare products that really work!
The last time I shared a post featuring a few new-to-me favorite beauty products, it did really well, and I got so many clicks, pins, and questions! I guess just like me, you all are always looking for beauty recommendations. Which is awesome, since I'm also a huge fan of getting beauty product recommendations. And truth time: I get almost all of my makeup tips and suggestions from my uber stylish little sister who inevitably always has her finger on the pulse of everything trendy AND worth it.
With fall right around the corner, I'm all for refreshing my makeup and skincare routine a bit for the cooler temperatures ahead.
*Check out this post with my favorite nail polish colors for fall + winter – still one of my most pinned pins EVER.
Sooooo, now that I've added a few new beauty products to my collection that have quickly become favorites, I thought today, I'd share just what beauty items have instantly become holy grail products in my morning routine.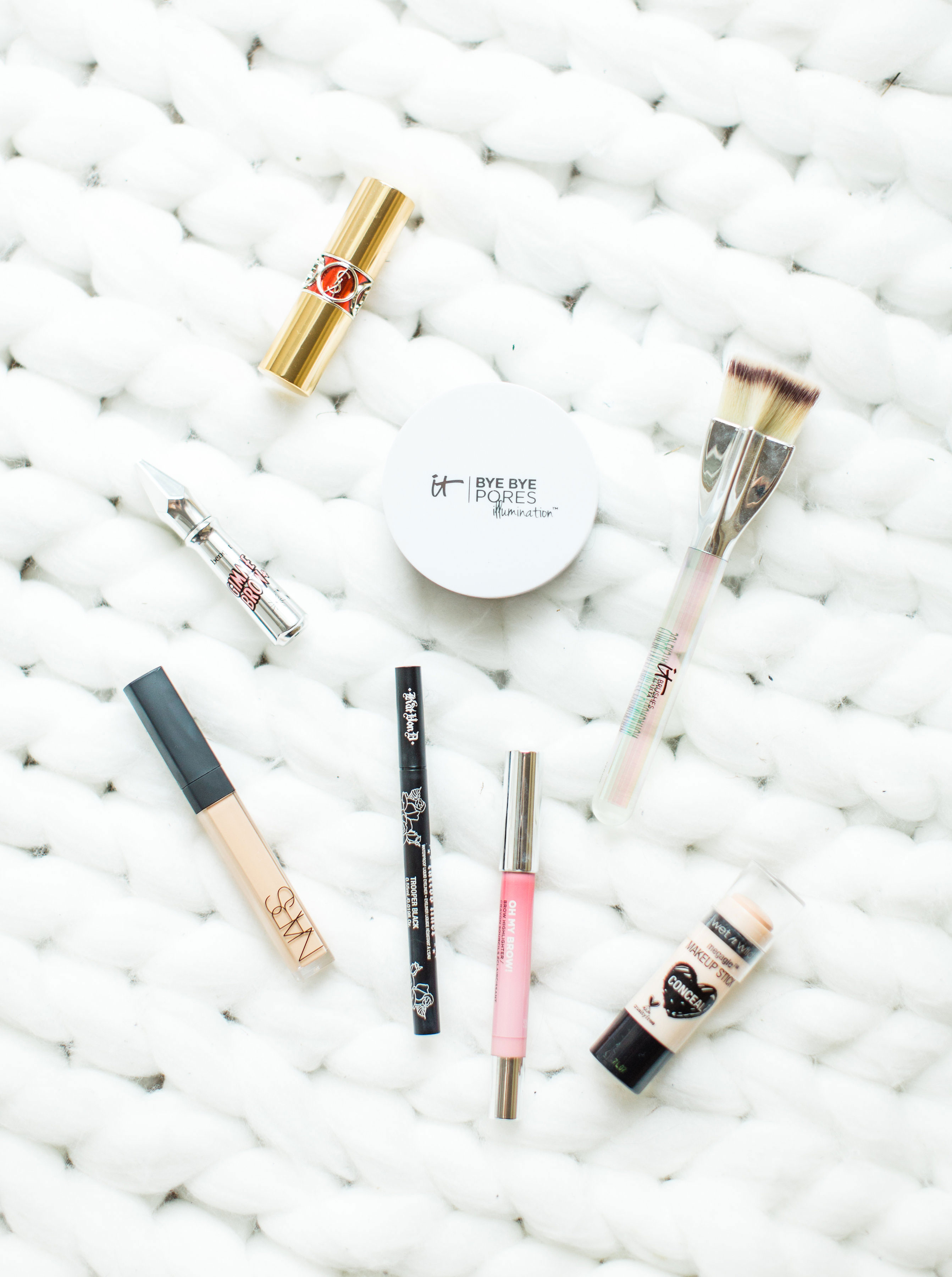 Psst … there also happens to be a HUGE Sephora sale going on RIGHT NOW. Sephora's Beauty Insider Appreciation Event just started. Get ready to score 10-20% off your favorite beauty products! (Not a Sephora Beauty Insider Member? No worries! Sign up for free today to score the discount and to start racking up points. In addition, you'll get a pretty fab birthday bonus each year. Worth it alone for THAT!)
First Access: August 24–29 • Sephora Rouge members get first dibs to shop top beauty finds at 20% off with code YESROUGE a full week earlier than Beauty Insider and VIB members!
The Main Event: August 30–September 3 • All VIB members will receive access to shop event products at 15% off with code YESVIB, and Beauty Insider members will be able to shop the same at 10% off with code YESINSIDER.
Makeup and skin products almost never go on sale. Especially higher end brands and those carried by department stores. So my two cents: stock up at Sephora's Beauty Insider Appreciation Event just in time for fall and winter! If you're planning on purchasing hair, makeup, or skincare items before the end of the year, this is the time to get it. Everything from that coveted top-of-the-line blow dryer, the most talked about curling wand (that I have, love, and swear by!), the most usable eye shadow palette around, to the dreamiest highlighting palette, and even my personal favorite Giorgio Armani foundation that just keeps winning beauty awards because it's soooooo god; IT'S ALL ON SALE.
You can see my past year's Sephora Sale picks here for tried-and-true beauty favorites. Also, 15 of the very best things to get at Sephora's Huge Sale here.
Now let's talk about my current beauty must-haves …
My Current Favorite Beauty Products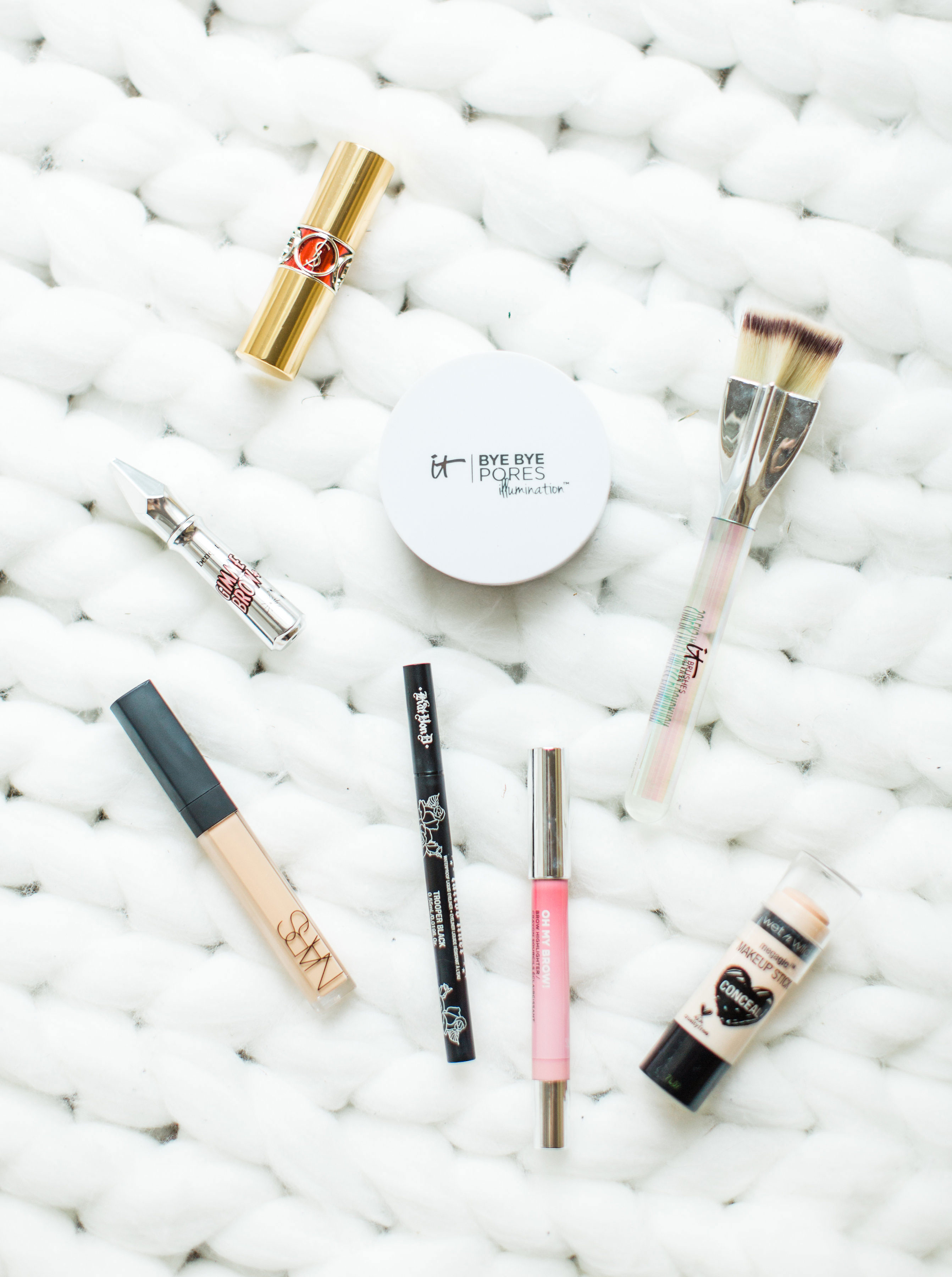 Beauty Favorites
It's no secret that I am obsessed with YSL beauty products. Their lipsticks in particular are luxe, rich, and beautiful. I am loving these Rouge Volupté Shine Oil-In-Stick Lipsticks for an easy lip-conditioning swipe with a pop of color – perfect for day-to-say added color, and, if you're looking for a bold matte lipstick, the Yves Saint Laurent ROUGE PUR COUTURE Lipstick Collection is hands-down my favorite. Also, the shade 1 Le Rouge is the most classic shade of red, possibly ever. I've never met a shade of red I didn't like, but this is THE shade of perfect red.
I give my baby sister full credit for this one. This award-winning concealer provides medium-to-full, buildable coverage and corrects, contours, highlights, and perfects. I mostly use it for under my eyes and to cover blemishes. Works like a charm! Especially if you set it with a bit of powder.
The most talked about long-wear liquid eyeliner actually lives up to the hype. Like everyone else on the internet, I saw the story on People about this woman's viral makeup review claiming Kat Von D Eyeliner never smudges – even after a car accident. (The accompanying tweet is even more wild.) Well, anyhoo, I fell for the hype, hook, line, and sinker, and lo and behold, this workhorse of an eye liner TOTALLY WORKS. It doesn't smudge or run, the marker design makes creating a cat eye surprisingly easy. Furthermore, it really does hold ALL DAY LONG.
I love how this lightweight powder sets my makeup, and the added touch of super subtle radiance is kind of like instant airbrushing in a compact. So cool.
I've said it before, I'll say it again, I looooooove it Cosmetics makeup brushes. The quality is fantastic.
I love how simple this soft, highlighting eyebrow illuminator is to use. Just swipe beneath your brows to give your arches a beautiful boost. (Also, you can put a dab  in the corners of your eyes to make your look more awake/refreshed. Yes!)
Want the appearance of fuller, thicker, bolder brows in one easy swipe? This brow-volumizing tinted gel with tiny microfibers that create subtle and natural-looking fullness and definition – a total fan favorite with a cult-like following – is your go-to. I swear this stuff makes your eyebrows look like you just went in for a microblading appointment, without any of the pain. WINNING. (Note: this brow gel runs a little dark, in my opinion – i.e., I have pretty black eyebrows, but I went with shade number 5, Cool Black/Brown, rather than the darkest shade 6; so err on the side of a shade lighter when you're ordering.)
This is the cheapest, most magical miracle in a stick. You can snag it at the drugstore or Target for under $4! Basically, the velvety, cream-to-powder formula hides all manor of sins. Also, it's ultra-blendable on the skin, isn't cakey at all, is super easy to apply, and covers like none other. SO GOOD. (I've already snagged a handful for my Mom, Sister, and Aunt.)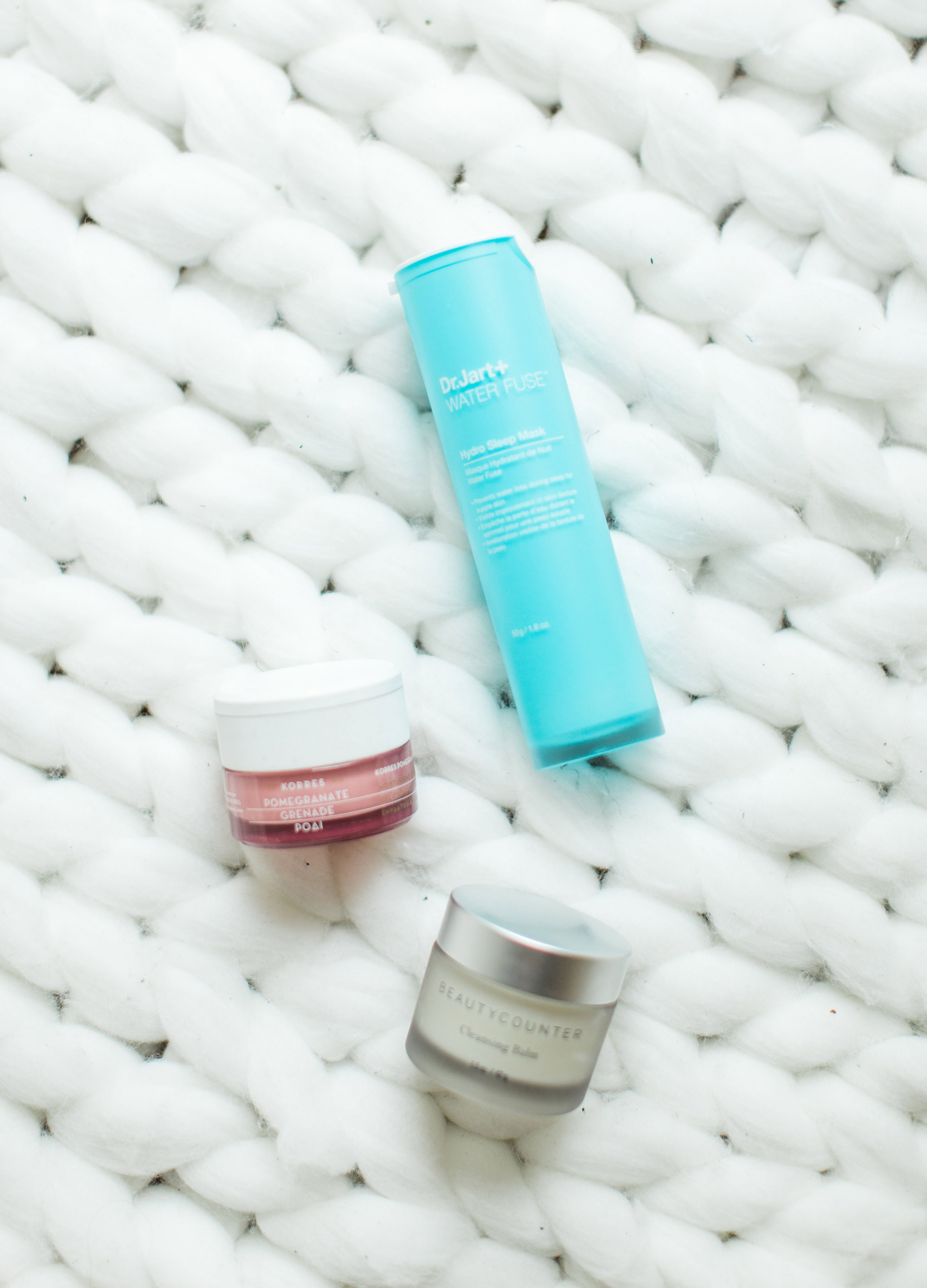 Skincare Favorites
This sleep mask in a bottle enhances skin's moisture level and removes impurities overnight to restore optimal skin condition. It's super great at combatting dryness, loss of firmness and elasticity, and dullness and uneven texture. Also, it's so easy to use, makes my skin brighter and softer, doesn't make your skin greasy at all even though it packs major moisture, and I love the pump dispenser; a.k.a., a sleep mask made EASY.
ERMERGAAAAD, I love this stuff soooooo much. My sister – AGAIN – recommended this moisturizer. She had it on a trip a few months back, and I was embarrassed by how often I reached for HER moisturizer … thankfully, I got my own. The scent is heavenly; seriously, it smells amazing! AMAZING. In addition, I love the lightweight boost of moisture, how it helps to reduce the look of pores, and it can even go on under makeup.
I'm still pretty new to all things Beauty Counter, but when a PR company sent me this Cleansing Balm, I'll admit, I was pretty excited to try it. It's expensive, but definitely works. The best-selling facial cleanser and makeup-remover is packed with nourishing butters, oils, and vitamins. I use it at night to remove my makeup and it helps to make everything just kind of come right off: makeup, yucky impurities, grime, you name it. It also leaves your skin feeling buttery soft. Psst … Also, it works as a super hydrating balm for dry skin; i.e., use it on elbows, feet, and hands in the winter.
SHOP MY BEAUTY FAVORITES | CLICK LEFT & RIGHT ARROWS TO EXPLORE

Any favorite beauty and/or skincare products you're totally loving right now? I'm always on the hunt and I live for a grea recommendation! Be sure to check out all my beauty favorites right here.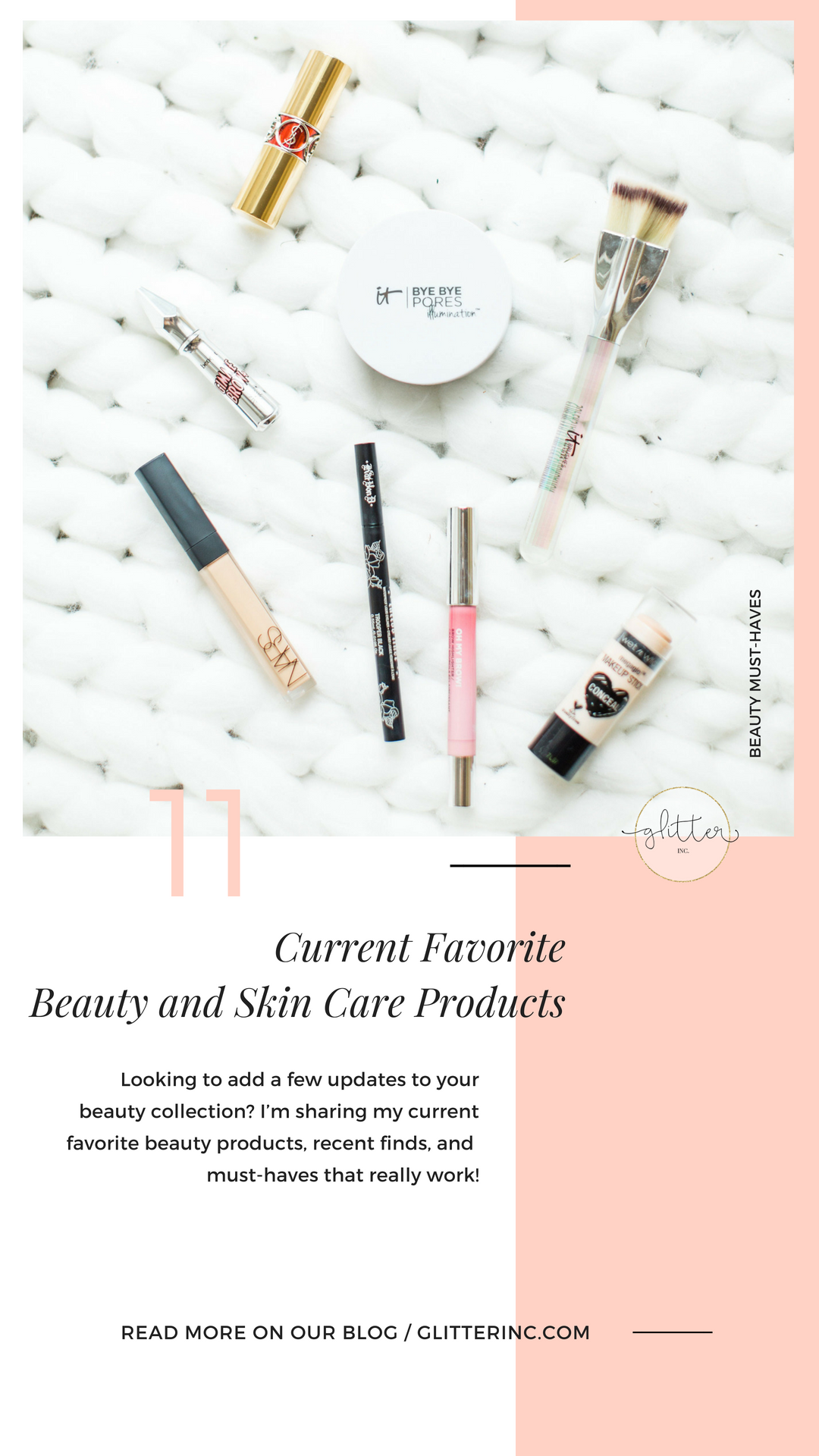 Photos by Annie Timmons Photography for Glitter, Inc.
SaveSave
SaveSaveSaveSave
SaveSave
SaveSave
SaveSave
SaveSave