This post contains affiliate links, which means that if you click on one of the product links, I'll receive a small commission. Thank you so much for clicking through and helping to support this little blog business of mine! Read more about our site, privacy, and disclosure policies here.
Make your own DIY lip scrub at home! This easy lip scrub – made with just three ingredients – will help exfoliate and repair your lips and keep them soft and healthy as the colder temperatures set in. ✨
If you've never thought to exfoliate your lips before, now's the time! When it comes to lip care, we pay a whole lot more attention to hydrating our lips – i.e., with lip balm, chapstick, etc. But get this: exfoliating your lips is just as important for maintaining healthy, smooth, rosy lips. And today, I'm sharing how to DIY your own affordable sugar lip scrub that feels super luxe and will work wonders for your pout — all you have to do is mix it up and rub it on your lips.
Lately, I've had fun creating a few DIY beauty products that I've been loving. For years my mom taught us to use crazy concoctions involving peanut butter, raw eggs, and mayonnaise in our hair, and I always loved to play at-home spa. Recently, I went on the search for an easy DIY lip scrub that I could use to repair my lips post-summer and help keep my lips soft and healthy as the cooler temperatures of fall start to make their way in. Lucky for me, the combination of ingredients produces a glittery, magical honey sugar lip scrub that works like a charm! You'll love this easy DIY glitter lip scrub to help nourish your lips through the seasons.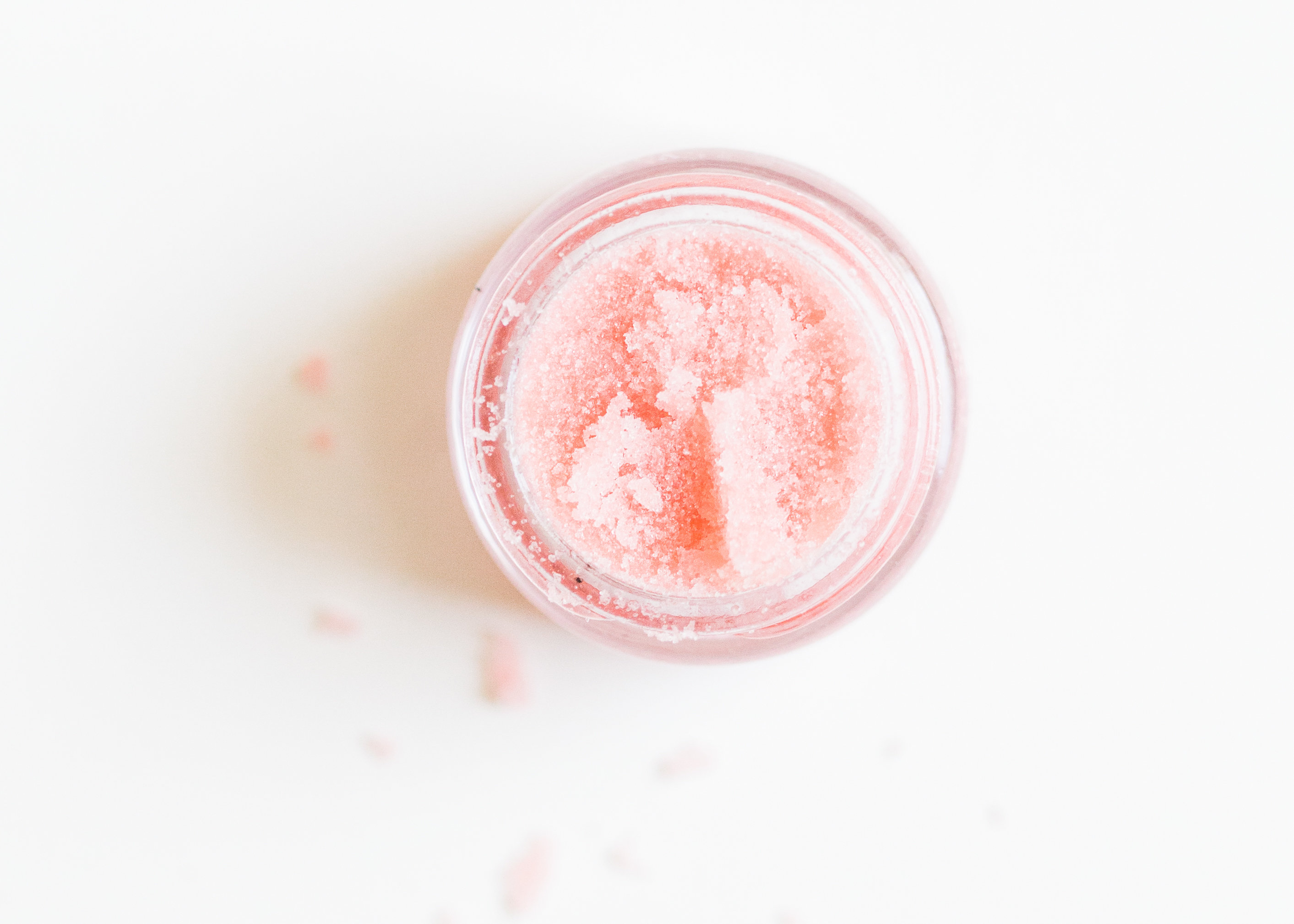 Why You Should
Scrub

Your

Lips

Did you know that scrubbing your lips gently and regularly is the key to keeping your lips soft? Yep, a sugar lip scrub is exactly the ticket for kissably soft lips.

This time of year, lips tend to need a bit more TLC. Cold weather is a big culprit here. With the cold, dry weather, lips have a tendency to dry out and flake more readily, which is why it's more important than ever to take care of those lips in the fall and winter in order to keep them soft, smooth, and ready for that bold fall lip color. Have you ever tried to apply a stunning matte lipstick shade only to find your lips are flaky and peeling and that gorgeous shade of lipstick just won't glide on smoothly?

A good lip scrub helps to slough off dead, chapped skin and helps your lip balm and color penetrate deeper into the skin, giving you a gorgeous pout. Yep – exfoliating regularly will give you supple, rosier, and healthier lips.

In order to keep your lips soft all year long, your lips need two major boosts: exfoliation and moisturizing. Gently exfoliating is step one. Since it's the best way to remove dead skin from your lips so that you have a smooth base to start with. (Seriously, lipstick on chapped lips = a no go.) One of the easiest ways to exfoliate your lips is by using a homemade lip scrub. And this recipe for DIY glitter lip scrub is super easy, affordable, aaaaand, chances are, you already have everything you need in your kitchen.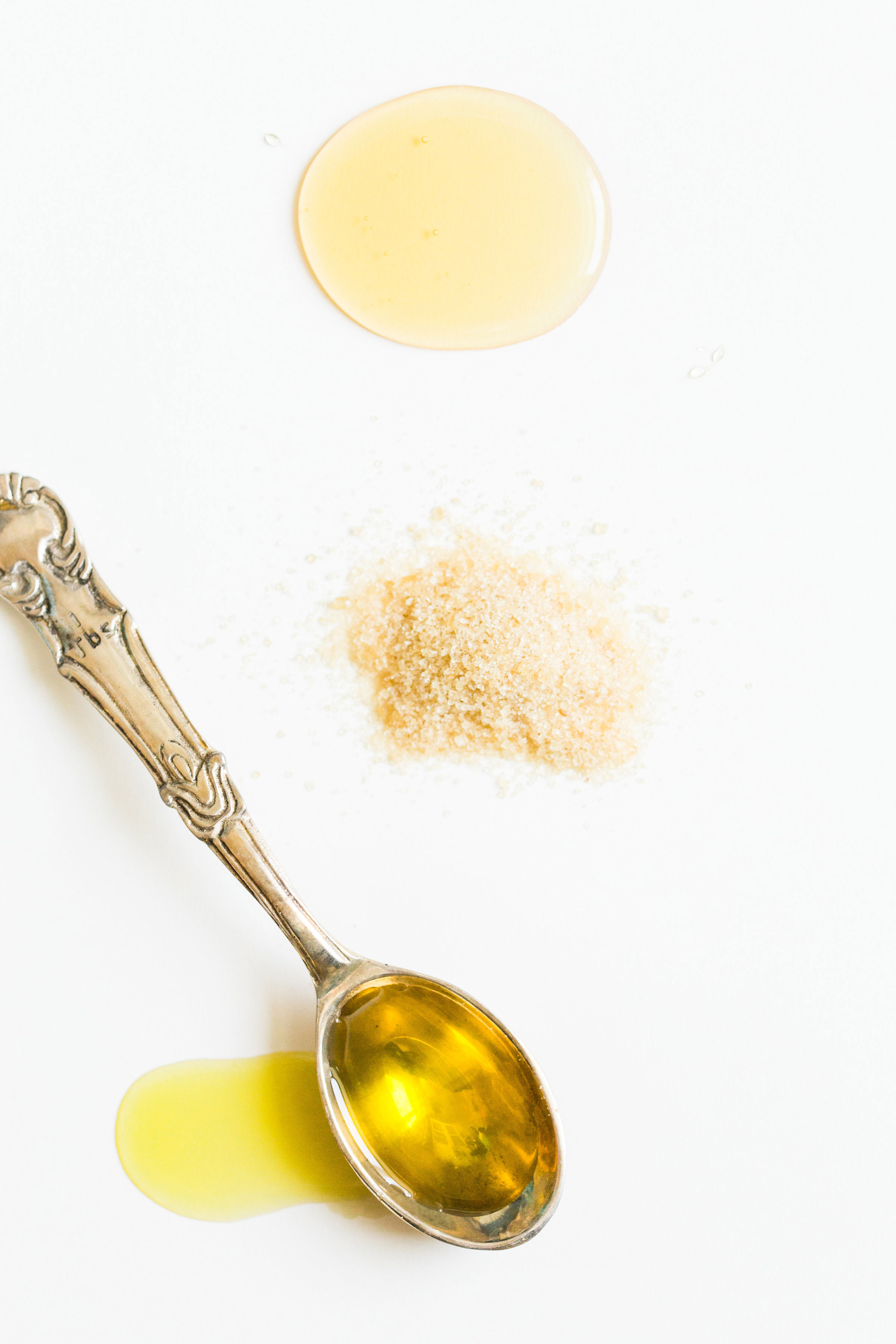 A lip scrub contains two components:
An exfoliant and a nourishing agent. The nourishing agent (a.k.a., an emollient) provides a hydrating base for your exfoliator, making it easier to apply to your lips. A typical DIY lip scrub is made of a natural exfoliant like brown sugar or turbinado sugar to gently exfoliate and some combination of oil and honey (for the oil: either coconut oil, almond oil, or olive oil to add moisture.) My formula for DIY glitter lip scrub typically consists of 1 part brown sugar, 1 part coconut oil (you can also use olive oil. It will achieve the same effect), and 1 part honey.
Granular brown sugar is perfect for loosening and removing the dry skin on your lips and allowing lips to better retain moisture, and the coconut oil helps to moisturize your lips long after the scrub is washed off. Especially because coconut oil is rich in vitamin E to help smooth and soften lips.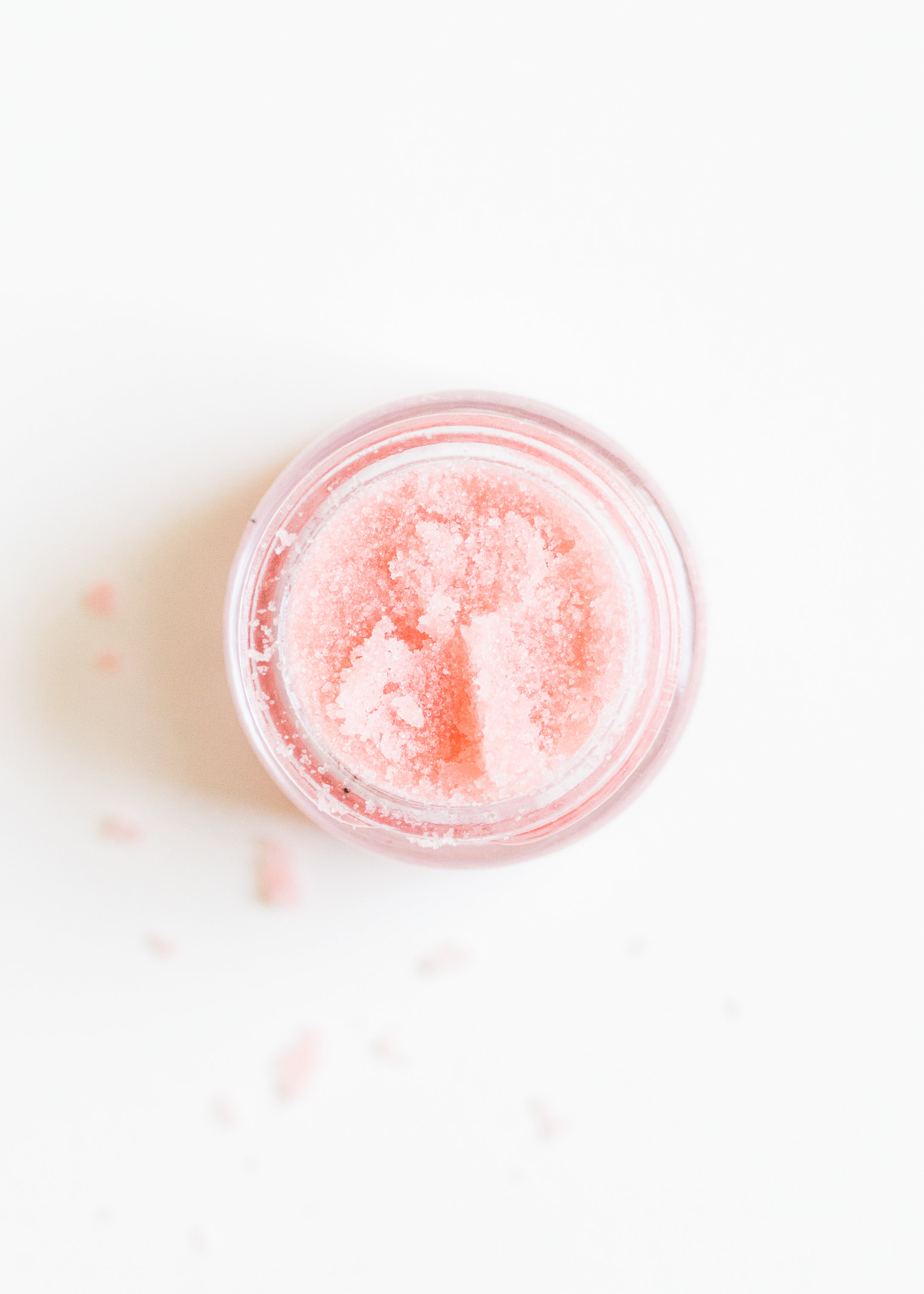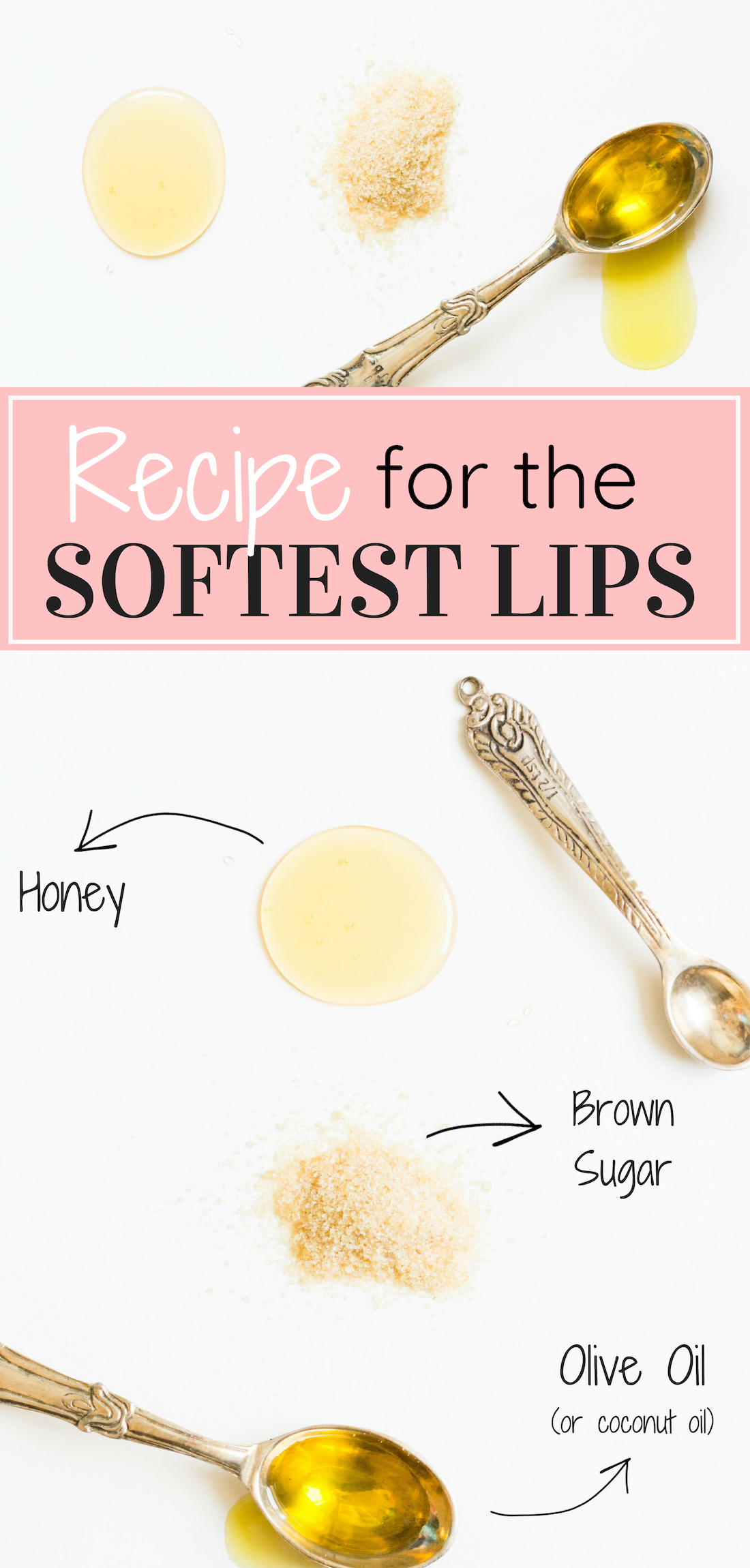 DIY Glitter
Lip

Scrub

Recipe
Ingredients
1 tbsp brown sugar or turbinado sugar
1 tbsp coconut oil (you can also use olive oil, it will achieve the same effect)
Optional: add a scent/flavor by adding a few drops of something like strawberry oil or strawberry flavor
1 ½ tsp honey
Directions
Combine all ingredients in a small bowl and mix together until well-blended and smooth. (Yep, that's it!) The scent/flavors will obviously add a hint of scent to your DIY lip scrub; i.e., making strawberry lip scrub or mint lip scrub. (More on that below.)
To use your DIY glitter lip scrub, rub a small amount onto your lips in a circular motion for about one minute to soften your chapped lips. To remove, you can use a warm, damp washcloth or warm water. You'll be left with soft, smooth lips.
If you have any leftover, store in an airtight container like a small jar with a lid. (These little jars are great and you can use the extras to make homemade lip scrub to give as gifts!) Your DIY lip scrub should keep in the refrigerator for about 2 weeks. So you can get several uses out of it.
NOTE: If you use coconut oil and the coconut oil is too thick to blend easily, you can heat it up for about 10 seconds to soften it a little.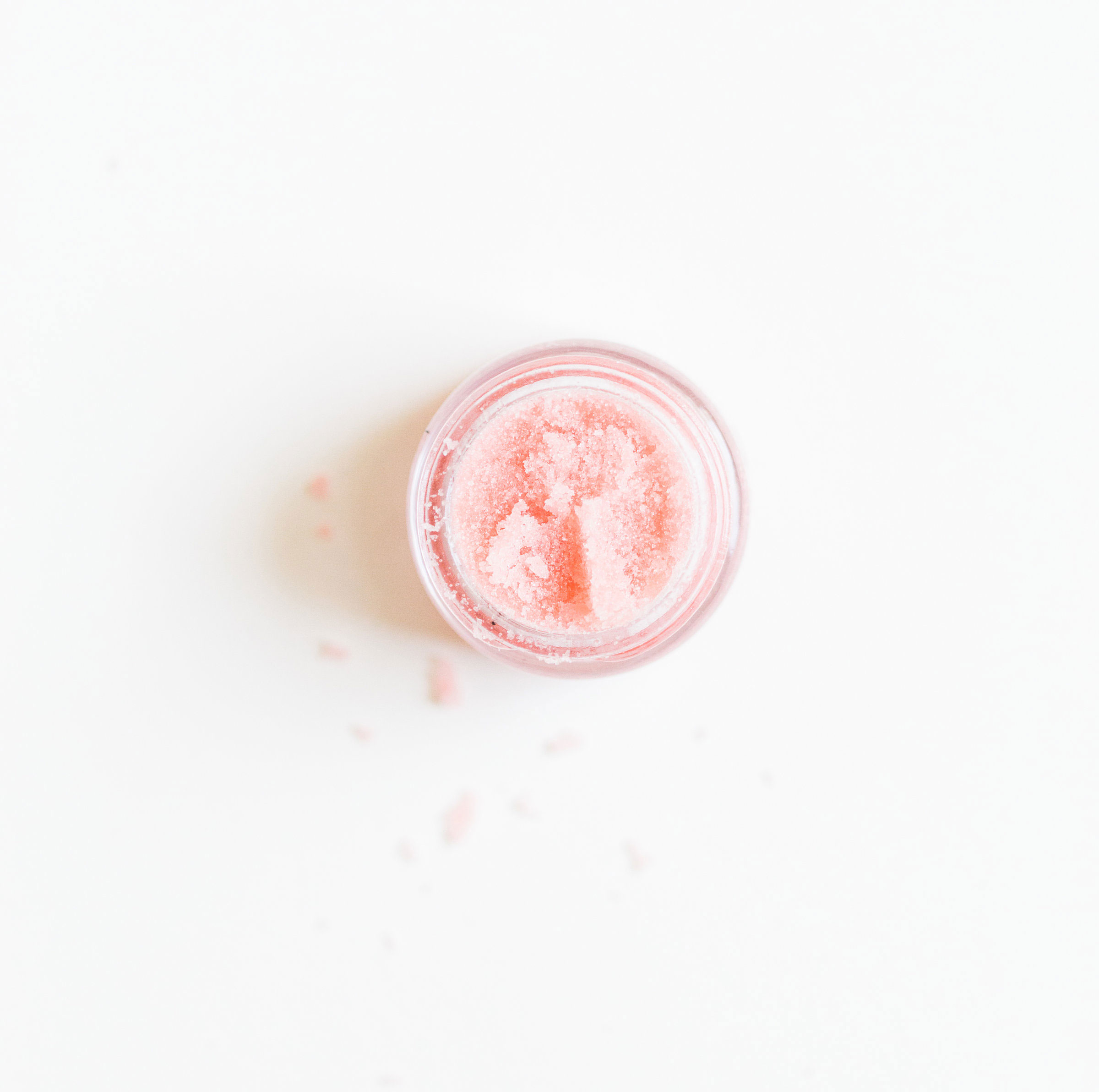 You can also add a subtle scent to your DIY lip scrub, like strawberry, by mixing in a few drops of strawberry oil, strawberry flavor, mint oil, or strawberry powder. (I'm tempted to try watermelon next!)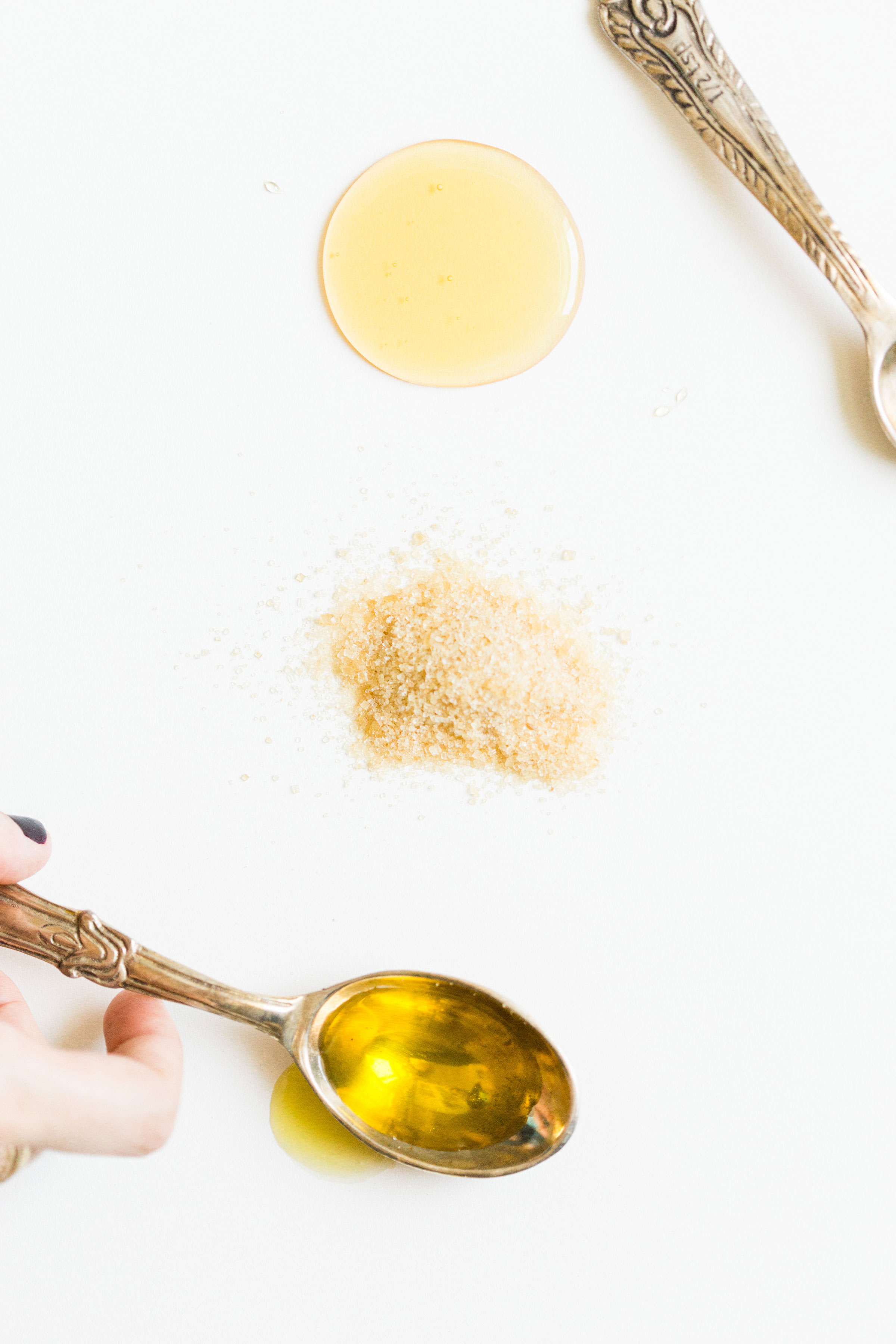 How Often Should You
Scrub

Your

Lips

?

I like to exfoliate my lips once a week to keep my lips free of dead skin and to help repair any damage. Often I'll whip up a batch of this DIY glitter lip scrub and then store the little jar of scrub in our shower so that when I'm showering I remember to devote a minute of attention to my lips.

Do you exfoliate and moisturize your lips regularly? Have you ever tried your own easy DIY glitter lip scrub?

IF YOU MAKE YOUR OWN DIY GLITTER LIP SCRUB, OR DISCOVER ANY OTHER FUN DIY BEAUTY HACKS, BE SURE TO TAG ME ON SOCIAL MEDIA (@GLITTERINCLEXI) SO I CAN CHECK OUT ALL OF YOUR BEAUTY CREATIONS!

Love this DIY glitter lip scrub? Head to our DIY page to check out what else we've been crafting! Also, how to throw a simple backyard bbq picnic.
SHOP THE DIY LIP SCRUB POST | CLICK LEFT & RIGHT ARROWS TO EXPLORE

Photos by Annie Timmons Photography for Glitter, Inc.