This post contains affiliate links, which means that if you click on one of the product links, I'll receive a small commission. Thank you so much for clicking through and helping to support this little blog business of mine! Read more about our site, privacy, and disclosure policies here.
Want a simple and fun Halloween craft to try this season? All you need is nail polish (and pumpkins) to make these totally chic marbled pumpkins!
Guys, I've discovered something magical, and I might never stop marbling ALL of the things. These DIY marbled pumpkin pumpkins are beautiful and unbelievably simple to make. And isn't marble so on-trend right now? The whole project takes maybe two steps and the best part is: you have everything you need already at home to make DIY marbled pumpkins. (All you need to make your own marbled pumpkins is a plastic bowl, warm water, and nail polish! And pumpkins, of course.)
Oh yeah, you read that right: these DIY Nail Polish Marble Pumpkins are dip-dyed in a water/nail polish mixture that adds a really cool pop of "wow" to an otherwise traditional pumpkin. Be prepared to have the coolest, most envy-inducing marble pumpkins on the block. How's that for stepping up your totally chic fall décor game?
DIY Marbled Pumpkins
My search for finding the perfect marbled pumpkins all started early on in the fall. I love the color black, and have had a crush on the Target marbled faux pumpkins for weeks. (Anyone else able to get their hands on those faux pumpkin beauties before they quickly sold out?) Creating my own DIY marbled pumpkins seemed like the perfect solution! And making my marbled pumpkins black and white just made perfect sense since I am forever devoted to the stylish combo. The chic result was beyond what I could have hoped for.
Though considering how much my little girl loved dipping the pumpkins in our water and nail polish "potion," our next round of DIY marbled pumpkins might have to be rainbow-colored (a.k.a., Lisa Frank) inspired pumpkins using several brighter shades of nail polish. So much fun.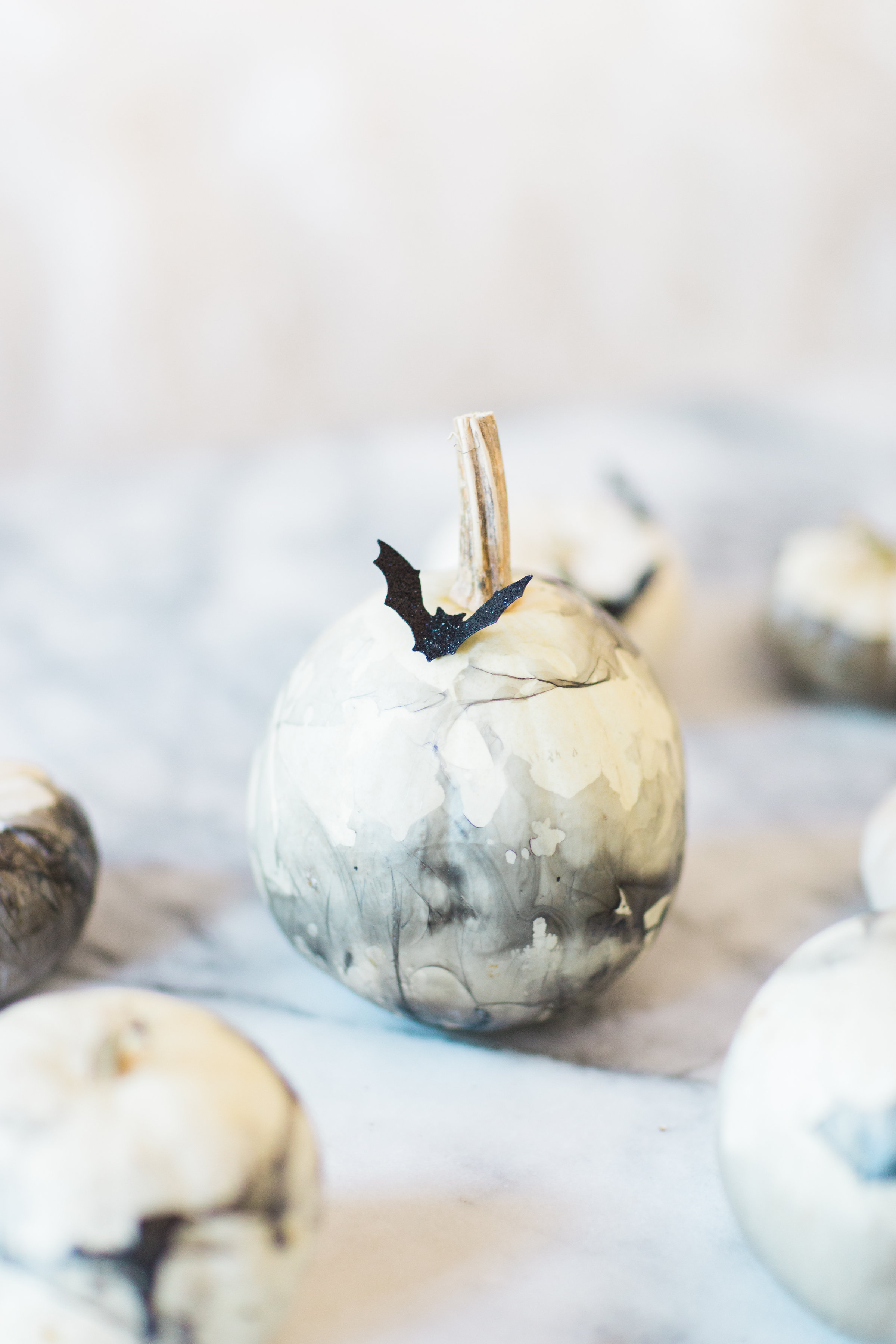 NOTE: Using white pumpkins – and starting with that neutral white backdrop – is a big part of what really helps the marbled look to pop. Of course you could use traditional orange pumpkins for this DIY, but the marbled effect may not stand out quite as much on a darker-colored pumpkin.
Using black nail polish also helps to up the spooky factor that's just perfect for the month of October. I love that these pumpkins look marbled but also as though they're covered in spooky black cobwebs … they feel so very Halloween.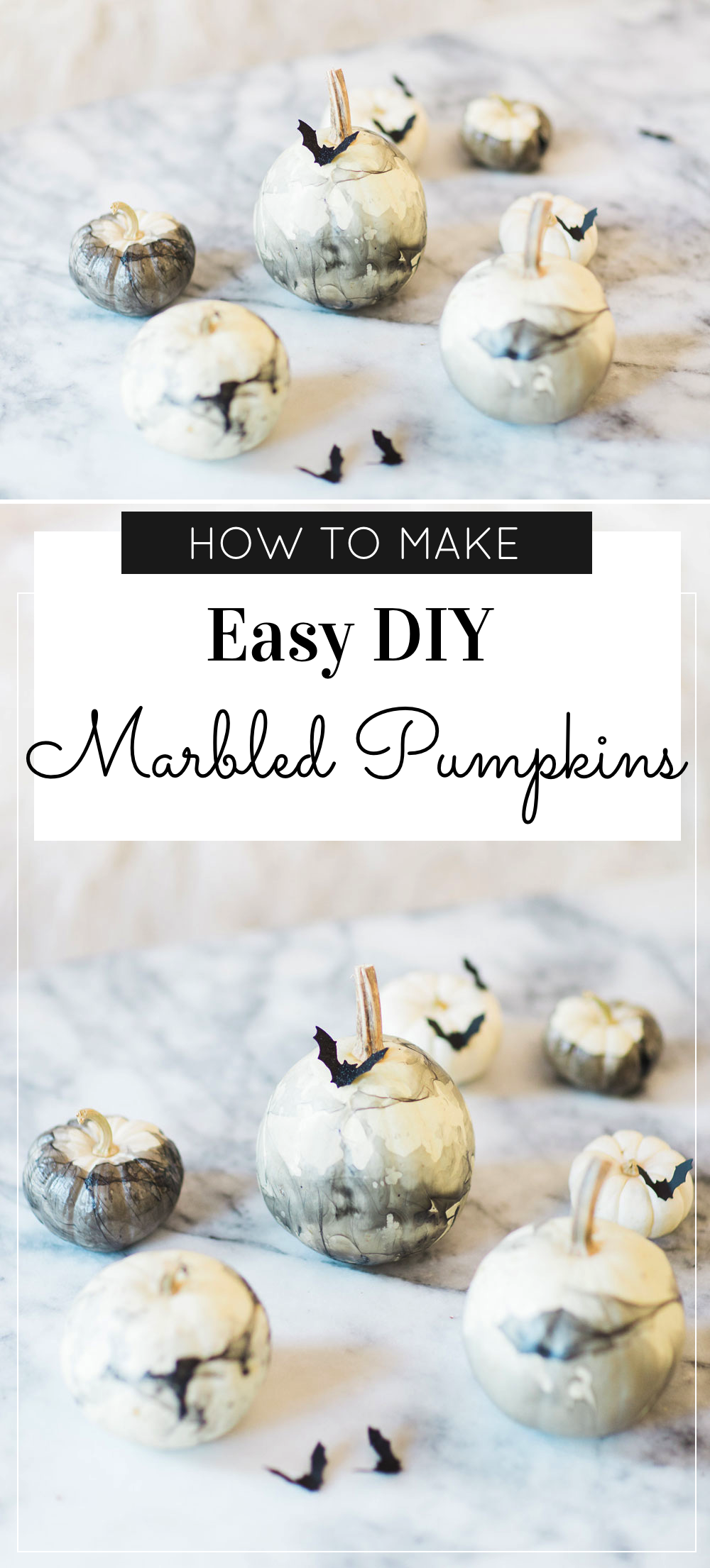 DIY Nail Polish Marble Pumpkin
WHAT YOU'LL NEED
black nail polish
disposable plastic container or bowl (large enough ti fit one pumpkin at a time, with some room to spare)
white pumpkins (I like to use a mix of mini pumpkins and medium-sized pumpkins)
DIRECTIONS
How To Paint Your Pumpkins With Nail Polish
Fill a plastic container 3/4 full with lukewarm water. (If the water is too cold the nail polish will sink. Feel free to heat your water up just a bit before you start.)
Pour nail polish. It will mostly float on top of the water, coming to the surface of the water.
Dip each pumpkin one at a time in the water, holding the stem, and spin a bit.
Remove from water and dry on wax paper or a few sheets of paper towel. Continue the process one by one – dipping the pumpkin in water, occasionally adding a few more drops of nail polish to your lukewarm water.
As the DIY marbled pumpkins are drying, flip pumpkins after about 20 minutes to dry on the other side. Allow to dry completely.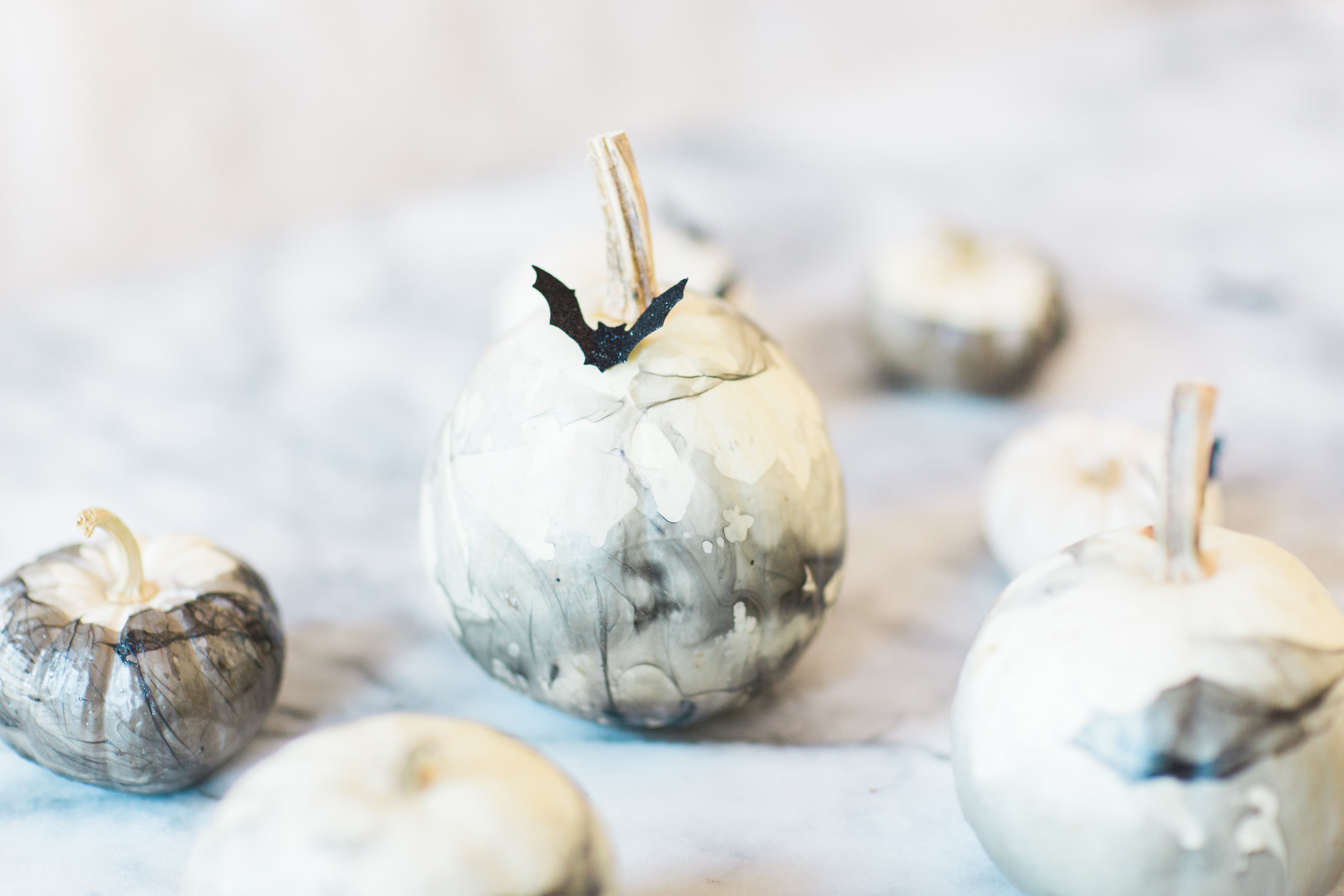 NOTE: The nail polish will begin to seize up by your third or fourth pumpkin. If you plan to make more, you may want to pour your water out and repeat the process every few pumpkins.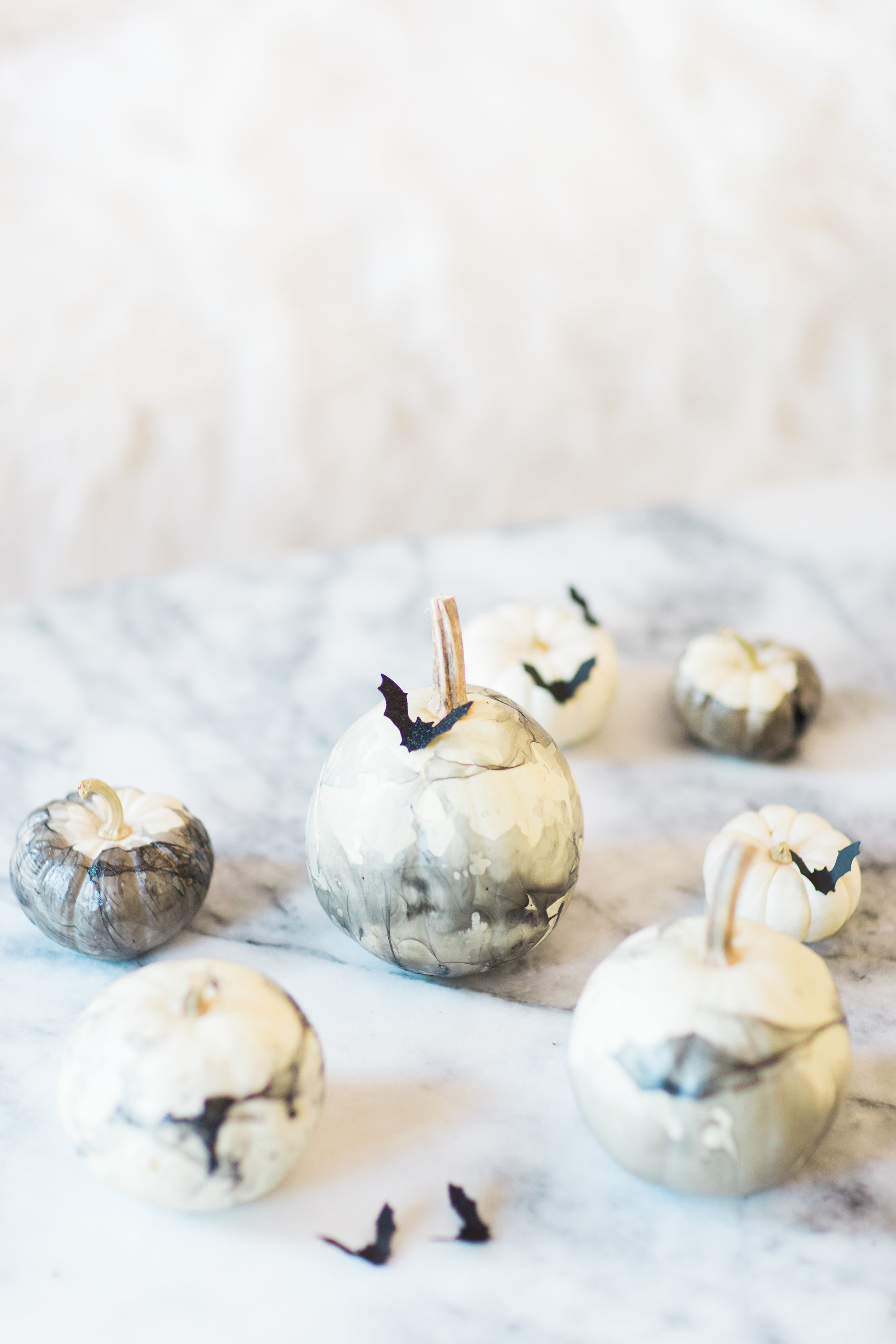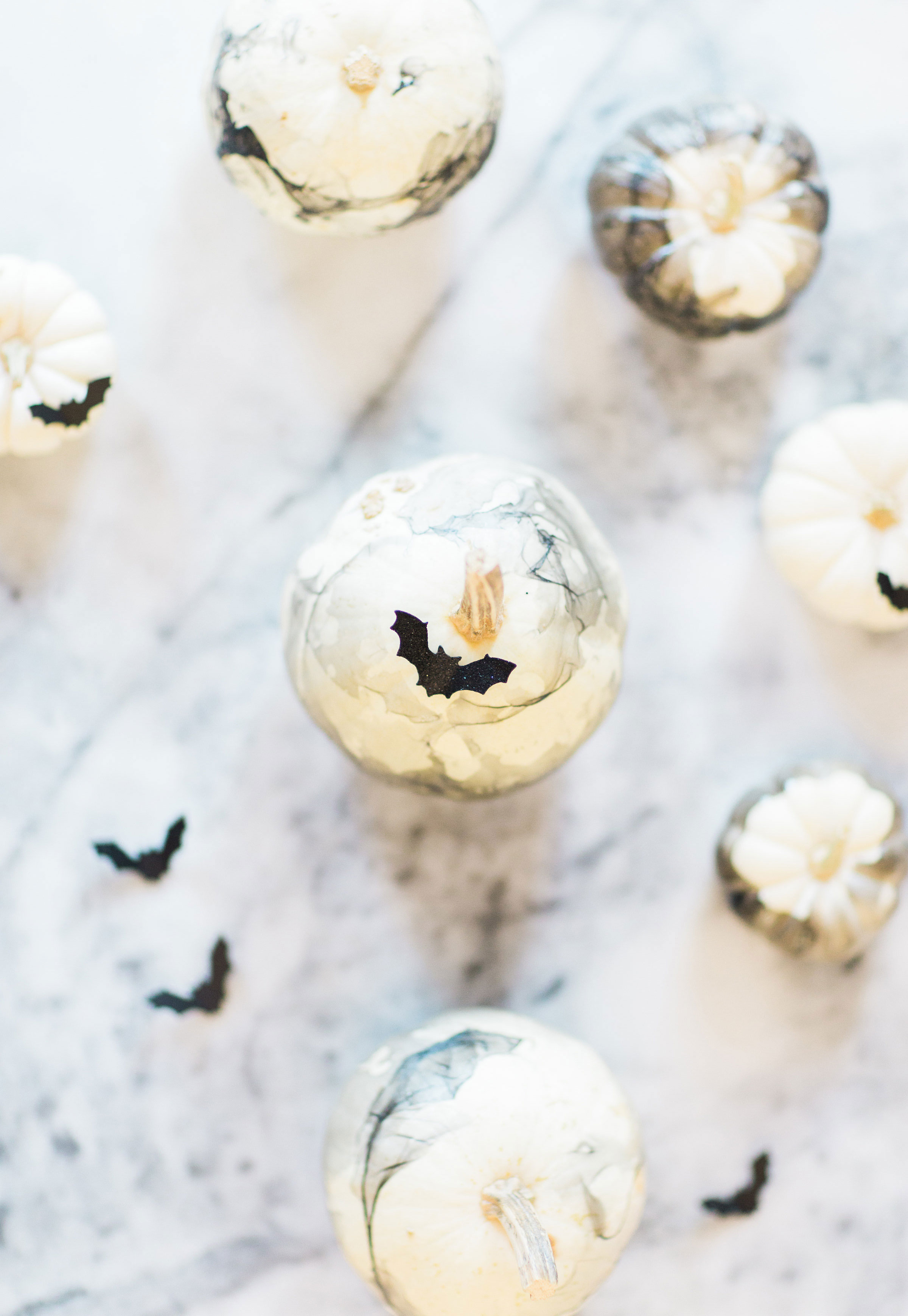 By the way, The adorable black bats (also available here) are actually paper stickers from Target. If you haven't yet, check out Target's dollar section (just about everything in that section at the entrance of the store is $1 or $3 … and fabulous … seriously, I can't shop Target without spending at least 15 minutes in the dollar spot); they always have adorable and affordable seasonal decorations, and right now, it's ALL Halloween and fall décor.
Small plastic or paper black spiders would also look really great on these marbled pumpkins, especially because the marbling looks so much like cobwebs and spooky black spider webs.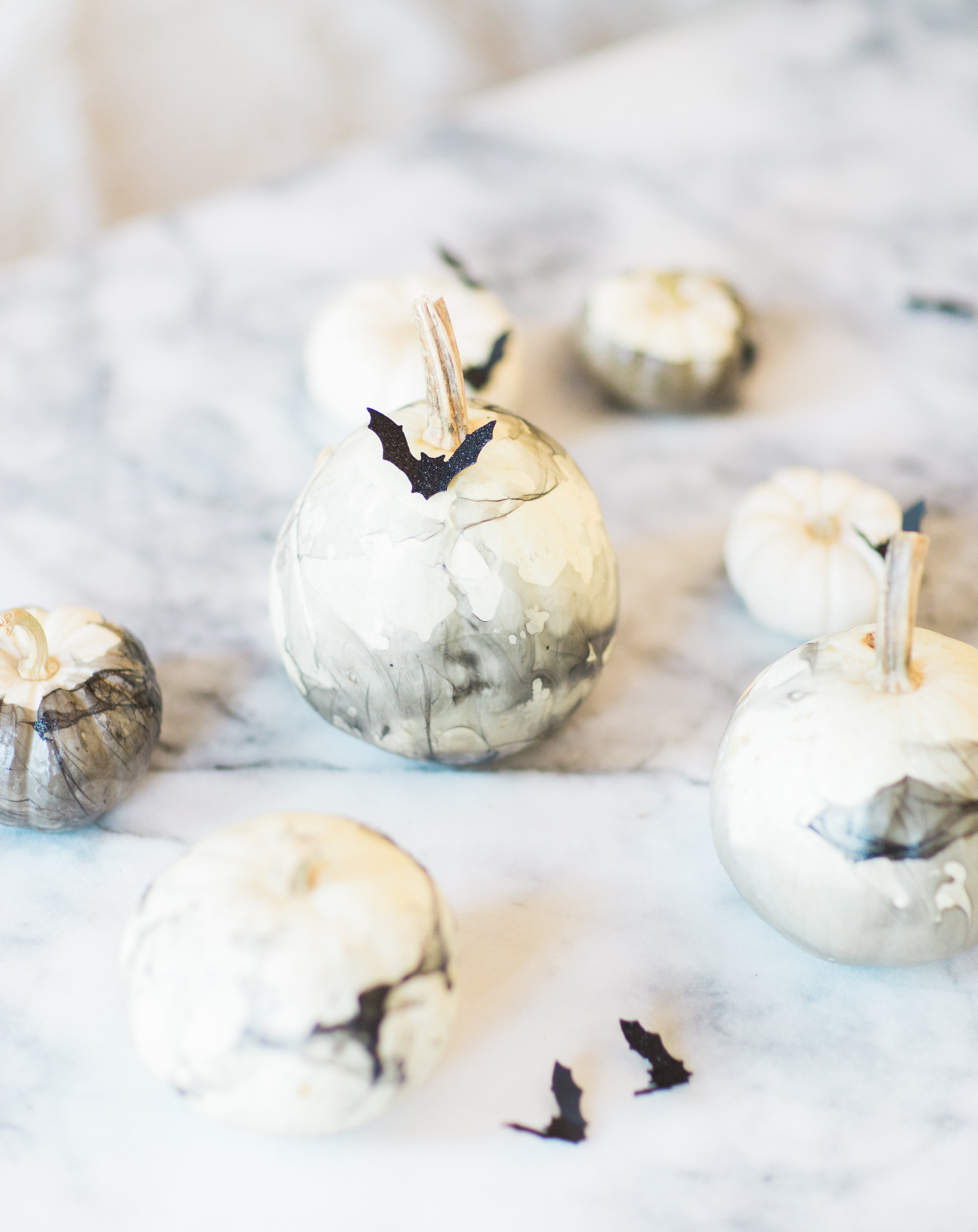 Even the bottom of these DIY marbled pumpkins are gorgeous. I mean, just look at that …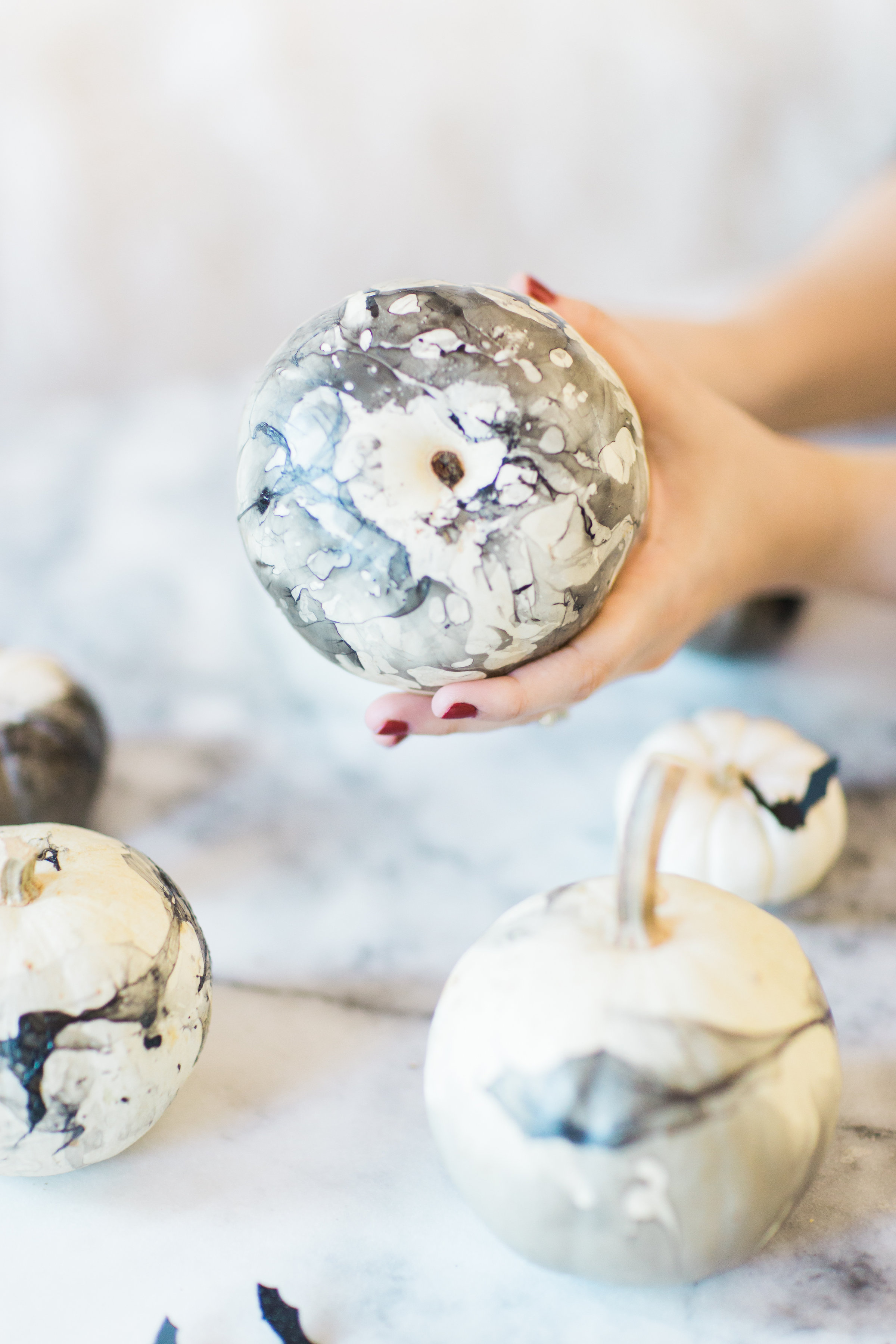 SHOP THE DIY MARBLED PUMPKINS POST | CLICK LEFT & RIGHT ARROWS TO EXPLORE

Love this DIY post? See what other crafts we've been making right here. And if you're looking for a little more Halloween inspiration in particular, check out our dip-dye glitter pumpkins, super easy 3-ingredient glitter slime, and our Halloween front porch.
Let me know if you create your own DIY marble pumpkins! I'd love to see your creations. These have been so much fun to make and see year after year!
Photos by Annie Watts Photography for Glitter, Inc.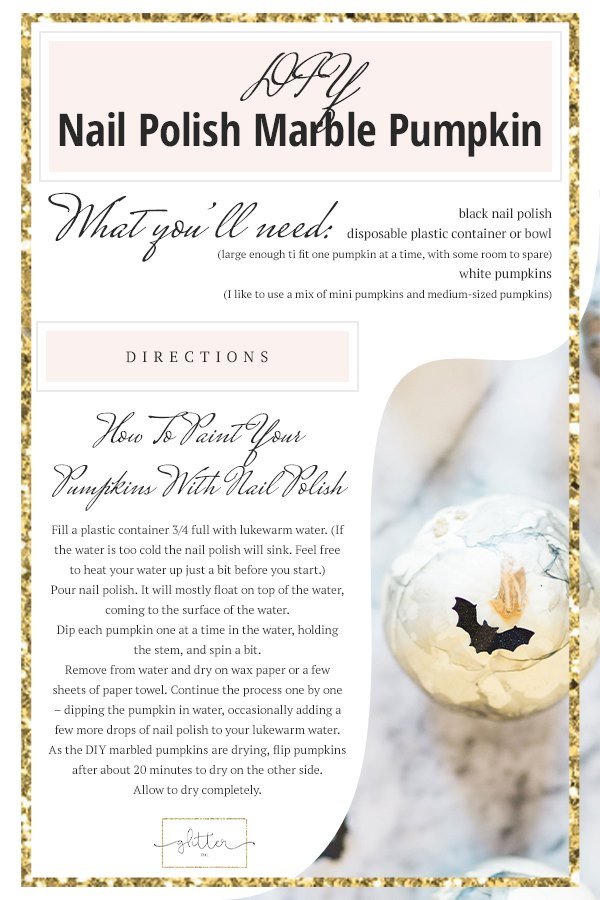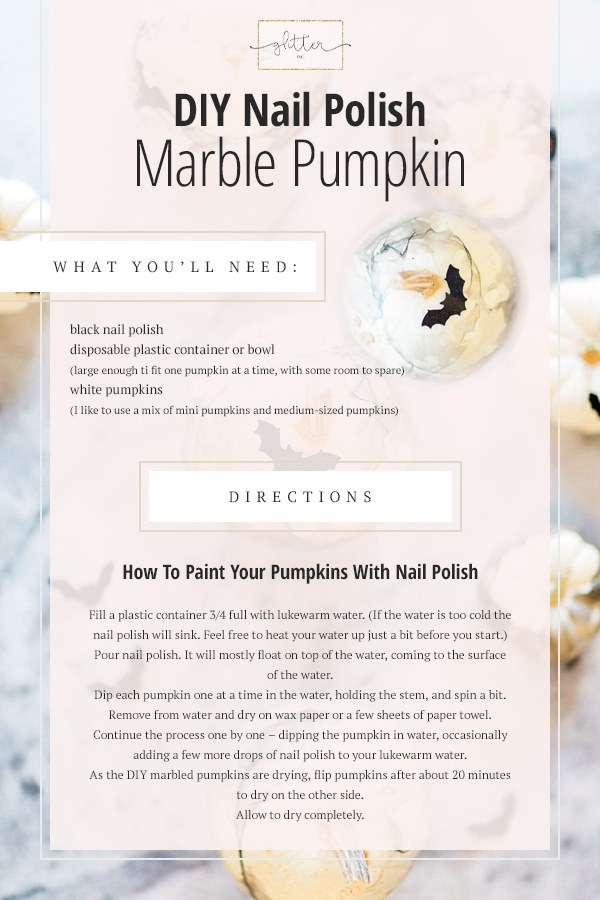 Big thanks to our friends at Stroller Envy for creating the above graphics!