This post contains affiliate links, which means that if you click on one of the product links, I'll receive a small commission. Thank you so much for clicking through and helping to support this little blog business of mine! Read more about our site, privacy, and disclosure policies here.
In a lunchtime rut for your kids' lunches? Need a little lunch-packing inspiration? Look no further! I'm sharing 10 easy and yummy bento box lunch ideas, plus a review of our favorite bento boxes: the Bentgo Kids Bento Boxes, Bentgo Fresh Bento Boxes, and OmieBox Bento Boxes.
I'm a huge fan of serving my kids school lunches in bento boxes. The compartments make it fun and easy to add variety to our kids' lunches, and the Bentgo Kids Bento Boxes, Bentgo Fresh Bento Boxes, and OmieBox Bento Boxes in particular, are super sturdy and can easily survive wear and tear.
Today I'm sharing 10 super simple and yummy bento box lunch ideas, but if you're looking for even more ways to make lunchtime and snack-time a breeze this school year, you do not want to miss these 50+ awesome lunch AND snack ideas both grownups and kids are sure to love!
I had a bunch of my blogging mom friends share their best lunch recipes for back-to-school, and there are seriously SO many good ideas in that post!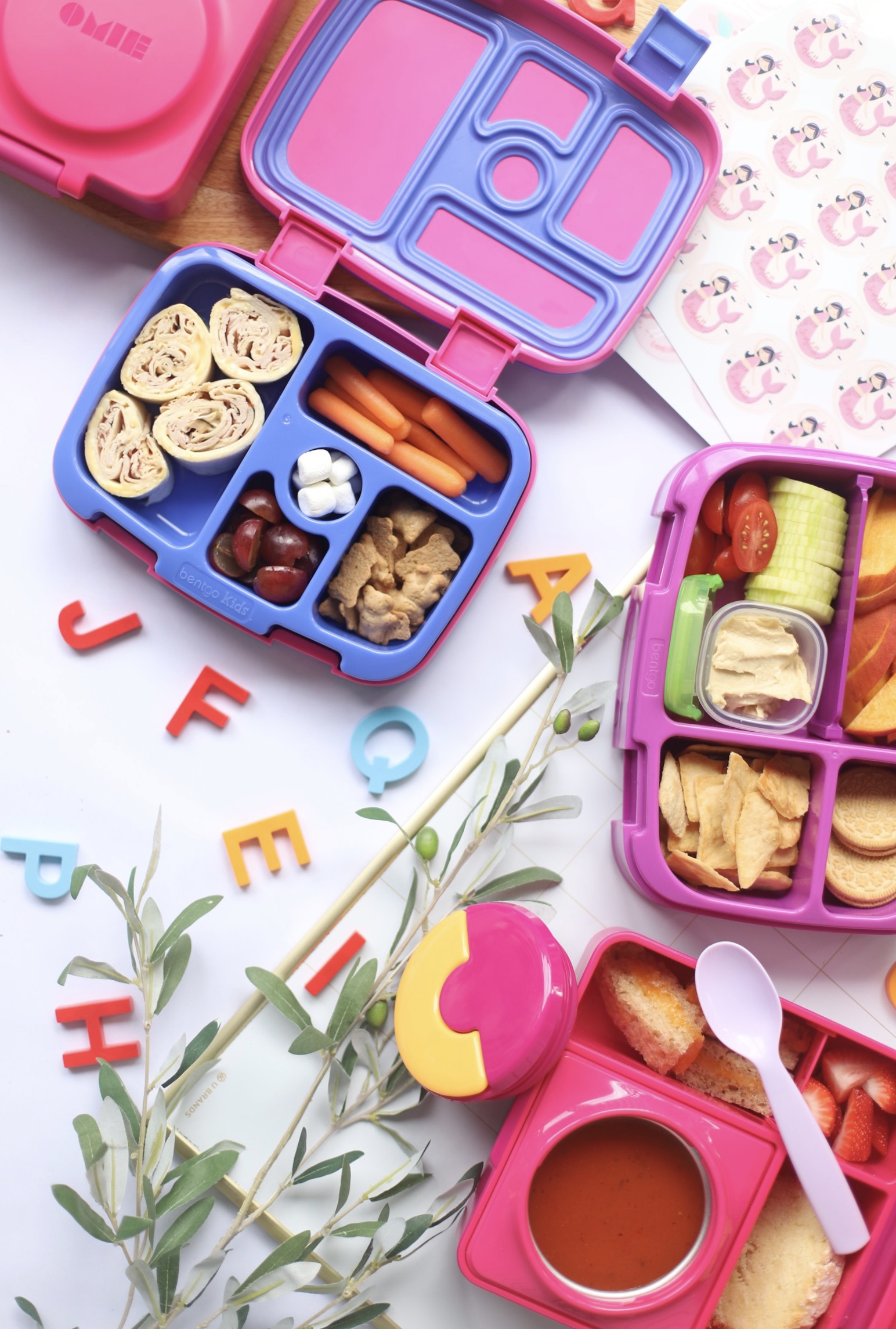 A Review of the Bentgo Kids, Bentgo, and OmieBox Bento Lunch Boxes
Before we dive into what to put in your kids' bento lunch boxes, I wanted to share a quick look at our favorite bento style lunch boxes, a quick review of the three we use most, and why we love them!
Bentgo Kids is the smallest of the Bentgo bento-style lunch boxes, made just for young kids, with smaller compartments. The Bentgo Kids box has a compartment for fruit, veggies, dip, an entrée/sandwich, and dessert. The box is leak-proof and super sturdy. Although it has the smallest compartments of the Bentgo box options, I still find that the Bentgo Kids box has plenty of room. The entrée section can hold a full sandwich and I find the other compartments to be just enough. The kids box is perfect for toddlers through kids up to around 6 or 7, depending on how big of an eater your little one is.
The Bentgo Fresh bento box is the larger of the two Bentgo boxes, though it's not that much bigger than the Kids version. I really like that this style is customizable, with a removable tray that features 3 leak-proof compartments to hold a main dish and two sides; or, you can insert the optional divider to create 4 compartments when you want to pack even more variety.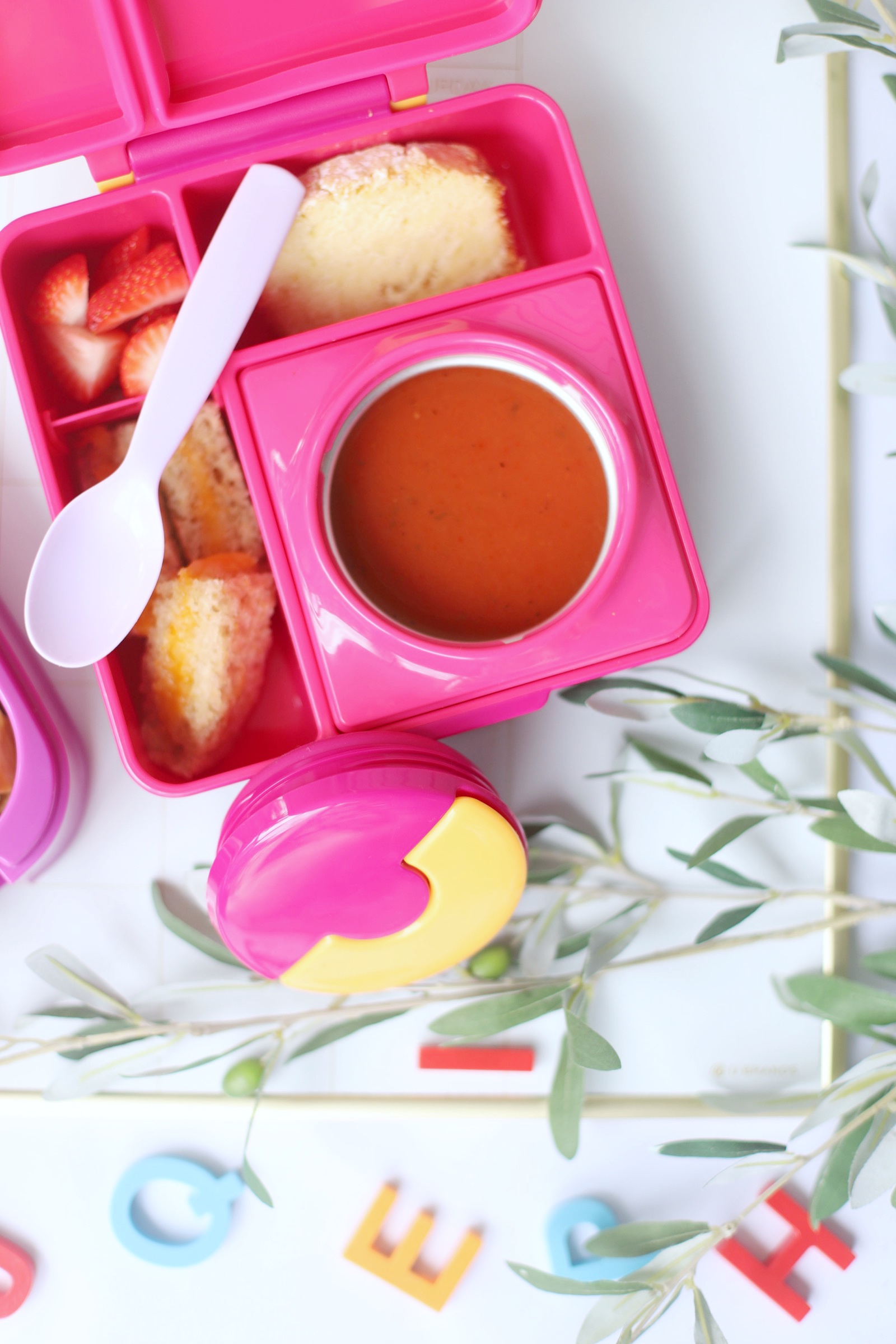 The OmieBox is extra awesome because it has a THERMOS INSERT that lets you easily pack hot food. I don't know about your kids, but mine always seem to gobble up lunch when it's their favorite pasta or soup served warm. Basically, use the OmieBox when you want to send pasta, soup, oatmeal, or last night's dinner leftovers. OmieBox allows you to pack HOT & COLD TOGETHER in one compact bento box. Plus, it has a really cute carry handle that folds down and the thermos can be removed entirely, leaving you with a big open section in your bento box if you want to switch things up and make it a more traditional bento style lunch box. Oh, and you can move around the divider to customize the compartments. BIG fan of this one.
What Lunch Box Do You Use to Hold Your Bento Boxes?
A note on lunchboxes: all three of the bento boxes that we use – the Bentgo Kids Bento Boxes, Bentgo Fresh Bento Boxes, and OmieBox Bento Boxes – fit inside the Pottery Barn Kids "Cold Pack" Style Lunch Boxes with room leftover for a snack or two and a drink or water bottle (in the side compartment).
In addition to the Pottery Barn Kids "Cold Pack" Style Lunch Box, the Bentgo Kids Bento Boxes, Bentgo Fresh Bento Boxes, and OmieBox Bento Boxes should also all fit in the Bentology Insulated Durable Lunch Bag, the Wildkin Large Insulated Two Compartment Lunch Bag, and the PackIt Freezable Lunch Bag with Zip Closure.
We used to use the Pottery Barn Kids Spencer Bento Box Containers in the Pottery Barn Kids "Classic" Style Lunch Box, but we found that our oldest, Scarlett, couldn't easily get her bento box in and out of the lunchbox. It also wasn't leakproof, so we made the switch.
Any Other Must-Have Lunch Box Accessories?
When I want to separate out smaller items like nuts, raisins, snacks, etc., I like to use silicone baking cups.
I also really like these Bentgo Sauce Containers. The containers allow you to bring a small amount of any sauce, like ketchup, dressing, or hummus, inside your Bentgo Lunch Box.
Neither of our girls' classrooms have refrigerators available, so in order to keep our kids' lunches cool through lunch, I typically put at least one of these Bentgo Ice Lunch Chillers, the cold-pack insert that comes with the Pottery Barn Kids "Cold Pack" Style Lunch Box, or one of these Pottery Barn Kids Soft Freezer Packs. (We have the Disney Princesses and the Ballerinas and the girls absolutely love them.) All of these options keep the kids' lunch nice and cold and are nice and flat so that they don't take up a whole lot of room in the lunch box.
To label the girls lunchboxes (and Hydro Flask 12 oz Kids Water Bottles), we use Minted Name Labels. All of Minted labels are super pretty (and designed by independent artists), and are completely dishwasher safe, waterproof, laundry safe, and non toxic. Every year we let the girls choose and design their labels and then we use them for everything! (Lunchboxes, thermoses, rain boots, jackets, coats, notebooks, the list goes on and on.)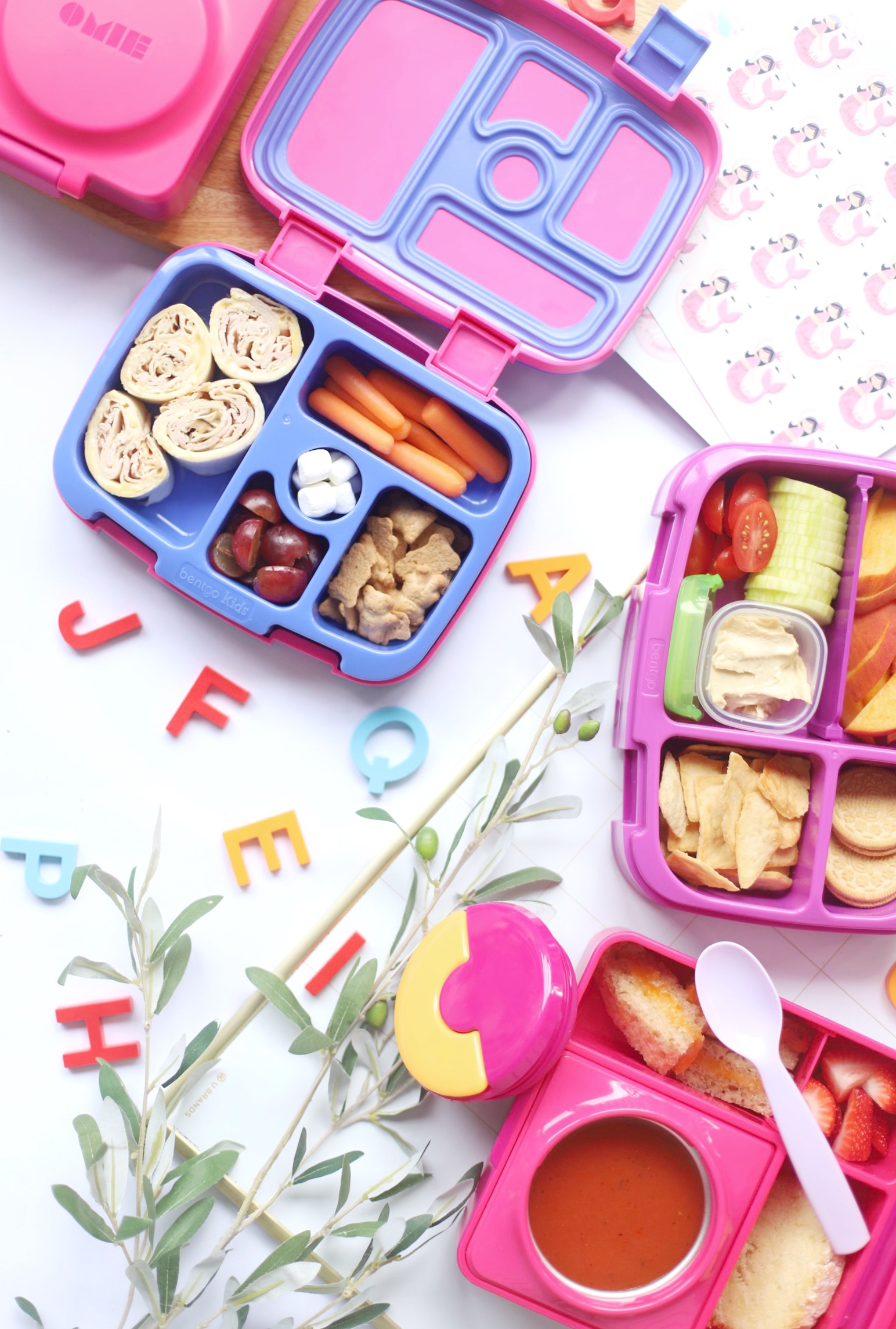 10 Easy and Yummy Bento Box Lunch Ideas
Grilled Cheese Sticks and Tomato Soup
The night before or the morning of, throw together a quick "grilled" cheese sandwich by toasting two slices of bread, adding a little bit of cheese and butter (optional) and then slicing the sandwich into sticks. Serve those with tomato soup and watch your little ones eat every last drop. The Omie Box is perfect for keeping their soup warm.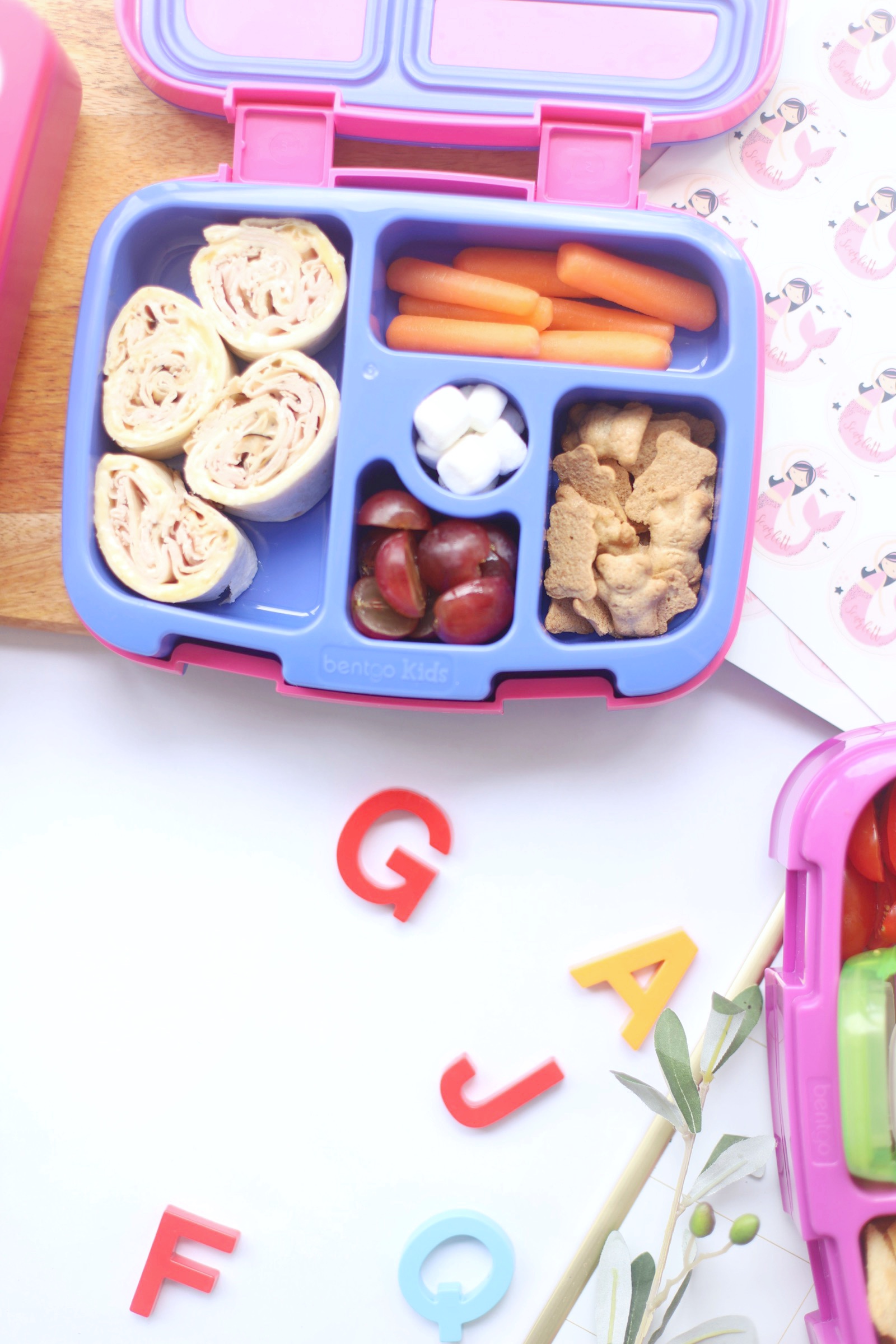 Turkey and Cheese Pinwheels
For whatever reason, my kids are less than jazzed by a sandwich; but turn it into "pinwheels" using flour tortillas instead of sandwich bread and they'll eat every last bite. Go figure! 🤷🏻‍♀️
Pizza Dippers
Pack a few breadsticks or wedges of Trader Joe's flatbread (their naan bread is also really good!), cubes mozzarella and/or pepperoni, and a small container of pizza sauce, and let your kids DIY their own dip-and-eat pizza sticks. My girls LOVE this!
DIY Tacos
Pack mini soft flour tortillas, and small cups of black beans, shredded cheddar cheese, and salsa, and let your kiddos make their own vegetarian tacos.
Savory Hand Pies
Using store bought refrigerated pie crust, stuff cut out rectangles of dough with ham or turkey and cheese, seal with another rectangle of pie dough, and bake for the yummiest savory hand pies. (We often make these with jam too!)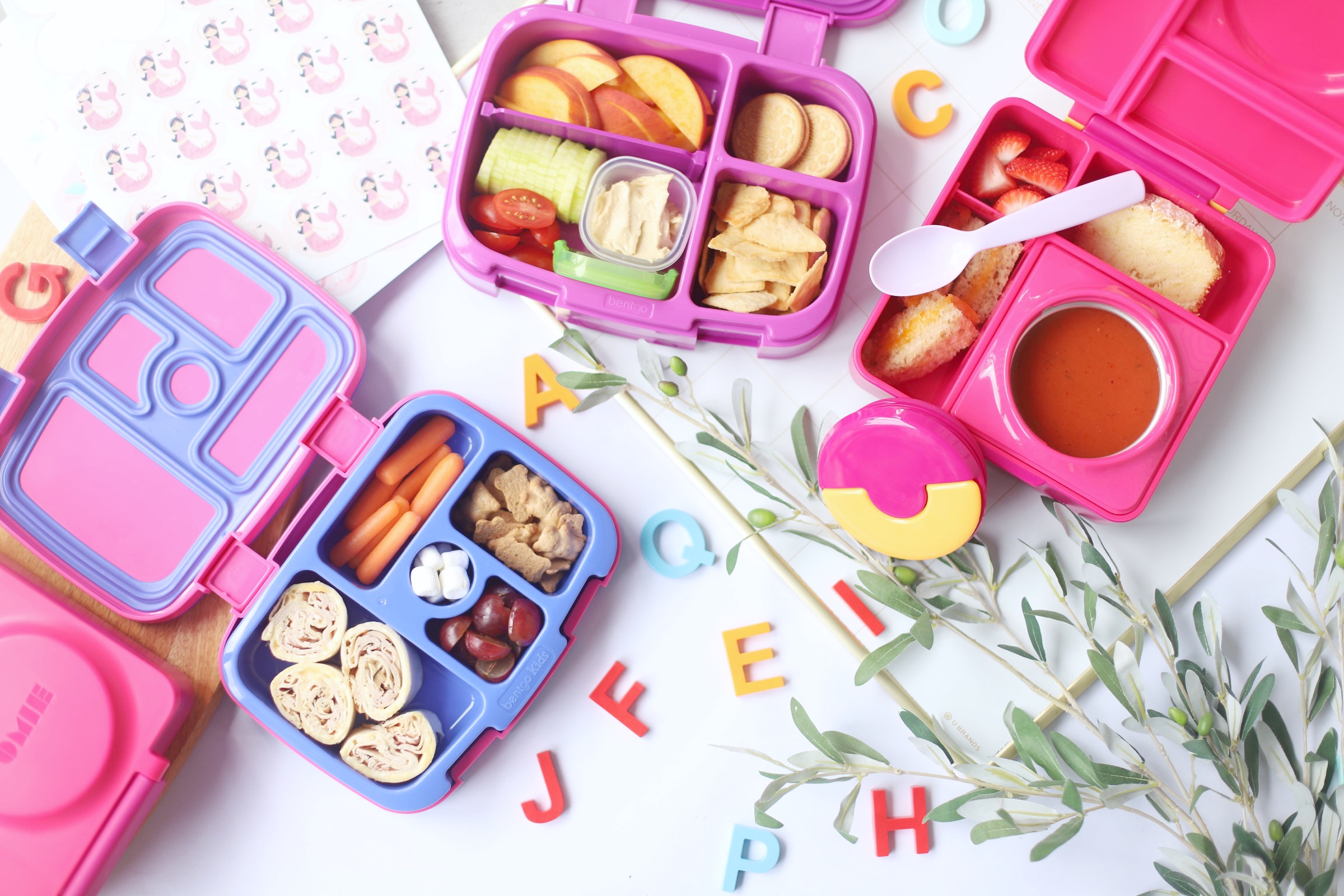 Mediterranean Platter
Hummus, carrots, sliced peppers, cucumbers, pita chips or wedges = kids love this healthy lunch. Throw in a few olives or chunks of feta if your little one is an adventurous eater.
Like spaghettios, but healthier, and homemade. I'll often make a big batch of this for dinner, and then give the girls leftovers for their lunch the next day. The Omie Box keeps their pasta dishes warm straight through lunch.
Cheese and Crackers
Never underestimate the power of a charcuterie board. Or, in this case, a simplified version of that. Cheese and crackers, sliced fruit and veggies; always a winner.
One thing that is sure to bring excitement to school lunches is homemade pizza scrolls. They look fun, are simple to make, and they taste great.
Why not serve your kids breakfast for lunch? (This is the perfect clumpy granola recipe.)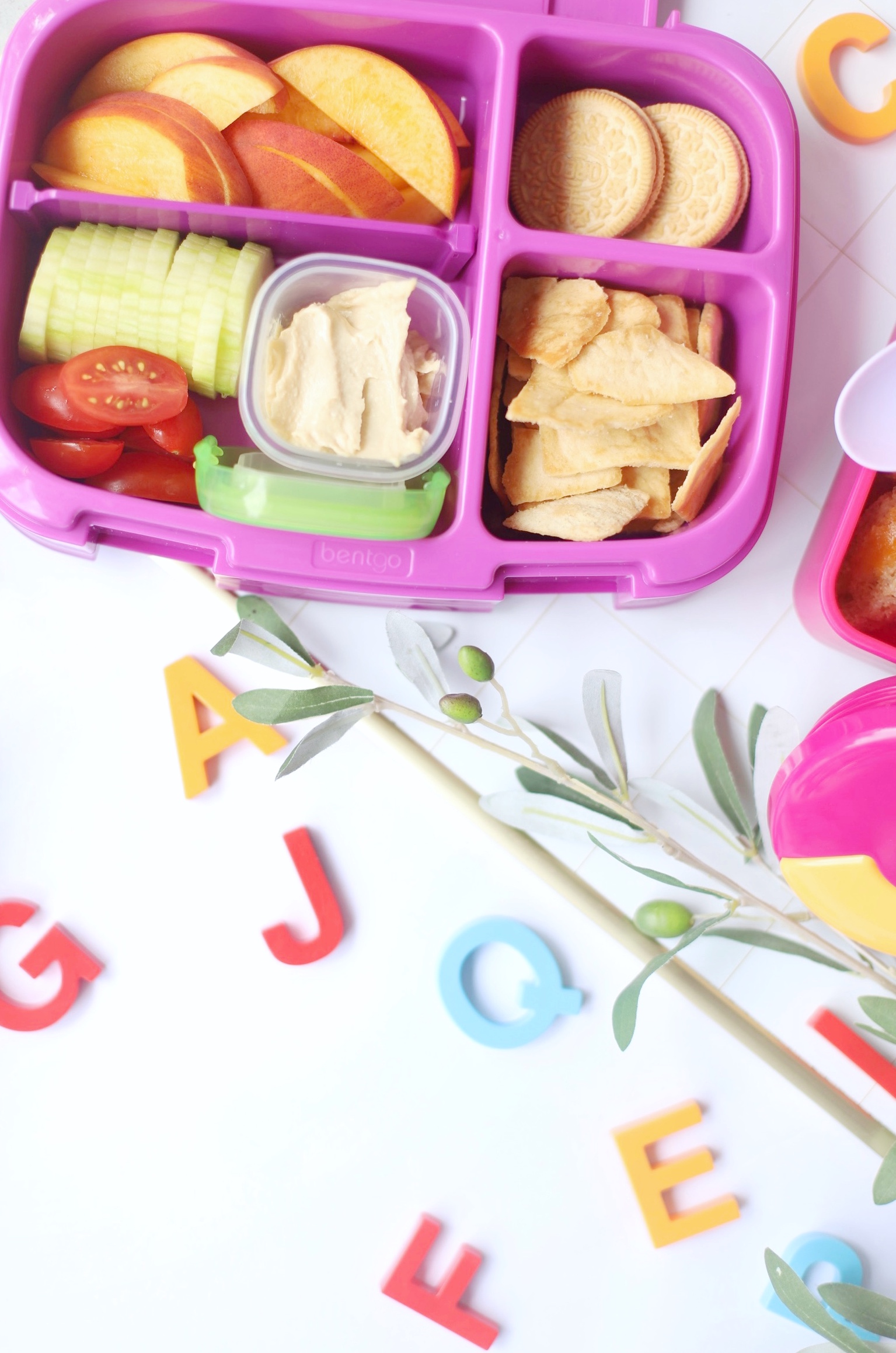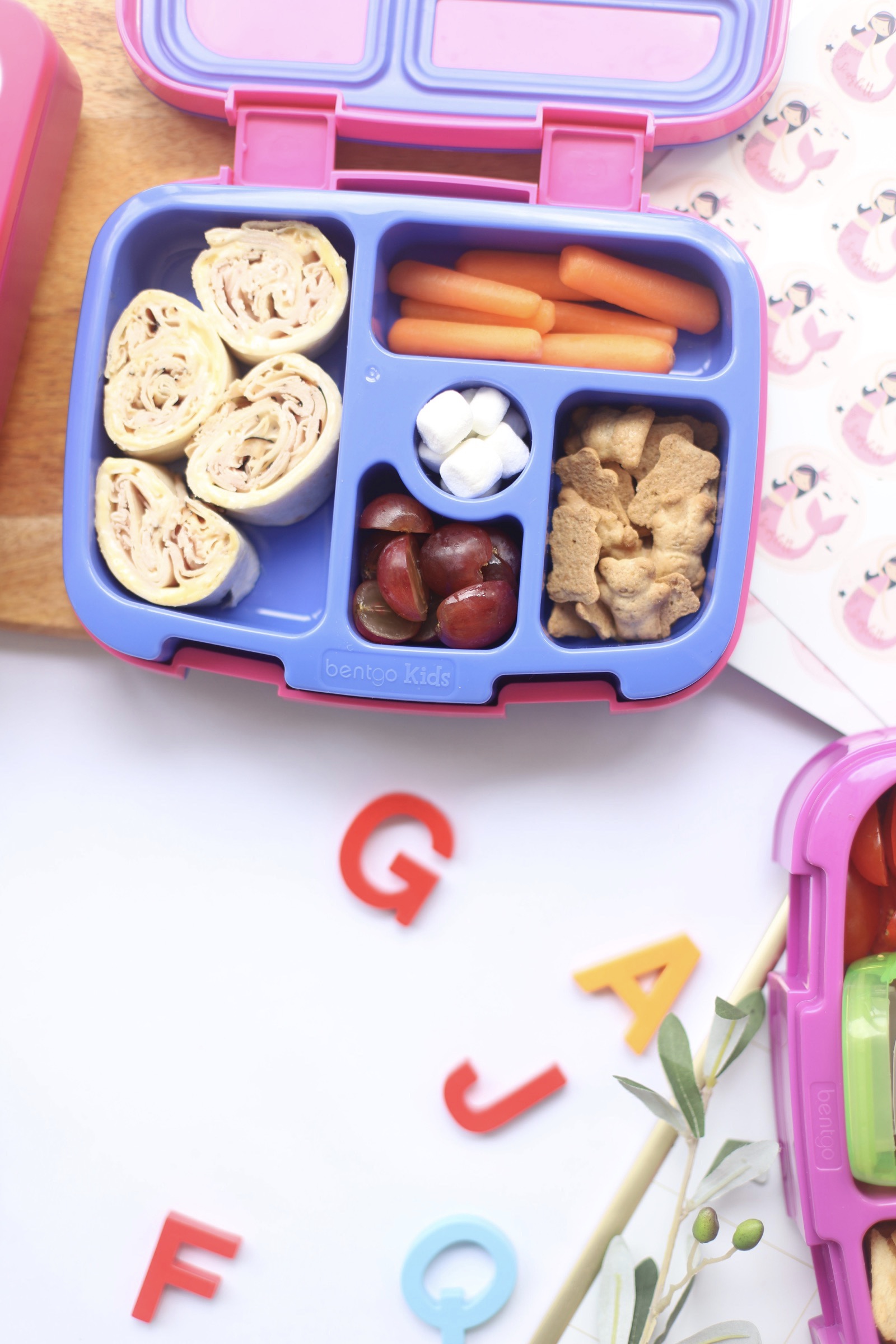 What about you? Do your kids have any lunchbox favorites that they love? Or do you use bento boxes for your kids? Do you love them? Need more lunch inspiration? Be sure to check out this post with 50+ awesome lunch AND snack ideas your kids are sure to love!
SHOP THE BENTO BOX LUNCH IDEAS POST | CLICK LEFT & RIGHT ARROWS TO EXPLORE