This post contains affiliate links, which means that if you click on one of the product links, I'll receive a small commission. Thank you so much for clicking through and helping to support this little blog business of mine! Read more about our site, privacy, and disclosure policies here.
A total crowdpleaser, this gluten-free pumpkin sheet cake with cream cheese frosting is so simple to make and unbelievably yummy. (And can easily be made dairy free.) The cake is moist, fluffy, and topped with a rich and creamy, decadent cream cheese frosting. The end result tastes like everything good about fall! 
Fall is in full swing and pumpkin everything is practically everywhere.
I've always been pretty torn on the whole pumpkin thing. I LOVE pumpkin desserts; pumpkin spice lattes, on the other hand = yuck. I know, it's strange, I just can't get down with that cloyingly sweet artificial pumpkin flavor.
Baking, however, is my love language, and perfecting a perfect pumpkin bread and pumpkin cake and pumpkin pie (the list goes on and on), well, that, I'm happy to do … and eat … again and again. Plus, the grocery stores parade those mile high stacks of pumpkin puree all throughout the fall, and honestly, I just can't resist the allure of baking up something pumpkin-y sweet.
This year, I've been pretty determined to come up with a pumpkin cake recipe (basically, pumpkin bread, plus cream cheese frosting) that I could bring to parties, friends, work, etc. And I love a great sheet cake. It's such a simple cake to throw together – way easier than a traditional stacked cake – yet still, just as satisfying. And it's great for a party because it transports well and can be cut into perfectly snack-able squares. (Love sheet cake too? Try our simple and delicious homemade vanilla sheet cake, this super fun and nostalgic chocolate chip snack cake, our easy strawberry sheet cake, or this applesauce snack cake with cream cheese frosting.)
And you guys, this pumpkin sheet cake with cream cheese frosting is  I N C R E D I B L E. 😍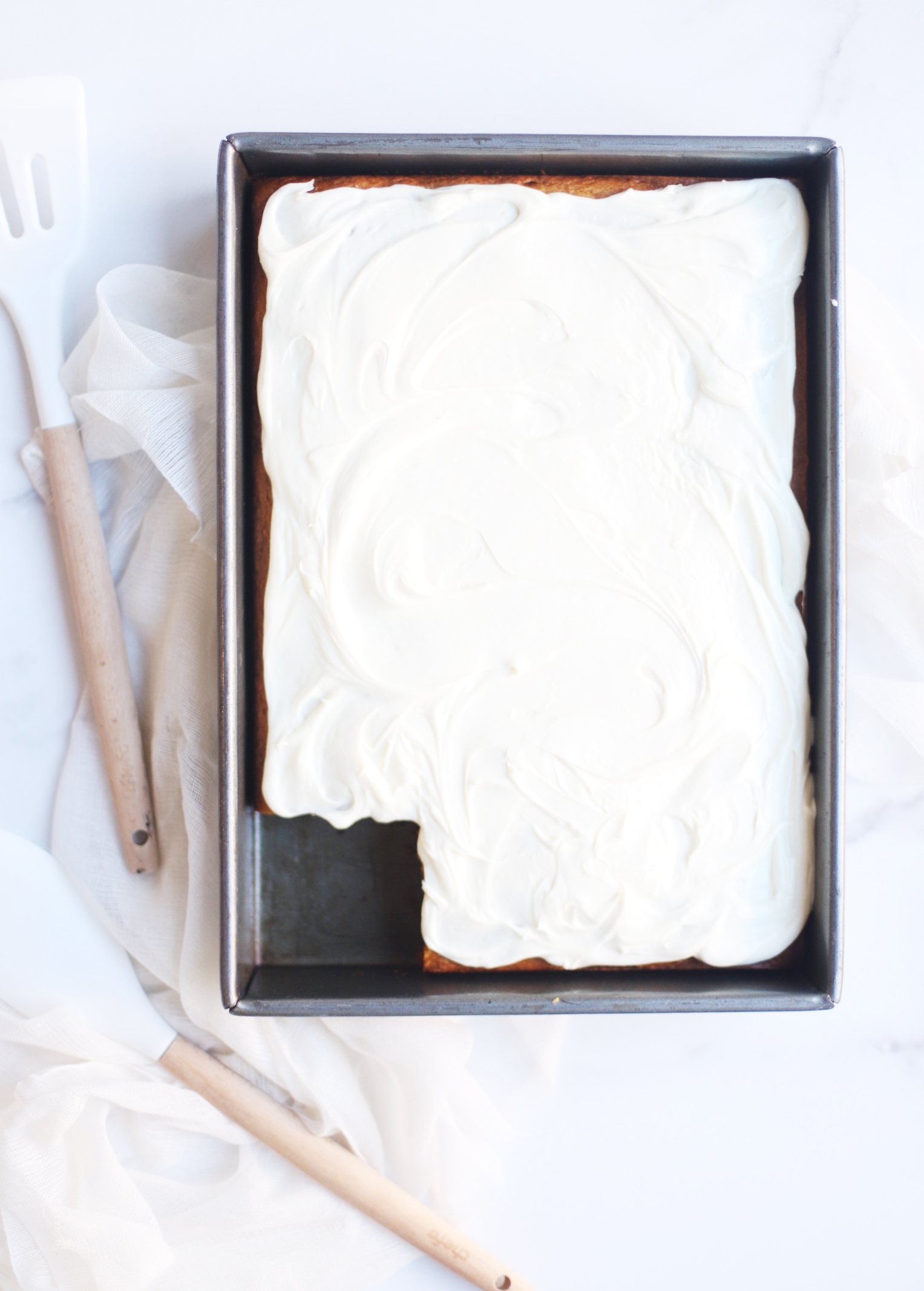 The pumpkin cake is super easy to throw together and the result is a totally moist, delicate, fluffy, rich pumpkin cake. The pumpkin sheet cake is brimming with that delicious, warm pumpkin spice flavor. Top that with a simple homemade cream cheese frosting that is so rich, creamy, and decadent, and oh my gosh, such a winner.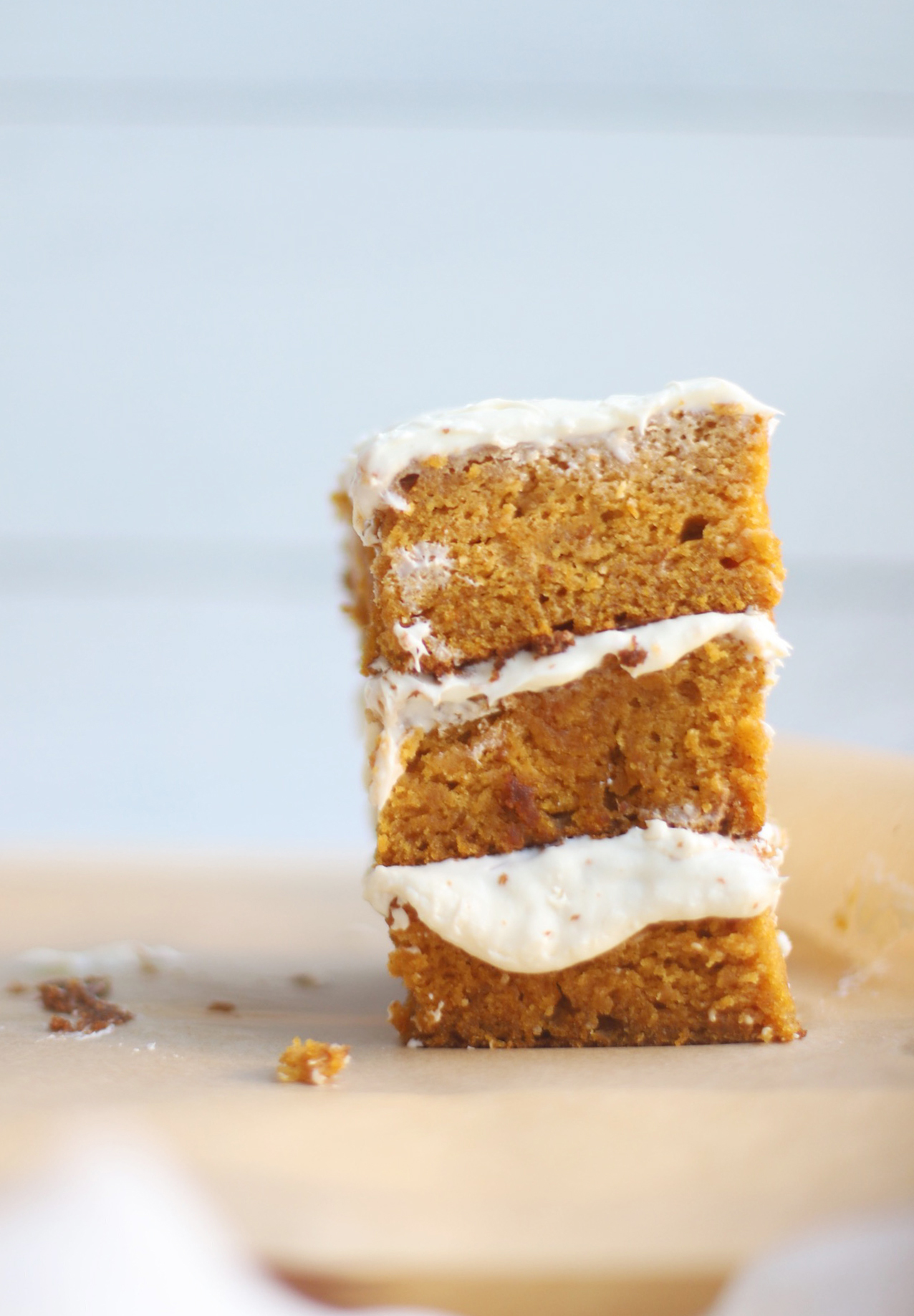 Pumpkin Sheet Cake Ingredients
The ingredients are surprisingly simple too …
The pumpkin sheet cake comes together with a mix of easy ingredients like gluten-free all purpose flour, sugar, pumpkin puree, oil, baking soda, cinnamon, pumpkin pie spice, salt, and eggs.
To make this gluten-free, you'll want to use a gluten-free all purpose flour that has xanthan gum in the mix. I like Bob's Red Mill Gluten Free All Purpose Baking Flour, though there are several great gluten-free flour mixes that have the requisite xanthan gum in them. If you don't need a gluten-free dessert, regular all purpose flour works great here too.
And then of course, there's that decadently rich cream cheese frosting, made by whipping together cream cheese, butter, powdered sugar, and vanilla. Frosted cake is just so darned good, amiright?
You can also make this incredible pumpkin sheet cake dairy free with a few simple tweaks. Details are in the recipe below!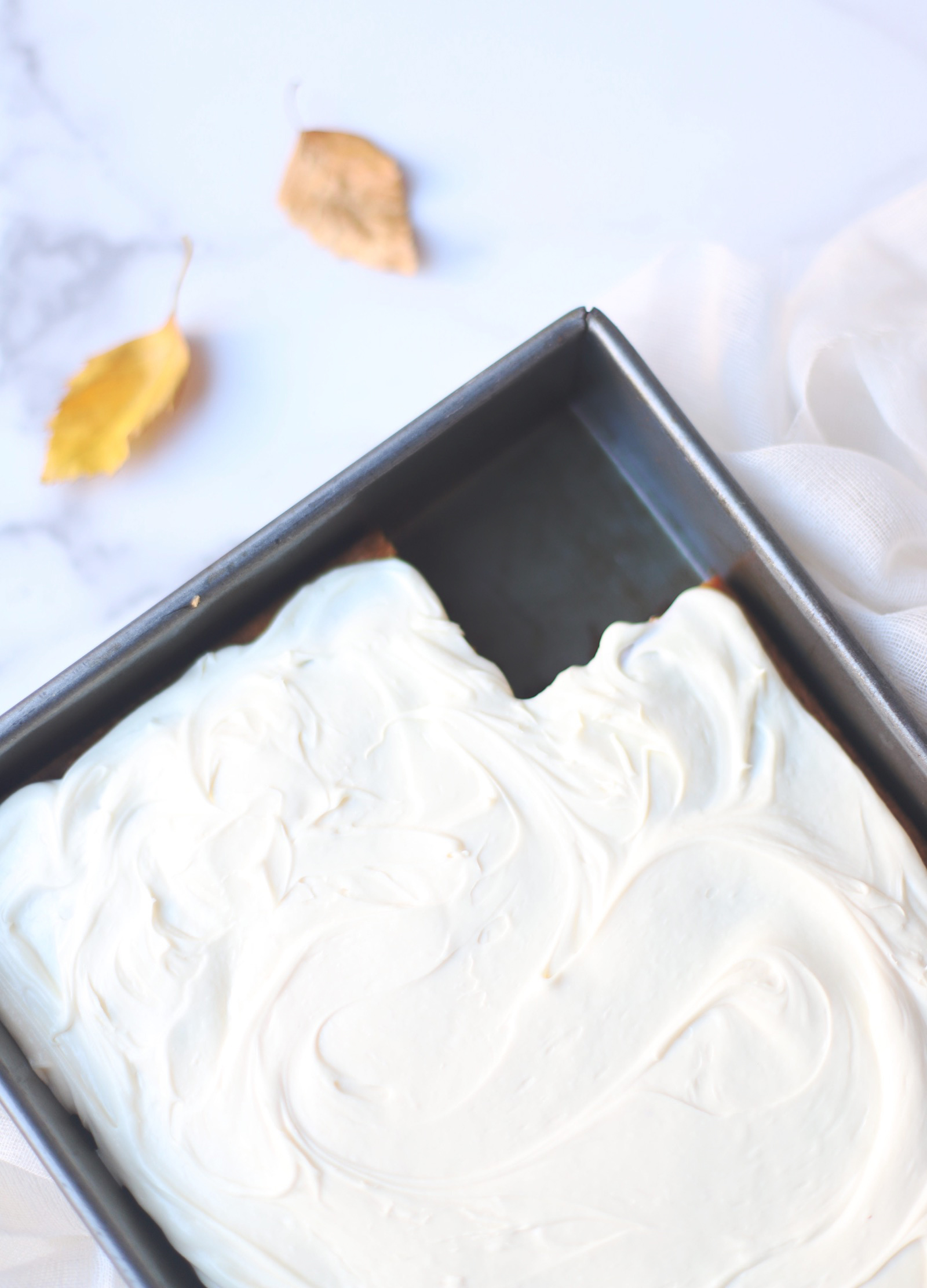 Gluten-Free
Pumpkin

Sheet Cake with Cream Cheese Frosting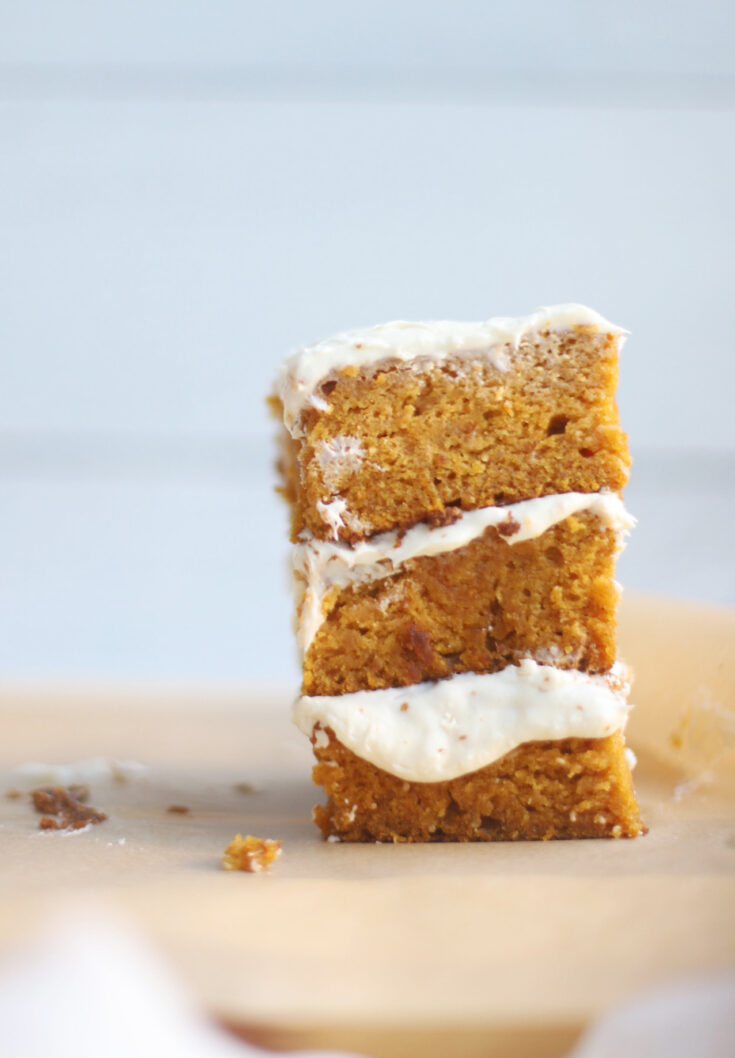 Yield:

24 slices
Gluten-Free Pumpkin Sheet Cake with Cream Cheese Frosting
Ingredients
Pumpkin Cake
2 cups gluten-free all purpose flour that has xanthan gum in the mix (i.e., Bob's Red Mill Gluten Free All Purpose Baking Flour)
2 cups sugar
1 15 oz canned pumpkin (or about 2 cups pureed pumpkin)
1 cup canola oil
2 teaspoons baking soda
1 teaspoon cinnamon
1 teaspoon pumpkin pie spice
½ teaspoon salt
4 eggs
Frosting
1 8oz cream cheese, room temperature*
½ cup (1 stick) butter, room temperature*
1 lb powdered sugar (approximately 3½ to 4 cups powdered sugar)
1 teaspoon vanilla
Instructions
For the Cake:
Preheat oven to 350 degrees F and grease a sheet cake pan well.
In a large bowl or mixer, mix all ingredients together well and pour the batter into the greased sheet cake pan.
Bake for approximately 20 minutes or until edges start pulling away from the pan. (IF the center is still a bit wet, bake for another 2-4 minutes or so.)
Allow cake to cool before frosting.
For the Frosting:
Cream all ingredients together.
Spread frosting on cake once cake is baked and cooled.
Notes
*To make this cake dairy free, simply substitute dairy-free cream cheese and vegan butter in the frosting. To keep the cake dairy free for our family, we used Trader Joe's Vegan Cream Cheese (any vegan cream cheese will do) and Earth Balance Vegan Buttery Sticks.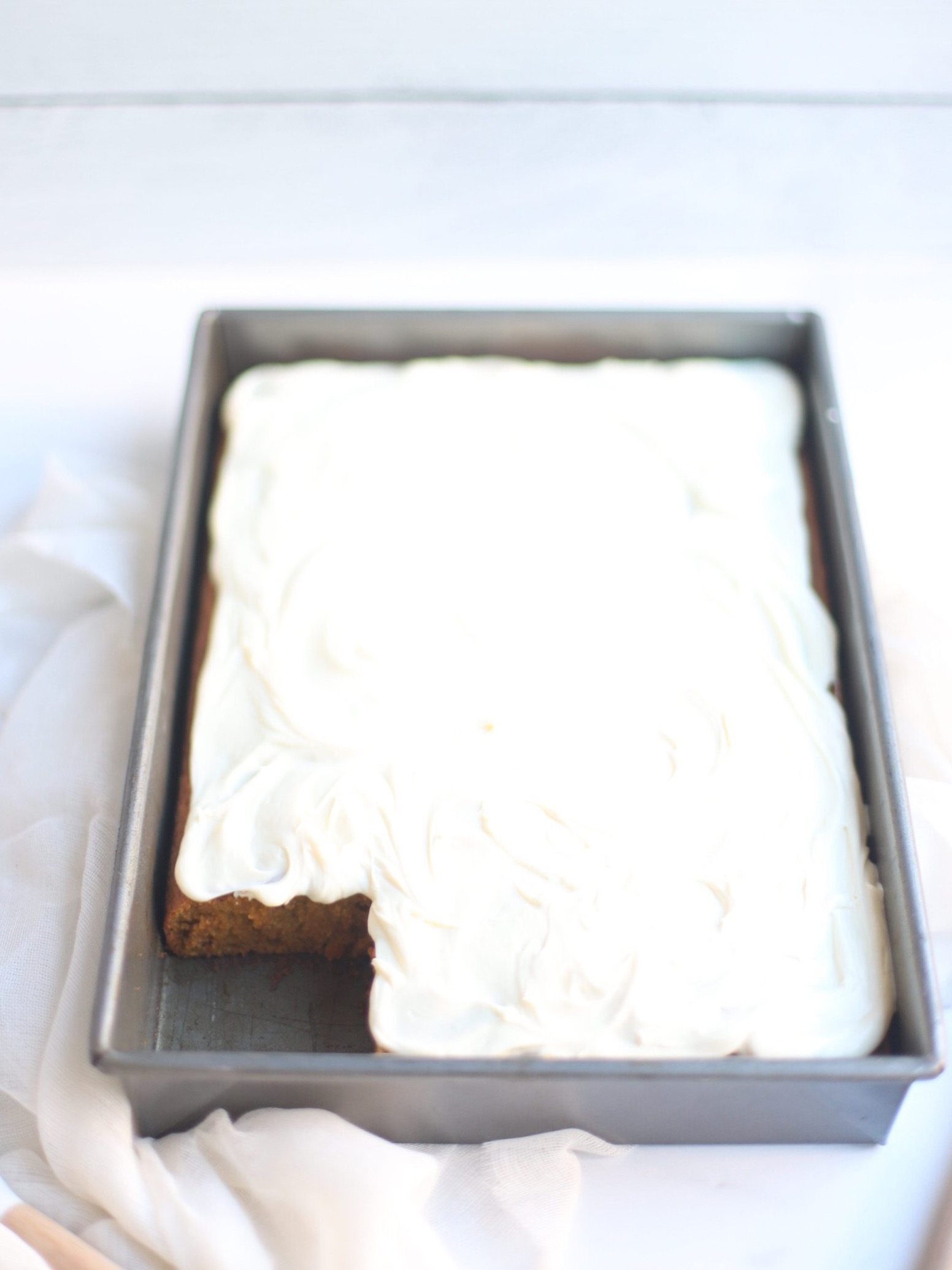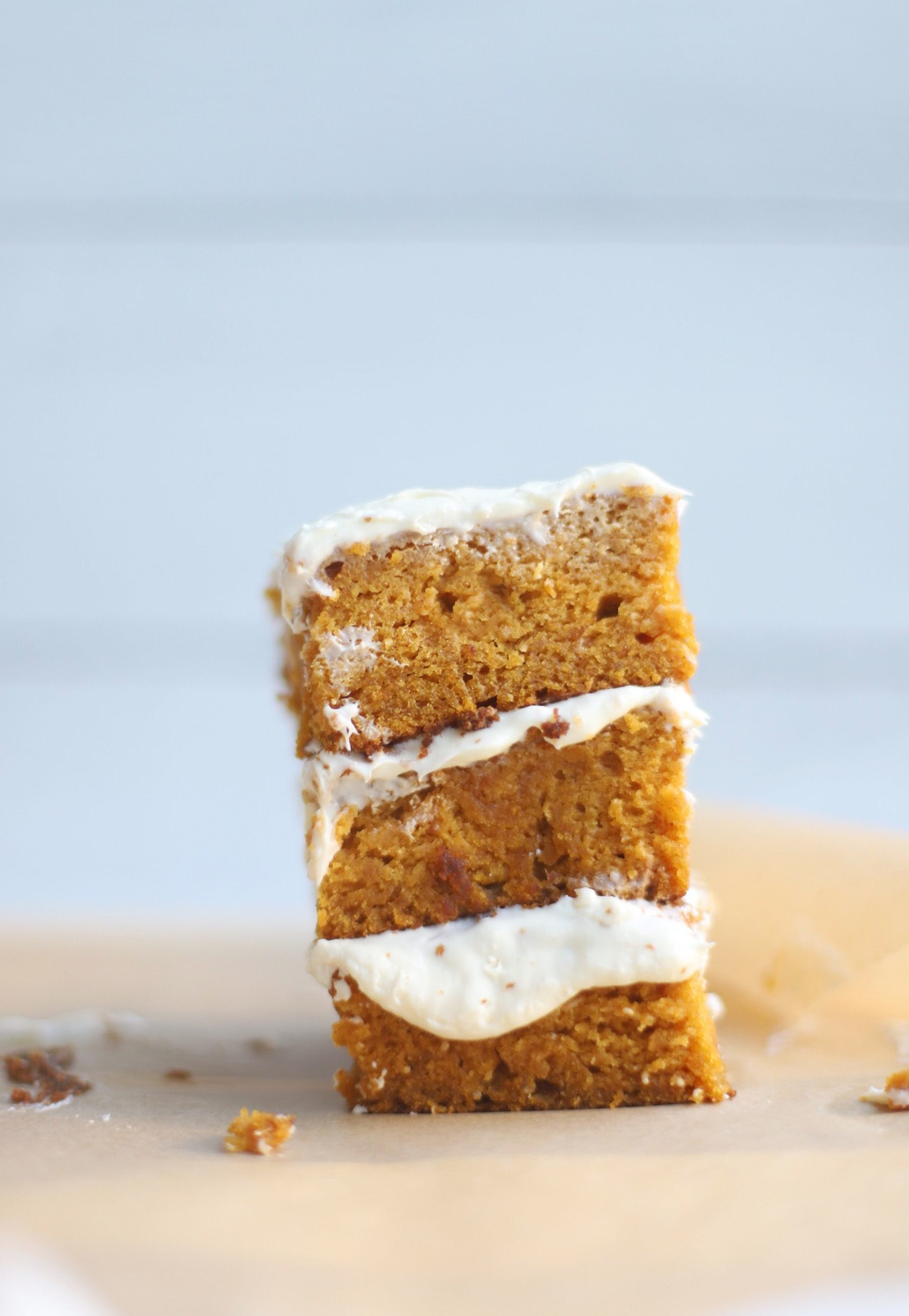 This cake is moist and fluffy and SUCH a crowd-pleaser.
My husband and my kids LOVE this cake, and it's a favorite of mine to bake up in a pinch for a fall party because everyone raves about it.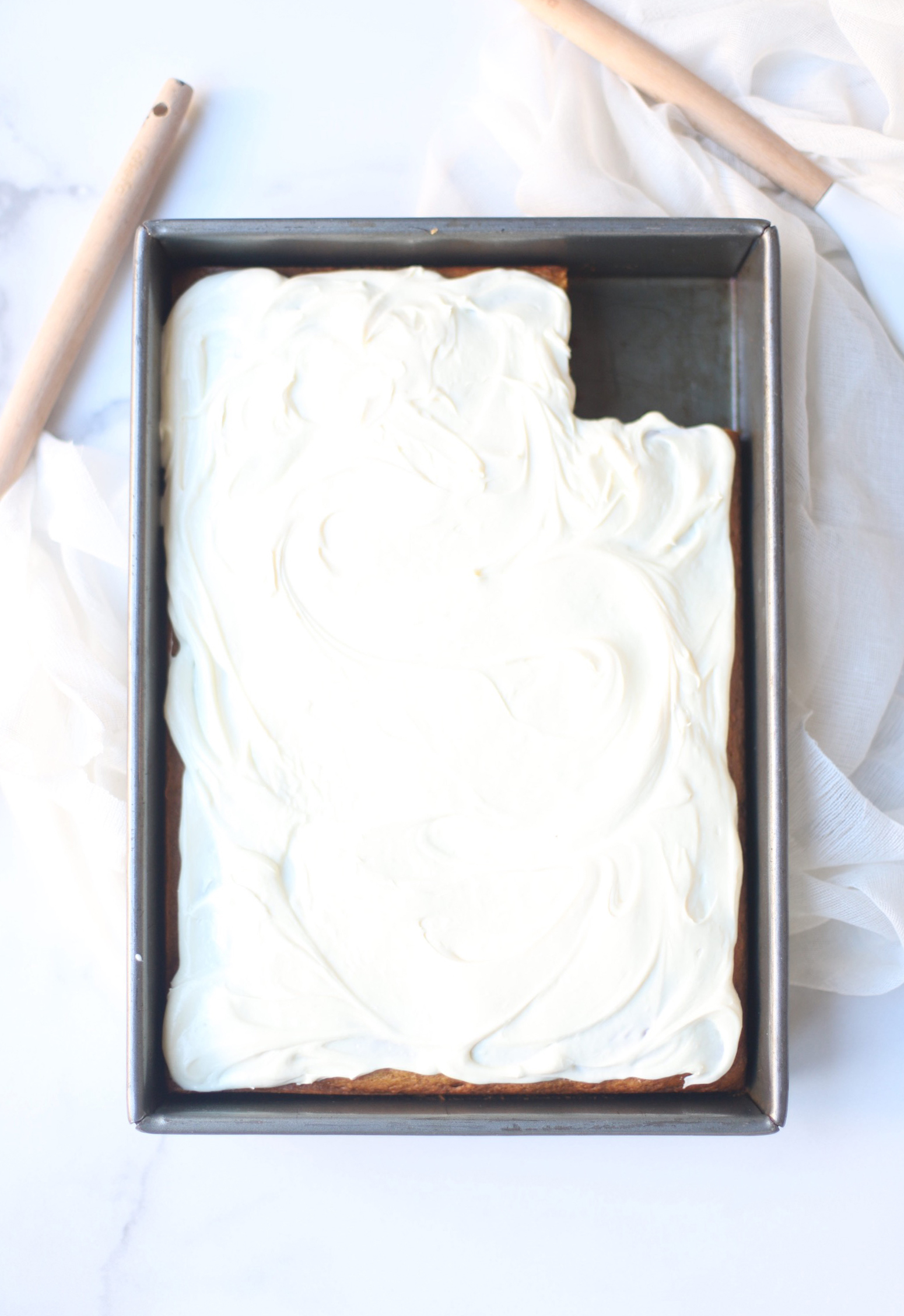 SHOP THE PUMPKIN SHEET CAKE RECIPE POST | CLICK LEFT & RIGHT ARROWS TO EXPLORE
Be sure to head to our recipe page to check out what else we're dreaming up in the kitchen. If you make your own pumpkin sheet cake, tag me on social media (@glitterinclexi) so I can live vicariously through all of your delicious desserts! Plus, I'd love to hear how it turns out (and if you're just as obsessed as I am!)
More Delicious Fall Dessert Recipes from Glitter, Inc.:
Applesauce Snack Cake with Cream Cheese Frosting
Everyone's Favorite Apple Crisp Shortbread Bars (We make these every single Thanksgiving!)
Pumpkin Cake with Fluffy Chocolate Frosting
Salted Vanilla Caramel Corn Popcorn
Best Ever Oatmeal Raisin Cookies