This post contains affiliate links, which means that if you click on one of the product links, I'll receive a small commission. Thank you so much for clicking through and helping to support this little blog business of mine! Read more about our site, privacy, and disclosure policies here.
Looking to start a few fun Halloween family traditions? We're sharing our favorites, including a roundup of the best Halloween movies for kids, the cutest matching Halloween pajamas for your little ones, and plenty of spooky party inspiration and recipes!
I'm a total geek for Halloween. I love fall, I love the pumpkins, I live for the color black, I sometimes think I could have made a fantastic witch (minus the scary witch hunt stuff.) So really, it's no surprise that Halloween – and the whole Halloween season – is easily one of my favorites.
My own parents always made Halloween really special, so we've been carrying on the Halloween family traditions with our own girls, plus adding a few of our own!
Memorable and Fun Halloween Family Traditions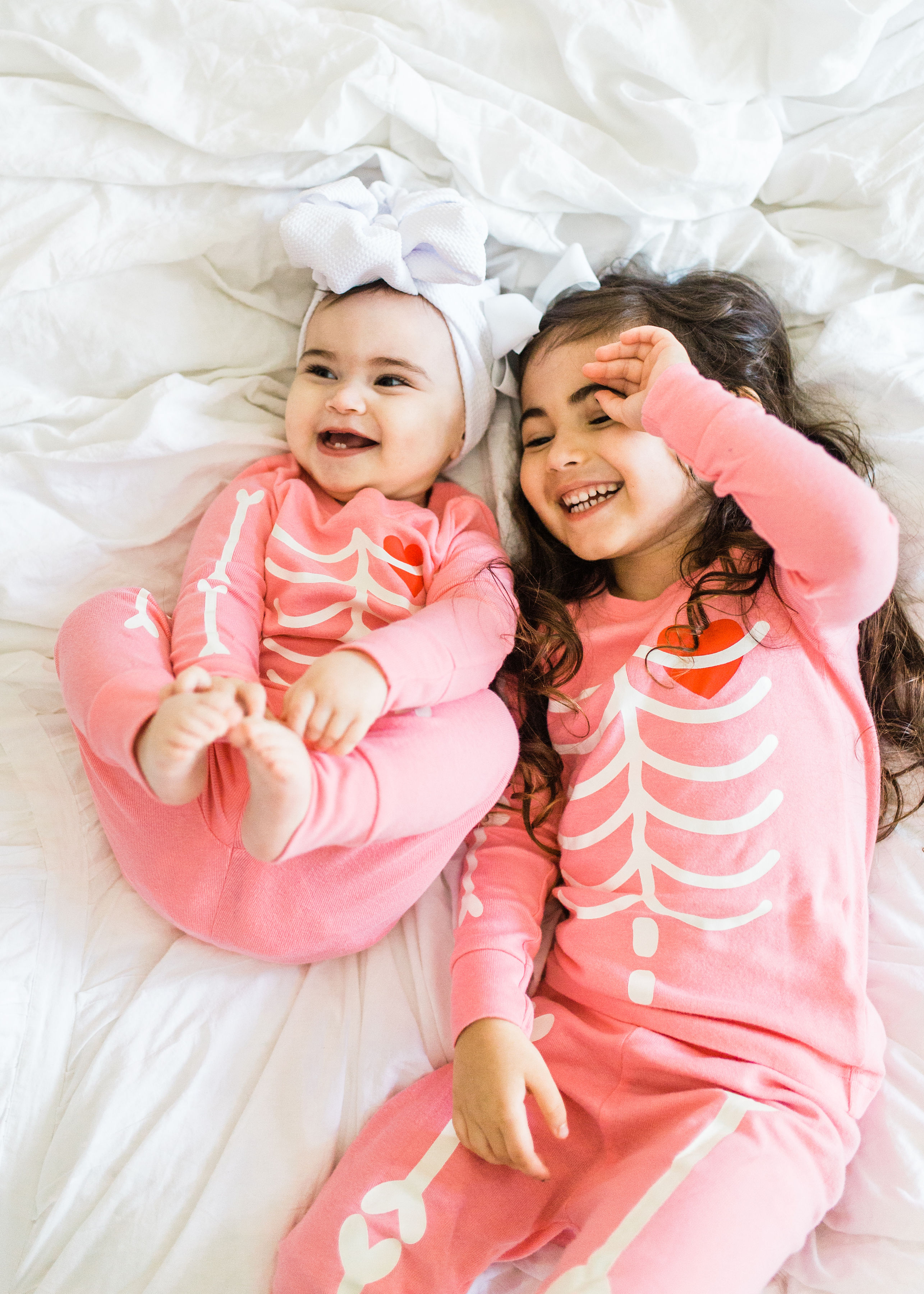 Family Halloween Tradition No. 1: Pick Out New Halloween-Themed Pajamas
My mom always used to buy us Halloween pj's, and even as we got older, it was Halloween pajama pants and socks. Even hubby gets in on the action now and where's funky Halloween socks to work in October.
This year, I found the girls matching pink glow-in-the-dark skeleton pajamas. Their faces when they realized that the pajamas actually "light up" (a.k.a., glow in the dark) were priceless.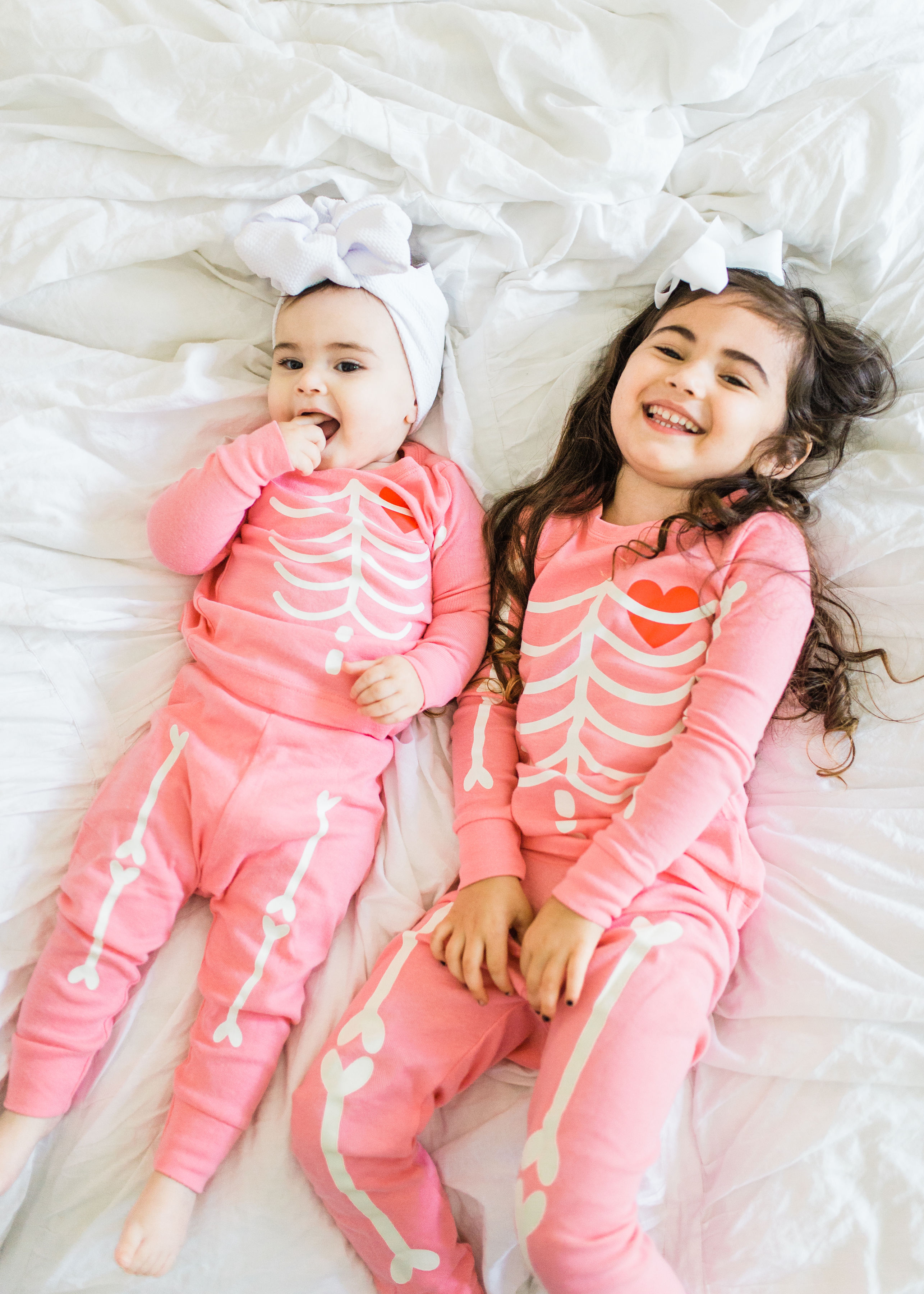 Family Halloween Tradition No. 2: Make it a movie night! (The best Halloween Movies for Kids!)
Every Halloween season, I record all of my favorite Halloween movies and we stay up late watching them. Popcorn party, anyone? I love Hocus Pocus, The Addams Family, and Practical Magic, and I can't wait for my girls to be old enough to love them just as much as I do! Hubby used to love The Nightmare Before Christmas and Beetlejuice, and this year I'm thinking Scarlett might be ready for the Mary-Kate and Ashley Olsen classic, Double, Double Toil and Trouble. After that, we'll try Casper, Hotel Transylvania, Pooh's Heffalump Halloween Movie, and Monsters, Inc.; and of course, last year, she couldn't stop watching Spookley: the Square pumpkin. My own parents watched It's the Great Pumpkin, Charlie Brown, and I'm thinking my girls will love that one! I'm also hoping at some point to start the girls on the Harry Potter series.
I thought I'd round up a few amazing Halloween movies that are perfect for parents and kids:
Hocus Pocus
The Addams Family
Practical Magic
The Nightmare Before Christmas
Beetlejuice
Double, Double Toil and Trouble
Frankenweenie
Casper
Hotel Transylvania
Pooh's Heffalump Halloween Movie
The Haunted Mansion
The Little Vampire
Monster House
Monsters, Inc.
Mostly Ghostly
Twitches
Coraline
Ghostbusters
Scooby Doo
Monster Family
Curious George: A Halloween Boo Fest
Halloweentown
Edward Scissorhands
Spookley: the Square pumpkin
Corpse Bride
Toy Story of Terror
It's the Great Pumpkin, Charlie Brown
the Harry Potter series
Do you have any favorite family-friendly Halloween movies?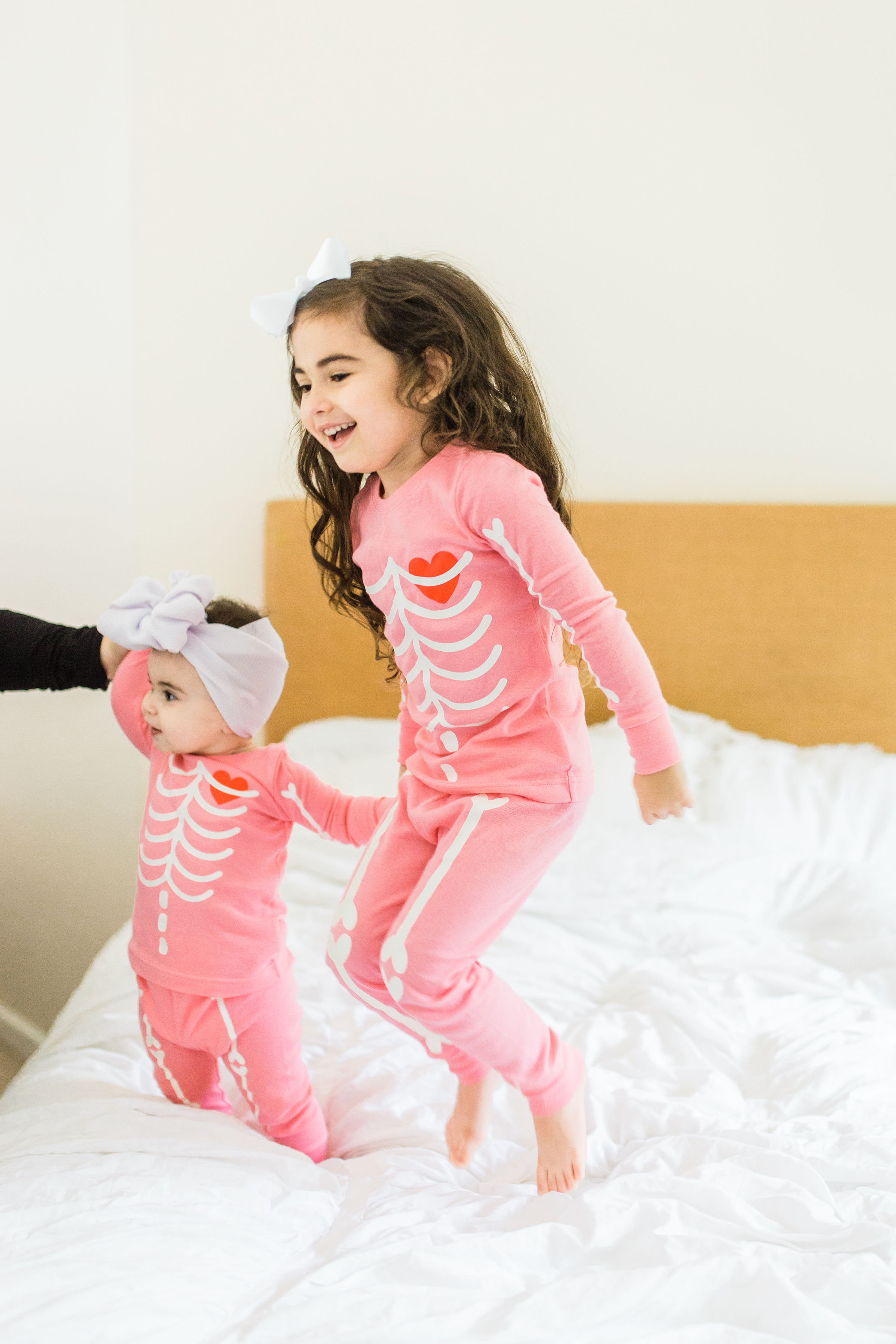 Family Halloween Tradition No. 3: Throw a Party
Throwing parties is my jam, and Halloween parties are no exception. We love inviting our friends over for a little trick-or-treating, and I always decorate the house and put out a spread of fun food for our guests. I love to serve finger foods, hors d'oeuvres, and plenty of dessert, since everyone is coming in and out for trick-or-treating. (Think chicken fingers, shrimp cocktail, veggies, chips, and dip, and lots of cookies, bars, and cupcakes!) My mom and dad were always the best at this – covering our huge dining room table with yummy appetizers and snacks. All of their neighborhood friends, and all of our friends as kids (I'm the oldest of 4), knew to come over on Halloween night for the best snacks, and Halloween has always been like Grand Central Station in our house. I've really enjoyed carrying on the tradition here in North Carolina!
Hubby and I have also started a tradition of ending the night by putting the girls in their Halloween pajamas, tucking them into bed, turning on one of our favorite Halloween movies, and eating all of the leftovers.
You can check out this year's spooky "Eat, Sip, and Be Scary" Halloween Party Station right here!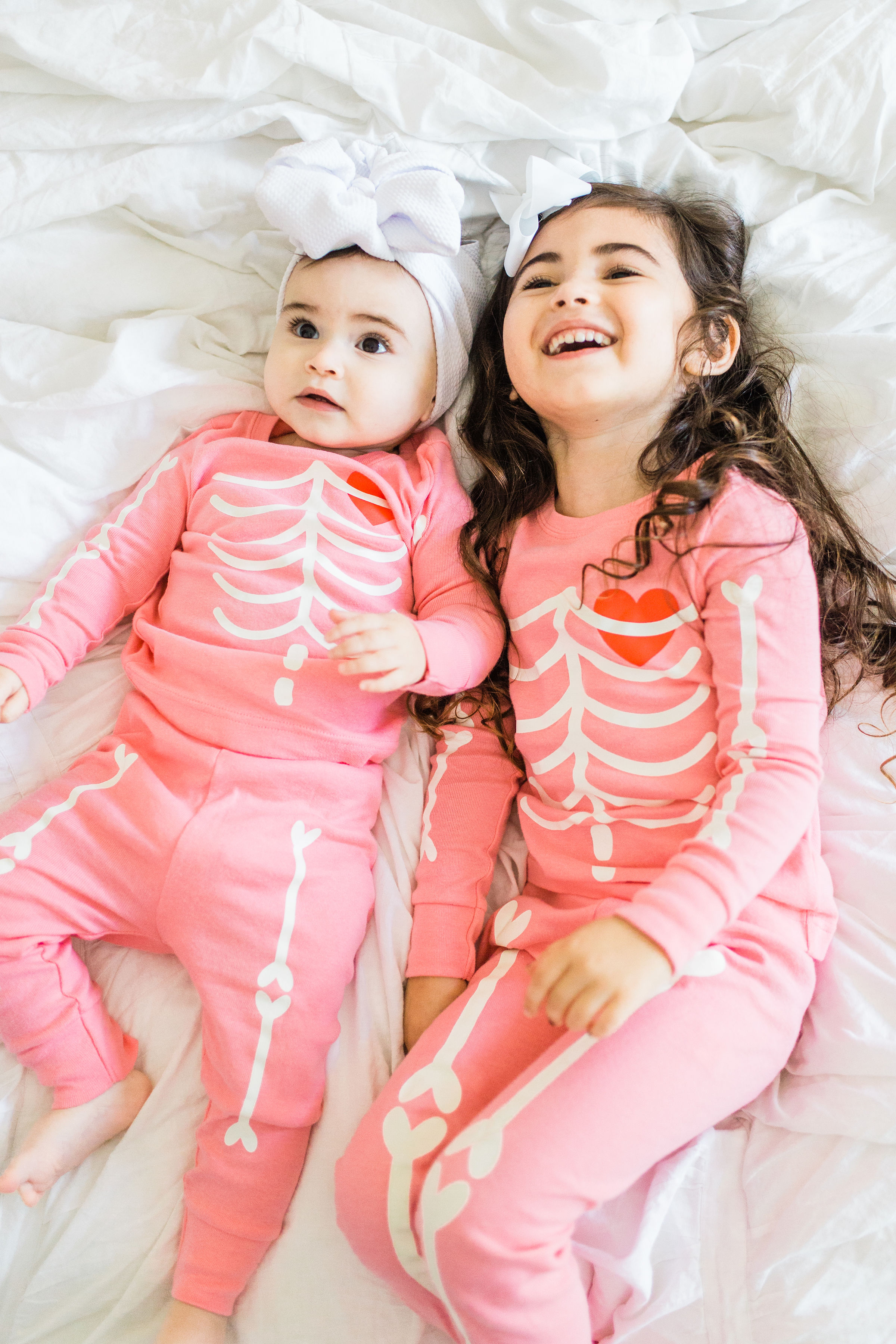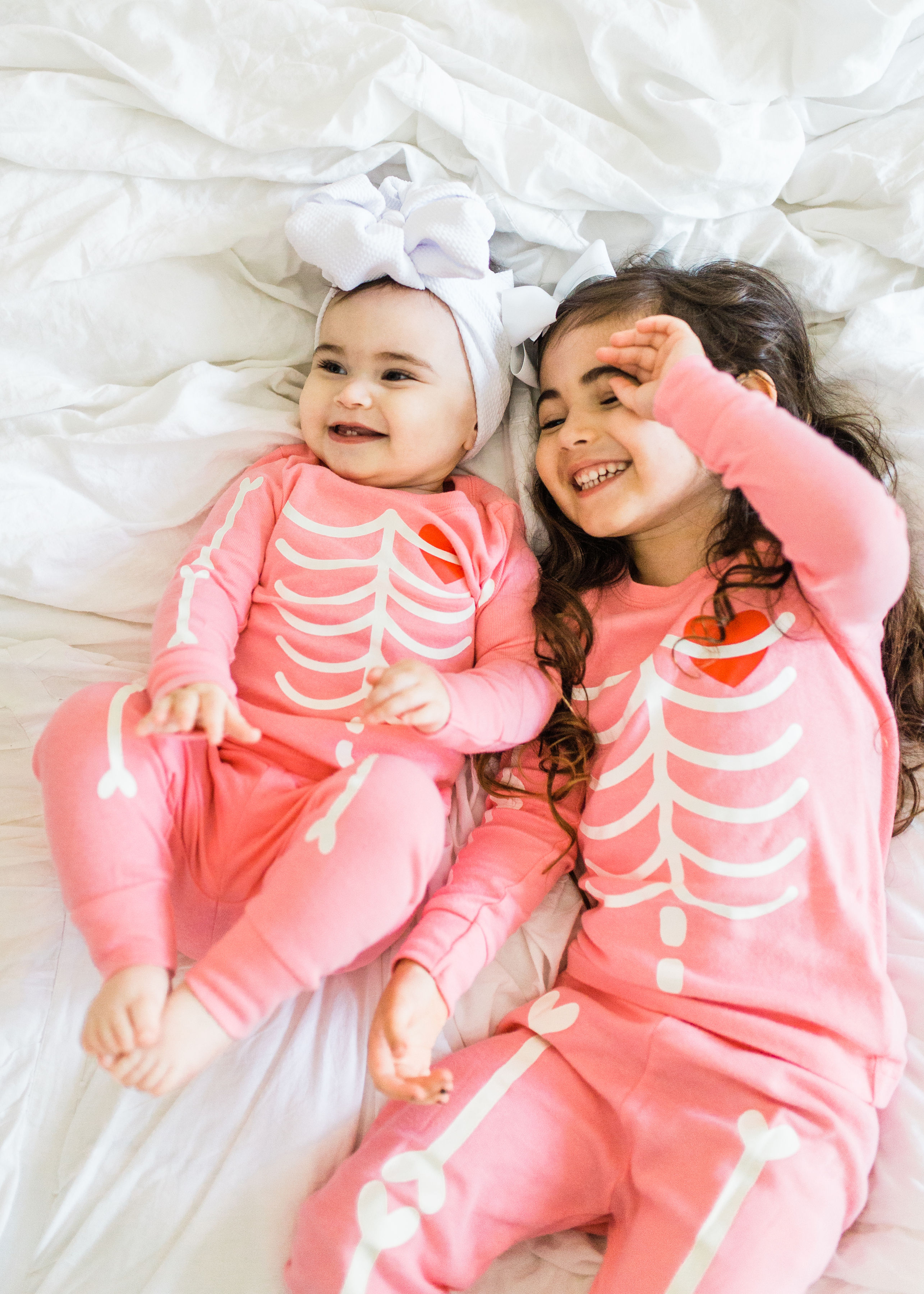 Family Halloween Tradition No. 4: Trick or Treat in a Family Costume
I've learned to let the kids lead when it comes to our family costume. For instance, this year, Scarlett wants to be a mermaid, so the rest of the family is breaking out the seashells and we're going as a family of mermaids, plus once very cool merman. (Truth: hubby loves getting in on the dress-up action!)
And of course, never pass up an opportunity to take pictures!
Family Halloween Tradition No. 5: Bake All of the Things
If ever there was an excuse to eat an excess of candy and sweets, Halloween is it. We've made plenty of fun spooky fun Halloween recipes over the years. A few halloween recipe favorites include these spooky ghost brownies, homemade twix bars, oreo macarons, s'mores cookie bars, and Halloween "puppy chow" muddy buddies, and this pumpkin cake with fluffy chocolate frosting.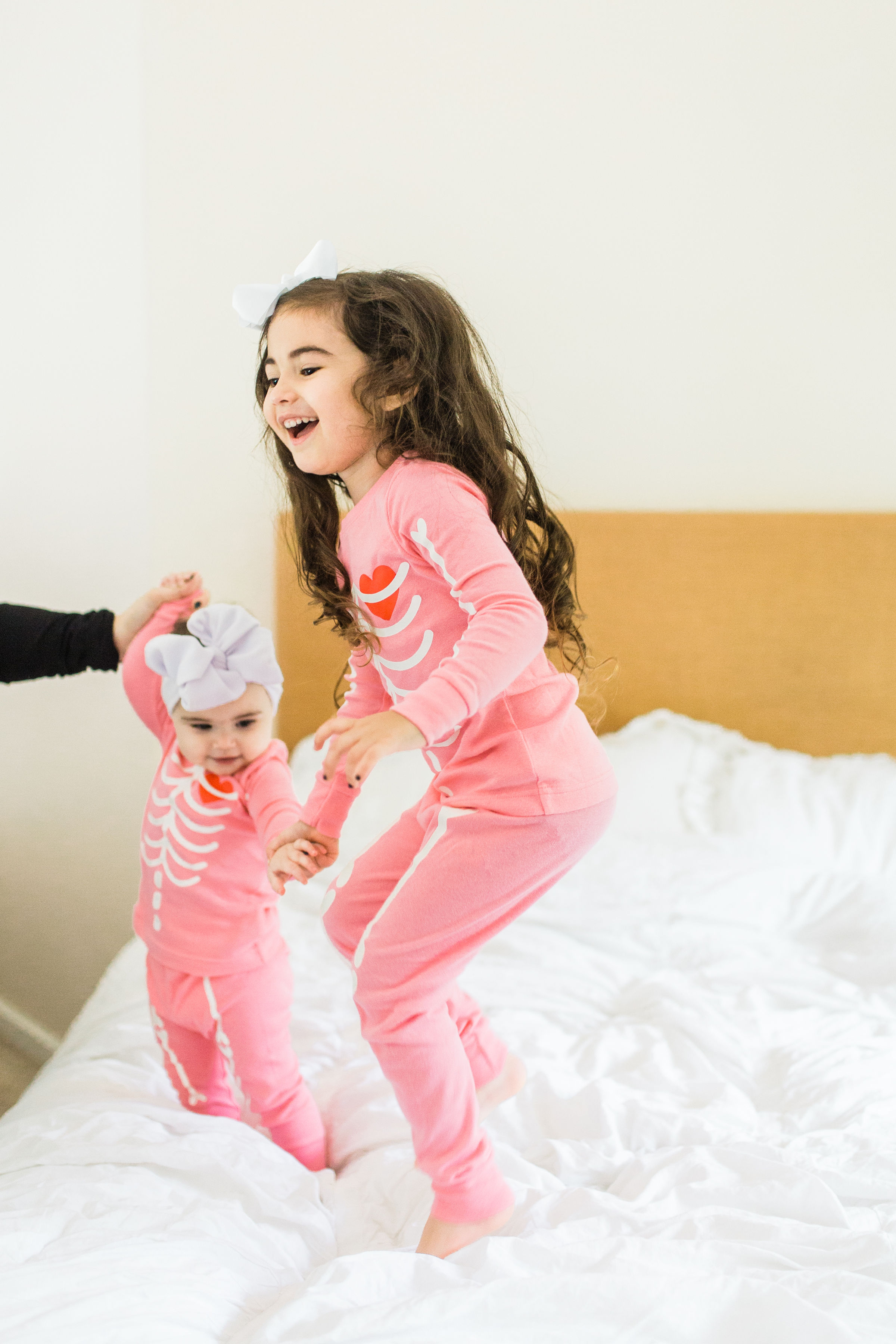 SHOP THE CUTEST HALLOWEEN PAJAMAS | CLICK LEFT & RIGHT ARROWS TO EXPLORE
What are your favorite Halloween family traditions? Starting anything new this year? Share them in the comments!
Photos by Annie Timmons Photography for Glitter, Inc.