It's the most wonderful time of the year … at least in my fall-loving heart.
I get it. Being obsessed with fall is a tad bit cliché and totally basic, but there's something about it that gets me every time. Maybe it's that I grew up in Miami, and fall still feels totally new to me, but goodness, I love the changing of the seasons. And this year, not only do I get pumpkin patches, apple picking, all of the best desserts, the smell of a crackling fire, cozy blankets and scarves, Halloween and Thanksgiving, but we get a brand new baby girl to share it all with. A baby I get to dress up like a pumpkin. I'm thrilled, to say the least.
Of course, we'll have to keep our fall bucket list relatively low-key this year, since we'll have a very tiny newborn baby in tow (eep!), but that won't stop me from making whatever plans I can.
And just as in years past, because clearly I can't get enough of all of the fall things, I'm pulling out my notepad, or in this case, trusty blog post, and making a fall "to do" list. Because what better way to enjoy every second of fall, than with a fall bucket list?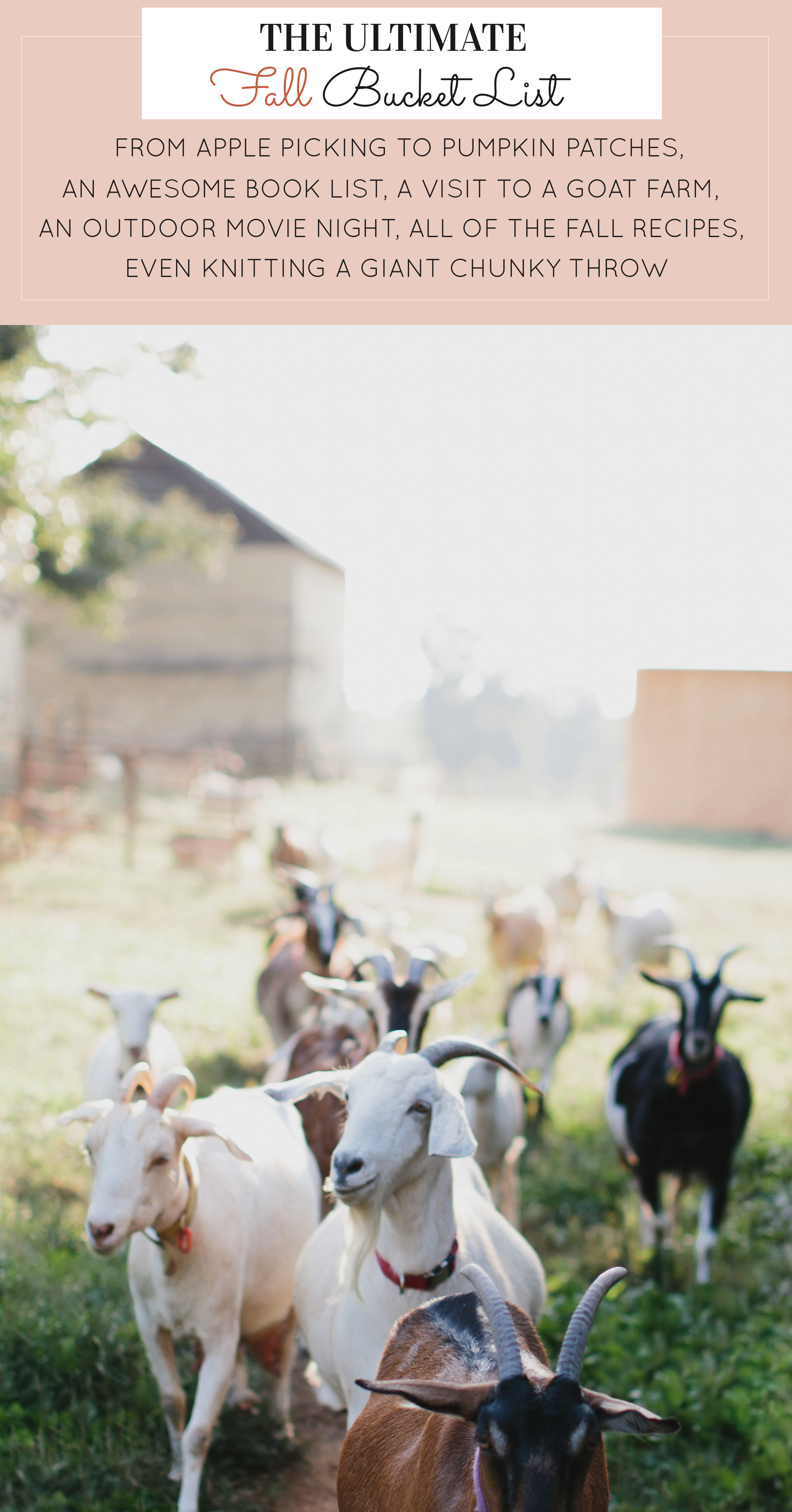 OUR FALL BUCKET LIST:
Transition our home for the season. I'm breaking out the fall décor, blankets, pinecones, scented candles (I've heard this pumpkin jar candle is incredible … and I'm a fan of everything Capri Blue!)
Go to the goat farm. I know it's a little cuckoo, but Scarlett would go crrrrazy for all of those goats.
Head to our local Pumpkin Patch (it's so close!) and buy enough great big pumpkins to line our front porch steps. We may not make it to the apple orchard this year since baby number two will be so small, but we sure had fun last year! (If you're in North Carolina, you have to check out this orchard.)
Decorate our front porch for fall. (Here's last year's set-up.)
Learn to knit, and then finally knit one of those giant chunky oversized knit throws I've always wanted. Or you know … just buy one.
Put together a fall reading list. With a baby on the way, I'll have nothing but time to sit still under a newborn, and a few new books sound like perfection.
Plan a picnic – even if it's in our own backyard – where we actually pack a yummy lunch, in a basket, and enjoy the perfect weather. (Here's a little picnic inspiration for ya, if you feel so inclined!)
Go all out for Halloween this year. We won't be venturing far from the house this year, so I'd love to decorate and have plenty of fun snacks and things to do here at home.
Plan a movie-viewing party in our backyard. I've always wanted to do this, complete with a drop-down screen (i.e., a white sheet hung over our back deck) and I'm determined to try to make it happen this fall … or winter.
Discover the perfect shade of vampy lipstick.
Discover the best pumpkin donuts in the area. There are pretty great donuts here in the Triangle, and I'm determined to find the best.
Go for a walk with the family along the trail by our house and pick our favorite fall leaves and pinecones to decorate our dining room table.
Bake a few recipes I've had on my must-try list. Oh, and these apple crisp shortbread bars from last year will most definitely be a repeat offender this season.
Take a trip to the farmers market to check out all of the new things they have to offer for fall.
Get creative with pumpkins. There are so many awesome pumpkin DIY's out there and I'm definitely going to try out a few this season. (Remember the DIY marbled pumpkins and glitter-dipped pumpkins?)
Fill our fireplace with pumpkins. I'm pumpkin obsessed. Told ya.

What about you? What's on your fall bucket list? Let me know in the comments!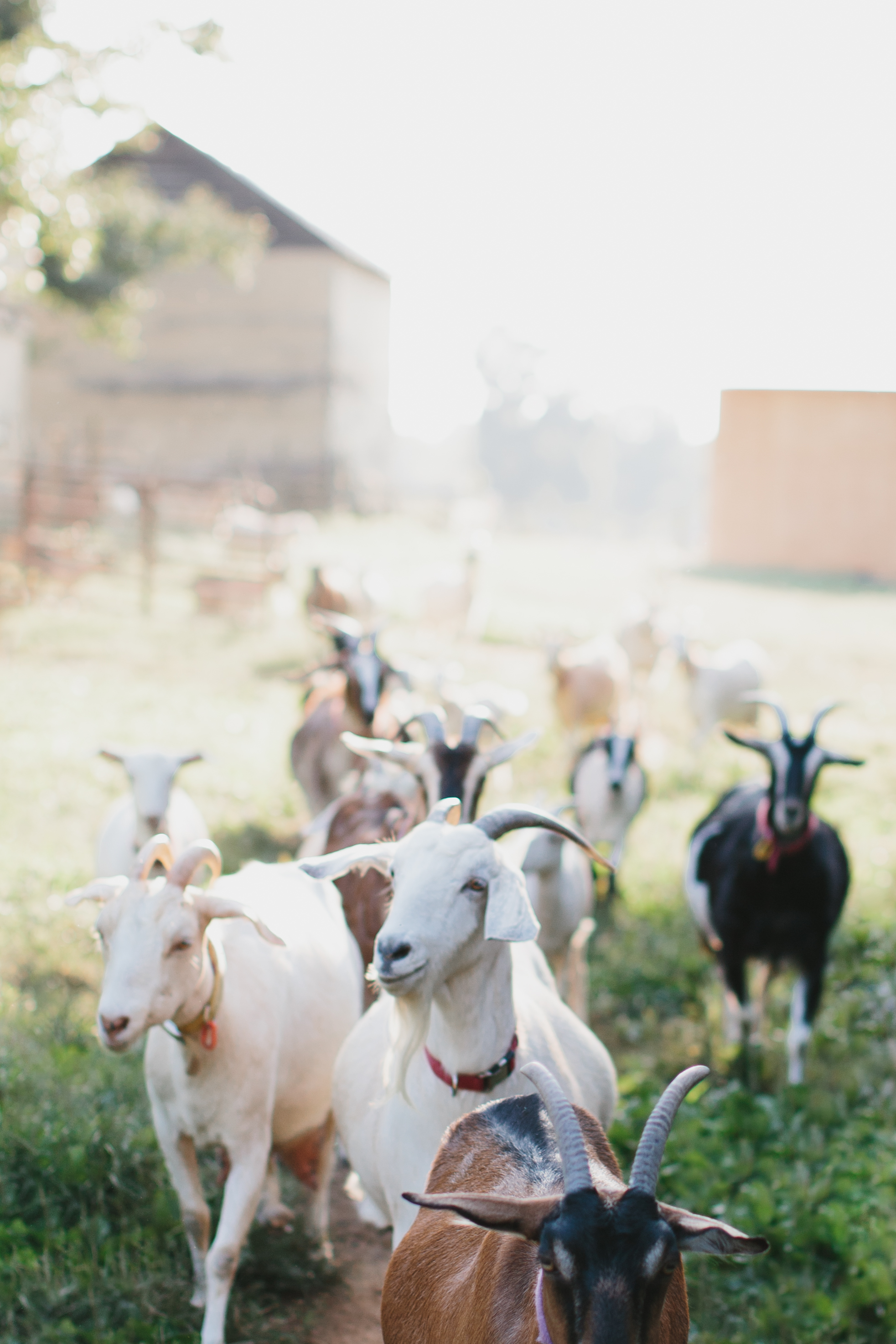 Looking for more Fall inspiration? Check out everything topping my fall wish list and our most recent recipes.
Photo by Merritt Chesson Photography
This post contains affiliate links, which means that if you click on one of the product links, I'll receive a small commission. Thank you so much for clicking through and helping to support this little blog business of mine! Read more about our site, privacy, and disclosure policies here.