Guys, I've discovered something magical, and I might never stop marbling ALL of the things. These DIY marbled pumpkin pumpkins are beautiful and unbelievably simple to make. The whole project takes maybe two steps and the best part is: you have everything you need already at home. (All you need is a plastic bowl, warm water, and nail polish!)
I love the color black, and have had a crush on the Target marbled pumpkins for weeks (anyone else able to get their hands on those beauties before they quickly sold out?) Making my marbled pumpkins black and white just made perfect sense. The chic result was beyond what I could have hoped for.
Though considering how much my little girl loved dipping the pumpkins, our next round might have to be rainbow-colored (a.k.a., Lisa Frank) inspired pumpkins using several brighter shades of nail polish. So much fun.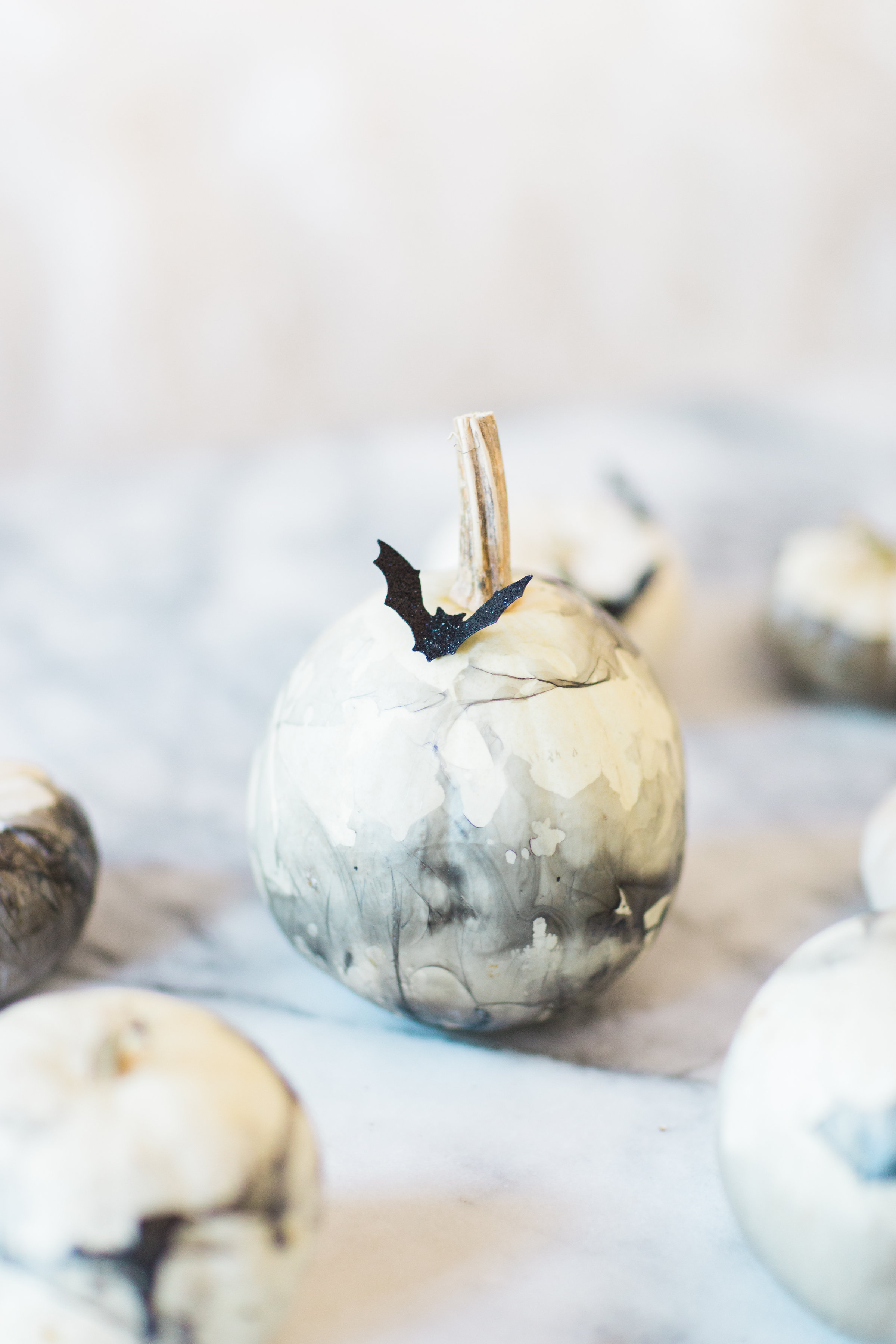 I love that these pumpkins look marbled but also as though they're covered in spooky black cobwebs … they feel so very Halloween.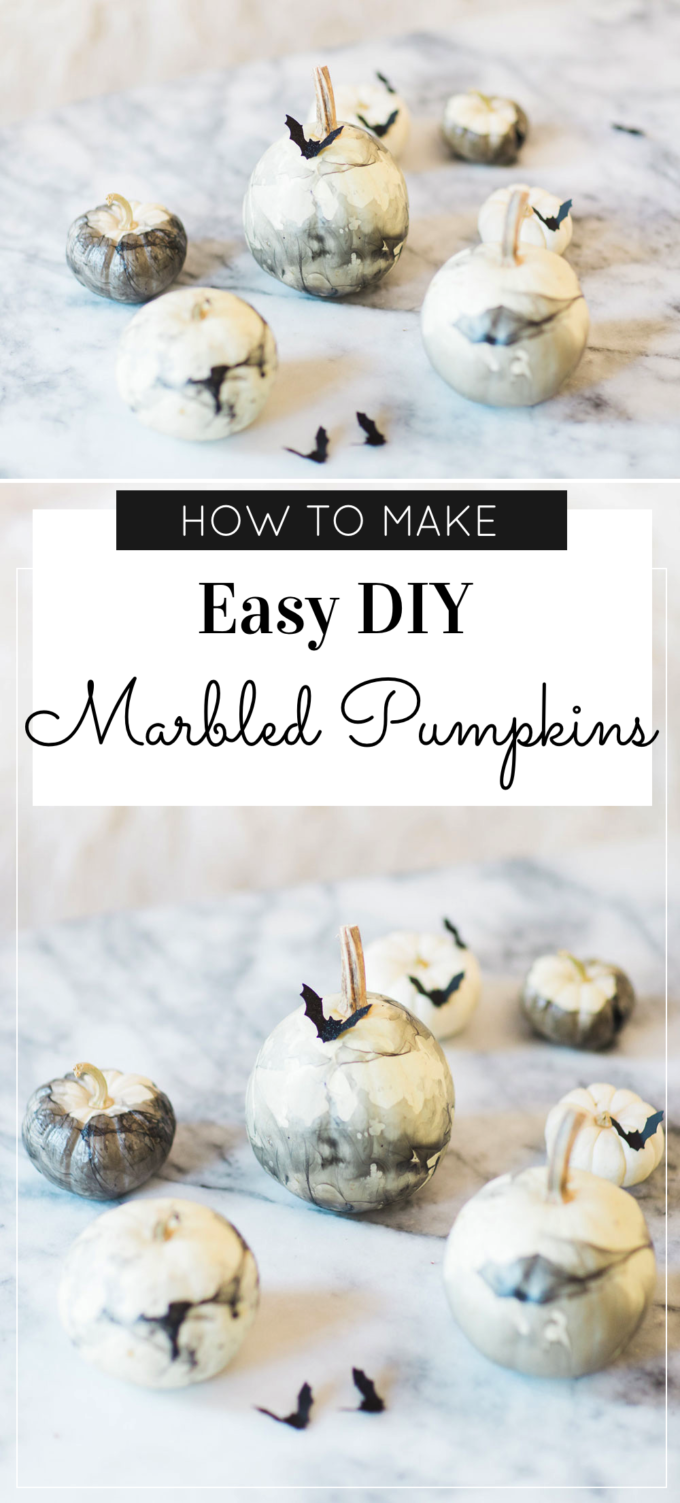 How to Make DIY Marbled Pumpkins
WHAT YOU'LL NEED
black nail polish
disposable plastic container or bowl
white pumpkins
DIRECTIONS
Fill a plastic container 3/4 full with lukewarm water. (If the water is too cold the nail polish will sink).
Pour nail polish. It will mostly float on top of the water.
Dip each pumpkin one at a time in the water, holding the stem, and spin a bit.
Remove from water and dry on wax paper. Flip pumpkins after about 20 minutes to dry on the other side. Allow to dry completely.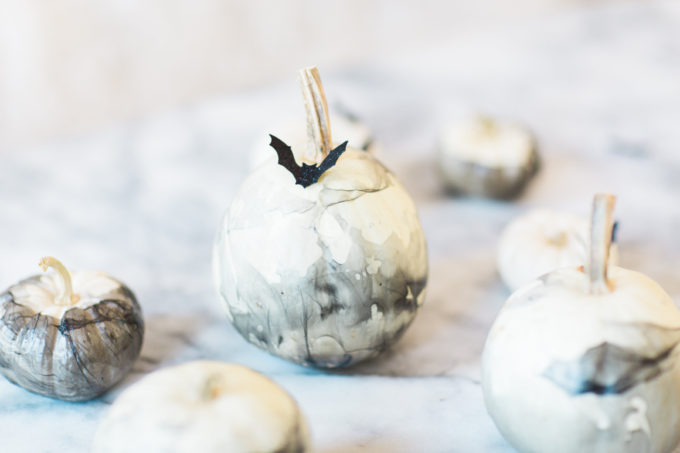 NOTE: The nail polish will begin to seize up by your third or fourth pumpkin. If you plan to make more, you may want to pour your water out and repeat the process every few pumpkins.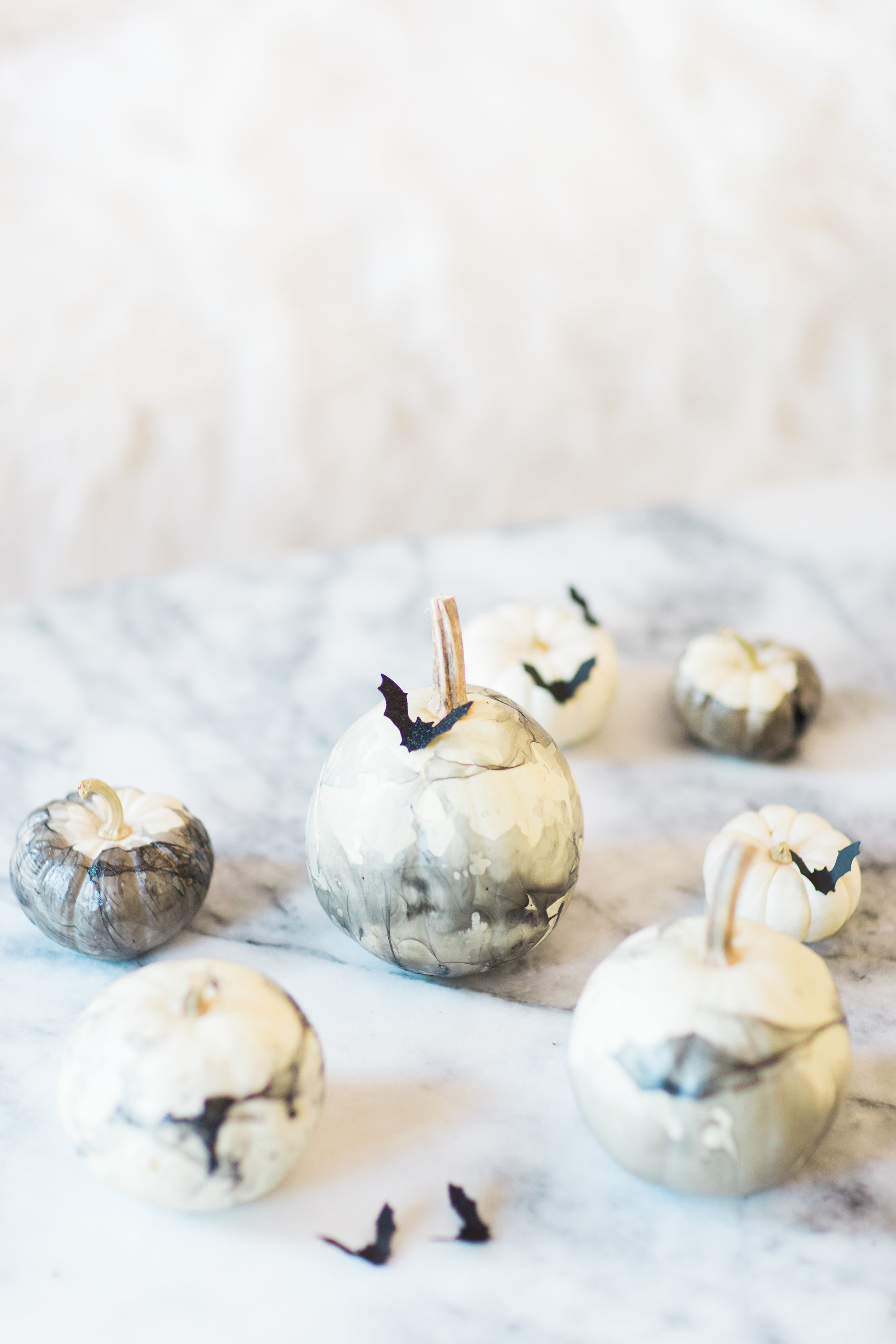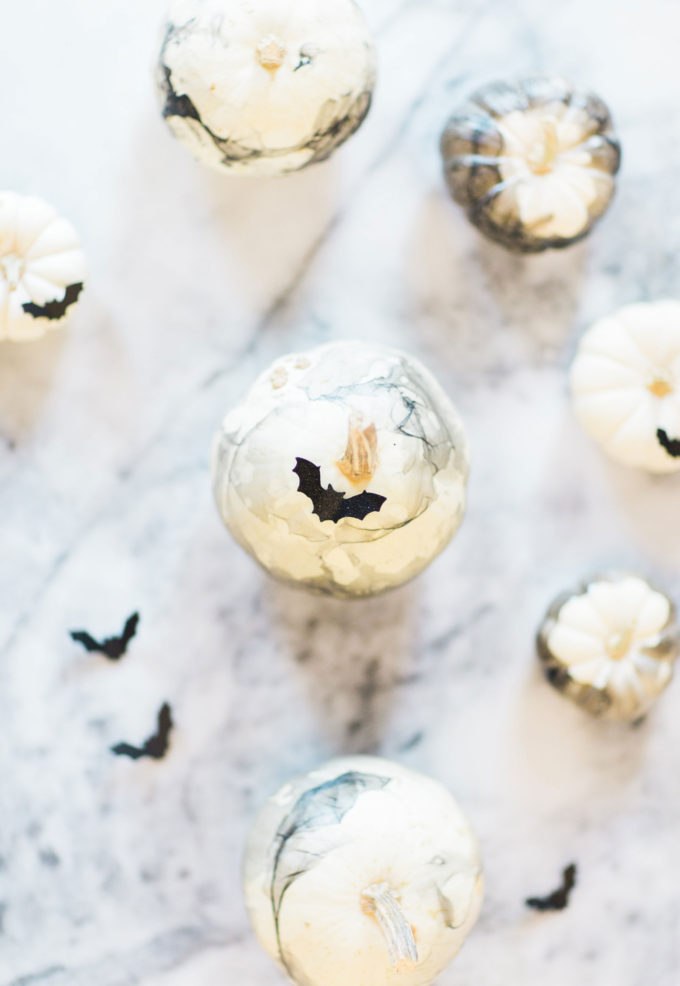 By the way, The adorable black bats are actually paper stickers from Target. If you haven't yet, check out Target's dollar section (just about everything in that section at the entrance of the store is $1 or $3); they always have adorable and affordable seasonal decorations, and right now, it's ALL Halloween.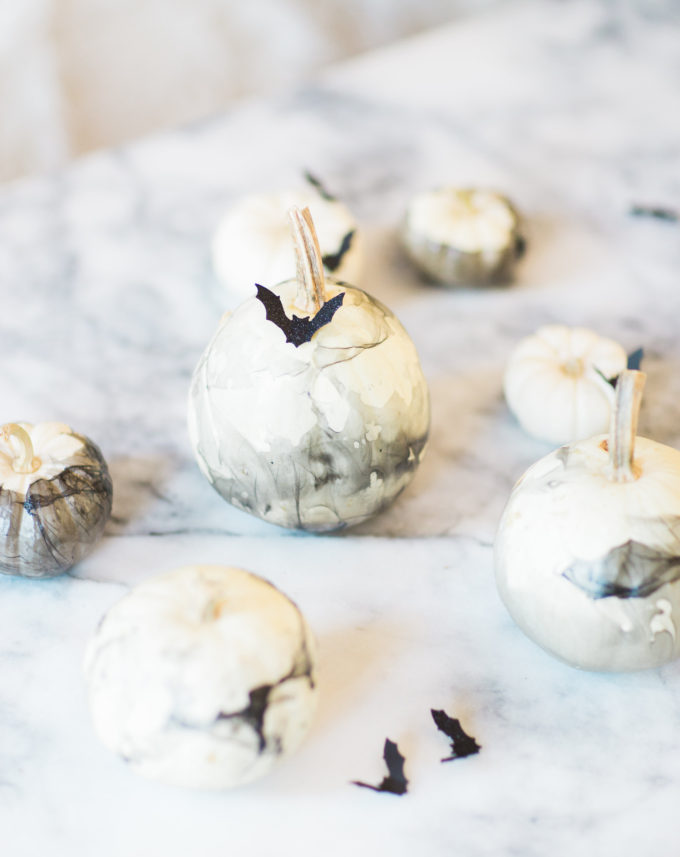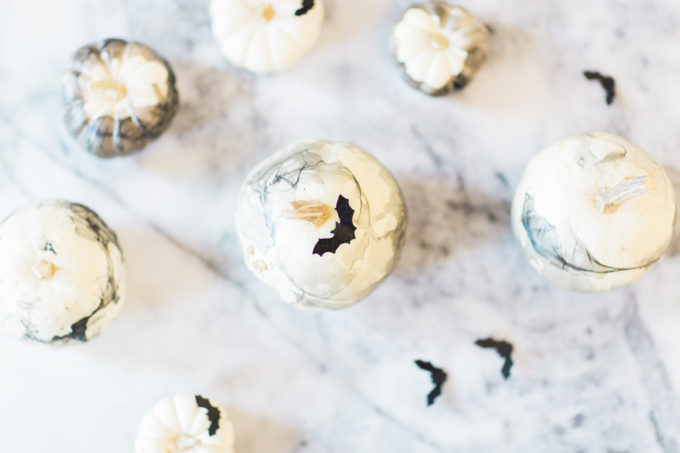 Even the bottom of these DIY marbled pumpkins are gorgeous.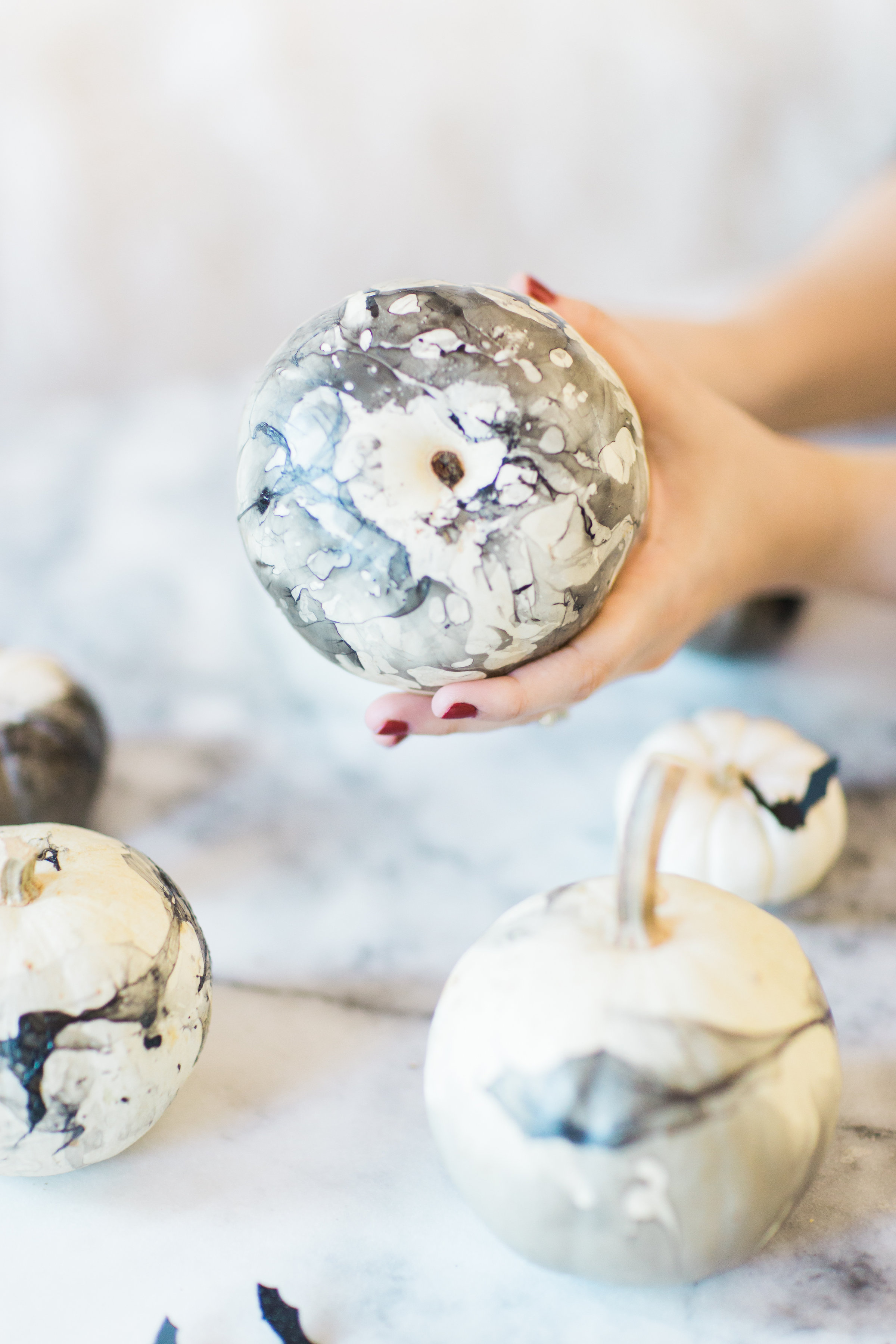 Let me know if you create your own DIY marble pumpkins! I'd love to see your creations. 
Photos by Annie Watts Photography
This post contains affiliate links, which means that if you click on one of the product links, I'll receive a small commission. Thank you so much for clicking through and helping to support this little blog business of mine! Read more about our site, privacy, and disclosure policies here.