This post contains affiliate links, which means that if you click on one of the product links, I'll receive a small commission. Thank you so much for clicking through and helping to support this little blog business of mine! Read more about our site, privacy, and disclosure policies here.
These super simple DIY kids nature bracelets are the perfect fun activity to do on your next nature walk. All you'll need is duct tape and nature! (Psst … the more flowers around, the better!)
These days our family has been going on a ton of walks and outdoor adventures. If you follow along on my Instagram, you've probably seen the videos and photos from our daily walks. New England is just so darn pretty this time of year; I can't help myself.
To make our nature walks even more fun for the kids, we've been trying to come up with simple games and activities to play along the way. We have played games like "I Spy" and Stroller Bingo, but I wanted to come up with a way for the girls to really interact with all of the beautiful flowers and plants all around. Have I mentioned I really, really love spring (and summer) in Boston? 😍
Thus, the kids nature walk bracelet was born!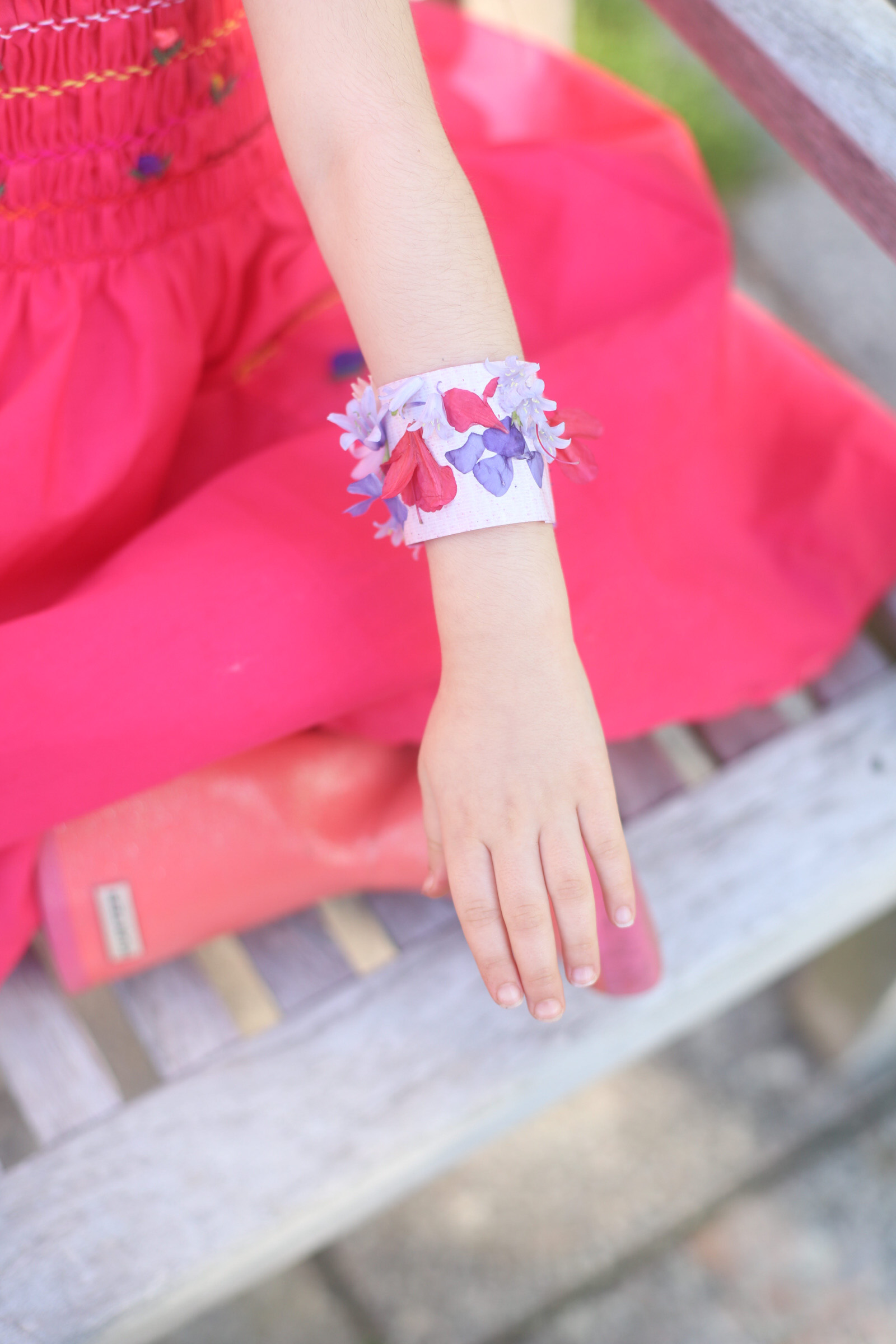 Simple and Fun Kids Nature Walk Bracelet Activity
This simple and adorable kids nature walk bracelet activity has quickly become a favorite afternoon game to play on our walks. It's so unbelievably easy, but makes getting outside even more fun for our kids.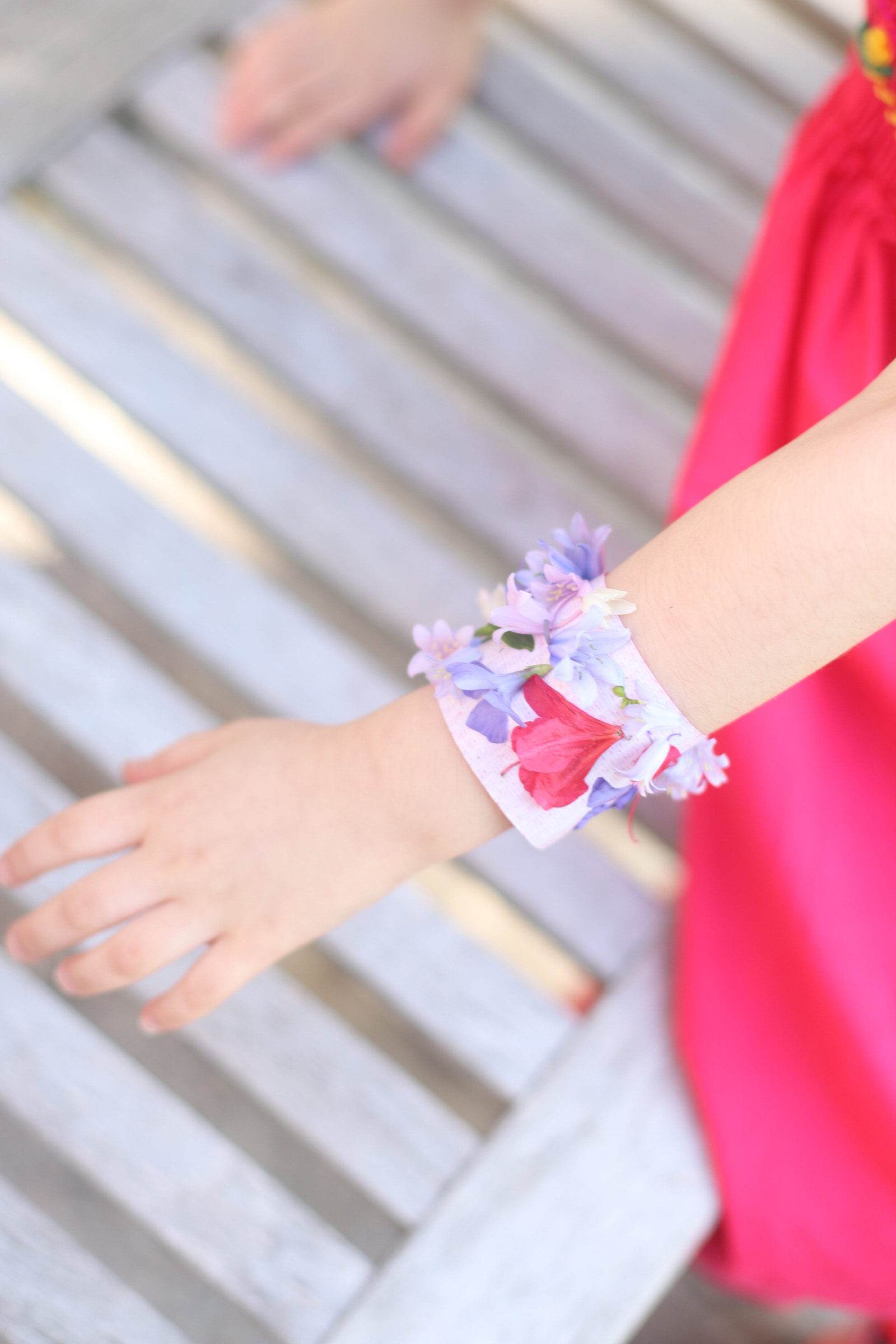 How to Make Your Own Easy Kids Nature Walk Bracelets
Making nature bracelets with your kids couldn't be easier! Our girls got so into this activity that they were having me make tiny bracelets for their dolls and toys to decorate as well.
WHAT YOU'LL NEED
duct tape
flowers, leaves, small pebbles, etc.
TO MAKE THE BRACELETS
Simply cut a piece of duct tape, about two inches longer than the width of your child's wrist (use their wrist as a guide), and then wrap the piece of duct tape, inside out, as a bracelet/cuff around your child's wrist. Basically, it's an inside out duct tape "bracelet" with the sticky side out.
Head outside and have your kids gently stick and press flowers, leaves, etc. to the bracelet.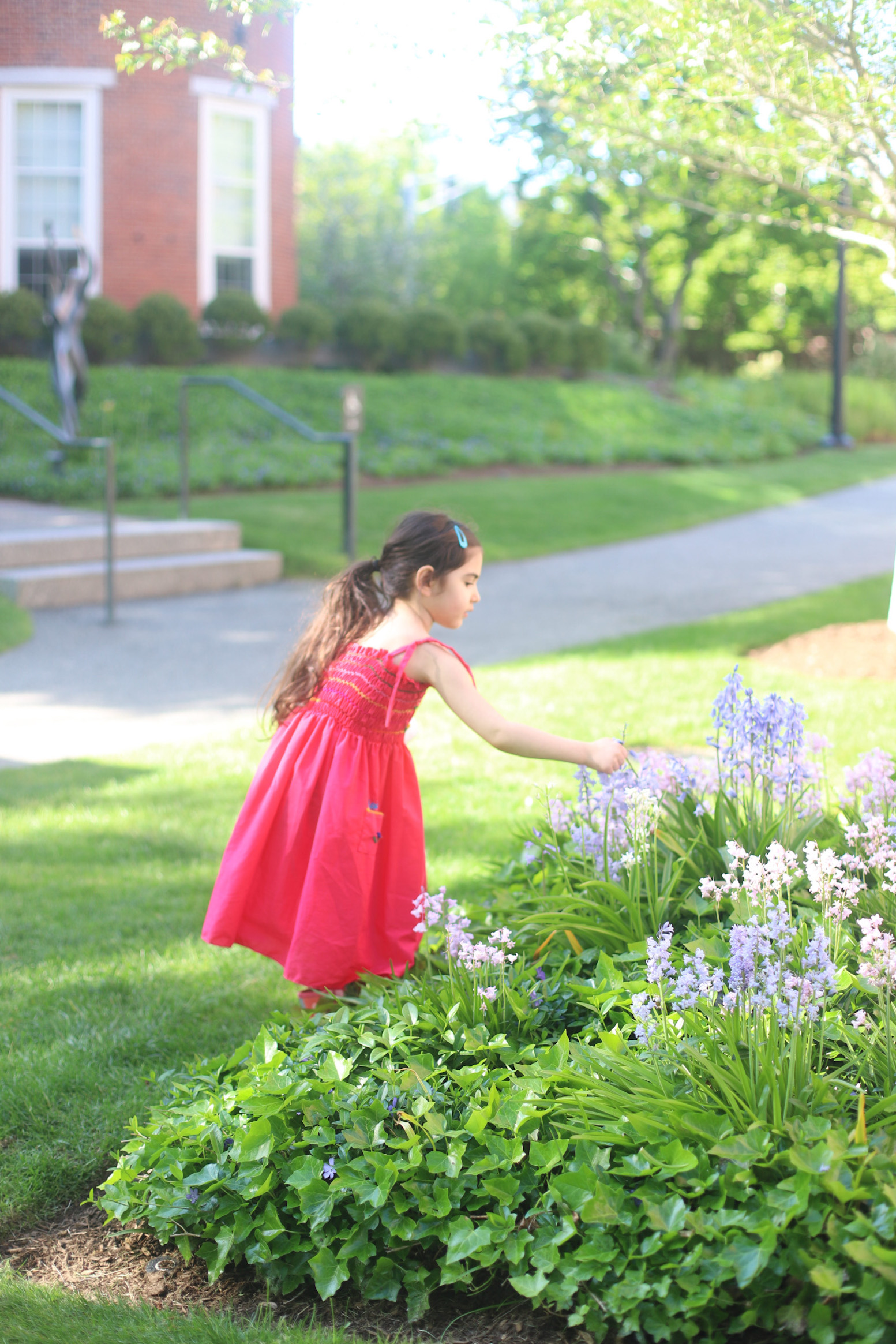 NOTE: If your kids have long hair, you might want to tie up their hair while they're doing this activity do that they don't get their hair stuck to the tape. Duct tape can be very sticky! 😂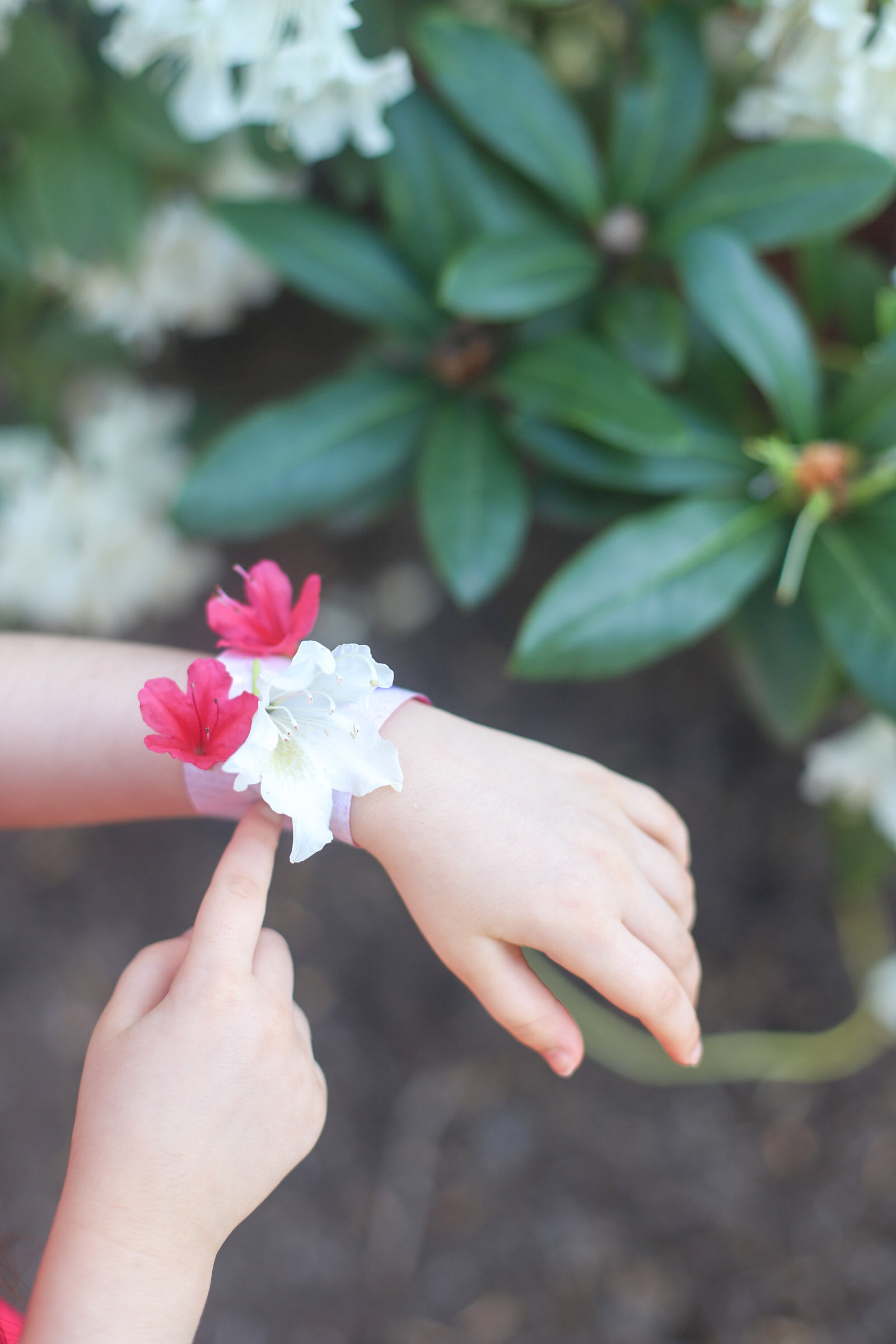 Our girls had so much fun stopping along our path for different colored flowers and leaves.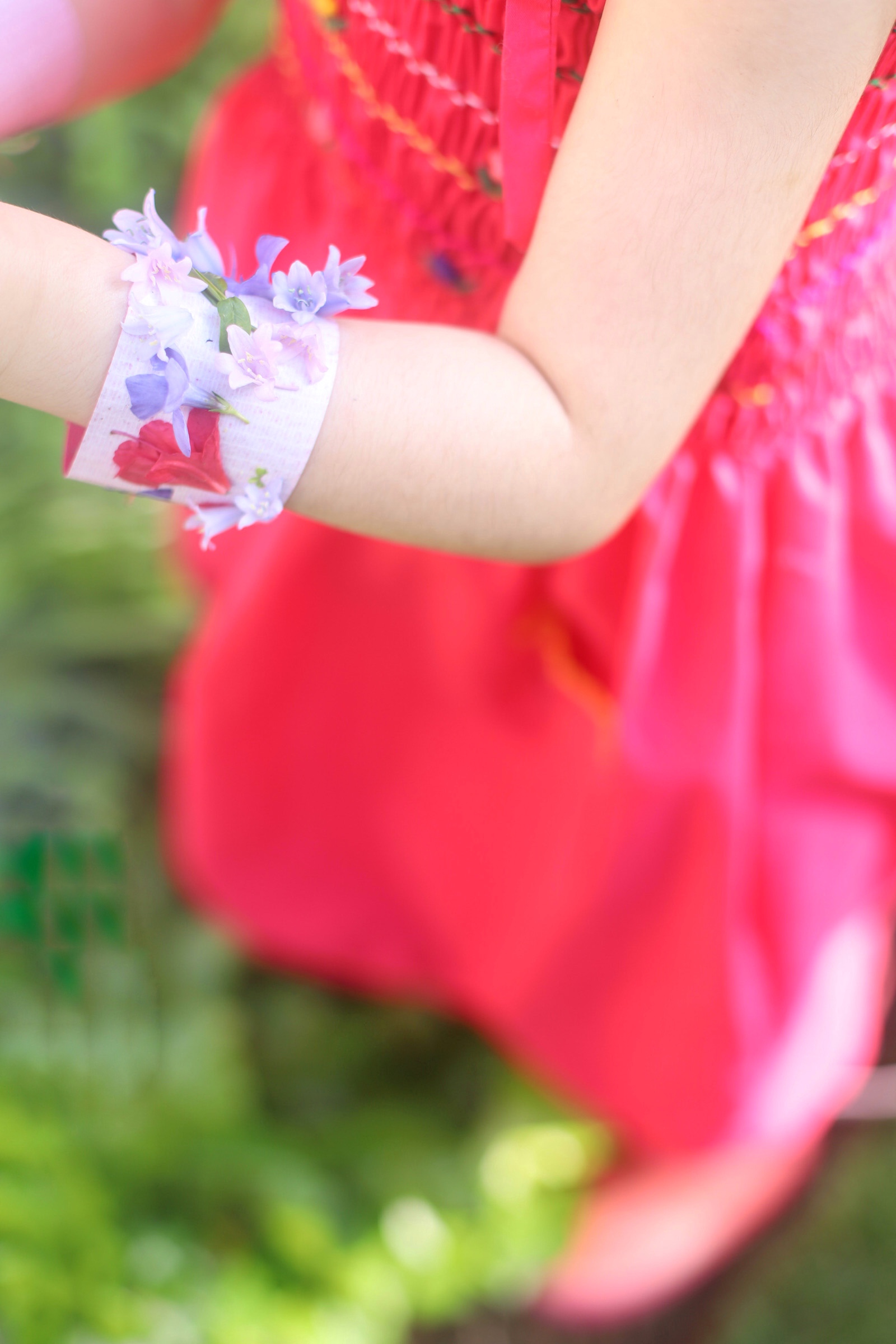 We made a bunch of different bracelets – even Dad got a fancy bracelet. The girls looked for different colors along our walk and had fun making patterns and color schemes. It was the perfect activity.
And honestly, anything to entertain and keep our kids happily playing outside is a win in my book!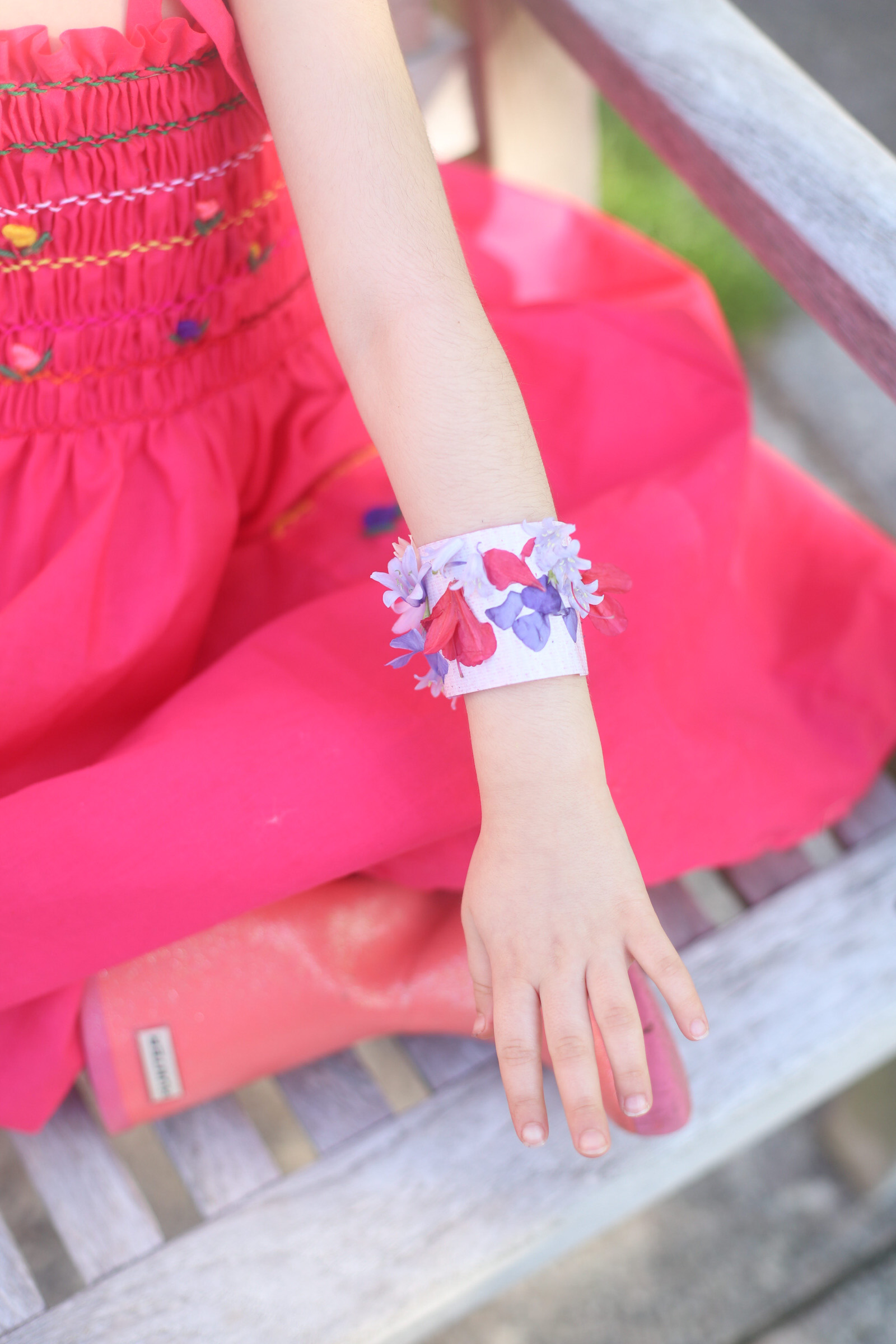 SHOP THE KIDS NATURE WALK BRACELET ACTIVITY | CLICK LEFT & RIGHT ARROWS TO EXPLORE
IF YOU LOVED THIS POST, YOU CAN SEE MORE OF OUR LIFE WITH TWO LITTLE ONES HERE AND ALL OF OUR KIDS ACTIVITIES AND CRAFTS HERE.