This post contains affiliate links, which means that if you click on one of the product links, I'll receive a small commission. Thank you so much for clicking through and helping to support this little blog business of mine! Read more about our site, privacy, and disclosure policies here.
As a parent, the mess can seem never-ending. That can feel especially stressful for busy parents who just don't like to clean. And unless you happen to be one of those incredibly tidy people by nature, you'll want to have a handful of cleaning hacks in your parenting arsenal to stay on top of the mess. Well we've got you covered with 5 awesome cleaning hacks to tackle the mess!
I'm always in awe of busy moms who actually LIKE to clean. I swear they seem like they have it all together. And on top of that, they actually feel motivated to clean up every little mess. Whaaaaat?
Well, I've come to terms with the fact that I'm not that mom. I'm the mom who makes messes with glitter and glue, and stares at our kitchen sink, piled high with mixing bowls and baking pans because I can't stop baking, and though I'm proud of the mess I've made with my girls (because hey, we had fun!), I kind of dread the clean up.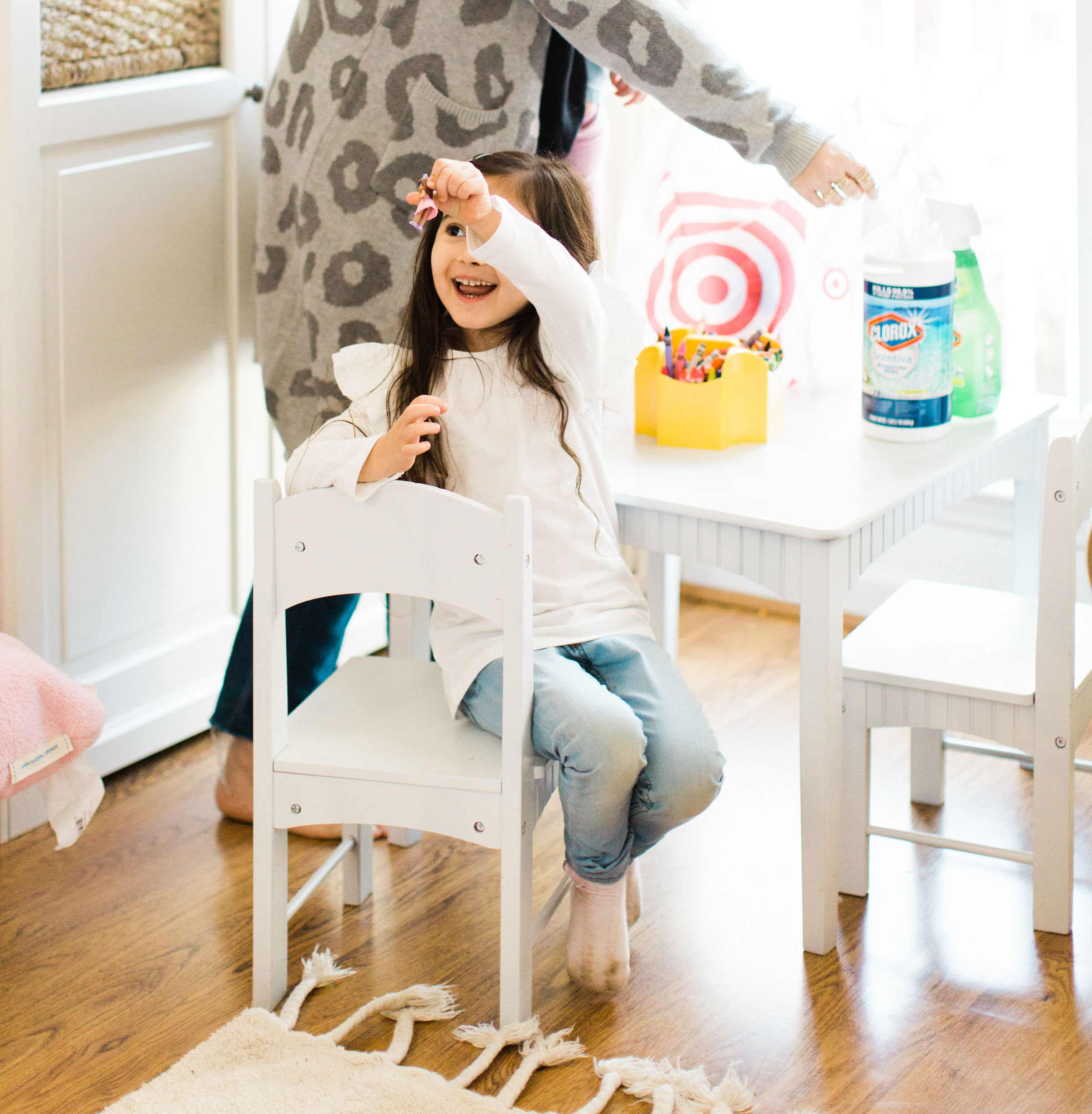 If you're anything like me, and wish you could just snap your fingers and magically have a tidy home, cleaning hacks that don't require too much effort, may be the way to go!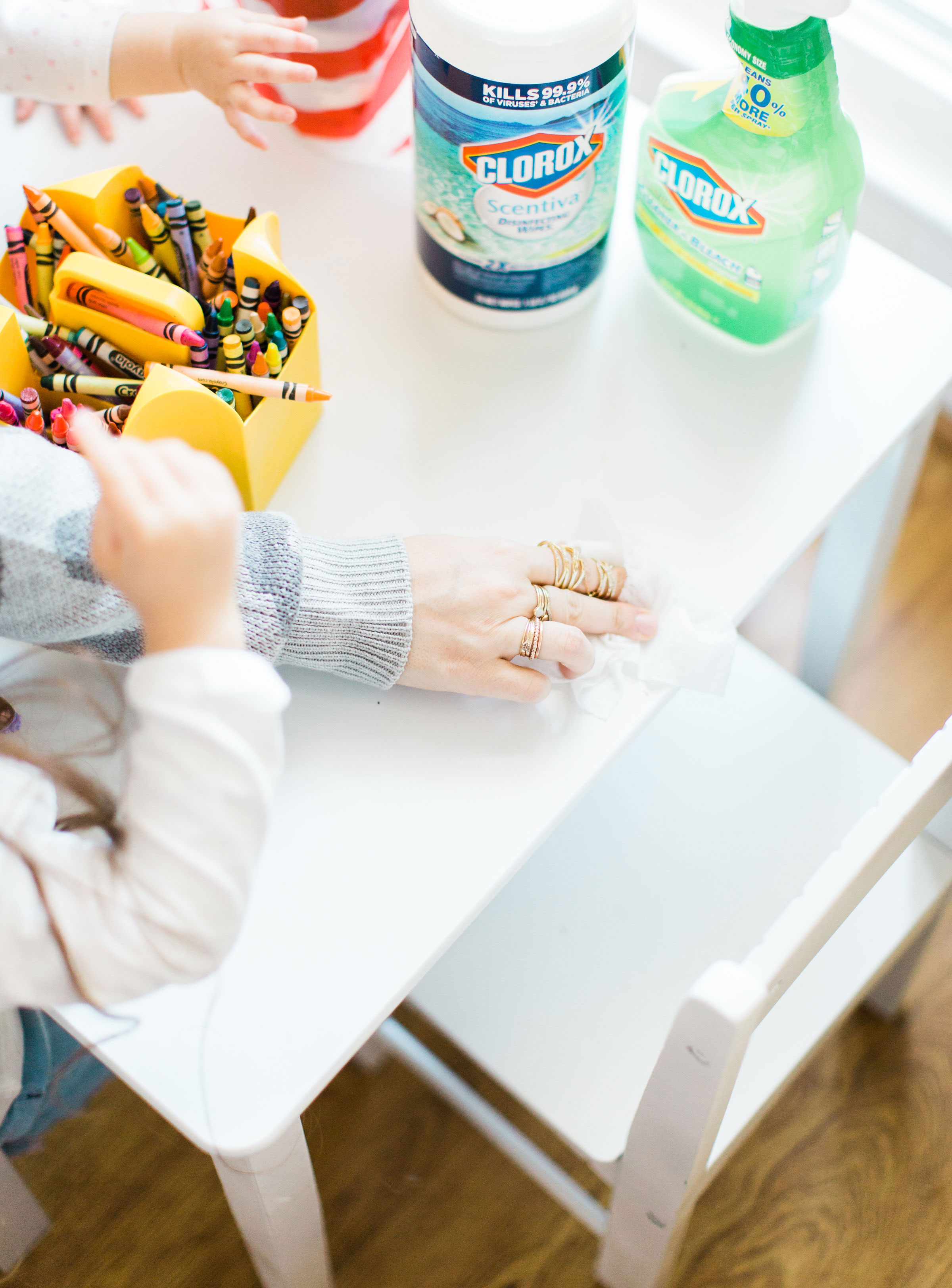 So today, I'm sharing 5 Cleaning Hacks (for busy parents who don't like to clean)
… and yep, it's totally okay to admit that cleaning is just not your thing!
Stock up on cleaning products that make cleaning so easy and actually put in the work. I keep it extra easy by having our cleaning products delivered via Shipt. Or other grocery delivery services (winning!).
Clean messes as you make them. I'll admit, I'm not the best at this. But I am trying to clean each mess just after I've made them. If I bake a cake with the girls, I quickly rinse out the mixing bowls, spoons, etc, once the cake is in the oven. Same goes for crafts, games, and other activities. (More on that later.)
Set up little cleaning stations. I have a basket under the sink in each bathroom, plus one under the kitchen sink and in the laundry room, with a tube of Clorox Disinfecting Wipes, a roll of paper towels, Mrs. Meyer's Multi-Surface Everyday Cleaner, and a Clorox Clean-Up All Purpose Cleaner with Bleach Spray Bottle. Having the cleaning products readily accessible makes it so that any time I have even the tiniest inclination to do a quick clean up. Also, I don't have to look far to have all of my cleaning supplies handy. For me, half the battle is getting the motivation to clean. So if the cleaning products are just at my finger tips the moment I think, "Gee, I should wipe down this sink!," I can get it over with in a snap. (I'm a big fan of these Pillowfort bins from Target because they're cute and have a split easy snap top lid. This simple open weave basket is a more chic way to store things, if you have cleaning supplies in a more visually obvious place.)
The dishwasher and washing machine should be your BFF. Wash dirty plastic toys in the dishwasher and lovies and stuffed animals in the washing machine. Those things can get so gross. Also, it's best to fight the germs in the things the kids touch often to help prevent cold and flu from running rampant in your house.
Get the whole family involved. I make a game out of clean up time and work with the kids to get everything put away. Some days our oldest, now 4 years old, whines a bit, and insists she'll "clean later," but motivating her to clean is just as much about teaching her to clean up after her messes as it is to re-train my own brain to follow through on tidying up as we go. It's a team effort! And honestly, once we're all involved, it's actually kind of fun. It goes by so much quicker, instead of feeling like one dreaded monumental task.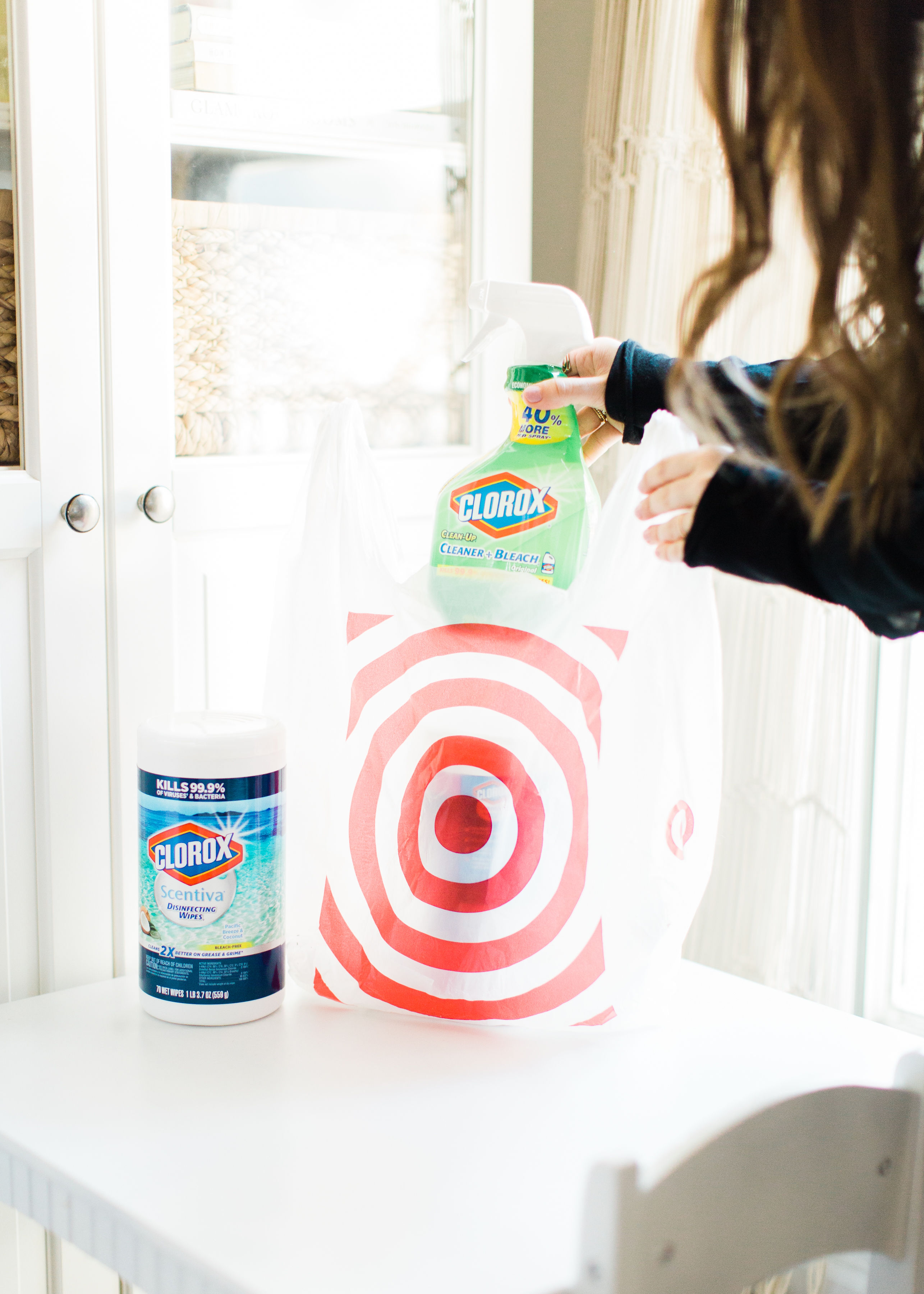 Seriously, grocery delivery for the win.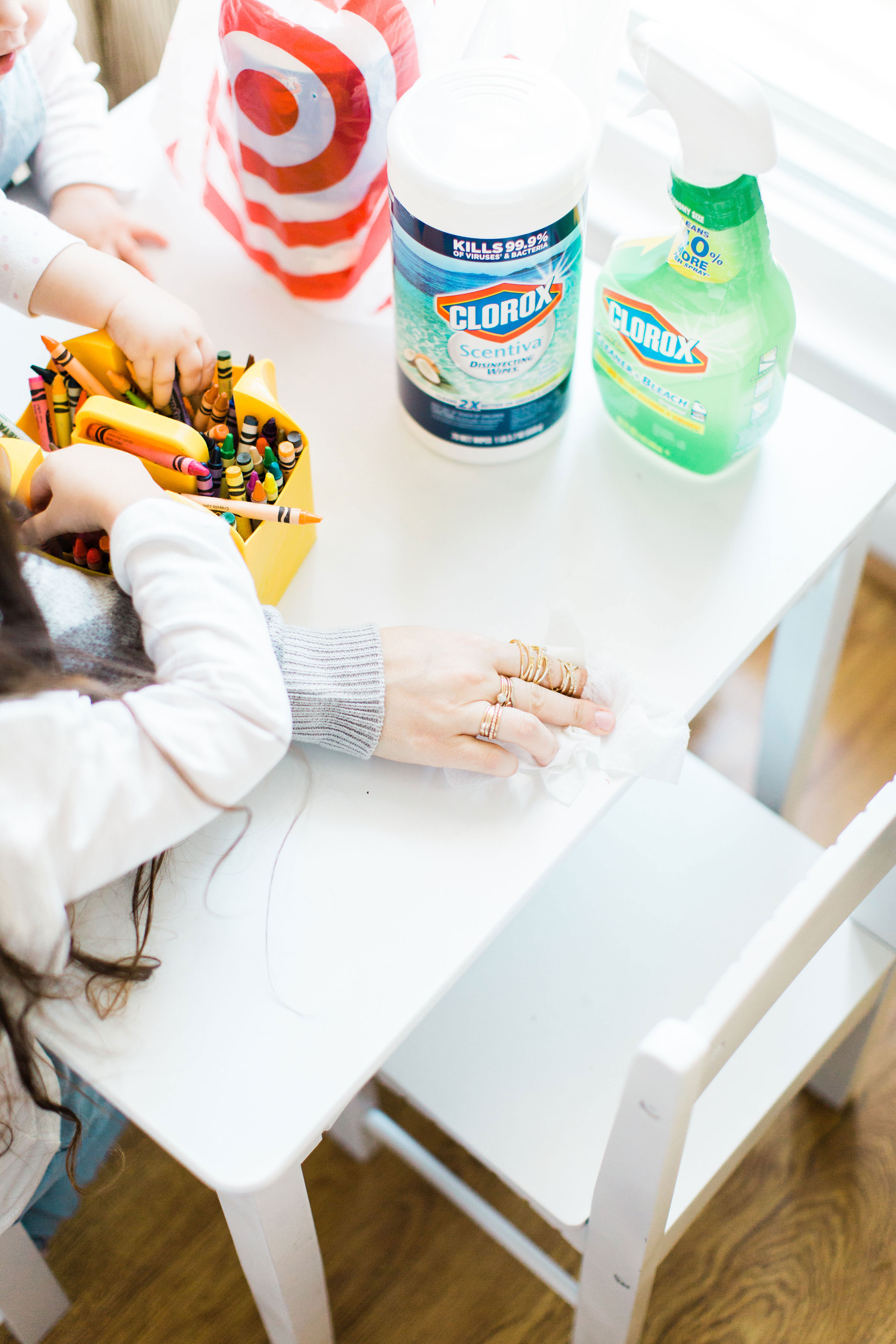 I hope these cleaning hacks will make your life as busy parents a little easier. Do you have any of your own tried and true cleaning tips that don't necessarily feel like a chore?
SHOP THE CLEANING HACKS POST | CLICK LEFT & RIGHT ARROWS TO EXPLORE

IF YOU LOVED THIS CLEANING TIPS POST, YOU CAN SEE MORE OF OUR PARENTING HACKS, PLUS LIFE WITH TWO LITTLE ONES, HERE.
Photos by Annie Timmons Photography for Glitter, Inc.