This post contains affiliate links, which means that if you click on one of the product links, I'll receive a small commission. Thank you so much for clicking through and helping to support this little blog business of mine! Read more about our site, privacy, and disclosure policies here.
Looking for a little recipe inspiration this fall season? We have the ultimate list with more than 125+ incredible recipes that everyone should try. Happy cooking and baking!
Fall is easily my favorite season. Of course I love the beautiful weather, the falling leaves, the pumpkin patches and apple orchards, the excuse to finally break out my long-missed boots and scarves; but most of all: I'm in it for the fall recipes. Seriously. I LOVE to cook (and especially bake), and fall recipes are so darned good. Chock full of ingredients like sweet potatoes, pumpkin, apples, and all of that cinnamon, nutmeg, ginger, allspice, pumpkin pie spice, star anise; I could go on and on. I wish my house could smell like the sweet spices of apple pie, cider, maple syrup, and pumpkin bread all year long.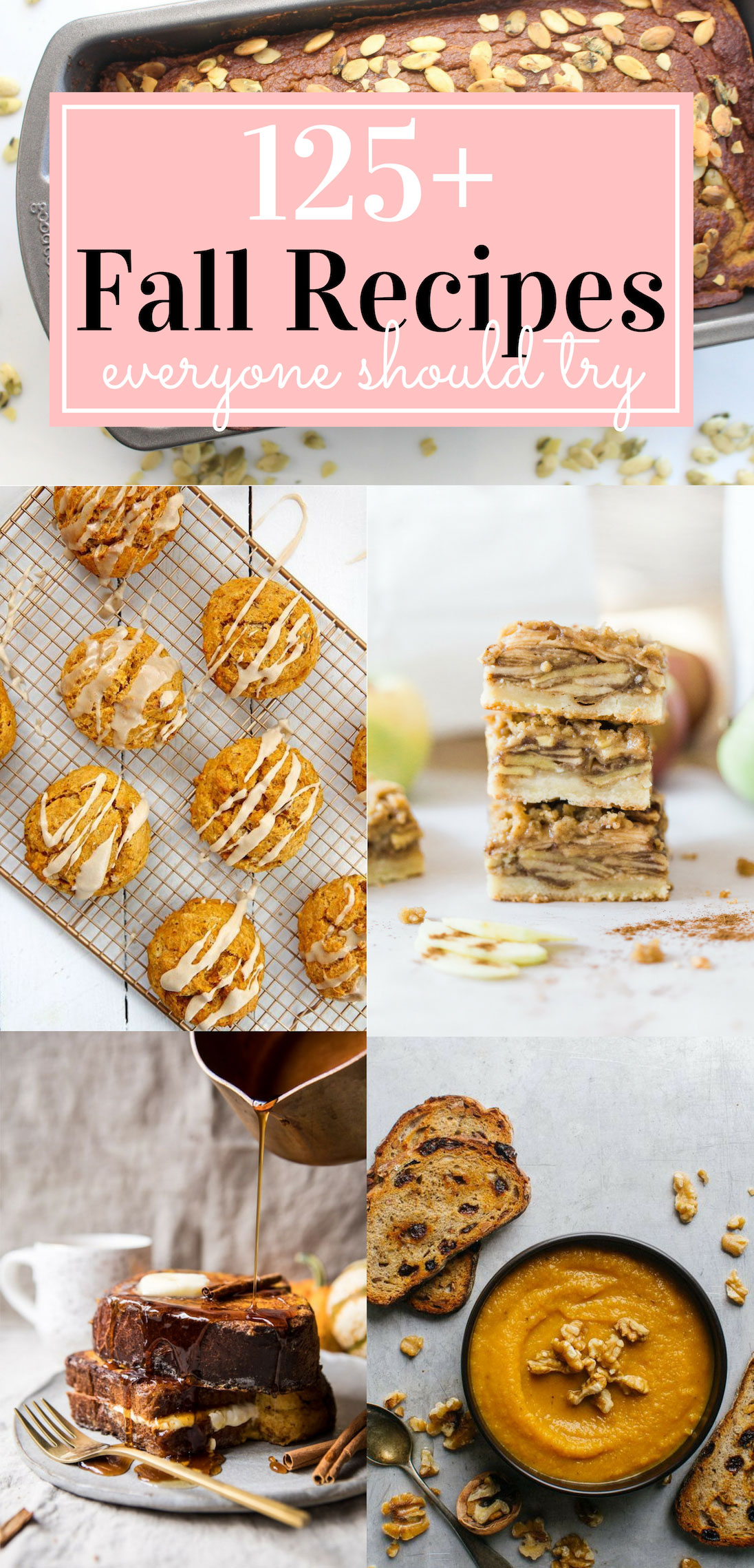 Ultimate
Fall

Recipes List

So today, because I am basically a woman obsessed, I'm sharing the ultimate list of fall recipes everyone should try. We're talking more than 125+ mouth-watering fall breads, donuts, muffins, dinners, soups, salads, sides, appetizers, pies, bars, cookies, and cakes.

I've been pulling together and making these fall recipes for years, including some of my mom's very popular fall recipes, and the most pinned fall recipes of all time, with some of my favorites here on my Fall Recipes Pinterest Board, and I'm finally sharing them all here in one place. I also have tons of fall recipes on my site – because, duh – so I'm sharing them all here so everyone can easily access them. And, most importantly, I want to know what recipes I should add to this list! Post in the comments your absolute favorite fall recipes so that I can make them and share away!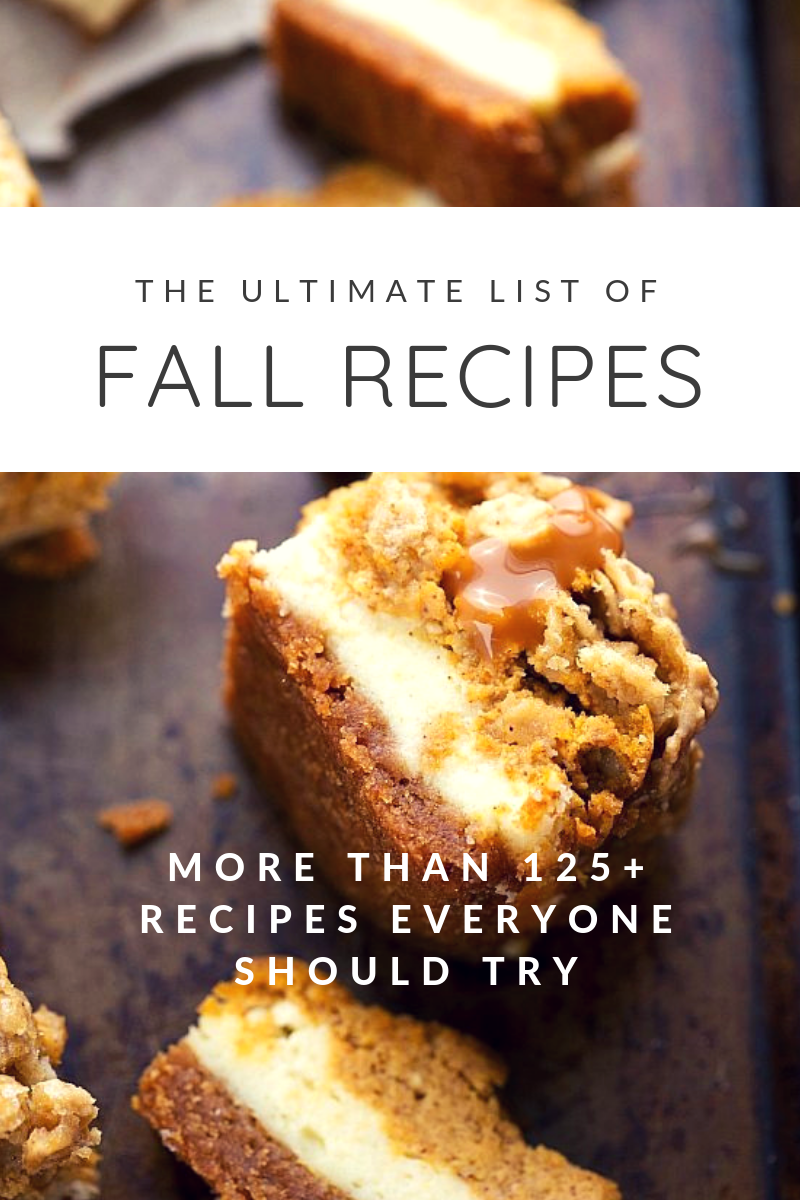 I divided this list of fall recipes into a few main categories, both sweet and savory:
1 – Fall Breads, Donuts, and Muffins
2 – Fall Dinners, Soups, and Salads
3 – Fall Sides and Appetizers
4 – Fall Pies and Bars
5 – Fall Desserts, Cookies, and Cakes
6 – Fall Breakfast and Brunch
Although I love making these fall recipes all season-long, a lot of these recipes are perfect Thanksgiving recipes. I think the turkey recipes in the "Dinners" category, along with all of the sides and appetizers, pies and bars, and desserts, cookies, and cakes, would work perfectly for Thanksgiving. We often cook and bake from this list for Thanksgiving or Friendsgiving, whether we're hosting or bringing a few dishes along.
The Ultimate List of Fall Recipes Everyone Should Try
If you need a little recipe inspiration this fall, look no further! We have the ultimate list of fall recipes with more than 125+ incredible options that everyone should try.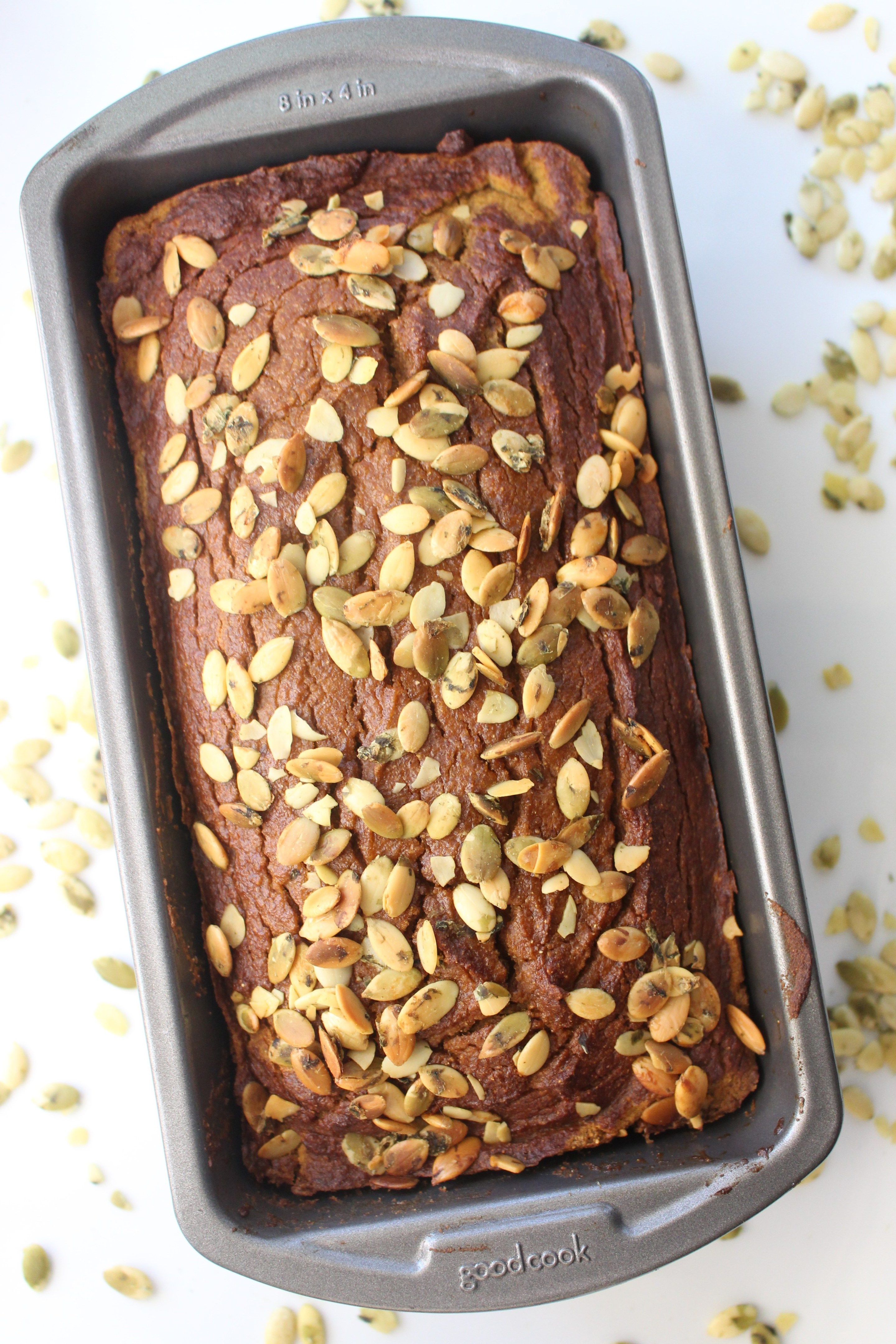 Fall Breads, Donuts, and Muffins
Healthy Paleo Pumpkin Bread via Superkid Eats (pictured above)
Apple Streusel Pull-Apart Bread with a Sweet Glaze
Apple Pull Apart Bread (This one is dairy free, egg free, nut free and vegan!)
Easy Pumpkin Cheesecake Swirl Muffins
Pumpkin Cider Donut Holes with Hot Fudge
Overnight Pull-Apart Brioche Cinnamon Roll Bread
Parker House Rolls – The Best!
Healthy Gluten-Free Apple Cinnamon Almond Muffins
Super Moist Carrot Banana Bread
Paleo Pumpkin Coffee Cake – Trying this soon. I'll report back!
Baked Apple Cider Donuts with Brown Butter Glaze
Cranberry Swirl Crumble Muffins
Delicious Healthier Zucchini Muffins
Pumpkin Pull Apart Bread – This looks heavenly.
Toasted Marshmallow-Stuffed Pumpkin Muffins with Streusel Topping – Soooooo yummy.
Pumpkin Fritters with Caramel Sauce
Mulled Apple Cider French Crullers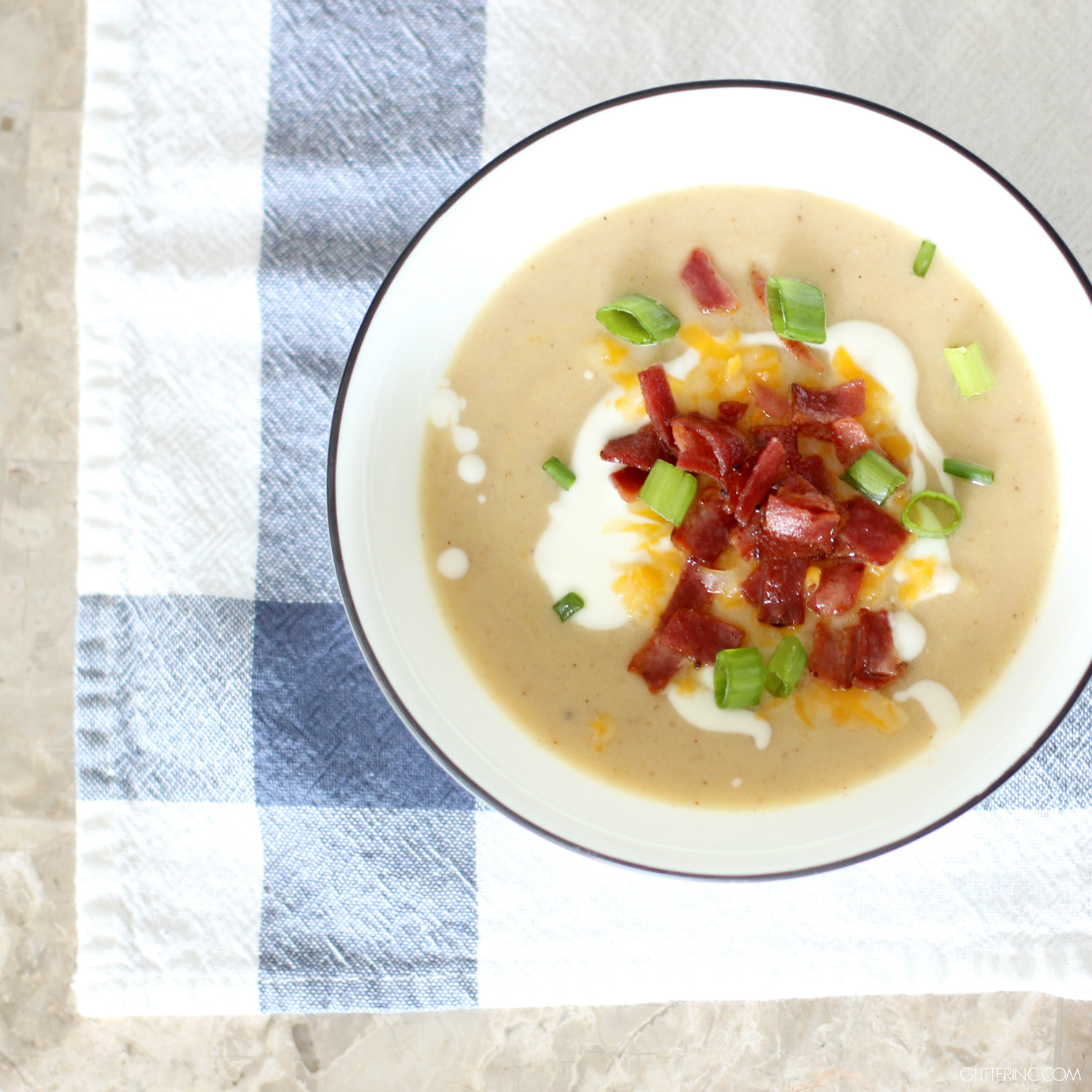 Fall Dinners, Soups, and Salads
Loaded Cauliflower Soup (pictured above) – A healthier spin on a classic.
Butternut Squash and Goat Cheese Ravioli with Browned Butter and Oregano Bread Crumbs
Copycat sweetgreen Harvest Bowl Salad – I am OBSESSED with this salad and make it often.
Skillet Cranberry Roasted Chicken and Potatoes
Hearty Chicken Vegetable and Quinoa Soup (Can be made in a slow cooker or Instant Pot!)
Nutty Harvest Honeycrisp Kale Salad
Herb and Butter Roasted Turkey with White Wine Pan Gravy
Caramelized Butternut, Crispy Kale Fontina Pizza
Chicken Enchilada Bake with Butternut Squash and Black Beans
Shaved Brussels Sprout & Endive Salad
3-Ingredient Trader Joe's Thai Coconut Curry Chicken (Can be made in a slow cooker or Instant Pot!)
Pumpkin Ricotta Gnocchi with Pancetta and Seared Radicchio
Simple Caramelized Butternut Squash and Kale Florentine Lasagna
Chicken, Mushroom and Pumpkin Stew – I definitely want to make this one.
Butternut Squash Linguine with Kale
Chicken Pumpkin Quinoa Chowder
Brie and Cheddar Apple Beer Soup with Cinnamon Pecan Oat Crumble
Brussels, Bacon and Cornbread Panzanella Salad
Butternut Squash, Apple and Fennel Soup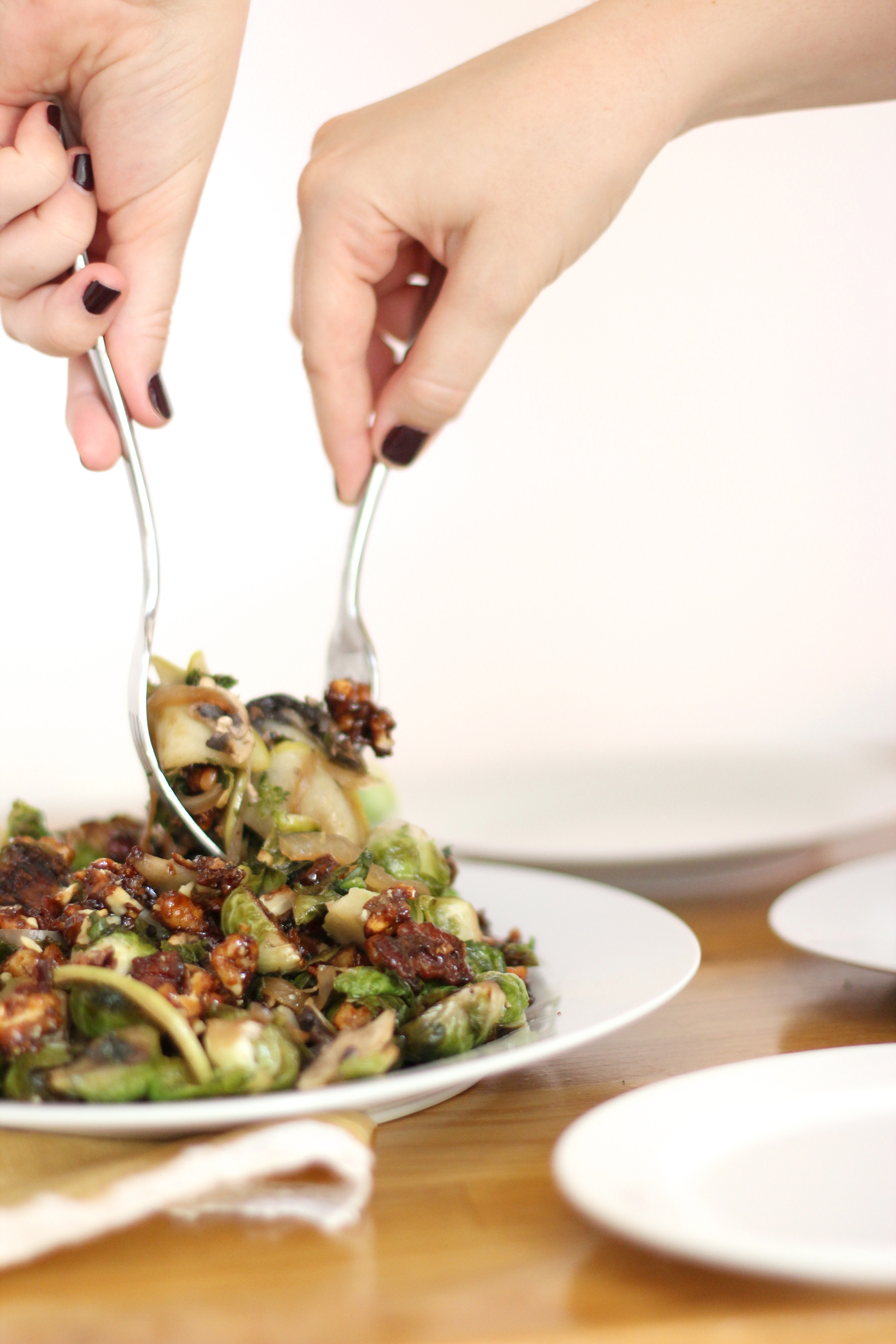 Fall Side Dishes and Appetizers
Brussels Sprouts with Candied Bacon and Walnuts (pictured above) – This one is a total crowd-pleaser.
Candied Cinnamon-Roasted Almonds – We make these every year and the recipe works beautifully with pecans, peanuts, and walnuts as well.
Classic Baked Macaroni and Cheese – This is my go-to creamy, homemade baked macaroni and cheese recipe. It is decadent and heavenly and not to be missed.
Instant Pot Cranberry Sauce – Love the idea of making this in an Instant Pot!
Silver Palate's Mashed Potatoes – This recipe uses cream cheese to give the potatoes that extra richness, though sour cream or mayonnaise also work really well here.
Maple Butter Roasted Acorn Squash with Pecans
Zucchini and Yellow Squash Gratin – Add gruyere to the recipe; so good!
Roasted Pumpkin, Cheese and Arugula Bruschetta
Crispy Roasted Sweet Potatoes with Bourbon Maple Butter
Challah, Mushroom, and Celery Stuffing
Bourbon Maple-Glazed Carrots – This is one of Pinterest's most pinned holiday season recipes!
Sausage and Brie Puff Pastry with a Raspberry, Fig and Balsamic Jam
Fall Pies and Bars
Salted Maple Caramel Apple Pie (pictured above) – This apple pie recipe is already a winner, top it with the homemade warm maple caramel and you'll be blown away.
Pumpkin Caramel Cheesecake Streusel Bars
The Most Amazing Apple Crisp Shortbread Bars – I make these every single year. They're that incredibly good.
Black Bottom No-Bake Chocolate Pumpkin Pie with Marshmallow Topping
Pumpkin Pie Bars – Thinking of making these for Thanksgiving this year. Bars are great for holiday get-togethers because they transport well!
The Best Ever S'mores Bars – Seriously; so fantastic.
Pumpkin Oatmeal Cookie S'mores Bars
Apple Galette with Tahini Frangipane & Honey-Hibiscus Glaze
Caramelized Condensed Milk Mini Apple Pies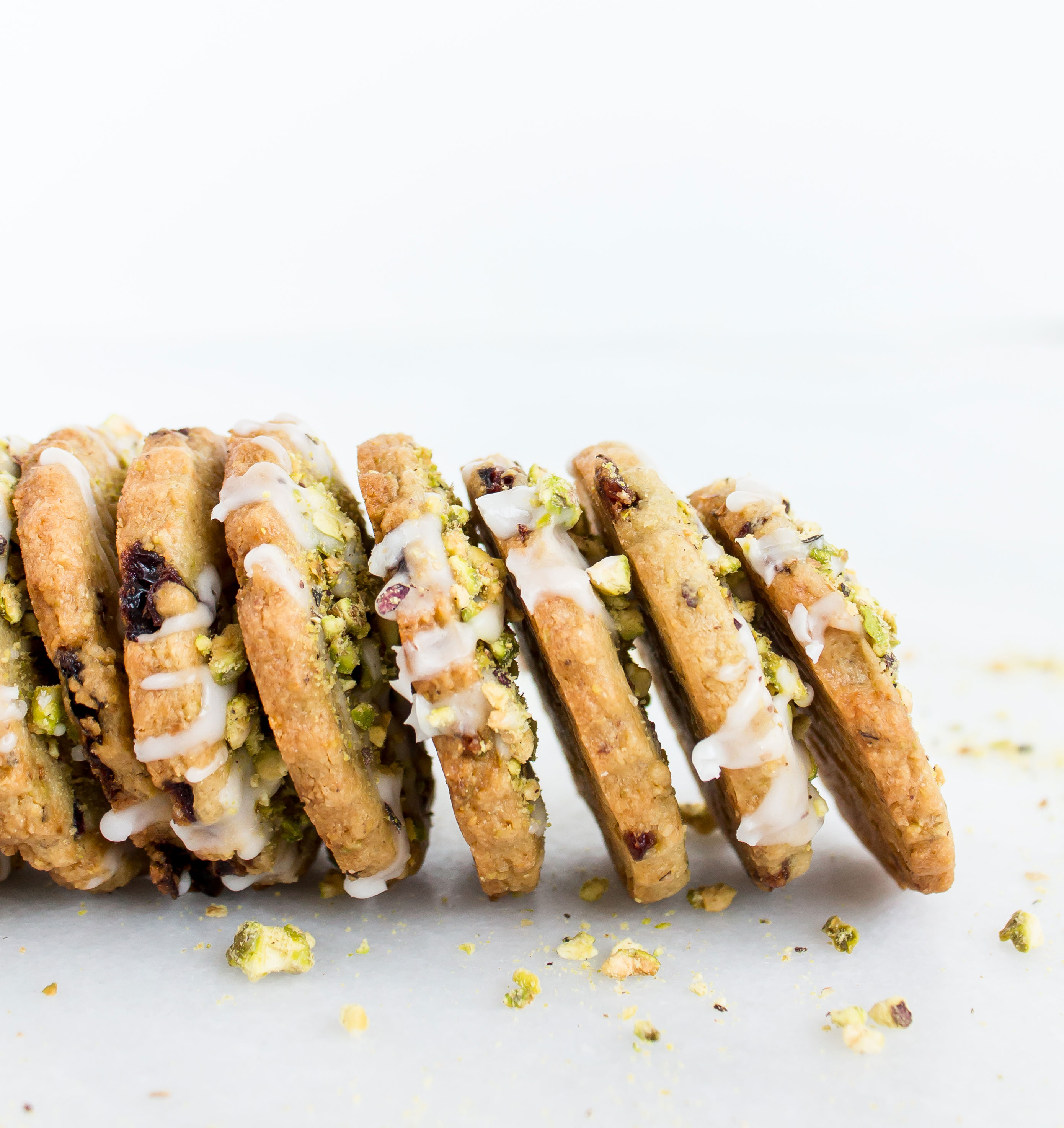 Fall Desserts, Cookies, and Cakes
Pistachio Cranberry Shortbread Cookies (pictured above)
Pumpkin Cake with Fluffy Chocolate Frosting – Making this one again this year! SO good and such a crowd-pleaser.
Thin and Chewy Spiced Oatmeal Cookies with Brown Butter Icing
Slow Cooker Apple Crisp – Super easy and delicious. Anything that can be made in my Instant Pot is A+ in my book.
Apple Crisp Cookie Cups – These are on my must-make list!
Caramel Apple Sheet Cake – Really want to try this!
Sweet Potato Cupcakes with Toasted Marshmallow Frosting
Pumpkin Spice Monkey Bread with Cream Cheese Glaze
Apple Caramel Cheesecake Parfaits
Pumpkin Whoopie Pies – These are on my list too. (I better get baking!)
Slow Cooker Pumpkin Pecan Bread Pudding
Salted Vanilla Caramel Corn – This stuff is sooooooo delicious.
Pumpkin Skillet Cobbler – I've been wanting to try this.
Grilled Pears with Cinnamon Drizzle
Melt-in-Your-Mouth Frosted Pumpkin Cookies
Sweet Pumpkin Dip – So simple. So good. And we make it as an easy dessert/appetizer every year.
Pumpkin Dream Cake – This looks so fluffy and moist.
Pumpkin Swirl Cheesecake Yogurt Cupcakes – I like that these are a lightened up dessert.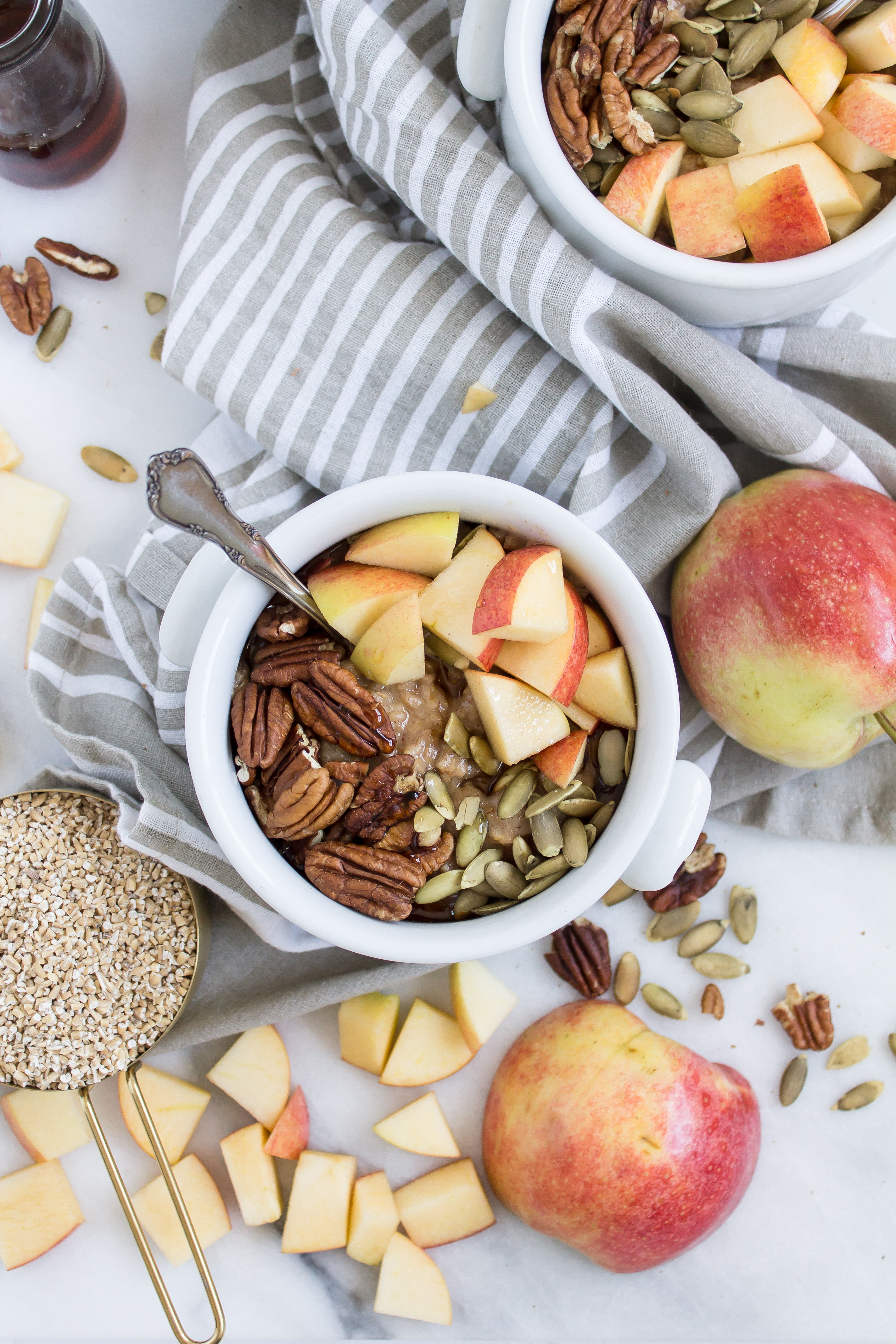 Fall Breakfast and Brunch
Slow Cooker Apple Cinnamon Steel Cut Oats (pictured above) – This is a big hit in our house! I also love making steel cut oats in the slow cooker for a crowd.
Apple Cinnamon Rolls with Cream Cheese Chai Frosting
Pumpkin Spice French Toast with Cider Syrup
White Chocolate Pumpkin Scones with Espresso Glaze
Crumb-Topped Apple Coffee Cake
Oatmeal Baked Apples with Maple Brown Butter
Overnight Cider Pumpkin Waffles with Toasted Pecan Butter, Cider Syrup and Spiced Apples
Classic Nutty Granola – One of our favorite recipes for perfect granola every time.
Breakfast Quinoa w/ Chai-Spiced Almond Milk and Cinnamon
Pumpkin Pecan Scones with Brown Butter Glaze
Fall Drinks and Cocktails
Rosé Fig Sangria (pictured above, via @howsweeteats)
Sparkling Pomegranate Punch Cocktails
Pumpkin Ginger Bourbon Cocktails (The homemade pumpkin ginger simple syrup is what deliciously upgrades this from a more classic Kentucky Mule, and it is SO good.)
Apple Cider Sangria (Also, this Red Apple Cider Sangria)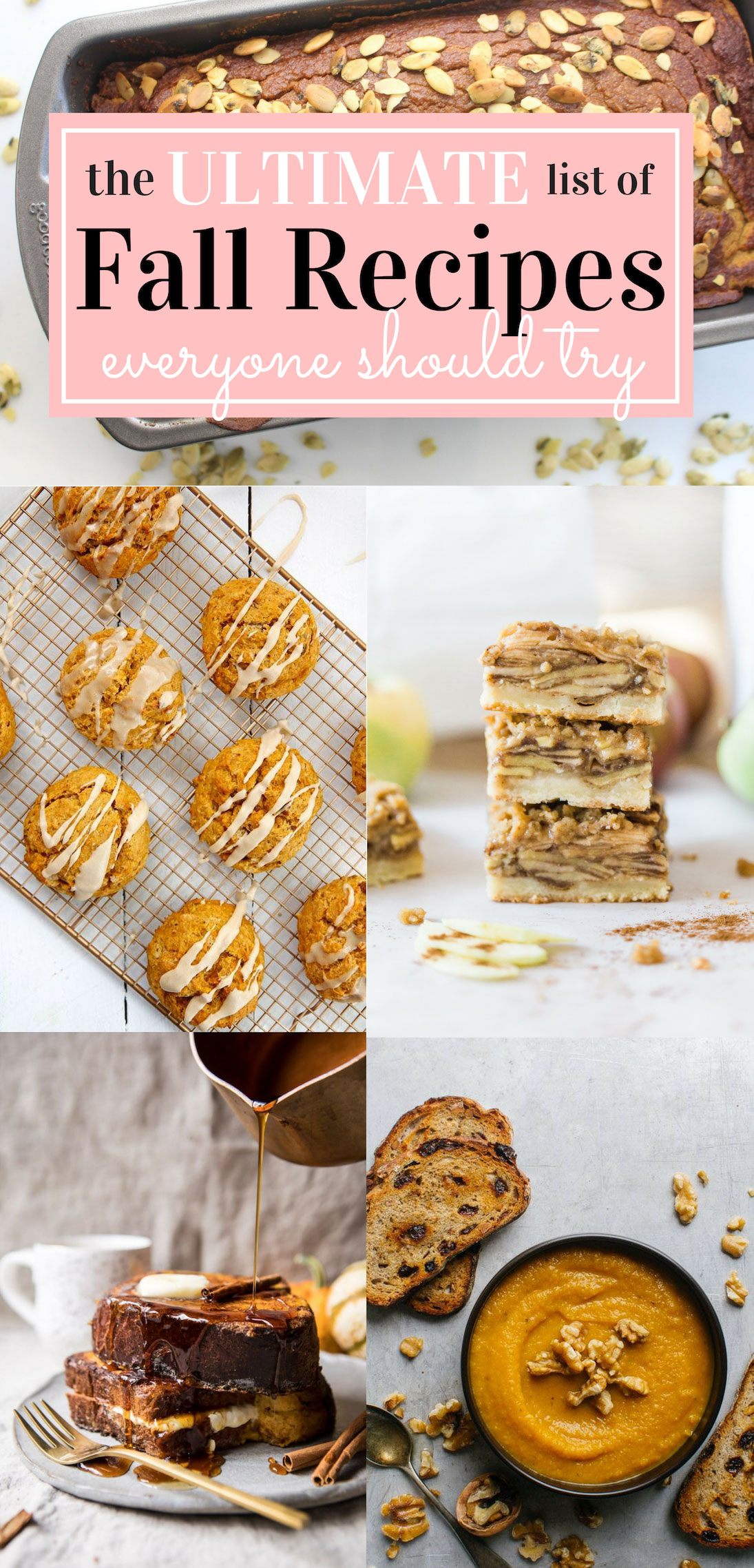 Find More
Fall

Recipes on Pinterest HERE.

Love these fall recipes? 🍁 Head to our recipe page to check out what else we're dreaming up in the kitchen!

And if you're looking for a few spooky fun Halloween recipes, we've got plenty! We can't stop making these spooky ghost brownies, homemade twix bars, oreo macarons, s'mores cookie bars, and Halloween "puppy chow" muddy buddies. And this pumpkin cake with fluffy chocolate frosting. 👻🎃🖤