I'm so excited to share one our favorite salads; the harvest salad.
Full disclosure: this harvest salad is totally a knockoff of the harvest bowl at sweetgreen; but I fell so madly in love with the salad on my first trip to sweetgreen in NYC a few years back, that I've never been able to order anything else from the place on trips to both NYC and DC. Soooo, I figured out how to make our own version of our favorite harvest bowl salad at home. And basically now I feel like I'm winning at life. I get excited about food, guys.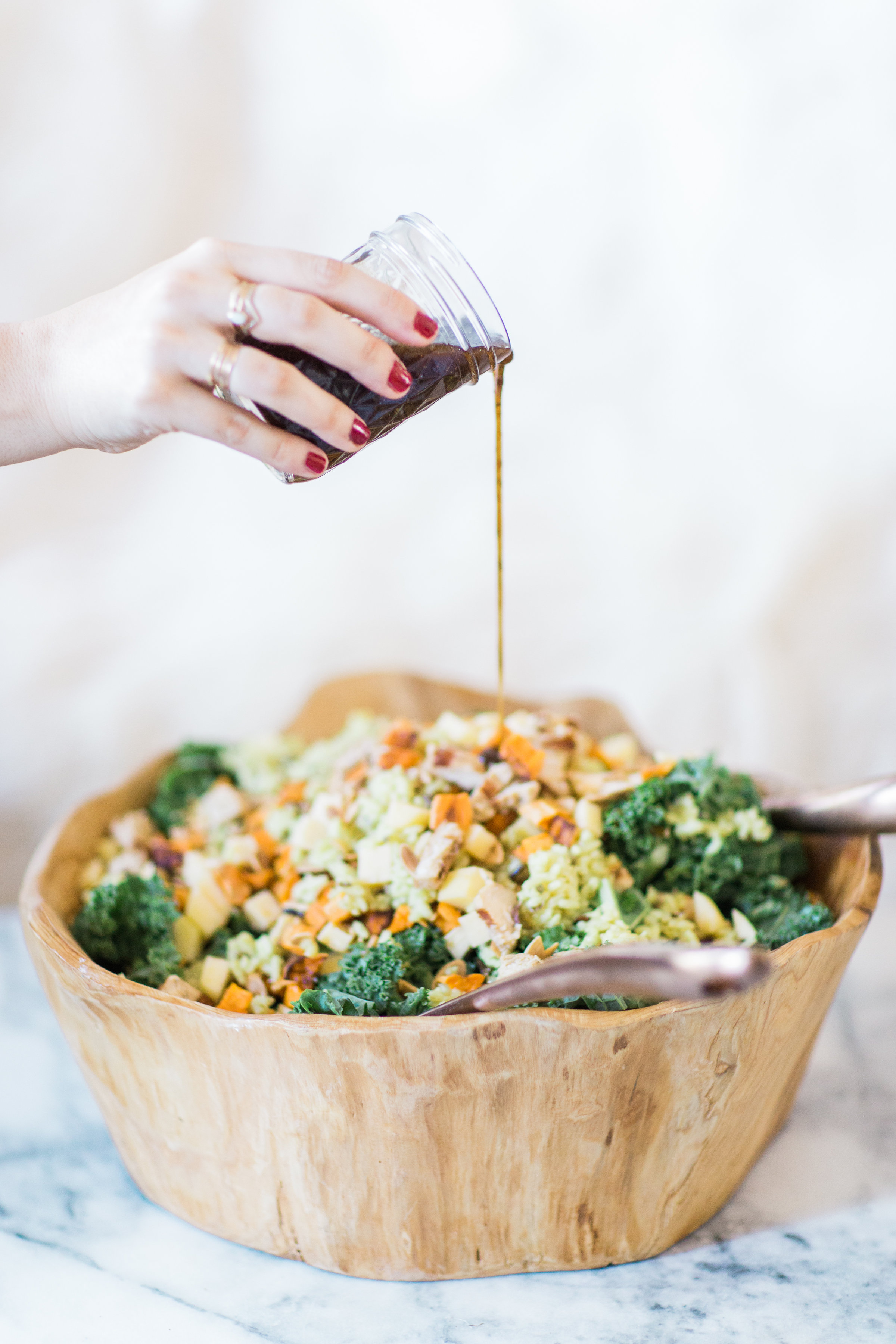 It's kind of amazing how a few simple ingredients can completely transform an ordinary salad. I actually think my husband loves this harvest salad (and that's a bold claim when it comes to salad), because it resembles an actual meal. Full of amazing harvest-y ingredients like kale (yeah, not his favorite, but I can totally get away with it in THIS salad!), apples, roasted sweet potatoes, wild rice, white cheddar cheese (though you can use goat cheese as well), toasted almonds, and shredded chicken, it's all so, so good.
This harvest salad is hearty and cozy and so filling without being terribly bad for you, thanks to a lighter balsamic vinaigrette.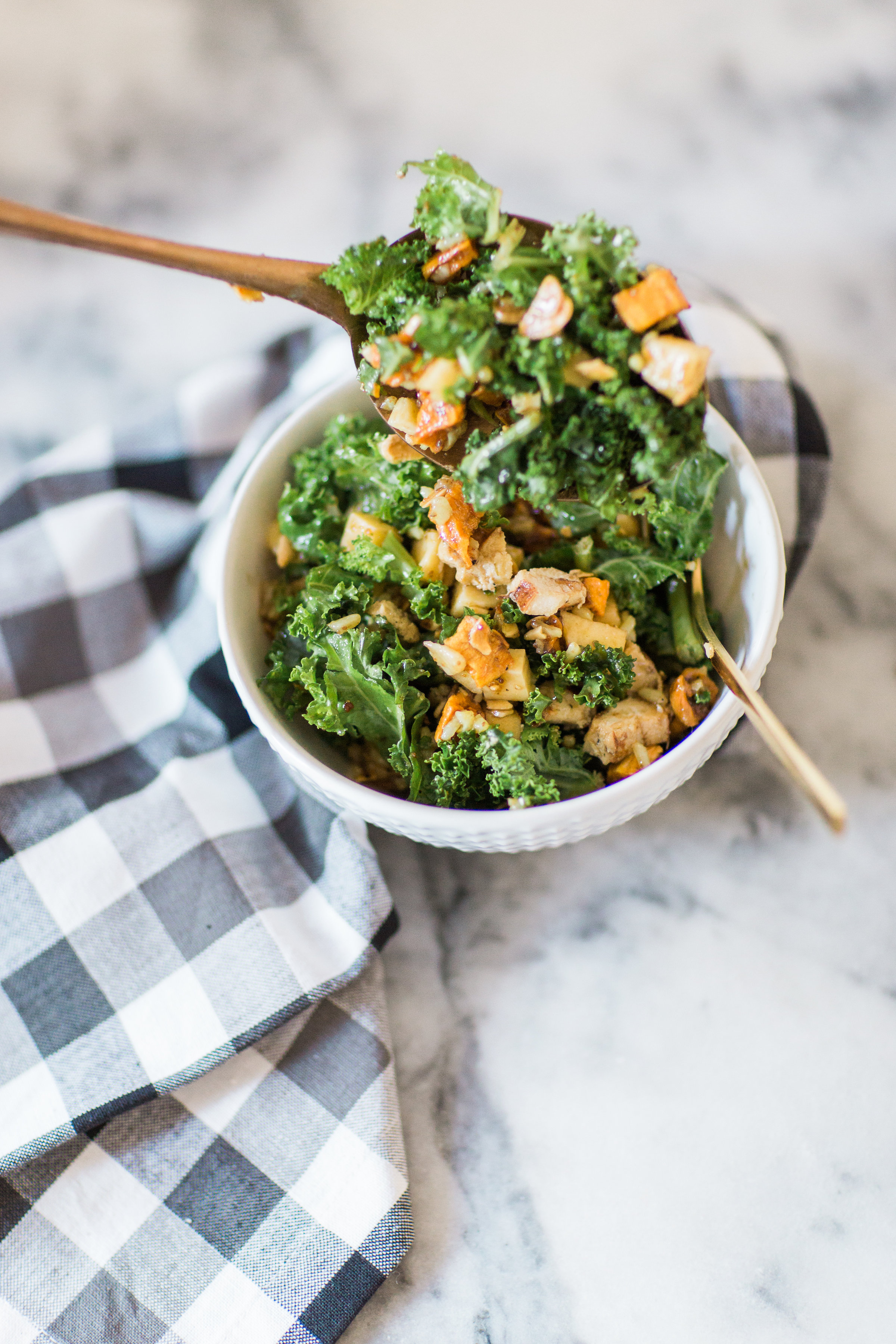 The trick to this harvest salad is coating every delicious bite in that savory sweet balsamic vinaigrette dressing. At sweetgreen they toss the salad like crazy. I mean, they're master salad tossing experts. I think that's half the secret to any great salad place. They get every inch of that salad coated in dressing and it tastes SO good that way. Your best bet is to put it in a really big mixing bowl or in a large tupperware container with a lid and shake, shake, shake.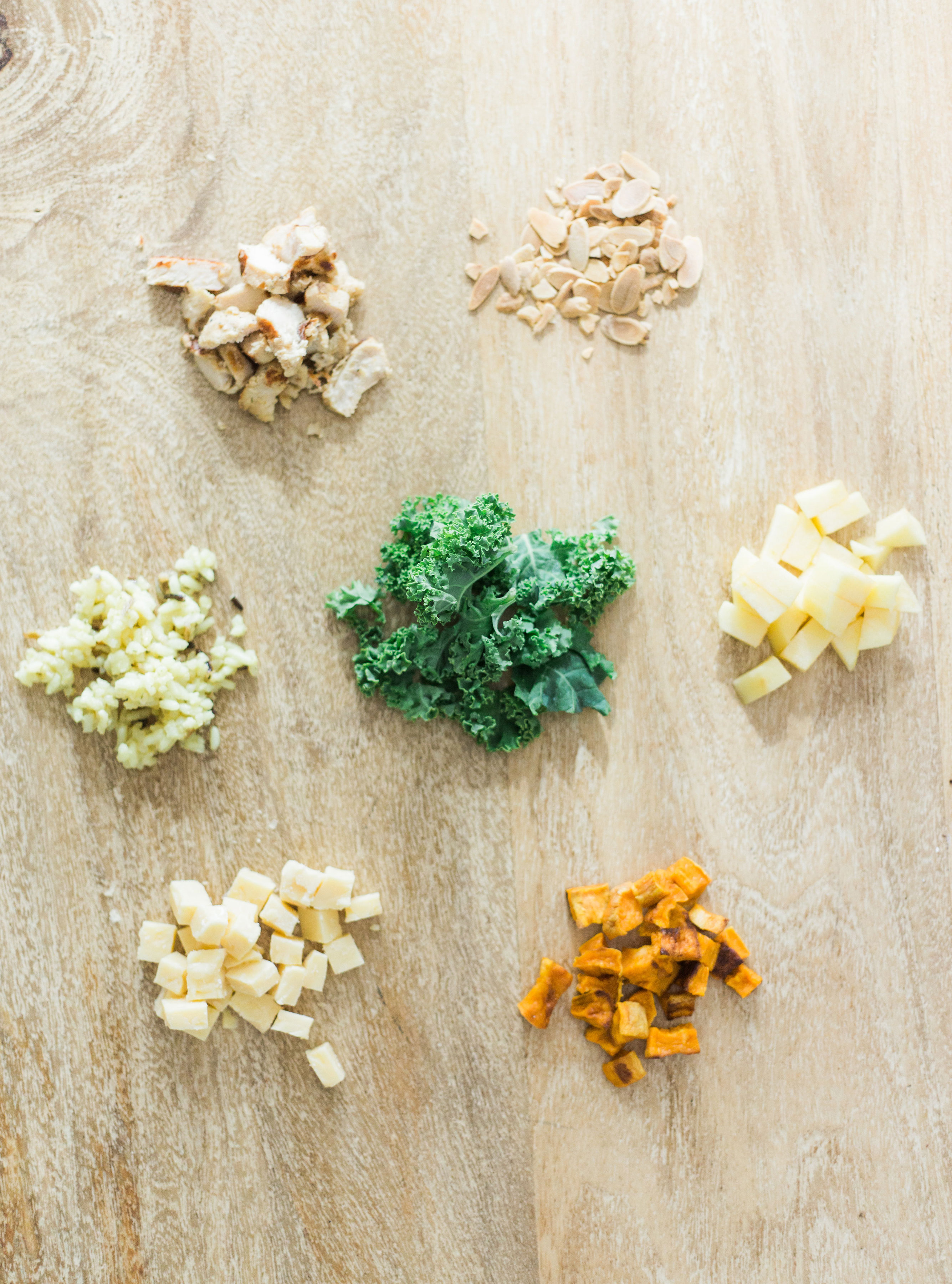 Okay, okay, I hear you! You want that recipe …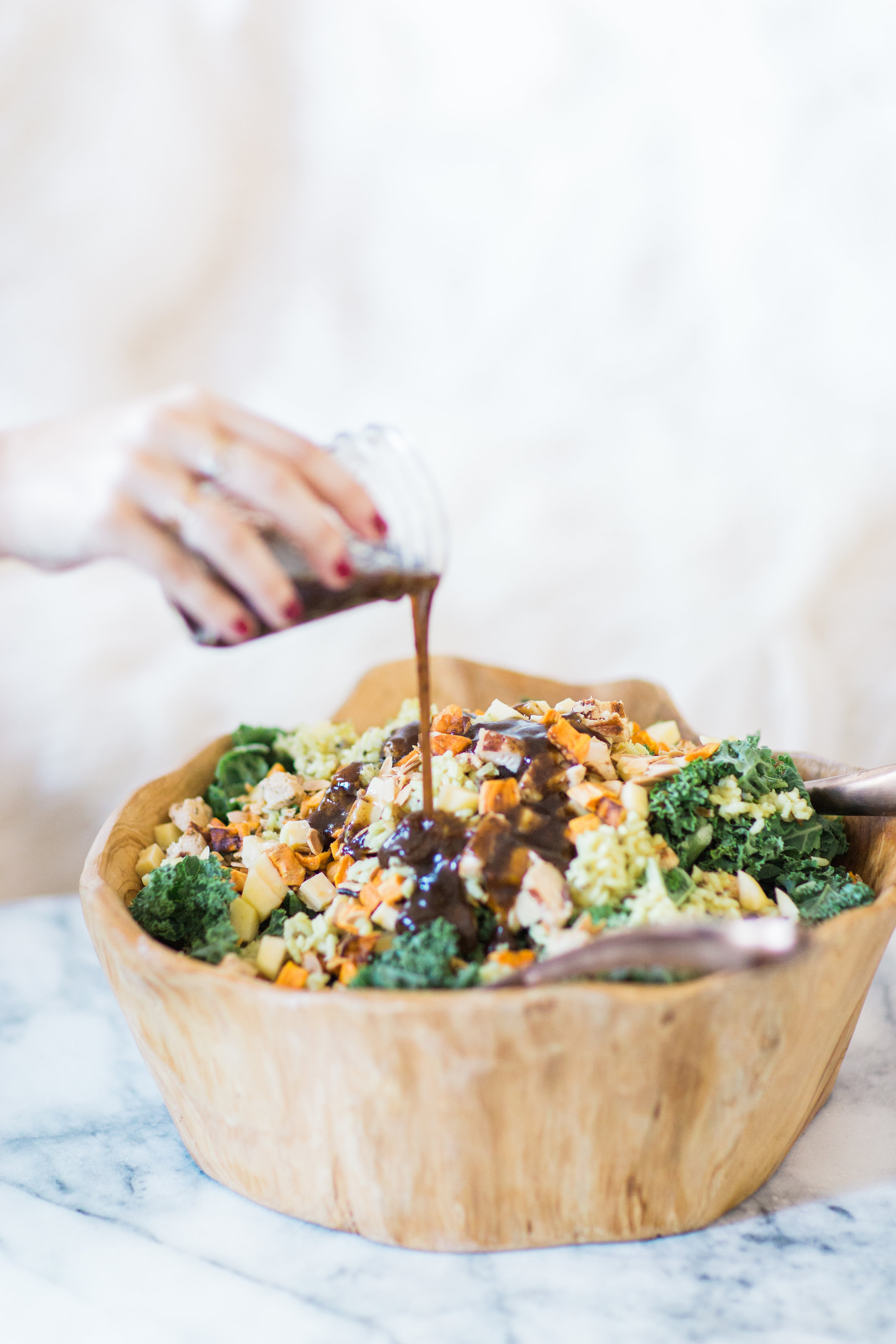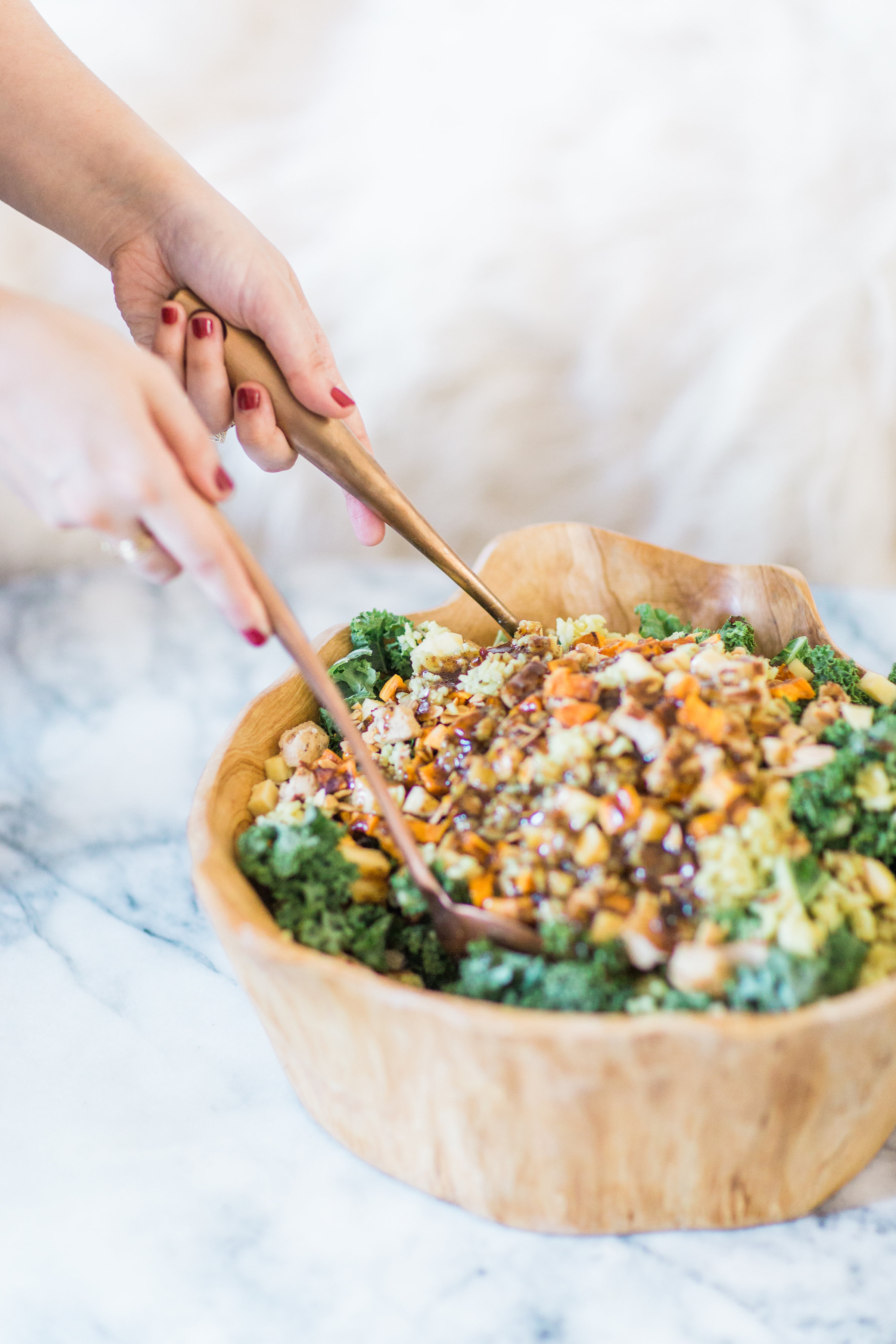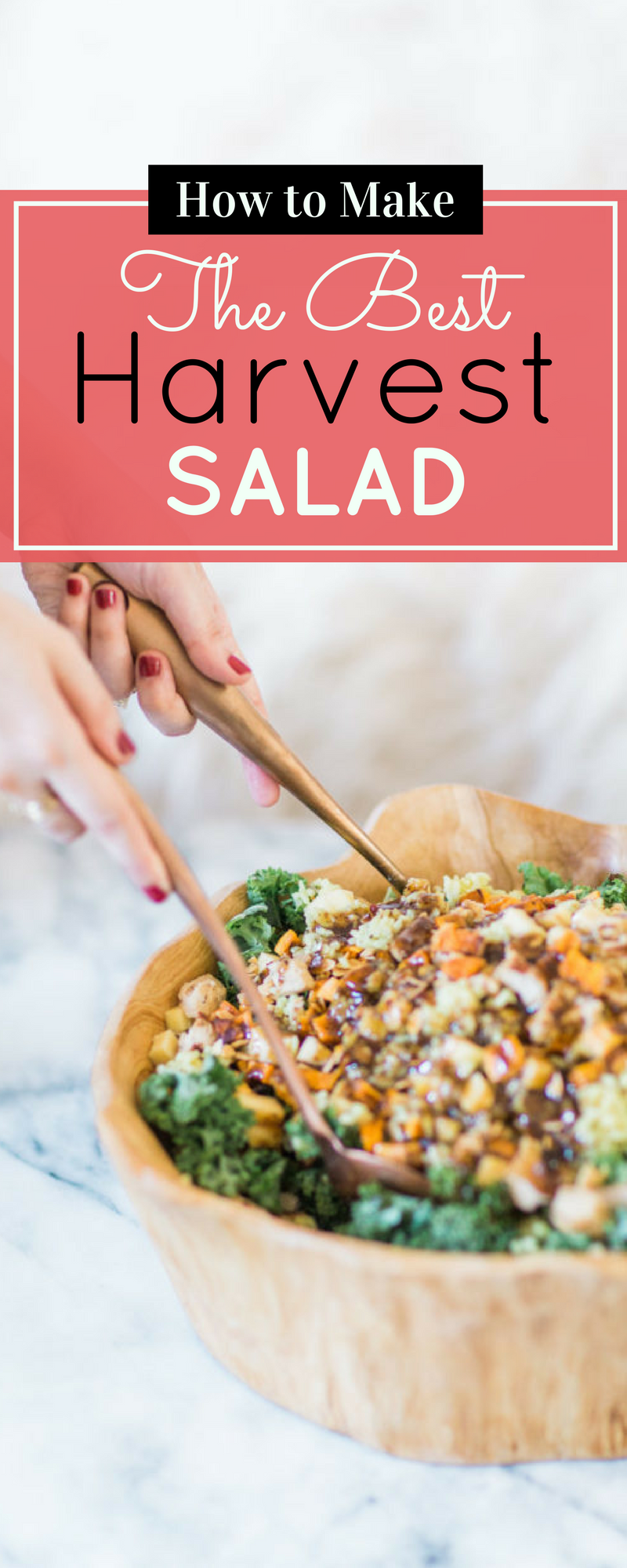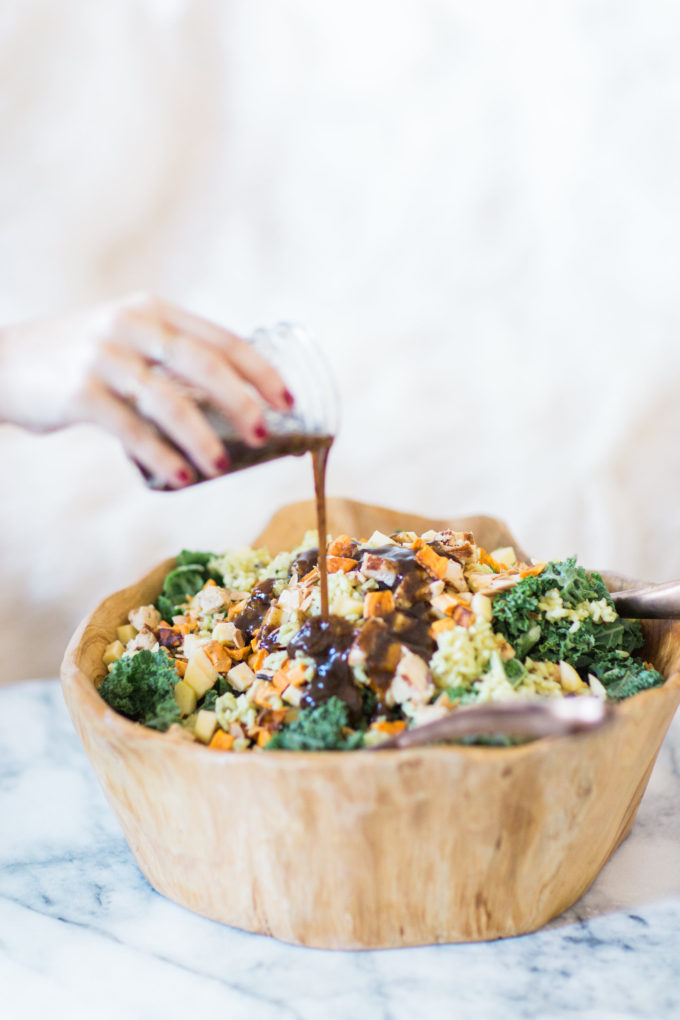 Print
Delicious Harvest Salad
A homemade twist on everyone's favorite sweetgreen harvest bowl salad, this one is salad done totally right.
Ingredients
kale (chopped well)
diced apples
diced, roasted sweet potatoes
diced white cheddar cheese (goat cheese works well too, but I just love white cheddar)
toasted almond slivers
chopped grilled or shredded chicken
balsamic vinaigrette
Instructions
For the Sweet Potatoes:
Dice one or two whole sweet potatoes. Spread evenly on a baking sheet (I like to cover my baking sheet in a piece of parchment paper or tin foil for minimal clean-up), toss in one to two tablespoons of olive oil and a pinch of salt. Bake at 350 degrees for about 45 minutes to one hour. Allow to cool.
NOTE: You can easily store your roasted sweet potatoes in a tupperware for a few days after roasting to keep adding to your salad.
For the Balsamic Vinaigrette: 
In a mason jar, combine:
1-2 tablespoons honey1 tablespoon dijon mustard1/2 teaspoon fine sea salt1/2 teaspoon freshly crushed black pepper, finely ground1 garlic clove or shallot, minced1/4 cup balsamic vinegar3/4 cup extra virgin olive oil Screw the lid on tight and shake vigorously. Store in the refrigerator. Also, shake well before serving. Enjoy!
You can also use your favorite store-bought balsamic vinaigrette or balsamic vinaigrette mix.
For the Salad:
Prepare your wild rice according to the instructions on the package. Allow to cool.
Toast an even layer of almond slivers on a parchment-lined baking sheet in a toaster oven or the oven at 300 degrees for about 10 minutes. Allow to cool.
You can use either chopped grilled chicken or shredded chicken. (We sometimes shred a roasted chicken from the grocery store and sometimes just make an extra grilled chicken breast or two from dinner the night before and store the cooked chicken in the refrigerator for the next day's salad.)
Dice all of your remaining ingredients up well and toss everything together, generously coating in dressing.
Cuisine salad
And now I'm officially craving this harvest salad. Again.
Love this harvest bowl salad recipe? Head to our recipe page to check out what we've been whipping up in the kitchen!
If you make your own harvest salad, be sure to tag me on social media (@glitterinclexi) so I can live vicariously through all of your sweet creations!
Photography by Annie Watts Photography for Glitter, Inc.
This post contains affiliate links, which means that if you click on one of the product links, I'll receive a small commission. Thank you so much for clicking through and helping to support this little blog business of mine! Read more about our site, privacy, and disclosure policies here.