This post contains affiliate links, which means that if you click on one of the product links, I'll receive a small commission. Thank you so much for clicking through and helping to support this little blog business of mine! Read more about our site, privacy, and disclosure policies here.
Just as decadently yummy as a classic cookie, cookie bars are simple to make and come together in a fraction of the time. And these vegan chocolate chip cookie bars in particular are moist, chewy, and a total crowd-pleaser!
I'm fairly certain cookies fix everything. They're my go-to when any of us have had a rough day and need some cheering up in the form of one very delicious cookie, they're the perfect in-a-pinch gift whenever we're invited to someone's house and I don't want to show up empty-handed, they're an awesome teacher gift, they're a simple way to say "thank you," they're my go-to when we get invited to a playdate at someone's house, etc. Basically, cookies are the best.
And because we're new in town, I've found myself baking up a whole lot of cookies for a whole lot of playdates and getting to know teachers, neighbors, friends, etc.
To make things even simpler, I've really perfected the art of the cookie bar. Just as delicious as any homemade cookie out there, but half the work. Ever roll out 100+ cookie dough balls? Yeah, it's not that fun after a while.
Cookie bars are basically the lazy love child of a great cookie dough batter smushed into a cake pan, and sliced into squares after baking. Fast, simple, and SO yummy. They're cookies, the easy way. 🙌🏻
And the recipe for these vegan chocolate chip cookie bars, it's extra special I tell you.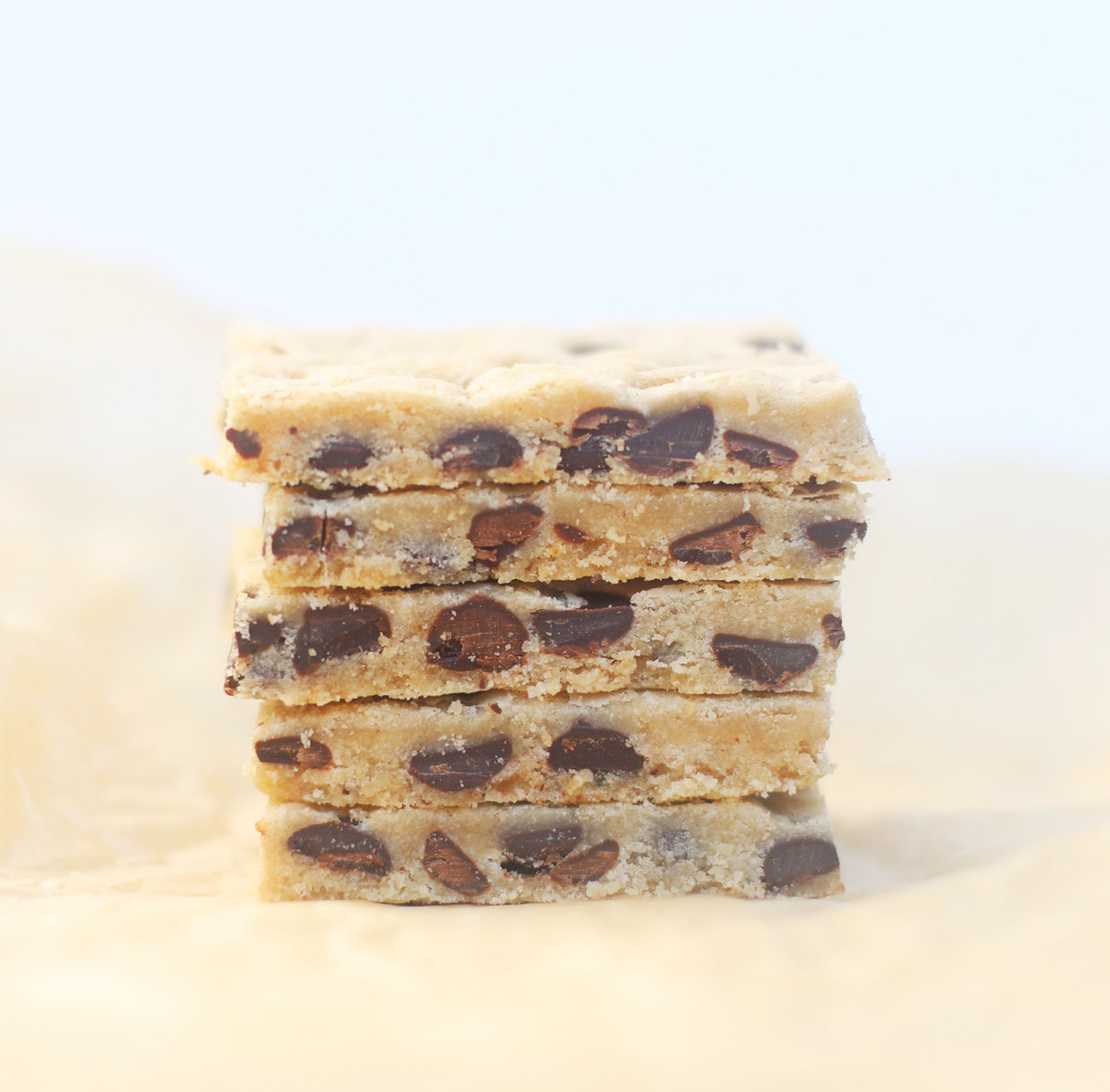 These vegan chocolate chip cookies don't use any eggs, milk, or butter, and still miraculously taste just like classic homemade chocolate chip cookies!
They're moist, chewy, and positively addictive.
Don't ask me how – it's total baking magic – but my goodness, are they good. And honestly, not a single soul would ever ask if they're vegan, or missing anything at all. They just taste like a really great chocolate chip cookie bar.
They're the perfect dessert to bring along if someone has a dairy allergy too, which really makes life a lot easier with kids, etc.
A Few Tricks for Perfect Vegan Chocolate Chip Cookie Bars:
To keep these chocolate chip cookie bars vegan, we use Enjoy Life chocolate chunks and chips; they're gluten-free, dairy-free, nut-free, and soy-free, and totally delicious. They also bake incredibly well. Even Target carries them!
To make cookie bars, I typically use a 18″ x 14″ (or 18″ x 13″) baking sheet that's about 1″ high.
The secret to these vegan chocolate chip cookies is to not over-bake them. I find that with most vegan cookies, it's best to keep the center ever so slightly soft, thought not quite underdone. Just pop the baking sheet of cookie bars out of the oven once they're just baked and allow them to cool. They'll actually come together a bit more during the cooling process, so fret not. (That is, of course, if you don't try to eat them piping hot and out of the oven from the get-go!)
And now, on to the recipe …
How to Make the Yummiest Vegan Chocolate Chip Cookie Bars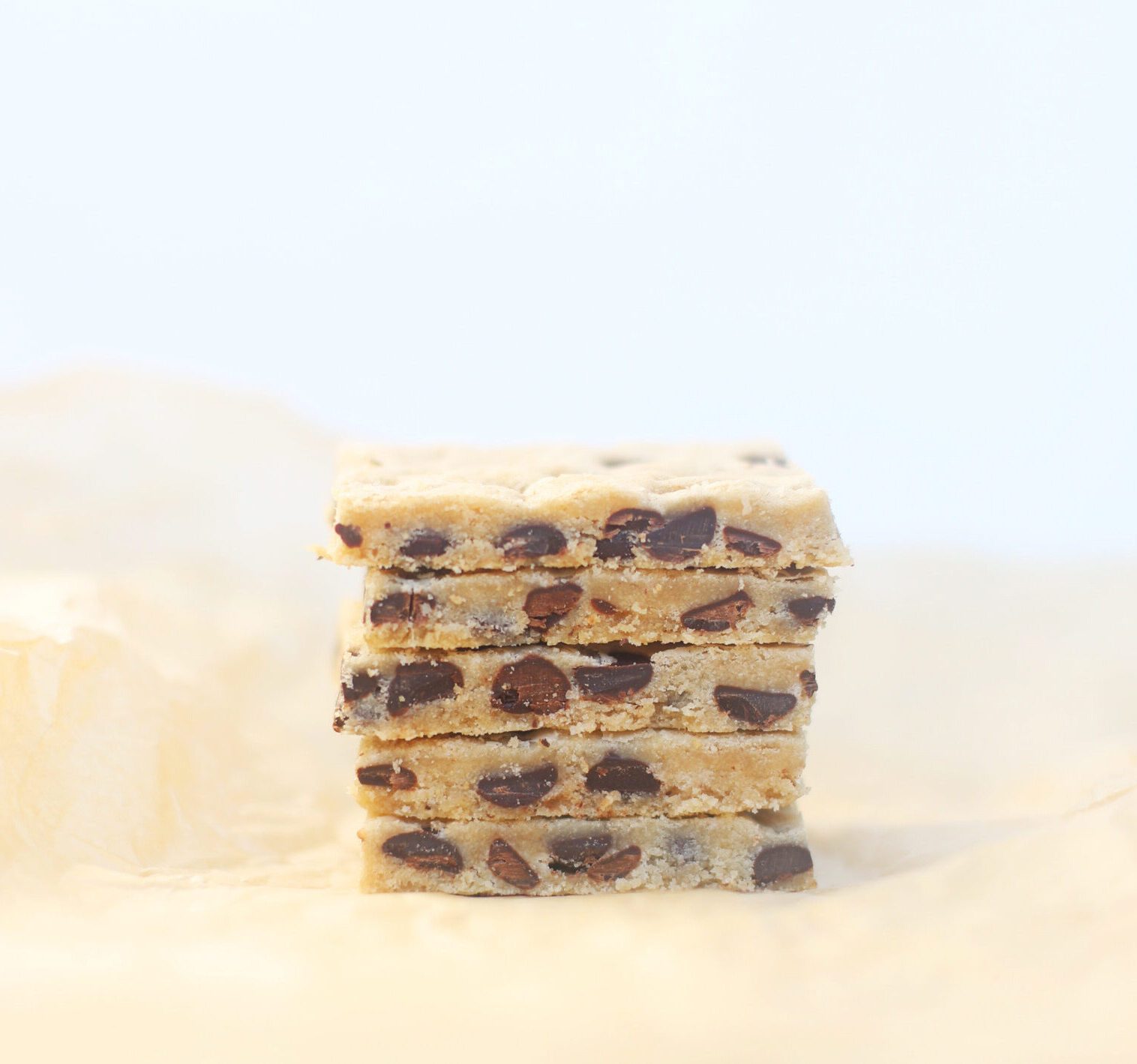 Yield:
Vegan Chocolate Chip Cookie Bars
Ingredients
2¼ cup all-purpose flour1 tsp Baking Soda½ tsp salt¾ cup non-hydrogenated shortening 4 tbsp. vegetable or canola oil ¾ cup granulated sugar¾ cup light brown sugar (packed)3 tbsp non-dairy milk (I used almond milk)1½ tsp vanilla2 cups Dairy-Free Chocolate Chunks] or [Chips*
Instructions
Preheat oven to 350 Fahrenheit. Line a 18" x 14" (or 18" x 13") baking sheet with parchment paper and spray it with a baking spray. (I like a baking sheet that is about 1" high for this recipe.)
In a small bowl, combine flour, baking soda, and salt. Set aside.
Place shortening, canola oil and both sugars in a mixer and combine until creamy, about 3 minutes.
Mix in non-dairy milk and vanilla.
Slowly add flour mixture until fully combined.
Fold in chocolate chips by hand.
Press all of your chocolate chip cookie dough into your lined and greased baking sheet. Try to spread the dough evenly so that it fills the pan.
Bake for 12-14 minutes, until the top is lightly golden brown. Do not over-bake. These cookie bars are extra yummy when they are just a bit doughy at the center. Allow to cool for at least 15 minutes. Enjoy!
If you make your own amazing vegan chocolate chip cookie bars, be sure to tag me on social media (@glitterinclexi) so I can live vicariously through all of your sweet creations! Plus, I'd love to hear how yours turn out (and if you're just as obsessed as I am!)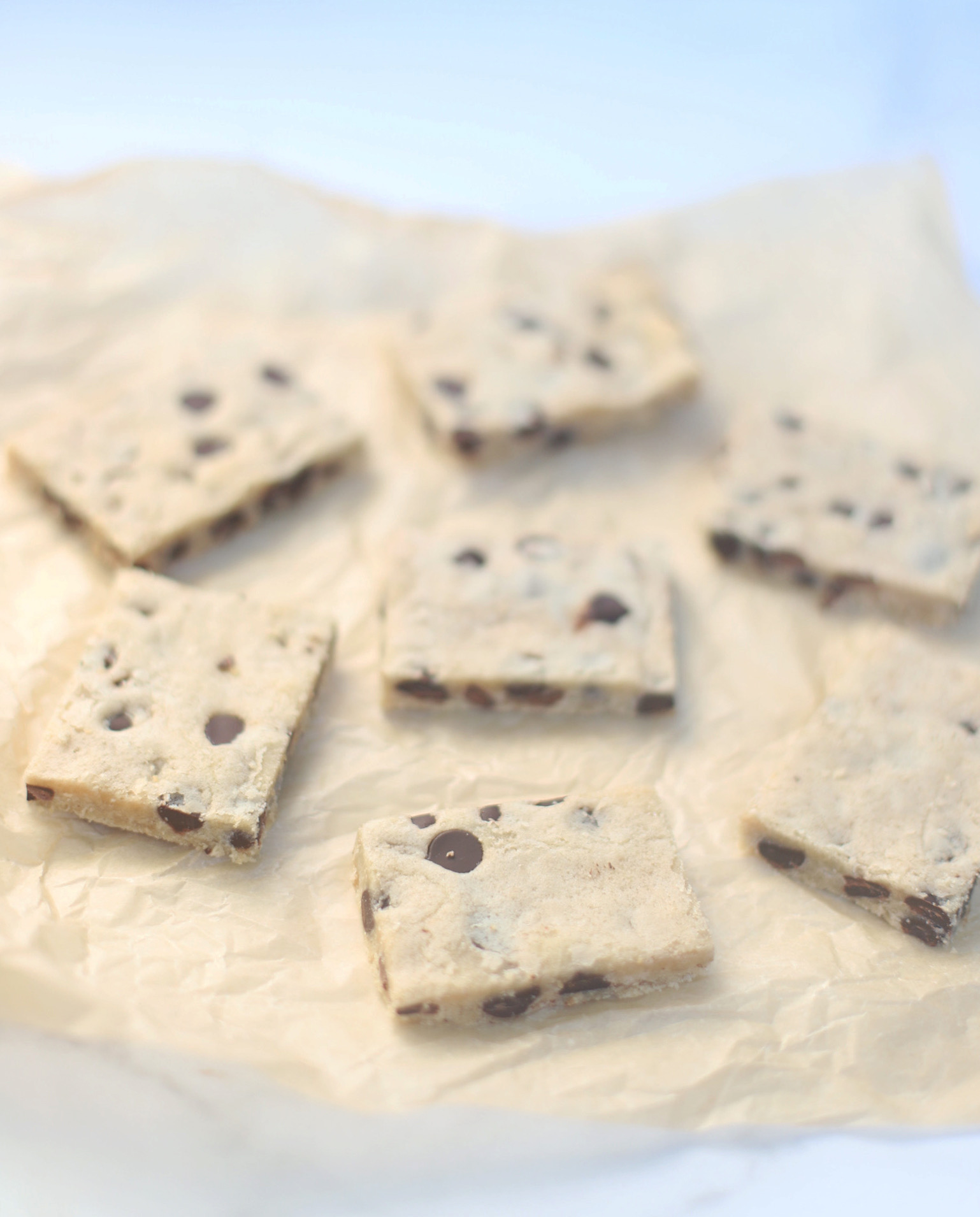 More Delicious Cookie Recipes from Glitter, Inc.:
Our Favorite S'mores Cookie Bars
Copycat Levain Bakery Chocolate Chip Cookies
Best Ever Oatmeal Raisin Cookies
Our Favorite Chocolate Chip Oatmeal Cookie Bars
The Super Famous Salted Butter Chocolate Chunk Cookies
Double Chocolate Potato Chip Cookies
The Best Sugar Cookies for Decorating
3-Ingredient Peanut Butter Cookies
Frosted Pistachio Cranberry Shortbread Cookies
SHOP THE VEGAN CHOCOLATE CHIP COOKIE RECIPE POST | CLICK LEFT & RIGHT ARROWS TO EXPLORE

Love this recipe? Try them in cookie form! And be sure to head to our recipe page to check out what else we're dreaming up in the kitchen.