This post contains affiliate links, which means that if you click on one of the product links, I'll receive a small commission. Thank you so much for clicking through and helping to support this little blog business of mine! Read more about our site, privacy, and disclosure policies here.
Looking for a crazy amazing cookie recipe? You HAVE to make the super famous salted butter chocolate chunk shortbread cookies that are blowing up Instagram these days … and I'm showing you how!
Alison Roman's Salted Butter and Chocolate Chunk Shortbread Cookies (from her first, and uber popular cookbook, Dining In: Highly Cookable Recipes) are virtually everywhere. No, seriously, just search Instagram, or Pinterest, or Refinery 29, or Eater, or Smitten Kitchen. The list goes on and on.
And though I didn't want to be on the cookie bandwagon … wait, strike that … OF COURSE I WANTED TO BE ON THE COOKIE BANDWAGON; we're talking about COOKIES here, guys. Whatever … it was inevitable … my succumbing to the magic and uber popularity that is these super famous salted butter and chocolate chunk shortbread cookies.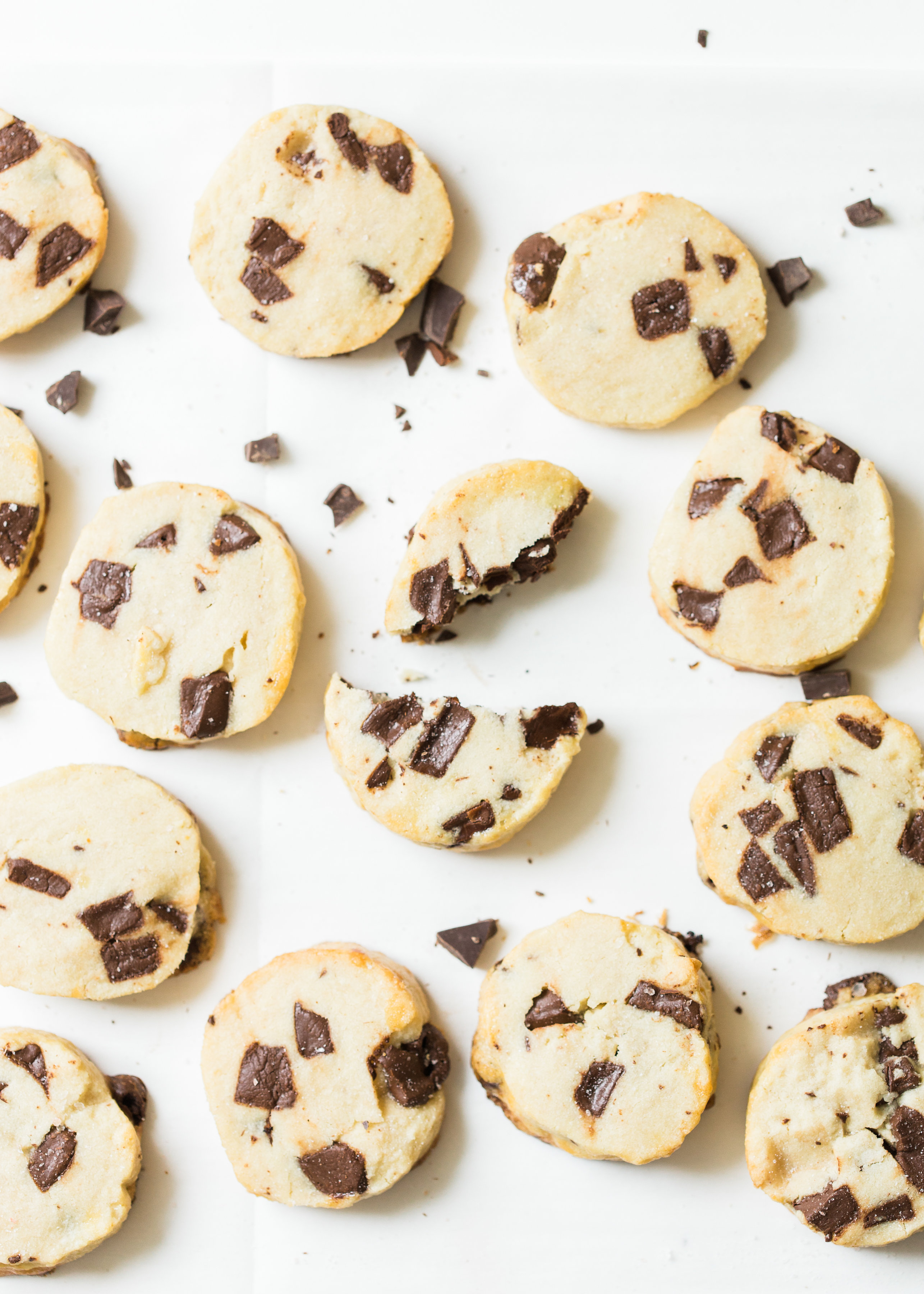 To be more exact, their full title in Alyson's cookbook — Salted Butter and Chocolate Chunk Shortbread, or Why Would I Make Another Chocolate Chip Cookie Ever Again? — is a pretty fair summation of this wholly irresistible cookie. And she's not the biggest chocolate chip cookie fan. (WHHHHAAATTTT??? But I digress.) She says she's always found chocolate chip cookies to be "deeply flawed" — "too sweet, too soft, or with too much chocolate." She thinks "there's a lot of room for improvement."
Basically, Roman took all of her favorite parts of a classic chocolate chip cookie to invent something completely new, and yet so simple in it's transformation. Chocolate chunk shortbread cookies.
Amazing, Incredible, Decadent Salted Butter Chocolate Chunk Shortbread Cookies
And guys, these cookies are everything and more. Thick, chewy, buttery, decadent; a total crowd-pleaser. These are the upgrade to classic chocolate chip cookies you never knew you needed.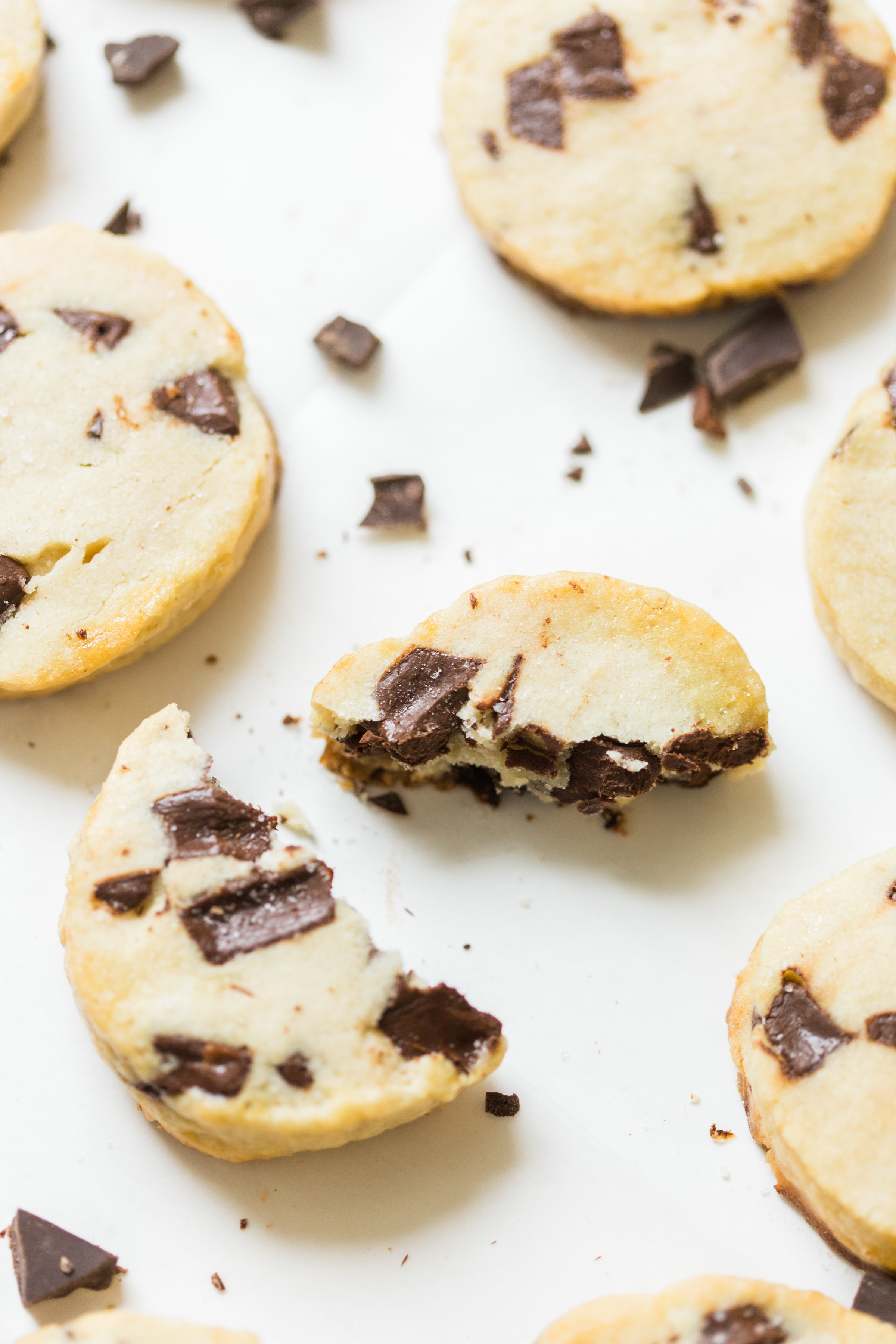 For starters, she uses salted butter, which truthfully, has sort of fallen out of favor in baking over the decades. She explains that while she prefers unsalted butter in almost all baking, it's deeper flavor and saltiness add more complexity than simply adding salt to unsalted butter. After that, there's just enough flour to hold the dough together, just enough brown sugar to offer up hints of the predecessor chocolate chip cookie, and chunks of irregular chocolate pieces to "prevent chip congregation" (buahahaha). The dough is formed into a slice-and-bake log that you roll in crunchy sugar, similar to a traditional shortbread dough, plus more sugar … yassss.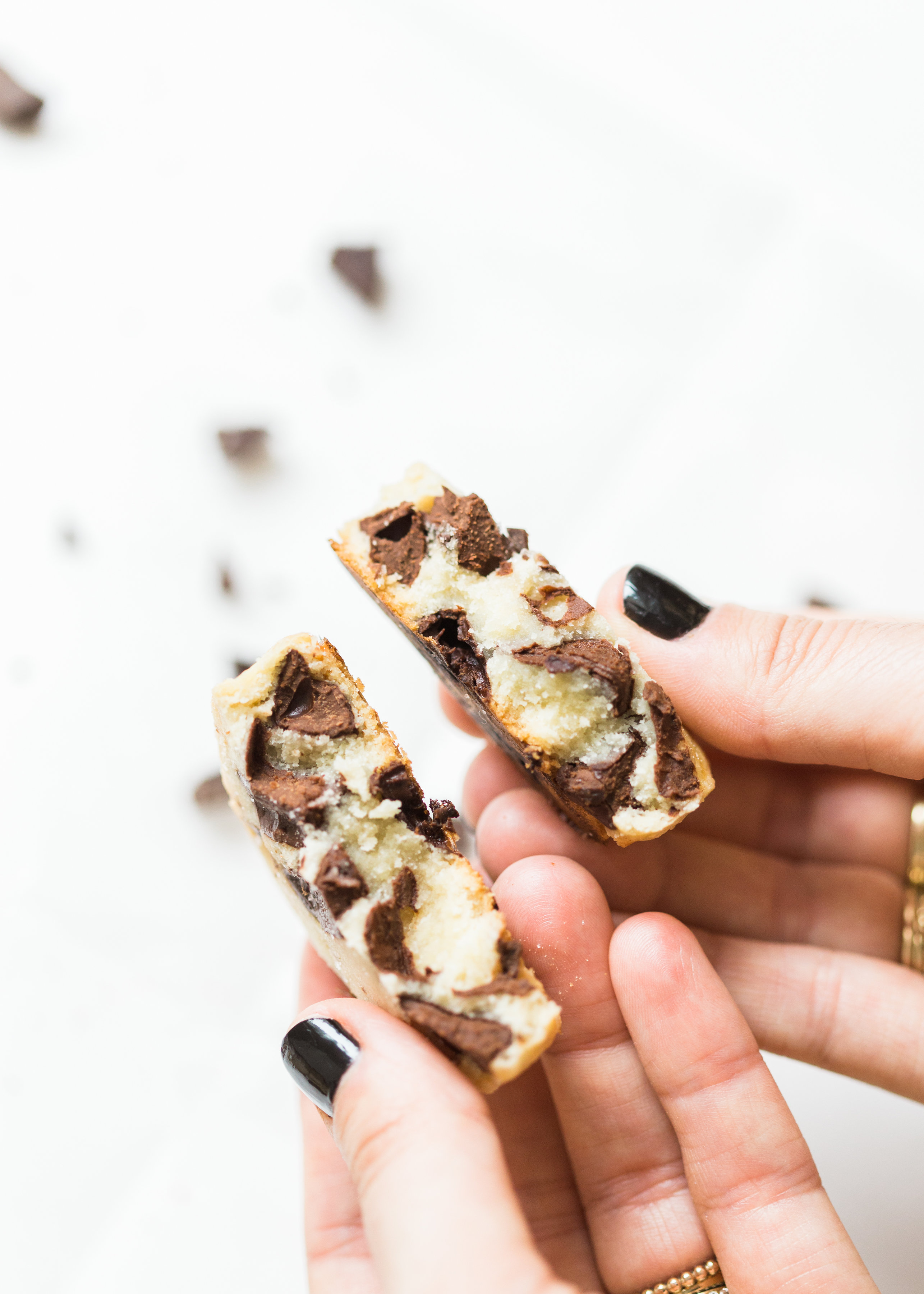 Like any good shortbread cookie, these babies are buttery. So buttery. The dough is delicate and flaky, despite their classic crunch. The bites with chocolate are rich and sweet. And the salt adds the perfect complexity to the cookie.
Honestly, just writing this post is making me want to make yet ANOTHER batch …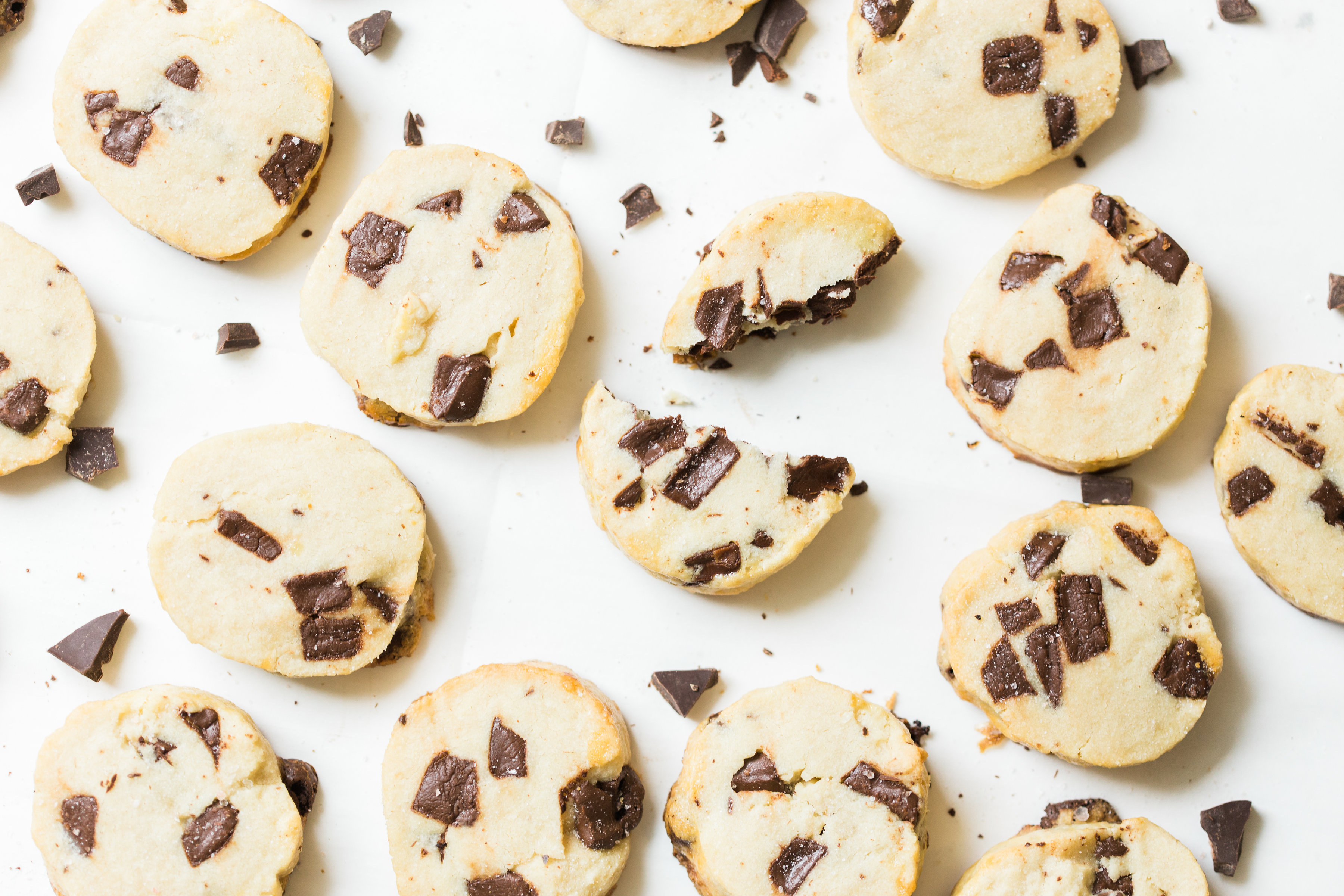 And who could blame me?

So hop on the cookie bandwagon (YESSS!! DO IT!!!)
Super Famous Salted Butter Chocolate Chunk Shortbread Cookies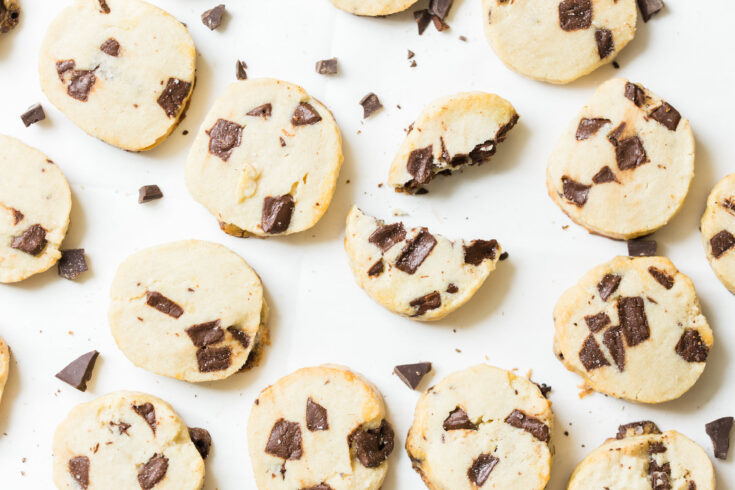 Yield: 24 cookies
Salted Butter Chocolate Chunk Shortbread Cookies
Ingredients
1 cup plus 2 tablespoons (9 ounces) salted butter*, cold, cut into small pieces
1/2 cup granulated sugar
1/4 cup light brown sugar
1 teaspoon vanilla extract
2 1/4 cups all-purpose flour
6 ounces semi- or bittersweet dark chocolate, chopped (you want chunks, not thin shards of chocolate)
1 large egg
turbinado, raw, or sanding sugar, for rolling
flaky sea salt for sprinkling
Instructions
Beat the butter, granulated and brown sugars, and vanilla with an electric mixer until light and fluffy, scraping down bowl as needed. Add flour, and mix just until combined. Add chocolate chunks, mix just until incorporated. Mixture will look crumbly.
Divide between two sheets of parchment paper, waxed paper, or plastic wrap and use your hands to form the dough halves into log shapes about 2 to 2 1/4 inches in diameter. Chill until totally firm, about 2 hours. I hastened this along in the freezer (30 minutes, tops) but did feel that the cookies were better after resting longer. (But do know that it works!)
When you're ready to bake the cookies, heat your oven to 350°F. Line one or two large baking sheets with parchment paper. Lightly beat the egg and open up your chilled cookies logs to brush it over the sides. Sprinkle the coarse sugar on the open paper or plastic wrap and roll the logs into it, coating them.
Using a sharp serrated knife (this is key!), cut logs into 1/2-inch thick rounds. You're going to hit some chocolate chunks, so saw gently, squeezing the cookie to keep it from breaking if needed. Arrange cookie slices on prepared sheets one inch apart (they don't spread much) and sprinkle each with a few flakes of salt. Bake for 12 to 15 minutes (13 minutes was the magic number for ours!), or until the edges are just beginning to get golden brown. Let cool slightly before transferring to wire racks to cool.
Notes
The dough can made ahead and stored, tightly wrapped in plastic, up to 1 week in the fridge, or 1 month in the freezer. Baked cookies keep in an airtight container for 5 days, if they last that long in your house.

*If you don't have salted butter, you can use unsalted butter and add 3/4 teaspoon kosher salt to the recipe instead. 

Recipe via Alison Roman's Dining In: Highly Cookable Recipes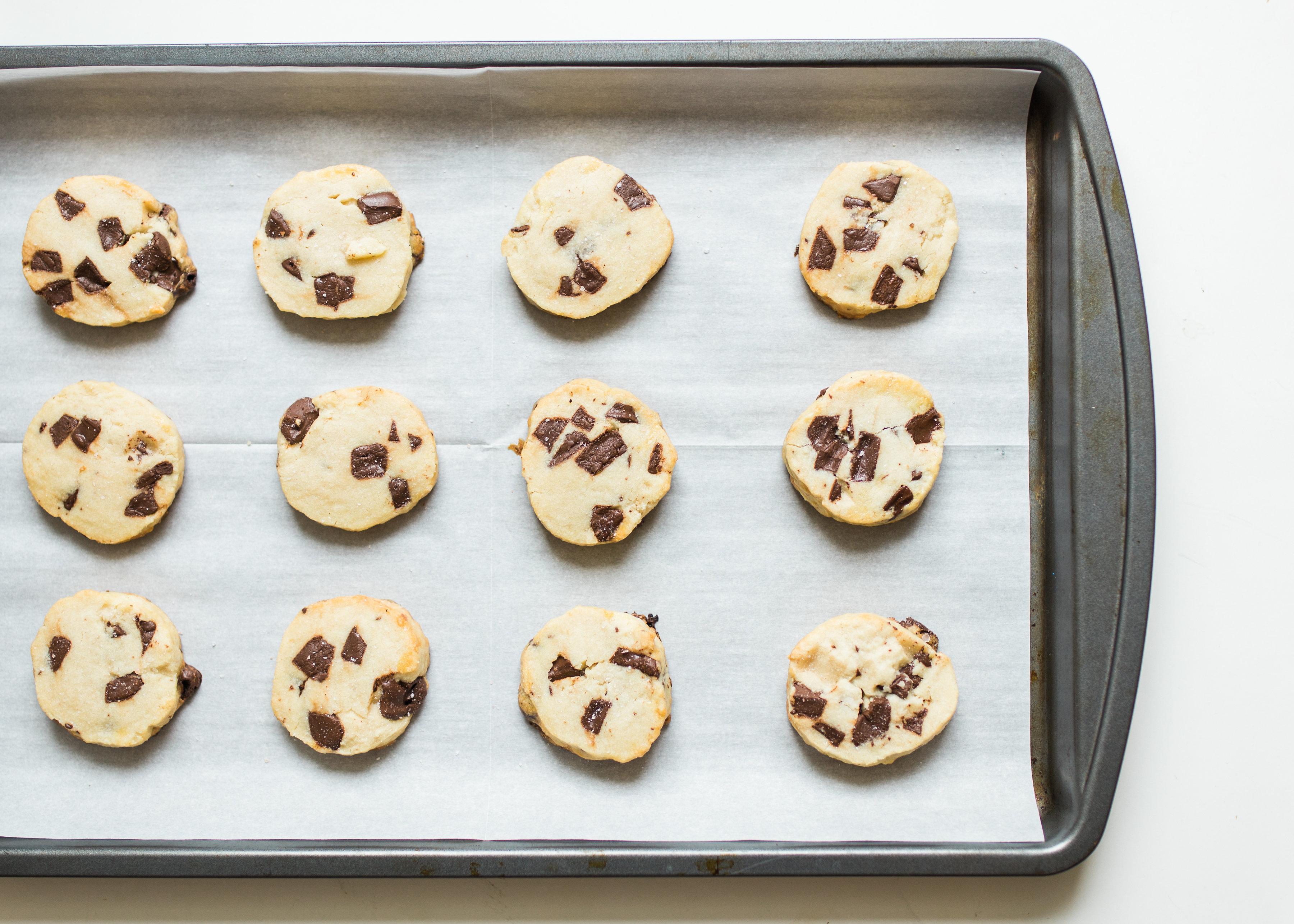 Dare I say I may never be able to make shortbread again without ooey gooey chunks of chocolate flecked in them? 🙈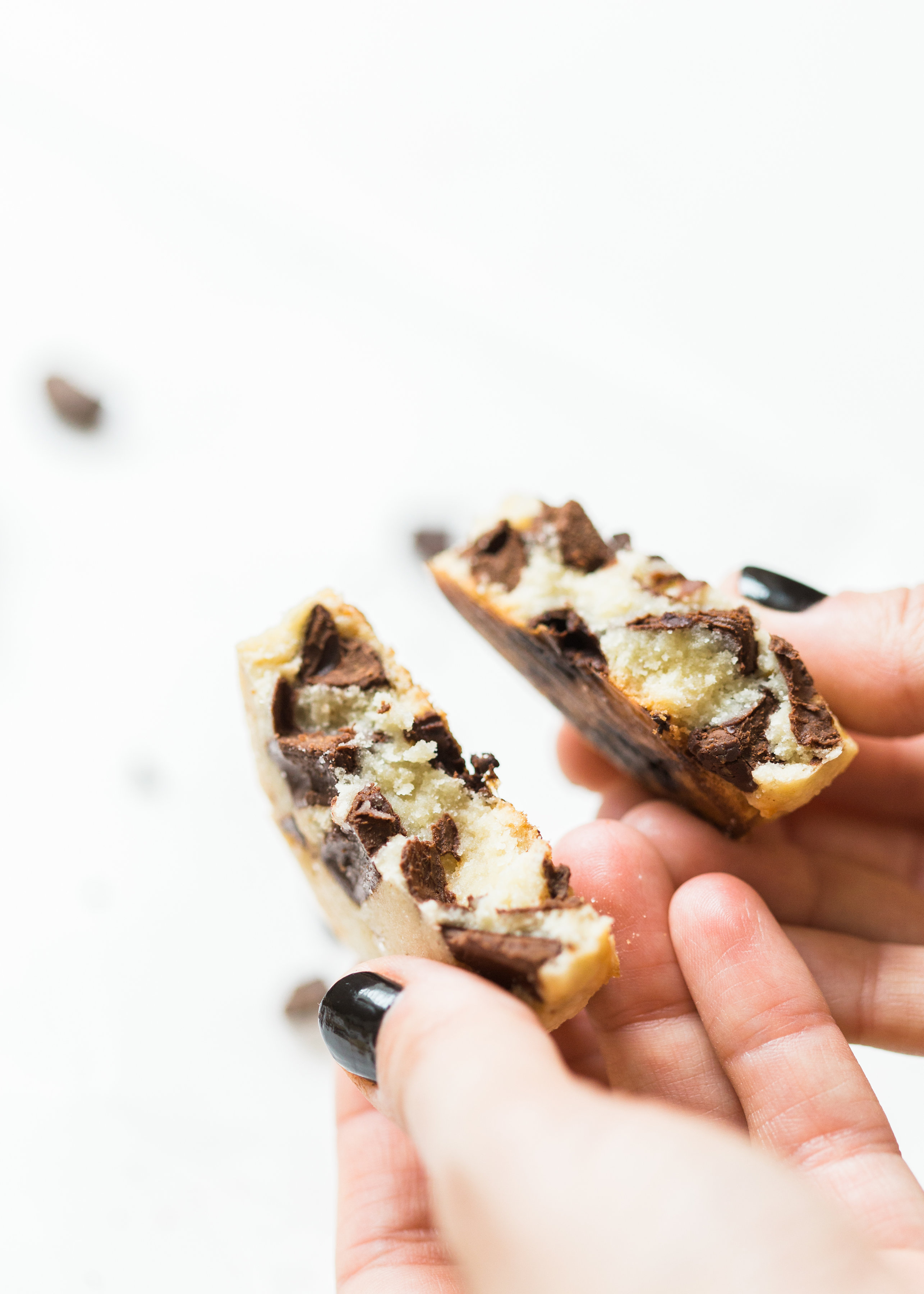 Guys, these salted butter chocolate chunk shortbread cookies are perfection.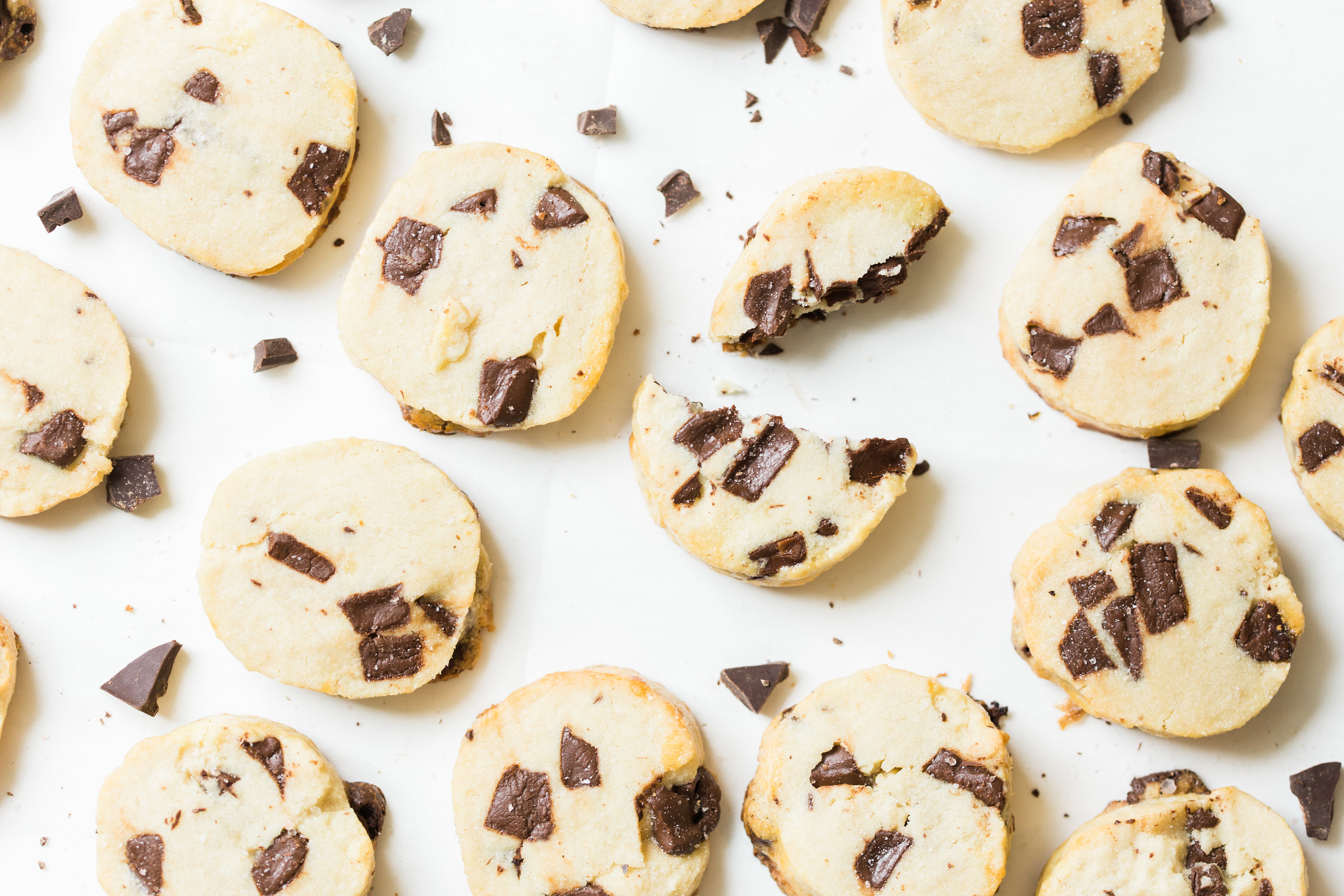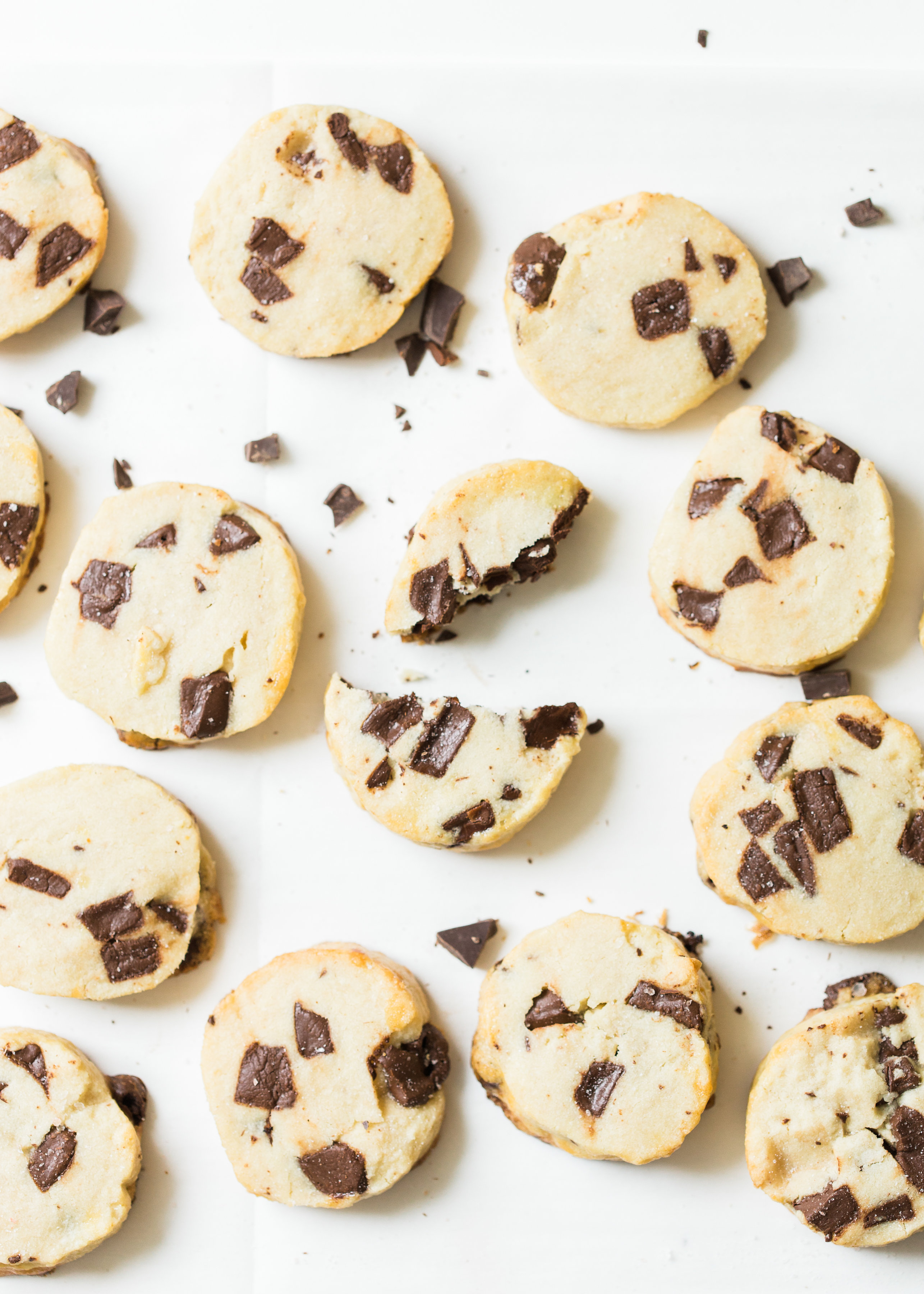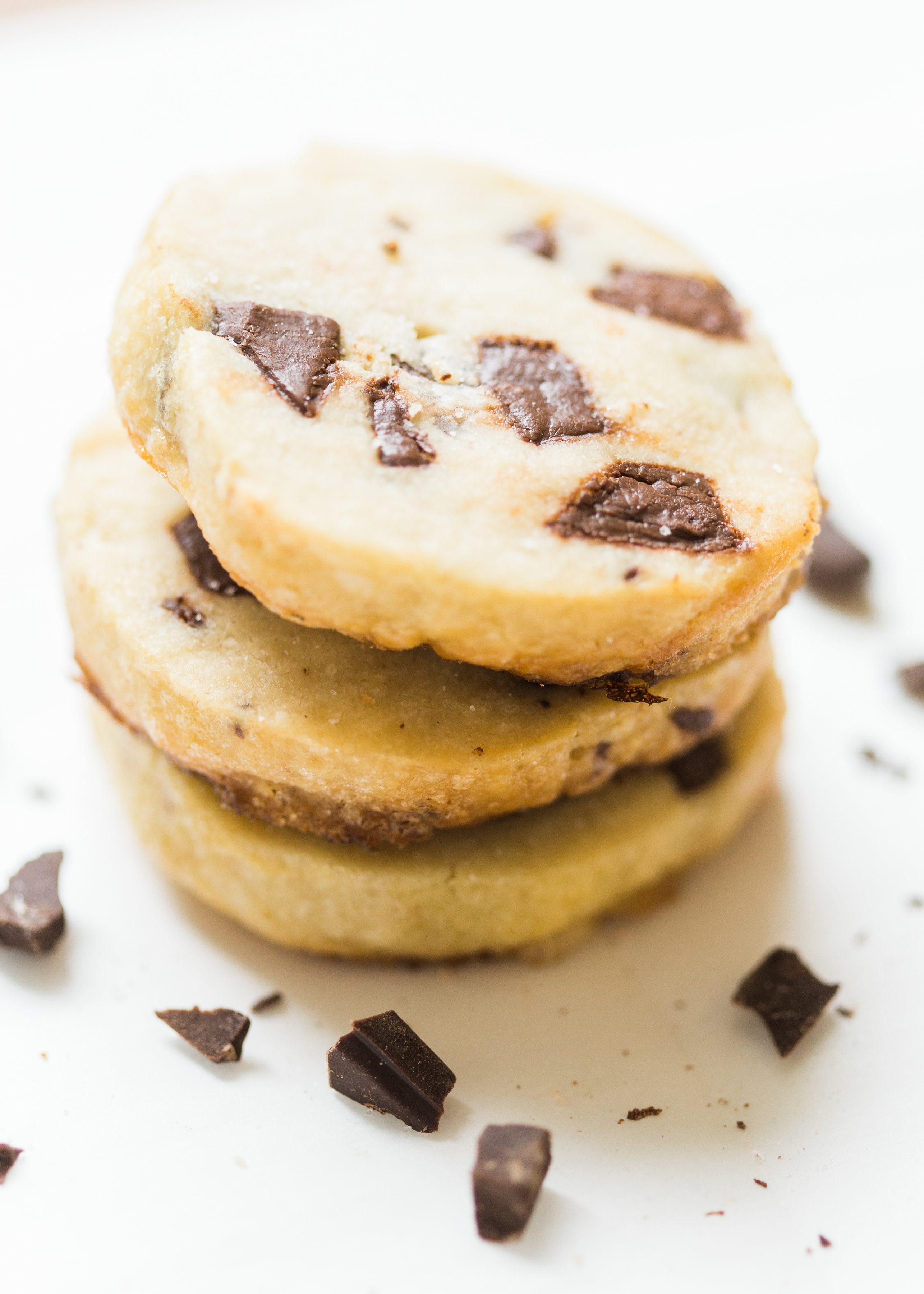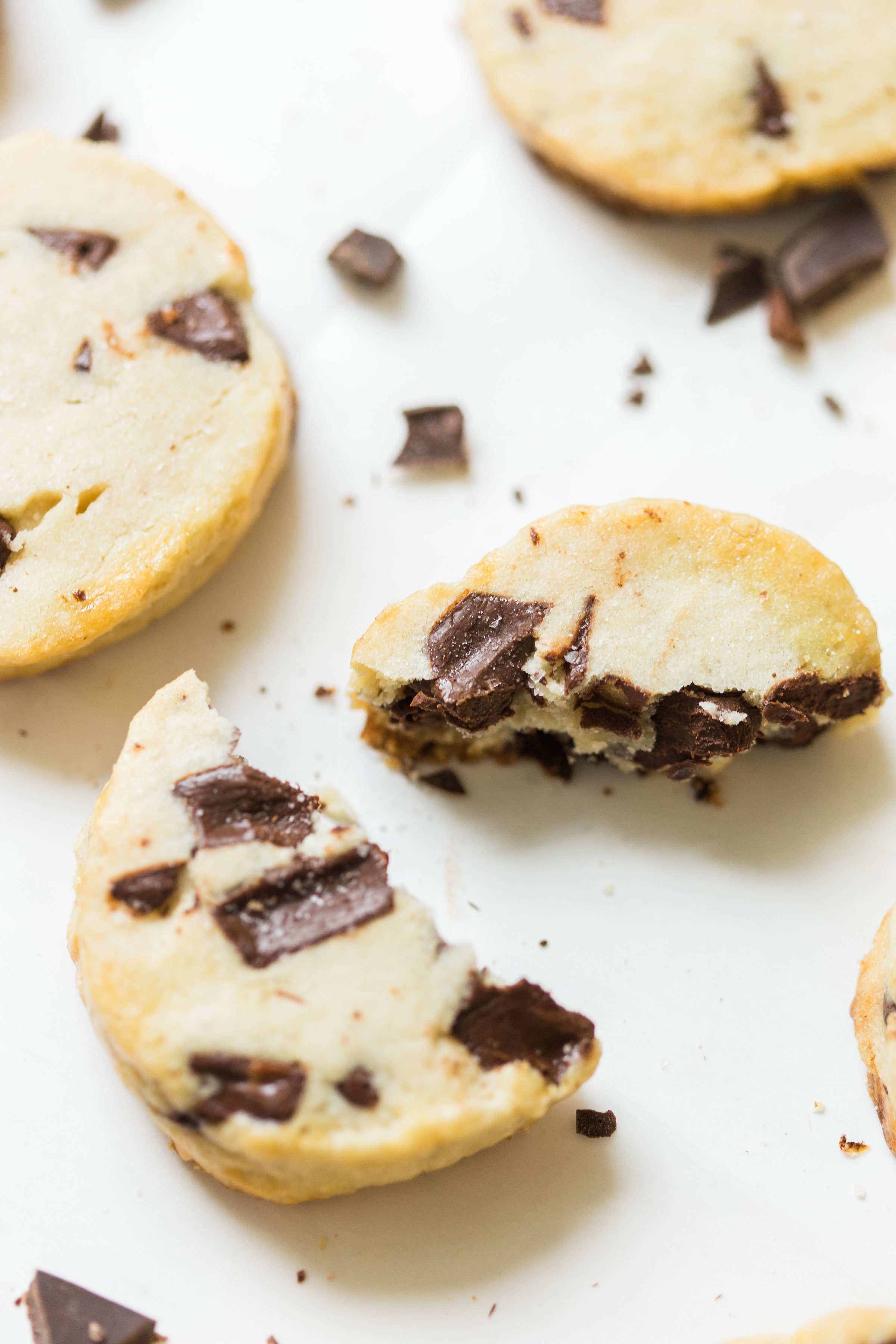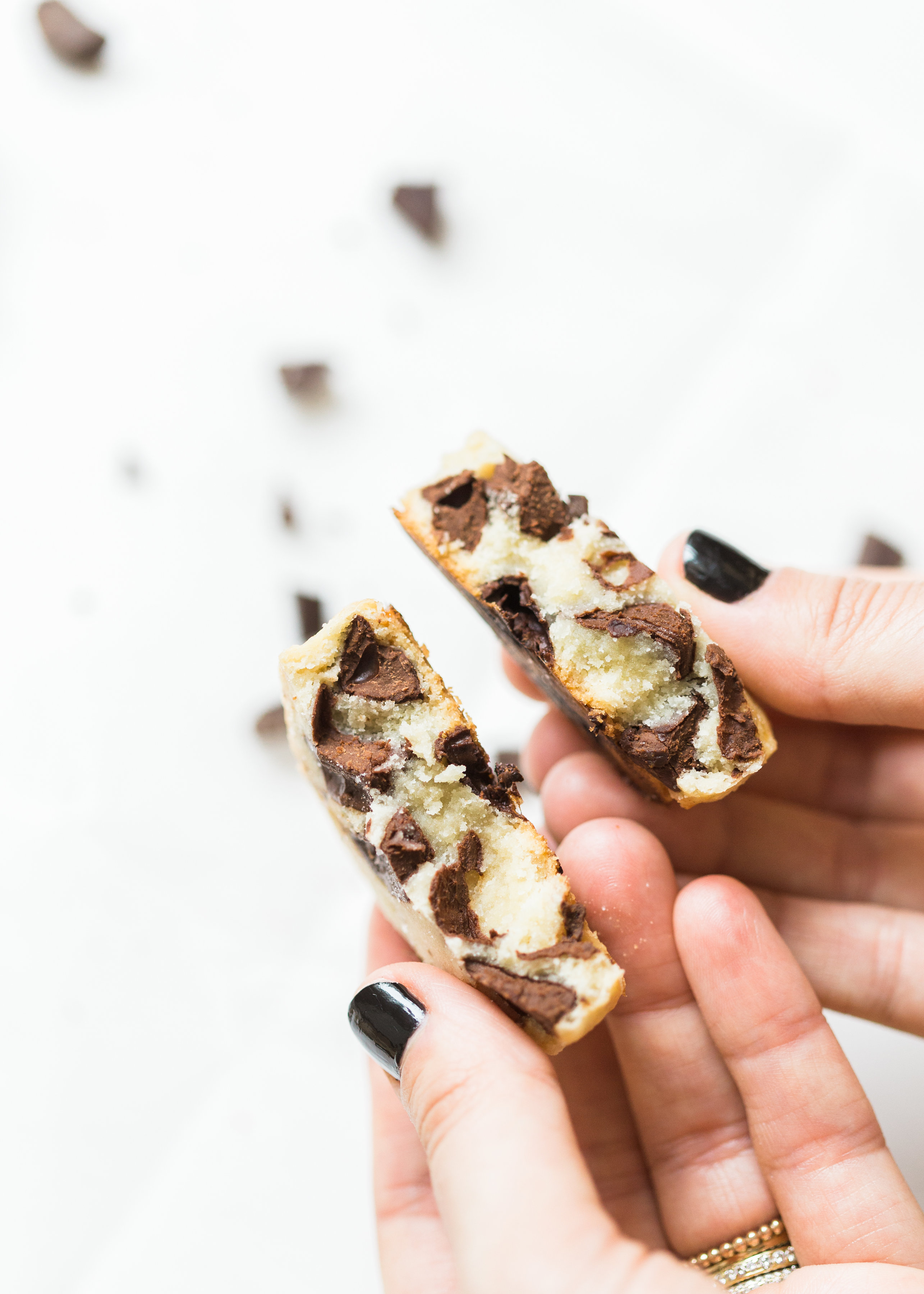 If you make your own salted butter chocolate chunk shortbread cookies, be sure to tag me on social media (@glitterinclexi) so I can live vicariously through all of your sweet creations!
SHOP THE COOKIE POST | CLICK LEFT & RIGHT ARROWS TO EXPLORE

LOVE THESE SALTED BUTTER CHOCOLATE CHUNK SHORTBREAD COOKIES? HEAD TO OUR RECIPE PAGE TO CHECK OUT WHAT ELSE WE'RE WHIPPING UP IN THE KITCHEN!
Photos by Annie Watts Photography for Glitter, Inc.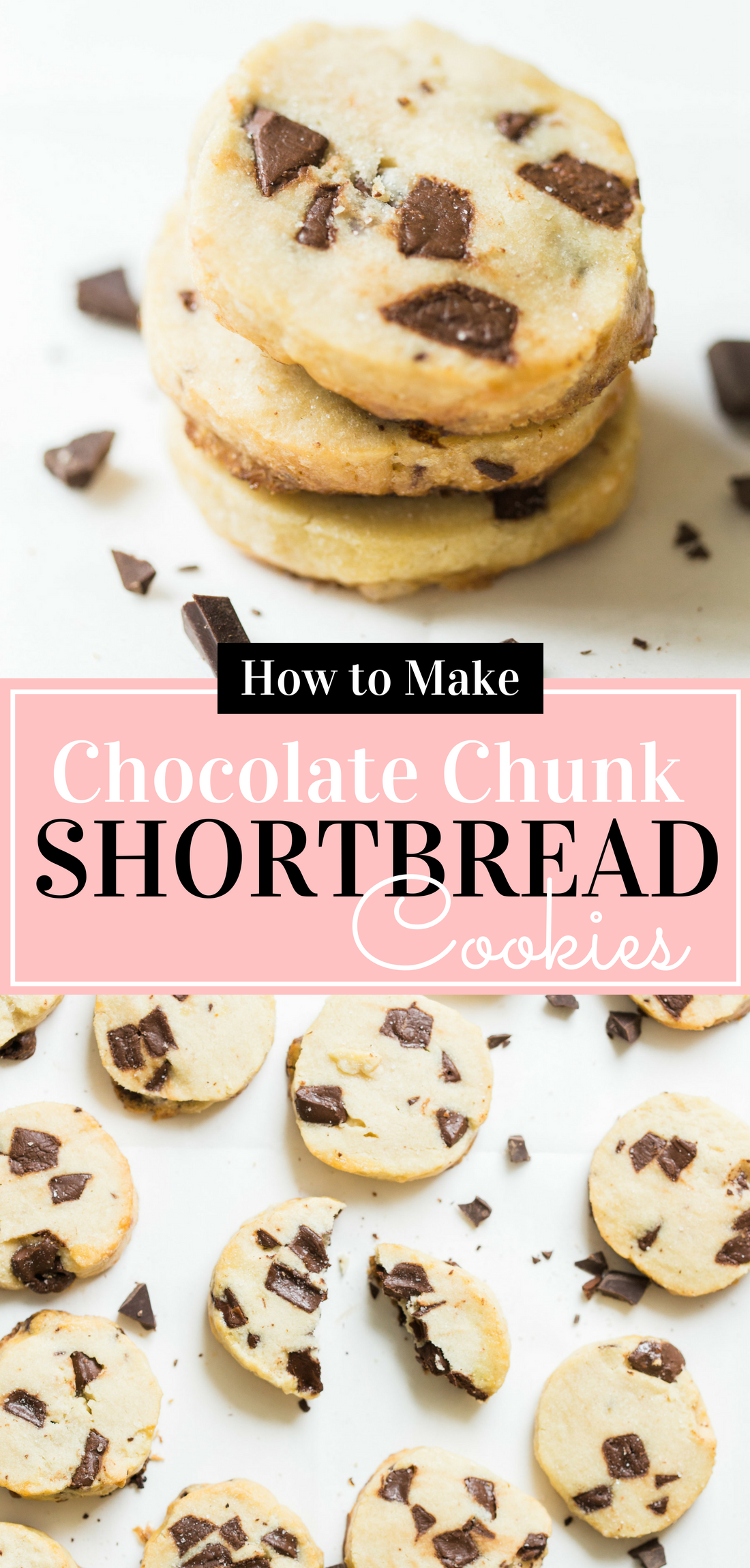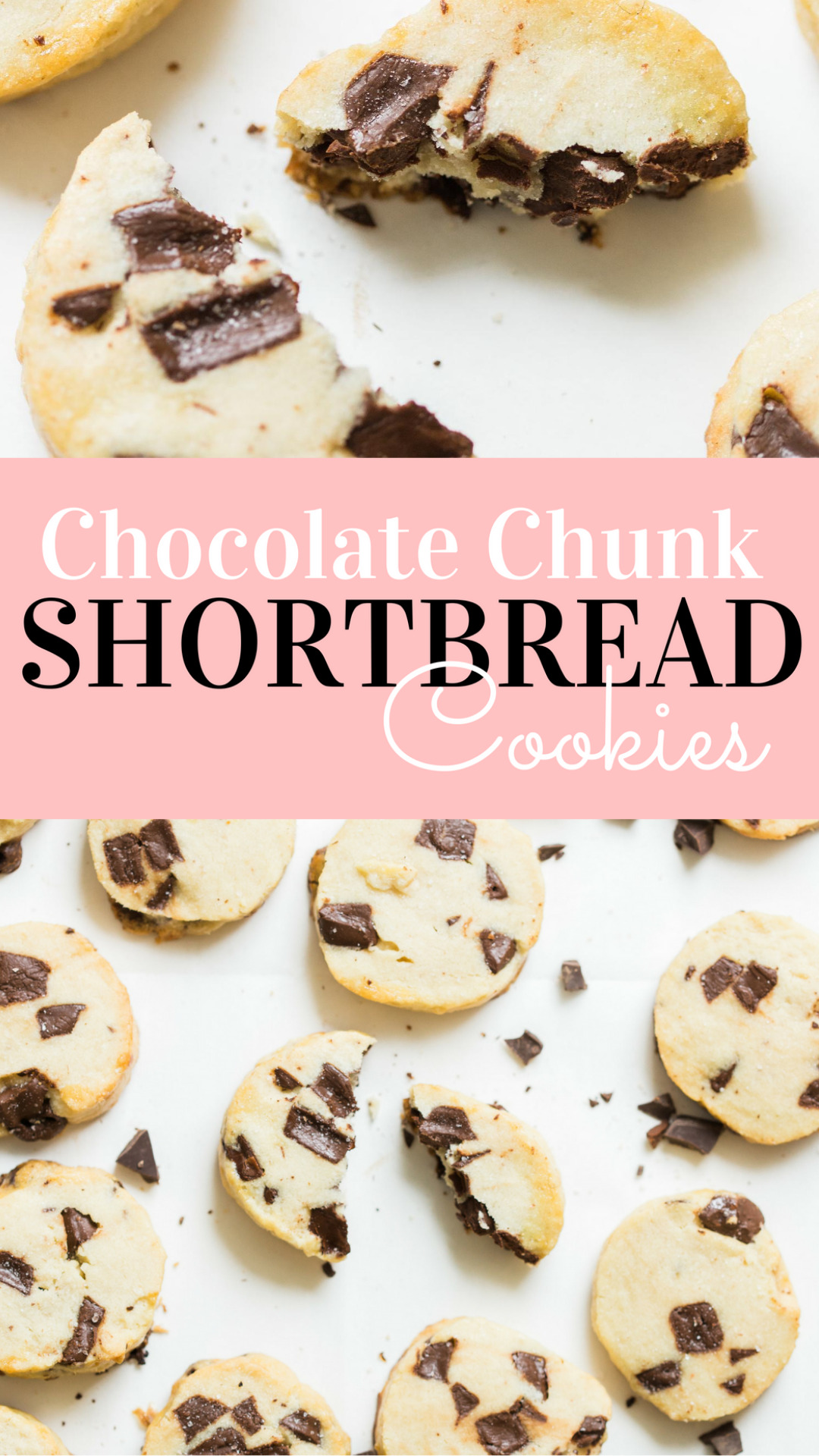 SaveSave
SaveSave
SaveSave
SaveSave
SaveSave
SaveSave
SaveSave
SaveSave
SaveSave
SaveSave
SaveSave