Looking for an incredible new favorite shortbread cookies recipe? Look no further than these frosted pistachio cranberry shortbread cookies!
Christmas is NEXT WEEK, and we've got this fantastic (and festive) cookie recipe that will fit right in to your celebrations and beyond. Shortbread cookies are perfect for gifting because they hold up so well; and also, everyone loves them. It's a pretty universally adored cookie.
We just made them better.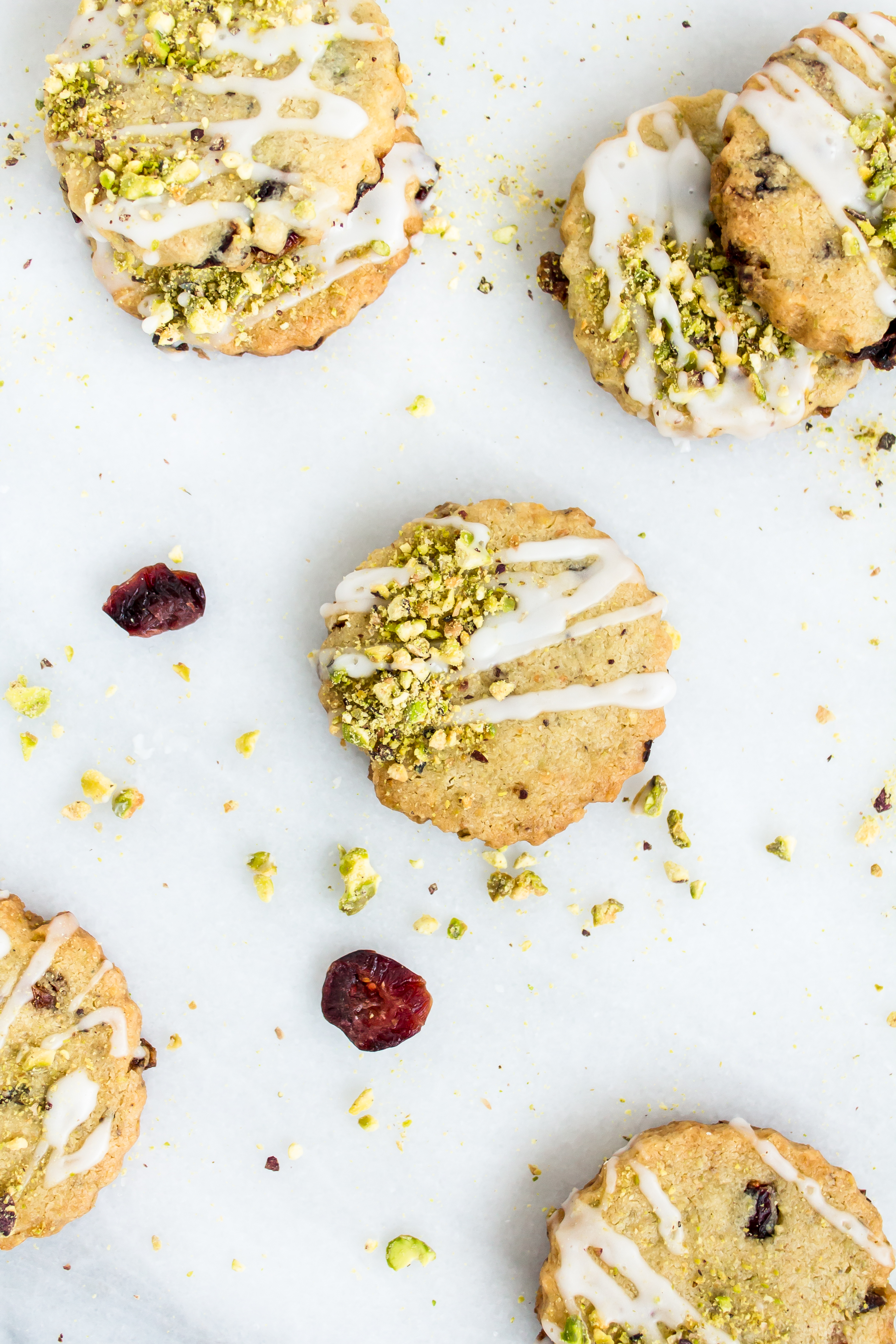 If you've never made homemade shortbread, the holidays are the perfect time to start. Despite how rich and delicious homemade shortbread is, it's actually surprisingly easy to make. Seriously.
And today, Hope, our awesome food contributor, is sharing a twist on classic buttery shortbread with a yummy recipe for a frosted pistachio cranberry shortbread cookies recipe that you're going to just love!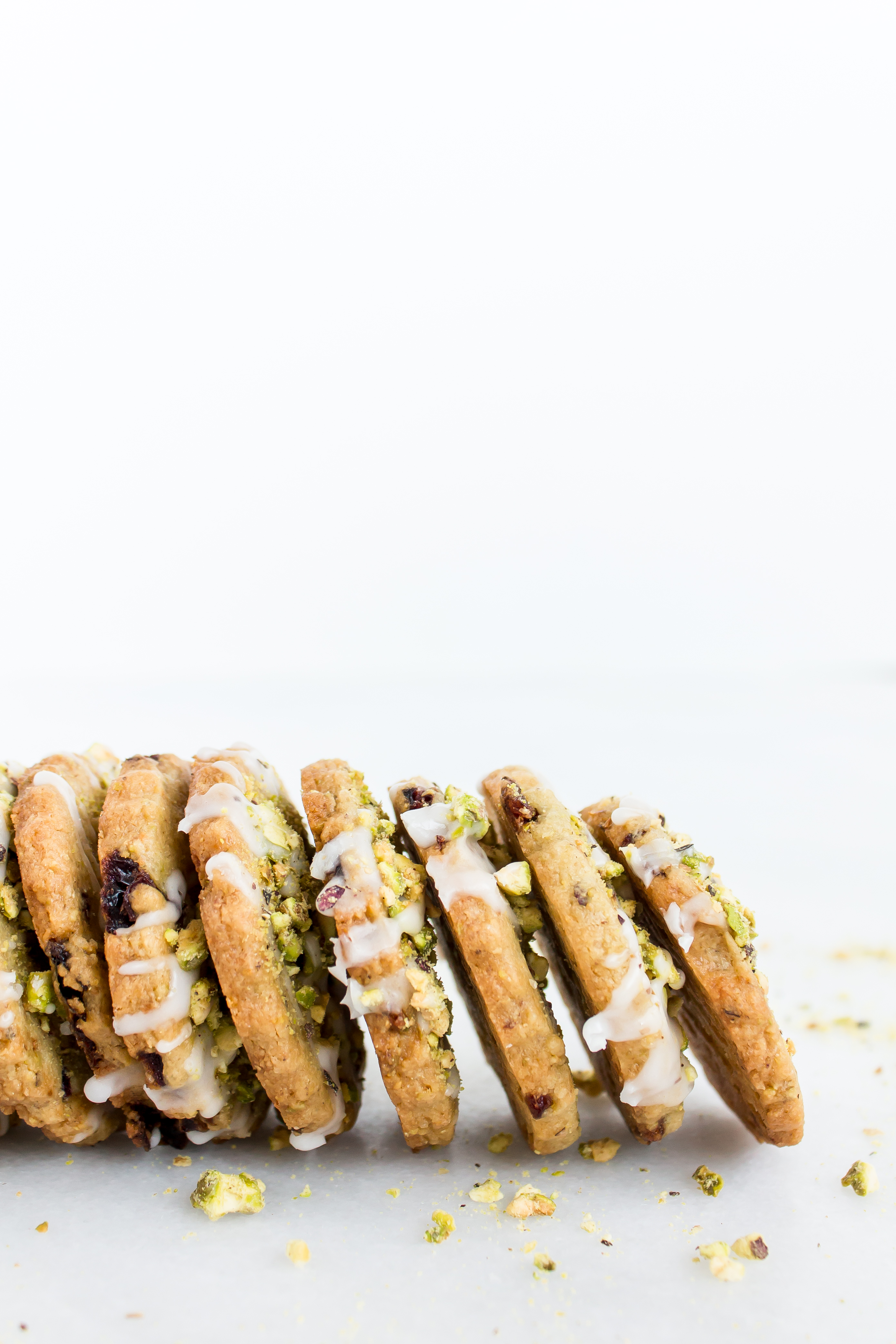 Shortbread cookies are so versatile and can be dressed up for any time of the year, but green pistachio crumbs and ruby red dried cranberries make these an especially pretty and festive treat during the holidays. The buttery shortbread combines with a rich, nutty flavor from the pistachios. Dried cranberries add a bit of extra sweetness to each bite and provide some chewiness in the midst of the crisp cookie.
And of course, that simple glaze takes these shortbread cookies up a notch.
So without further ado, here's how to make the most decadent frosted pistachio cranberry shortbread cookies recipe.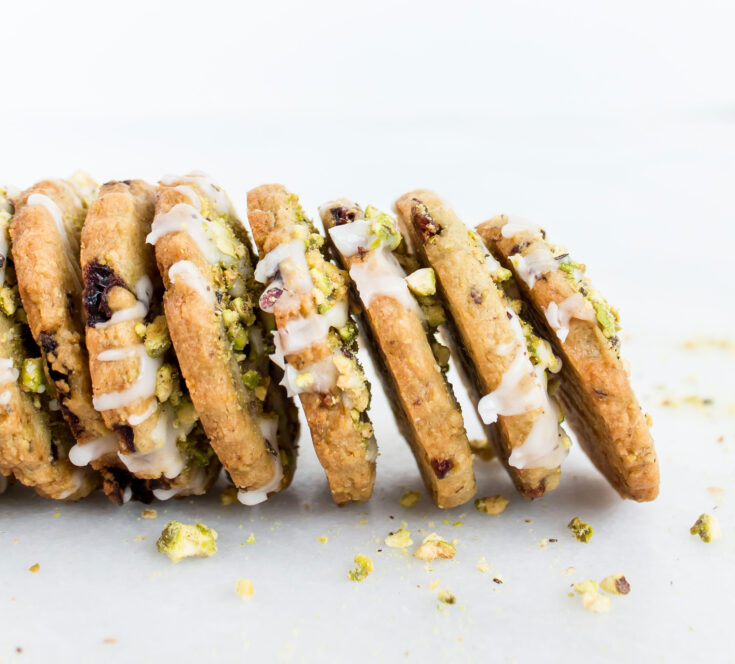 Yield:
Pistachio Cranberry Shortbread Cookies Recipe
Ingredients
1 cup shelled pistachios, divided in two
2/3 cup sugar
¾ cup butter, softened
1 tablespoon vanilla
⅛ teaspoon sea salt
1 ¾ cups flour
½ cup Craisins (dried cranberries), coarsely chopped
Glaze
½ cup confectioners' sugar
1 ½ tablespoons milk
Instructions
In the bowl of a food processor, place the sugar and ½ cup of the pistachios. Pulse together until the pistachios are finely ground.
In the bowl of an electric mixer, beat the butter and the pistachio-sugar on medium speed until light and creamy, about 3-4 minutes. Scrape down the bowl and add the vanilla and salt. Beat until combined. With the mixer on low speed, add the flour and mix just until the dough comes together but there is still flour visible. Pour in the craisins and mix until the flour is just incorporated.
On a floured cutting board (or on a piece of plastic wrap – this is sometimes easier), roll the dough out to about ¼-inch thickness.
Line a baking sheet with parchment paper.
Use a cookie cutter (mine was about 2-inches across) to cut the dough and place the cookie cutouts on your prepared baking sheet. Cover the cookies with plastic wrap and chill in the refrigerator for about 45 minutes.
Preheat oven to 350 degrees F. Distribute the cookies so there are 12 cookies on each tray and bake for 8-12 minutes. They will stiffen and continue to cook after you take them out of the oven, so the edges should not be golden yet when you take them out. If you have more cookies than will fit on both sheets, place them back in the fridge while the other cookies bake. Place the cookies on a wire rack to cool completely.
To make the glaze, whisk the confectioners' sugar and milk together in a small bowl. Place a piece of parchment paper under the wire racks and use the whisk to drizzle the glaze over the cooled cookies. Sprinkle the pistachio crumbs over the glaze and drizzle glaze over the cookies again.
I mean, don't these look great?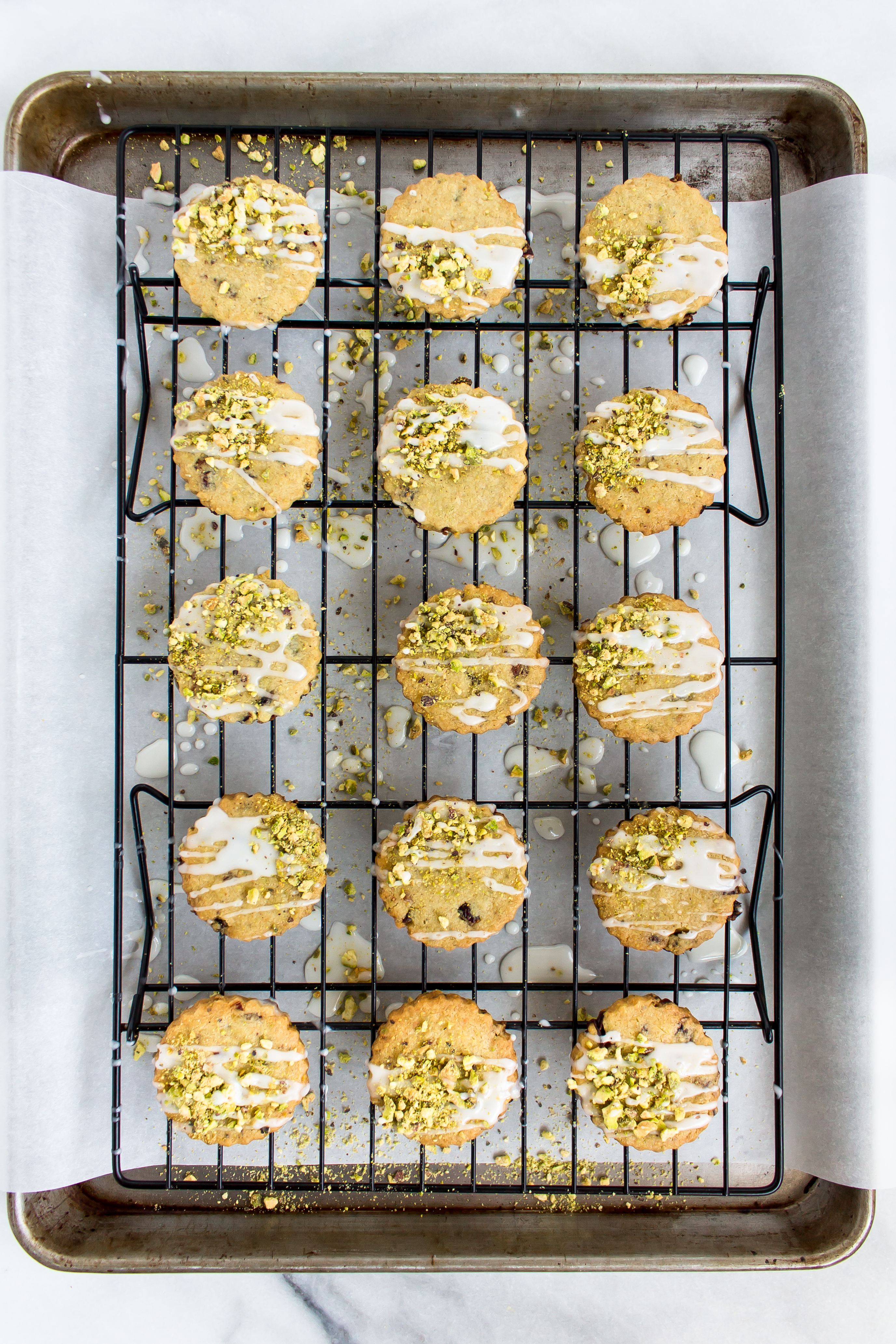 That glaze, and the extra sprinkle of pistachio crumbles just takes them to a whole new decadent level.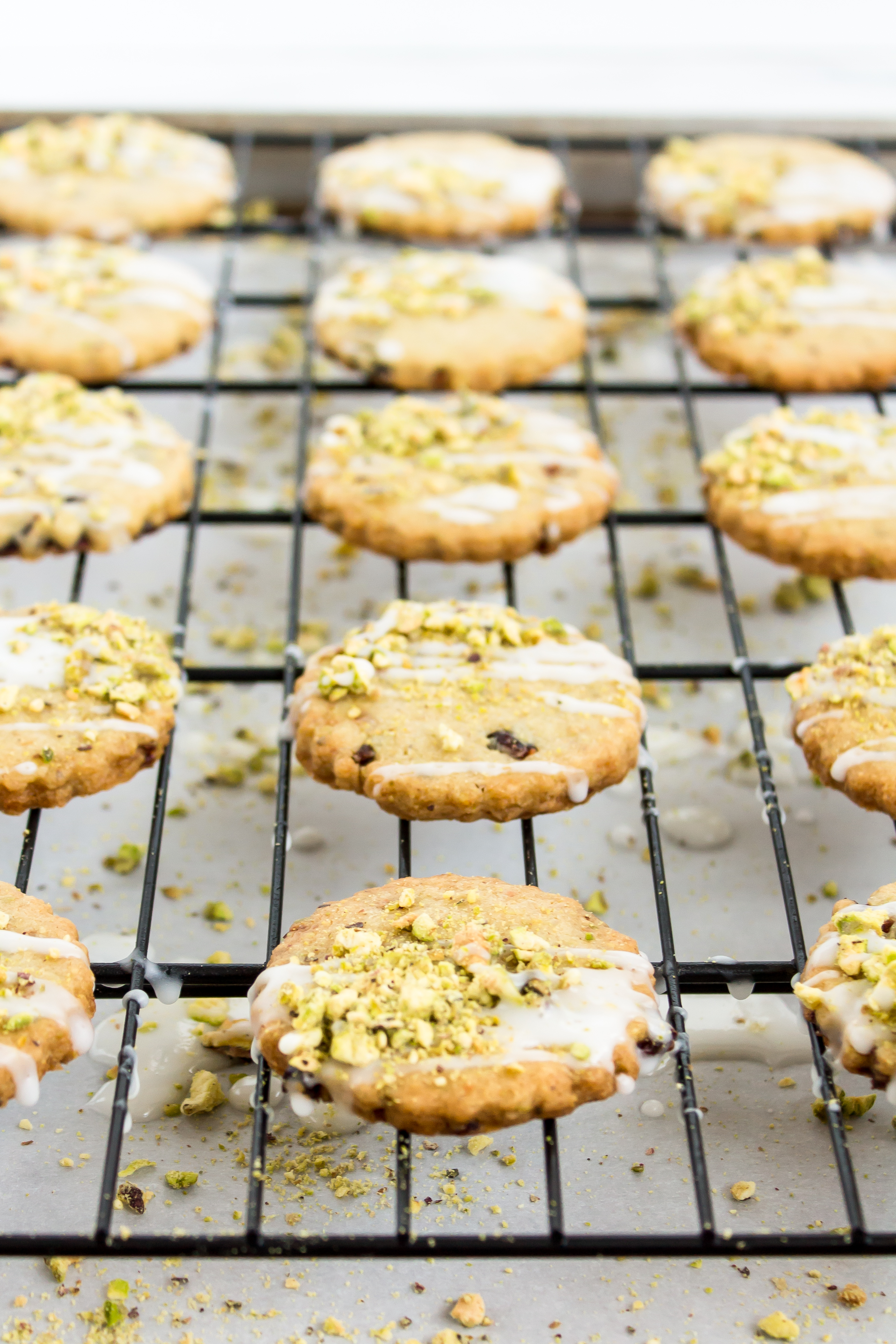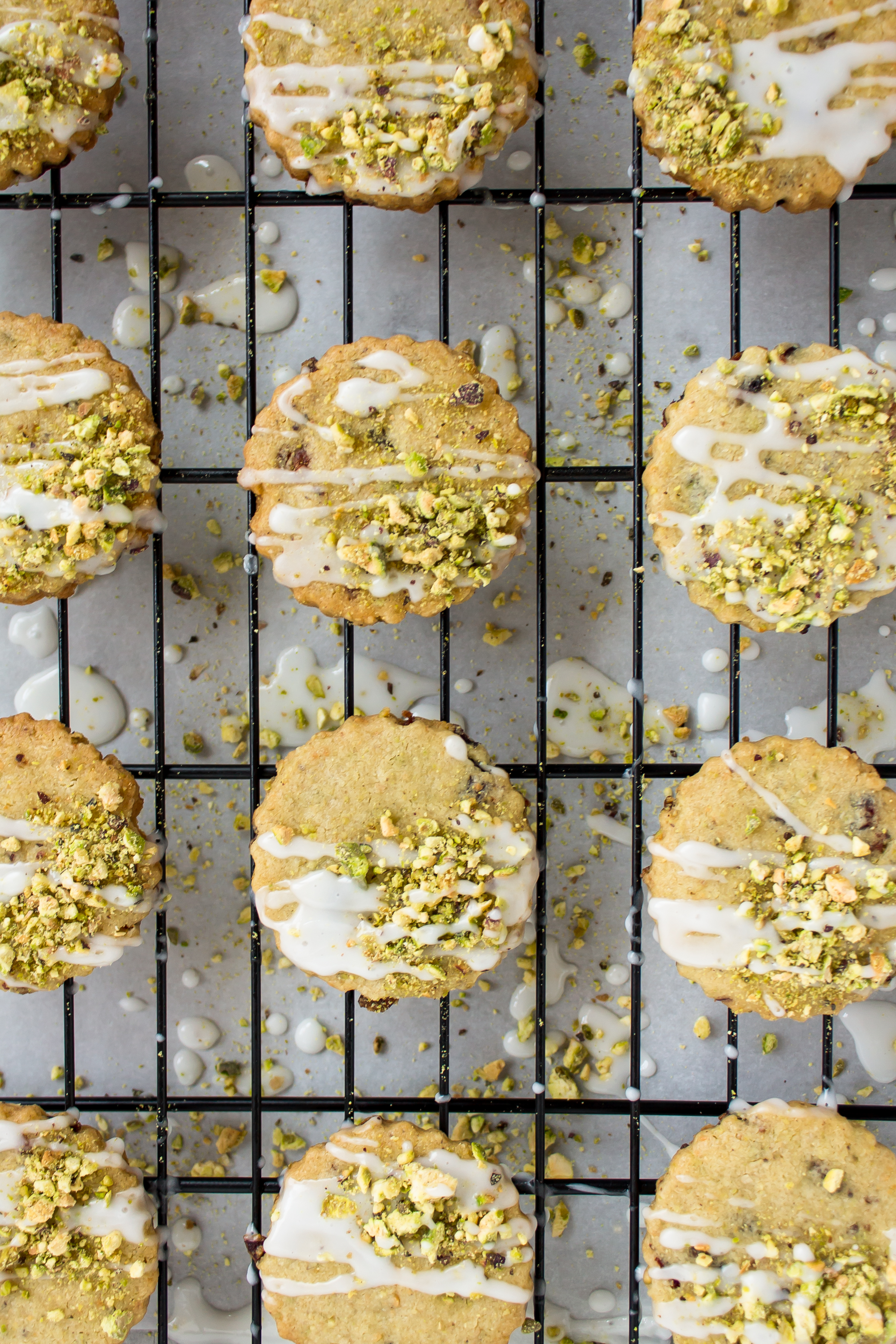 Be sure to make plenty for sharing.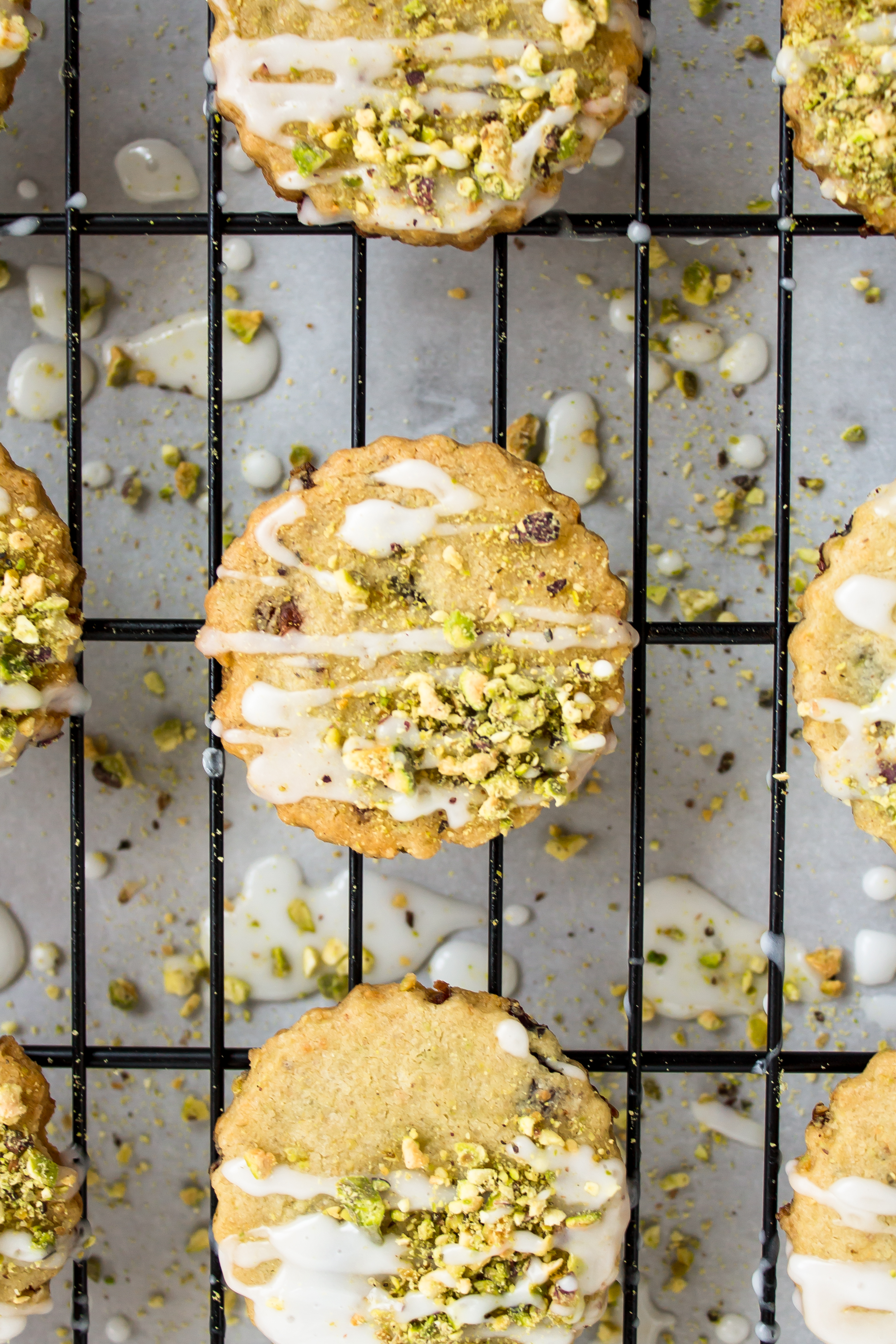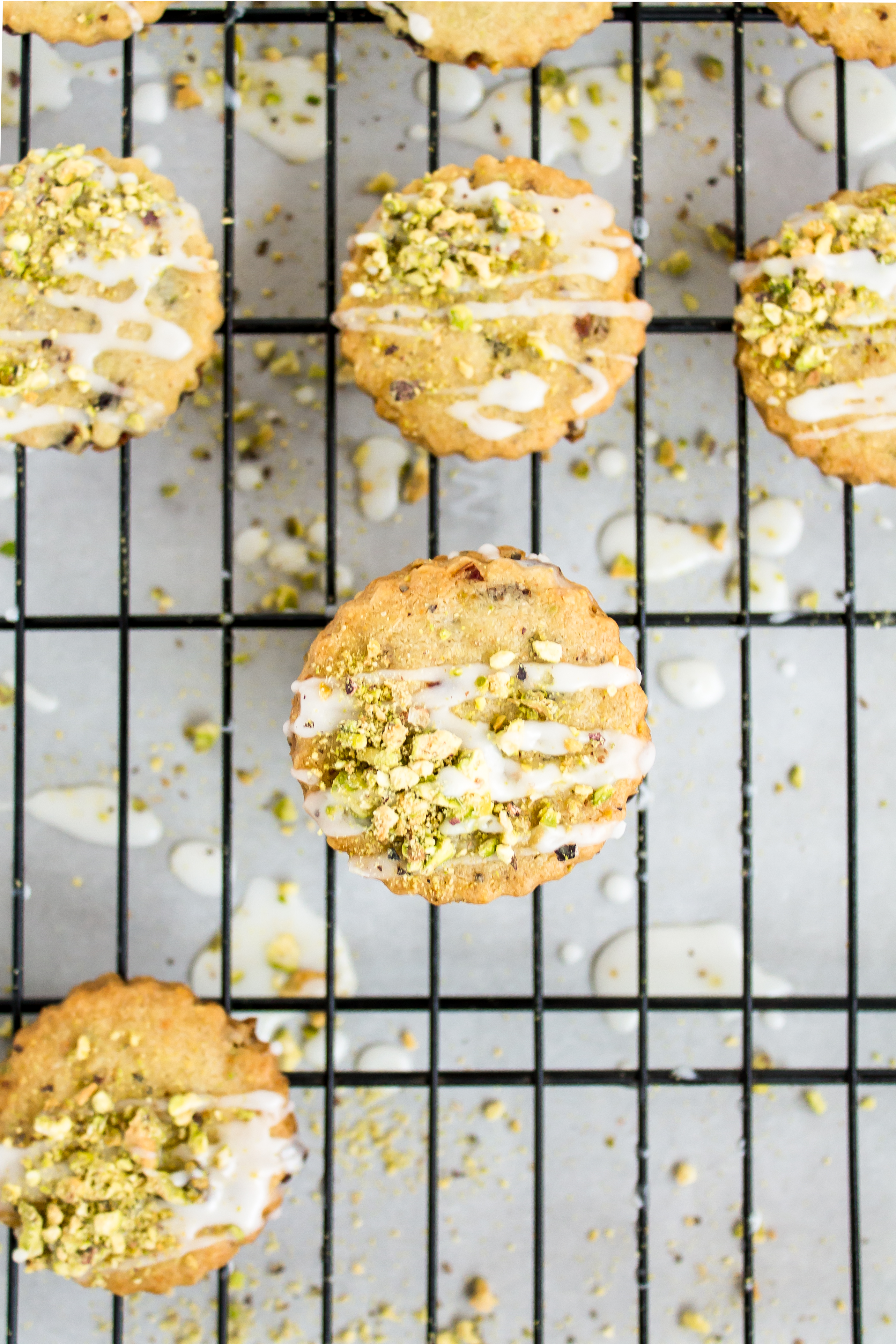 The pretty cookie cutters made these extra festive and pretty.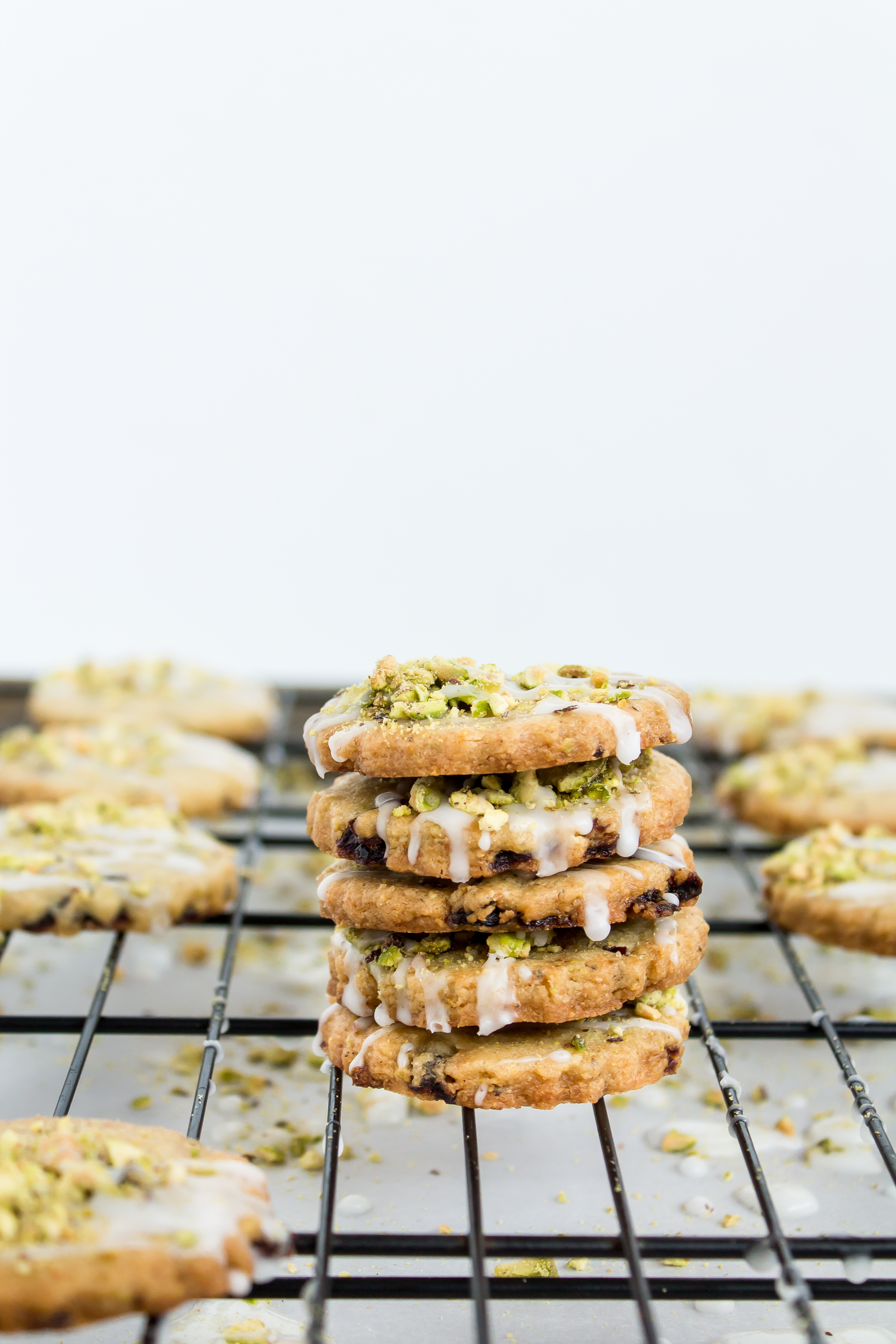 Yum.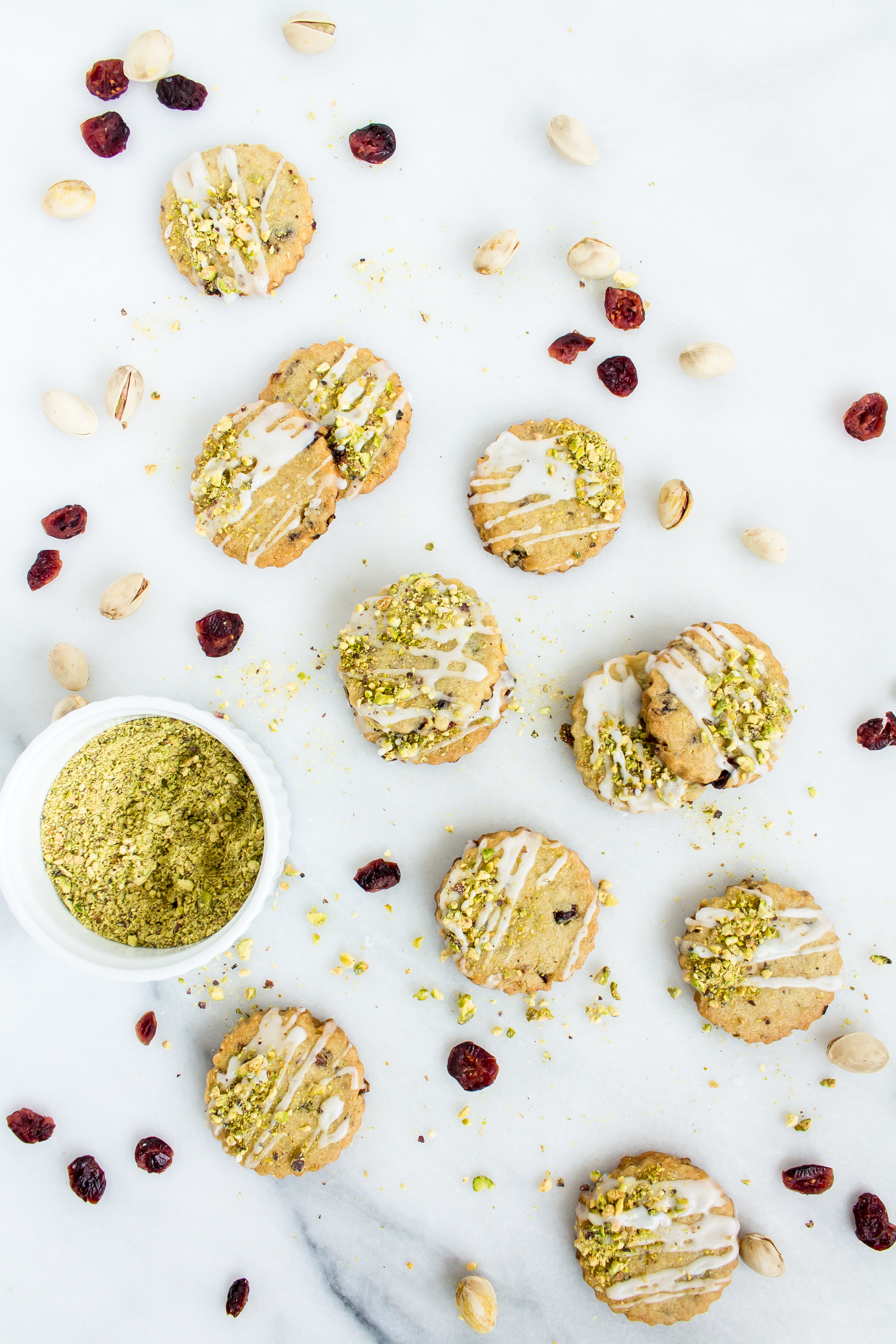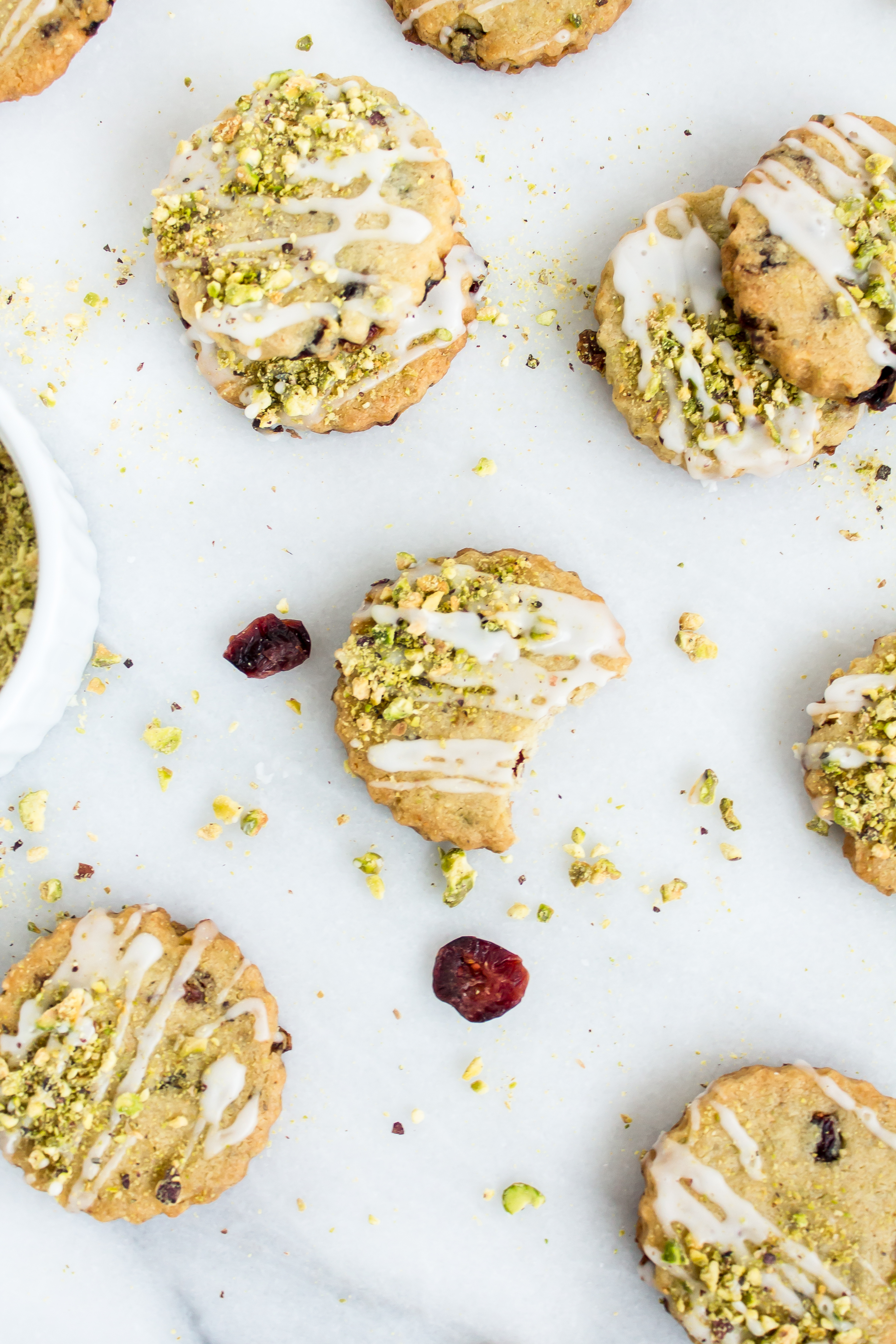 Love these frosted pistachio cranberry shortbread cookies recipe? Head to our recipe page to check out what else we've been whipping up in the kitchen!
If you make your own shortbread cookies, be sure to tag me on social media (@glitterinclexi) so I can live vicariously through all of your sweet creations!
Recipe and Photos by Hope Woodhouse for Glitter, Inc.