This post contains affiliate links, which means that if you click on one of the product links, I'll receive a small commission. Thank you so much for clicking through and helping to support this little blog business of mine! Read more about our site, privacy, and disclosure policies here.
Soak up summer and make an afternoon extra special with the coolest, sweetest, family-friendly activity that's perfect for hot summer days → turn pantry staples into tasty ice cream desserts with the yummiest ice cream hacks!
'Tis the season of ice cream! It's summer time! And I for one, am obsessed with all things ice cream.
As for our little ones, well, I don't know about your kids, but I know mine LOVE ice cream. Give them an excuse to eat ice cream and they are all over it. And summer is as good an excuse as any to go for ice cream any old day.
Of course, never one to miss out on an opportunity to turn dessert into a party, I've been coming up with fun ways to eat and enjoy ice cream this summer. (Not that there's anything wrong with scooping out great big spoonfuls straight from the container. Always an A+ way to eat ice cream in my book.)
The Yummiest Ice Cream Dessert Hacks to Try ASAP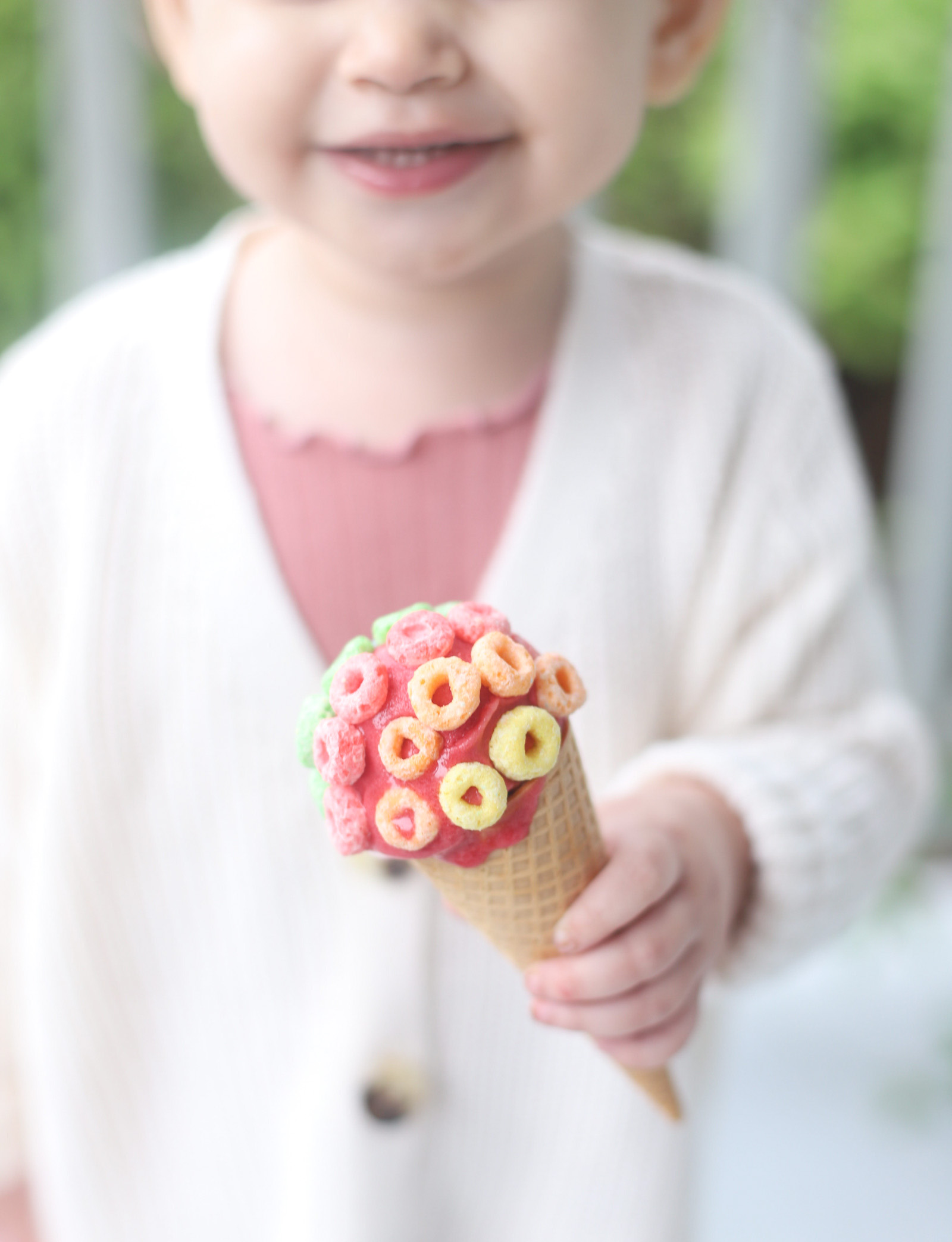 All of our twists – a.k.a., ice cream dessert hacks – on ice cream are simple, fun, and you can put them all together with store-bought staples like Pop-Tarts, Frozen Mini Waffles, cereal, ice cream cones, sprinkles, etc. Basically, you're going to want to try these ice cream dessert hacks ASAP.
Now let's talk about those hacks …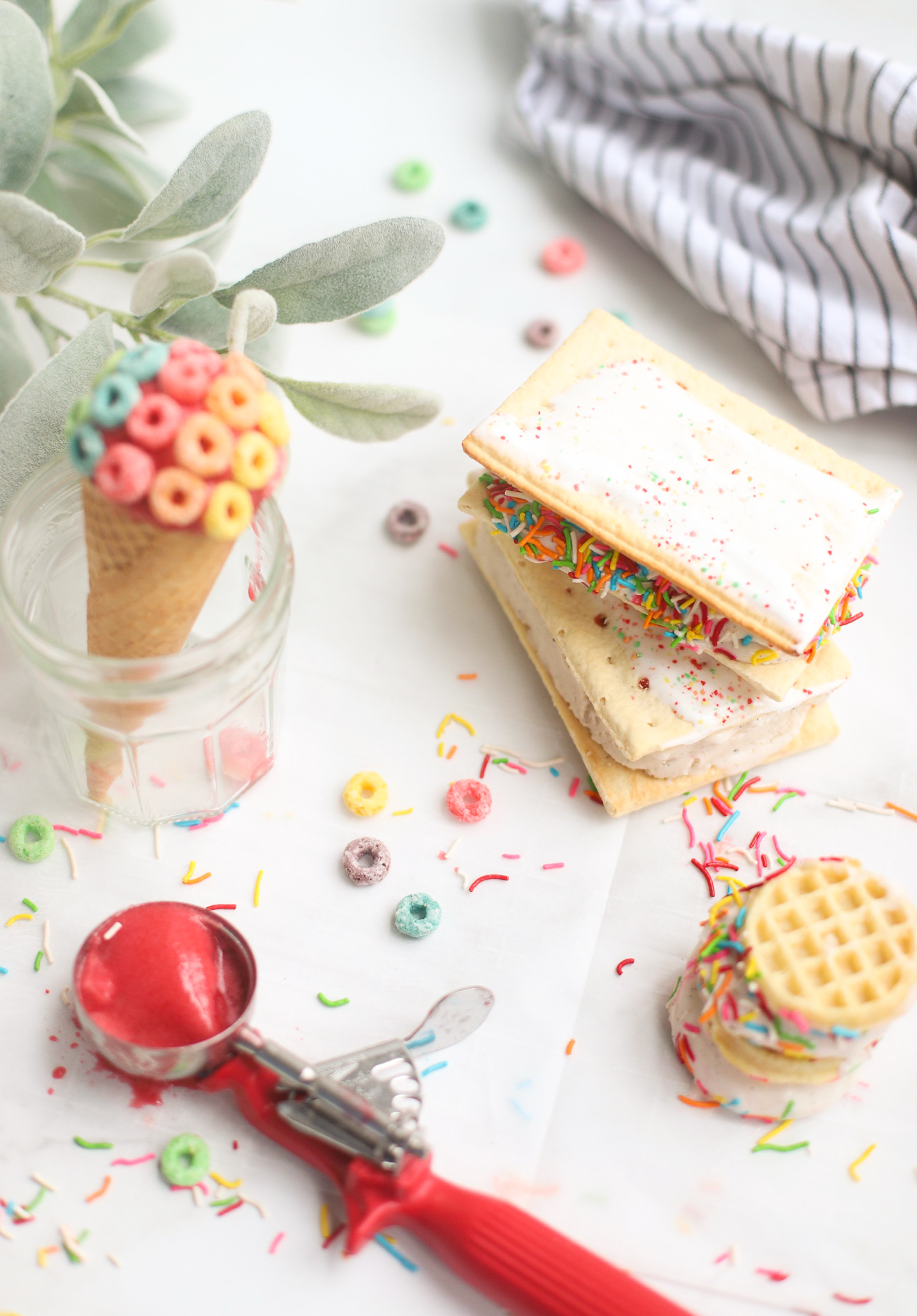 Ice Cream Dessert Hacks
These are our favorite, super simple ice cream dessert hacks and I promise you they make all ice cream consuming ten times more delicious and fun!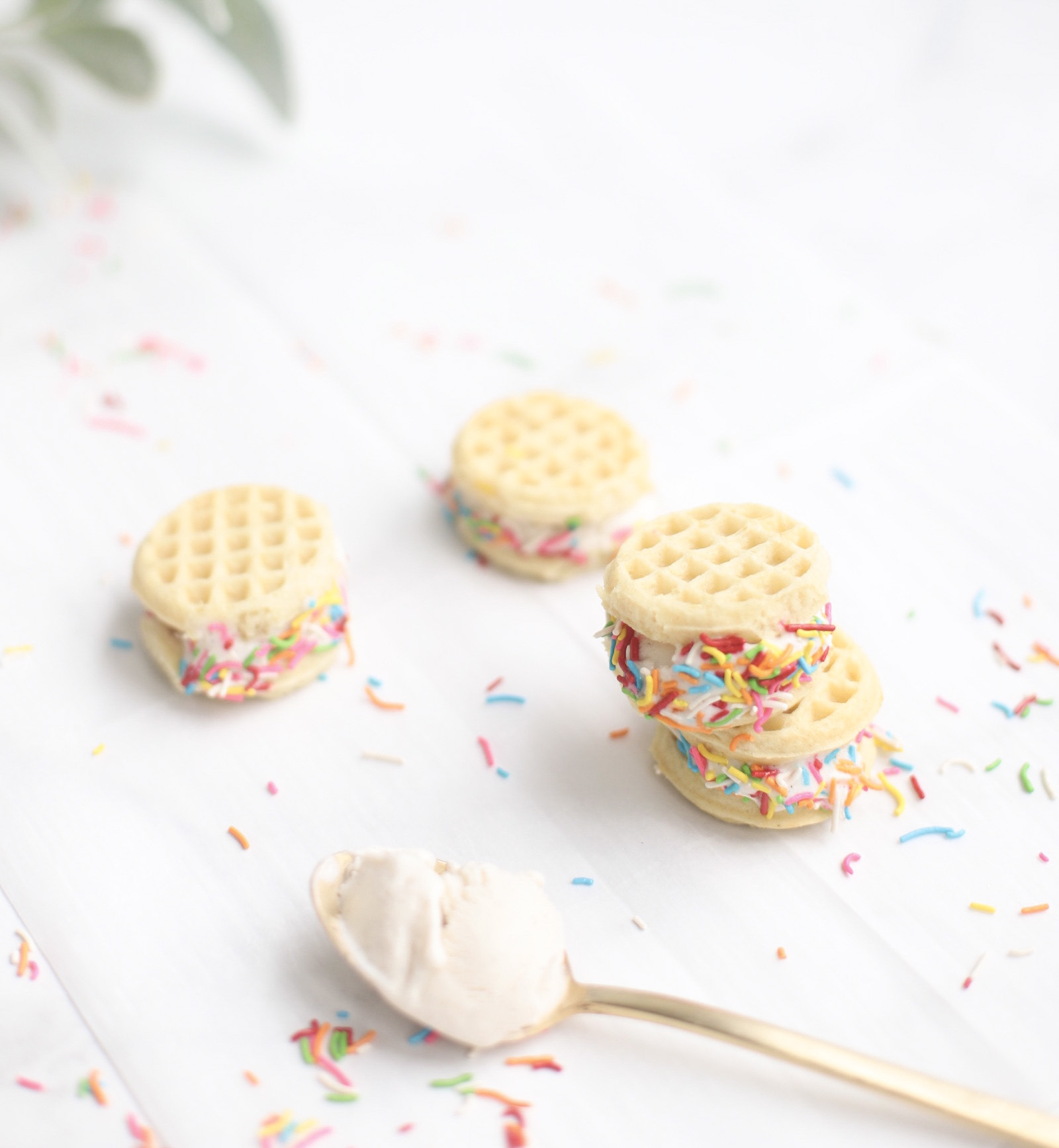 Mini Waffle Ice Cream Sandwiches
Toast a bunch of frozen mini frozen waffles (remember, you'll need two mini waffles per sandwich), like Eggo Minis; allow the waffles to cool, and then sandwich a small amount of ice cream between them. You can also roll the sides of your waffle ice cream sandwiches in sprinkles or mini chocolate chips.
Fruit Loop Ice Cream Cones
Top off your ice cream cones with colorful cereal like Fruit Loops for an extra fruity rainbow crunch. 🌈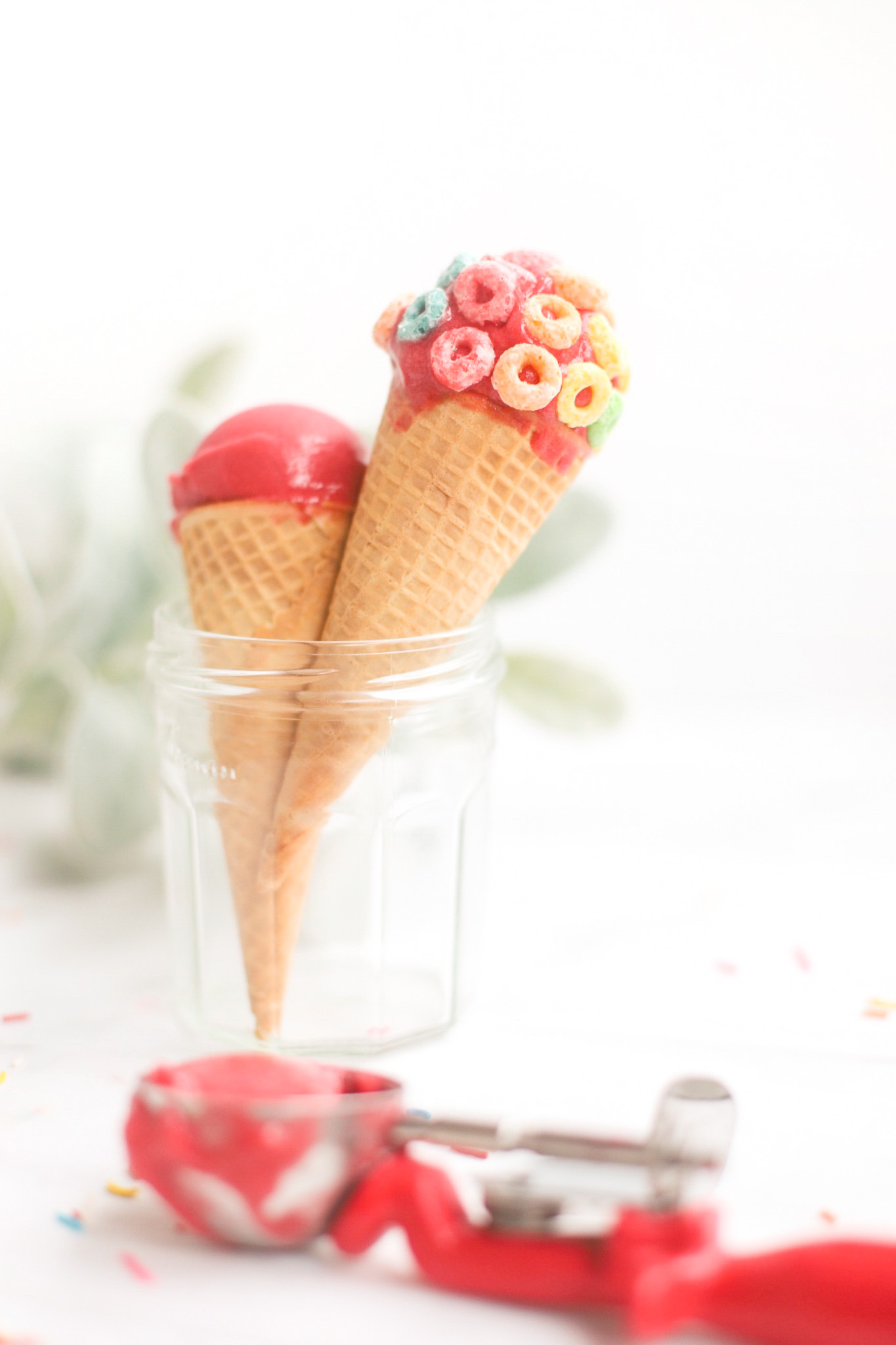 This one works great with your favorite flavor of ice cream or sorbet!
Bonus color recognition activity: let the kids sort the Fruit Loops (or any rainbow or marshmallow cereal) before making your ice cream rainbow patterns! our girls loved dividing up all of the colors into bowls and decorating their ice cream cones with "rainbow stripes."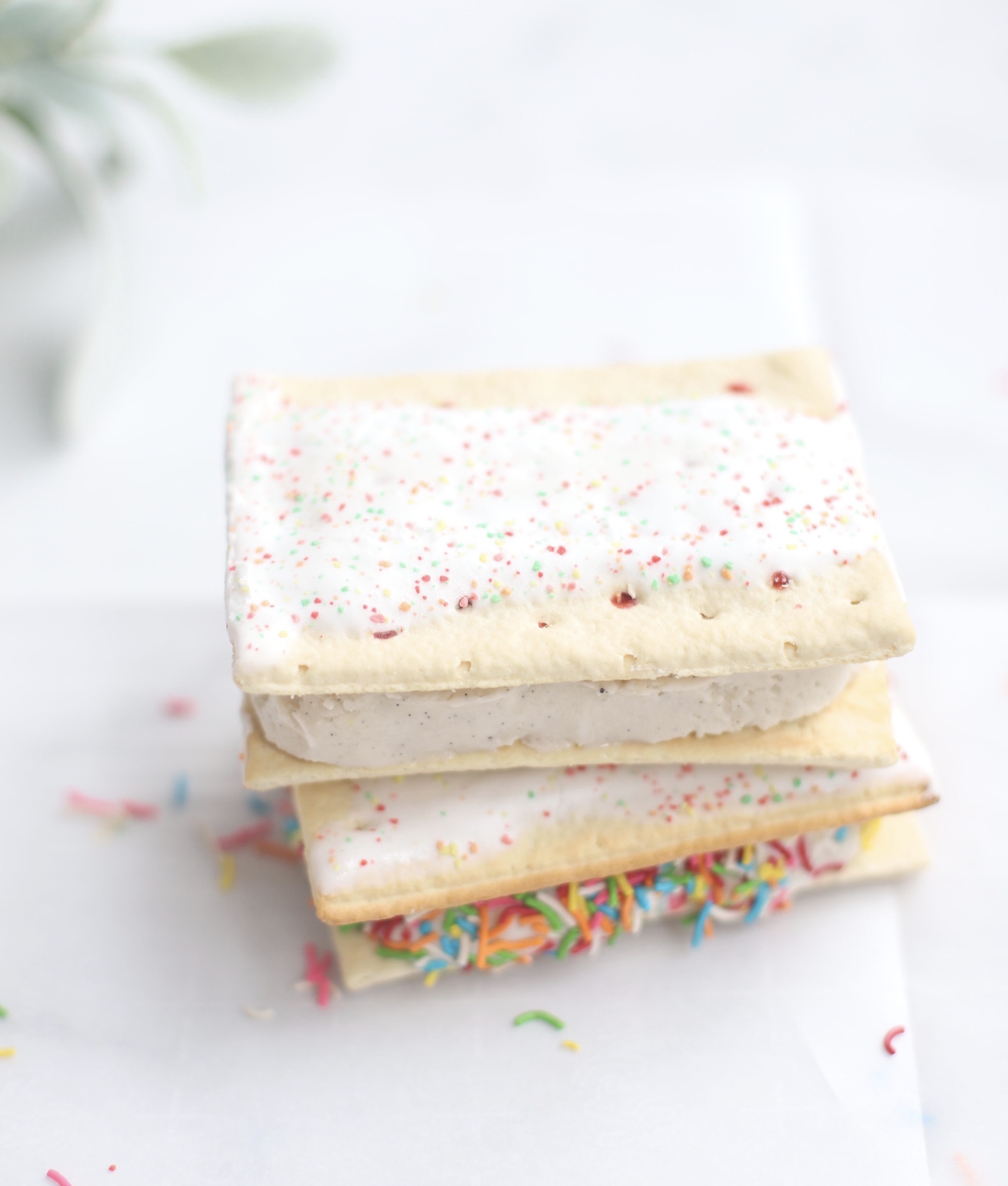 Pop-Tarts Ice Cream Sandwiches
Similar to the waffle ice cream sandwiches, just sandwhich a layer of ice cream between two Pop-Tarts!
Of course the result is a MEGA ice cream sandwich, so for little ones, this ice cream sandwich is great for cutting in half and sharing.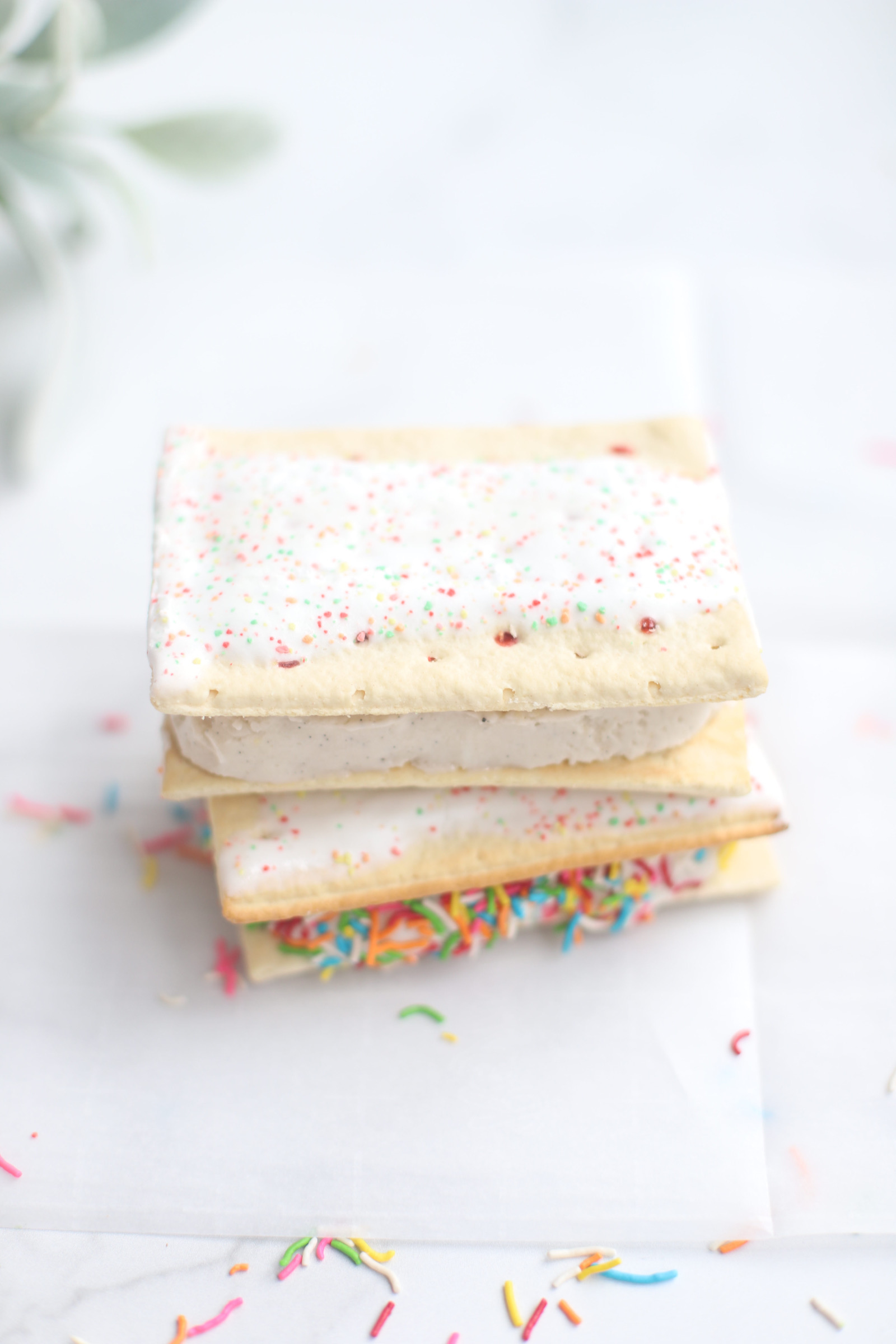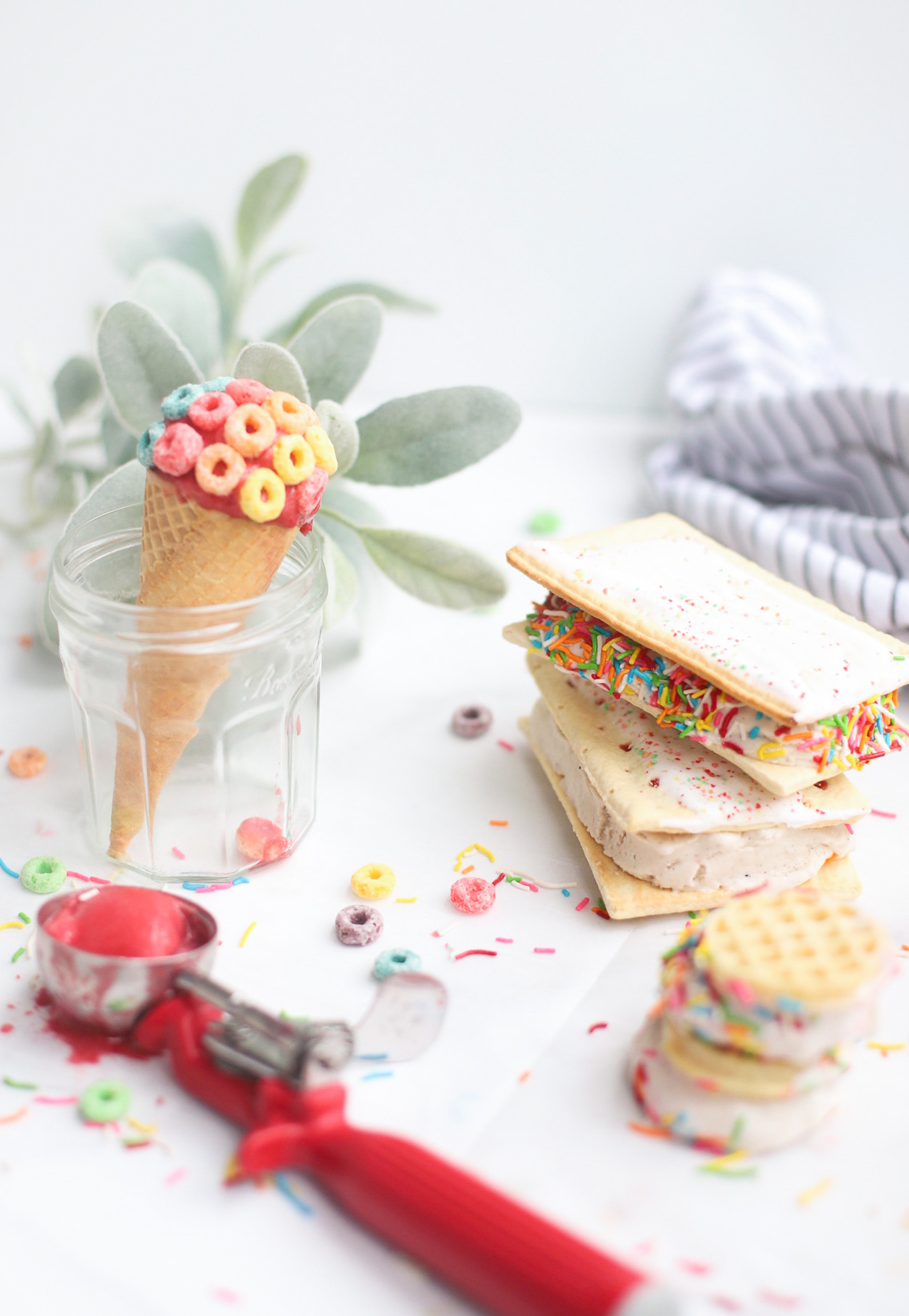 So there you have it: the yummiest ice cream dessert hacks to try this summer. With a little creativity, you and your crew can turn your favorite pantry staples into the most adorable ice cream sandwiches and colorful cones!
SHOP THE ICE CREAM DESSERT HACKS POST | CLICK LEFT & RIGHT ARROWS TO EXPLORE

Let me know if you create any of these easy and adorable ice cream hacks and show me those frozen treats! You can comment below or tag me on instagram, @glitterinclexi. I love to see all of your sweets and mini summer celebrations come to life!
Love these ice cream dessert hacks? Head to our recipe page to check out what else we're dreaming up in the kitchen!