Goodness, I can't believe it's that time already, but in the blink of an eye, November is in full swing and it's time to roll out our annual gift guides. I always like to kick things off with the best thank you gift ideas, since the holidays are fast-approaching (first up, Thanksgiving), and with all of that comes dinner parties, get-togethers, and plenty of fun events. My mom always taught me to bring a little something special for the host or hostess to say "thank you" whenever you're invited somewhere – especially something held at someone's home – and I've always loved coming up with sweet thank you gift ideas. I mean, they are throwing a great party for everyone to enjoy!
When it comes to the right thank you gift ideas, I like to focus on things for the home – something your recipient wouldn't normally purchase for themselves, though they'd love to have it – and I like to keep it under $30. Think of it as a little home splurge; i.e., a luxe candle that you probably wouldn't buy for yourself but would be thrilled to receive. These thank you gift ideas also work really well for so many different people – favorite teachers, co-workers, etc.
I'm rounding up a few favorite things to gift this season, plus scroll down for my tried-and-true tips on how to find the perfect gifts to say "thank you."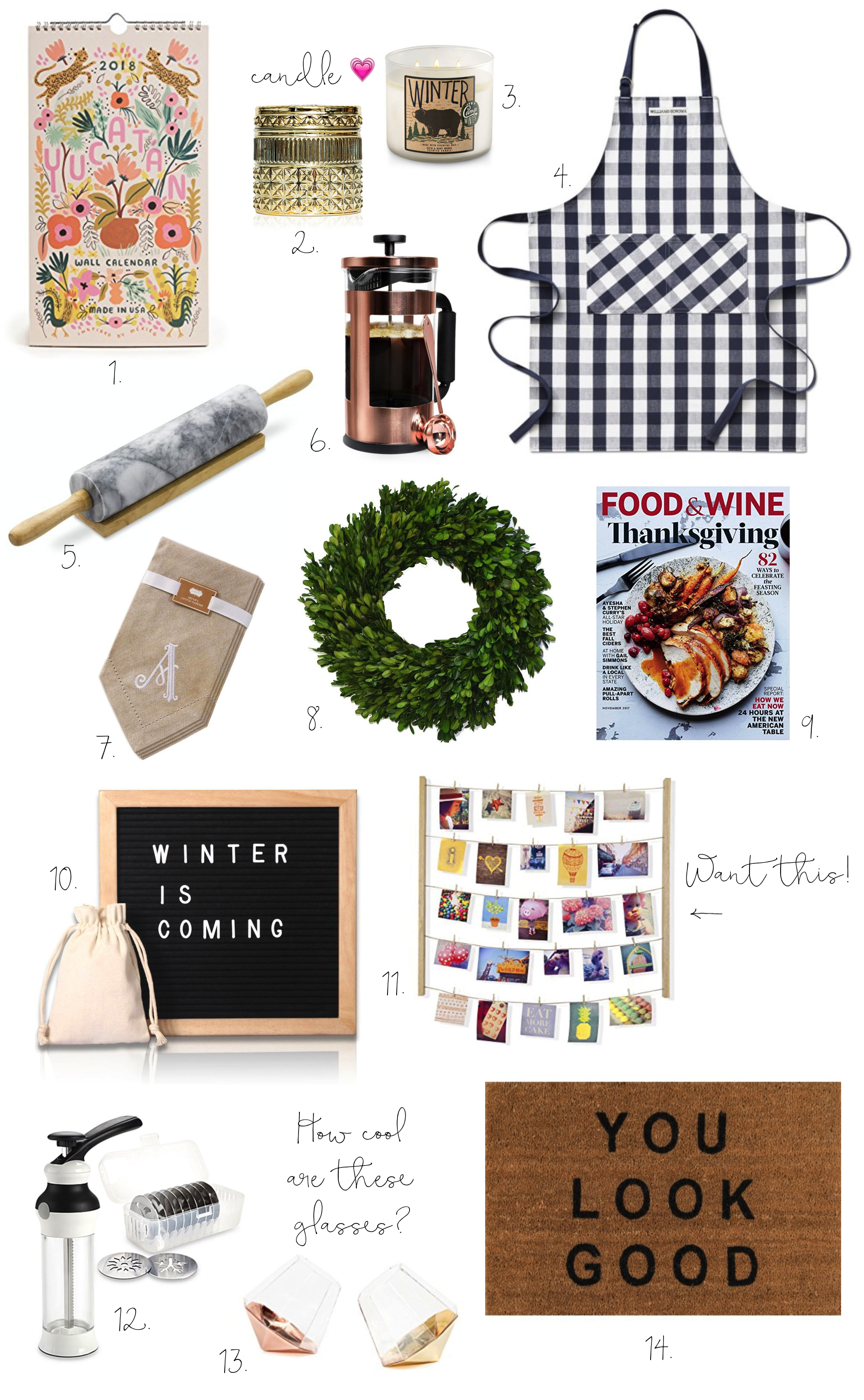 Gift Guide | Gifts to Say "Thank You" (Under $30)
1. Rifle Paper Co 2018 Hanging Wall Calendar, $22
2. Capri Blue Blue Exotic Blossom & Basil Candle, $37 ($25 off every $100 spent) – Capri Blue makes the best smelling candles! So worth the splurge.
3. Bath & Body Works 3-Wick Candle, $12.50 (on sale) – Loving the Bath & Body Works Camp Collection; and it's totally affordable, and well under $30.
4. Williams Sonoma Checkered Adult Apron, $29.95 – This one comes in a bunch of different colors … and I want them all.
5. Marble Rolling Pin, $19.95
6. Primula Copper Coffee French Press, $19.99 (on sale)
7. Monogrammed French Linen Napkin, 4-piece set, $21 – Who doesn't love something monogrammed?
8. Preserved Garden Boxwood Wreath, $29.95
9. Subscription to Food & Wine Magazine, $19.99
10. Felt Letter Board with 580 Letters, Numbers & Symbols, $23.99 – We have two letter boards – one big and one small – and I can't stop decorating with them. Such a fun and cheeky way to add a little customizable modern art to your space.
11. Hanging Photo Display, $19.99 – How cute is this!?
12. OXO Good Grips Cookie Press with Stainless Steel Disks and Storage Case, $29.95 – Such a perfect gift for anyone who loves to cook throughout the holiday season.
13. Set of 2 Diamond Glasses in Gold and Rose Gold, $30 – Ummm, love, love, love.
14. You Look Good Doormat, $29
SHOP THE THANK YOU GIFT IDEAS POST (and then some!) | CLICK LEFT & RIGHT ARROWS TO EXPLORE

Do you have any favorite gifts to bring to the host or hostess? Maybe a go-to gift for occasions?
Here's how to find the perfect gifts to say thanks …

Bring something your hosts would truly enjoy. If they're big foodies, a kitchen gift or homemade dish is always a winner; if they like to have fun, cute shot glasses or a cool decanter might be the way to go; if their home is always immaculate, a yummy candle or set of linen hand towels should do the trick; etc.
Keep tabs on what your friends like or have expressed interest in. If they always compliment you on the coffee you serve, package up a bag of your favorite coffee with two awesome mugs; etc.
Consider where they live. If your host/hostess call a tiny apartment home, don't bring a giant basket full of stuff; if they've just moved into a new home, consider bringing them something you love for your own home, a new home specific item like this adorable new home candle, or something local to their new area; etc.
Think about the whole family. Do they have kids or pets? Maybe there's something the whole family would enjoy.
Don't spend too much. For your very best friends, you can of course spend a little more if you've found something extra-thoughtful, but trust me, a gift in the $10 – $30 range can be just as special.
Stay tuned — we've got plenty of great gift guides coming up, and if theres something you'd like to see, shoot me an e-mail at [email protected], leave a comment hear, or get in touch on Instagram!
This thank you gift ideas post contains affiliate links, which means that if you click on one of the product links, I'll receive a small commission. Thank you so much for clicking through and helping to support this little blog business of mine! Read more about our site, privacy, and disclosure policies here.