This post contains affiliate links, which means that if you click on one of the product links, I'll receive a small commission. Thank you so much for clicking through and helping to support this little blog business of mine! Read more about our site, privacy, and disclosure policies here.
This incredible salted maple caramel apple pie is a spin on a more traditional apple pie that will have you wondering why it took you so long to start drizzling homemade salted maple caramel sauce on ALL of the apple things. It's THAT great.
Our love affair with fall desserts continues – because goodness knows I love fall desserts – with this salted maple caramel apple pie recipe that you are sure to FREAK out over. A spin on a more traditional apple pie, it will surely have you wondering why it took you so long to start drizzling homemade salted maple caramel sauce on ALL of the apple things. I mean, of course a caramel-soaked apple pie is going to taste incredible.
The apple pie here is standalone amazing, but let's be honest: the caramel is the real hero here; and it's a total crowd-pleaser, so get ready to impress everyone.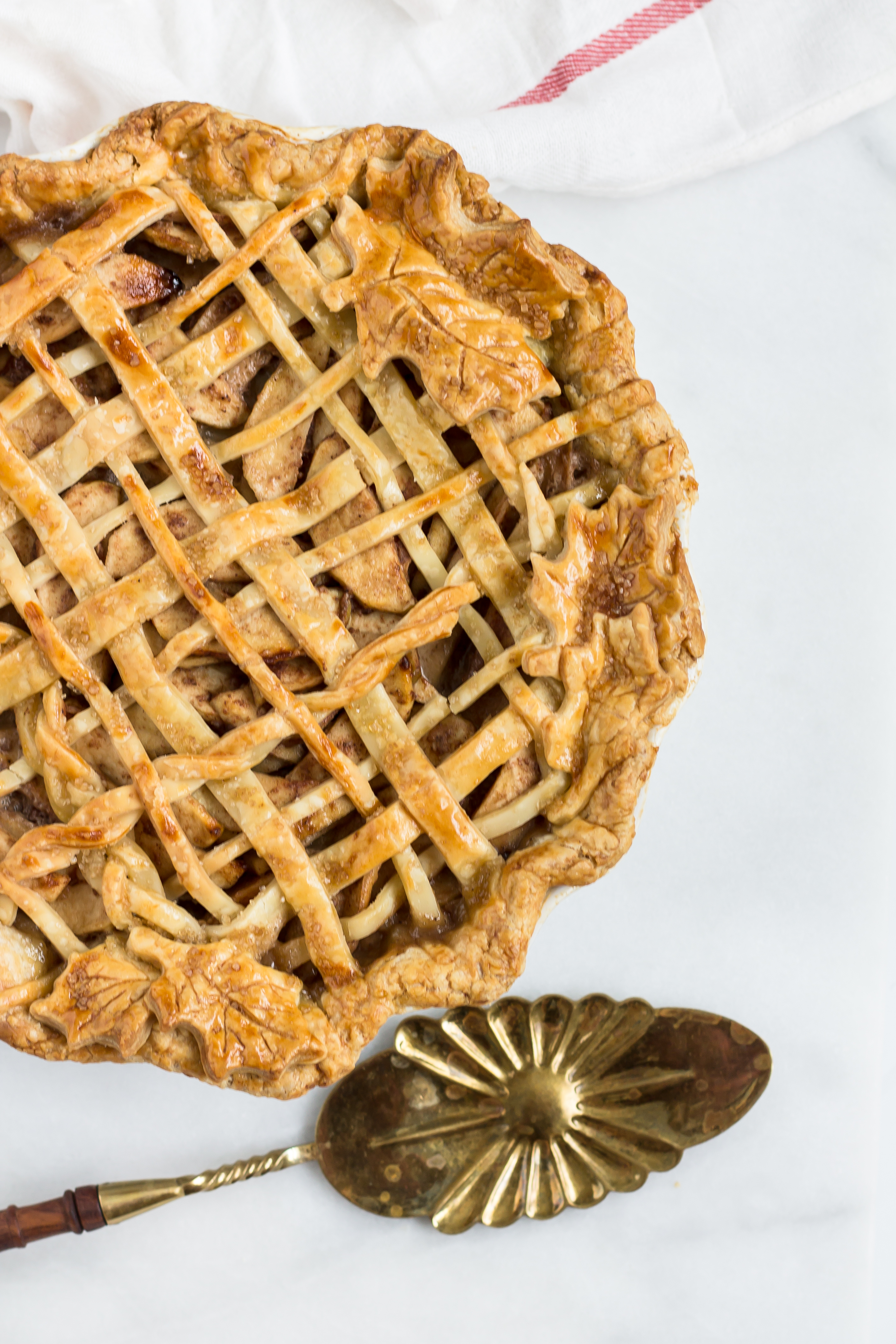 This maple caramel apple pie recipe is just about the most perfect addition to your Thanksgiving dessert spread, and maybe it's just me, but a leftover slice of pie the morning after Thanksgiving, well that's pretty much post food coma heaven. And this maple caramel apple pie? Yeah, it happens to be just as amazing cold as it is warm out of the oven. Served with a big cup of coffee, of course.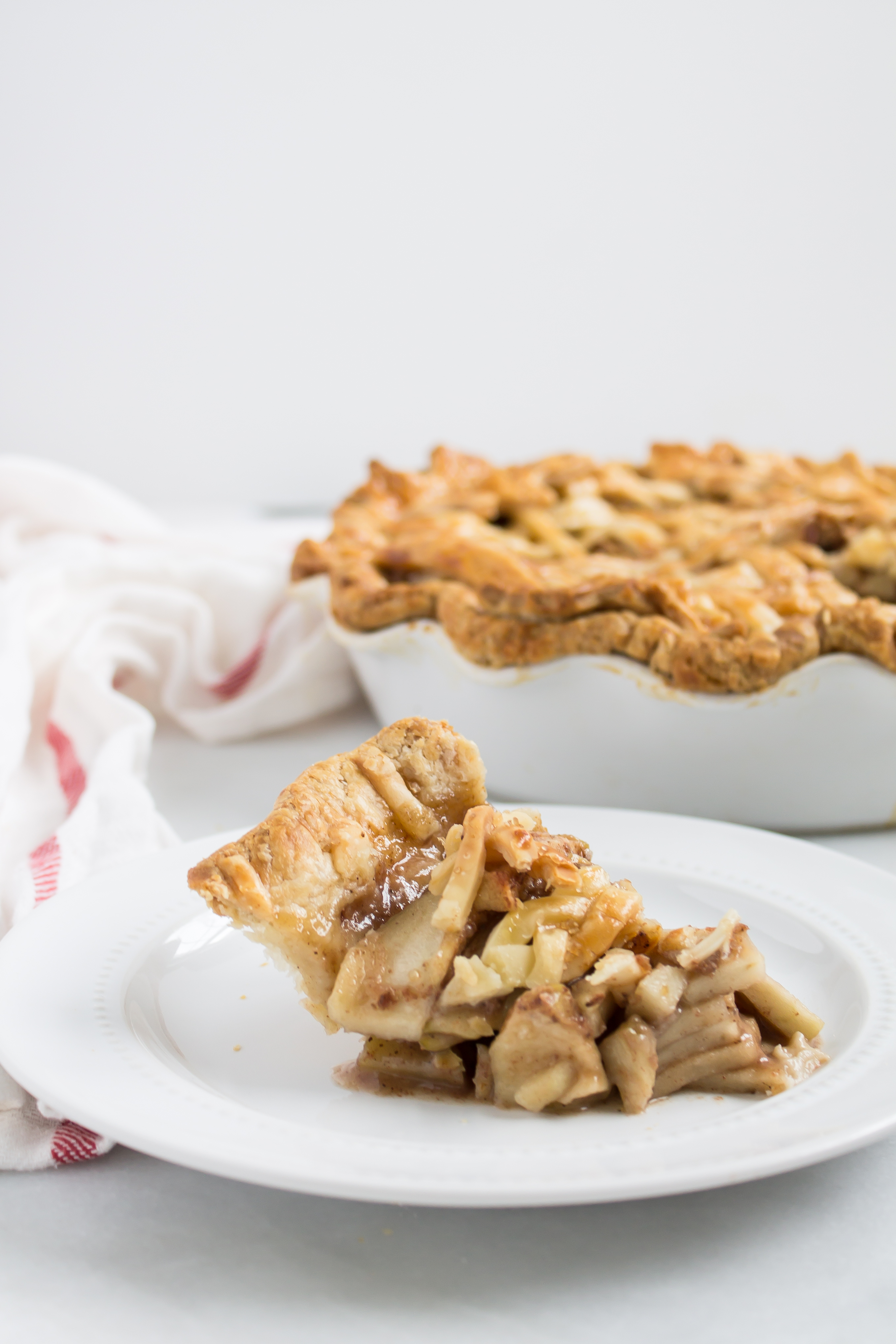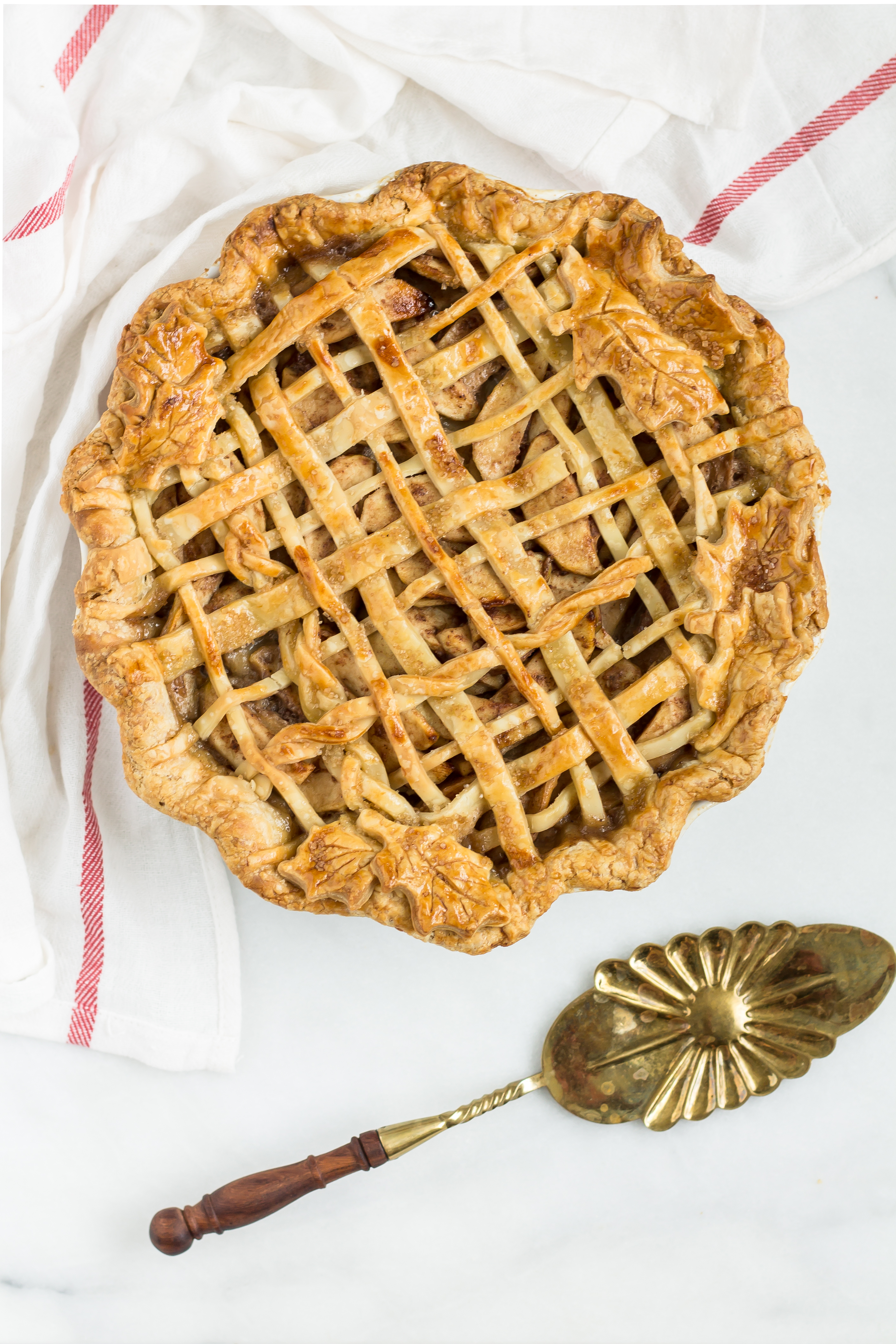 Our brilliant food contributor, Hope, created this maple caramel apple pie recipe, and it might just be our new favorite pie. And that's saying something, because, well … PIE.
From Hope:
Maple caramel apple pie is the ultimate twist on the classic American apple pie. Buttery pie dough is packed with fresh apple slices then drowned in maple caramel and baked to perfection. The maple caramel is really what makes the pie so amazing – it is so good you'll want to eat it by the spoonful!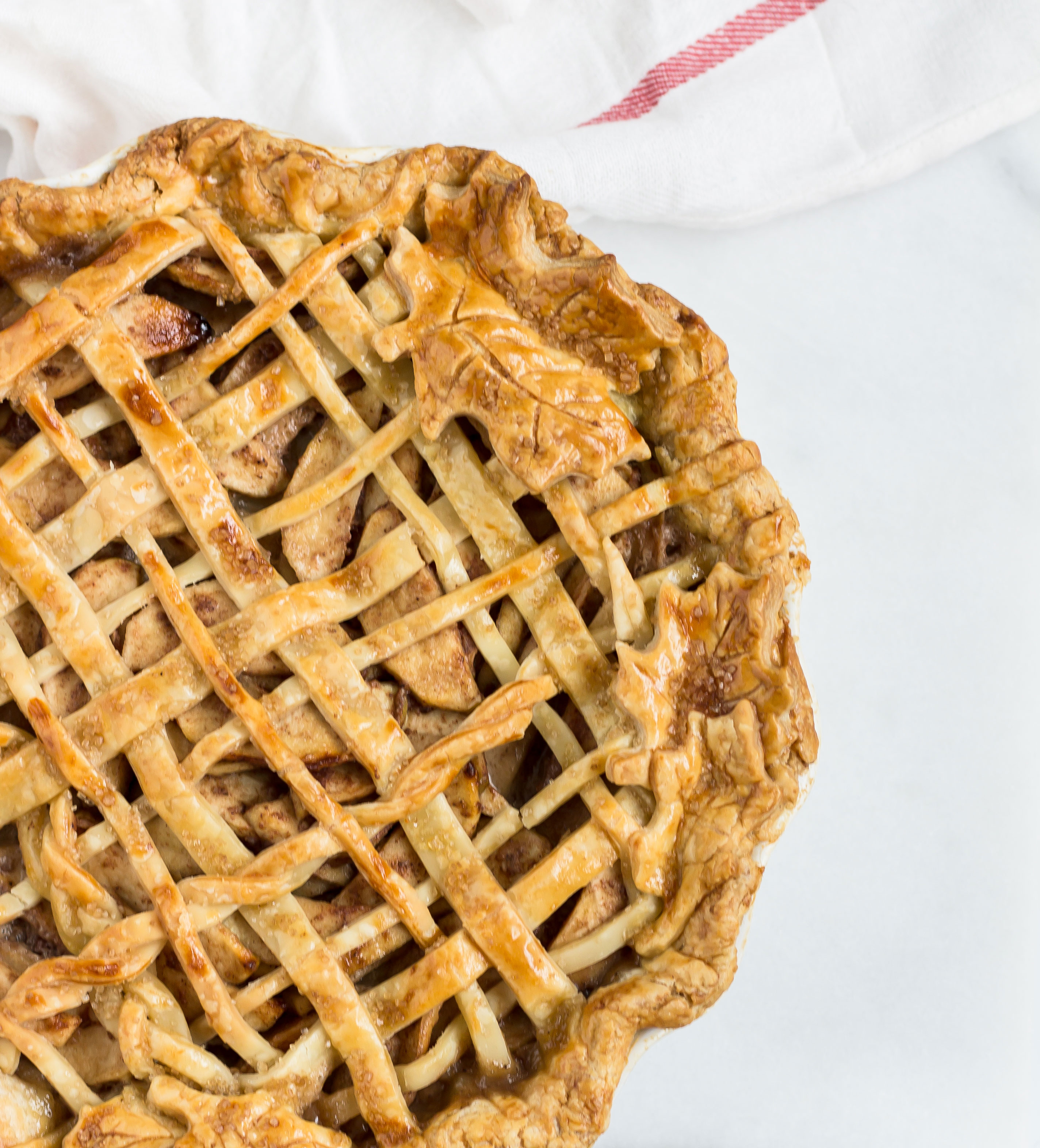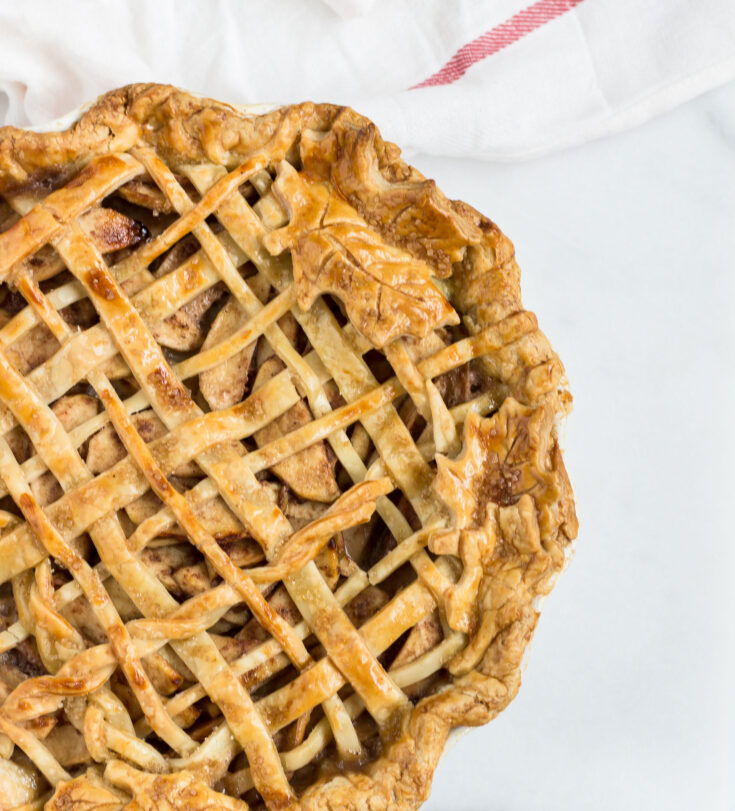 Yield:

1 pie
Salted Maple Caramel Apple Pie Recipe
Ingredients
Pie Crust
2 ½ cups flour
pinch of salt
1 cup butter (2 sticks), cut into ½-inch cubes
½ cup ice water, or more as needed
Maple Caramel Sauce
½ cup pure maple syrup
½ cup sugar
4 tablespoons butter
¼ cup heavy cream
¾ teaspoon sea salt
Apple Pie Filling
8 cups Granny Smith apples, peeled, cored, and thinly sliced (I used 9 small apples)
2 tablespoons lemon juice
3 tablespoons packed light brown sugar
1 teaspoon ground cinnamon
½ teaspoon ground nutmeg
¼ teaspoon ground cloves
a few pinches of salt
¼ cup flour
¾ cup salted maple caramel
turbinado sugar, for top
Egg Wash
1 egg whisked with 1 tablespoon cream or milk
Instructions
Make the Pie Crust
In a large bowl, whisk together the flour and salt. Add the butter and toss in the flour mixture to coat. Cut the butter into the flour mixture until it is the size of walnut halves.
Make a well in the middle of the butter-flour mixture and add the ice water, one tablespoon at a time. Mix after each addition just until the dough comes together.
Separate the dough into two equal balls. Roll out the dough balls into small rounds, wrap them in plastic wrap, and chill well before rolling to their full size for baking.
Make the Maple Caramel Sauce
In a medium saucepan over medium-low heat, combine the maple syrup and sugar until the sugar is completely dissolved. Stir frequently. This should take 6-10 minutes.
Stir in the butter, one tablespoon at a time, stirring frequently. The butter will bubble as it hits the hot sugar-syrup mixture. Continue to heat for another 2 minutes, stirring a few times.
Pour in the cream and sea salt and cook for another 10-15 minutes, continuing to stir a few times a minute. You can make this as thin or thick as you like, but the caramel is done cooking when it becomes thick and doesn't slide off of a spoon. If you prefer thinner caramel, reduce the cooking time. I cooked mine for the full 15 minutes and the resulting caramel was deliciously thick.
When the caramel is done, let it cool for a few minutes in the pot before transferring it to a jar. If the sauce thickens too much while you make the apple filling, reheat it in the microwave for 30 seconds at a time.
Make the Apple Pie
Preheat the oven to 375 degrees F. Grease a pie plate with butter and set aside.
In a large bowl, combine apples and lemon juice. Add the brown sugar, cinnamon, nutmeg, cloves, salt and flour and stir to evenly coat the apples. Set aside while you prepare your crust.
On a floured surface, roll out one of your pie dough disks into a 10 to 11 inch circle, so that it will drape over the edges of your pie dish. Gently place the rolled out dough into your greased pie dish and pat the edges of the pan into the bottom edge.
Layer the apples onto the pie dough. Keeping the apples flat will help the pie as it cooks. Don't pour the excess liquid from the apple bowl into the crust – it will make the pie soggy (and no one wants a soggy pie). Pour the maple caramel on top of the apple filling.
On your floured surface, roll out the second pie dough disk into a circle large enough to touch all edges of your pie plate and the bottom pie crust. Cut the circle into strips to create a lattice pattern on the top of your pie. Re-roll any leftover pie dough scrap and cut out leaves to decorate the edges. When you are pleased with your design, crimp the edges all around your pie.
Brush all of the dough with your egg wash, sprinkle with turbinado sugar, and bake for 45 minutes to 1 hour, or until the top is golden. Mine didn't need the full hour, so begin checking at 45 minutes. Let the pie cool for at least 1 hour before serving. It can be served warm, room temperature, or cold. I find it most delicious when it is warm, but easiest to cut cleanly when it is cold. Enjoy with a generous scoop of ice cream!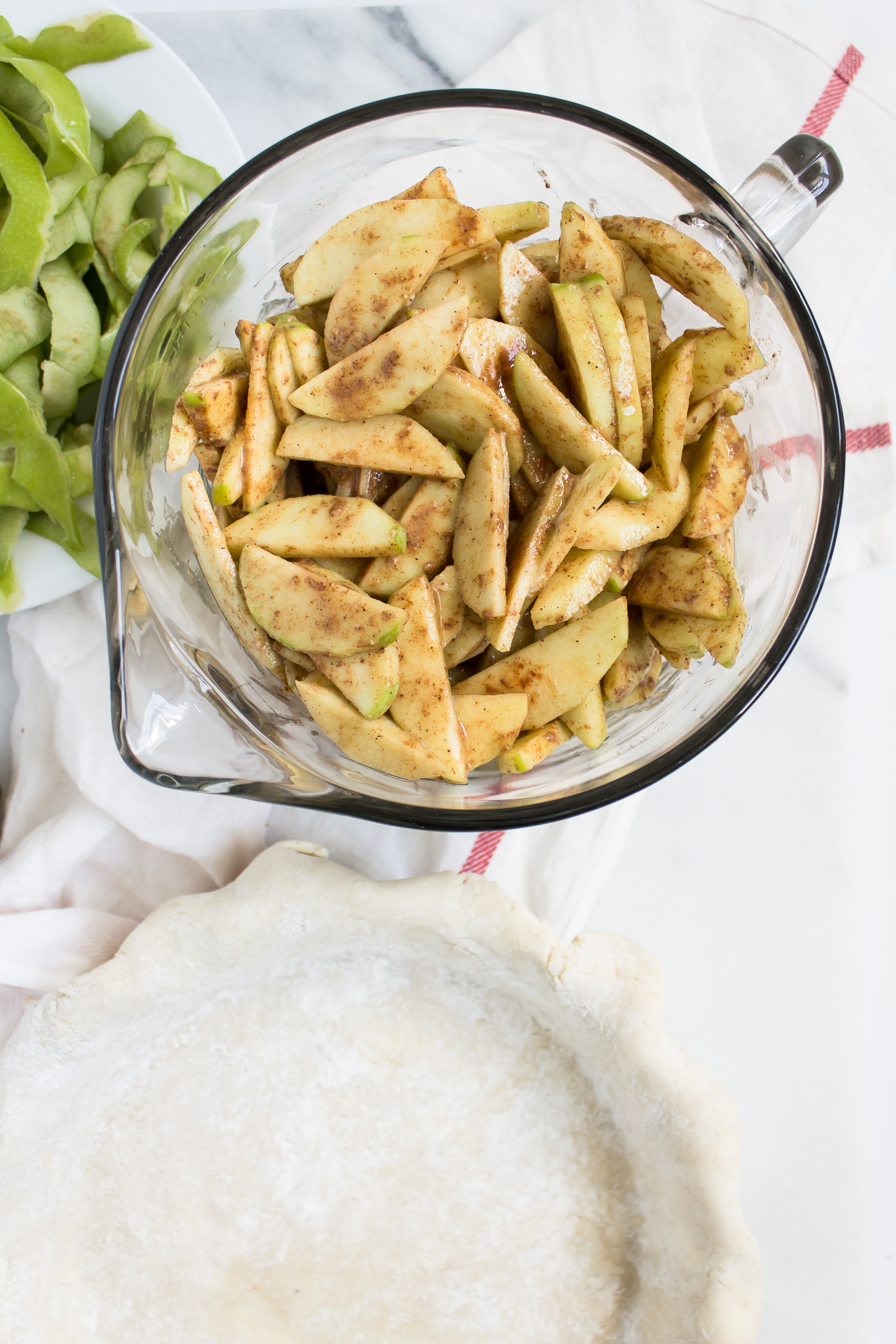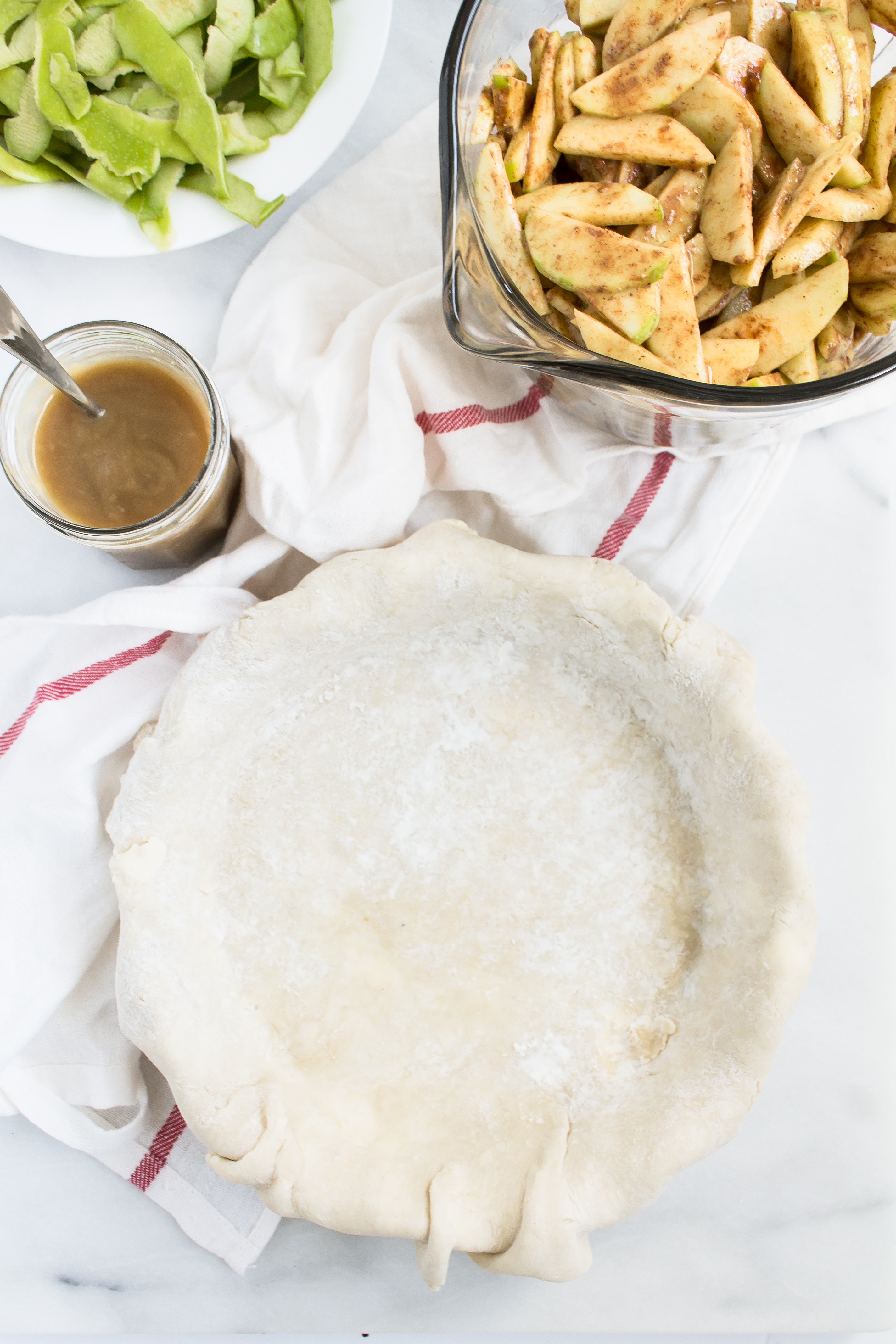 Goodness, I love the way fresh apples and sugar bake down into caramely pie perfection.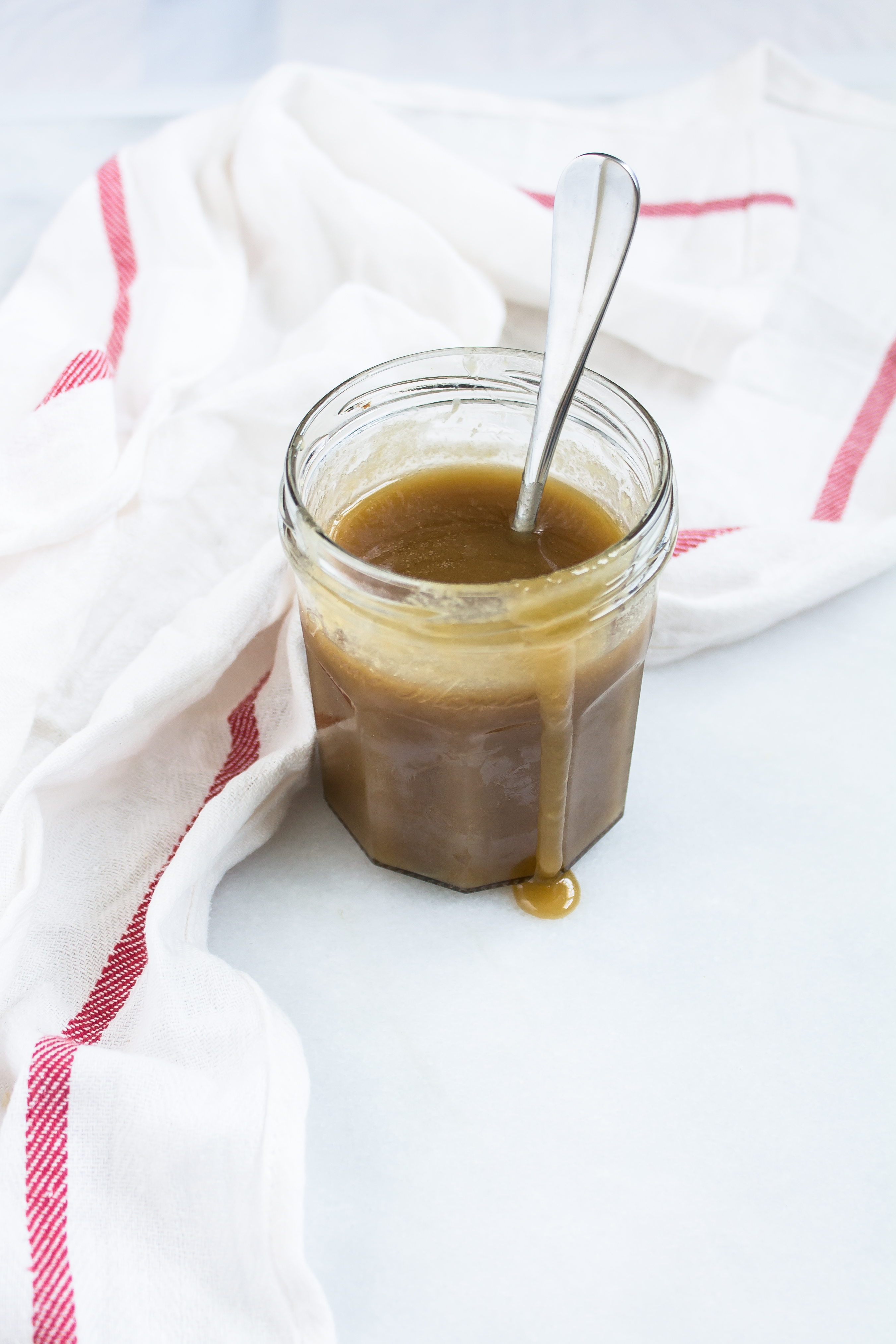 If you haven't jumped on the homemade caramel sauce bandwagon, now's the time. No matter the flavor – in this case, salted maple – homemade caramel is incredibly good. It's the kind of thing you'll make once and wonder why you'd been missing out for so long. And this maple caramel sauce in particular was made for fall. The delicious caramel flavor is complemented perfectly with pure maple syrup. Let's just say, you'll have a hard time saving any for the pie.
And, as Hope suggests, maple caramel sauce is so versatile. Pour it over ice cream, mix it with some caramel, layer it in a cake, swirl it in brownies, stir it in your coffee, serve it with your pancakes; the list goes on and on.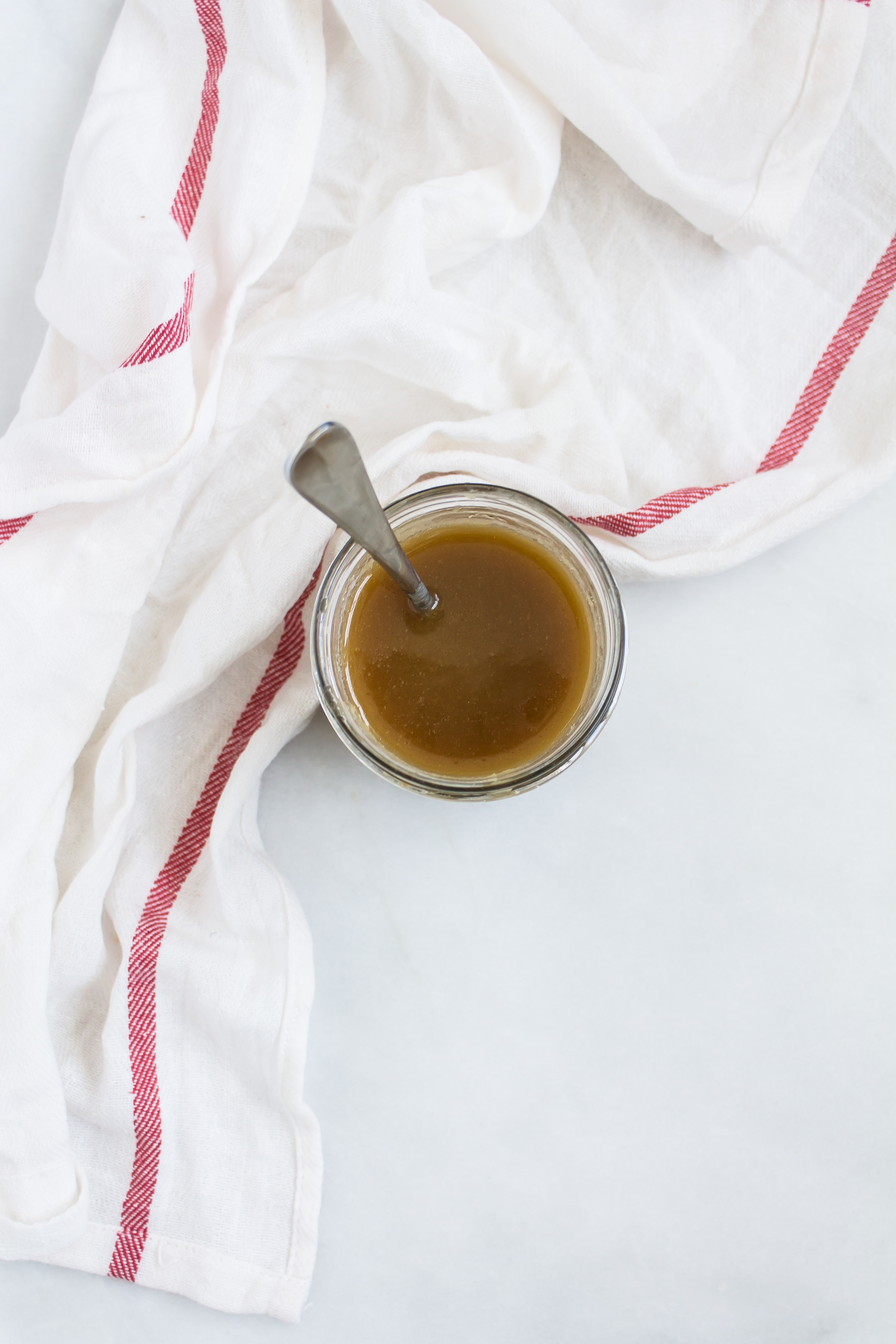 By the way, no need to let the "salted" factor scare you – its subtle, and sweet, and the pinch of sea salt adds the perfect balance and contrast to the rich maple caramel and sweet and warm apple filling.
Don't be shy with that homemade caramel; that is, if you have any left.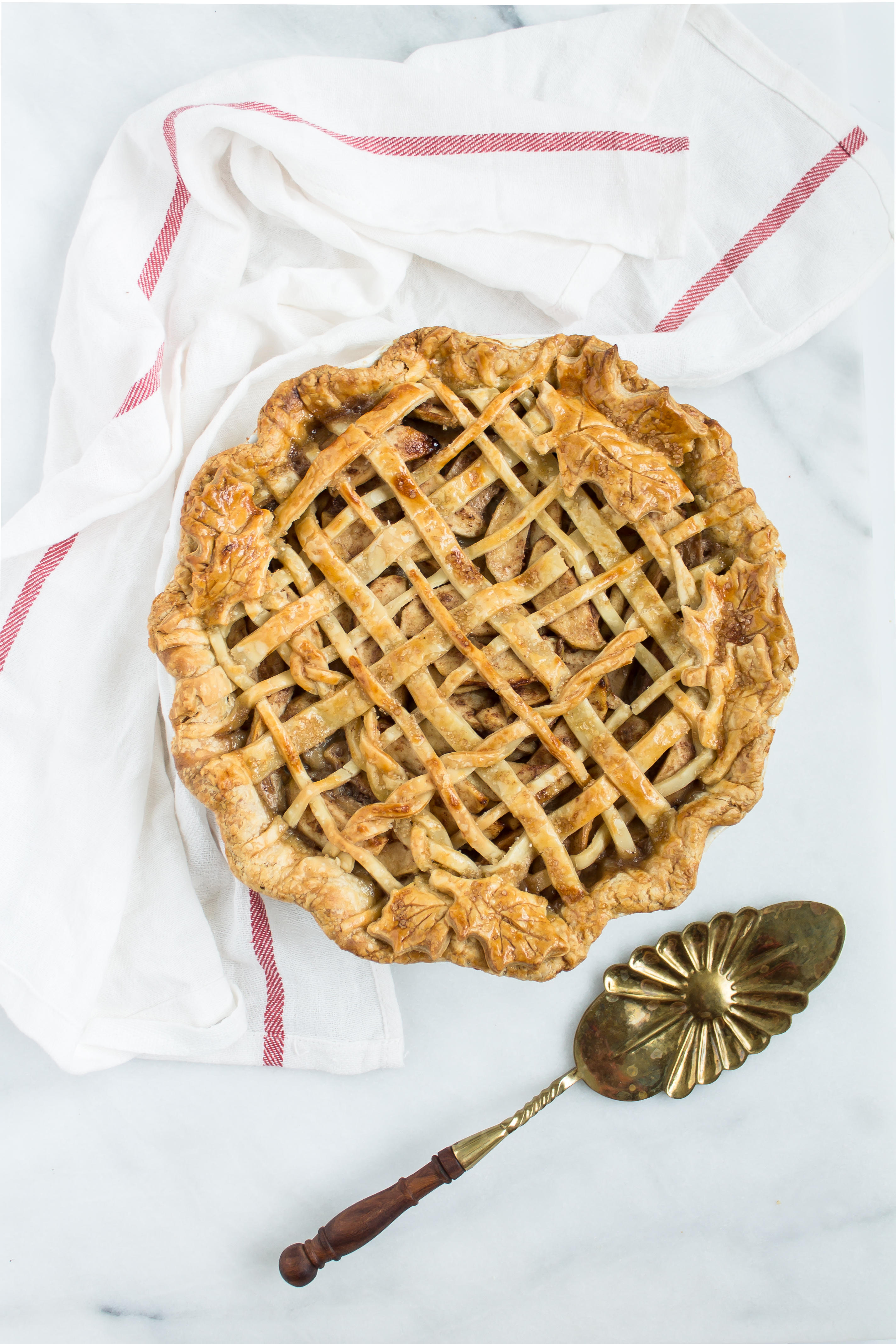 Love this maple caramel apple pie recipe? Head to our recipe page to check out what we've been whipping up in the kitchen!
If you make your own maple caramel apple pie, be sure to tag me on social media (@glitterinclexi) so I can live vicariously through all of your sweet creations!