If you've followed along here on the blog or social media over the years (can you believe this blog is more than 7 years old!?), you'll know that I am a devout black nail polish lover. By the way, I think I make a pretty strong case for black nail polish as a perfect neutral here. But here's the hitch: black nail polish, like just about every other nail polish on the planet, chips. The difference? When black nail polish chips, it's obvious. And then suddenly you're reliving the grunge days, and unsuspectingly bringing back a goth trend that was meant to stay firmly in the 90s. Chipped black nails are not a good look. Honestly, all chipped nail polish makes me cringe.
To combat the dreaded chipped nail, I've tested out at least ten different base and top coats that claim to extend the life of a manicure, and make a colored coat of nail polish last. But here's the thing, not all protective top coats and base coats are made equal. For years, I tried the drugstore brands that guaranteed 10-day manicures and stronger nails. They were OK. But none of them really prevent chipping beyond the standard first few days.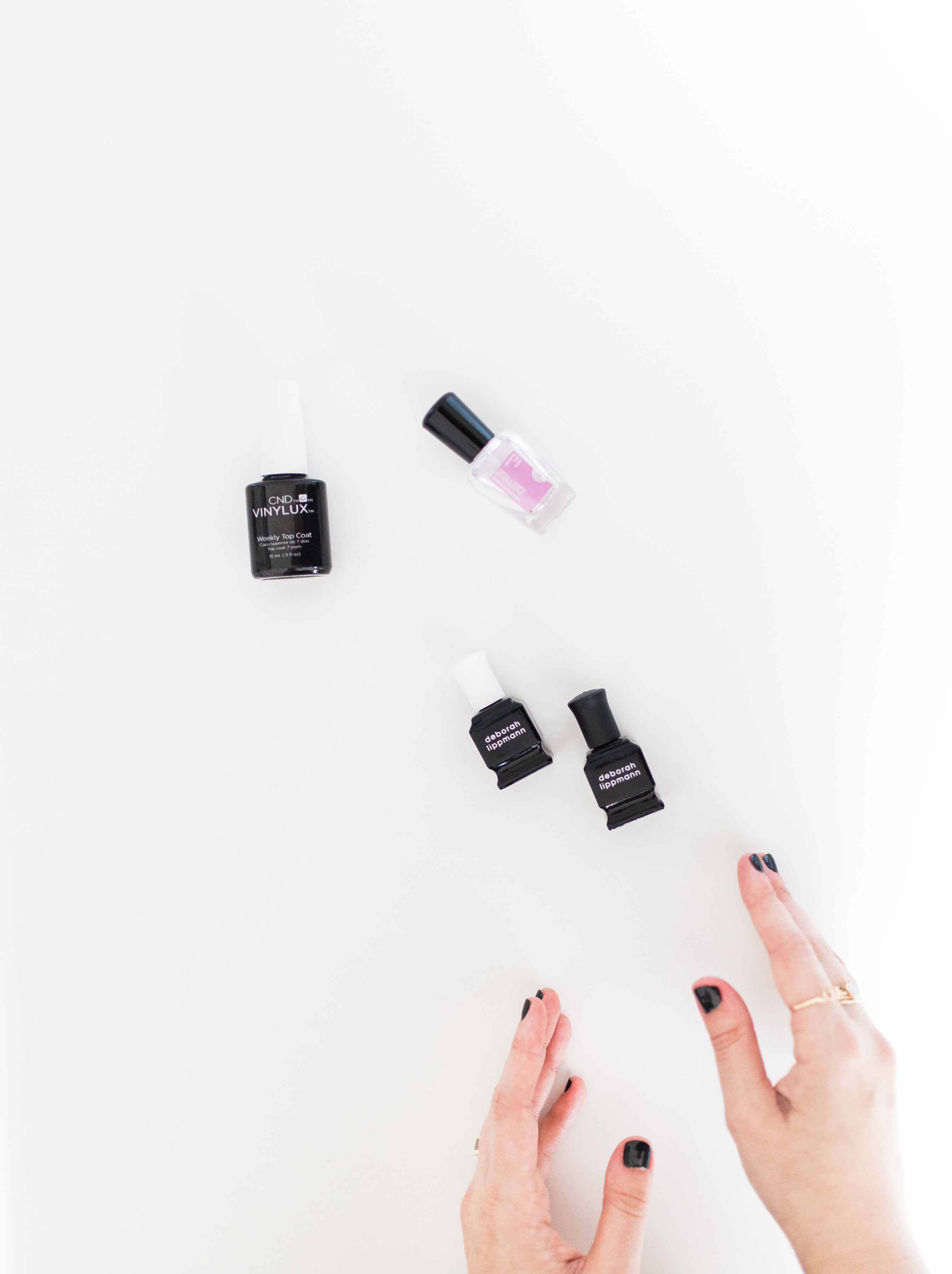 And while gel manicures in a salon really do last, the UV rays make me a bit nervous, and seriously, who has time to get gel manicures these days?
So I stepped up my game, determined to find a clear coat nail polish that would help my at-home manicures last. Especially now that I'm a mom, I just don't have the time to get constant manicures. Swallow sadness. I paint my own nails at home pretty regularly. I love the look of polish on my nails. But like I said before, I'm not a fan of the chipped nail polish look, and I definitely do not have the time to constantly repaint my nails each week. So research I did.
All of the top coats I've found, unlike gel manicures, are easy to remove with any polish remover and don't require soaking or scraping nails to remove. They also WORK.
Here are the results …
Drumroll, please …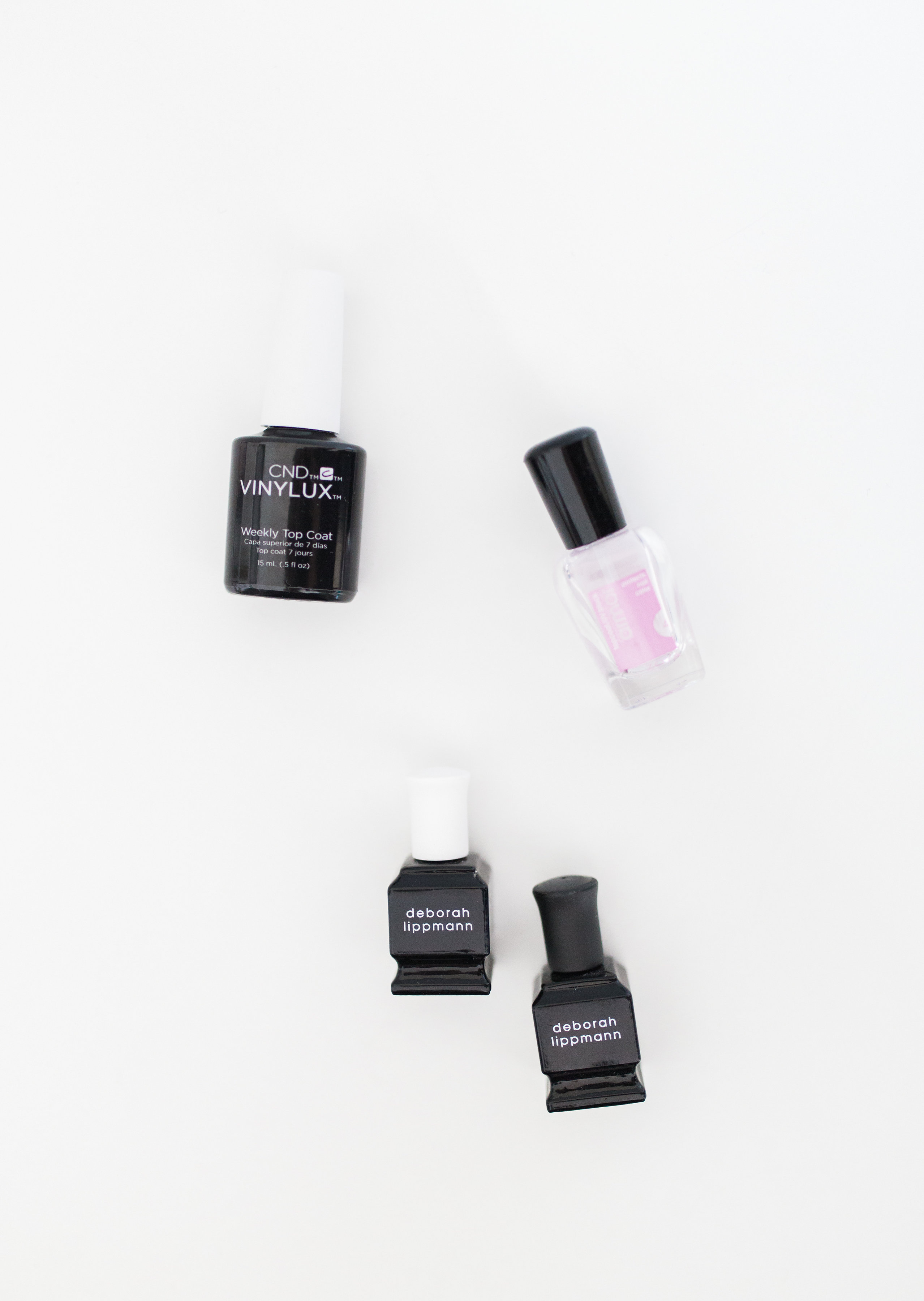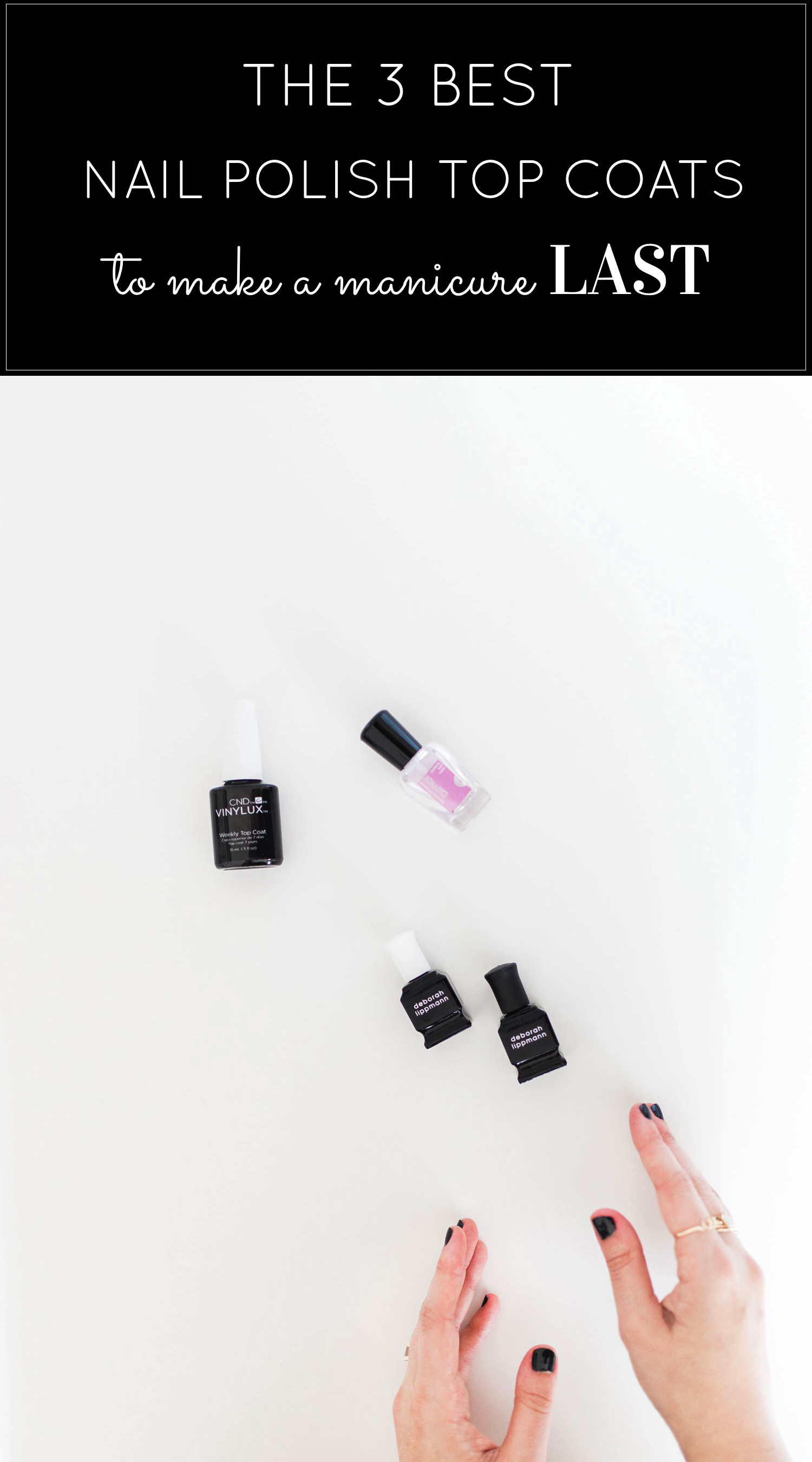 3 Nail Polish Top Coats to Make Your Manicure LAST:
| 1 | CND Vinylux Top Coat
This was actually the first top coat that I tried that really did what it said it was going to do. Although CND Vinylux Top Coat is marketed as a polish to use in conjunction with CND Vinylux Weekly Polish, don't be afraid to use your own color and just top with CND Vinylux Top Coat. After using the color and top coat duo for a few weeks, and loving the lasting results, I decided to go rogue and try the top coat with one of my standard Essie polishes. It worked!
According to CND, exposure to natural light secures the patent-pending technology, creating an enduring, long-lasting polish. My manicures, with the top coat, lasted at least a week. It also dries really quickly; bonus!
You can find it at Ulta, Walmart, or on Amazon.
| 2 | Zoya Armor Topcoat
I'm a big fan of Zoya's nail polish because they are all Big 10 Free and toxin-free. Especially now that I'm pregnant, its become my go-to nail polish. So when I found out Zoya had a top coat that guaranteed a lasting manicure, and then I read the hundreds of glowing reviews about the product, I knew I had to try it. Zoya Armor Topcoat adds a protective, ultra-glossy, flexible shine to nail color and prevent exposure to yellowing UV rays.
Zoya Armor – dubbed by the brand as "the world's strongest and most flexible top coat for protecting natural nails and extending the wear and shine of nail polish" – lives up to the hype. The flexible topcoat provides a chip-free coating to defend nail color against wear and tear, and seems to really help in strengthening my nails. My manicures also last at least a week with this top coat on.
You can find it on Amazon.
| 3 | Deborah Lippmann Gel Lab Pro Nail Base Coat and Top Coat Set
The only option of the bunch that involves two steps to lasting nails – a base coat and top coat – this luxe nail polish set is totally impressive. Of my favorites, the end result with this one does look most like a professional gel manicure. From the brand, "Give any manicure high shine, extended wear and a cushiony, plumped look without UV lamps, tools or nail damage. "
Deborah Lippmann nail polishes also use a five-free formulation; i.e., no parabens, sulfates, toluene, formaldehyde, or phthalates.
Although adding a second step – third if you count the color nail polish layer – the set will give you that lasting manicure and your nails will look like a million bucks. The top coat dries really fast as well. The set is pricier than the others though, and both CND Vinylux Top Coat and Zoya Armor Topcoat totally do the trick, so, there's that.
You can find it at Nordstrom, Sephora, and Revolve.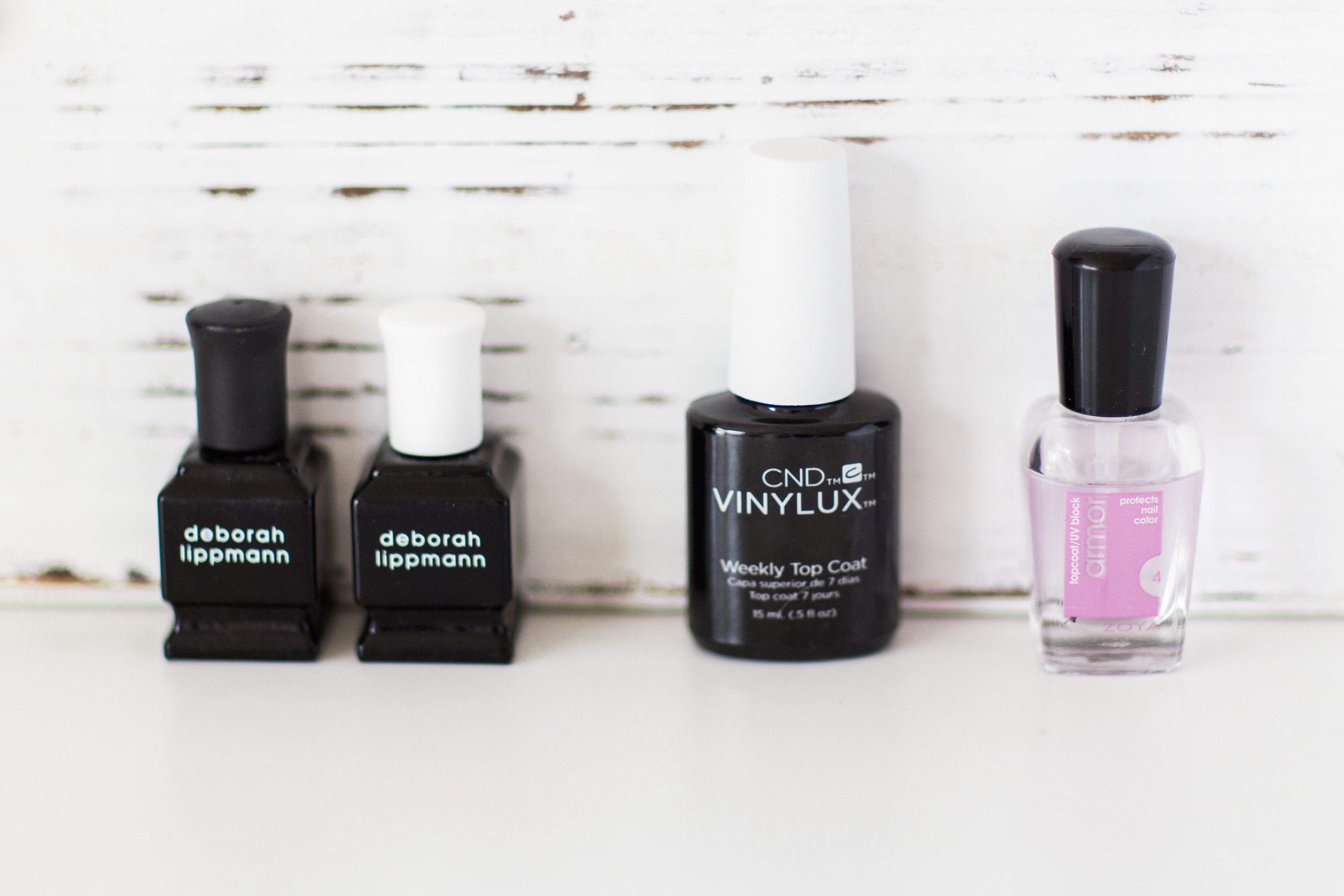 Do you have any favorite nail polish top coats to make your manicure last?
Photo by Annie Watts Photography for Glitter, Inc.
This post contains affiliate links, which means that if you click on one of the product links, I'll receive a small commission. Thank you so much for clicking through and helping to support this little blog business of mine! Read more about our site, privacy, and disclosure policies here.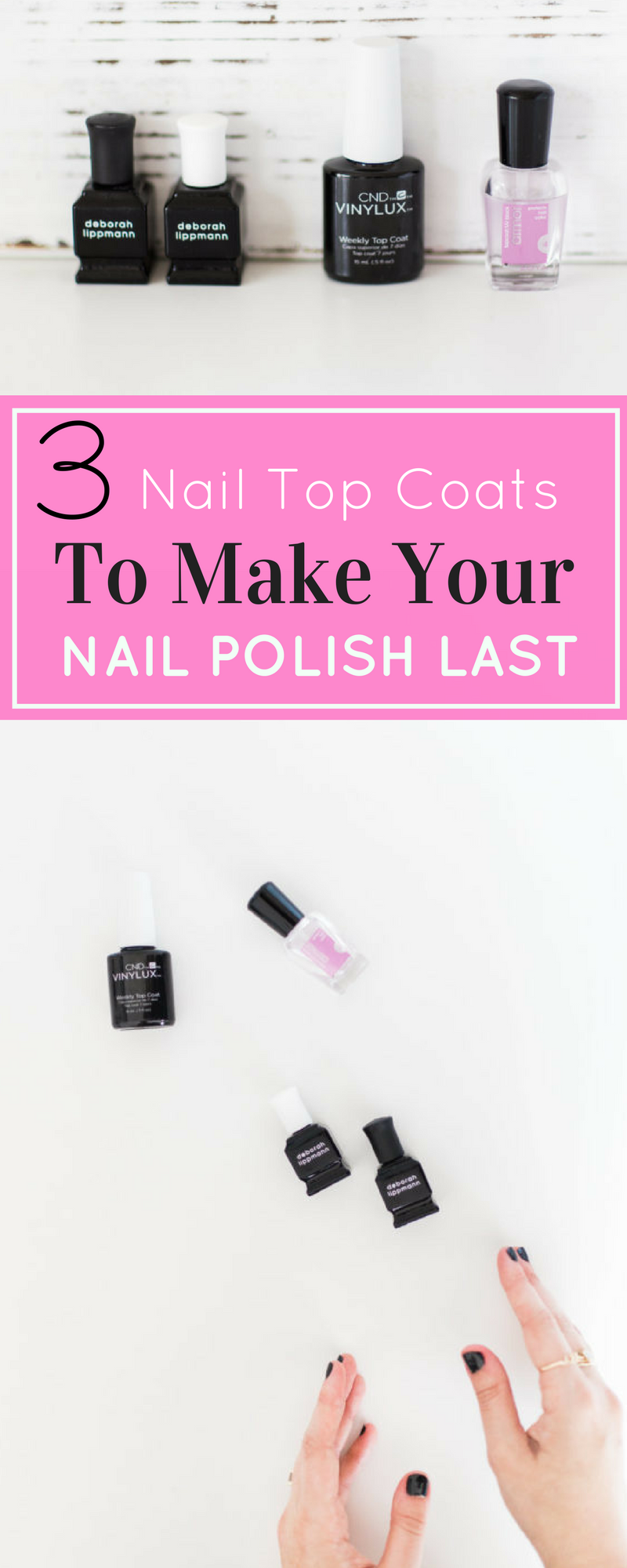 Love this post? See more of our beauty favorites here.