This post contains affiliate links, which means that if you click on one of the product links, I'll receive a small commission. Thank you so much for clicking through and helping to support this little blog business of mine! Read more about our site, privacy, and disclosure policies here.
Sephora's Beauty Insider Event is officially ON! If you're not familiar with Sephora's Beauty Insider Events, it's basically one really BIG beauty sale.
During the event, Sephora Rouge members receive 20% off their entire purchase with the promo code HEYROUGE, VIB members receive 15% off with promo code HEYVIB, and Beauty Insiders will receive 10% off with promo code HEYINSIDER. (Not a Sephora Beauty Insider Member? No worries! Sign up for free today to score the discount and to start racking up points. In addition, you'll get a pretty fab birthday bonus each year. Worth it alone for THAT!)
I'm a big fan of sales and beauty, and honestly, sales on higher end makeup and skincare are SO RARE. Makeup and skin products almost never go on sale. Especially higher end brands and those carried by department stores. Snagging 10-20% off during the Sephora Beauty Insider Event is really the only way to shop for your favorite makeup, haircare, and skincare.
Aaaand, the offer can be redeemed with unlimited use in-store and online. (!!!)
For instance, I am OBSESSED with Giorgio Armani Power Fabric Longwear High Cover Foundation – I go on and on about my love for it here – and that stuff is not cheap; so I wait for Sephora's big sale events to restock. Hello, savings! And the list of hot beauty items goes on and on. Everything from that coveted top-of-the-line blow dryer, the most talked about curling wand (that I have, love, and swear by!), the most usable eye shadow palette around, to the dreamiest highlighting palette; IT'S ALL ON SALE.
So my two cents: stock up at Sephora's Spring Beauty Insider Event just in time for spring and summer!
The big sale lasts until May 6th, so run, don't walk.
And in case you need a little beauty inspiration, these are a few of my current beauty favorites that you can get on sale at Sephora right now …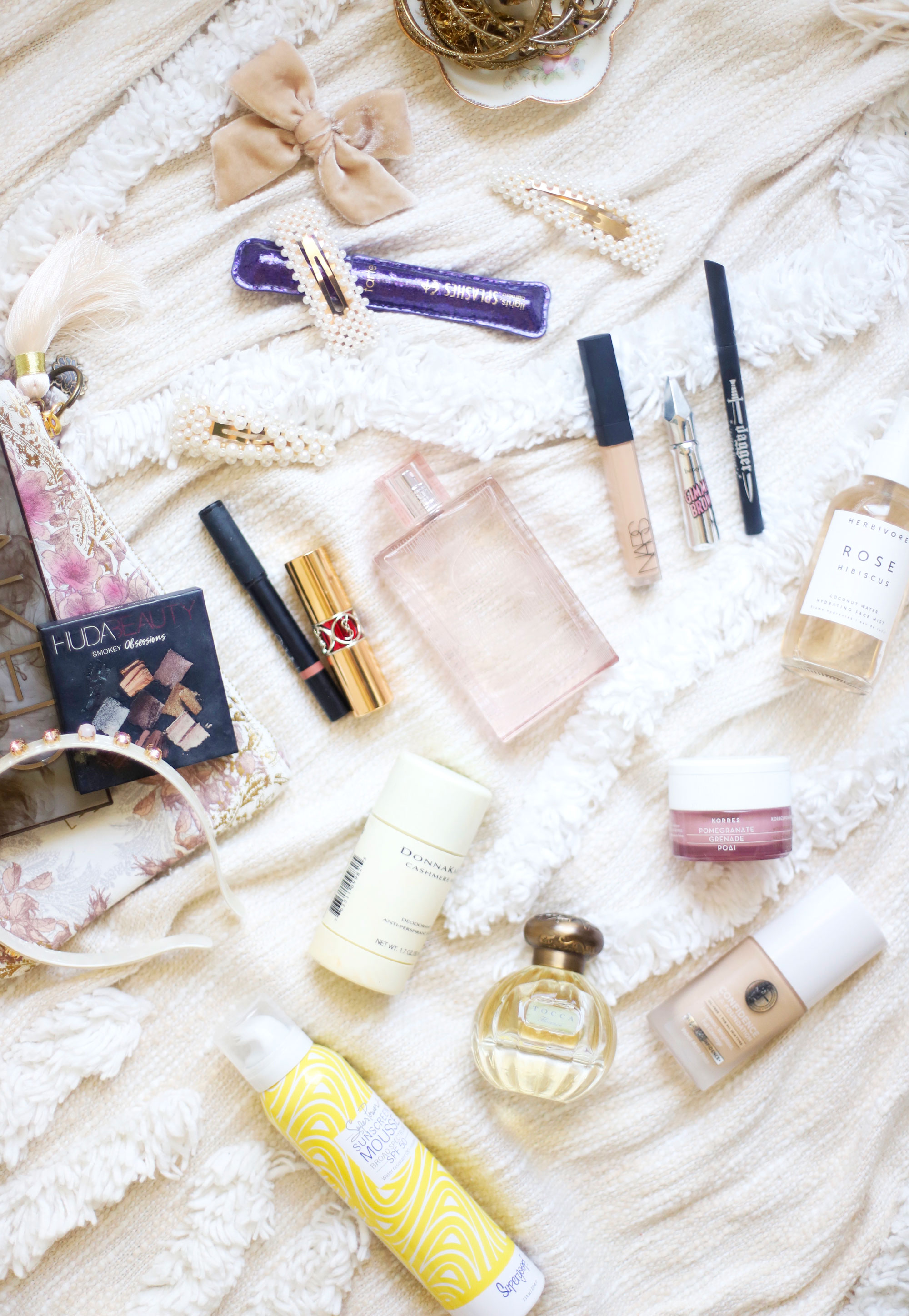 Sephora's Spring Beauty Insider Event: Beauty Staples + Favorites
Okay, I'll admit, this one is a bit pricey, but I'm a sucker for great packaging and I'm an even bigger sucker for anything rose-scented. This face mist in particular is made with coconut water, hibiscus, and rose and it truly revitalizes skin. I keep it by my ned and I like that on even my laziest nights, I can just mist a few spritzes over my face, and I feel like I'm still giving my skin that extra burst of much-need moisture, without always having to remember the night cream.
I call this stuff my "eyebrows for dummies". Want the appearance of fuller, thicker, bolder brows in one easy swipe? This brow-volumizing tinted gel with tiny microfibers that create subtle and natural-looking fullness and definition – a total fan favorite with a cult-like following – is your go-to. I swear this stuff makes your eyebrows look like you just went in for a micro-blading appointment, without any of the pain. It also requires ZERO skill to put on. WINNING. (Note: this brow gel runs a little dark, in my opinion – i.e., I have pretty black eyebrows, but I went with shade number 5, Cool Black/Brown, rather than the darkest shade 6; so err on the side of a shade lighter when you're ordering.)
I can't say enough good things about the shades in this eyeshadow palette. The deeply pigmented mattes and show-stopping shimmers, make this palette the BOMB-dot-com. I find myself reaching for it every.single.day. and it works for both day and night. PRO TIP (a.k.a., my sister told me to do it): use your finger when applying the shimmers/glitters for maximum impact. These eyeshadows are gorgeous.
The most talked about long-wear liquid eyeliner actually lives up to the hype. Like everyone else on the internet, I saw the story on People about this woman's viral makeup review claiming Kat Von D Eyeliner never smudges – even after a car accident. (The accompanying tweet is even more wild.) Well, anyhoo, I fell for the hype, hook, line, and sinker, and lo and behold, this workhorse of an eye liner TOTALLY WORKS. It doesn't smudge or run, the marker design makes creating a cat eye surprisingly easy. Furthermore, it really does hold ALL DAY LONG.
Rumor has it, the Cake Pencil Eyeliner is equal parts awesome, and if liquid eyeliner overwhelms you, this might be your holy grail.
This award-winning concealer provides medium-to-full, buildable coverage for up to 16 hours and is my go-to under-eye concealer every single day. (I use shade Vanilla.)
This bestselling, vegan mascara lengthens, curls, volumizes, and conditions, and it's waterproof, so no black mascara smudges under your eyes EVER. Yasssss.
It's no secret that I am obsessed with YSL beauty products. Their lipsticks in particular are luxe, rich, and beautiful. I am loving these Rouge Volupté Shine Oil-In-Stick Lipsticks for an easy lip-conditioning swipe with a pop of color – perfect for day-to-day added color.
If you're looking for a bold matte lipstick, the Yves Saint Laurent ROUGE PUR COUTURE Lipstick Collection is hands-down my favorite. The colors are so rich, moisturizing, and beautifully pigmented. The shade 1 Le Rouge is the most classic shade of red, possibly ever. I've never met a shade of red I didn't like, but if you're on the hunt, this is THE shade of perfect red.
This jumbo lip pencil provides lasting wear and intense, vibrant color with a satin finish. I love the crayon/stick packaging. It's super easy to apply and comes in a ton of great colors.
Guys, I love this deodorant so much, I wrote a whole post about it. Yes, a post about deodorant. My friend Amy introduced me to it, and I am never going back.
A few years back I received a press mailer of Supergoop! products, and since then, I can't get enough. I've purchased and re-purchased the AcaiFusion Lip Balm Broad Spectrum SPF 30 and the Forever Young Hand Cream with Sea Buckthorn Broad Spectrum Sunscreen SPF 40 (both of which are in my diaper bag/purse at all times). This Supergoop! Sunscreen Mousse is a newer one for me, and I love it. The mousse formulation isn't greasy at all, and I actually use it on my girls as well since its free of parabens, synthetic fragrances, or oxybenzone.
Sigh. I love this perfume. So much. It reminds me of Florence and our honeymoon, and fields of gardenias and jasmine. It's so good.
ERMERGAAAAD, I love this stuff soooooo much. My sister – AGAIN – recommended this moisturizer. She had it on a trip a few months back, and I was embarrassed by how often I reached for HER moisturizer … thankfully, I got my own. The scent is heavenly; seriously, it smells amazing! AMAZING. In addition, I love the lightweight boost of moisture, how it helps to reduce the look of pores, and it even works well as a primer/base under makeup.
An oil-free, long-wear foundation with a velvet-matte finish, infused with hydrating ceramides. I still love my Power Fabric Longwear High Cover Foundation for a bit more full coverage, but I've really fallen for the IT Cosmetics Confidence in a Foundation as well.
SHOP MY CURRENT BEAUTY FAVORITES FROM SEPHORA | CLICK LEFT & RIGHT ARROWS TO EXPLORE
Any favorite beauty and/or skincare products you're totally loving right now? I'm always on the hunt and I live for a great recommendation!