This post contains affiliate links, which means that if you click on one of the product links, I'll receive a small commission. Thank you so much for clicking through and helping to support this little blog business of mine! Read more about our site, privacy, and disclosure policies here.
Interrupting our regular beauty (and party and cookie and shoe-loving) programming, to share a more unusual beauty topic: armpit sweat; and the cult favorite deodorant that's going to change your life because it actually works: Donna Karan Cashmere Mist Deodorant.
Okay, ladies – let's talk deodorant. I know it's not the chicest subject. I mean, really, who wants to talk about arm pit sweat? But the sweat struggle is real … even more so once you've had kids (hello, hormones!); and to NOT talk about sweat … and deodorant … would be a disservice to all of you. Because truth is, I do talk about beauty here on the blog. I love great beauty finds, and I'm always eager to share them here. It seems, you ladies like those posts too. This post, rounding up the IT Cosmetics products I swear by, and this post with current favorite beauty products, this post sharing the 3 nail polish top coats to make your manicure last, and even fun finds like mermaid shampoo, and hair perfume, all do incredibly well, especially on Pinterest; so I know you love the beauty stuff as much as I do!
So let's talk deodorant. Most of us have tried every drugstore deodorant known to man. I'm not exactly sure why we'll spend triple (or more) for department store makeup, versus drugstore beauty, but then, we feel boxed in to using drugstore deodorant exclusively – even if it really doesn't work all that well. Over the years, I've switched drugstore brand deodorant time and again, trying to find a deodorant that smells good, blocks sweat, keeps me feeling fresh, and doesn't stain my clothes with a thick white film. There are a few that are OK, but truthfully, nothing worked 100% of the time. Once I started having kids, I became a clinical strength kind of girl. (If you're a mama, you know juuuust what I'm talking about.) I've also gone down the natural deodorant route, and I'm more than happy to share my experience with Native deodorant if you all are interested. (It works-ish; but requires a good, long "detox" from deodorant with the more traditional deodorants.)
Then my friend Amy told me about Donna Karan Cashmere Mist Deodorant. She was REALLY excited about it. Deodorant, guys. But I snatched up a tube of the deodorant because Amy knows her stuff when it comes to beauty.
One swipe, and I was hooked.
The Cult Favorite Deodorant That Actually Works: Donna Karan Cashmere Mist
Now hear me out, I know it's just deodorant we're talking about. And I know it's pricey. But we spend that and more on a good lipstick, so why on earth we wouldn't spend for a deodorant that actually works is beyond me. Donna Karan Cashmere Mist Deodorant is not just any 'ol deodorant. It's heaven-sent. Let me convert you!
Let's start by talking about the cult obsession with this deodorant. Women everywhere are obsessed. According to a study from NPD Group, a consumer insights and research organization that's been doing beauty market research since 1996, the Number 1-selling prestige body product in the U.S. is Donna Karan Cashmere Mist Deodorant. New Beauty reports that a bottle of Donna Karan's luxe deodorant is sold every two minutes in the United States.
And we all sweat.
Using even the best of the clinical strength deodorants typically means you're still re-applying at least once in a day. Well, not with Donna Karan Cashmere Mist Deodorant. When I'm wearing it, I never have to worry about sweat stains or the dreaded B.O.
The scent is lovely, which is an added bonus in my book. But the real win here is that it keeps you insanely dry and smelling fresh as a daisy ALL DAY LONG. Dare I say, I've forgotten to put on deodorant the next morning, and my armpits STILL smell good. I wear it for walks on hot summer days or to the gym, and I can't stop smelling myself through the workout. I smell freaking delicious.
I'm going to go out on a limb here and flat our say it: once you try Donna Karan Cashmere Mist Deodorant, you'll never go back.
If I haven't convinced you yet, I told my husband about this godsend of a deodorant. I thought for sure he'd balk at the price, but I guess I did a good job of selling it, because he immediately TRIED it. I couldn't help but laugh at him most of the day because he smelled so darned pretty, but, the deodorant powered through all day long, and he still smelled great at the end of the day; aaaand, he can be a kinda stinky dude without his deodorant. I actually caved and did the research, ordering him both the Giorgio Armani Acqua di Giò Pour Homme Deodorant Stick and the Yves Saint Laurent L'Homme Deodorant Stick (this one's his favorite!), but honestly, he could have easily worn the Cashmere Mist. (It smells more sweet than flowery.) Both the Giorgio Armani Acqua di Giò Pour Homme Deodorant Stick and the Yves Saint Laurent L'Homme Deodorant Stick are really good options if your man prefers a more "manly" smell and is looking for fancy deodorant that actually works. My husband now swears by $22 deodorant and I don't think I'll ever get him to go back to the under $4 stuff, which is amazing since he is Mr. Budget himself.

Ladies: it's time to get yourself deodorant that actually works.
You can buy Donna Karan Cashmere Mist Deodorant at Nordstrom, Macys, ULTA, Sephora, Nordstrom Rack, and on Amazon. And rumor has it: you can usually snag a gift value set from Nordstrom during their Anniversary Sale.
Any favorite beauty products you're totally loving right now? I'm always on the hunt! And check out all of our beauty favorites right here.
Photo by Annie Watts Photography for Glitter, Inc.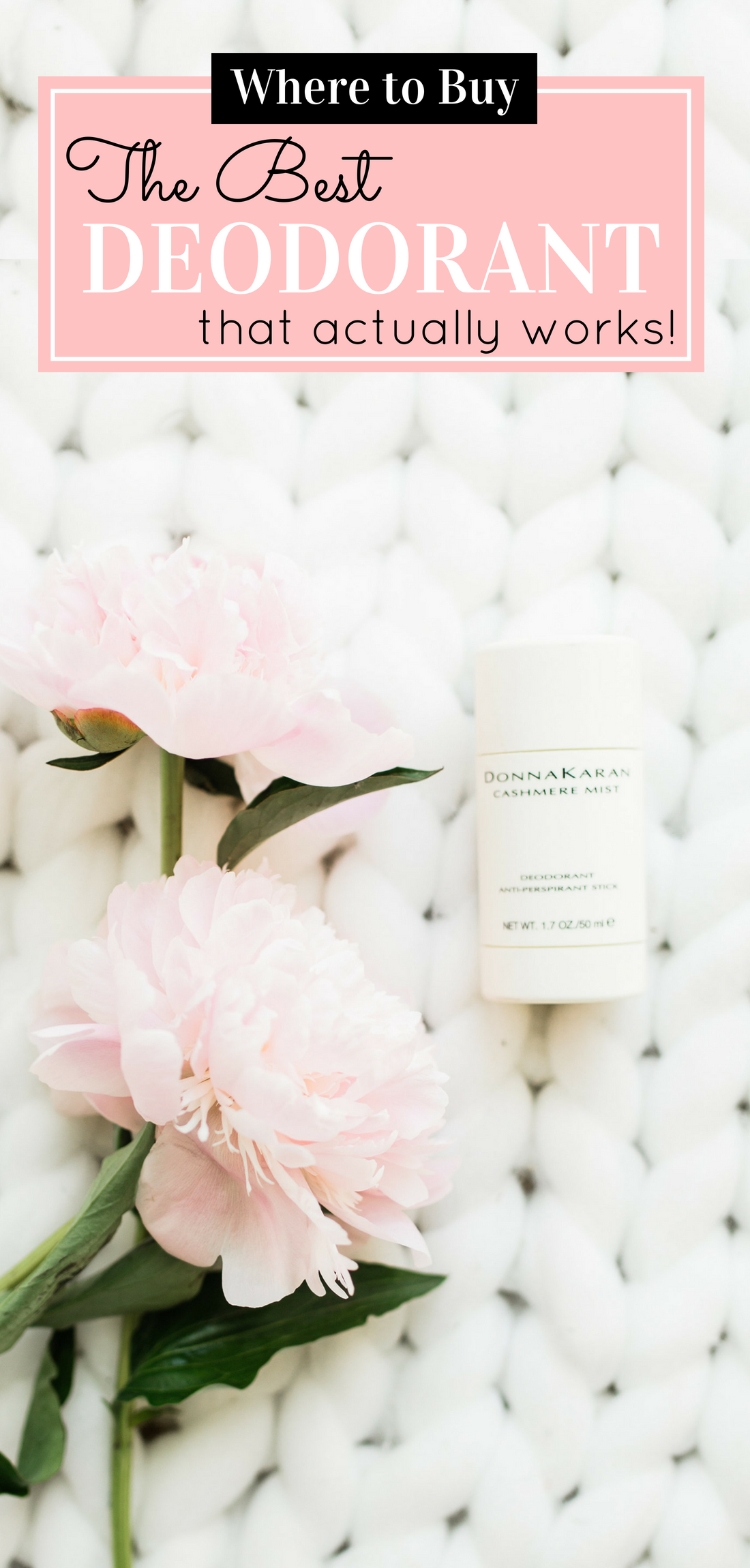 SaveSave
SaveSave
SaveSave
SaveSave
SaveSave
SaveSave
SaveSave
SaveSave
SaveSave