This post contains affiliate links, which means that if you click on one of the product links, I'll receive a small commission. Additionally, as an Amazon Associate I earn from qualifying purchases. Thank you so much for clicking through and helping to support this little blog business of mine! Read more about our site, privacy, and disclosure policies here.
Hands down our very favorite oatmeal chocolate chip cookies, these heavenly oatmeal cookies are moist in the center, crisp and chewy on the outside, and totally delicious. They're also super easy to make all in one bowl, and can easily be made dairy-free, vegan, or gluten-free!
These oatmeal chocolate chip cookies are actually just a simple spin on our favorite oatmeal raisin cookies, but we make the version with chocolate chips (and topped with M&M's for the holidays) so often, that I felt like it was probably time to share.
Our Very Favorite Oatmeal Chocolate Chip Cookies
I of course, love baking all sorts of desserts; especially cookies. But there is something so magical about a dump everything into one bowl and have homemade cookies ten minutes later kind of recipe. No chilling required. No complicated shaping necessary.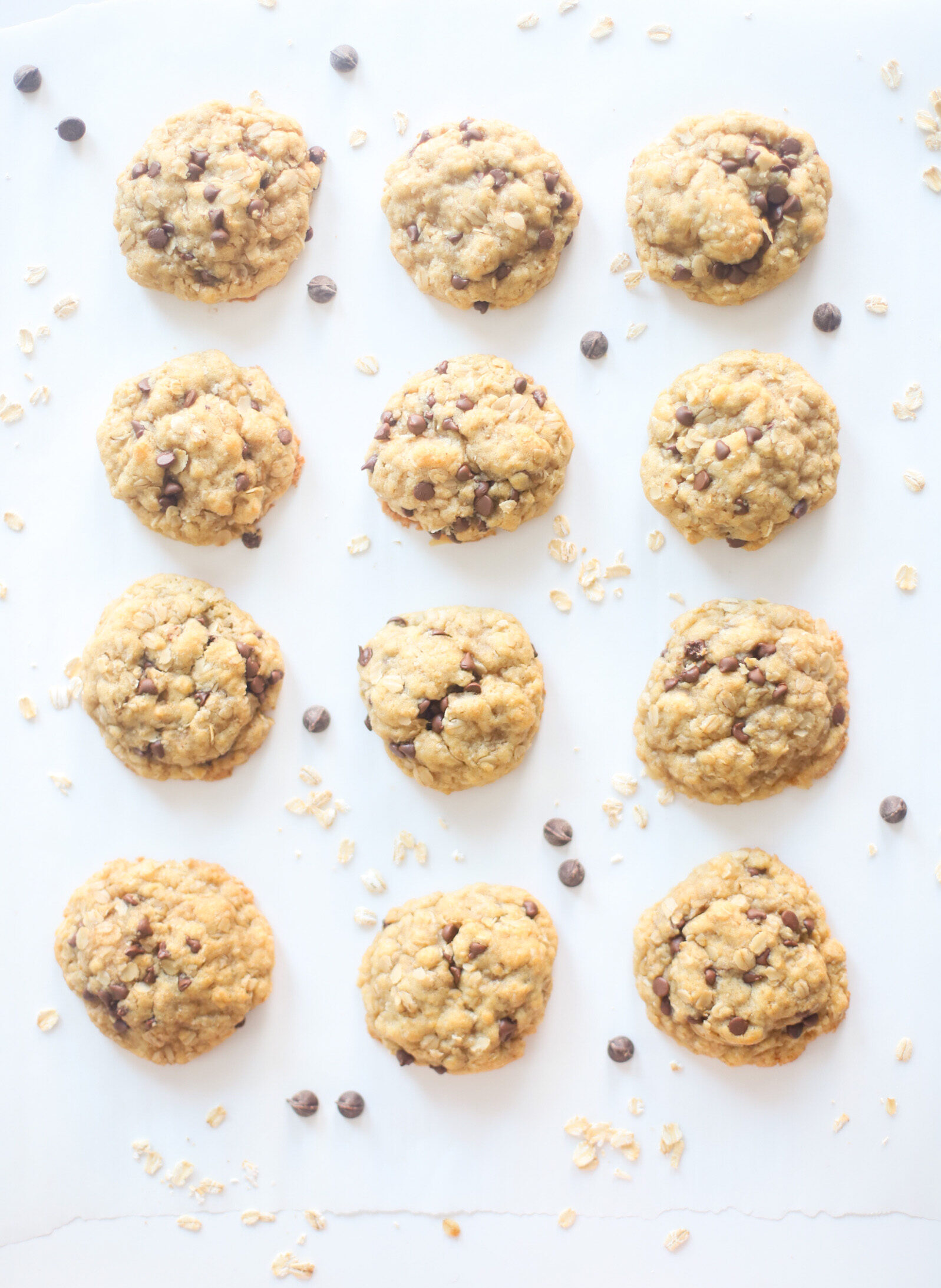 These oatmeal cookies are so simple to make, your kids can 100% help you to make these. Our girls help out every time!
The Best Ever Oatmeal Cookies
What really makes these oatmeal chocolate chip cookies a standout, though, is that they are SO incredibly moist, chewy, crispy on the edges, and AMAZING. Truly, these cookies are our very favorite oatmeal raisin (or oatmeal chocolate chip) EVER.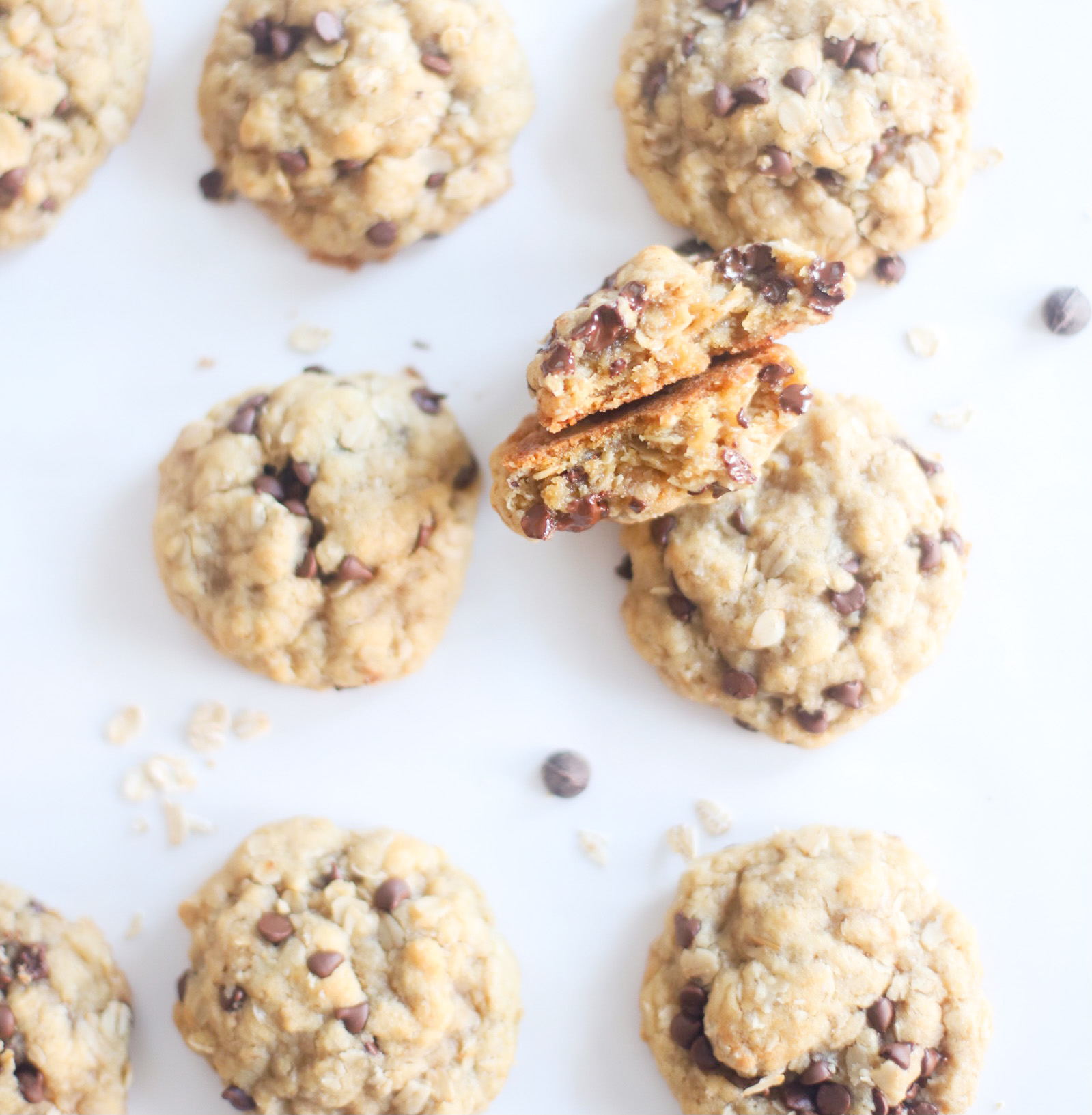 Oversized, soft and chewy, and the center of the oatmeal cookie is probably what heaven tastes like: sweet and buttery (though by some kind of baking wizardry, there's no butter in this recipe at all), with hints of vanilla. Crispy on the outside and super soft on the inside, they taste just slightly under-baked, and that's exactly as it should be … do not over-bake these babies.
As an added bonus: they're dairy-free and use simple ingredients you most definitely already have in your kitchen.
What I'm saying is, this recipe = The. Best. Oatmeal. Cookies. Ever.
There. I said it. I know it's a bold statement to make about a cookie; but I've got these ridiculously incredible oatmeal cookies to back me up.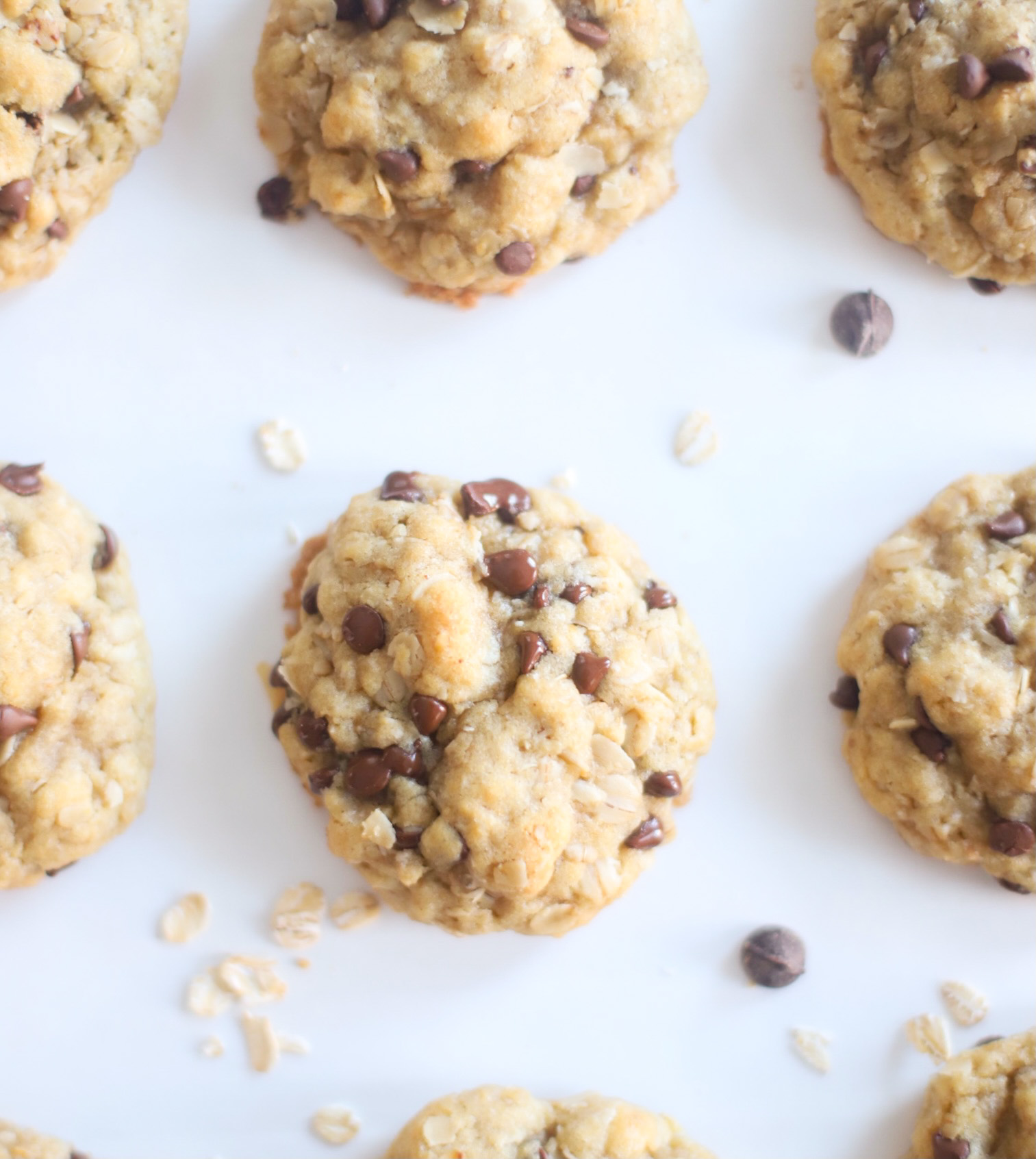 It's also really hard to mess up these absolutely delicious oatmeal cookies. Which is part of the reason I love making these cookies in a pinch, as last-minute gifts, for school and work functions, etc.
I get it: making cookies using oil (rather than butter) can feel intimidating; and the wet-ish consistency of the dough before they're baked might seem weird, but I kid you not, all you have to do is throw all of the ingredients into a bowl, stir, use your hands to squeeze the dough into balls, plop your oatmeal cookie dough balls on a baking pan, throw them in the oven, and ten minutes later you will have the most amazing oatmeal chocolate chip cookies ever. Perfect oatmeal cookies every.single.time.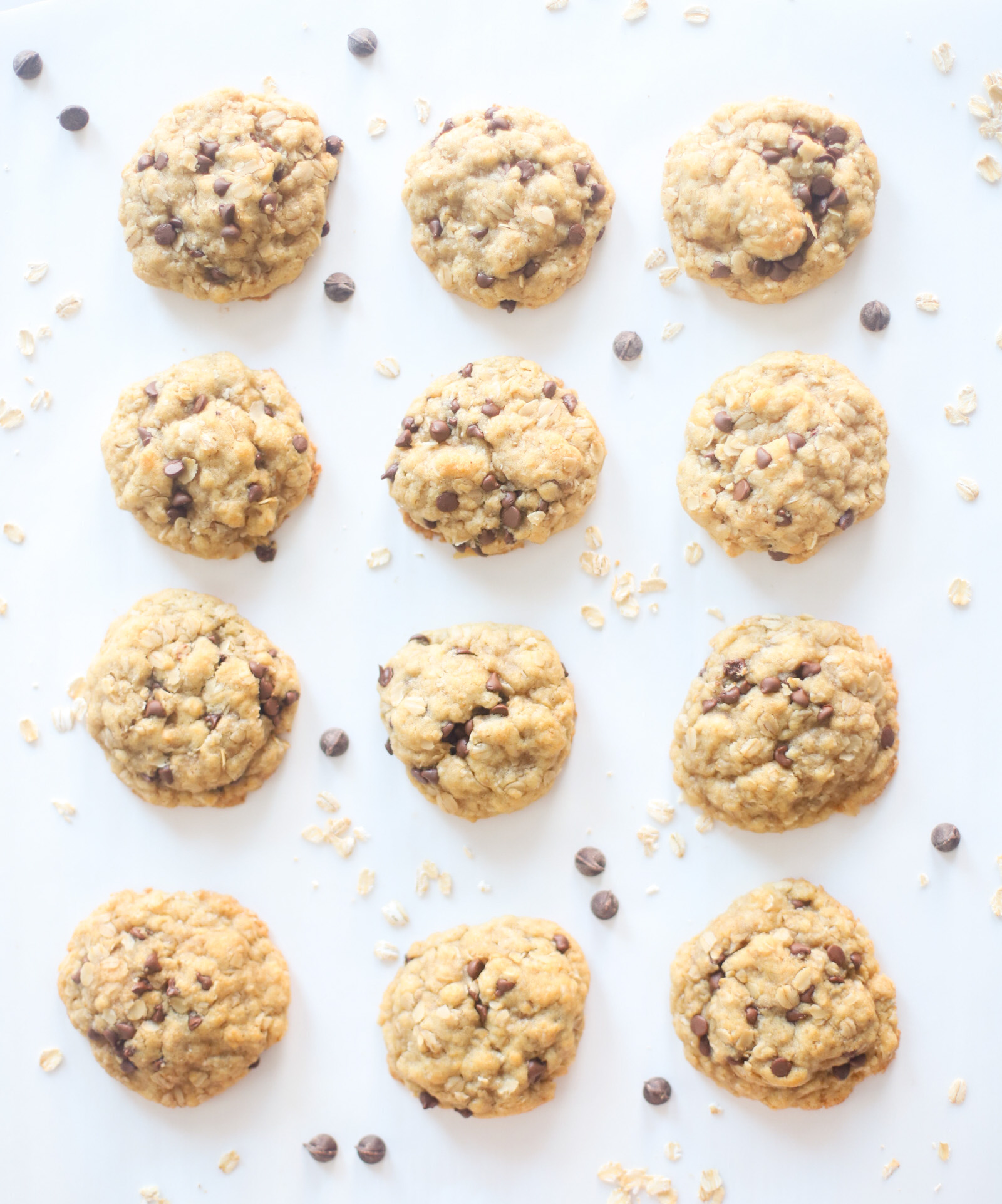 You can easily swap out the chocolate chips for raisins for chocolate chunks; what matters here is the heavenly oatmeal cookie itself. It seriously can't be beat.
To Make These Oatmeal Chocolate Chip Cookies Vegan OR Gluten-Free:
These INCREDIBLE, life-changing, earth-shattering, ooey gooey but crispy on the edges oatmeal cookies are dairy-free. (So long as you use dairy free chocolate chips; which we do!)
We love dairy-free recipes because our oldest daughter, Scarlett, has a milk protein allergy. If you want to make these cookies completely vegan, just substitute 1/2 cup applesauce or two flax eggs (1 tbsp ground flax seeds + 3 tbsp water per egg, stir and let sit in fridge for 15 mins) for the two eggs AND use dairy free chocolate chips.
They can also very easily be made gluten-free. To make these oatmeal cookies gluten-free, be sure to use gluten-free oats and then you can use Bob's Red-mill gluten free baking flour instead of the regular flour.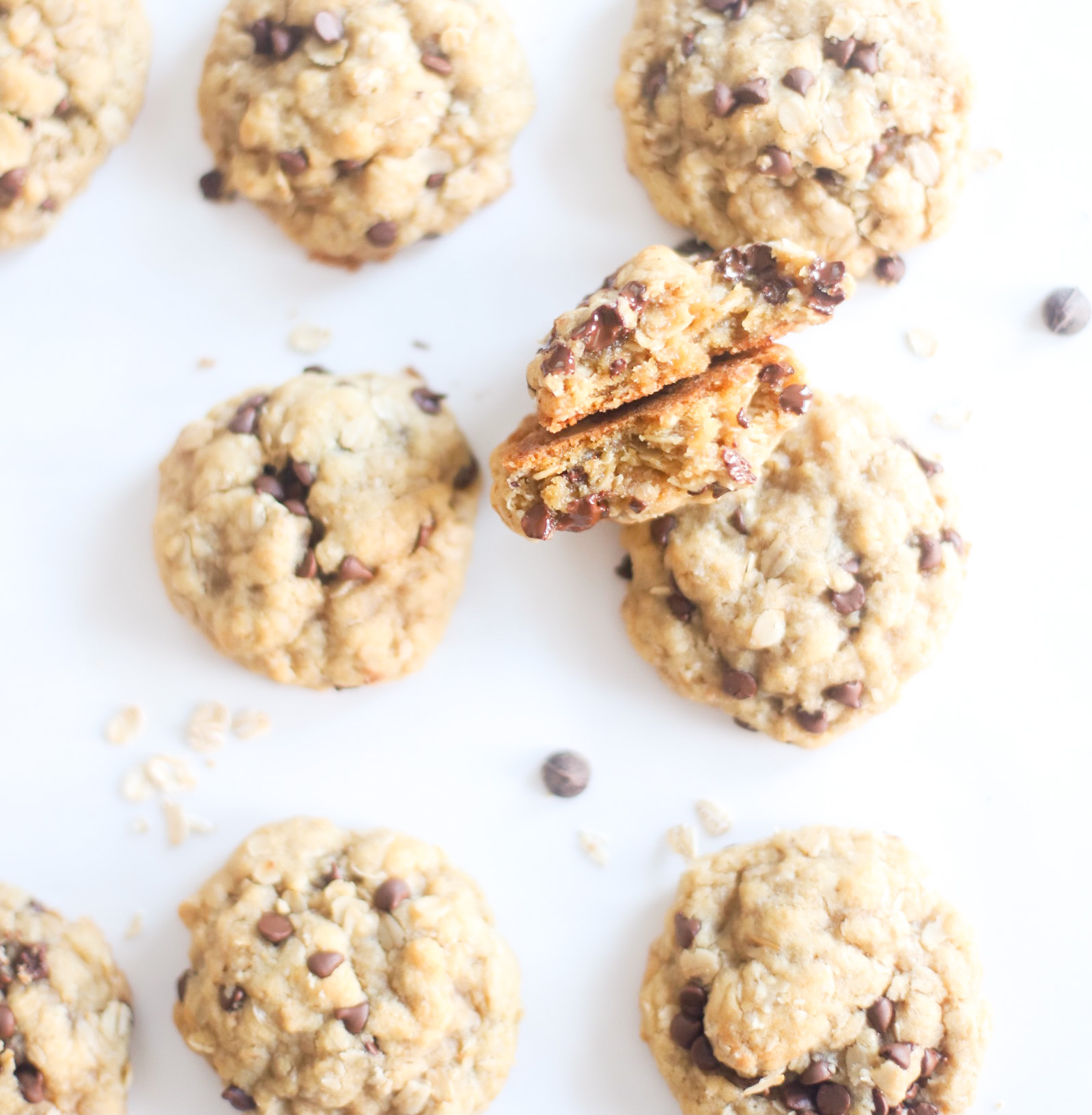 A Few Helpful Notes:
These oatmeal chocolate chip cookies recipe works as oatmeal chocolate chip cookie bars too. If you'd rather skip rolling your dough into balls (because ya know, when you really want cookies, that process can seem like a lot … though I promise it's not), you can make these into bars. Just mash your raw dough into a greased rectangular pan (or line it with parchment paper for extra easy removal), and bake at 350 for about 25 minutes.
They are fun to make with your kids. If you do roll your dough into balls, include your kids on the fun. My daughters loves making this recipe with me because of how squishy and crumbly the dough is. It may seem like a mess, but just roll the balls into tight cookie balls, bake, and voilà!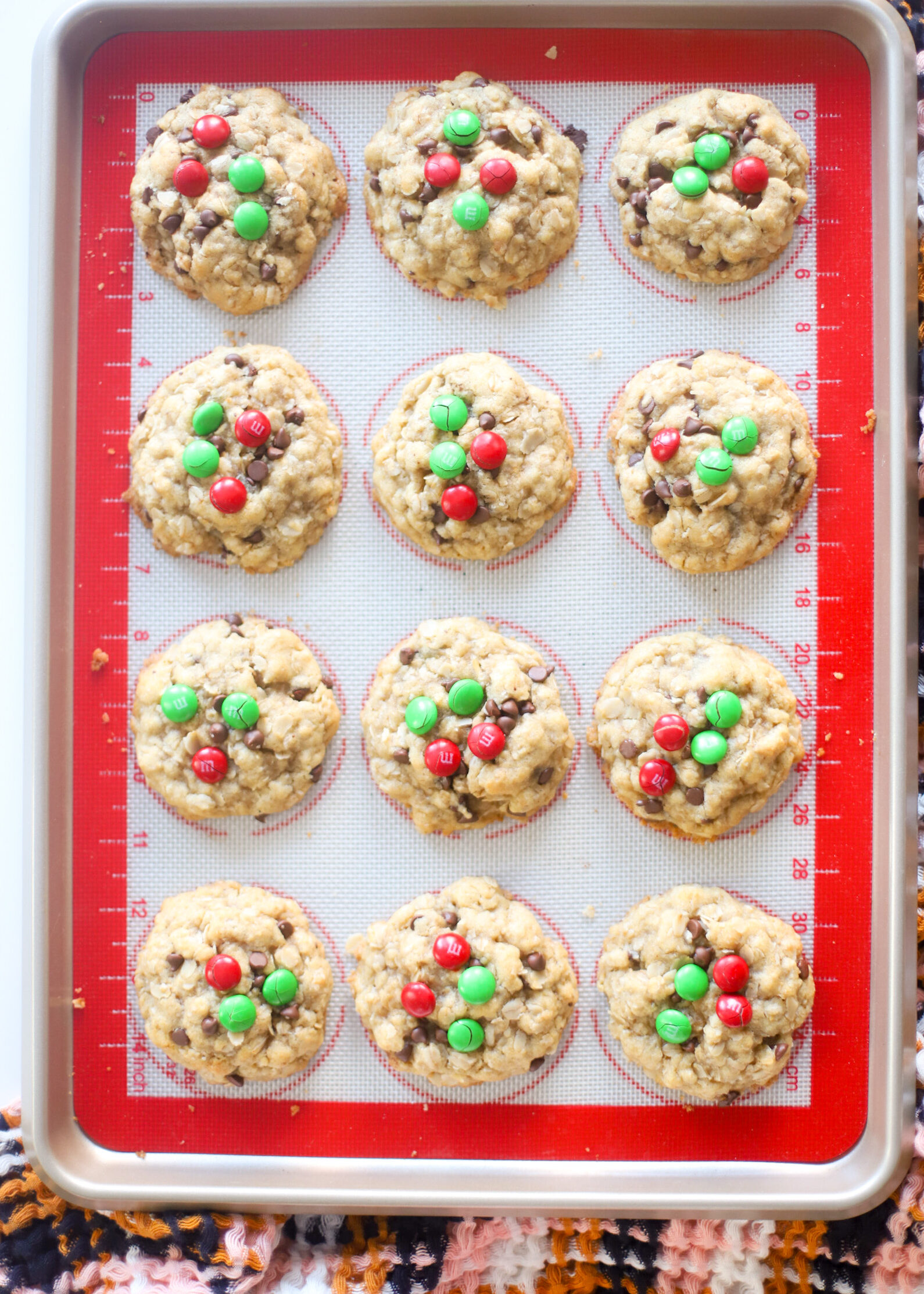 When we add M&M's for the holidays, the kids help me to press a few of the colored candies into the top of each cookie dough ball before baking.
They freeze well. Make a big batch of dough and freeze half of the raw dough for a rainy day. I love having cookie dough on hand; you know, in case we just NEED cookies, stat. Just be sure to thaw your dough before attempting to roll out those dough balls for baking.
They store well. Store your cookies in an airtight container, either in the refrigerator or on the counter. They stay soft and chewy for days.
We packed up a batch with red and green M&M's for our neighbors this year!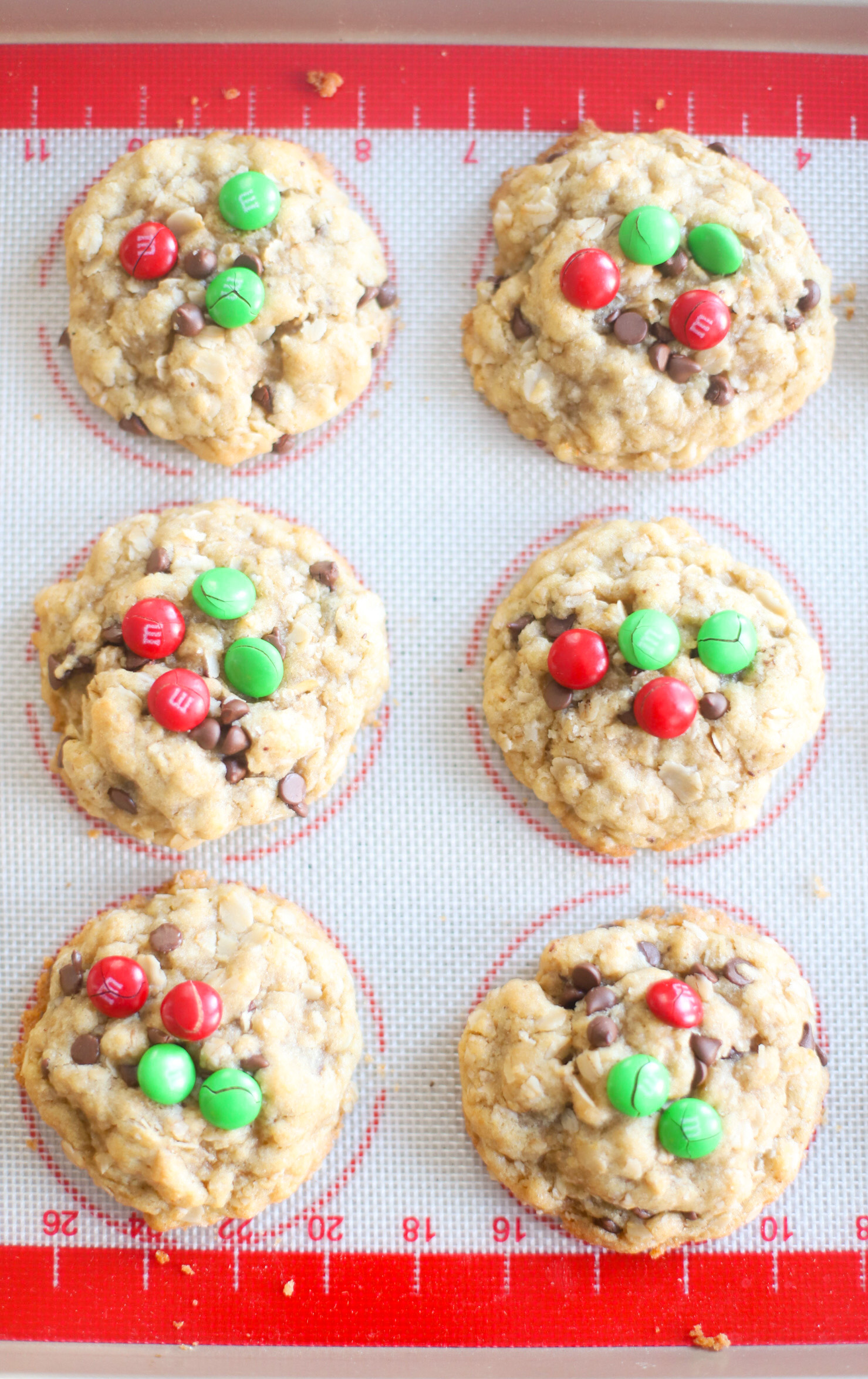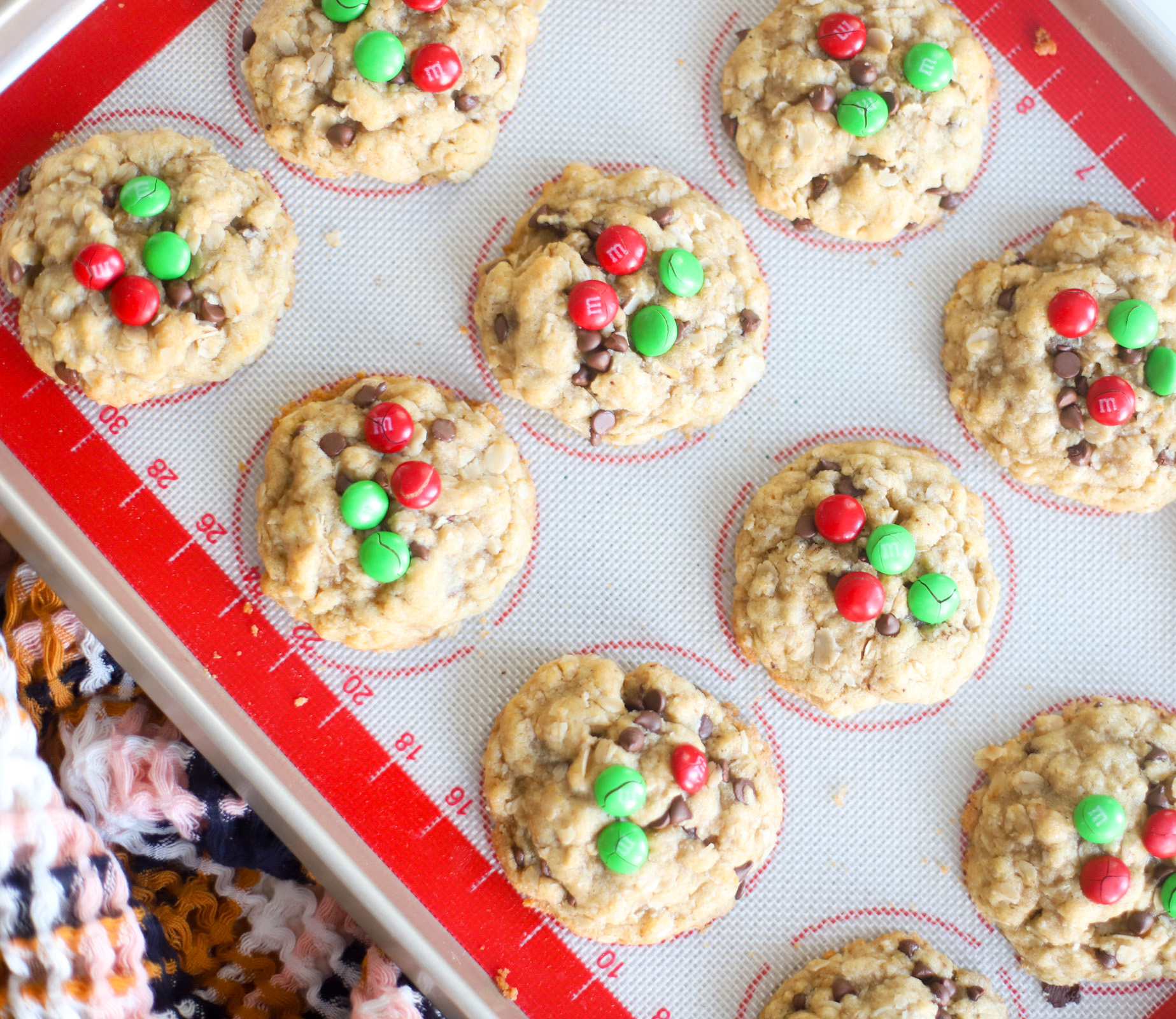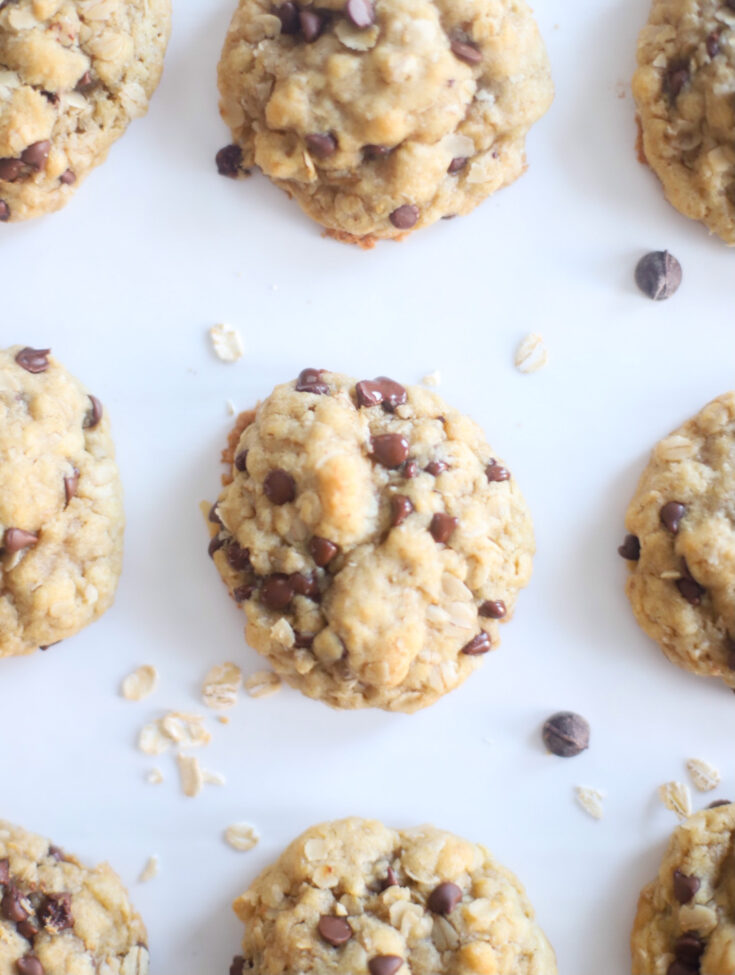 Yield: 24 cookies
Our Very Favorite Oatmeal Chocolate Chip Cookies
Ingredients
2 1/2 cups old fashioned oats
2 cups all-purpose flour
1/2 cup granulated sugar
1 cup brown sugar
1 teaspoon baking soda
1 teaspoon salt
1 cup canola, sunflower, or vegetable oil
2 large eggs
4 teaspoons vanilla extract
1 or 2 cups chocolate chips (or raisins)
Instructions
Preheat the oven to 350 degrees F. Line a baking sheet with a silpat or parchment paper.
In a large mixing bowl or bowl of a stand mixer add the oatmeal, flour, sugar, brown sugar, baking soda, salt, oil, eggs and vanilla, beat until the dough is moist and all of the ingredients are combined. The dough will be crumbly. Mix in the chocolate chips.
Using your hands to clump together approximately a tablespoon of dough. Use you hands to tightly squeeze the dough into a ball. (If the mixture is not holding, you can add an additional 1 tablespoon of oil, though I never find I need that.) Place dough balls on a prepared baking sheet. If your balls are a little crumbly, don't worry, they will come together while baking. Repeat until all dough is shaped into cookie balls.
Bake for 10 - 12 minutes until set and golden. (I don't typically go over 11 minutes.) PRO TIP: These taste amazing right out of the oven!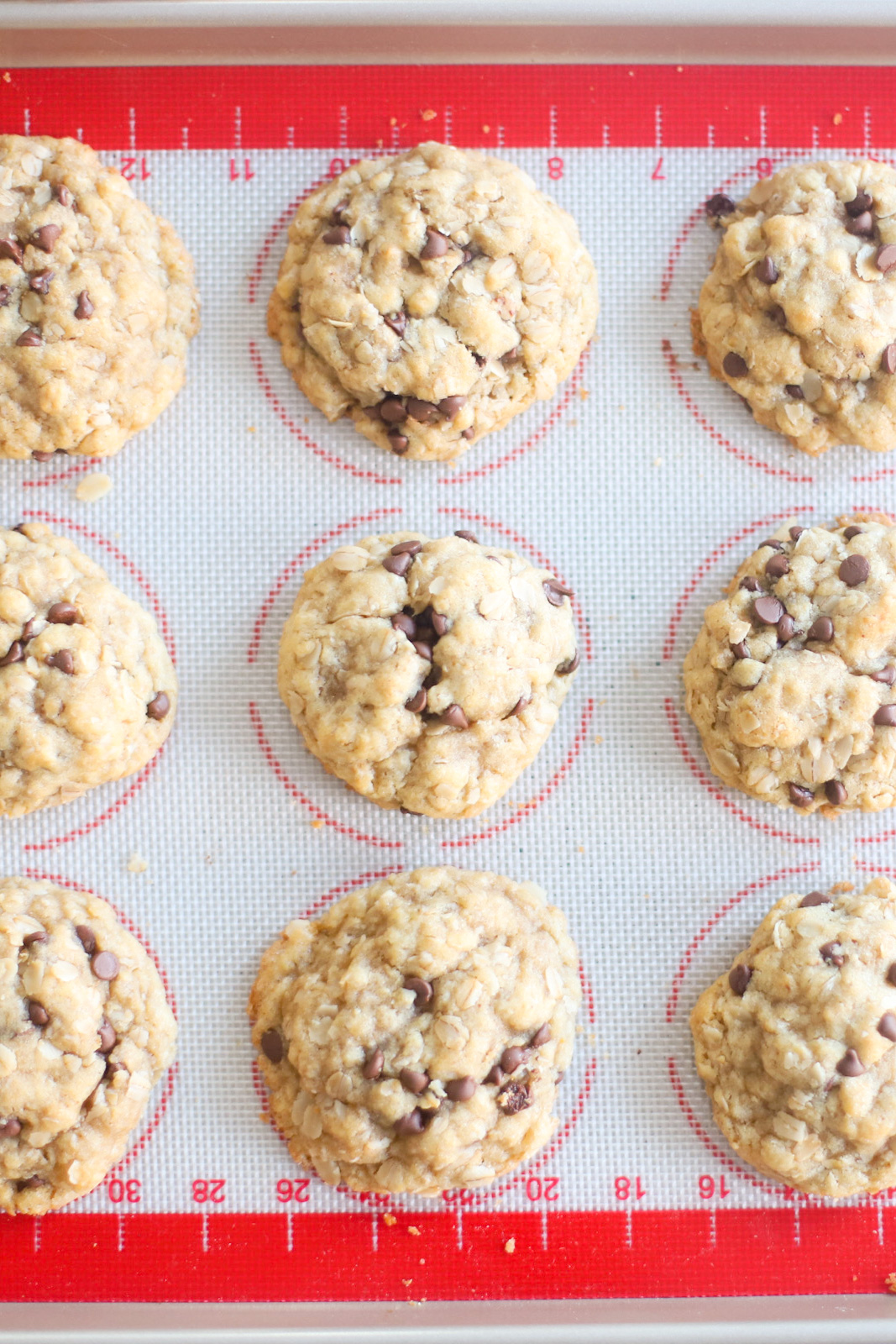 So there you have it: super simple, totally delicious, always one of my most requested, very favorite oatmeal chocolate chip cookies.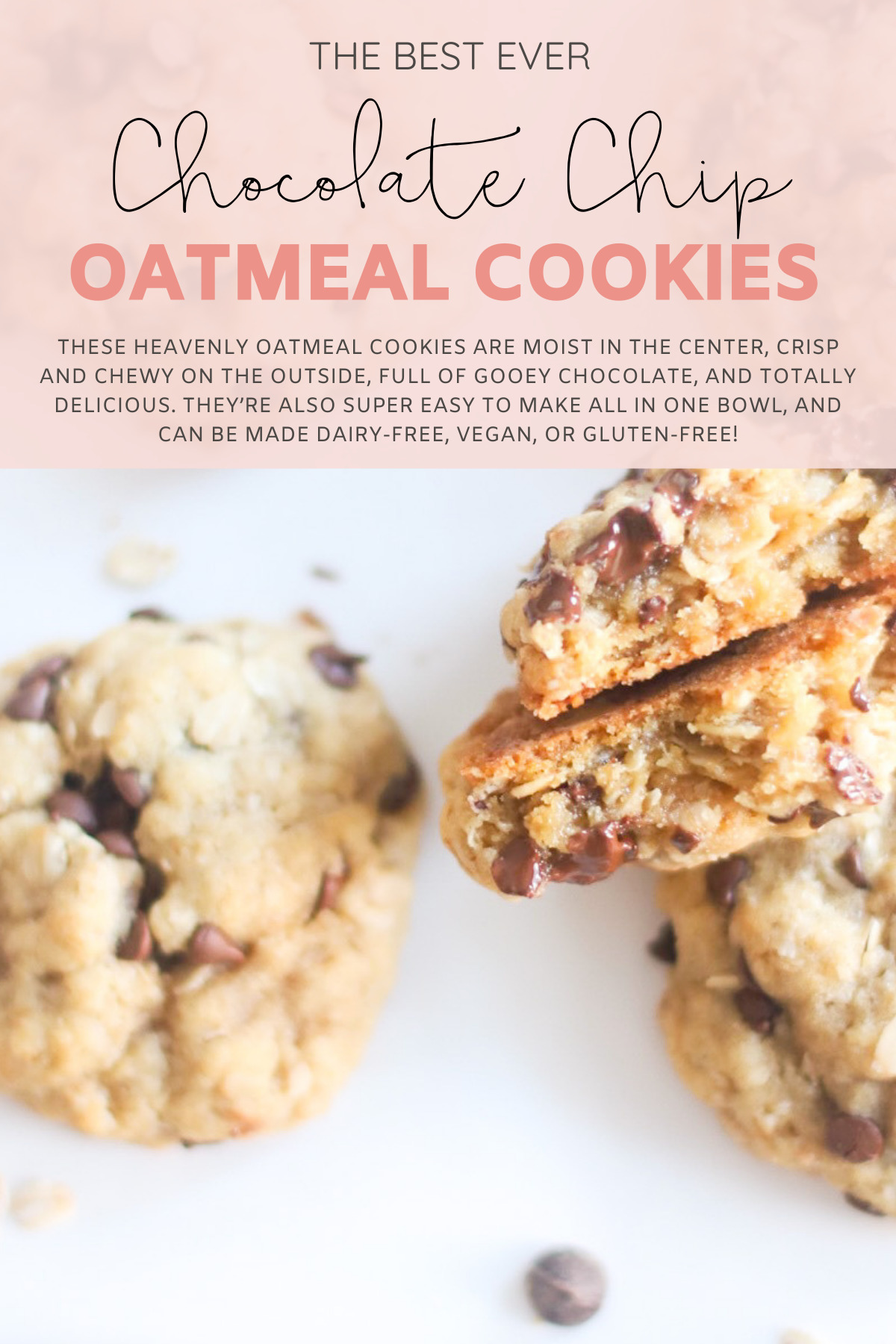 If you make your own amazing oatmeal chocolate chip cookies, be sure to tag me on social media (@glitterinclexi) so I can live vicariously through all of your sweet creations!
SHOP THE COOKIE POST | CLICK LEFT & RIGHT ARROWS TO EXPLORE

Loving these amazing oatmeal chocolate chip cookies? Head to our recipe page to check out what else we're dreaming up in the kitchen!