This post contains affiliate links, which means that if you click on one of the product links, I'll receive a small commission. Additionally, as an Amazon Associate I earn from qualifying purchases. Thank you so much for clicking through and helping to support this little blog business of mine! Read more about our site, privacy, and disclosure policies here.
Looking to shake up family meal time? Try appetizers for dinner! This simple, out-of-the box meal idea is sure to get kids and grownups alike excited for dinner. And the best part? You can use all store-bought appetizers to make dinner time even easier!
One of my favorite meal hacks is to do "appetizers for dinner". I love the ease of serving up a bunch of fun appetizers and hors d'oeuvres as a meal; plus, everyone gets so excited to dive into their favorite appetizers on a random night just because; a.k.a., no holiday celebration necessary.
Psst … serving appetizers for dinner is also a great way to celebrate New Year's Eve with your family, game day, and other random evening festivities!
Shake up Family Meal Time
This is the kind of dinner that EVERYONE loves. Everyone in your family can choose their favorite appetizers, and if you sneak in fresh sliced vegetables and hummus or dip and/or cut up fruit, you've got yourself a well-enough balanced meal!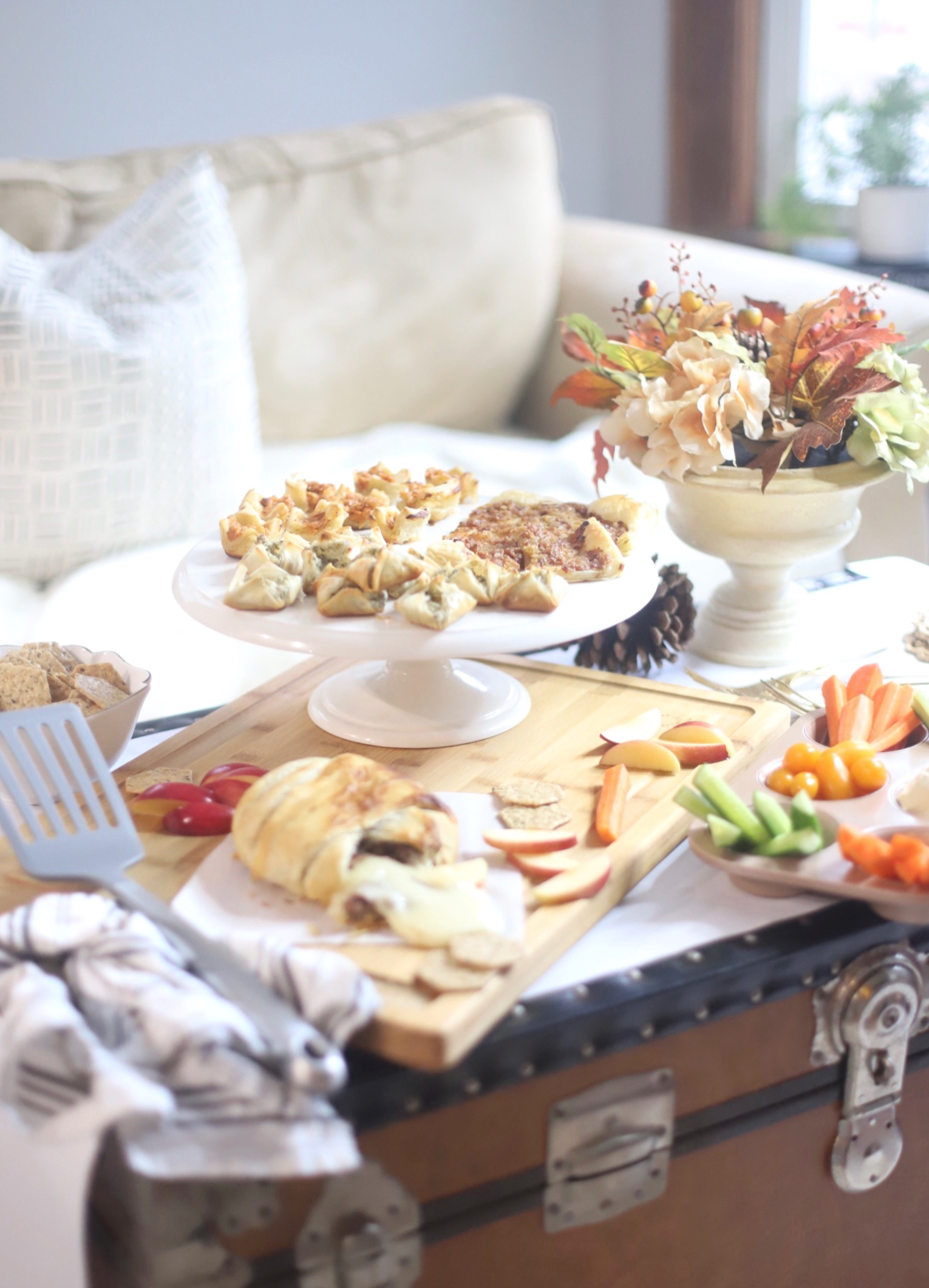 For this impromptu appetizers-for-dinner family night, we made a living room picnic out of our meal, and it was so much fun mixing up our typical dinner routine.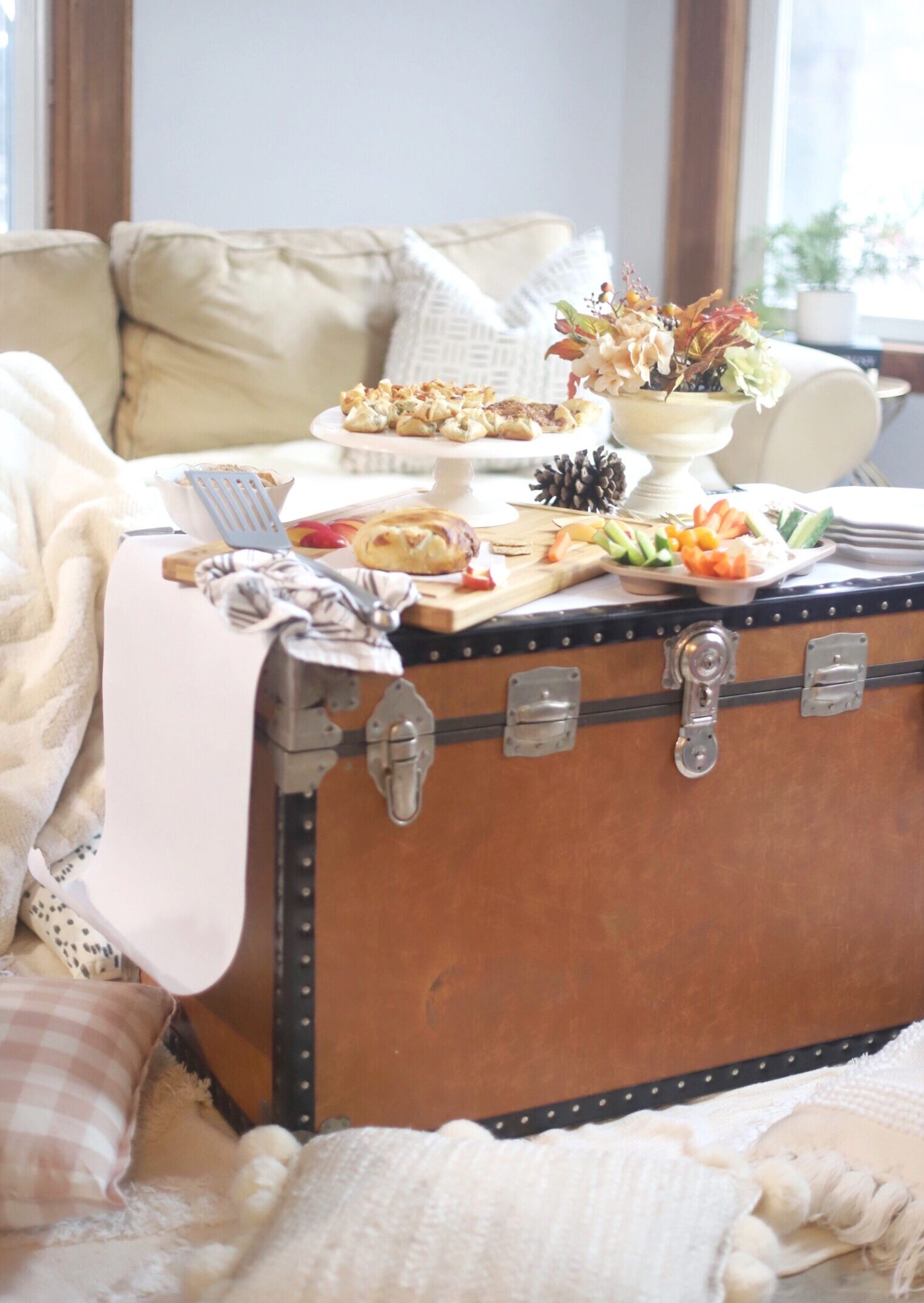 To make the space extra cozy, I laid out blankets, floor cushions and pillows around our coffee table.
And for the dinner, I just set all of our appetizers out on serving platters – buffet style – put out stacks of plates, silverware, cups, drinks, and plenty of napkins – and let the family dig in.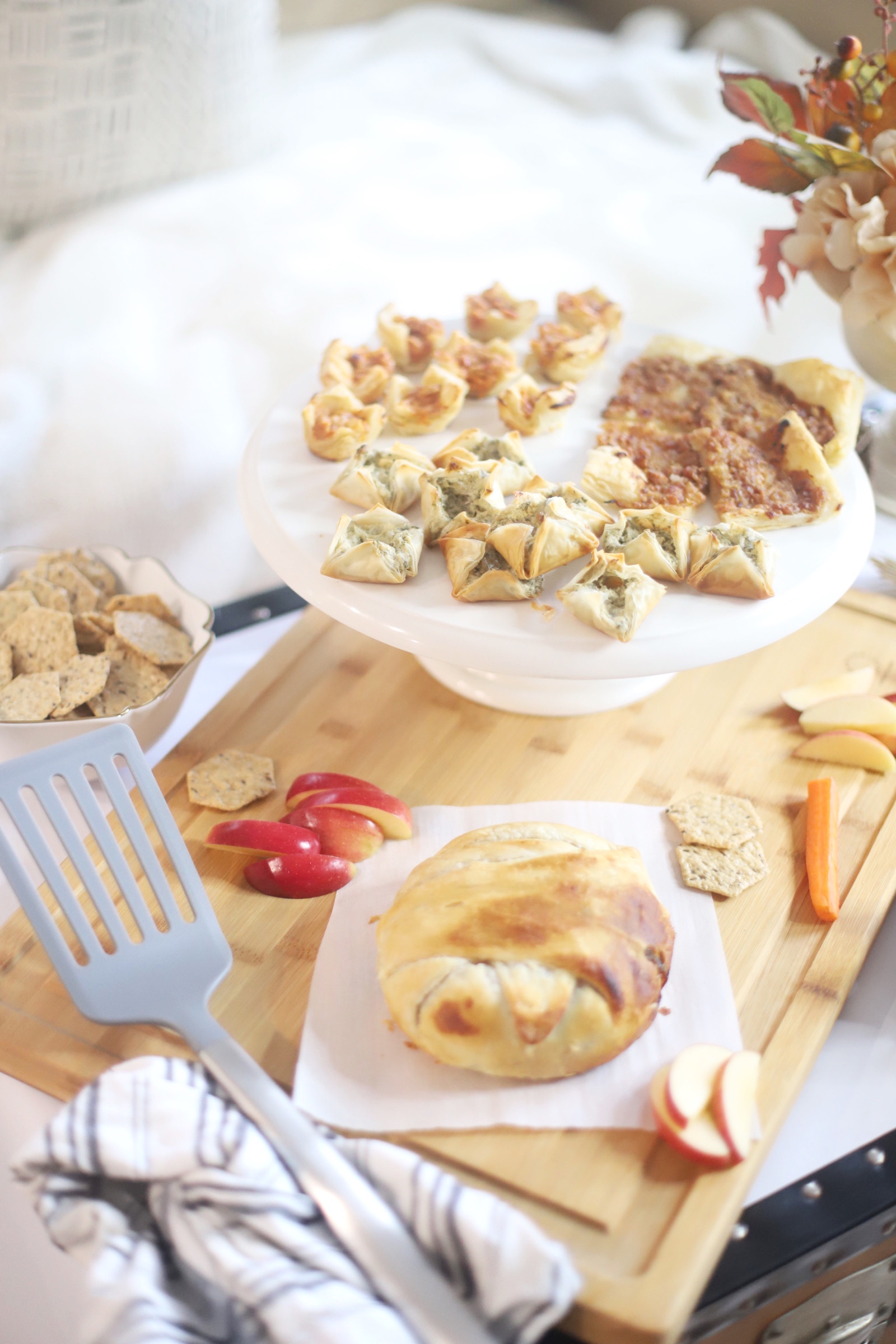 Easy Dinner Hack: Store-bought Appetizers for Dinner
The secret to this easier than easy family meal idea?
I used mostly frozen, store bought appetizers!
Now don't get me wrong, I love making yummy appetizers – especially for the holidays – but there are so many great frozen and storenought appetizers, and since I use this fun meal idea when I'm all out of dinner inspiration and in need of a little pick-me-up, cutting down on work-time makes this dinner all the more fun. Less stressed mom + delicious and fun appetizers + an unexpected and festive dinner = a winning combination if I've ever seen one!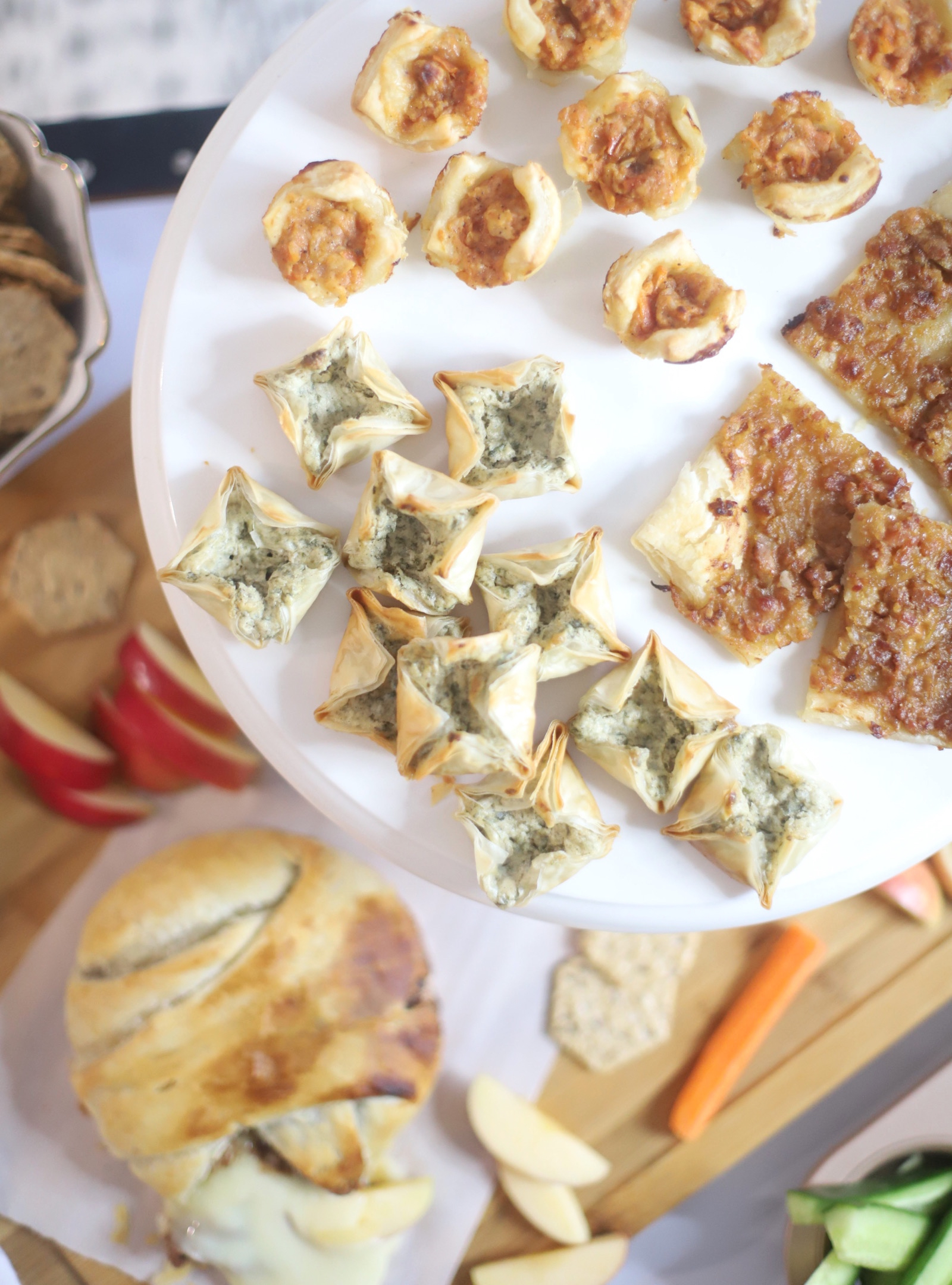 A Few Yummy Favorite Appetizers:
Baked Brie
Spanakopita
Tarts
Pigs-in-a-blanket (always a hit with kids)
Chicken Nuggets and Dipping Sauces
Mini quiche
Spinach Dip
Hummus with Sliced Pita (or Pita Chips) + Cut up Vegetables
Crudités and Dip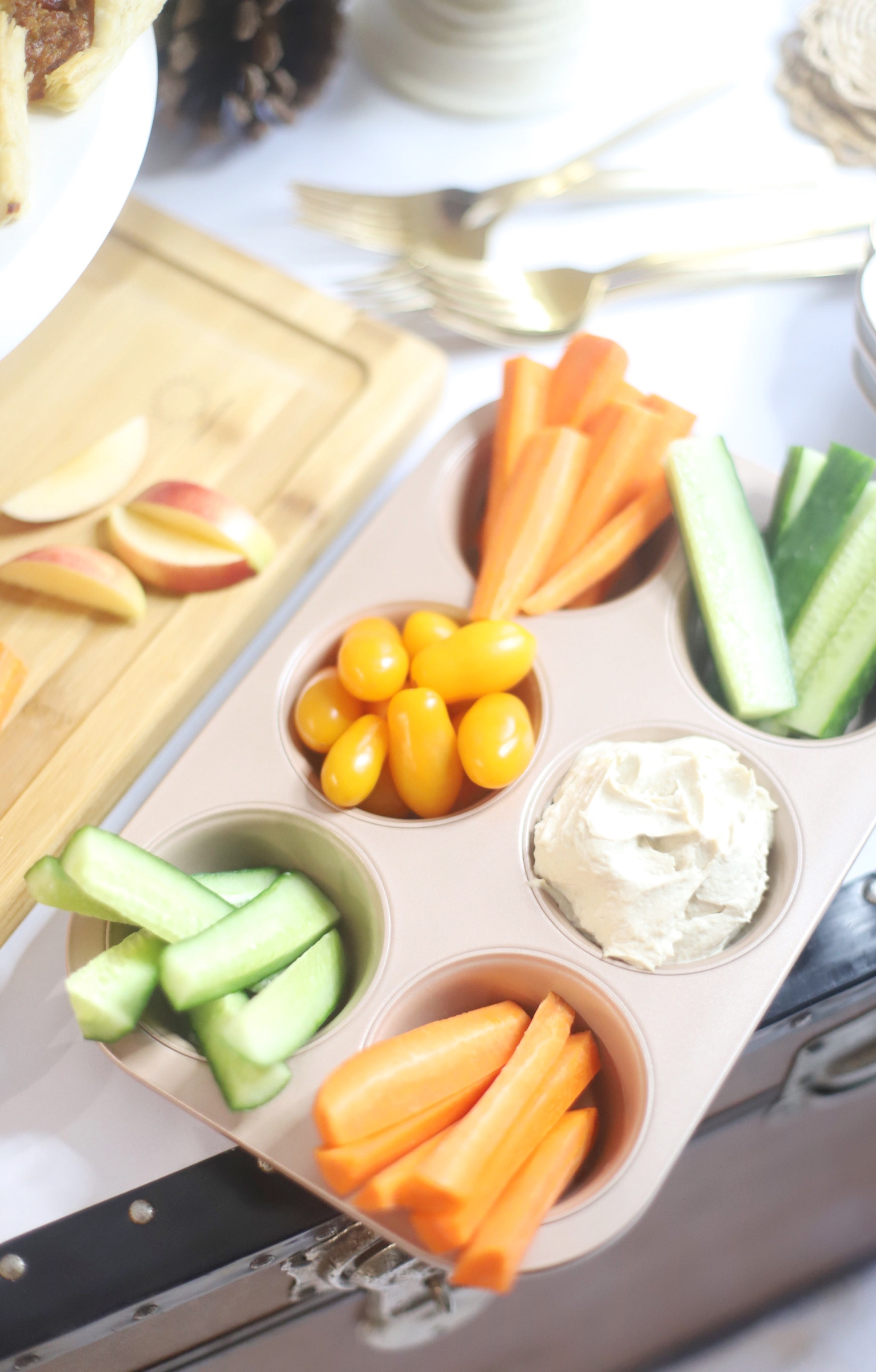 I always like to add in some sort of veggies. Crudités; i.e., like cut up carrots, cucumbers, and tomatoes, plus hummus, is always an easy way to get my kids to eat their vegetables.
I used a muffin tin to arrange our veggies and hummus and the girls absolutely loved it!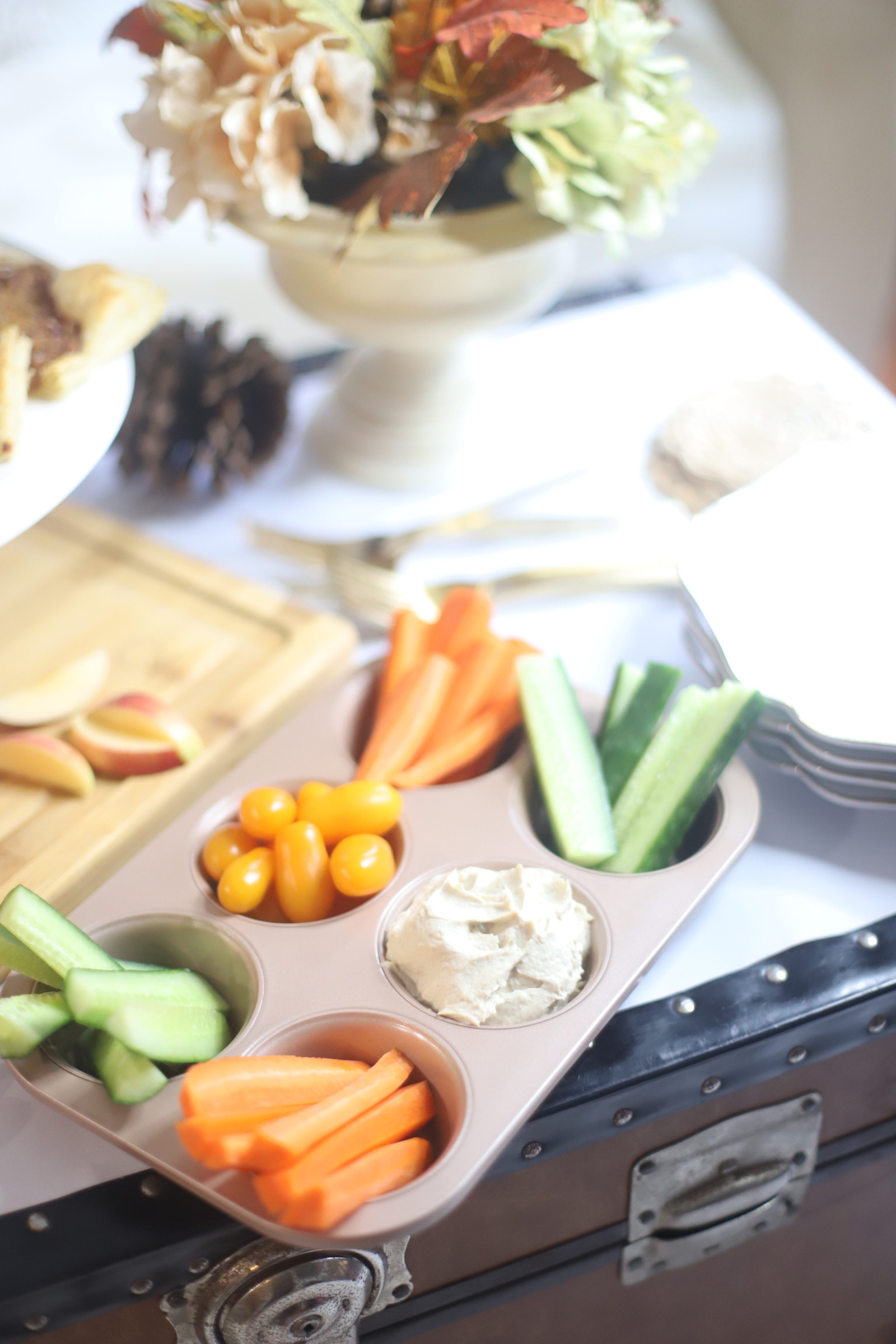 Baked Brie is probably one of my favorite appetizers ever, and getting to snack on it on a non-holiday was basically dinner perfection in my book.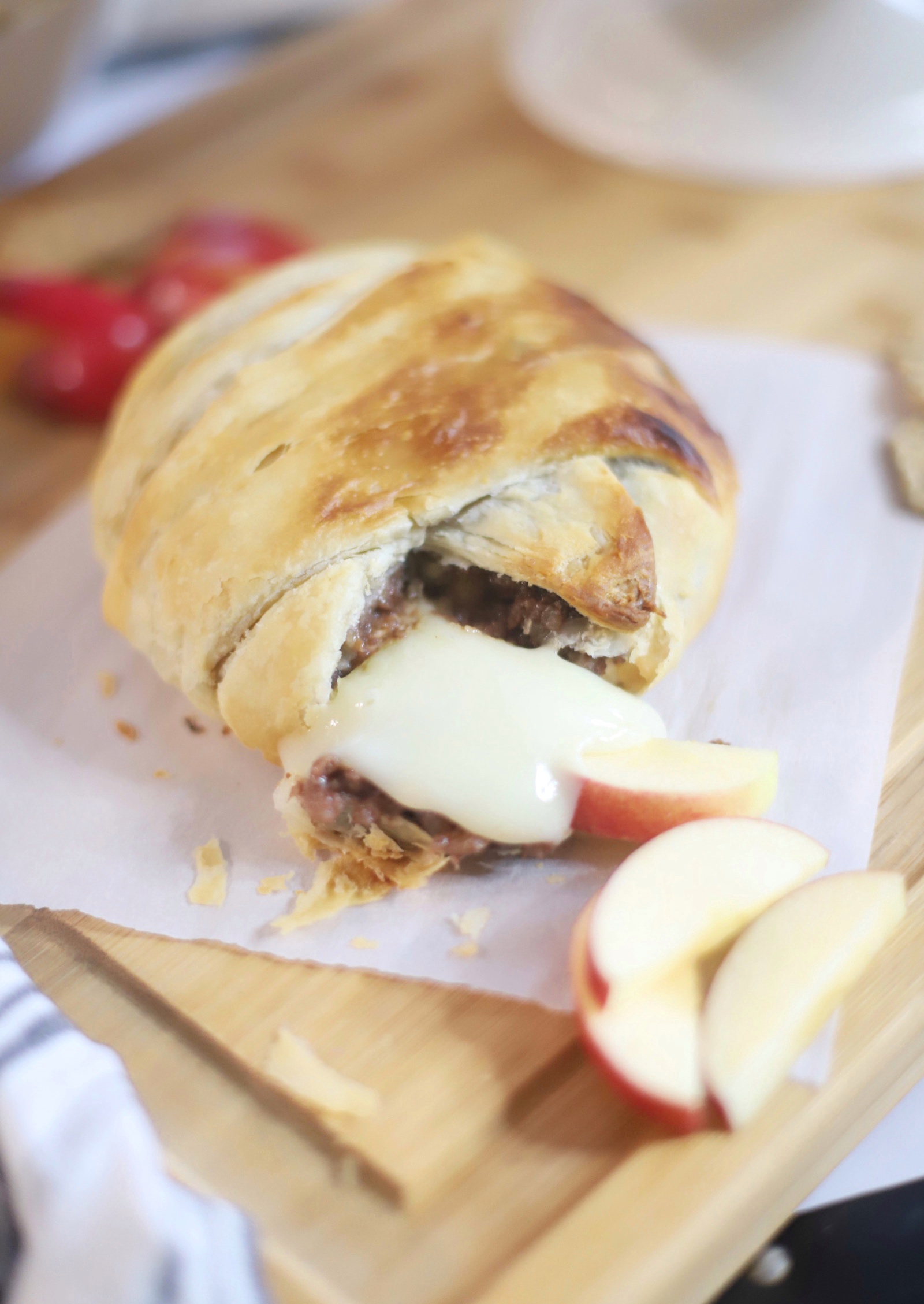 I served this baked brie appetizer with crackers and apple slices – also things my kids love to snack on. 🙌🏻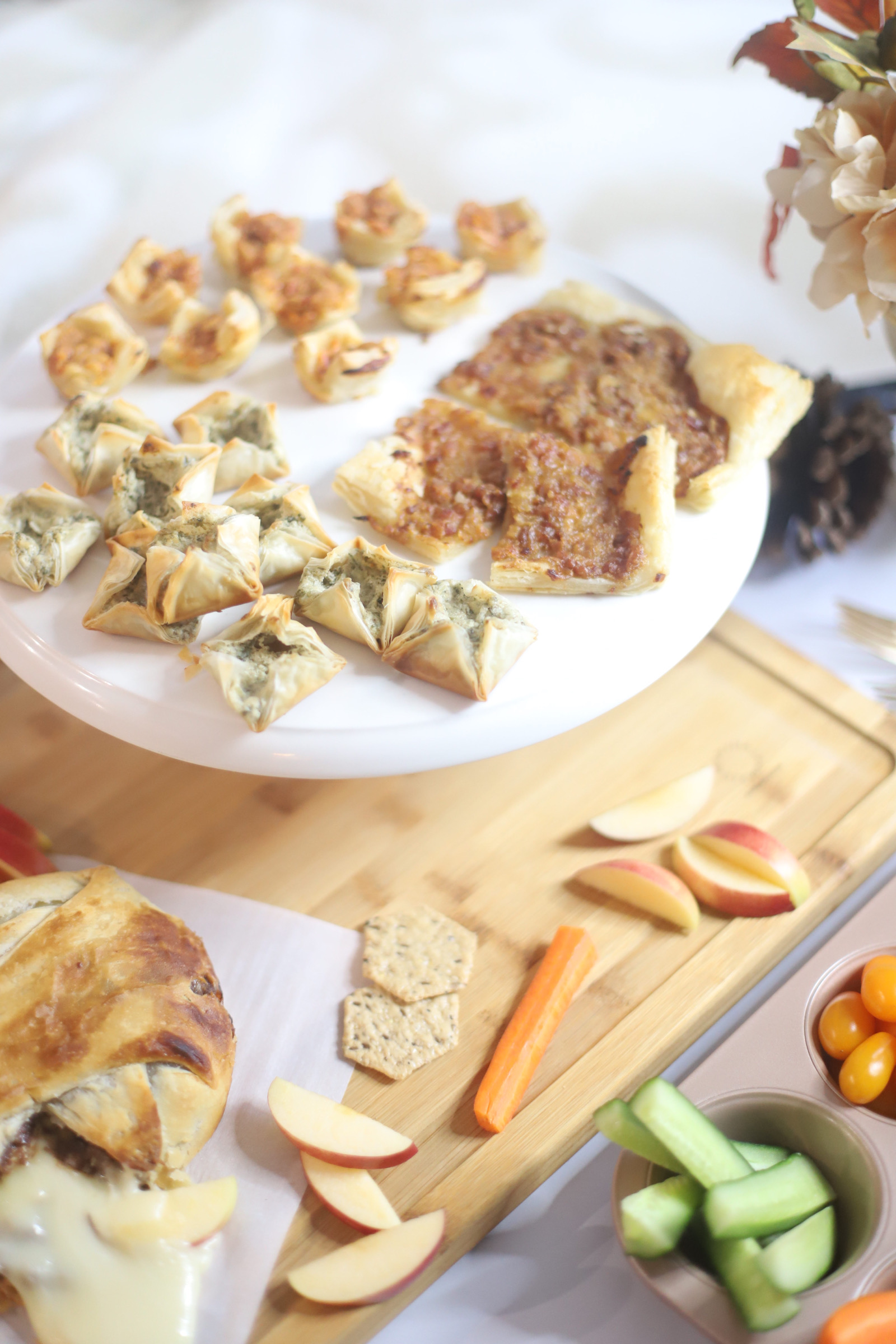 Have fun with this dinner! Put out everyone's favorite appetizers, turn it into a living room picnic, watch a movie with the lights dimmed on a Saturday night to really make this feel like a special night. And of course, enjoy!
What about you? Do you love having appetizers for dinner? Any favorite out-of-the-box family meals? I'd love to hear what you're serving up; I'm always looking for new ideas!
SHOP THE FAMILY DINNER IDEA | CLICK LEFT & RIGHT ARROWS TO EXPLORE

Love this easy and fun family dinner idea? Check out all of our celebrations here and head to our recipe page to see what else we're dreaming up in the kitchen! And if you put together your own appetizers-for-dinner shindig, be sure to tag me on social media (@glitterinclexi) so I can live vicariously through all of your low-key celebrations!