This post contains affiliate links, which means that if you click on one of the product links, I'll receive a small commission. Additionally, as an Amazon Associate I earn from qualifying purchases. Thank you so much for clicking through and helping to support this little blog business of mine! Read more about our site, privacy, and disclosure policies here.
Happy weekend! How has your week been so far? Do you have today/Friday off? We're kicking off our long weekend at home today, and we have a few fun outdoor plans throughout the weekend; though it's back to chilly the next few days. 🥶
Little Love Notes + A Fun-Filled Weekend
A Fun-Filled Weekend
First things first, we're going to re-visit deCordova Sculpture Park. We went a few months back and it was great. It's almost entirely outdoors, with so much to look at and check out, making it the perfect place to explore and then picnic.
We're also going to wander Back Bay and Beacon Hill (if we're up for walking that far), mostly so I can snap photos of the spring blossoms in the city and the girls can get their favorite ice cream. (And yes, we're totally that family that eats ice cream in the freezing cold. Do you do that or is ice cream a strictly warm weather kind of treat for you?)
I'm also very excited to break Passover – hopefully with bagels and pancakes and noodles and basically all of the other carbs I've missed the last week. 🤞🏻
Sunday I'm going to surprise the girls by hiding plastic Easter eggs stuffed with little treats around the house. Even though we don't celebrate Easter, I'm still a huge fan of making the most of holidays and letting the girls enjoy all sorts of cultures and celebrations.
Also, takeout. Takeout is a must. I'm seeing ramen in our future. Can you tell yet that we're obsessed? Though honestly, anyone else get burned out by cooking non-stop by the weekend? 🙈
How about you? Any plans for fun-filled weekend?
In case you don't yet follow along, I'll be sharing what we're up to throughout the weekend over on instagram (lots of fun behind-the-scenes on my insta stories too!), facebook, and twitter. Follow along!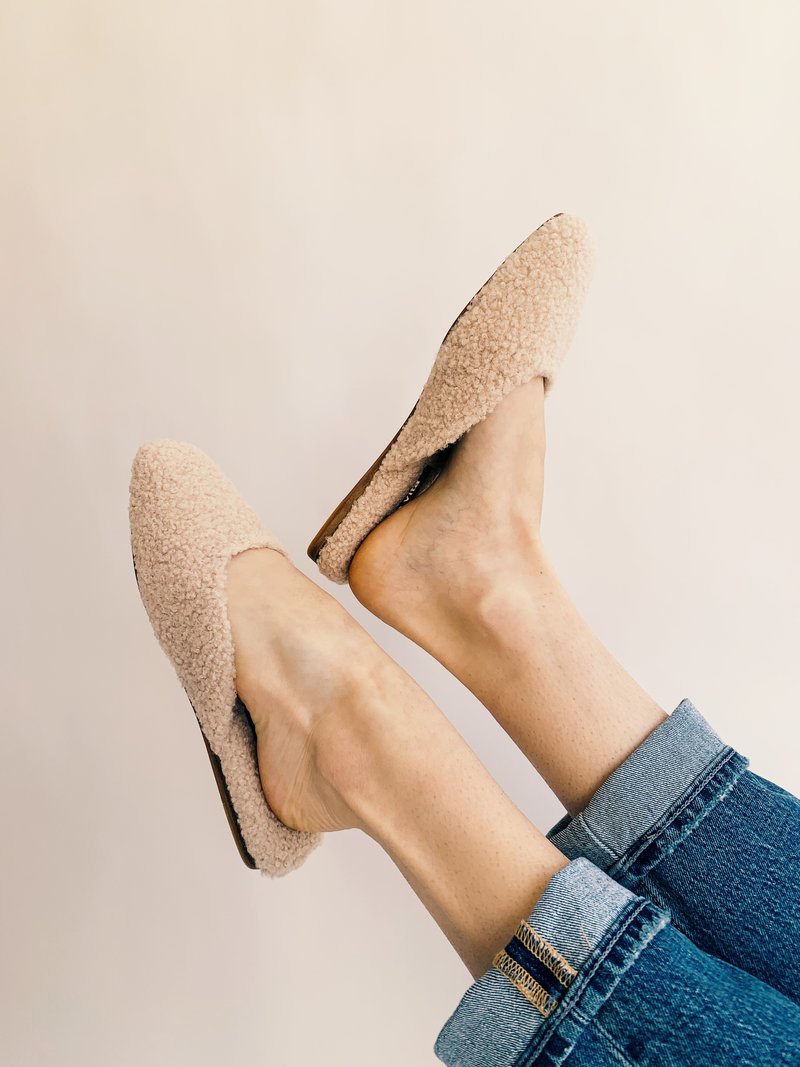 With that, a few little love notes to the things I loved most this week …
Dear loungewear upgrade, I spotted these uber stylish vintage-inspired slippers via Kourtney Kardashian's site, Poosh, and fell instantly in love. The plush slippers are available at Bloomingdales, Anthropologie, and Nordstrom and are beyond chic.
Dear home design, 7 ways to copy everyone's favorite celebrity home tours.
Dear parents everywhere, watch this father's emotional speech about his transgender daughter when asking Missouri lawmakers to stop discriminating against trans kids.
Dear potential office space, the toddler in the pantry is the mood we all need. I feel so seen.
Dear spa vibes, move over bath bombs, did you know there are aromatherapy shower steamers? Turn your shower into a zen oasis with these little shower steamers that are infused with essential oils that release when you place one on the floor of your shower while the water's running. Definitely trying; will report back! (By the way, there are so many scent/oil options, including a sleepy time version!)
Dear toes in the sand, this dress has me dreaming of summer and trips to the beach.
Dear Marshall Plan for Moms, have you read about women demanding a Biden task force devoted to the economic recovery of moms? (America's motherhood crisis is at a tipping point: "We're not taking it anymore," says Reshma Saujani.)
Dear weekend baking, I can attest to the fact that these almond flour blueberry muffins are perfection. We made a batch earlier this week and will probably make another this weekend. So good.
Get the origins of these sweet little love notes, here, and catch up on love notes of the past.
SHOP THIS WEEK'S LITTLE LOVE NOTES POST | CLICK LEFT & RIGHT ARROWS TO EXPLORE

Has anything inspired you this week around the web? Send it my way!
image: Dolce Vita Saydee Slipper in Natural Plush via Piper & Scoot (also available at Bloomingdales, Anthropologie, and Nordstrom).