This post has been sponsored by Dunkin' At Home. All thoughts and opinions are my own. Thank you so much for supporting the sponsors that make Glitter, Inc. possible!
Hubby and I are coffee lovers. If you come over, it's a given that there'll be a fresh pot of coffee brewing. But I don't just love my morning cup of joe, I actually love having a cup of coffee in the afternoon as a little pick-me-up, especially if I can turn it into a sweet treat (without all of the calories of a dessert.)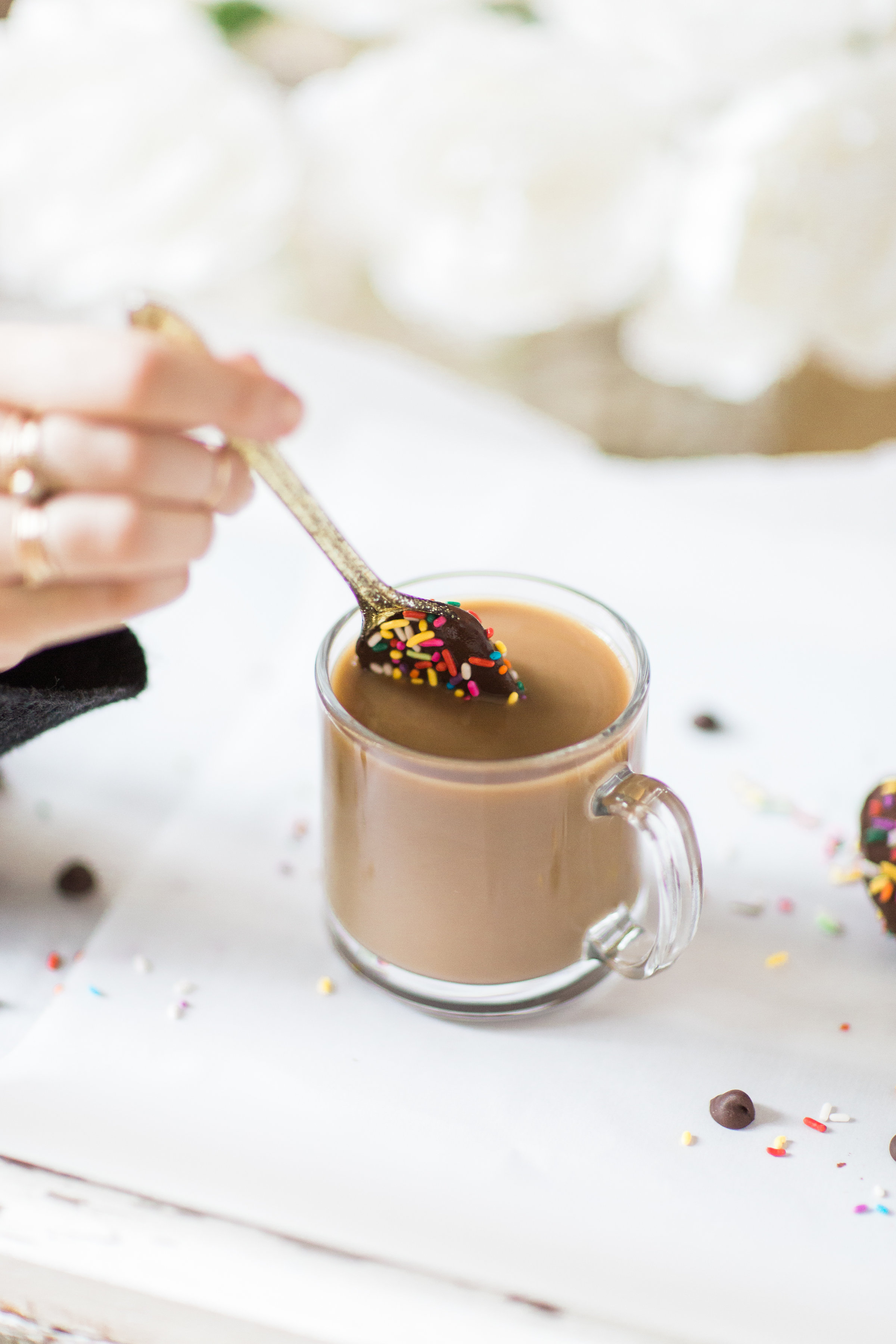 Dunkin' at Home Bakery Series® Coffee is the perfect everyday "treat" that fits right into our coffee-loving routine. I mean, who doesn't love donuts? So I set out to "fancy" up my afternoon cup of coffee and I think I've stumbled on the perfect afternoon indulgence in a cup. Meet the Almond Milk Chocolate Glazed Donut Coffee.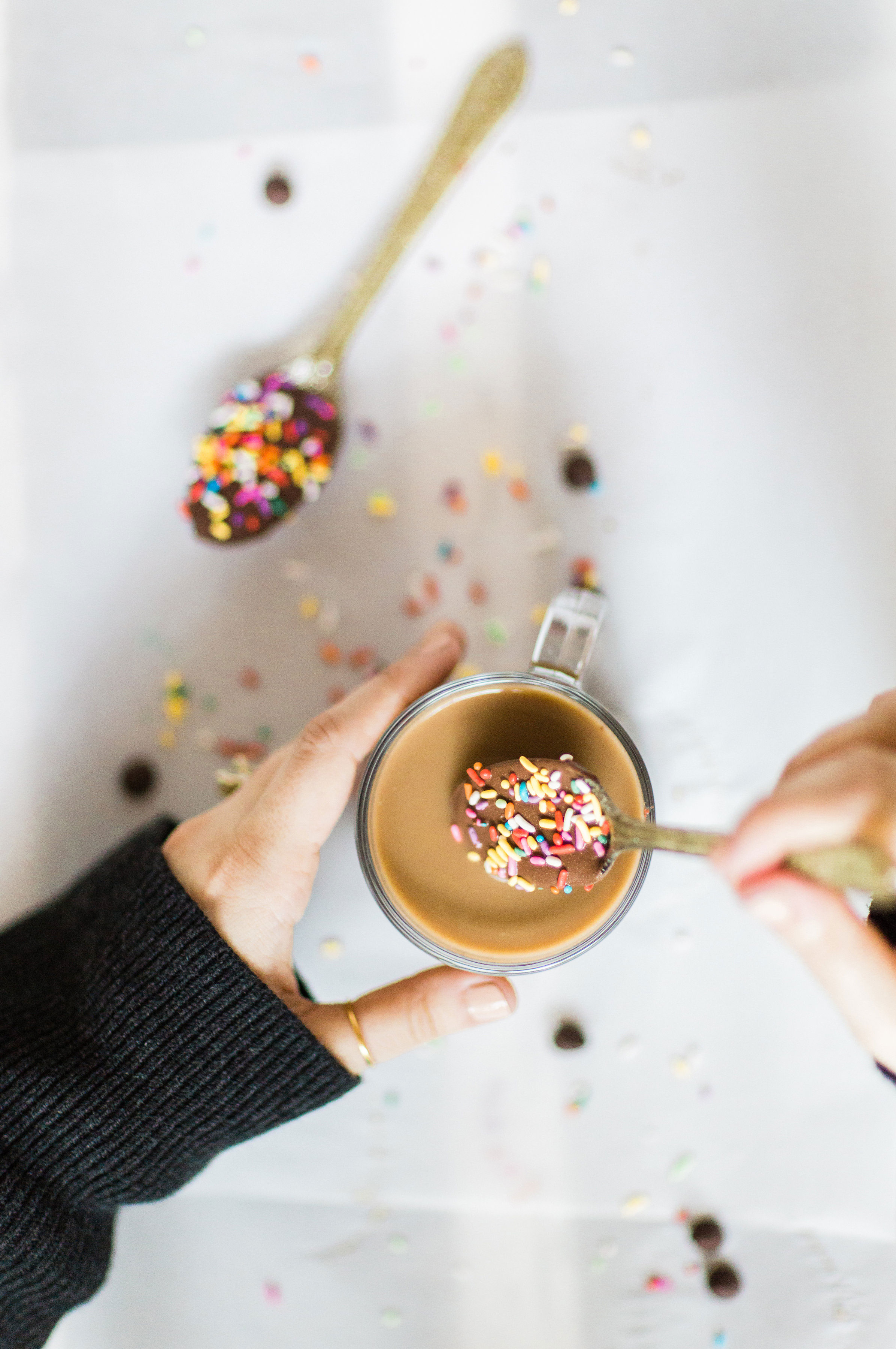 I added a chocolate spoon stirrer because even when I'm having the LONGEST day, a chocolate dipped spoon covered in sprinkles surely fixes everything.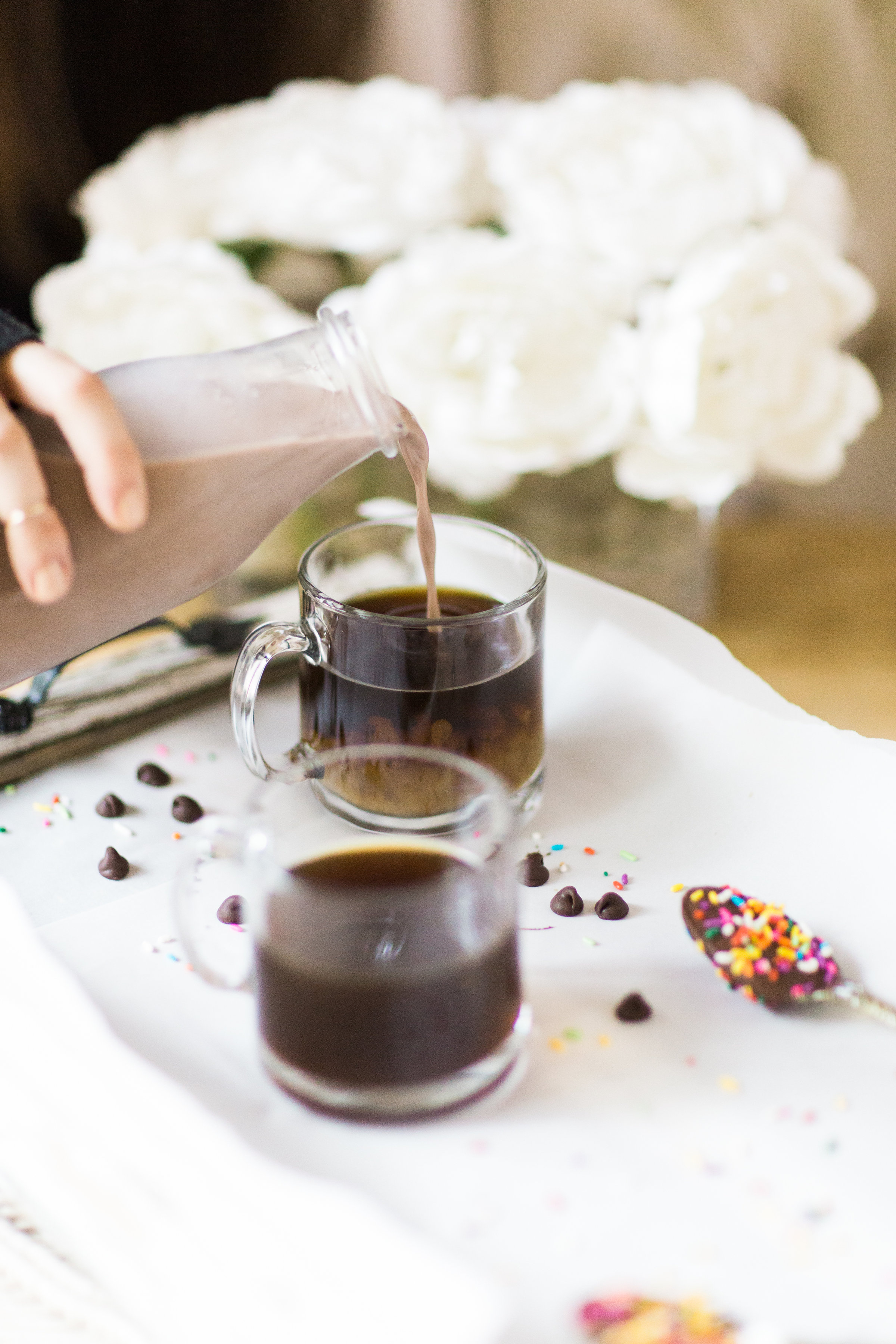 If you haven't tried chocolate almond milk and chocolate cashew milk yet, it's time to get on board. It's rich and creamy and full of healthy protein.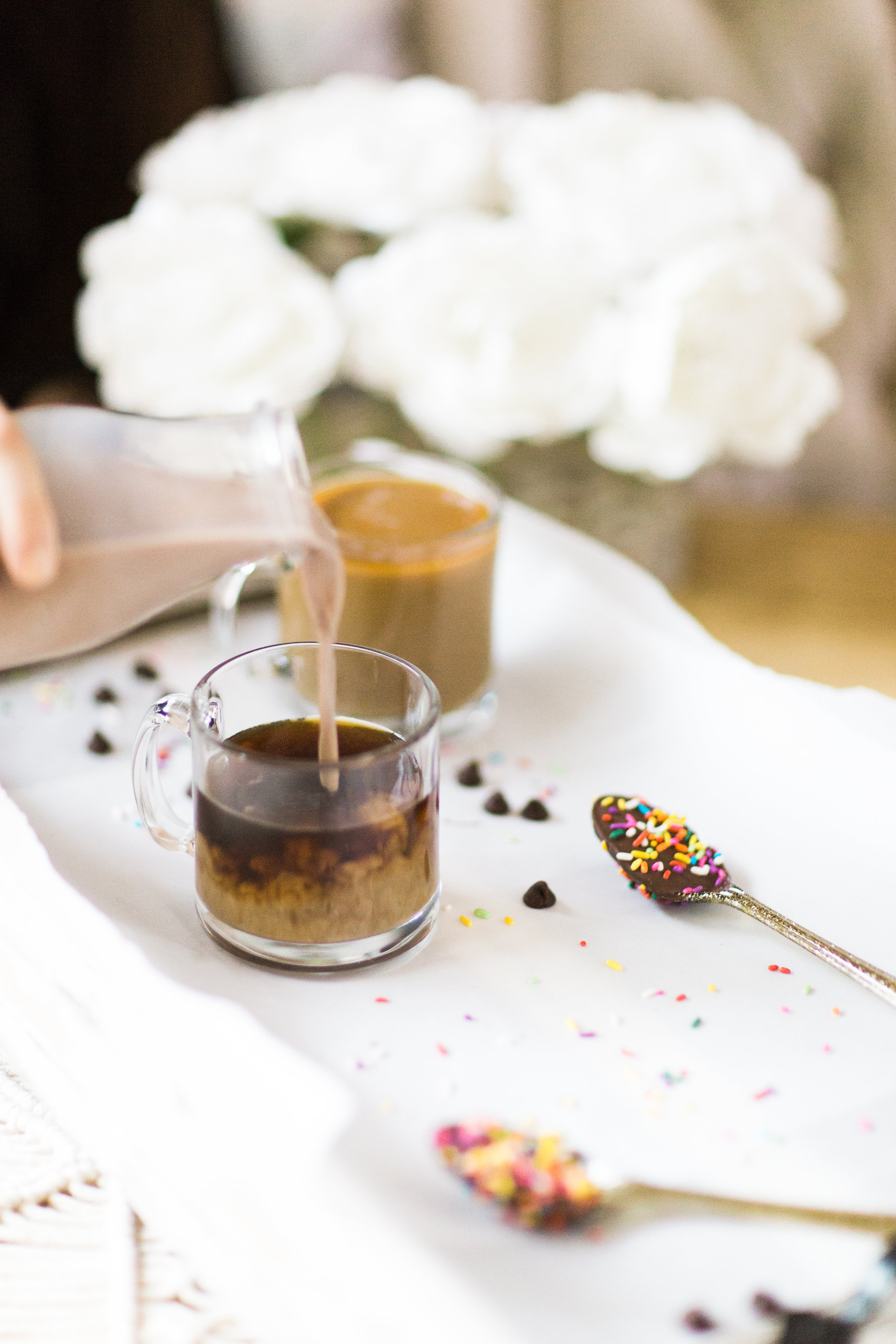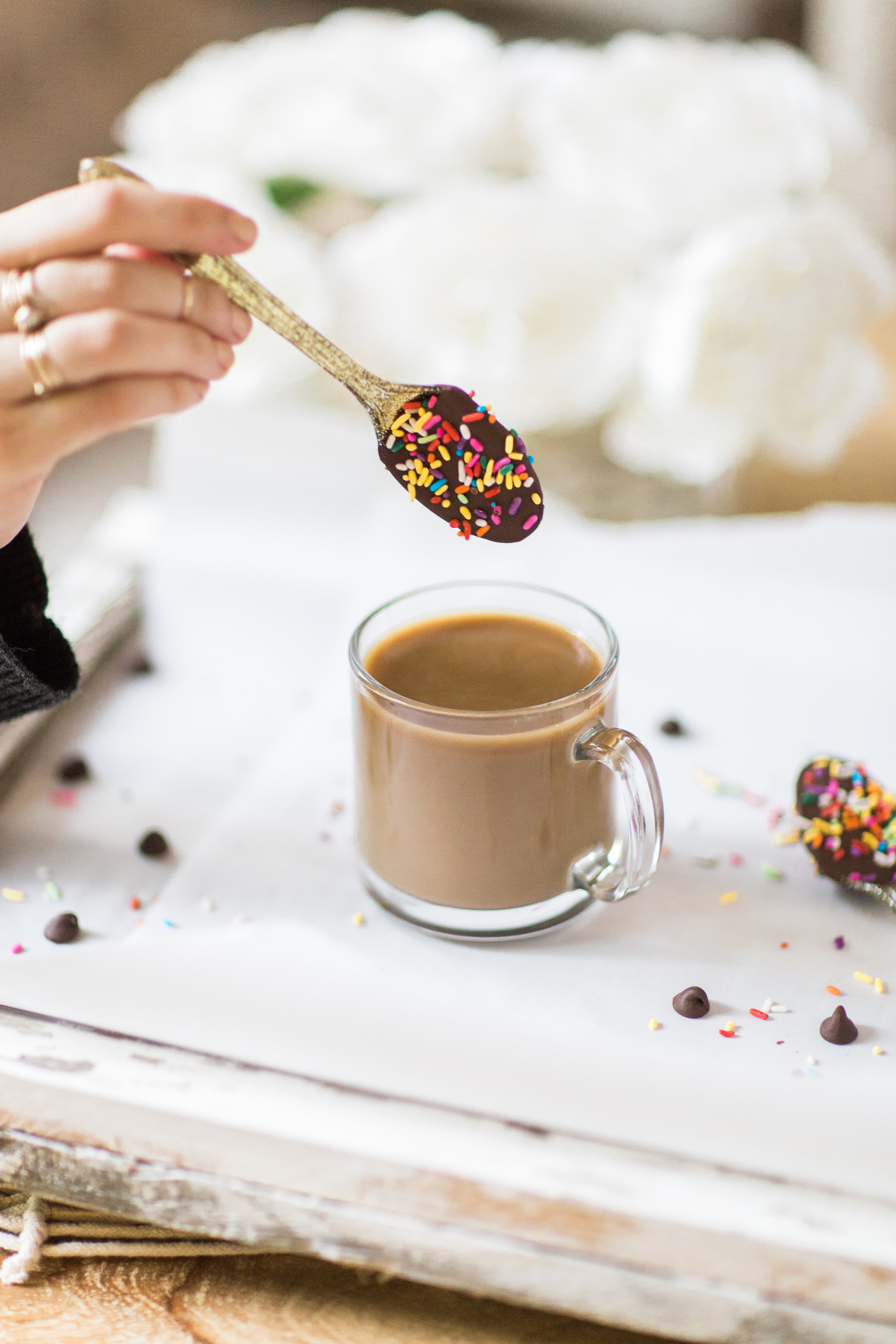 How to Make an Almond Milk Chocolate Glazed Donut Coffee with Chocolate Spoon Stirrer
INGREDIENTS
Bakery Series® Chocolate Glazed Donut Coffee
Chocolate Almond Milk (or Chocolate Cashew Milk)
About 1/3 cup of your favorite baking chocolate
Plastic Spoons (How cute are these gold glitter spoons?)
DIRECTIONS
First, make your chocolate spoons. Melt about 1/3 cup of your favorite baking chocolate in a microwave-safe cup or dish in the microwave. I typically heat my chocolate about 20 – 30 seconds at a time, stirring each time, until chocolate is melted and smooth. Next, dip the bottom 2/3 of the spoon into the chocolate and roll around until entire 2/3 is coated in chocolate. Rest coated spoon on parchment paper and top with sprinkles. Allow to set/cool completely. It will harden within about 30 minutes.*
Brew Bakery Series® Chocolate Glazed Donut Coffee. (If glazed donut isn't your jam, you can try one of the other Bakery Series® Coffee flavors.)
Pour coffee about 2/3 of the way up into a mug, top with chocolate almond milk (or chocolate cashew milk). (You can also warm your milk before pouring into your cup of coffee if you like your cup extra hot.)
Using your chocolate spoon, stir your warm coffee a few times so that the chocolate spoon starts to melt and you get yourself a decadent cup of coffee.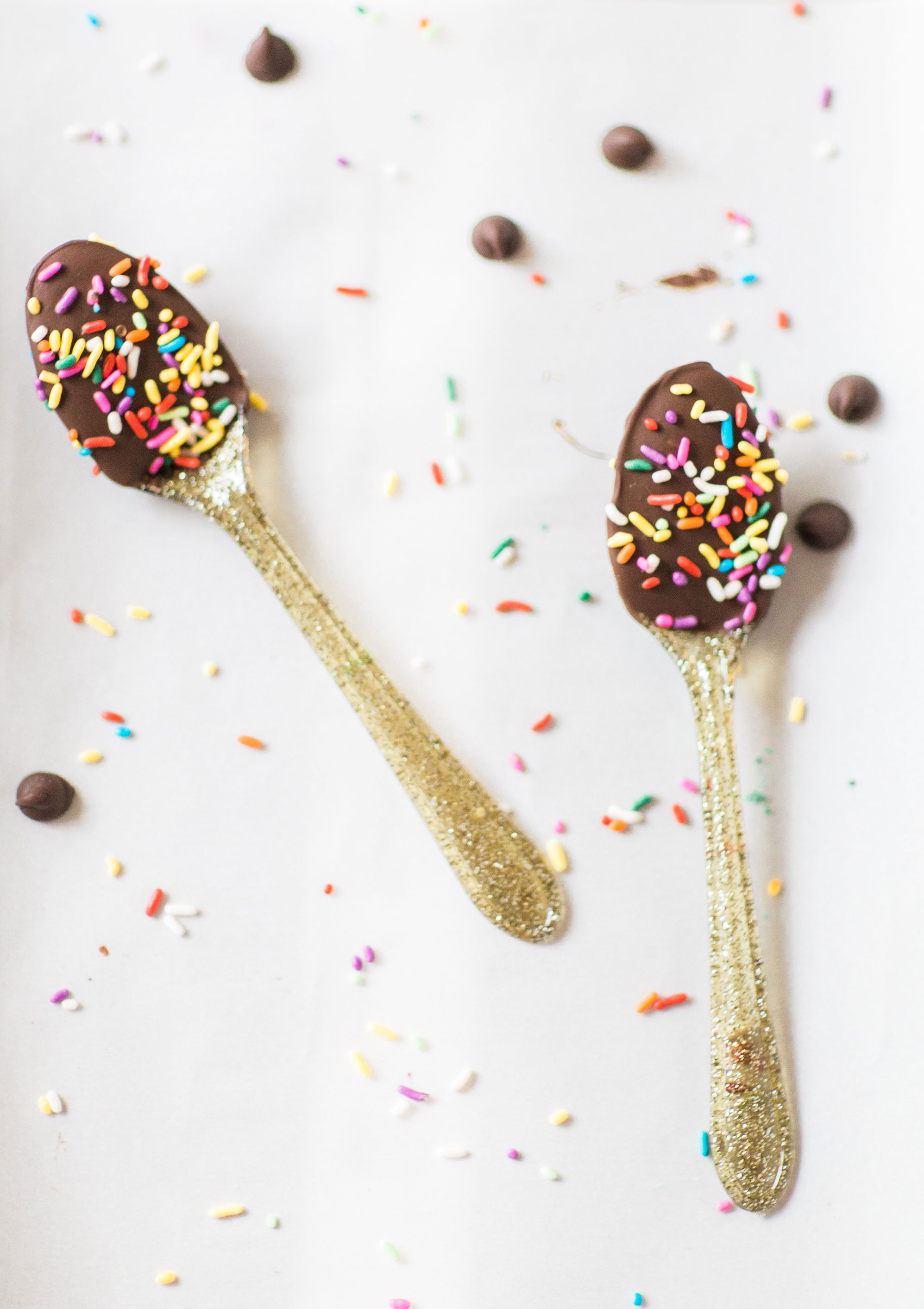 *HINT: Make several of these chocolate spoons at a time and freeze the extras by storing them in an airtight container in your freezer. They hold up really well and can be pulled out whenever you're looking for a little extra indulgence. In my case, that'd be every day.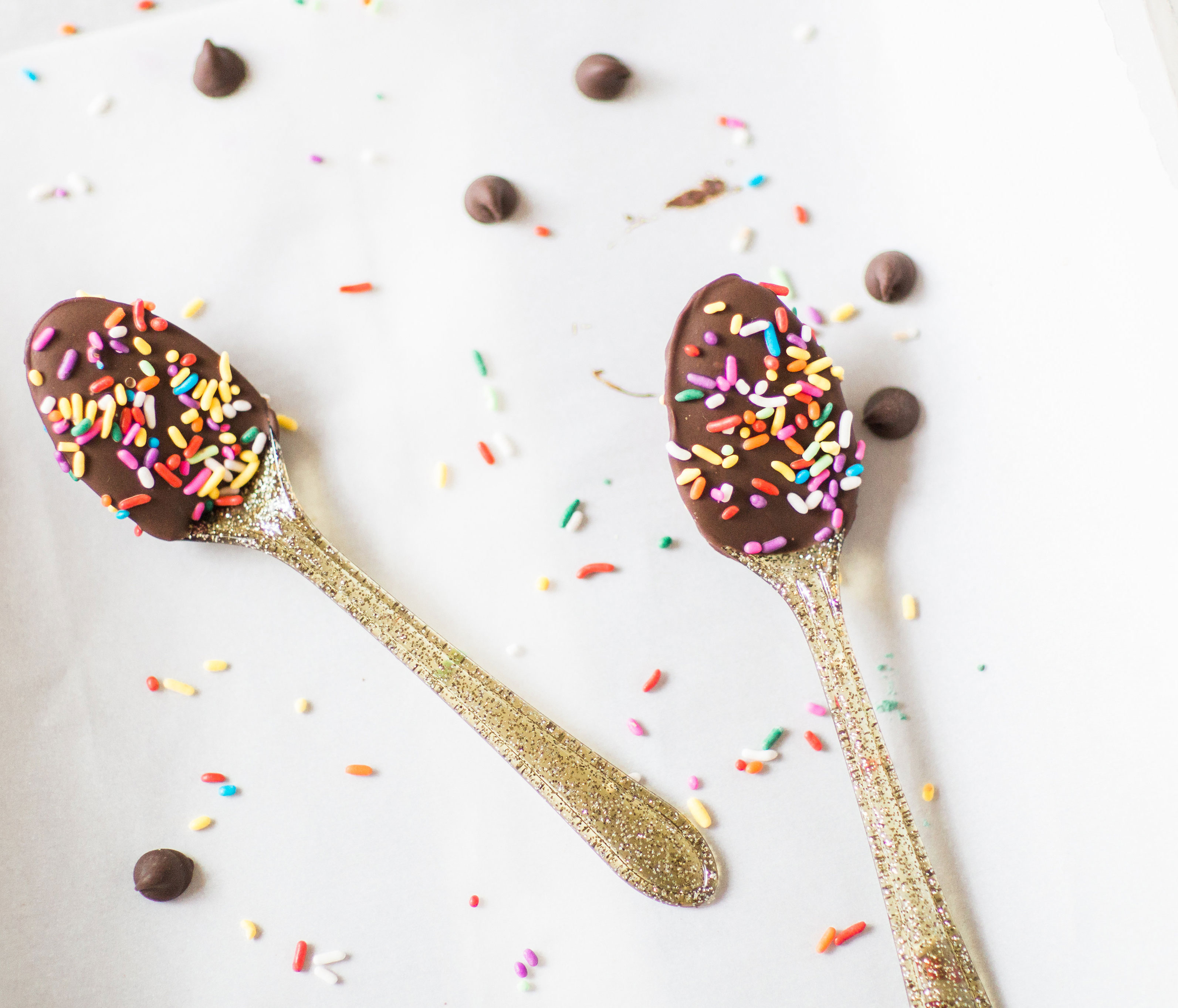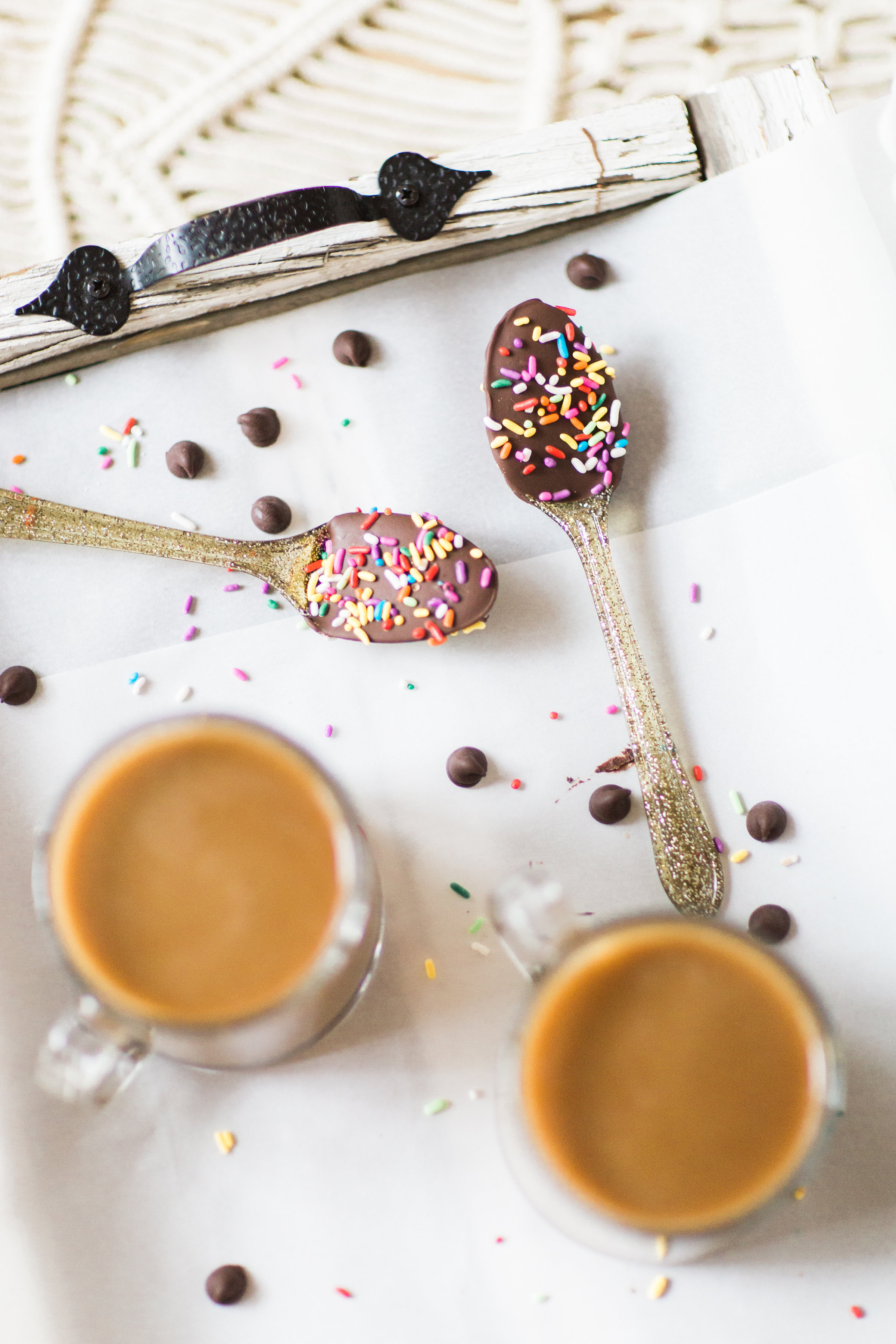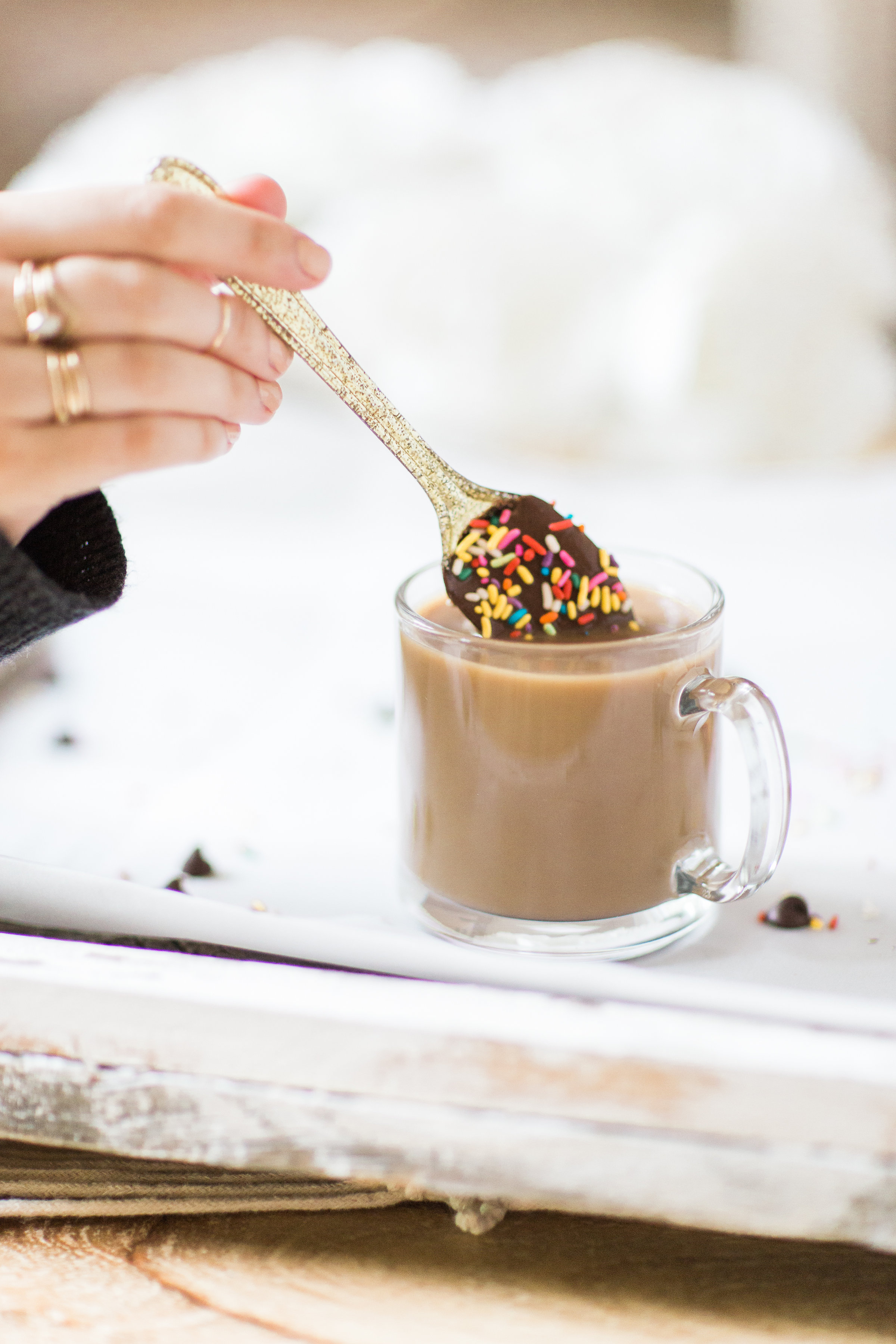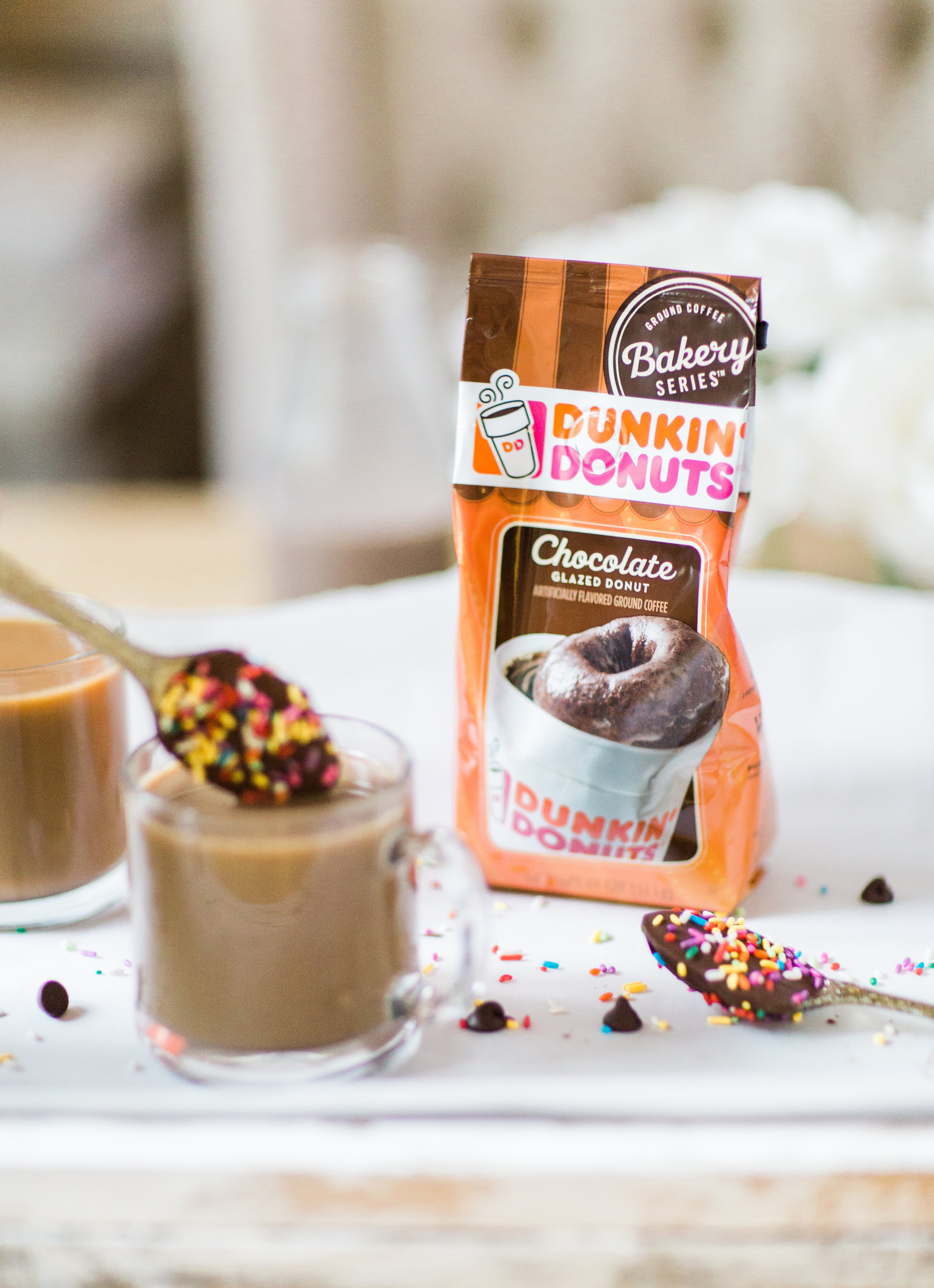 This coffee also tastes GREAT iced. I'll make a pot of the Bakery Series® Chocolate Glazed Donut Coffee, or even use leftover coffee from that morning, let it cool, and then pour it into a pitcher to be kept in our refrigerator for when I'm in the mood for iced coffee.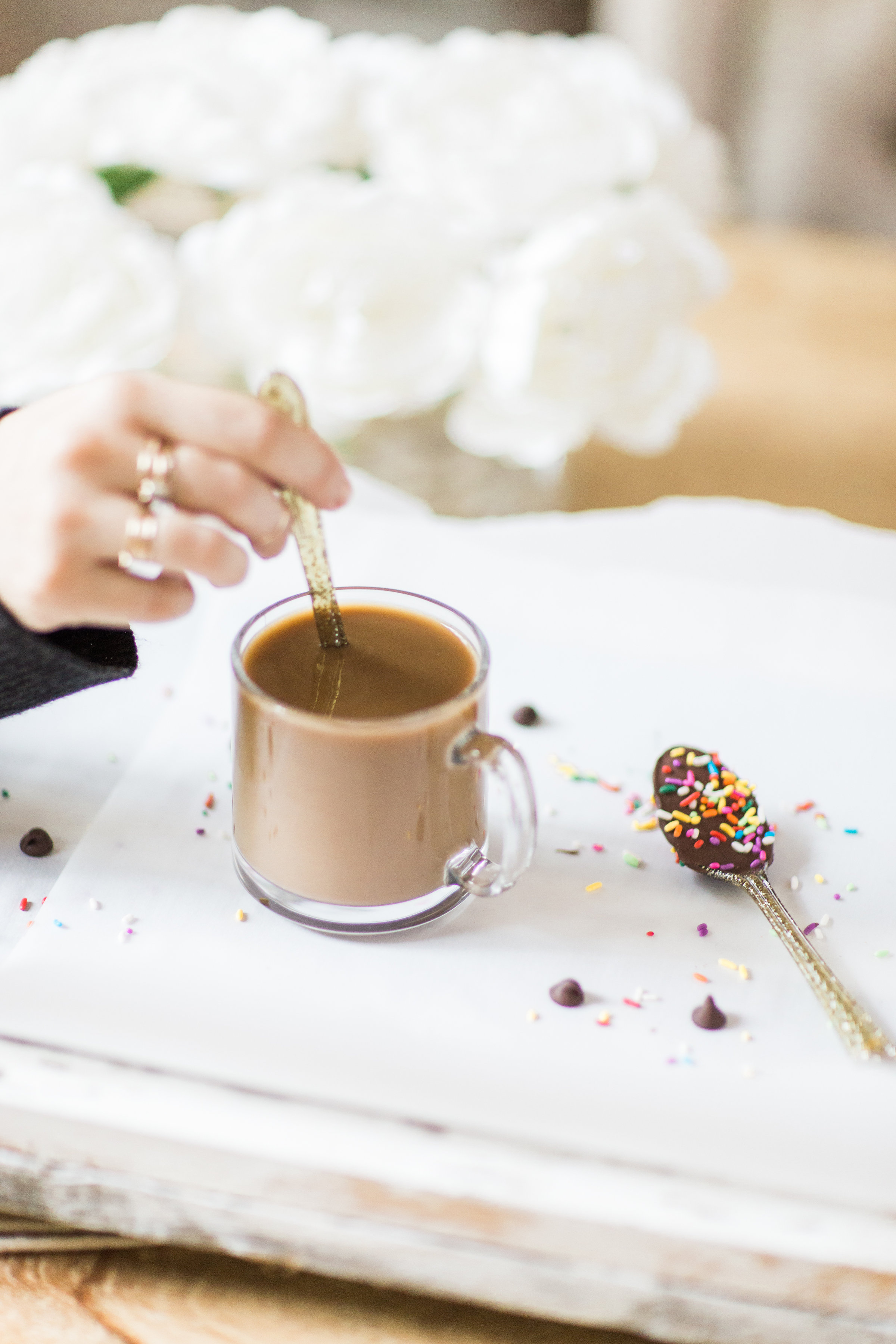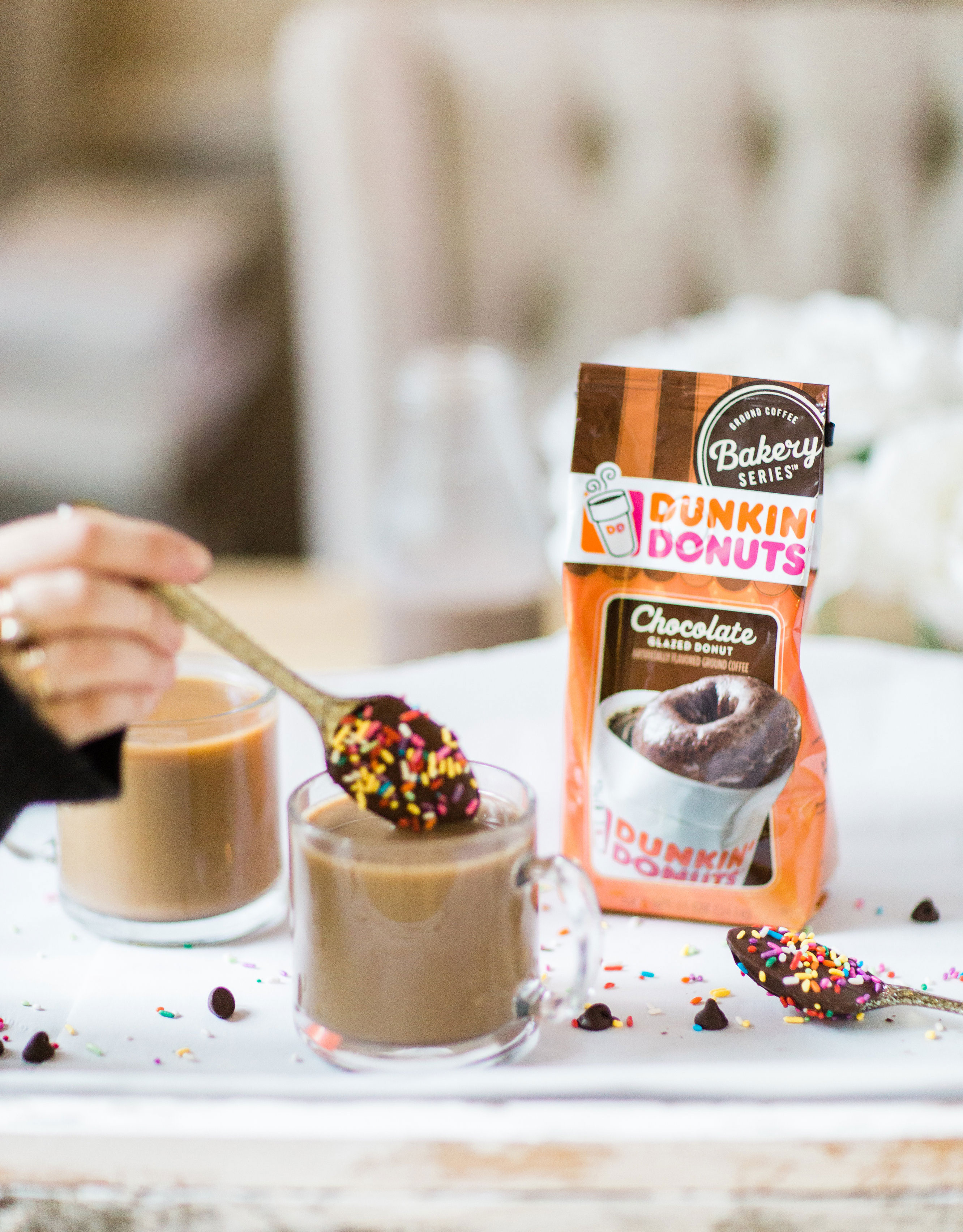 You can pick up your own Dunkin' at Home Bakery Series® Coffee where you buy groceries.