This post contains affiliate links, which means that if you click on one of the product links, I'll receive a small commission. Additionally, as an Amazon Associate I earn from qualifying purchases. Thank you so much for clicking through and helping to support this little blog business of mine! Read more about our site, privacy, and disclosure policies here.
Ever made homemade marshmallows? They are INCREDIBLE. Learn how to make these giant, squishy, pillowy soft, and oh-so much better than store-bought Homemade Raspberry Marshmallows. Perfect for Valentine's Day!
I've recently discovered that making homemade marshmallows is the coolest thing ever. There's just something so magical about watching sugar whip up into marshmallow fluff. And just a couple hours later, the marshmallow sets into a giant squishy pillow. You can't help but feeling like a kid in a candy shop. Tender, and oh-so much better than store-bought: Homemade Raspberry Marshmallows are where it's at.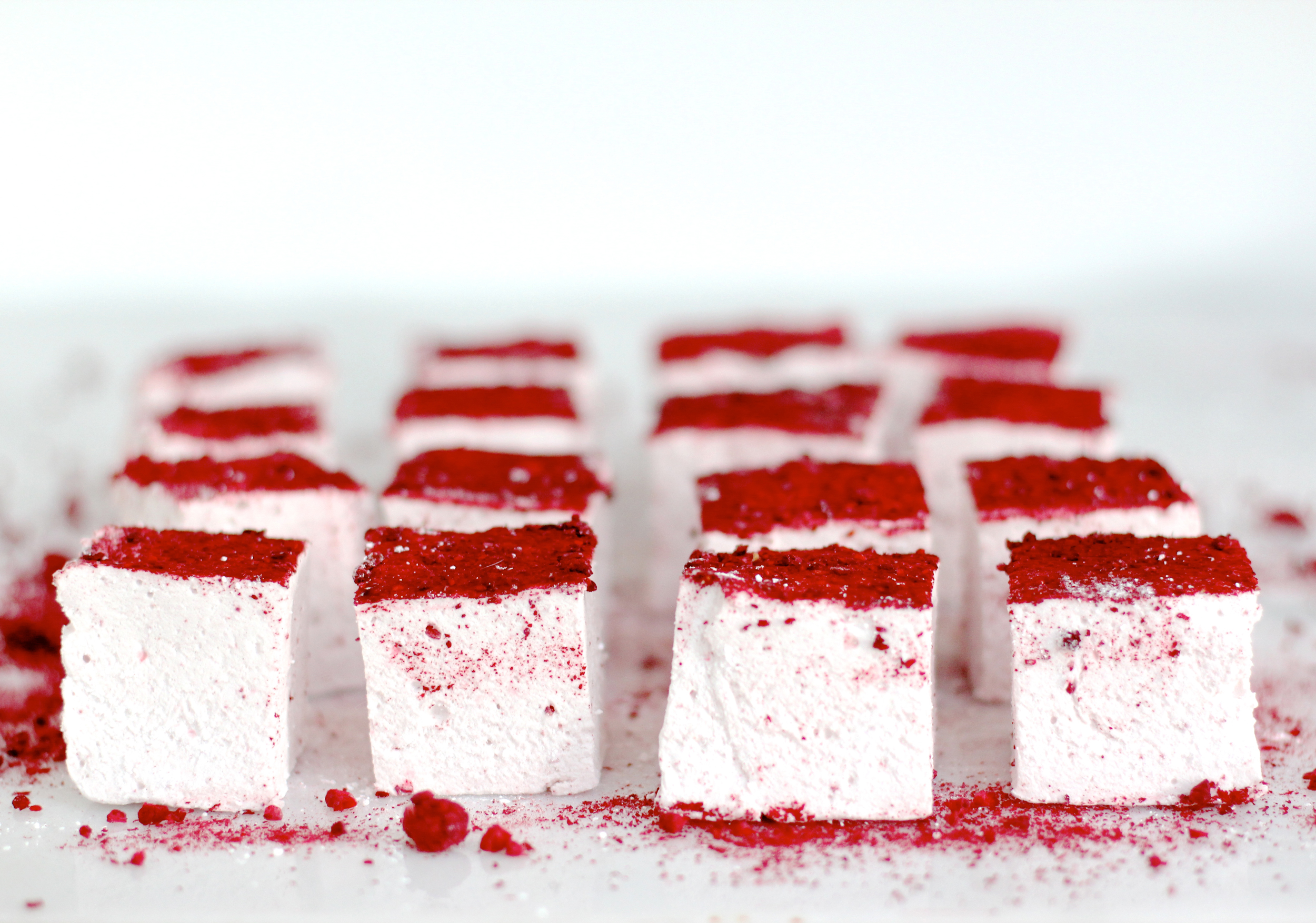 And as it turns out, homemade marshmallows are actually incredibly simple to make. They start with a simple base: gelatin, water, white sugar, and corn syrup. From there, you can customize to any flavor imaginable. Marble with chocolate and sprinkle crushed graham crackers – you've got yourself s'mores marshmallows. Or mix in rainbow sprinkles for a funfetti flavor?! Yes, please.
Today, we're adding vanilla extract and freeze dried raspberries. The result: the most tender, soft & sweet raspberry clouds – an absolute must for Valentine's Day. These big & fluffy homemade Raspberry Marshmallows have a tart bite with the underlying sweetness of vanilla – the combo is magical.
Psst … if you're looking for other Valentine's Day dessert ideas, why not try our strawberry cheesecake macarons, Oreo macarons, nutella-chocolate covered strawberries, or the best ever red velvet cupcakes with cream cheese frosting?
Make these homemade raspberry marshmallow treats for your sweetheart this Valentine's Day. (Made with love, of course!) One bite, and you'll be together forever.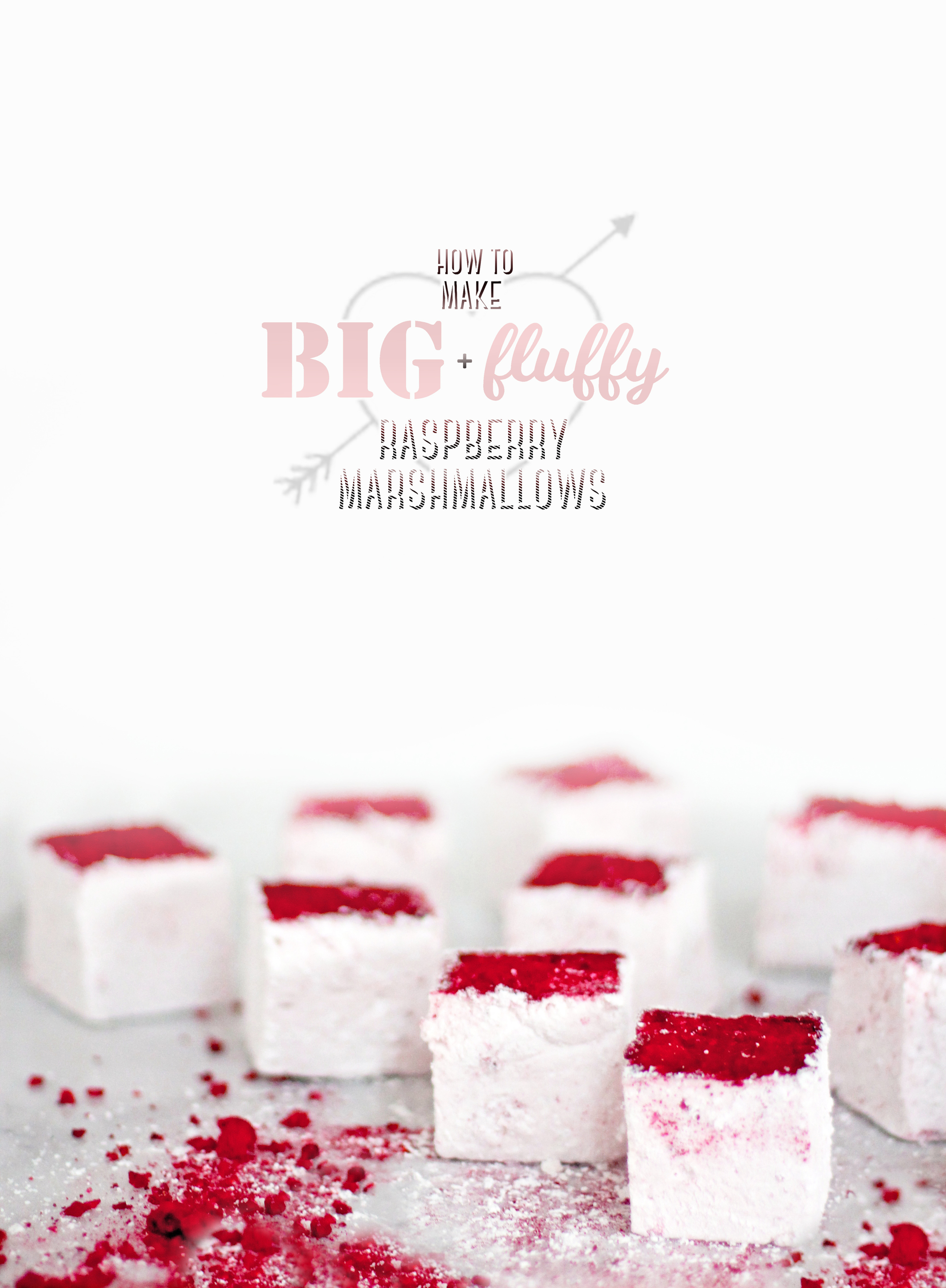 Big & Fluffy Raspberry Marshmallows
Yields 16 large marshmallows
INGREDIENTS
½ cup powdered sugar
¼ cup cornstarch
1 cup hot water, divided
3 ½ envelopes powdered gelatin (unflavored)
2 cups white sugar
½ cup light corn syrup
¼ teaspoon salt
2 large egg whites
1 tablespoon vanilla extract
1 package freeze-dried raspberries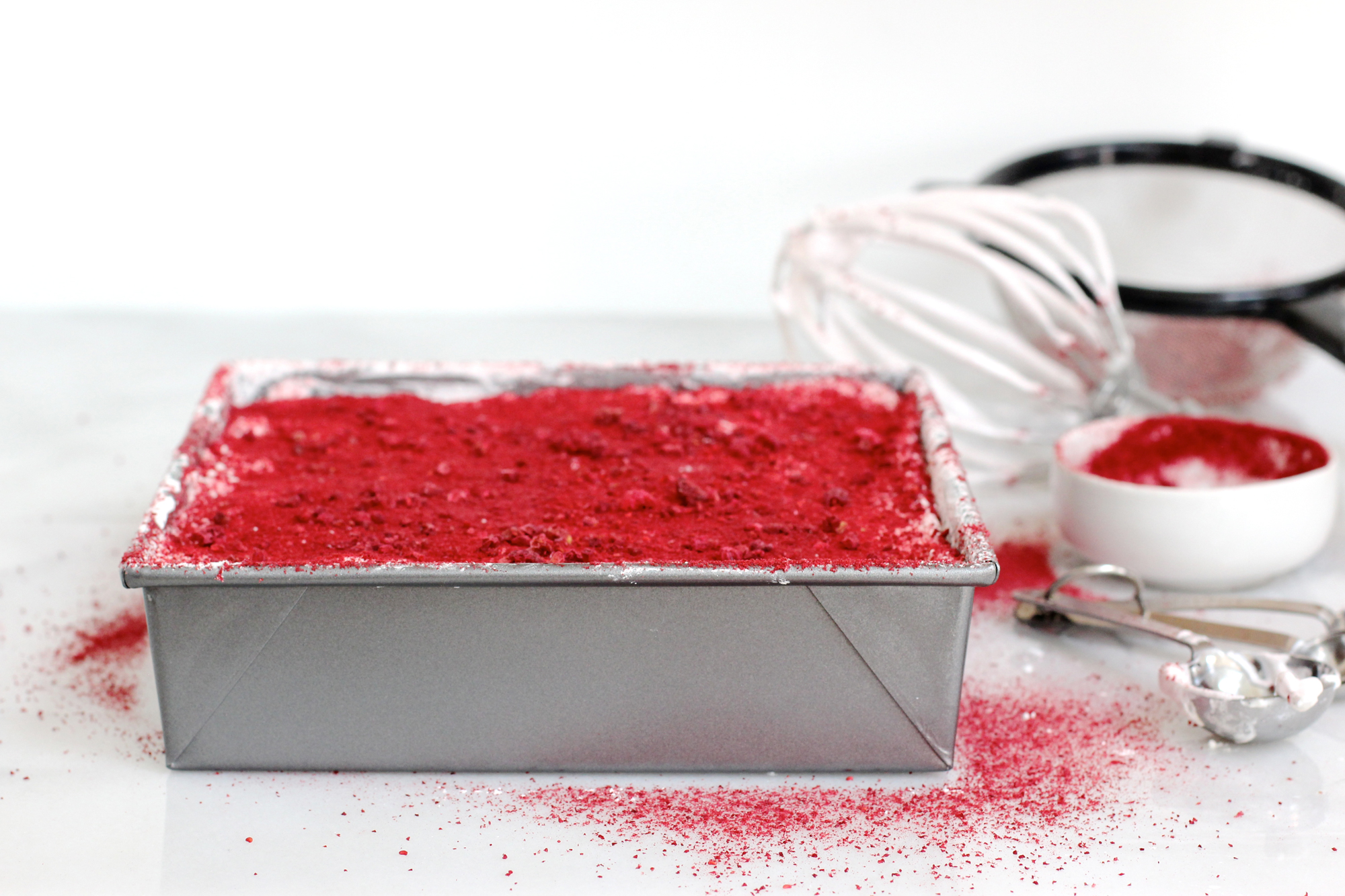 DIRECTIONS
1. Mix together the powdered sugar and cornstarch. Prepare an 8 by 8 inch pan by coating with coconut oil or nonstick spray, lining the bottom with parchment paper, and dusting the bottom and sides heavily with the cornstarch and powdered sugar mixture.
2. In a blender or food processor, pulse freeze-dried raspberries until they are a fine powder. Then, in the bowl of a stand mixer beat the egg whites until white & fluffy. Set them aside.
3. Clean out your stand mixer and pour in ½ cup of the hot water. On top, sprinkle with the 3 and ½ packs of powdered gelatin and mix until dissolved. Let this mixture stand for 10 minutes.
4. While the gelatin and water mixture sits, combine the white sugar, corn syrup, and remaining ½ cup of hot water in a heavy saucepan. Bring the mixture to a boil over medium heat, stirring until the sugar dissolves. Once a candy thermometer reads exactly 240 degrees, remove from the heat.
5. Very carefully, stream the hot sugar mixture into the bowl of the stand mixer (over the gelatin), stirring on the lowest speed until the gelatin is dissolved and the mixture is homogenous. Once all of the hot sugar mixture is in the bowl, turn your mixer up to high speed and beat the marshmallow until it has become white, thick, and almost tripled in volume (about 6 minutes.)
6. Next, add in the whipped egg whites, vanilla extract, and half of the powdered freeze-dried raspberries. Continue whipping the marshmallow for another 5-6 minutes. Then, pour the marshmallow into your prepared 8 by 8 inch pan, smooth with a spatula, and dust the top with the remaining powdered freeze dried raspberries.
7. Once the marshmallow has firmed up (about 3 hours at room temperature), run a knife around the edges of the pan and invert onto a cutting board. Coat the knife with the powdered sugar and cornstarch mix, and slice the marshmallow into big cubes.
8. Lightly coat the sticky edges of each marshmallow cube with the powdered sugar and cornstarch mix. Store them in an airtight container for up to 1 week – (or pop 'em in your mouth and enjoy immediately!)