This post has been sponsored by American Greetings. All thoughts and opinions are my own. Thank you for supporting the sponsors who help to make Glitter, Inc. possible!
This summer, we have parties on the brain. Mostly, because at the beginning of July, Scarlett turned three! We had a party at her summer camp, a little family dinner party, plus a birthday celebration with my parents when we were in Maine, and just yesterday, we threw her big birthday bash at our house with all of our North Carolina friends. I'm pretty sure Scarlett thinks her birthday just IS the month of July, rather than one day in July. And really, who can blame her?
I don't know about you, but Target has always been my go-to for party decorations. Target's party supplies collections simplify the party planning process and as all mamas know, Target really is a one-stop shop. (Especially if you plan to leave with all of your groceries, party supplies, two throw pillows, a new pair of sandals, and summer gear for the kids. #guilty. Plus, with online shopping, and my red card, I can basically do all of that from the comfort of my sofa.)
This summer, their huge party supply section has really saved the day with all of these little parties we've thrown, especially when she has very specific requests for a toddler: "I want a 'My Little Pony Party' with ponies and cookies and glitter." "I want a mermaid party with an octopus and cupcakes." The list goes on and on. Thankfully, I can enlist her help, and we've had so much fun picking out party supplies and decorating.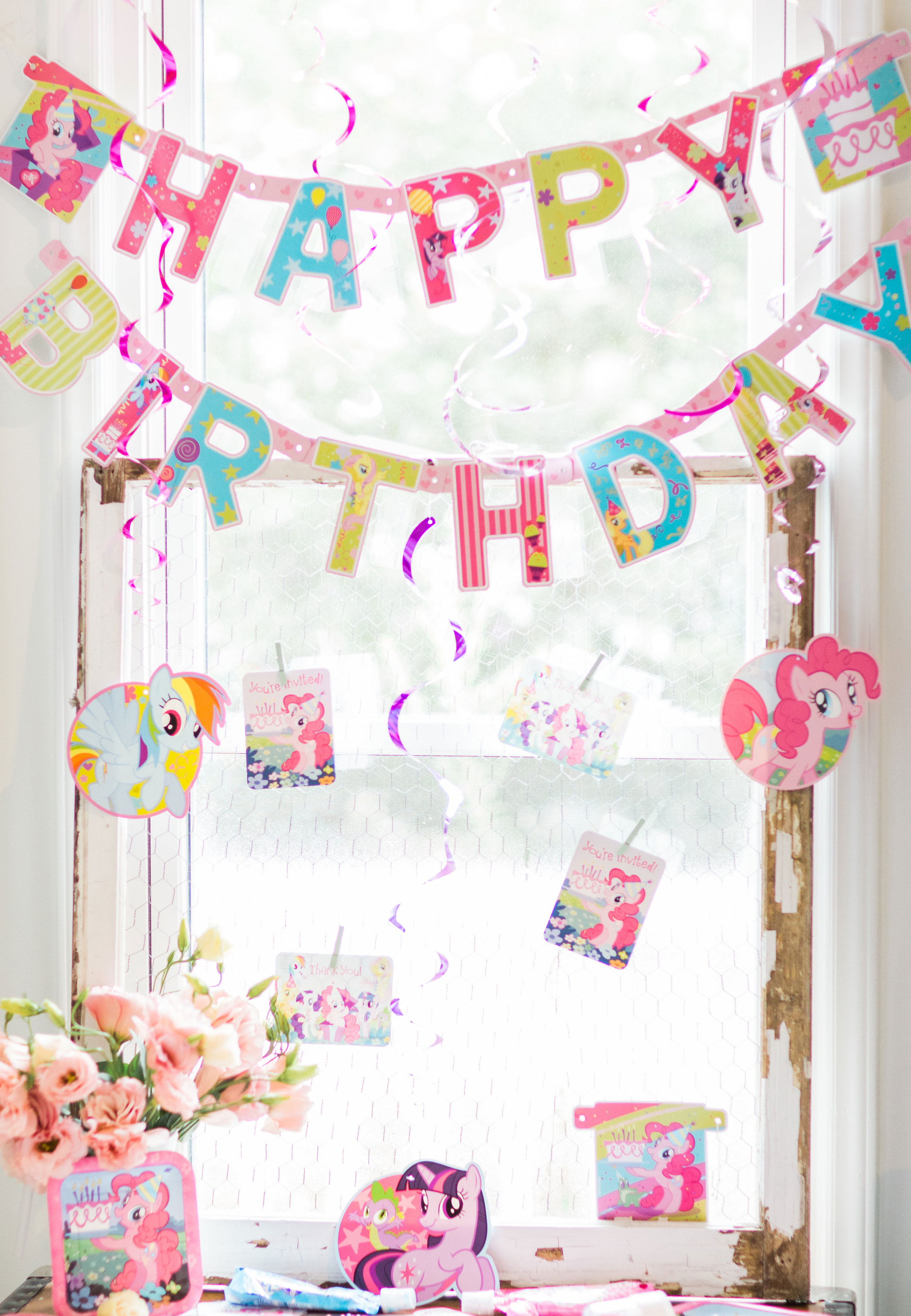 So we set out to throw a small My Little Pony© 2017 Hasbro  party, complete with cookie decorating station.
We were actually able to find everything we needed online for her My Little Pony party. The party supply selection at Target online is huge, with so many children's movie and tv show themed party supplies (i.e. Disney Princess, Paw Patrol, Finding Dory, My Little Pony, Trolls, Mickey Mouse Clubhouse) including napkins, plates, party favors, table covers, piñatas, and so much more.
I was also able to order my sugar cookie ingredients (grab the recipe for our favorite sugar cookies to decorate here) and all of the frosting and sprinkles for decorating our cookies online as well. By the way, make-and-break style sugar cookies, from the refrigerated section, totally work too! Remember, throwing a kids' birthday party should be FUN.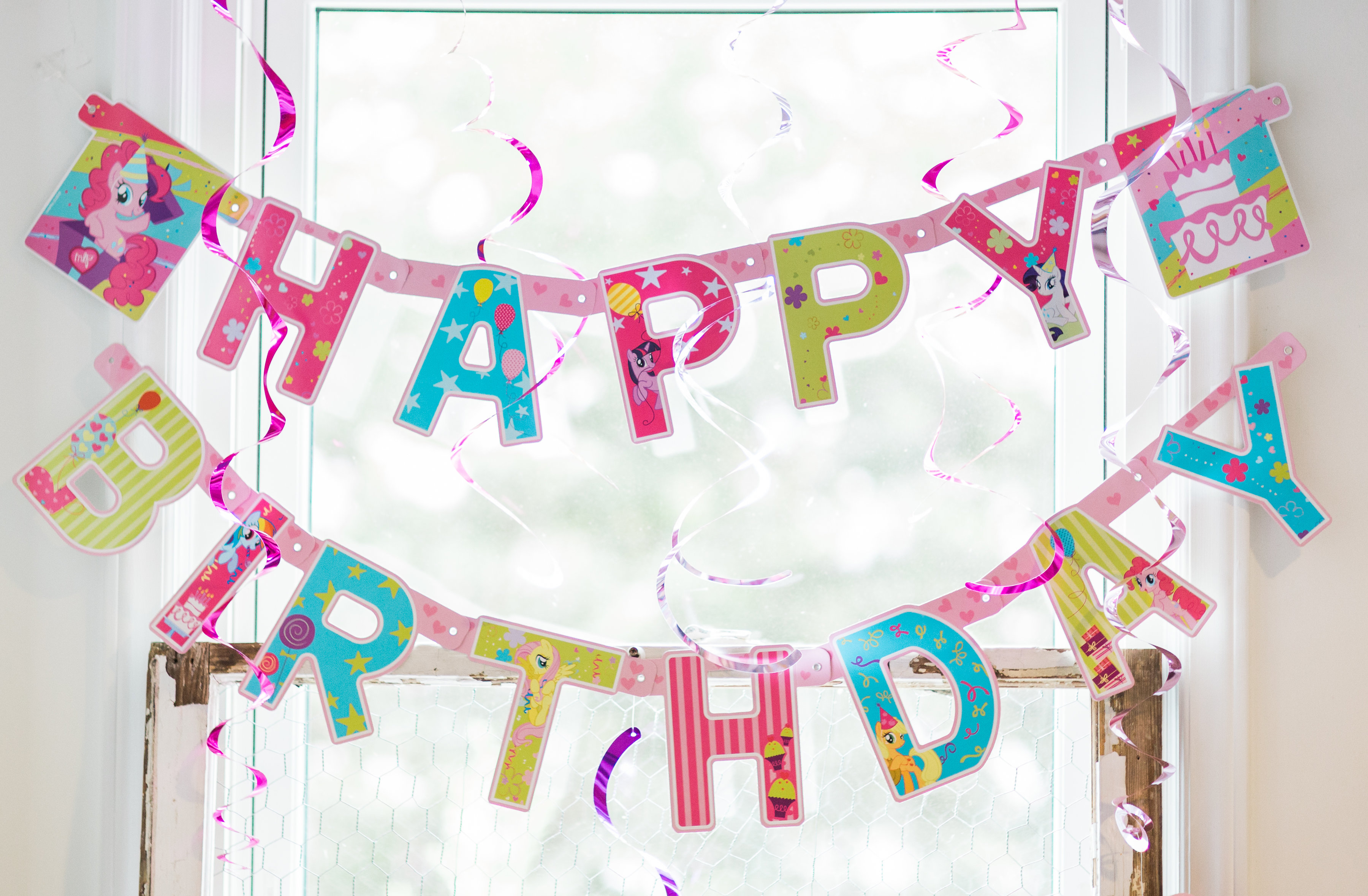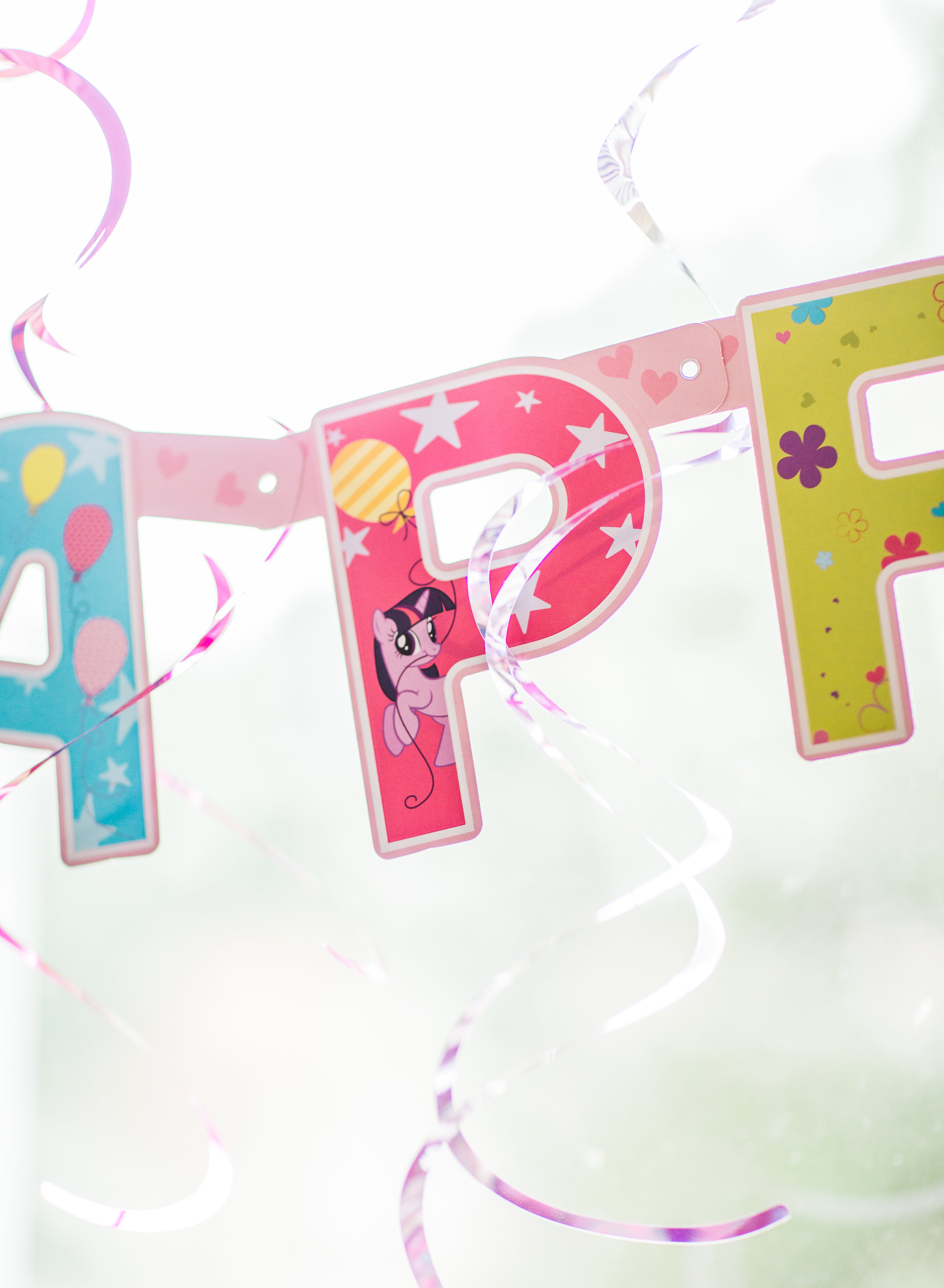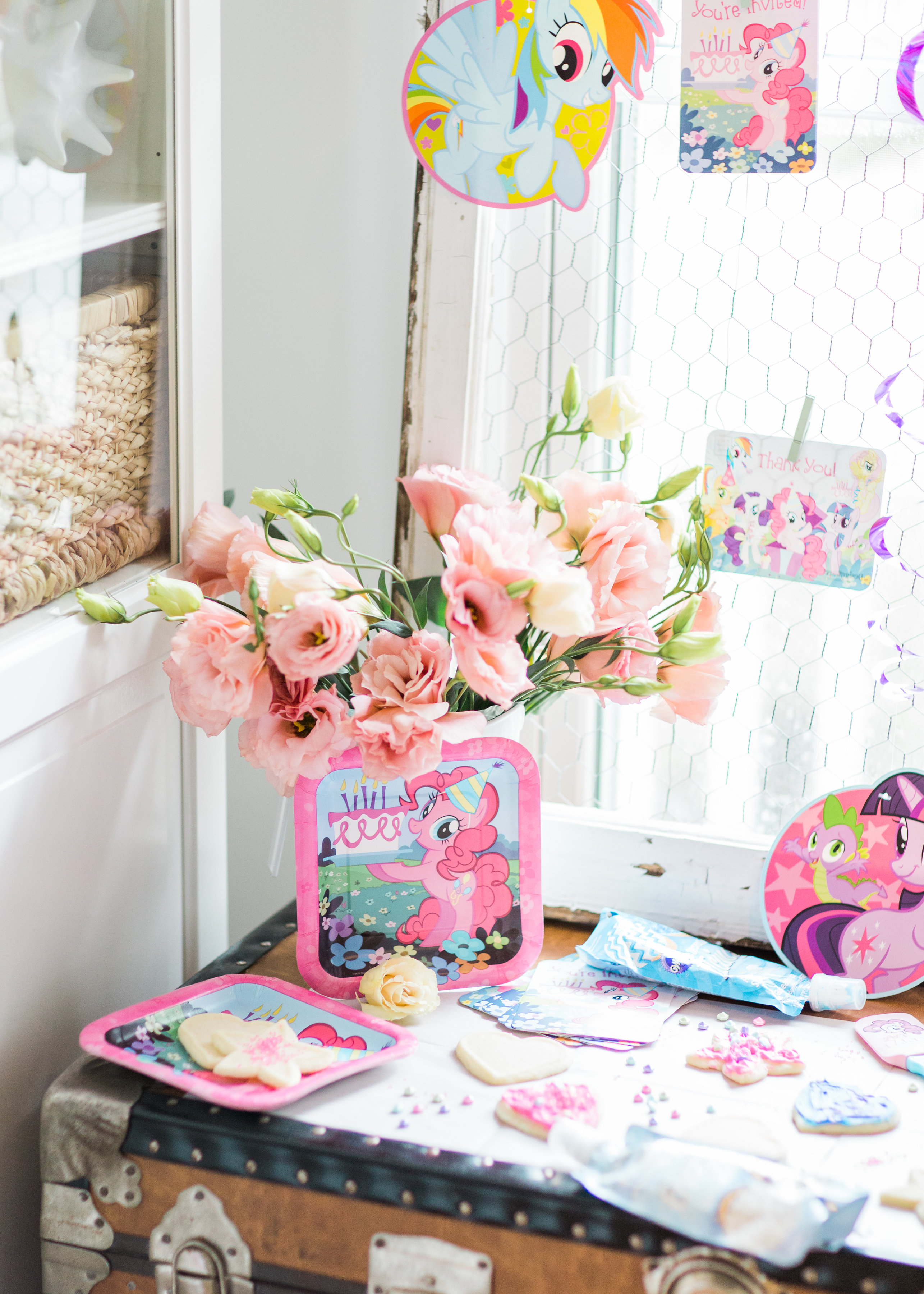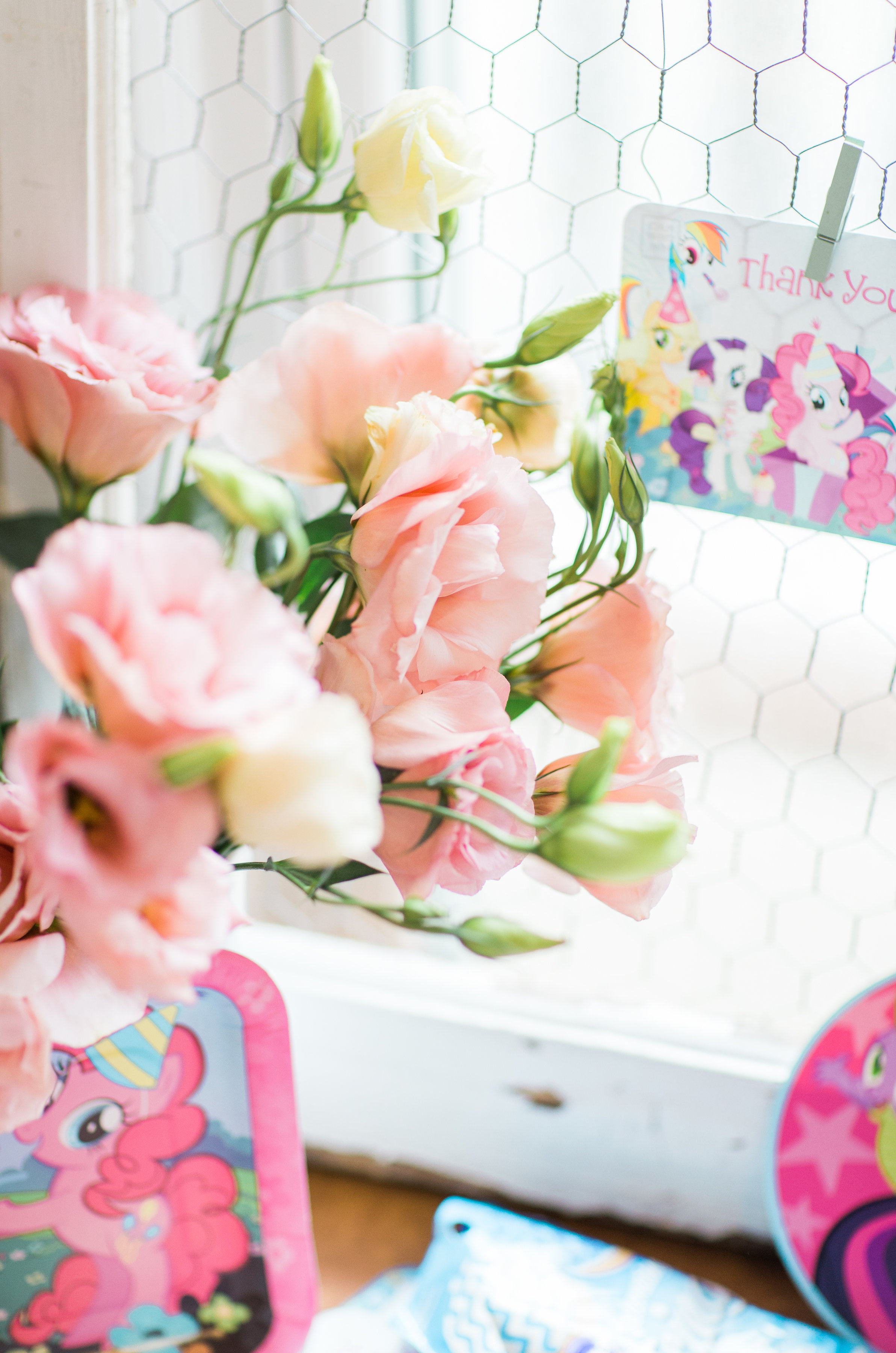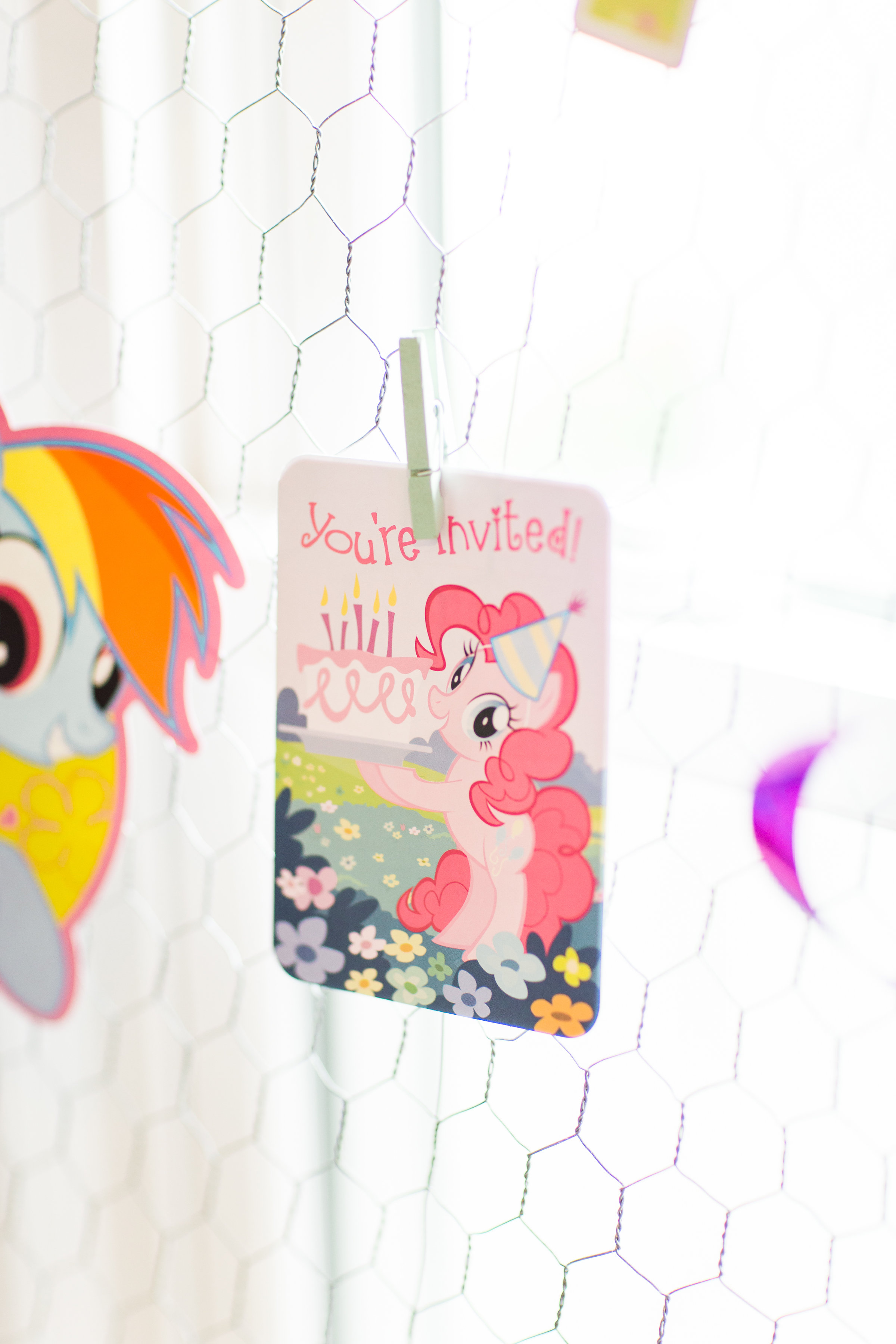 We even made a little DIY "inspiration station" – a.k.a., wall – where kids could see the colors of their favorite ponies, and use those ideas to decorate their own 'My Little Pony inspired' cookies. I used a chicken wire frame in our house, though a cork board or magnetic board would work just as well, and hung things like 'My Little Pony' invitations and thank you cards, and voilà: an inspiration station!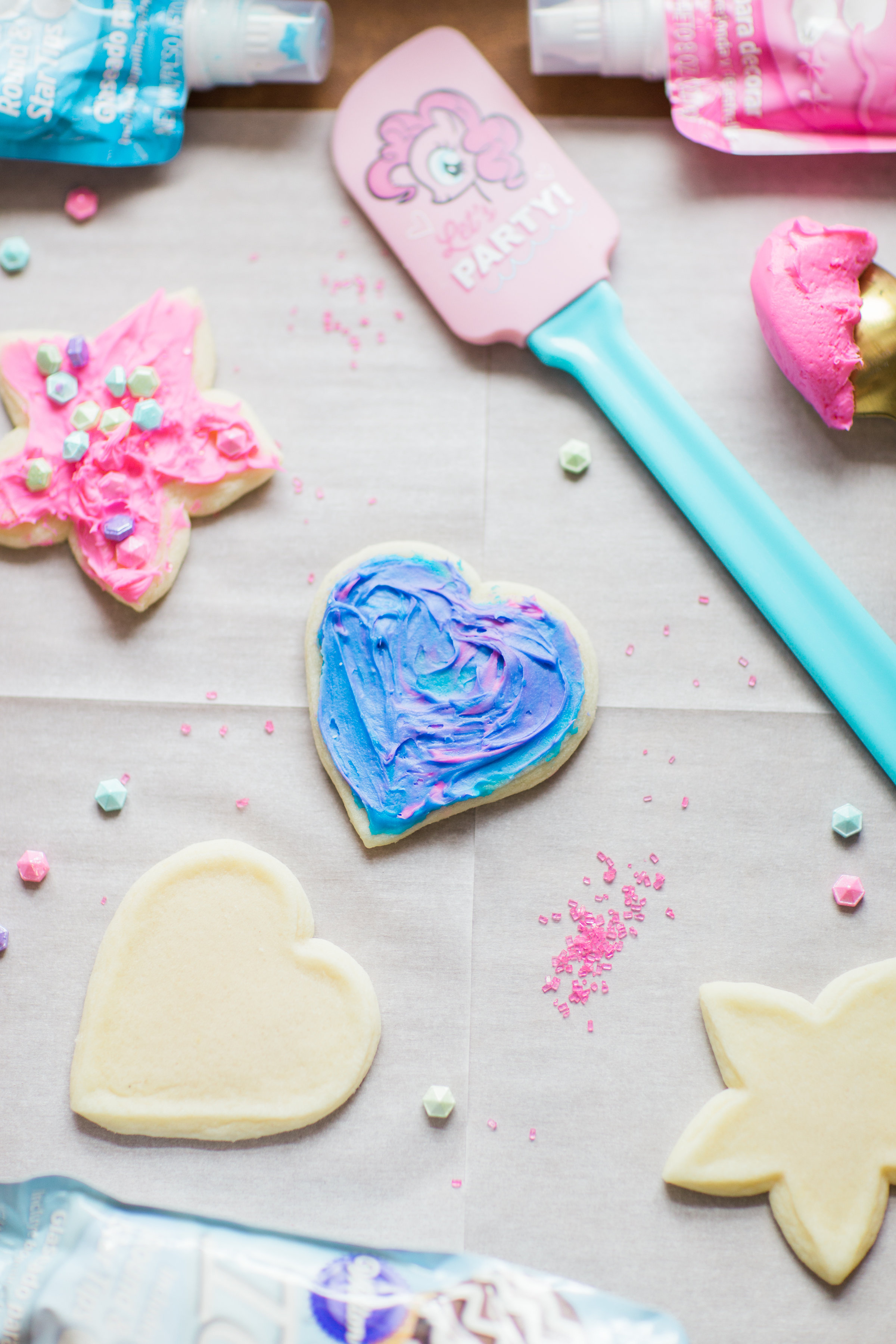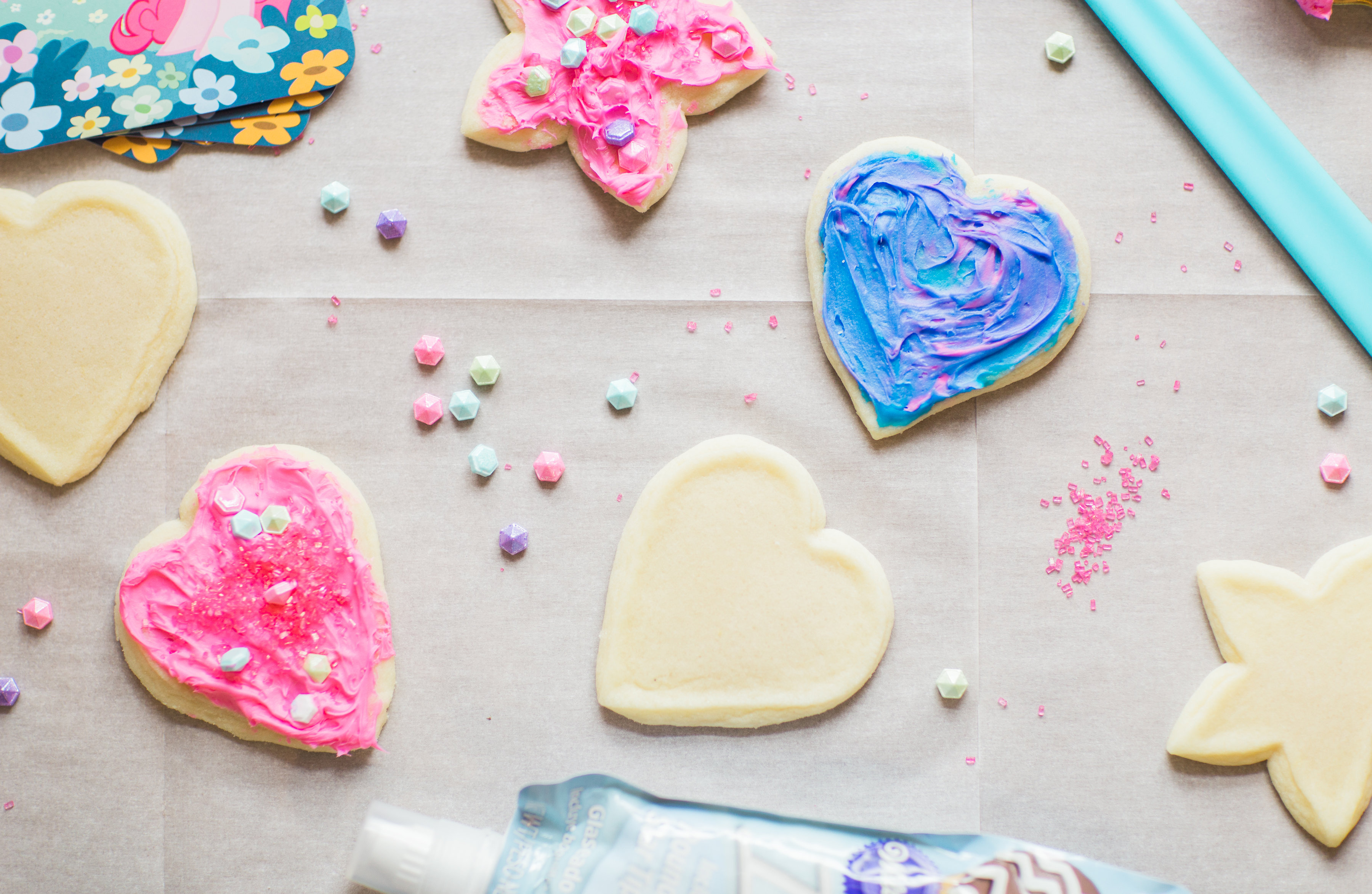 And what kid (or grownup for that matter), doesn't love decorating their own cookies?
I made sure to have stacks and stacks of sugar cookies, ready to be decorated, and all different colored frostings, plus three different types of sprinkles. We also had plenty of 'My Little Pony' plates and napkins for our cookie creations.
Scarlett spent most of the time licking frosting off of her fingers and piling sprinkles onto her sugar cookies, her daddy spread as much frosting onto every cookie as possible for his perfect mostly-frosting cookie, and I of course, patiently created intricate tie dye patterns, like a true nerdy mama.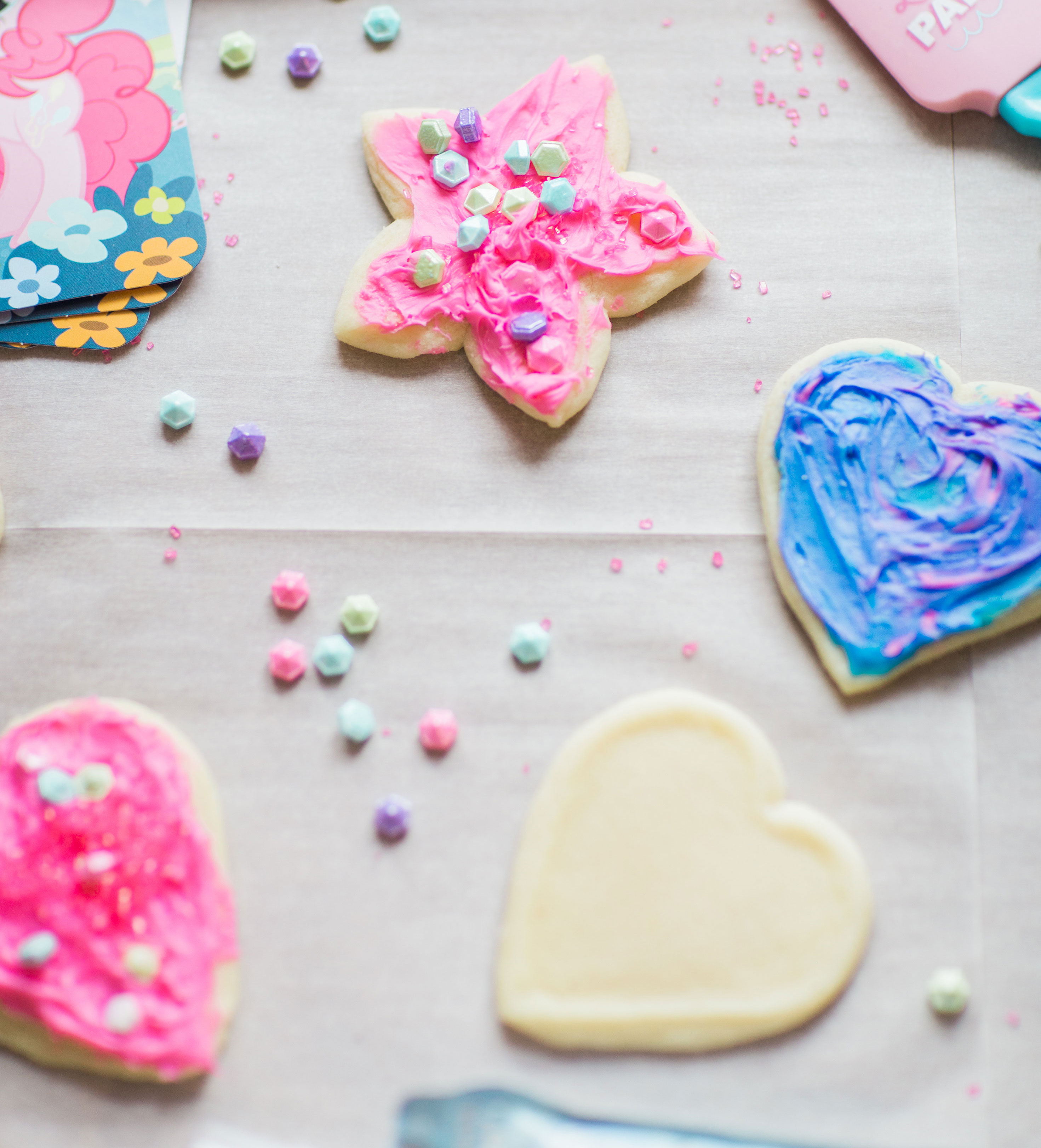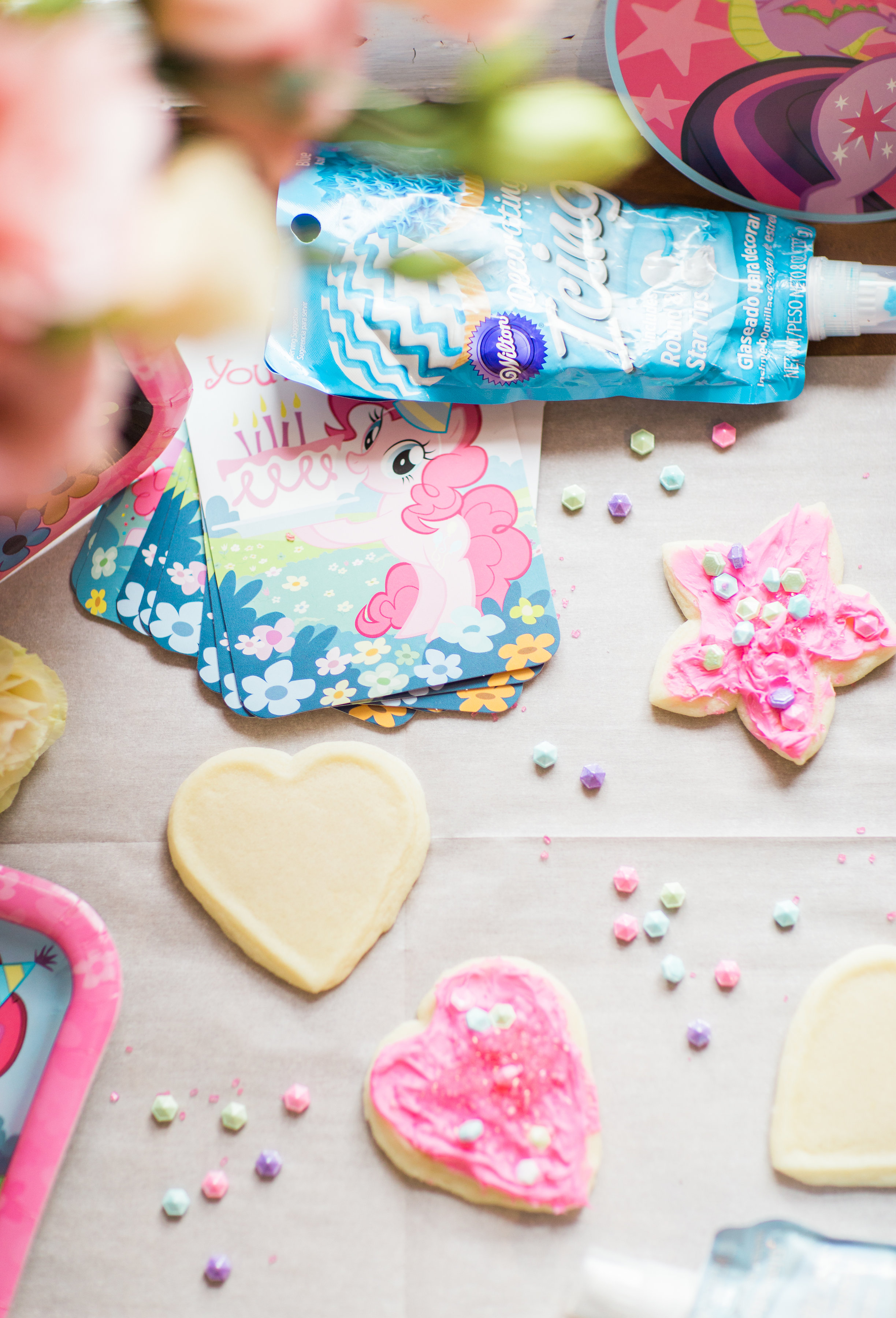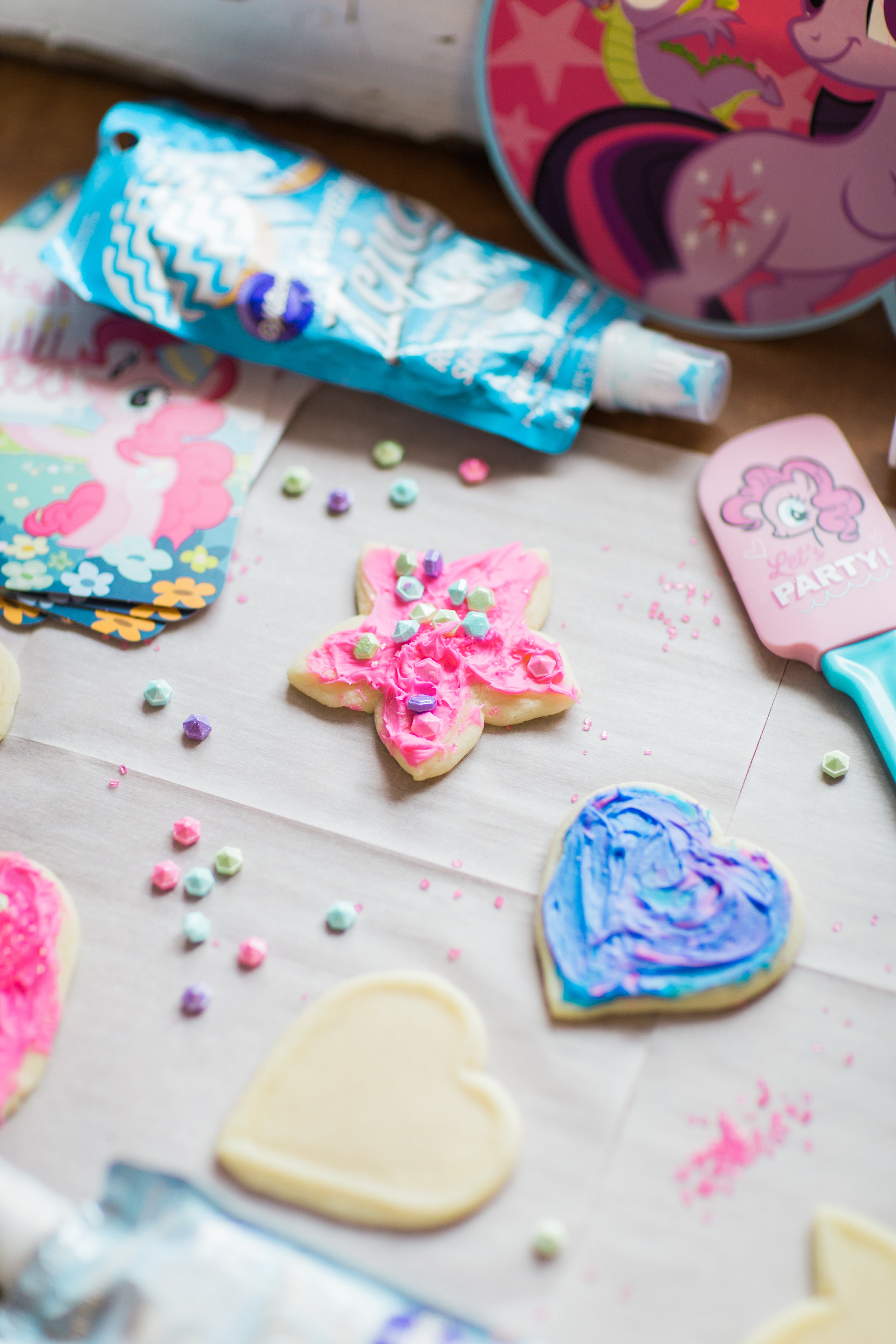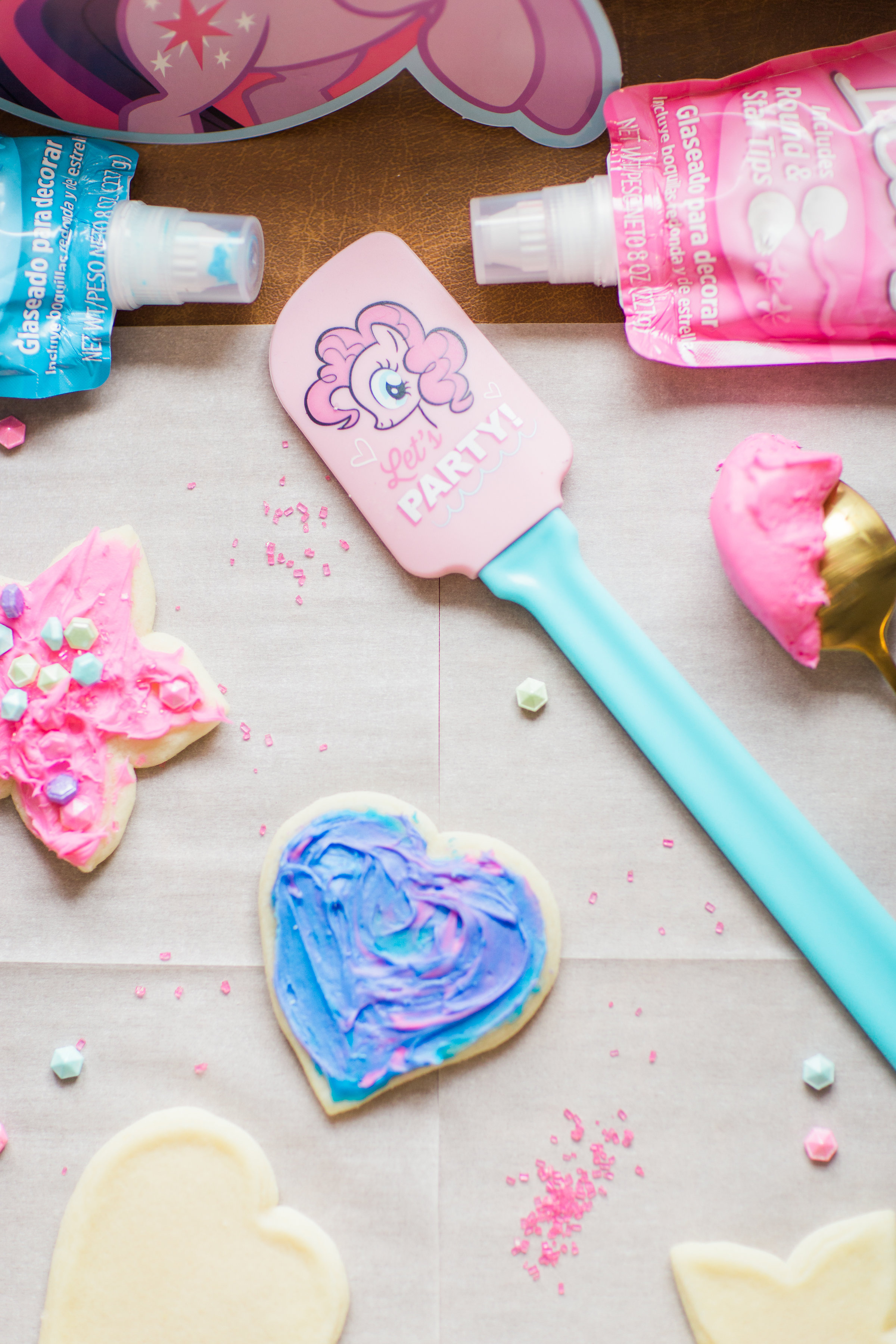 Make things easy on yourself and get all the supplies you need for your kids next birthday party without leaving your house by visiting target.com.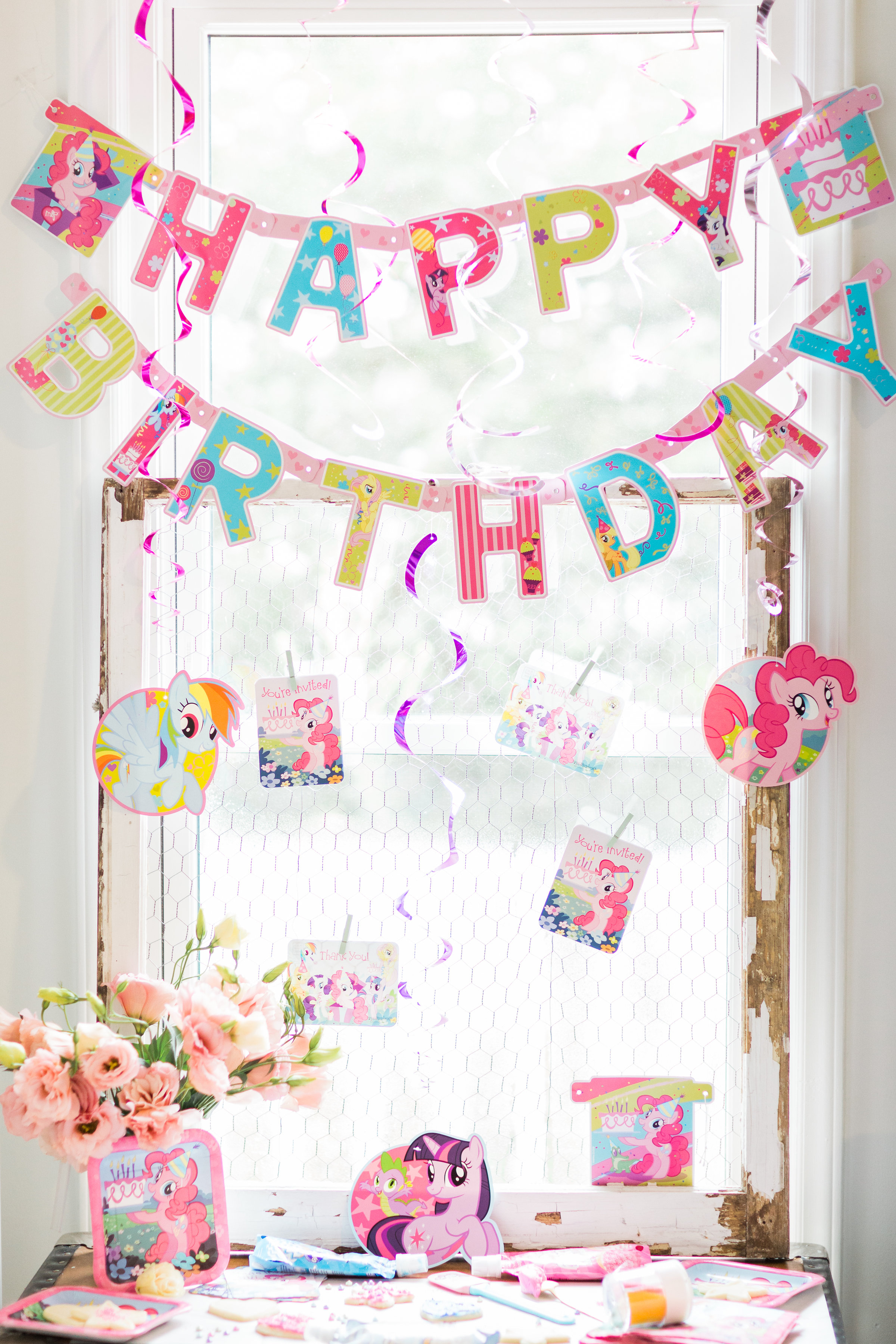 Love this post? See more of our parties here.
Photo by Annie Watts Photography for Glitter, Inc.
This post contains affiliate links, which means that if you click on one of the product links, I'll receive a small commission. Thank you so much for clicking through and helping to support this little blog business of mine! Read more about our site, privacy, and disclosure policies here.