Great Wolf Lodge provided a press discount for our visit. This post contains affiliate links, which means that if you click on one of the product links, I'll receive a small commission. Thank you so much for clicking through and helping to support this little blog business of mine! Read more about our site, privacy, and disclosure policies here.
Planning a family trip to the Great Wolf Lodge? We're sharing all about our long weekend vacation at Great Wolf Lodge in New England (just outside of Boston), and how to have the best time ever with your kids.
A few weekends back we surprised our girls and took our little family to Great Wolf Lodge here in Massachusetts to celebrate Emme's second birthday. Just outside of Boston, the Great Wolf Lodge resort in Fitchburg is a huge indoor water park, and totally kid-focused hotel and resort.
We had actually been to a Great Wolf Lodge once before in North Carolina on a press trip, so I knew the girls were going to have a blast. The New England Great Wolf Lodge is absolutely huge. Basically, it's a casual indoor resort geared towards families with kids. Booking a room at the resort includes entrance to the indoor water park and a whole host of kids activities.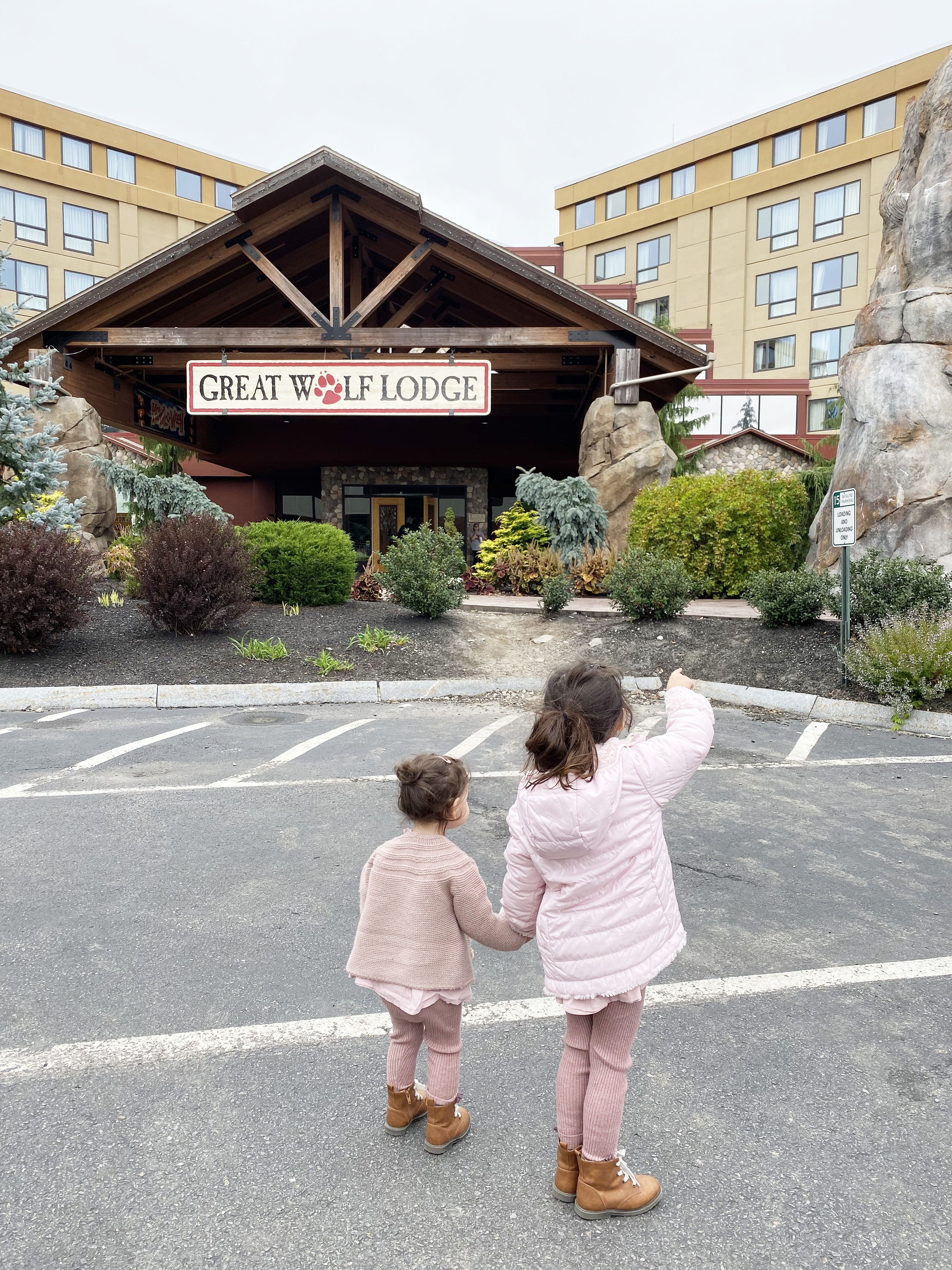 There's something for everyone at Great Wolf Lodge, including a really great indoor water park, a giant game room and arcade, crafts, a climbing wall, indoor gem mining, an indoor play park and ropes course, indoor mini golf, indoor mini bowling, a 3D theater, character appearances throughout the day, balloon making, face painting, really sweet night-time shows, story times, themed events, and a ton of fun stores, including a candy shop and a Build-A-Bear Workshop.
And of course, throughout the property, is Great Wolf's Lodge super popular interactive game, controlled by a wand that you buy on the property, for MagiQuest.
You'll also find plenty of restaurant options, a bar, a buffet restaurant that serves three meals a day, an ice cream parlor, pizza (that also delivers to the guest rooms), and an on-site Dunkin' Donuts.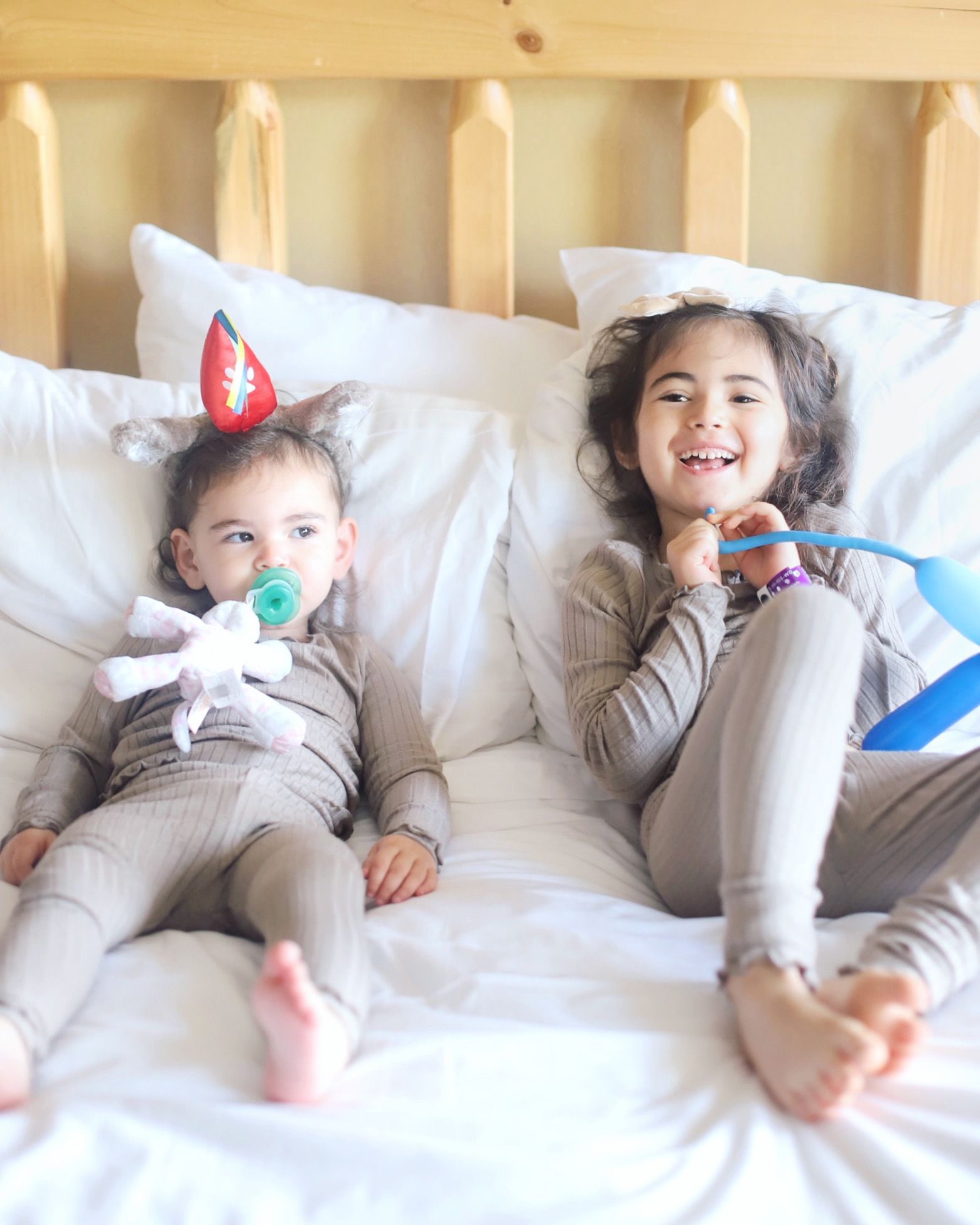 We happened to go during the month of October when the resort had all of their Halloween happenings going on.
All of the character shows were Halloween themed, the place was decorated everywhere for the holiday, and there was even nightly trick-or-treating where the kids check-in by the fireplace at the start of the event, and then have to use a simple "treasure map" (as my girls called it) to find each of the spooky checkpoints to get more candy to fill their bags. It was absolutely adorable and easily one of our girls' favorite moments from the weekend.
So that you and the kids hit up everything you want to see during your stay, grab one of the daily event calendars and try to make a plan for each day. The water park itself will likely take a few hours, so allot at least a half day for that.
Go to the special shows and events. Meet the characters. They're a lot of fun and really make the stay extra special for your little ones.
The impromptu craft times and fun activities in the lobby are also a great way to break up the day. The girls were obsessed with requesting balloon animals.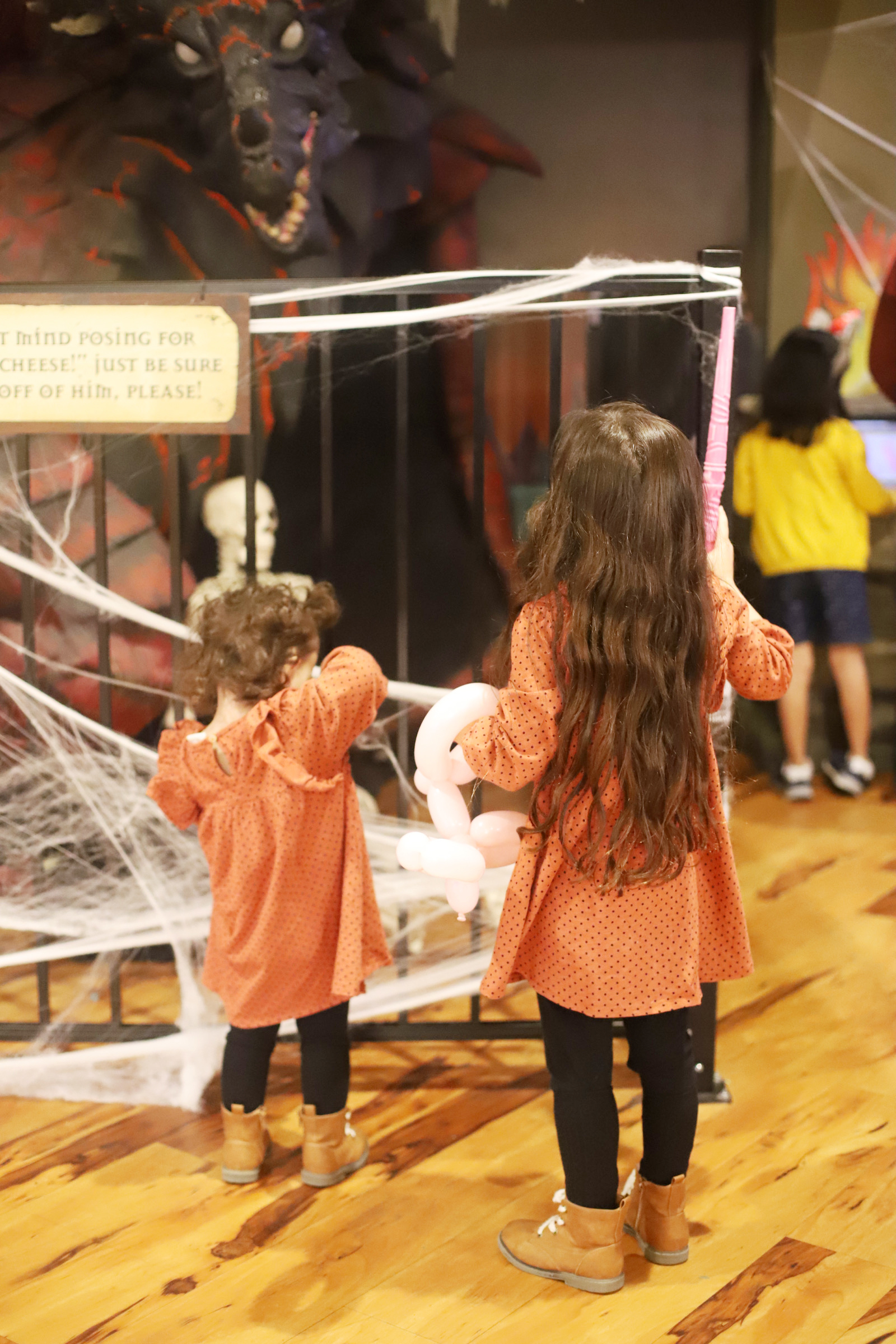 That, and playing MagiQuest.
No matter what we did, the girls brought along their wands so that they could continue to work on their quests around the resort.
Our youngest, 2, didn't really understand MagiQuest, though she did have a good time waving around her wand. In retrospect, we probably should have bought the Paw Pass that comes with a Build-a-Bear rather than a ticket and wand to play MagiQuest, but then there would have been some jealousy between our kiddos, and I figured it was easier to just let them each have the exact same thing.
Our 5 year old loved MagiQuest, but we did have to read and explain each quest to her as we went along. It was a lot of fun playing it with her though.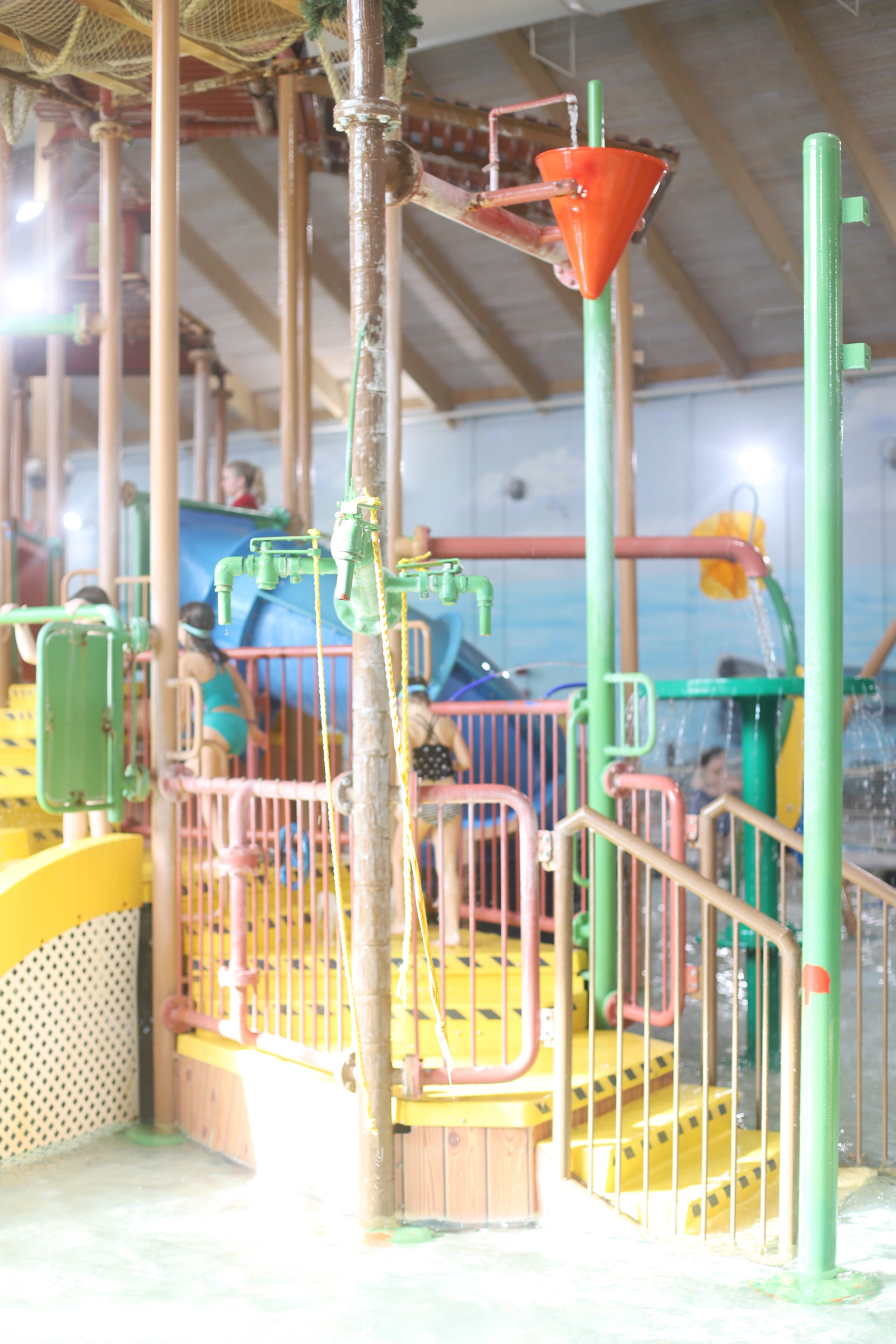 The water park is easily the main draw of Great Wolf Lodge.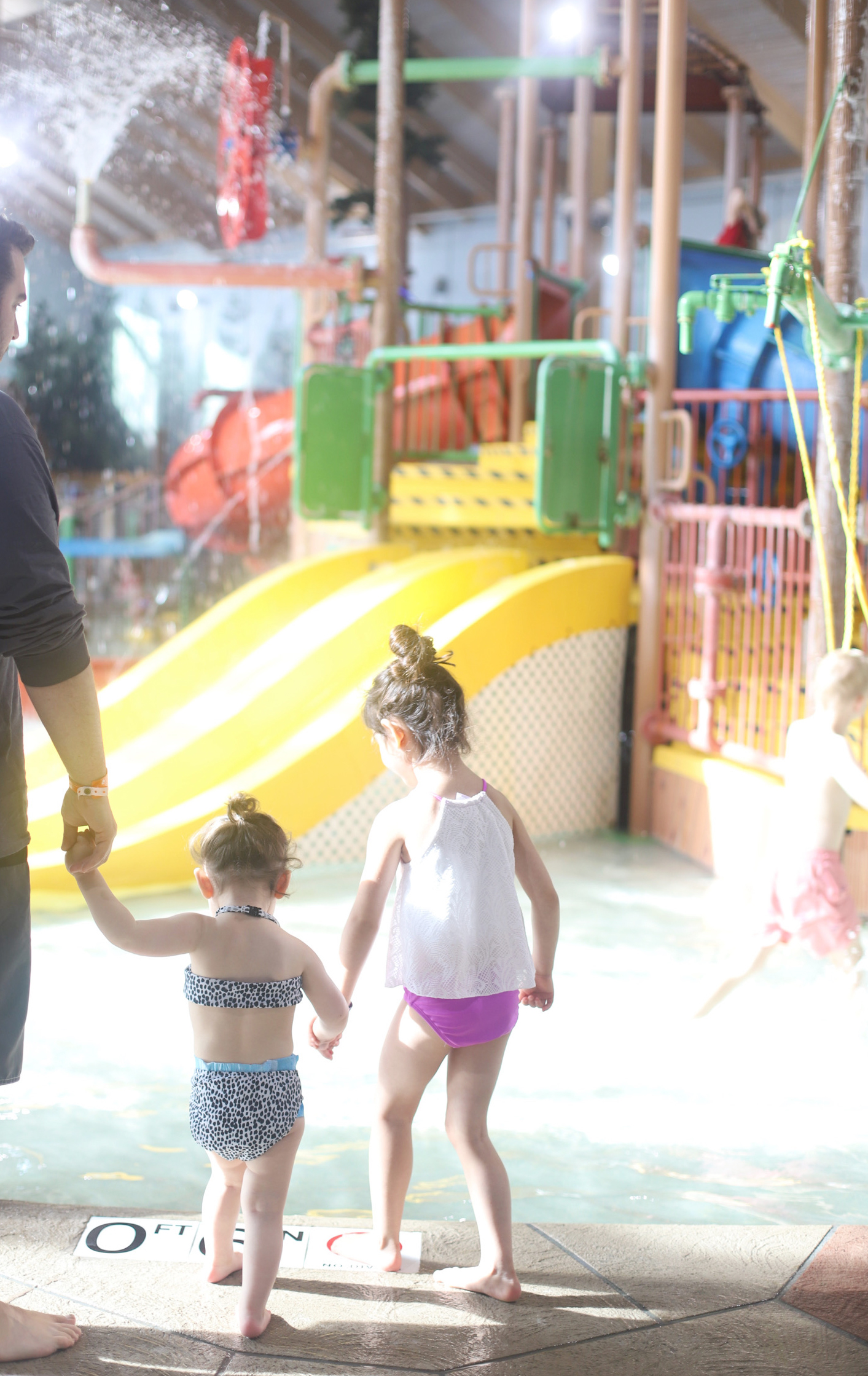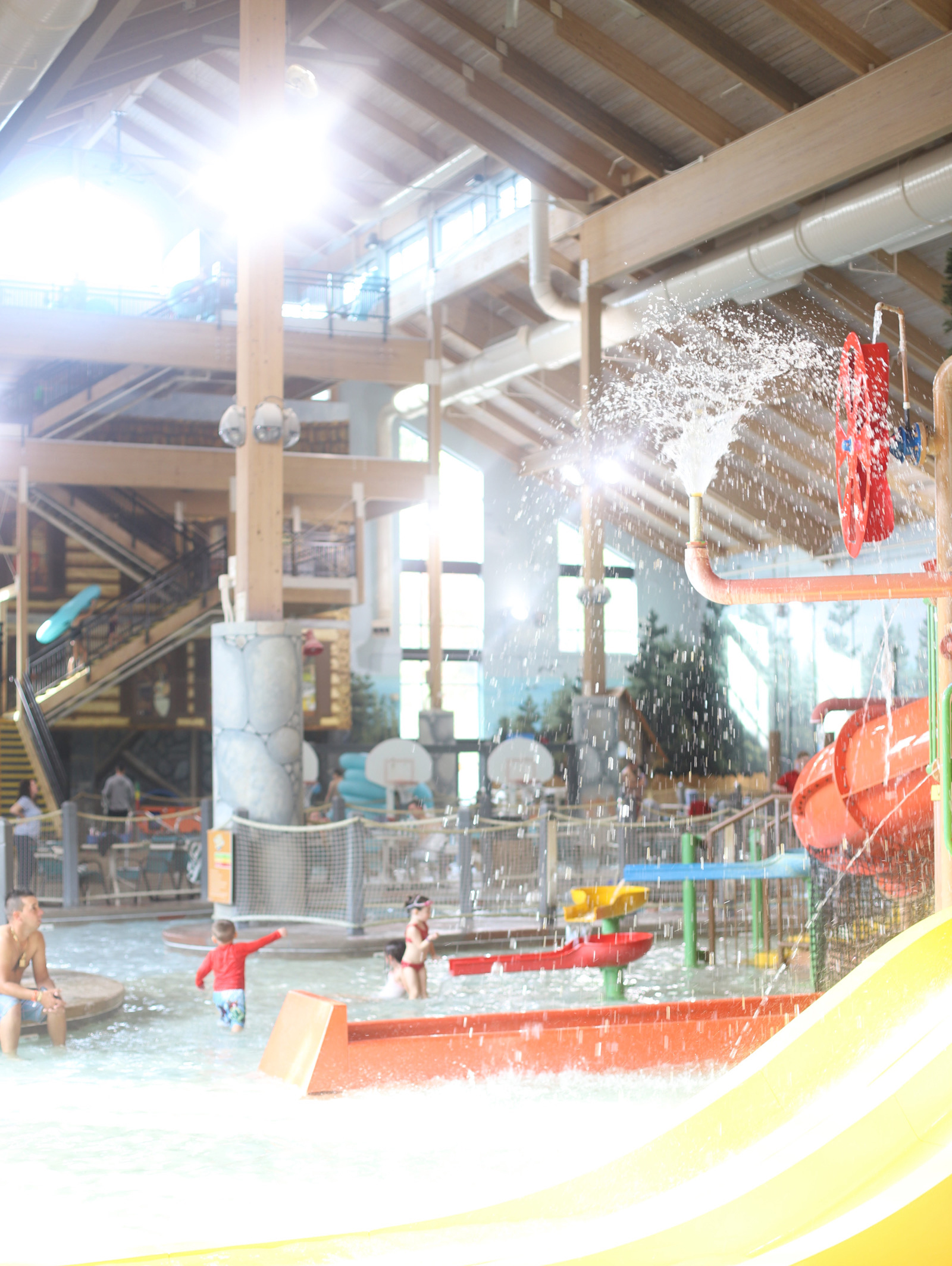 The water park is especially great for young kids because the water and the indoor pool areas are kept nice and warm. Most of the splash areas are nice and shallow.
Both of our girls loved the lazy river that ran through one side of the water park.
There are also some huge water slides that actually wrap in and around the outside of the building. Though our girls are still a little young for those.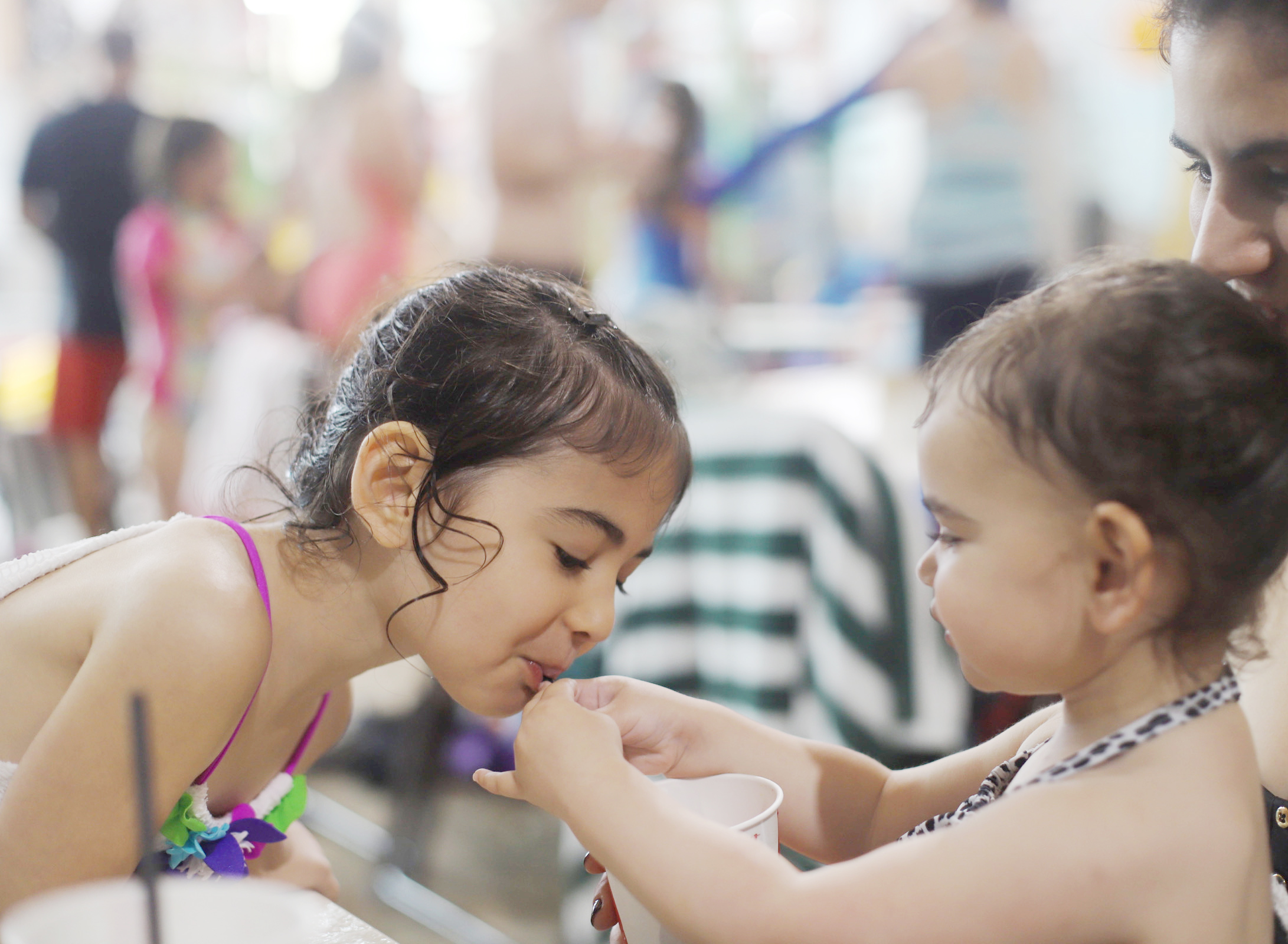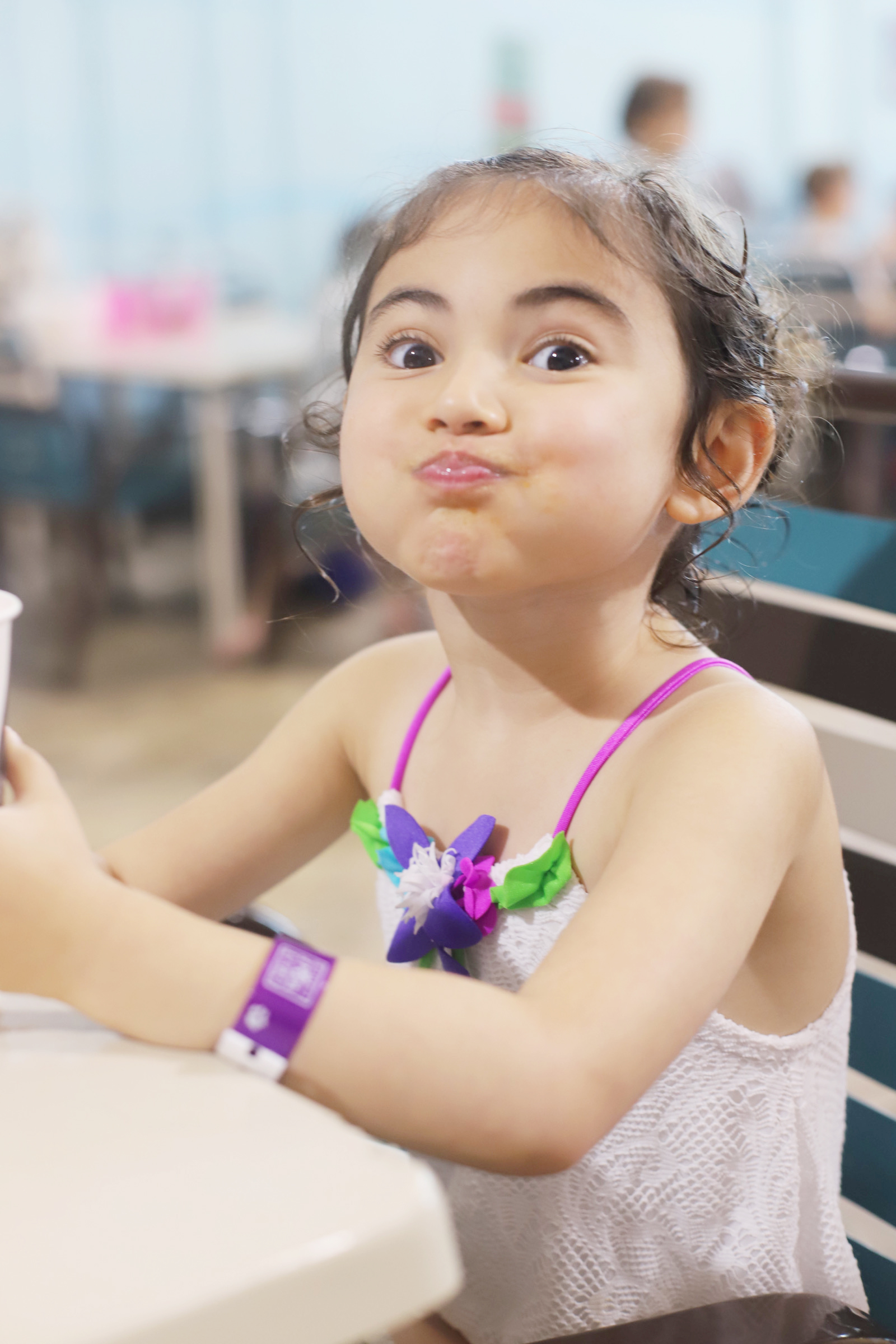 There's also a fast-casual style restaurant right in the water park (i.e., burgers, chicken tenders, fries, etc.). So it's easy to have lunch in between playing.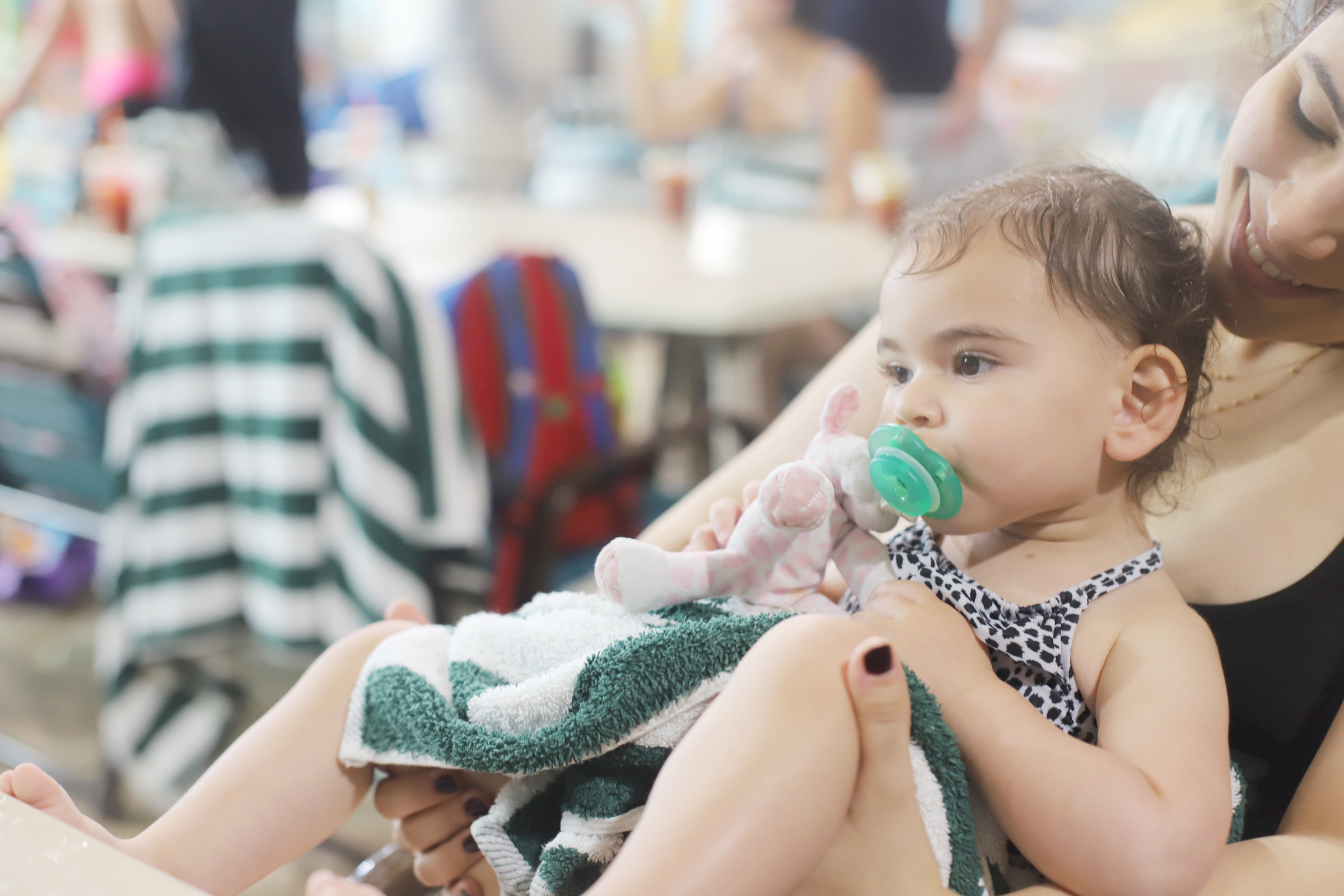 Tired bunny after a fun few hours playing in the water park.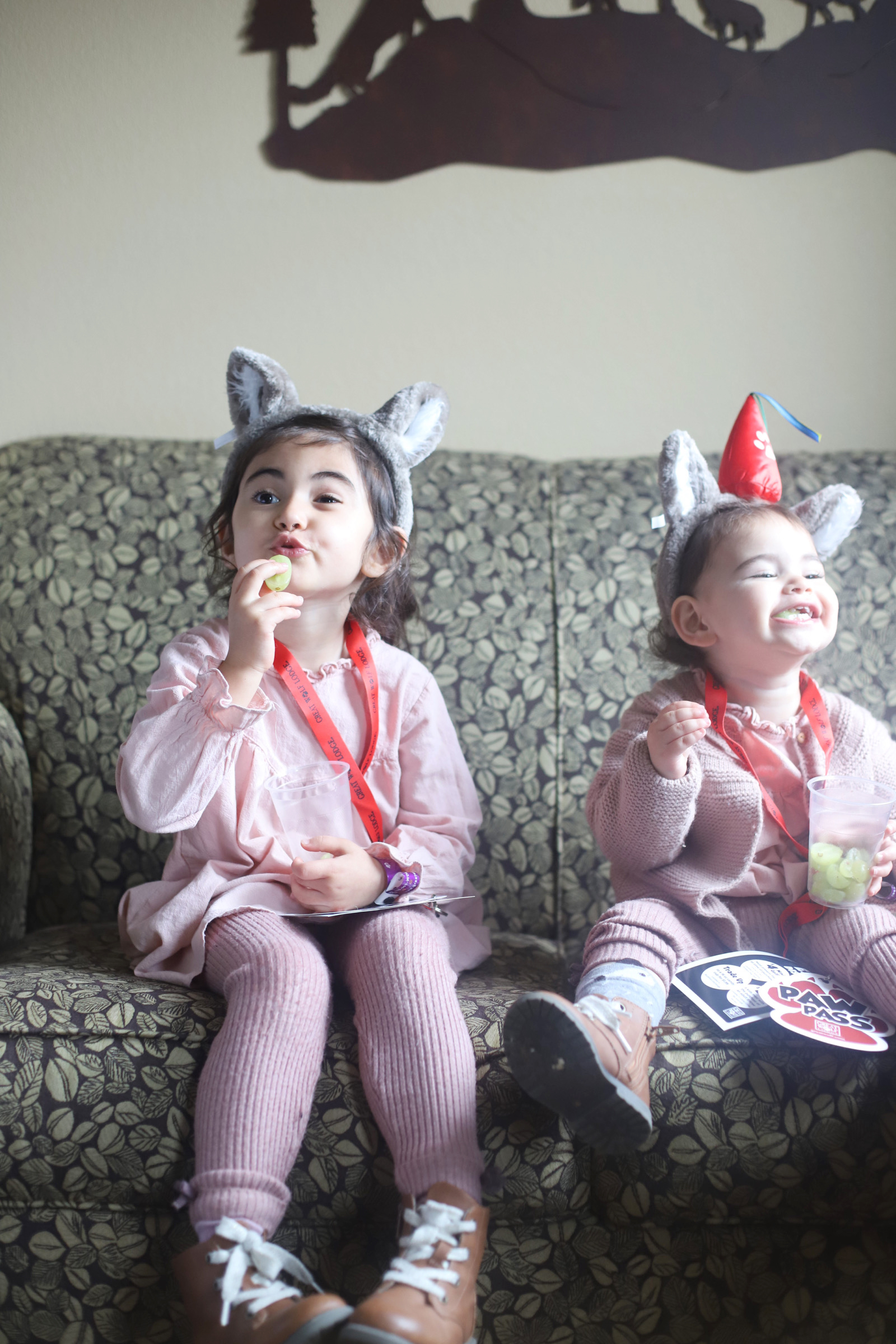 A few tips for the hotel stay:
The hotel itself is just okay. It's a bit outdated, though everything is kept clean.
Depending on where your room is located, it can be quite noisy. The hotel does a really good job of asking whether you'd like to be near the ropes course, arcade, etc. Or if you'd prefer an outside room: a.k.a., less noise. If you have a baby or toddler who needs a quiet space to sleep, be sure to mention it to the resort staff so that they don't put you too close to all of the commotion. (The noise by the arcade does seem to die down by about 10pm.)
From what I could tell, every room has a small refrigerator. We brought a few of our own snacks. Granola bars, cheese sticks, grapes, bananas, strawberries, etc. and drinks. And it really helped to avoid having to buy every snack on the property.
There's plenty of shopping and a few decent chain restaurants in and around Fitchburg. So don't feel like you have to do everything at the resort.
Great Wolf Lodge is about the experience. Kids go CRAZY for this place, and ours are still talking about it weeks later.
Have you been to a Great Wolf Lodge? Any big plans to go? Ask me your questions!
SHOP OUR GREAT WOLD LODGE WEEKEND TRAVEL POST | CLICK LEFT & RIGHT ARROWS TO EXPLORE

IF YOU LOVED THIS POST, YOU CAN SEE MORE BEHIND-THE-SCENES OF OUR LIFE WITH TWO LITTLE ONES HERE, AND CHECK OUT SOME OF OUR FAVORITE TRAVEL DESTINATIONS HERE.