This post contains affiliate links, which means that if you click on one of the product links, I'll receive a small commission. Thank you so much for clicking through and helping to support this little blog business of mine! Read more about our site, privacy, and disclosure policies here.
From savory appetizers to spooky sweet desserts to brilliant punch ideas, this spooktacular list, chock full of 50+ fun Halloween recipes, has everything you'll need for one epic Halloween celebration!
Halloween is SO SOON and I for one cannot wait!! I've always been such a geek for Halloween. I love the costumes, the decorations, and just a touch of spooky Halloween fun. I mean, a holiday that celebrates witches, fall pumpkins, and the color black; totally my kind of holiday. 🖤
Halloween is also the first big holiday of the impending holiday season. And it totally gets me in the go-all-out spirit! Because, yes, I'm EXTRA, and I love an excuse to decorate, bake, and celebrate a good holiday!
This Halloween
My mom and dad are visiting us in Boston, and we're going to have a mini Halloween party on the night of Halloween. Back in Miami, my mom has always had a ton of fun food and Halloween treats on Halloween night for our friends, little trick or treaters, their parent friends and their kids who would swing by in between trick-or-treating, etc. Basically, our house was always the snack pit-stop in the neighborhood on Halloween night. And I love the idea of keeping up that tradition wherever we are.
I've started the search for the best fun recipes for Halloween and I went to a bunch of my blogging buddies for their best snack and food ideas as well. And oh my goodness, you guys, there are some seriously creative wizards in the kitchen. This list has everything from savory appetizers to delicious snacks and desserts, even a few super fun punch recipes. Most of these fun Halloween recipes are surprisingly easy to put together and all of them will put a smile on your fellow ghouls' faces! 👻
So put on your finest witch hat, pull up a toadstool, and take notes. These are 50+ of our favorite Halloween food ideas and Halloween party snacks, sure to get the spook-tacular celebrations started!
50+ Spooky Fun Halloween Recipes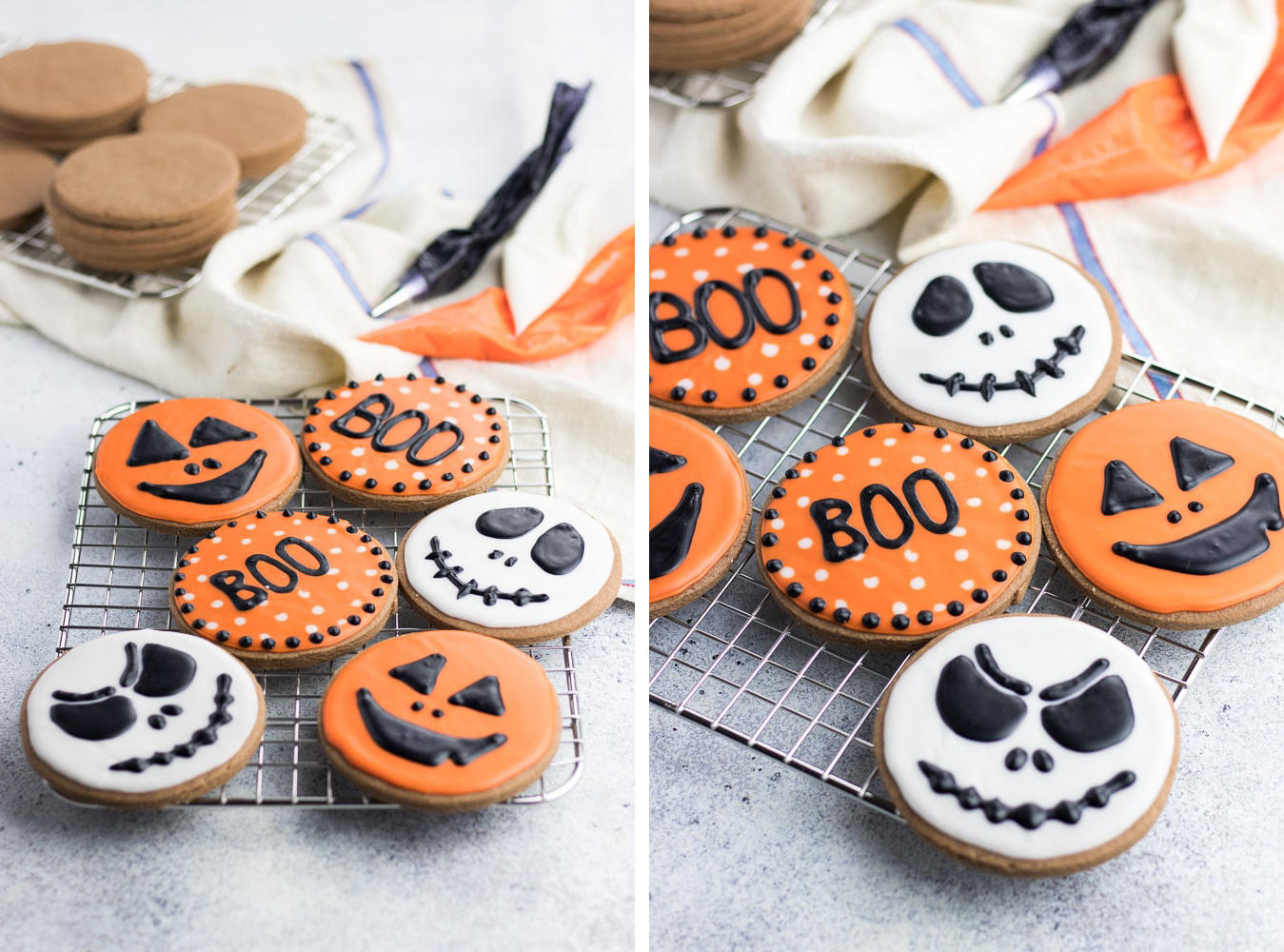 Halloween Cookies are classic soft cut out chocolate sugar cookies. Made with cocoa powder and decorated with easy sugar icing!
These ghost and mummy Halloween pretzels are perfect for class Halloween celebrations! It's spooky, super easy to make yet tasty Halloween treat!
Teach your kids science with this fun glow-in-the-dark jell-o recipe!
An easy recipe for double chocolate peanut butter cookies that are thick, soft, cakey & heavenly. Straight out of the oven while the chocolate chips are all melty. Make a batch in about 20 minutes start to finish with simple ingredients from your fridge & pantry. (Chocolate and peanut butter = YUM!)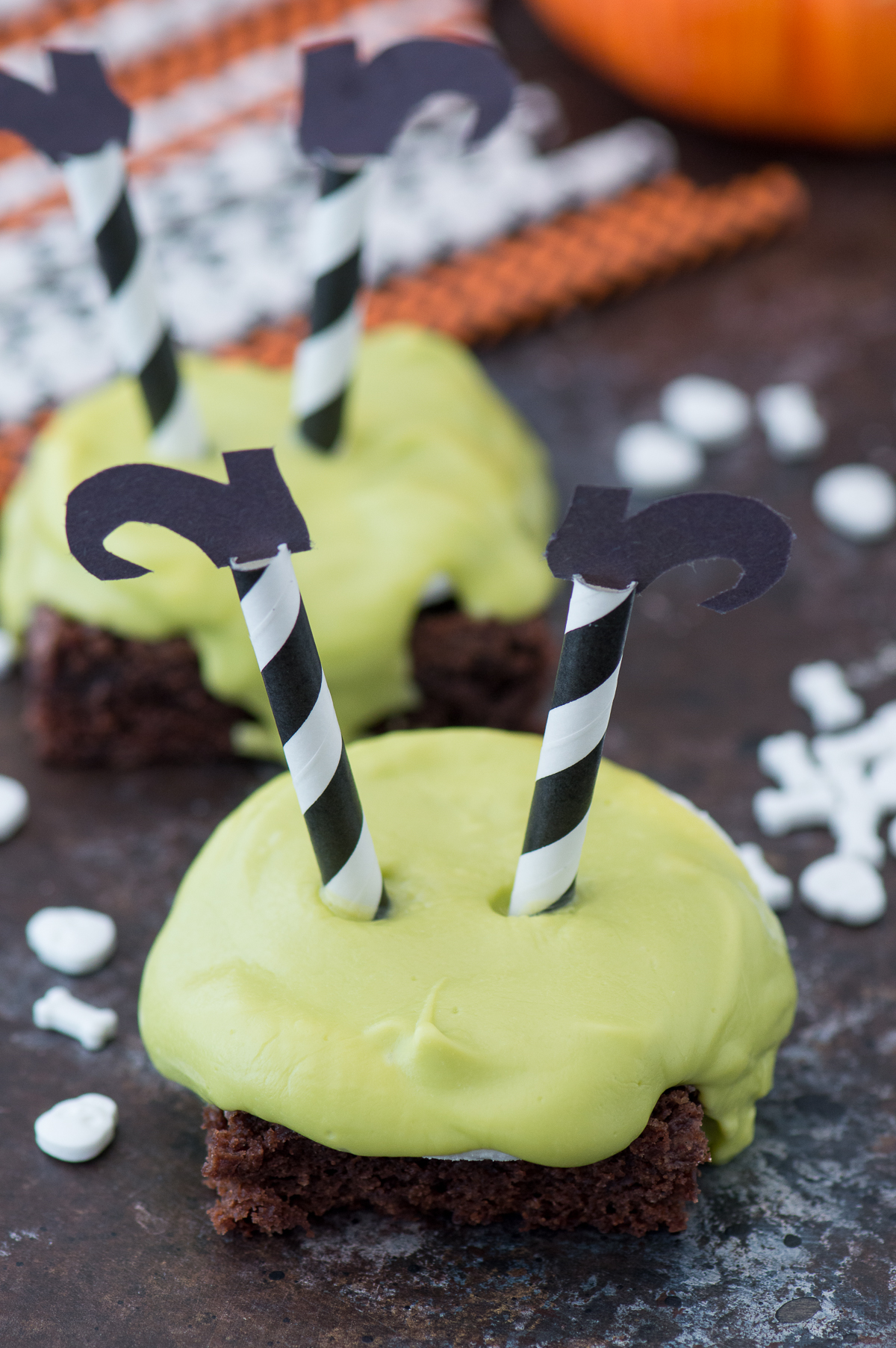 Celebrate Halloween with melted witch brownies! They are so cute, simple to put together with a box of brownie mix, marshmallows, and candy melts!
Spider Cake Balls are perfect for Halloween parties and gatherings. Your family and guests won't be afraid to devour these fun bite sized chocolatey halloween treats!
This Halloween Mummy Meatloaf recipe is your newest fall family tradition. This easy meatloaf recipe is shaped and wrapped in bacon to look like a spooky mummy, complete with onion eyes! This is a halloween dinner idea for the family that everyone will love. Make it part of your fall traditions this year!
These fun, not-so-scary, owl cupcakes have a surprise filling that makes them over-the-top delicious!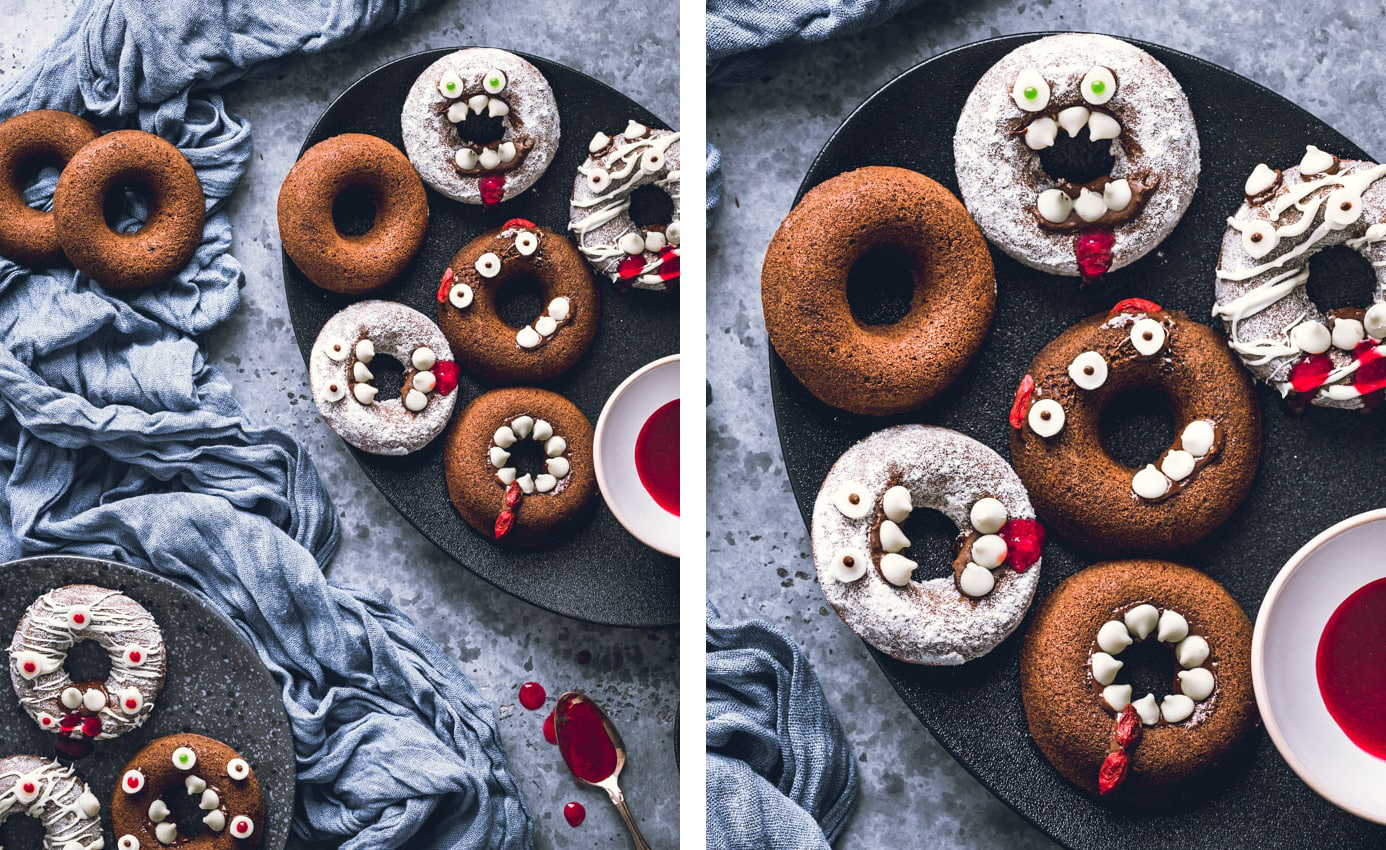 These Healthy Baked Halloween Donuts are a fun and easy way to entertain the kids. All while making sure they don't eat too much candy on Hallow's Eve! I used white chocolate chips to make the teeth on these little monster donuts. Protein powder to coat them in white. They are gluten-free, vegan, dairy-free, and totally kid-friendly!
Make Halloween even more fun with Mini Halloween Cheesecakes! These delicious Frankenstein mini cheesecakes are one of the easiest desserts you can make. A fun Halloween treat both kids and adults will love.
An easy and delicious banana treat for Halloween. The chocolate coated bananas are fun for kids and they can help decorate.
Cute monster Halloween brownies, these chocolate glazed brownies are a perfect Halloween treat for the kids.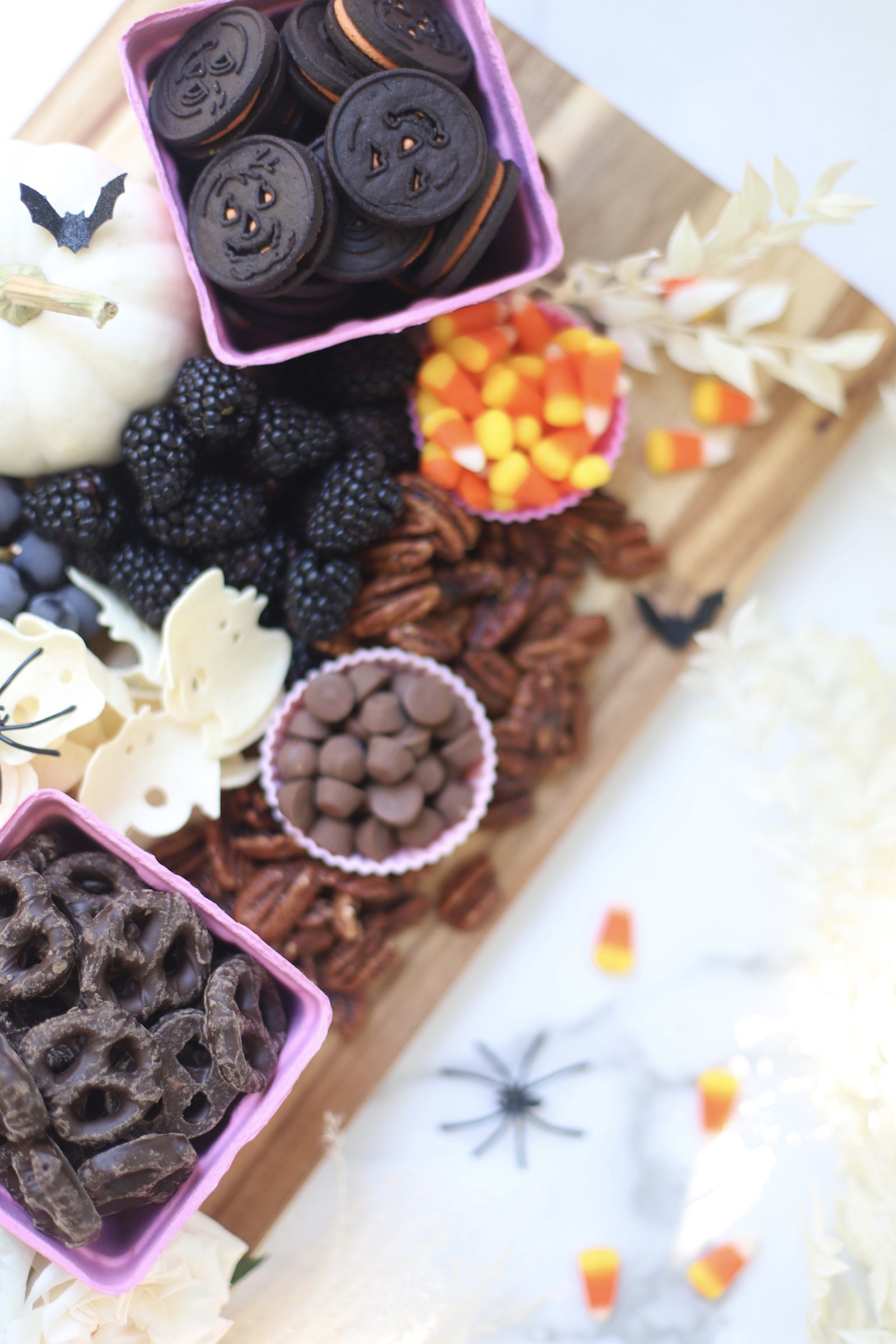 Serve a beautifully spooky Halloween charcuterie board chock full of snacks the whole family will love! This frightfully delicious snack board is perfect for Halloween celebrations. A no-fuss dinner after a night of trick-or-treating. And even a festive afternoon snack throughout the month of October. Happy snacking!
Dirt cups are amazingly easy to make and adorable layered desserts. These have chocolate pudding layer topped with OREO crumbs and gummy creatures on top.
Mummy Hot Dogs are the perfect Halloween appetizer. So adorably cute and perfectly delicious, these mummy dogs are just the finger food you serve before trick-or-treating.
Candy Corn Cotton Candy is easy to make (and in any flavor you want!) with custom colored and flavored cotton candy sugars.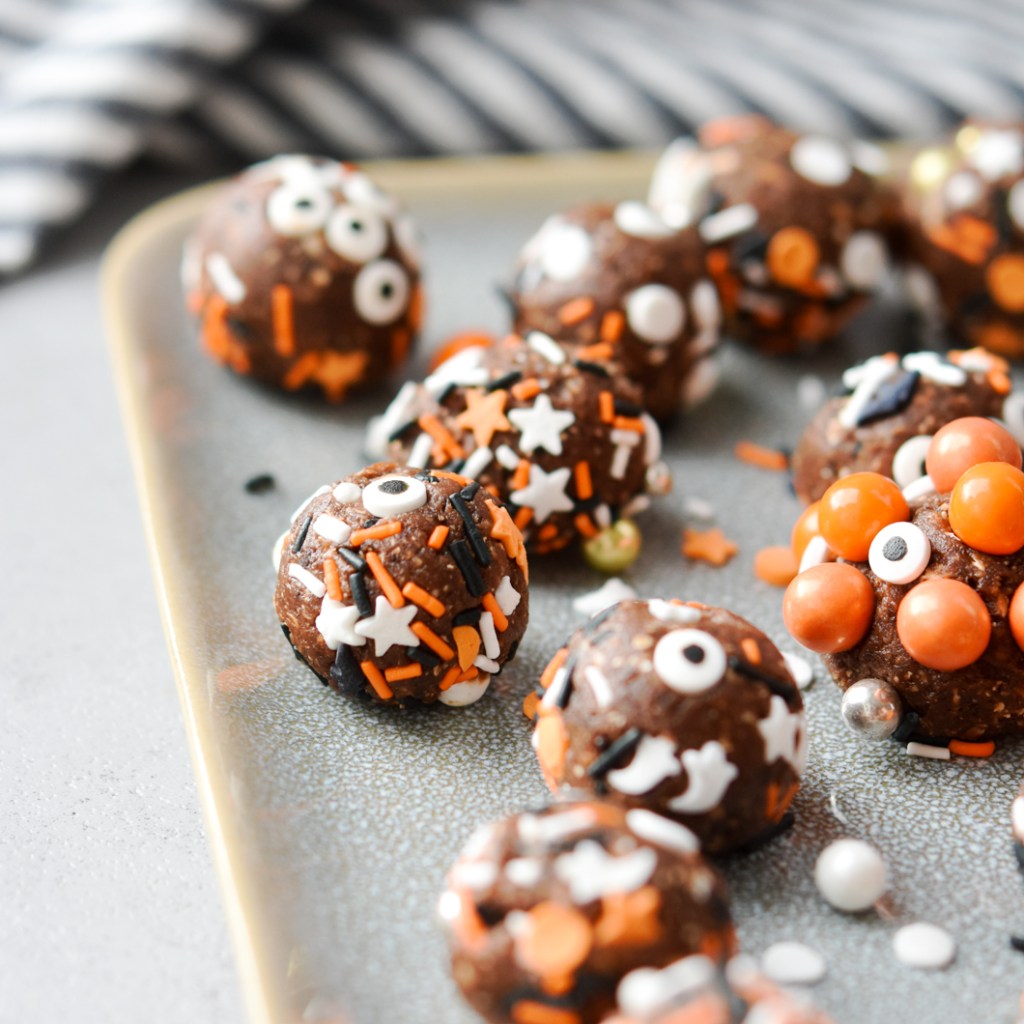 Healthy Halloween brownie bites are a super easy, no bake, kid friendly activity. Sure to keep your kids entertained for at least a few minutes!
These cute hand pies are perfect for all your little goblins. Serve on a dessert tray and watch them disappear.
You don't need lightning or a fancy laboratory to make these adorable Halloween creations. These cute Frankenstein Suckers are easy to make using store-bought candies and are the perfect treat for your Halloween party!
No tricks, just treats when you make this easy, festive, and fun Halloween Jello Poke Cake! Three fruity flavors and colors turn this cake into a not-to-scary sweet delight perfect for your Halloween parties!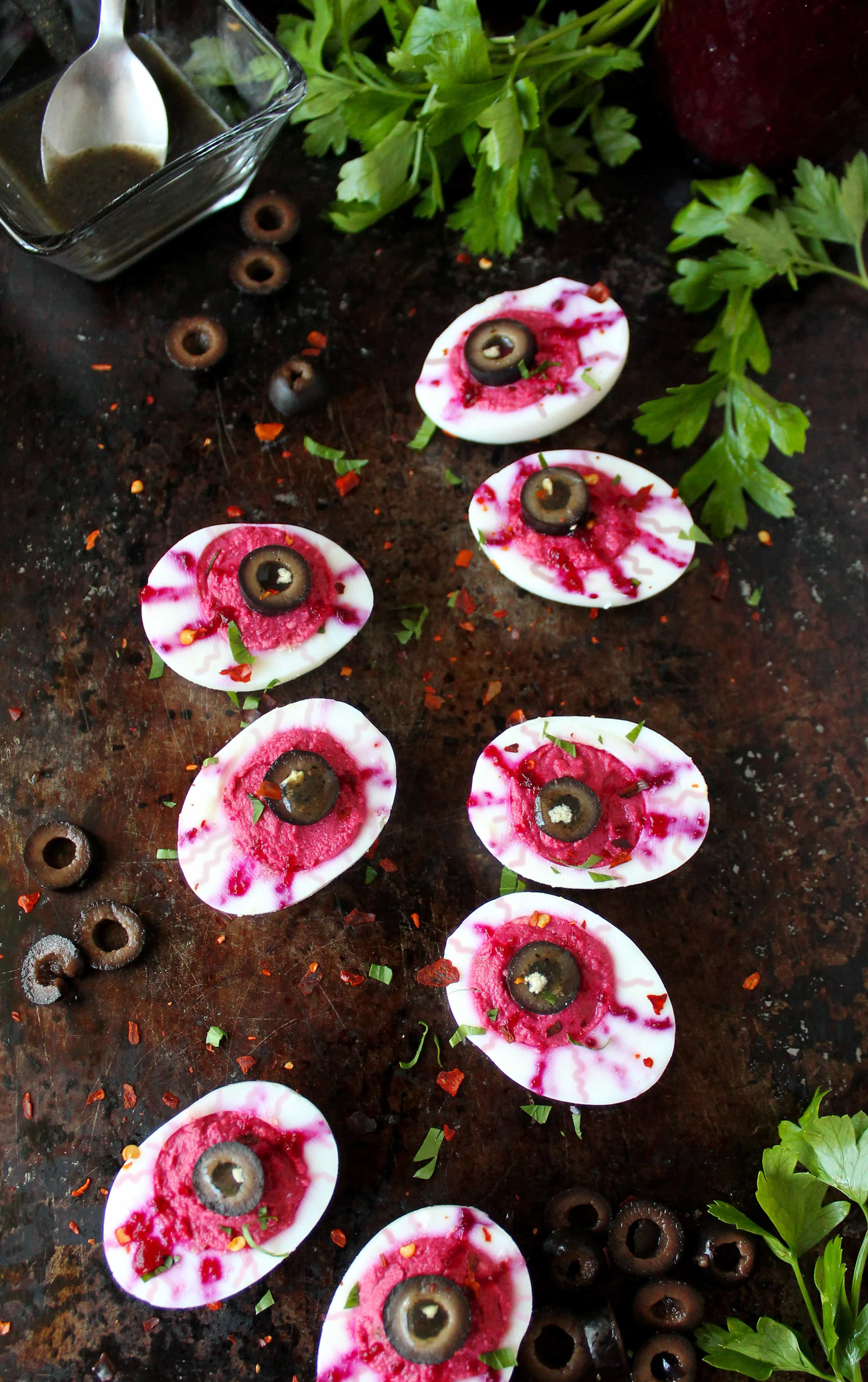 These Deviled Egg Bloody Eyeballs are naturally colored and made with only a handful of ingredients – and these sure would make one bloody awesome Halloween appetizer!
These cute apple and nut butter monsters are perfect for Halloween. It takes just a few minutes to put them together and always a hit among kids.
Delicious double chocolate cookies that can see you and everyone else! Enjoy these at your next Halloween party.
These Vegan Mummy Cupcakes will be a hit at your spooky Halloween bash. They are fun to make, kid-friendly and completely adorable! The mummy wrapping is piped on with vegan buttercream and the eyes are dotted with chocolate chips. It's so easy!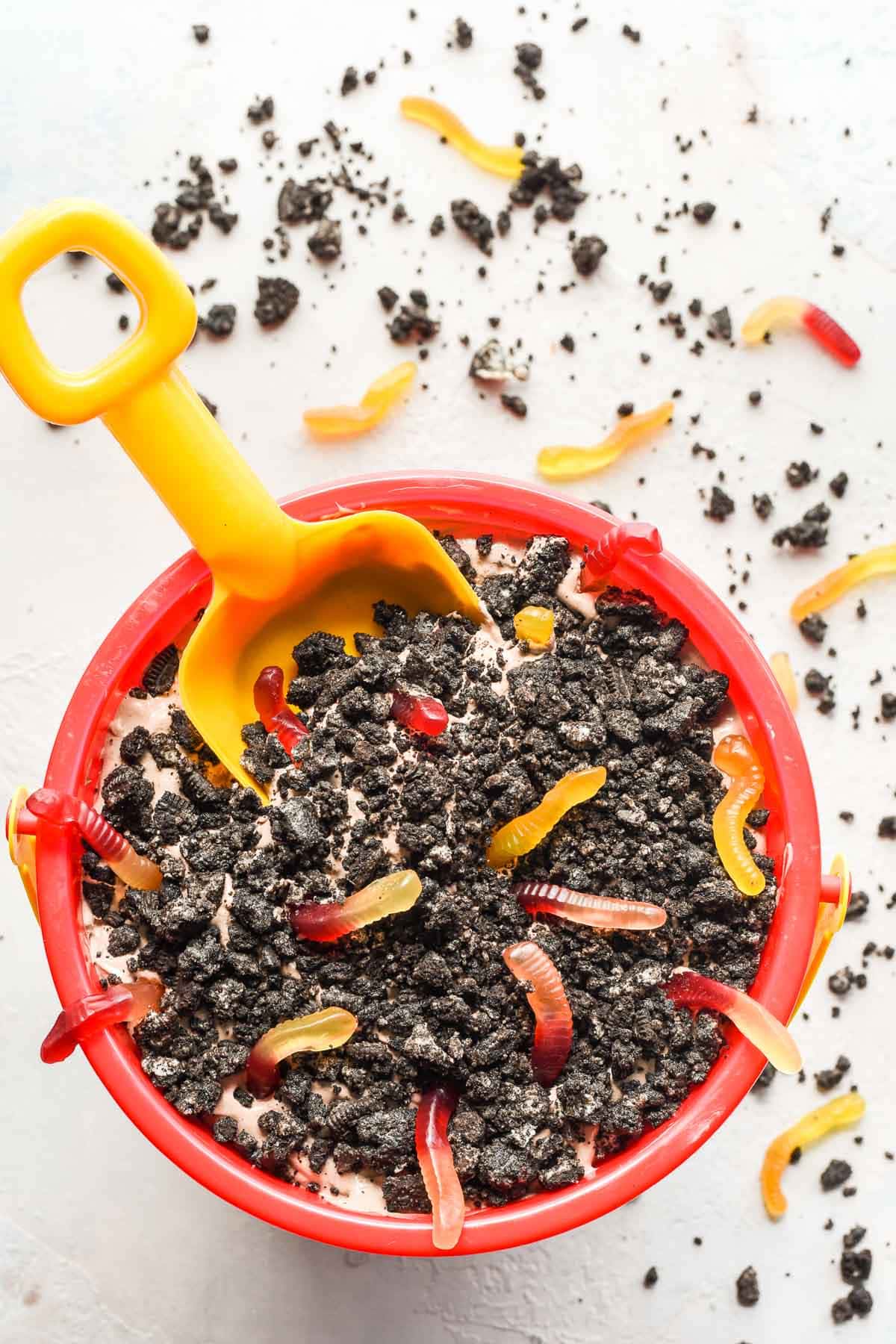 This Dirt Pudding brings joy wherever it goes. It's a favorite of kids and adults alike and doubles as a perfect spooky graveyard dessert on Halloween.
Is it flesh? Is it brains? You decide what to tell your kids when you serve them this spooky nonalcoholic Halloween zombie drink!
These Monster Mash Cheesecake Bars are frightfully scrumptious, and so easy to make!
Surprise everyone with our Halloween chocolate bark recipe! White chocolate bark is easy to make and delicious, not to mention completely adorable. Kids and adults alike will love this simple Halloween party food!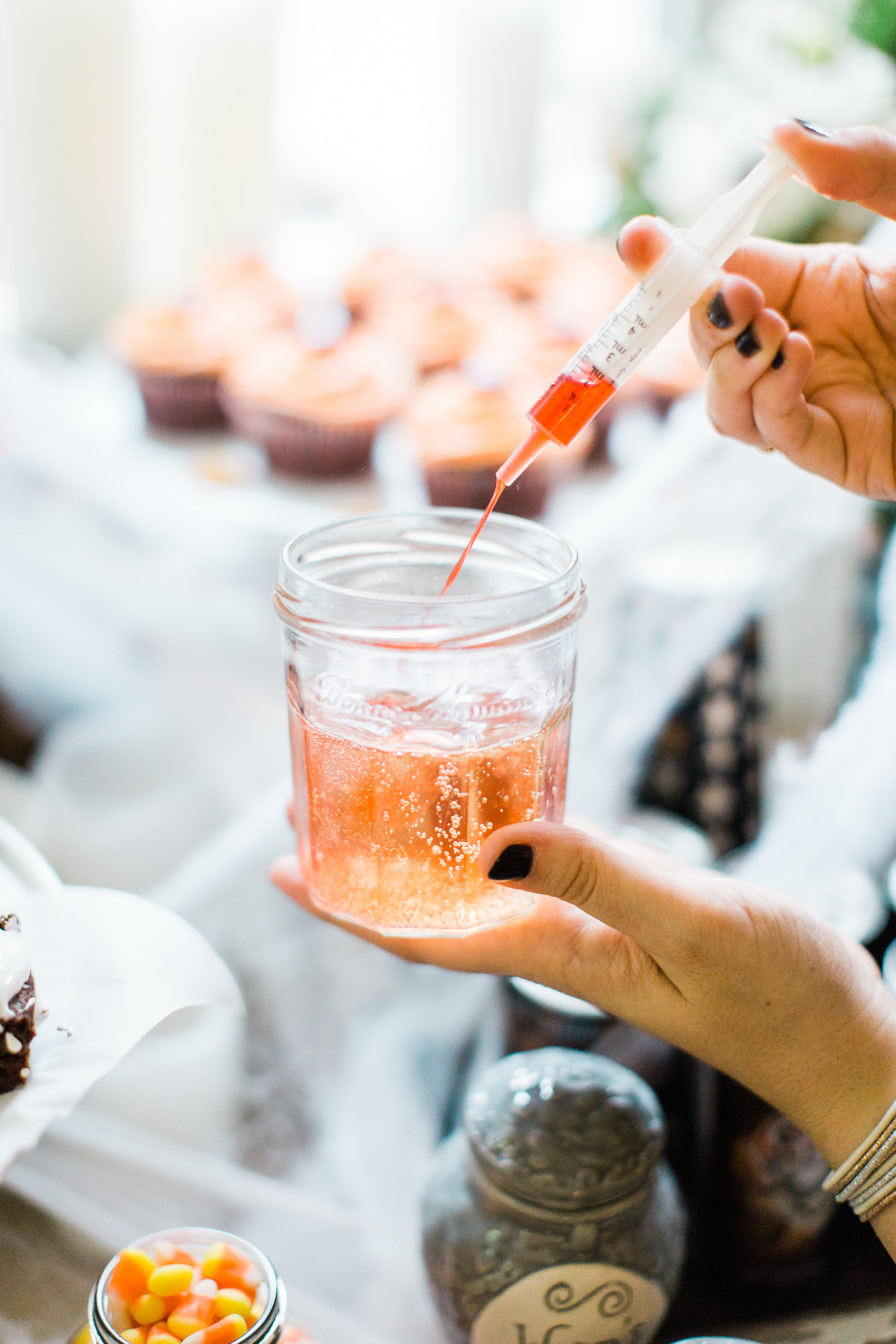 Wow your guests with a Halloween spin on a classic kid-friendly Shirley Temple at your next haunted bash!
Your guests won't be able to take their eyes off of these homemade cupcakes decorated to look like bloodshot eyeballs!
Fall is in the air, so it's the perfect time to throw together a batch of these delicious Gluten Free Halloween Cut Out Cookies! The secret is that eating these soft Halloween Sugar cookies is only half the fun! Decorating them is the really exciting part.
These Cheesecake Mummy Cookies are easy to make and sure to bring Halloween fun to the whole family!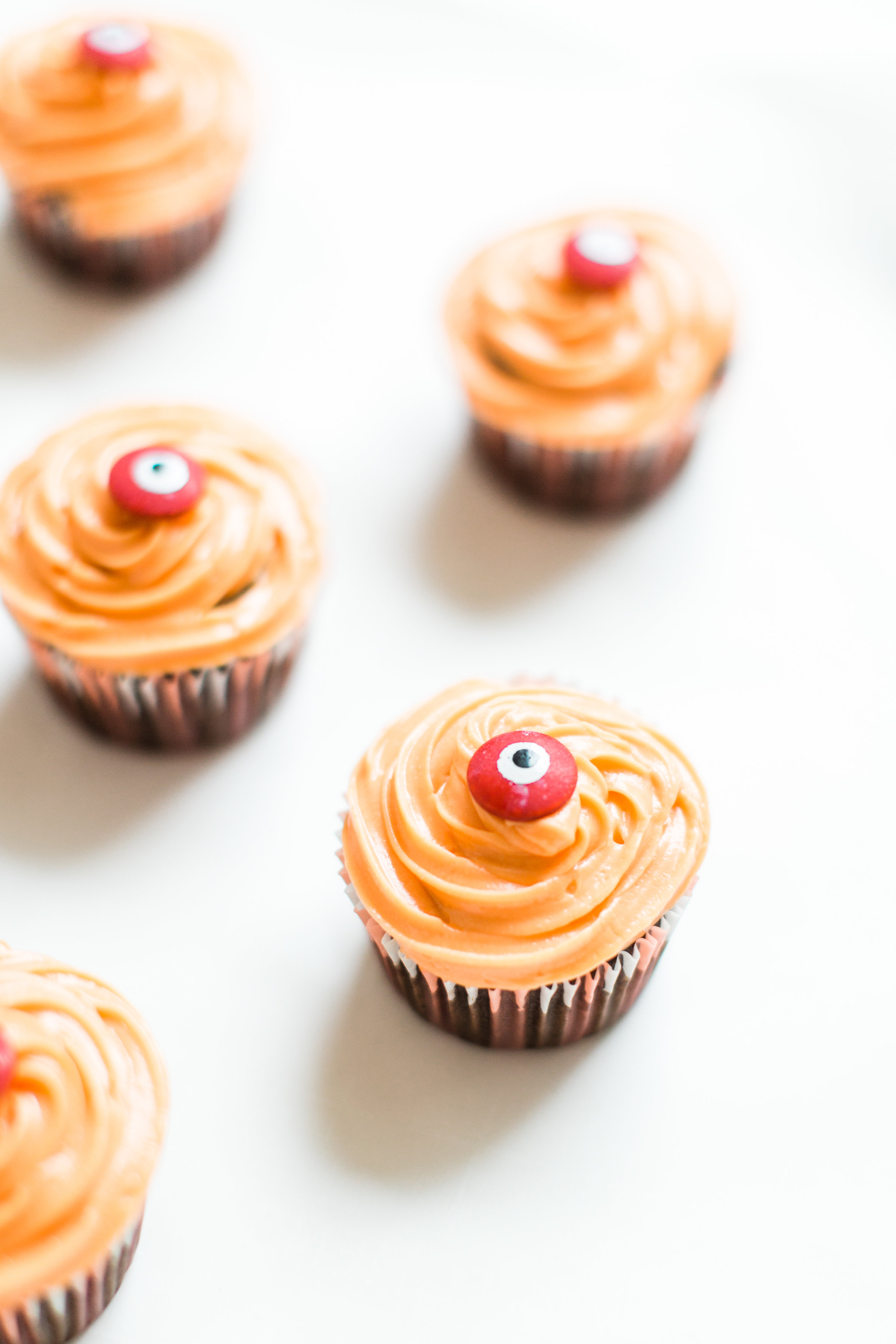 Make these absolutely adorable haunted Halloween eyeball chocolate cupcakes with our favorite easy crazy cake recipe. These easy-to-make cupcakes are perfect for your next spooky Halloween party!
These monster eye Halloween rice krispie treats are so adorable and tastes delicious. So simple to make and perfect for kids Halloween treats!
What's the difference between apple cider and witch's brew? Floating heads of course! This easy apple cider punch bowl recipe will add the perfect touch to your Halloween party!
Jack-o-lanterns, bats, and colored sprinkles – oh my! Soft, cake-like gluten-free sugar cookies make the perfect Halloween treat.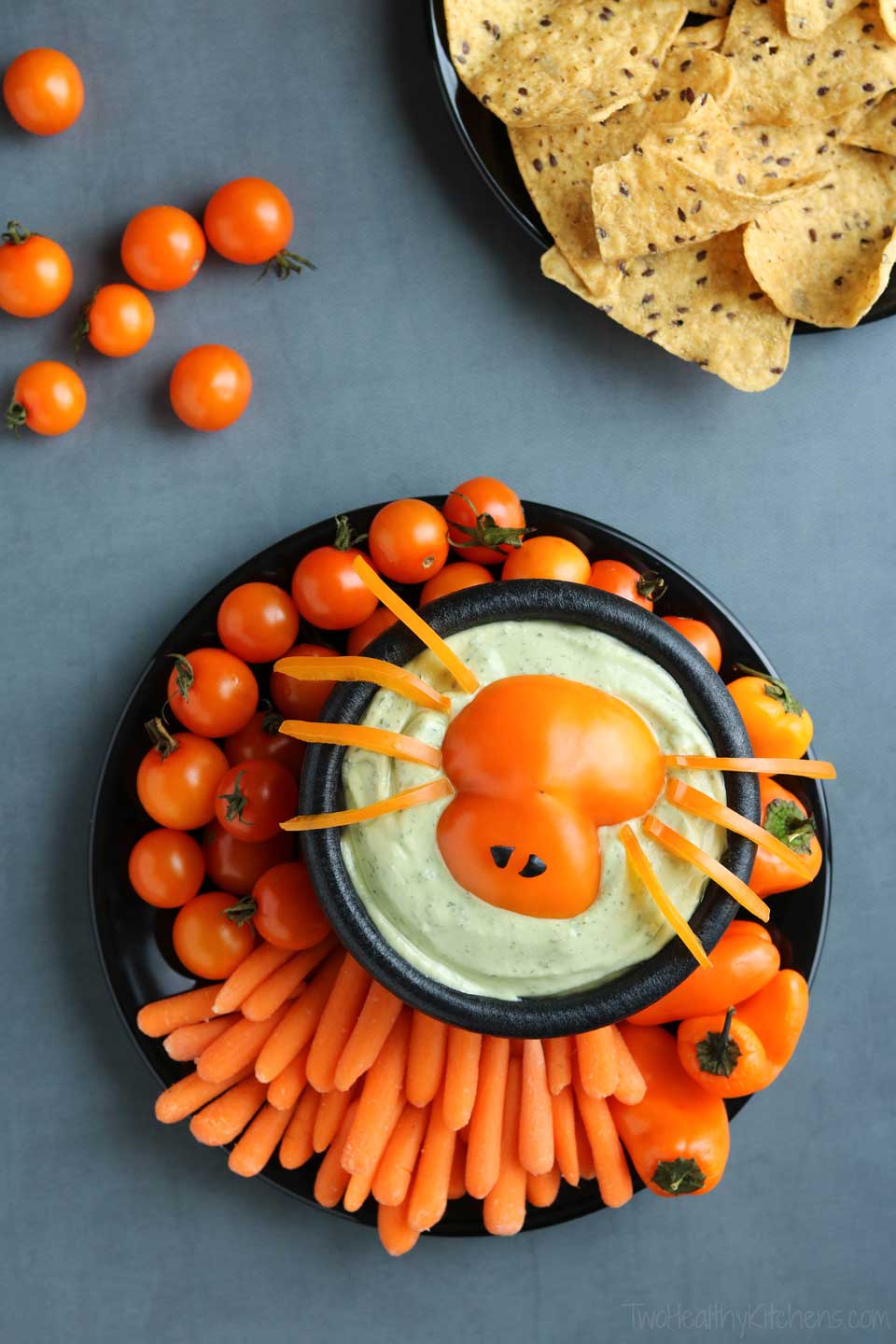 Spooky Spider Halloween Appetizer Dip. The spooky yet adorable "pepper spider" can top any veggie dip you like. Although we love it with scary-good green dips. It's fun and easy to make, and can even be created ahead of time, so your spider is all ready to go. Just waiting to make a spook-tacular appearance on your Halloween appetizer buffet!
Soft shortbread cookie and gooey caramel inside, dipped in thick milk chocolate. Really, these are the perfect sweet treat. And in case you've never tried it, homemade candy is where it's at. These homemade twix bars are moist, soft, delicately rich and buttery and surprisingly simple to throw together.
These easy chocolate pumpkin spice halloween donuts take minutes to whip up and are generously coated with a homemade ganache. So delicious!
These healthier witch finger cookies use jam in place of food coloring! Can be made with all-purpose flour or with whole wheat for a 100% whole grain version.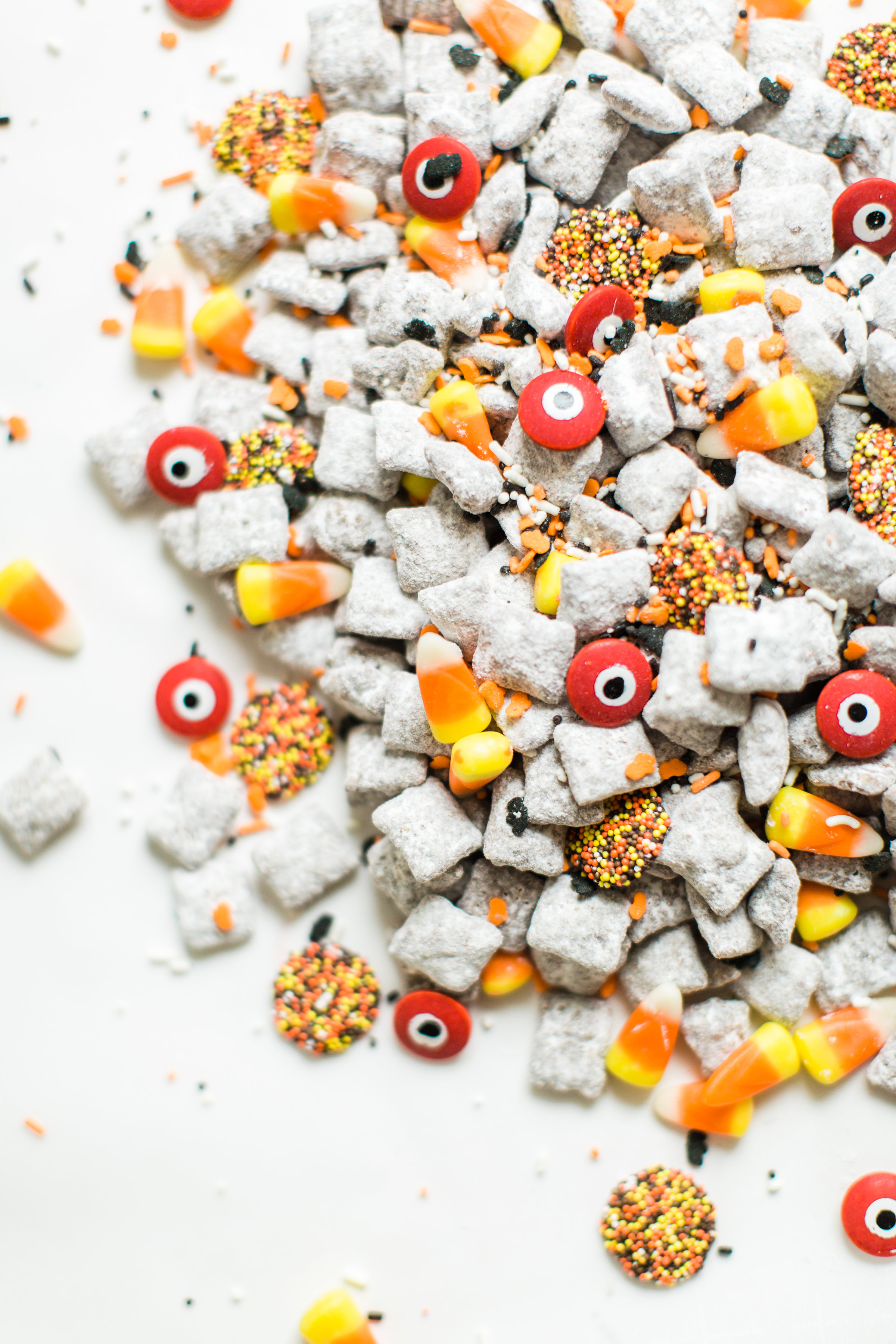 We turned classic (and delicious) "Puppy Chow" Muddy Buddies into a spooky treat. Perfect for your next haunted Halloween party!
A box of brownie mix plus festive Halloween candies easily combine to create decadently delicious brownie cookies. AKA brookies that are sure to be a hit! No tricks, all treats!
Whip up a batch of easy Halloween sugar cookies with a Tim Burton twist. All thanks to food coloring and chocolate stitches inspired by Sally's dress from The Nightmare Before Christmas.
Mummy Rice Krispies Treats are an easy and quick Halloween recipe. Perfect for kids or school parties.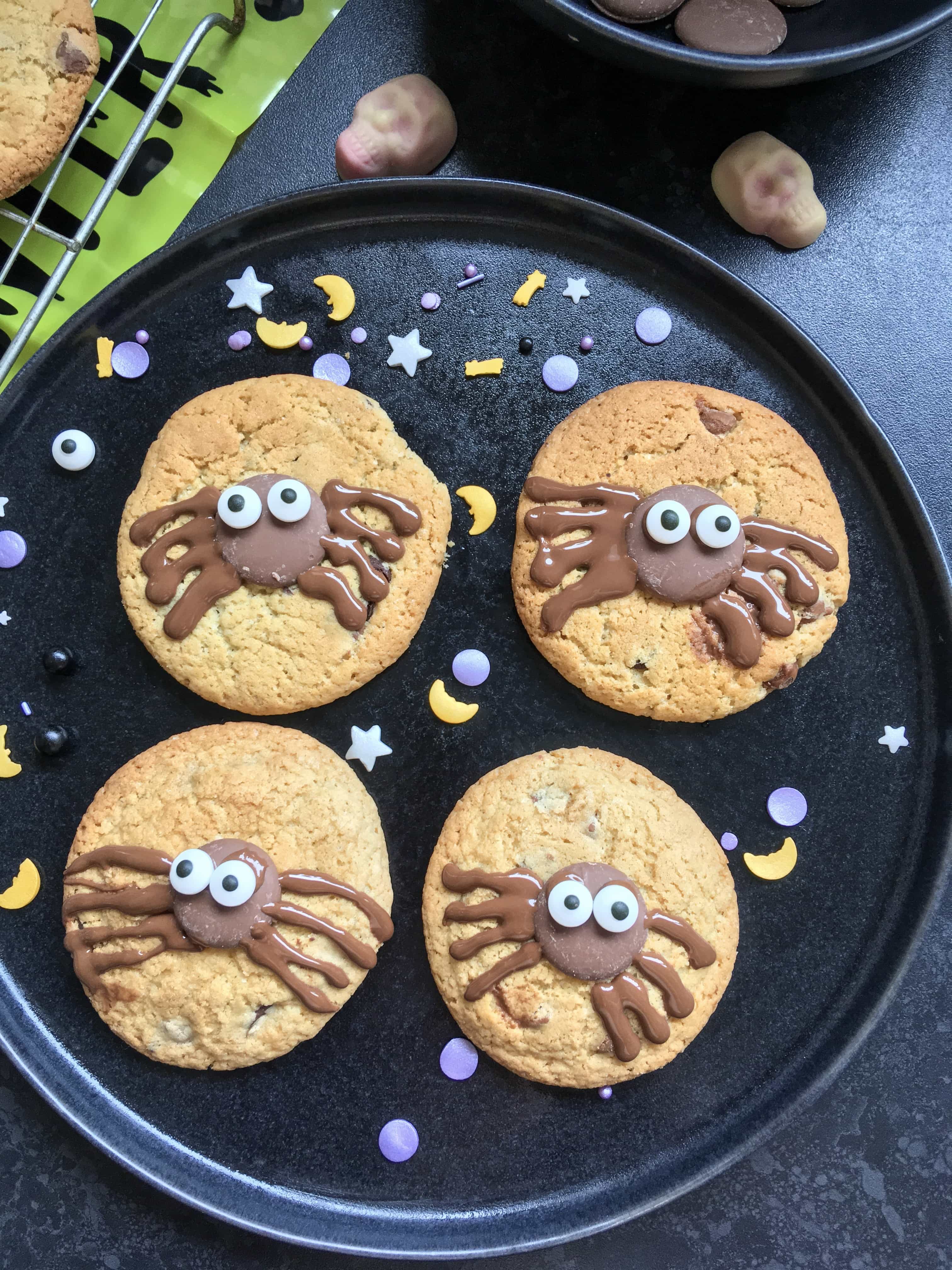 These Spooky Spider Cookies are a fun but easy Halloween treat – perfect for trick or treaters or a Halloween party!
Halloween mummy pies are a fun and easy way to make spooky Halloween party food! You can make them with just 3 ingredients – but I also give the recipe to make your own bloodcurdling raspberry sauce.
This FANG-tastic Halloween Vampire Chocolate Bark is a super easy and mega tasty Halloween treat recipe, that's perfect for your parties, sweet tables or vampire themed celebrations!
Easy Halloween Jalapeño Mummies are a spooktacular treat. The perfect Halloween themed finger food. These super cute mummies are jalapeño poppers with ghostly, googly eyes peeping out between layers of baked, flaky crescent roll dough.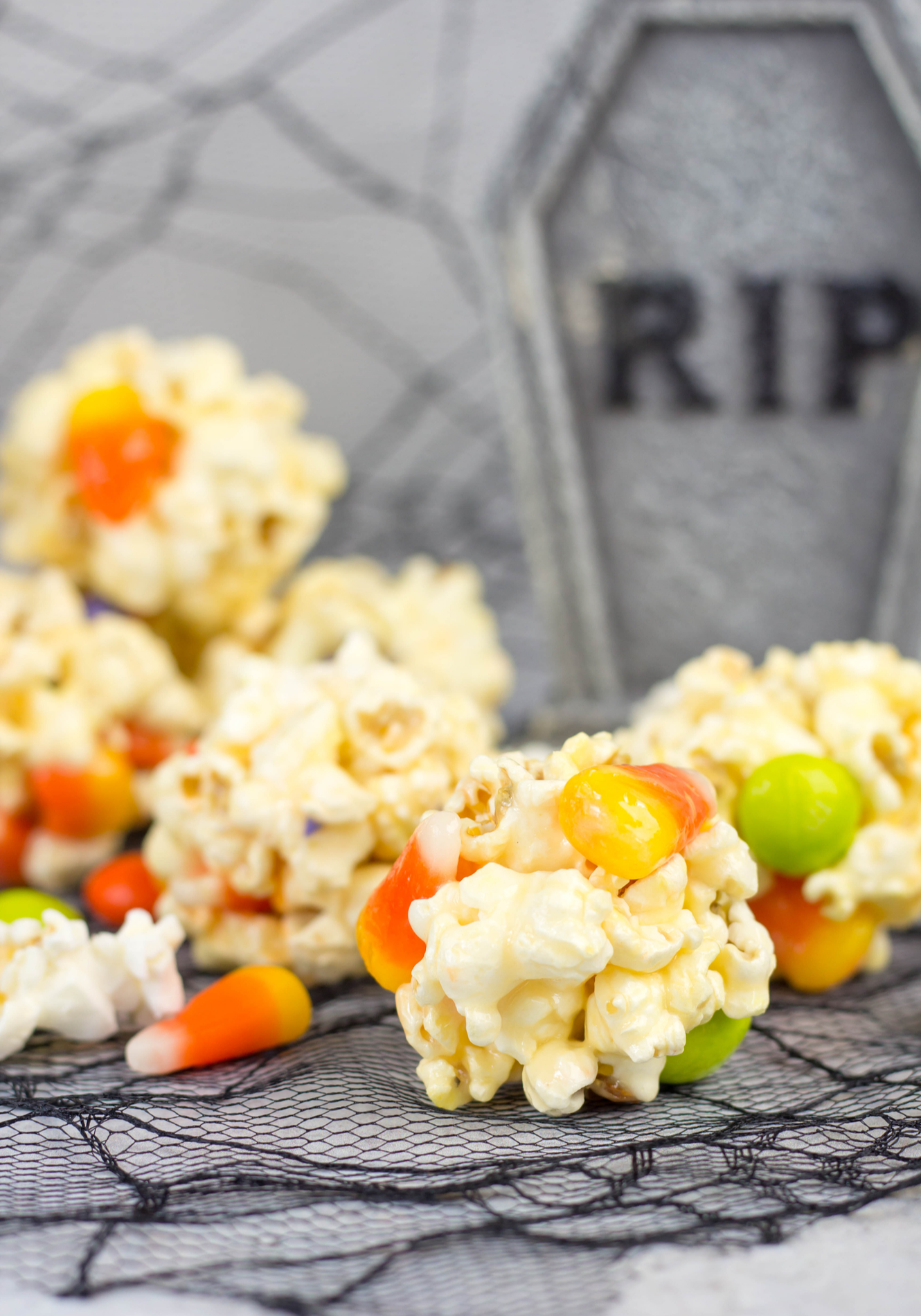 4 Ingredient Popcorn Balls are a great Halloween treat made with popcorn, marshmallows, butter and candies.
Halloween Swirl Cream Cheese Brownies have a layer of rich, dark chocolate brownie topped with a layer of orange cheesecake then swirled together for a spooky treat.  These are sure to be a perfect dessert treat for everyone at your Halloween party!
Make an Orange Fruit Jack-O-Lantern for a Fun, Healthy Halloween! Just follow the easy orange "carving" directions and fill with your favorite fruits.
These mummy candy bar bites taste just like the fried candy bars you can find at fairs!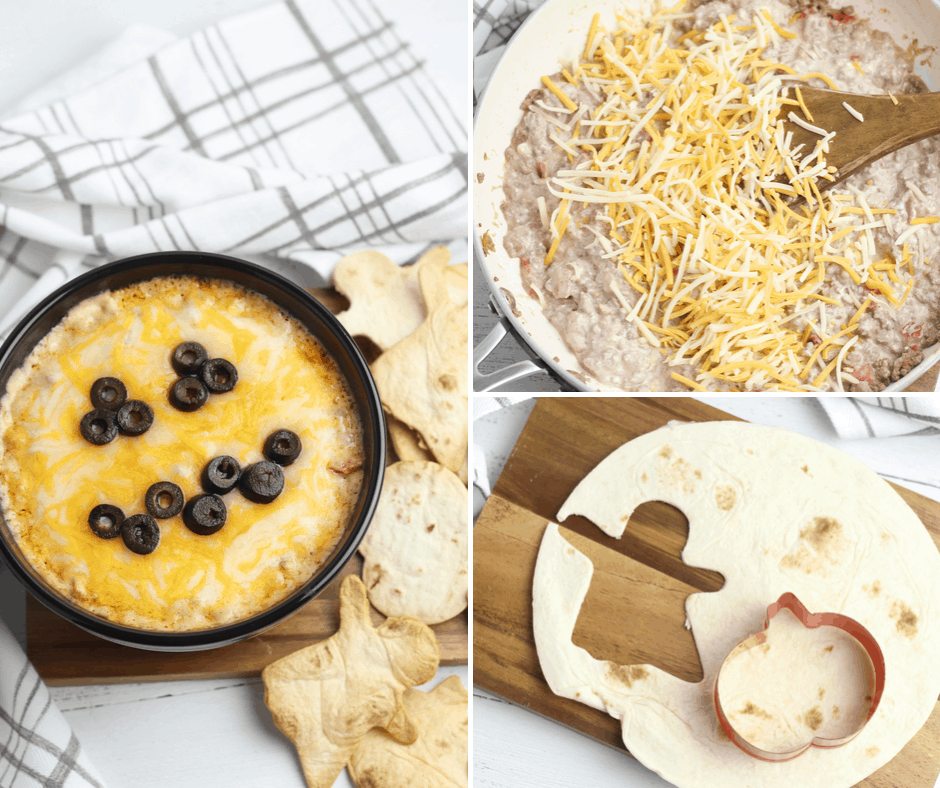 Halloween RoTel Dip Recipe with Baked Tortilla Chips is the perfect Halloween party snack, and comes together so quick.
Have you been looking for the best Halloween dessert recipe? Well congratulations my friend, you've just found it! A disgustingly delicious chocolate Oreo tart that's cleverly disguised as a gruesome & bloody spider web Halloween dessert. A no bake delight that is terrifyingly tasty, CRAZY easy to make & it will blow your Halloween party guests' minds when they cut into it and reveal a gory bloody surprise …
These Silly Halloween Spider Cookies are cute and DELICIOUS and topped with mini Reese's Peanut Butter Cups!
Looking for a sweet and spooky treat? It only takes a few minutes to make this super fun and seasonally appropriate Halloween Boo Bark.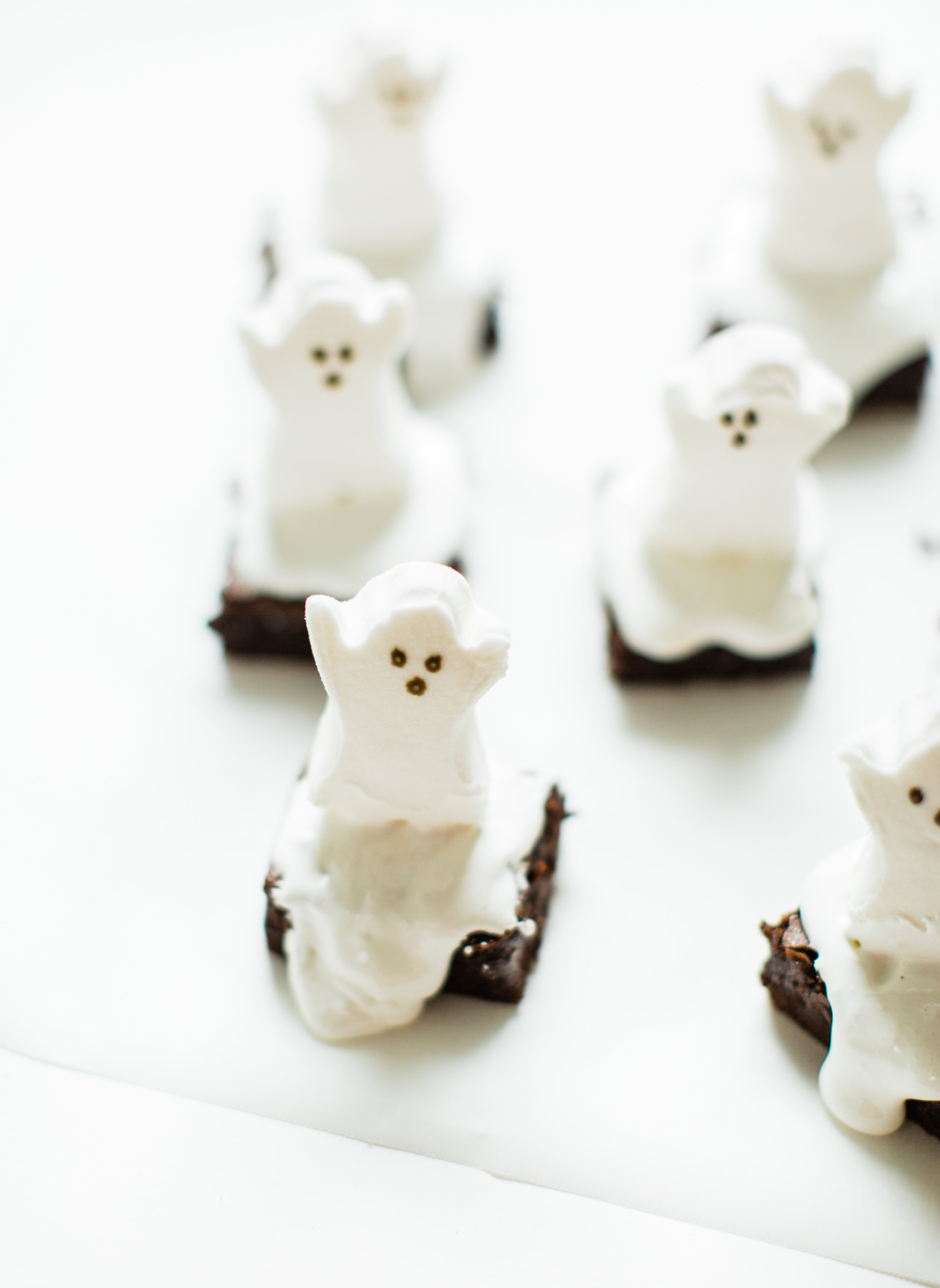 These spooky Halloween ghost brownies are delicious and adorable and so easy to make. Throw together these ghost brownies for your next Halloween party and watch as kids and grownups alike clamor for another haunted brownie!
These mini ghost pizzas (made with cooked pizza dough, sauce, and cheese) are a quick and easy Halloween dinner idea that your little ghosts and ghouls will love!
Brownie Bottom Halloween Cupcakes have a layer of dark chocolate brownie topped with orange cake batter. Finished off with buttercream and sprinkles. They are the perfect mix of semi-homemade and "from scratch" to be easy. Really fun and festive for your next Halloween party!
What could be more fun for a Halloween party then some breadstick bones. Made using pizza dough they are simple yet delicious.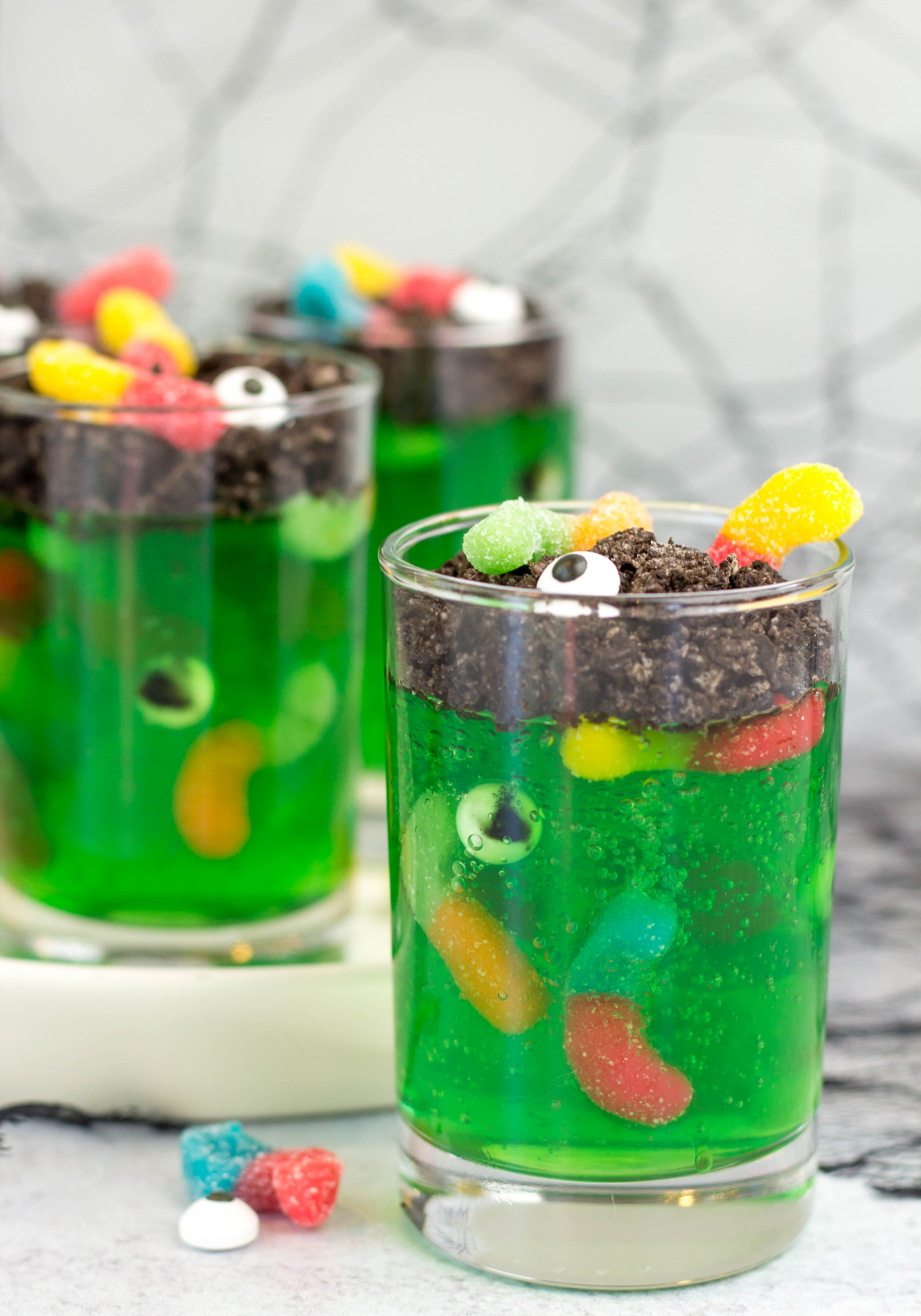 Halloween Jello Worm Cups is a really fun, kid-friendly holiday treat. It's made with lime jello, gummy worms, candy eyeballs and OREO cookies.
When it comes to Halloween treats, don't you want something that looks creepy? Tastes great but is actually really simple and quick to make? Snap – me too! These CRAZY quick & easy rice krispie Halloween treats not only look the part but they taste it too.
These Halloween Bloodshot Eyeballs will be staring at your party guests, just begging to be eaten. But don't worry – they're really yummy nut butter balls coated in chocolate!
These candy-corn chocolate covered Oreo cookies are really simple to make. They look super fabulous as a Halloween gift, party favor, or desserts table treat. But most importantly, they taste absolutely scrumptious!!
SHOP THE FUN HALLOWEEN RECIPES POST | CLICK LEFT & RIGHT ARROWS TO EXPLORE

Do you have any favorite Halloween treats? What do you typically serve on Halloween night?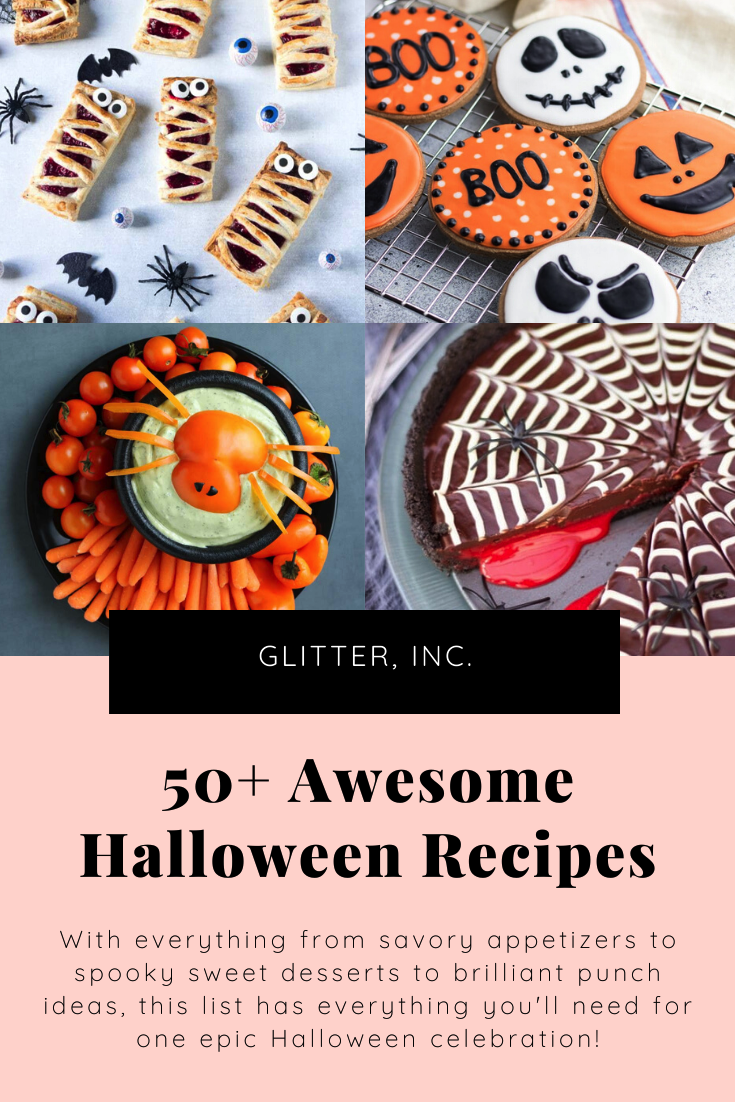 Easy Raspberry Halloween Mummy Pies // Halloween Chocolate Sugar Cookies // Spooky Spider Halloween Appetizer Dip // Bloody Spider Web Chocolate Tart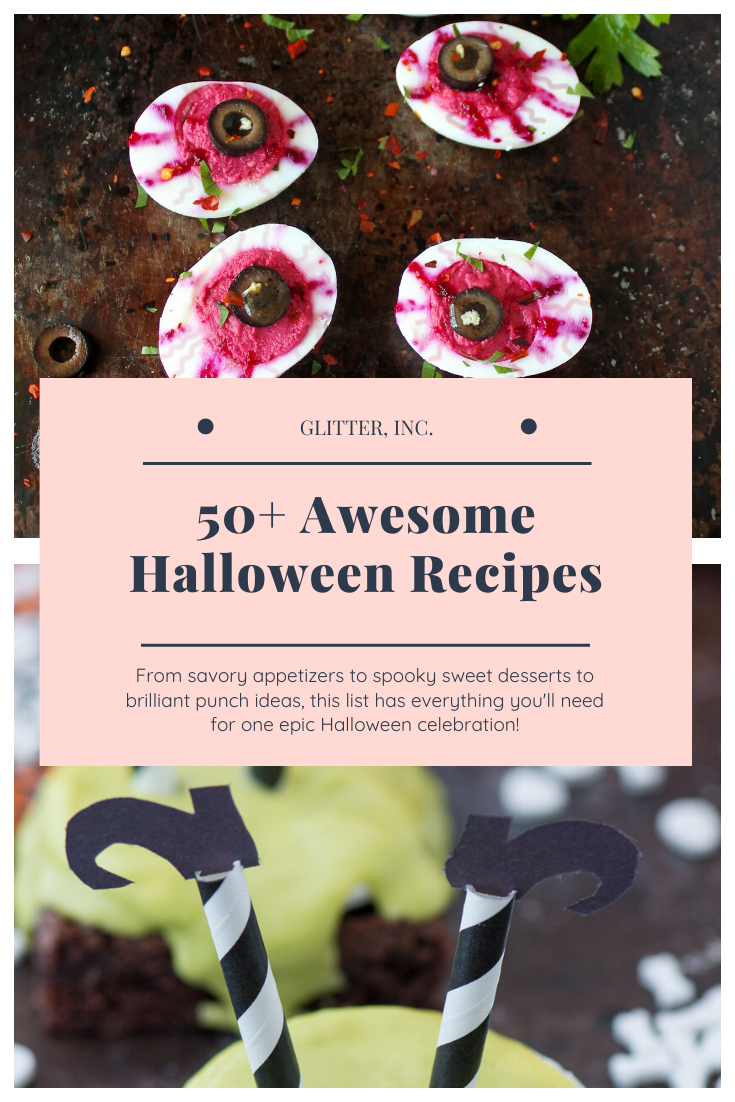 Deviled Egg Bloody Eyeballs // Melted Witch Brownies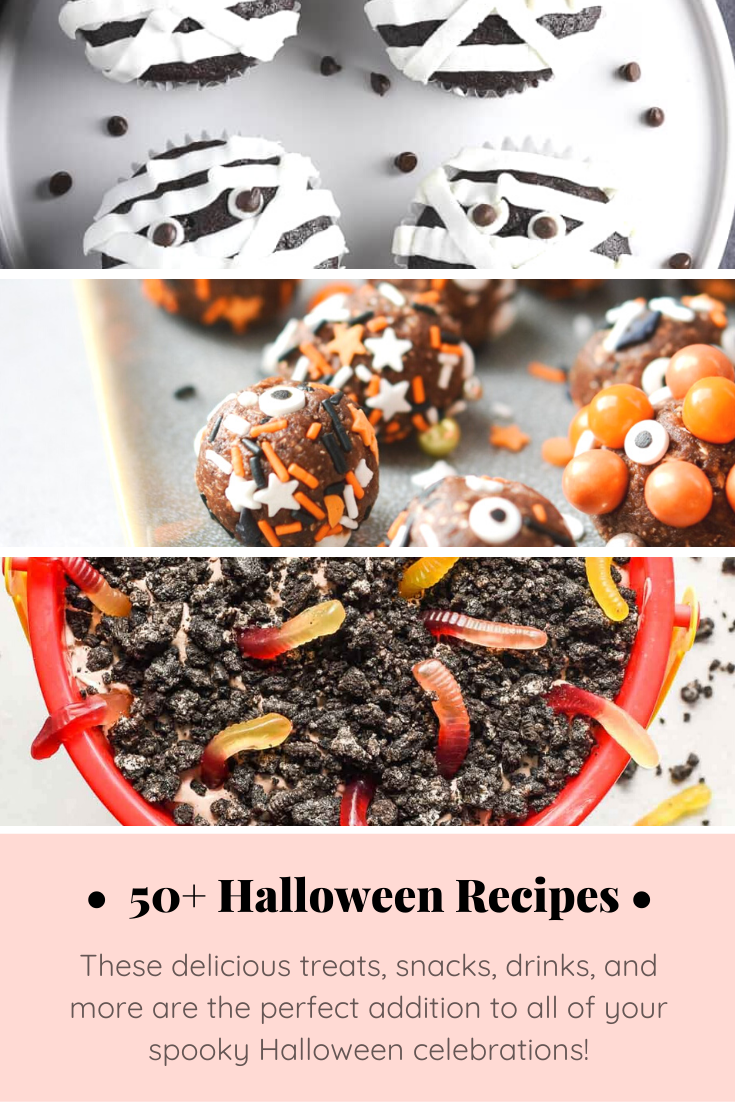 Melted Witch Brownies // Healthy Halloween Brownie Bites // Halloween Dirt Cups