This post contains affiliate links, which means that if you click on one of the product links, I'll receive a small commission. Additionally, as an Amazon Associate I earn from qualifying purchases. Thank you so much for clicking through and helping to support this little blog business of mine! Read more about our site, privacy, and disclosure policies here.
The Valentine's Day dessert board is a spin on the traditional charcuterie, only this spread features nothing but dessert! Piled high with chocolates, candies, and cookies, this is the dessert spread of your sweet tooth dreams. No baking required!
Charcuterie boards are all the rage these days; particularly because they're relatively easy to put together (typically with no cooking and minimal prep needed), look beautiful on a table, and they can easily feed a crowd.
For the season of love, we decided to switch things up and make an overflowing dessert board, complete with candy, cookies, and chocolate galore. The idea is to make an overflowing board of sweet treats, all of which can easily be picked up and snacked on by hand. In other words, a Valentine's Day dessert board is perfect for your next Galentine's Day party, at-home V-day celebration, or romantic date night in.
For even more Valentine's Day inspiration, check out the chicest Galentine's Day wine and cheese party, this Valentine's Day inspired dessert party, 14 festive home and fashion finds for the month of love, and our favorite kids book to read just in time for Valentine's Day.
The Cutest Valentine's Day Dessert Charcuterie Board
It's easy to see why this may very well be the most perfect dessert spread. This dessert board is love at first sight, I tell ya!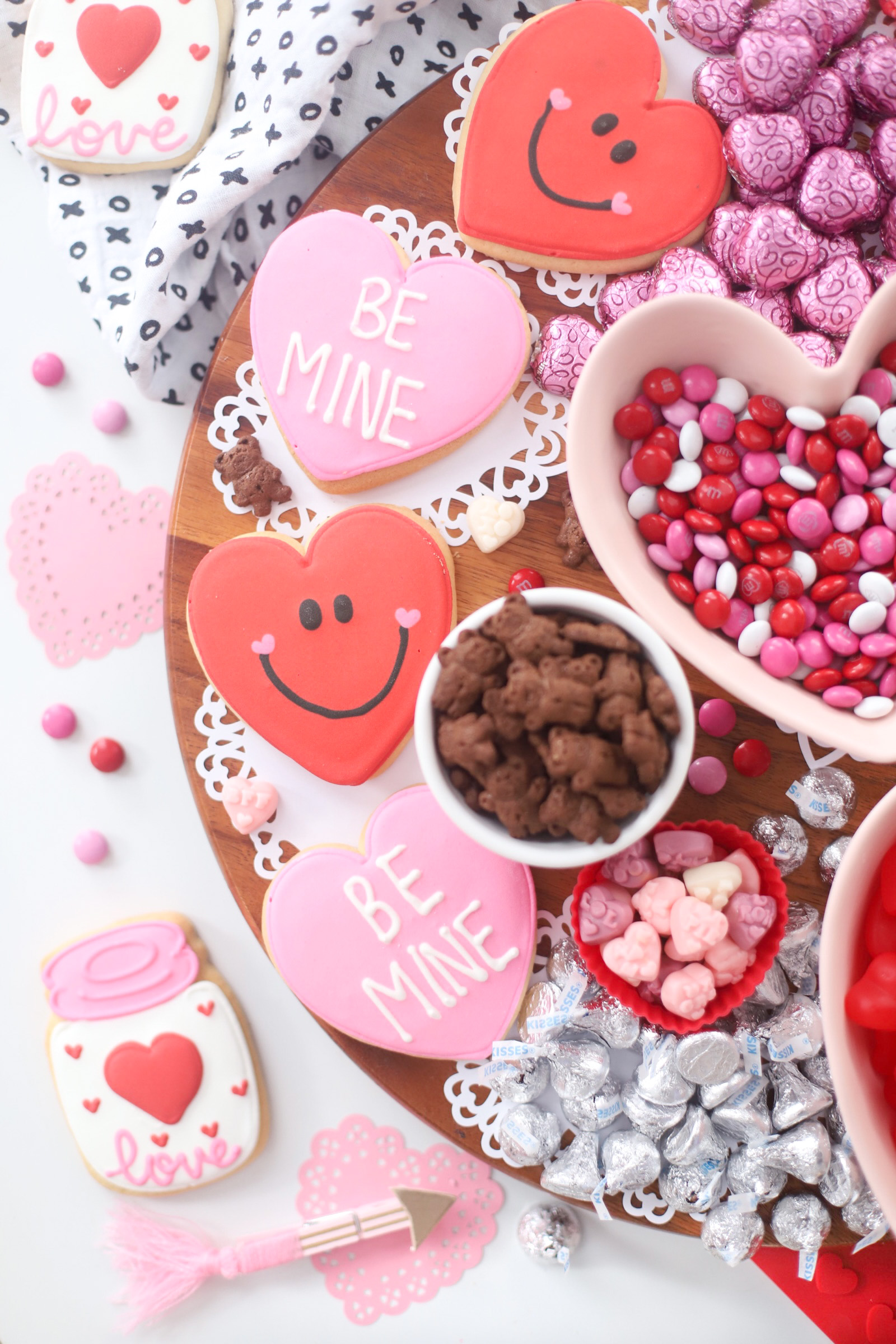 Making a Valentine's Day Dessert Board is So Easy!
Bonus points: a great dessert bar requires no cooking at all, making this crowd-pleasing, show-stopping dessert easy as could be.
And to really keep things simple, make shopping for your dessert board a one-stop shop. Whether you head to Target or your local grocery store (even a drugstore works), all you need to do to recreate your own dessert board is buy up your favorite Valentine's Day candies, pre-decorated cookies and treats.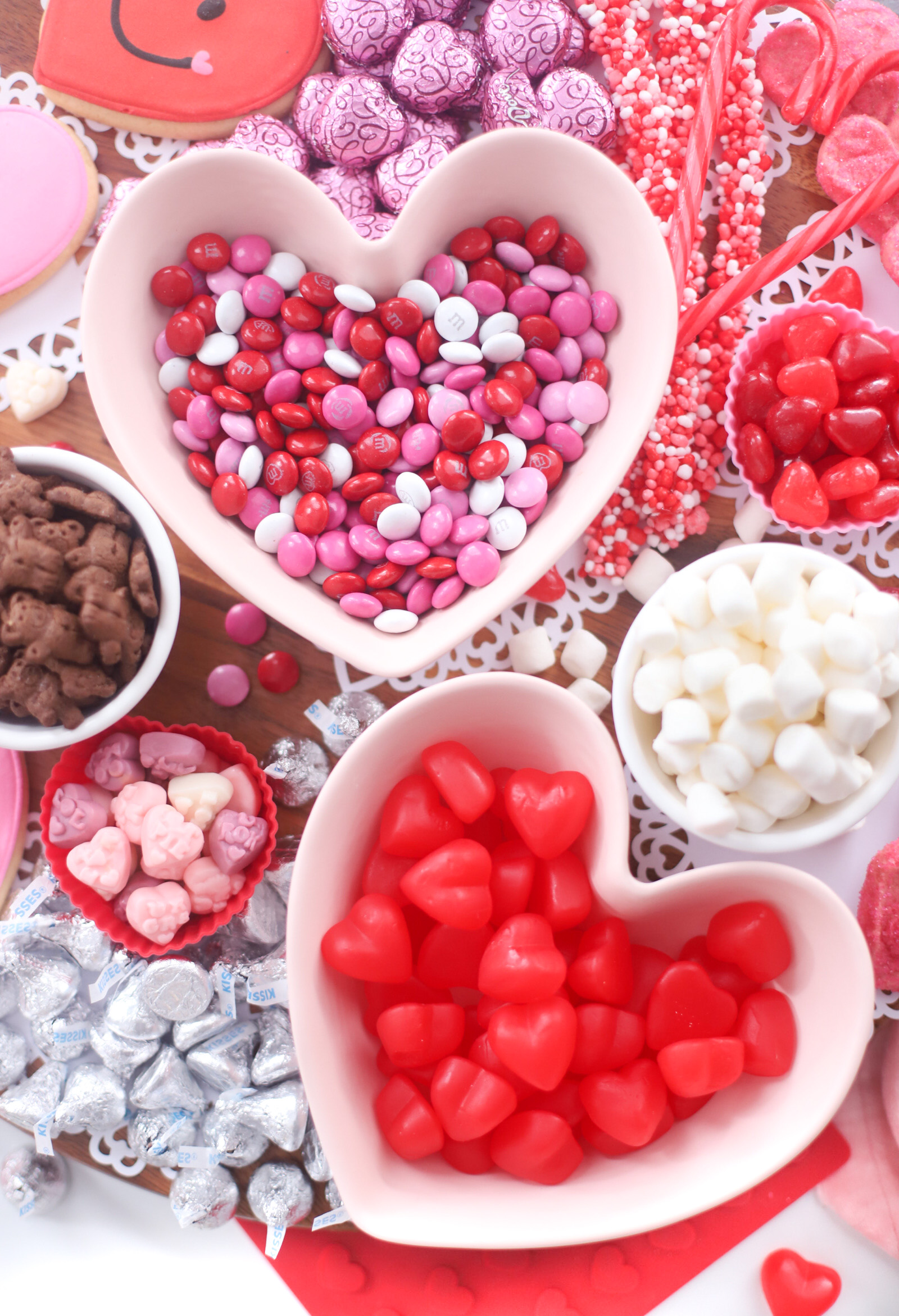 Why You Will Love This Valentine's Dessert Board:
Dessert boards are easy to make! The Valentine's Day charcuterie board is so simple to put together and requires no skill in the kitchen. Anyone can do it!
This dessert has major "wow" factor. Overflowing charcuterie boards are such statement makers. They're big and beautiful and always a crowd pleaser!
It can be affordable, promise. You don't have to spend a ton to make a pretty charcuterie board. You can buy your candy and cookies from the grocery store, drugstore, Trader Joe's, Target, Aldi, the list goes on, and still create a stunning dessert board.
Easy to make in advance. You can totally make a Valentine's dessert board in advance of the day you want to serve it, though because you don't need to do any baking at all, it's easy to just open up all of the packages the day of, arrange everything in under 10 minutes, and voilà!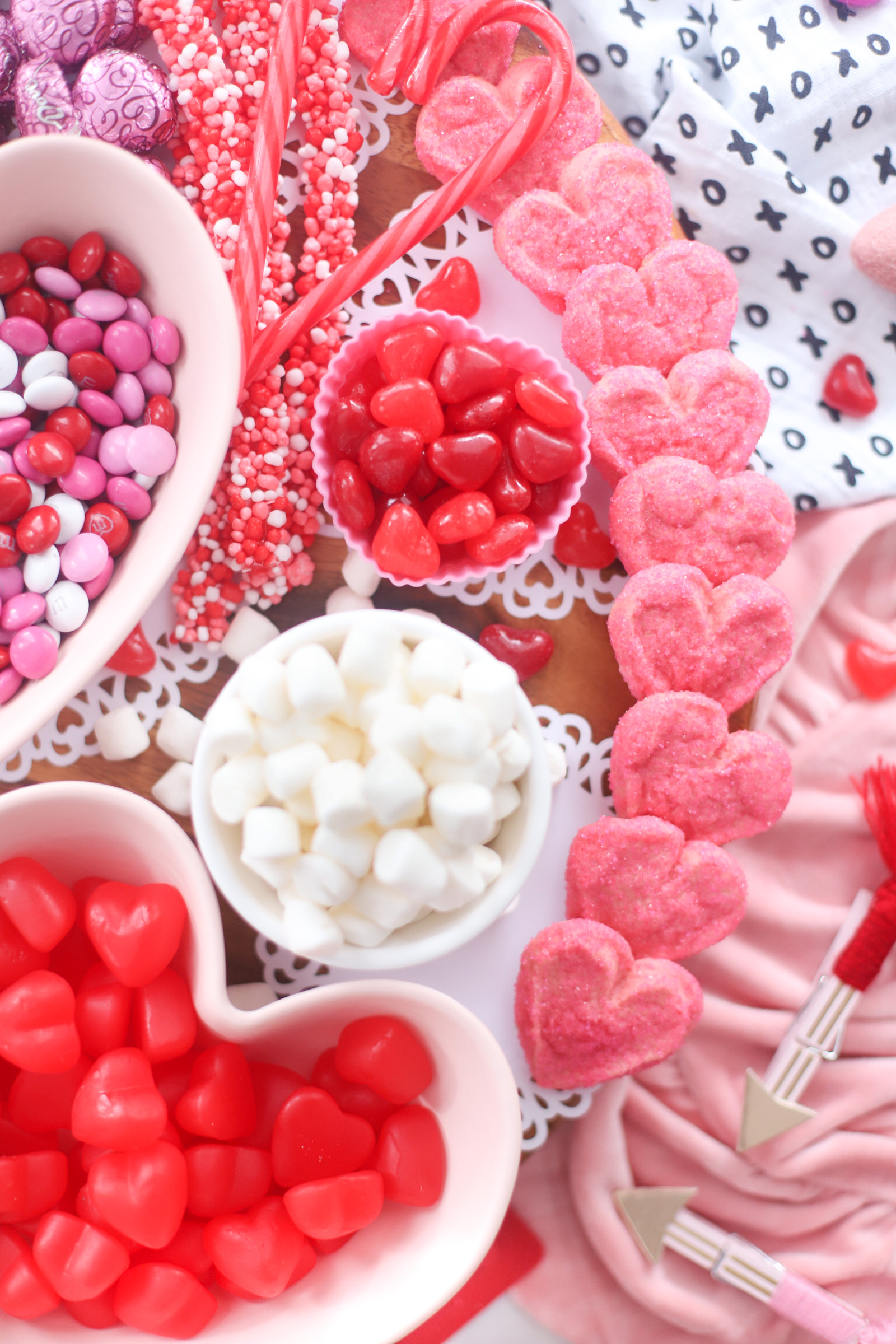 If you want to bake up a few dessert goodies to include in your Valentine's Day Dessert Board, might I suggest:
The Best Sugar Cookies for Decorating
Pillowy Soft Dairy Free Frosted Lofthouse Cookies
Marbled Graham Cracker Toffee Bark (a.k.a., graham cracker crack)
Strawberry Cheesecake Macarons + Oreo Macarons
Big & Fluffy Homemade Raspberry Marshmallows
Red Velvet Cupcakes in a Jar
Chocolate and Nutella Covered Strawberries
Easy Fudgy, Chewy, Cakey, Better-Thean-Box-Mix Brownies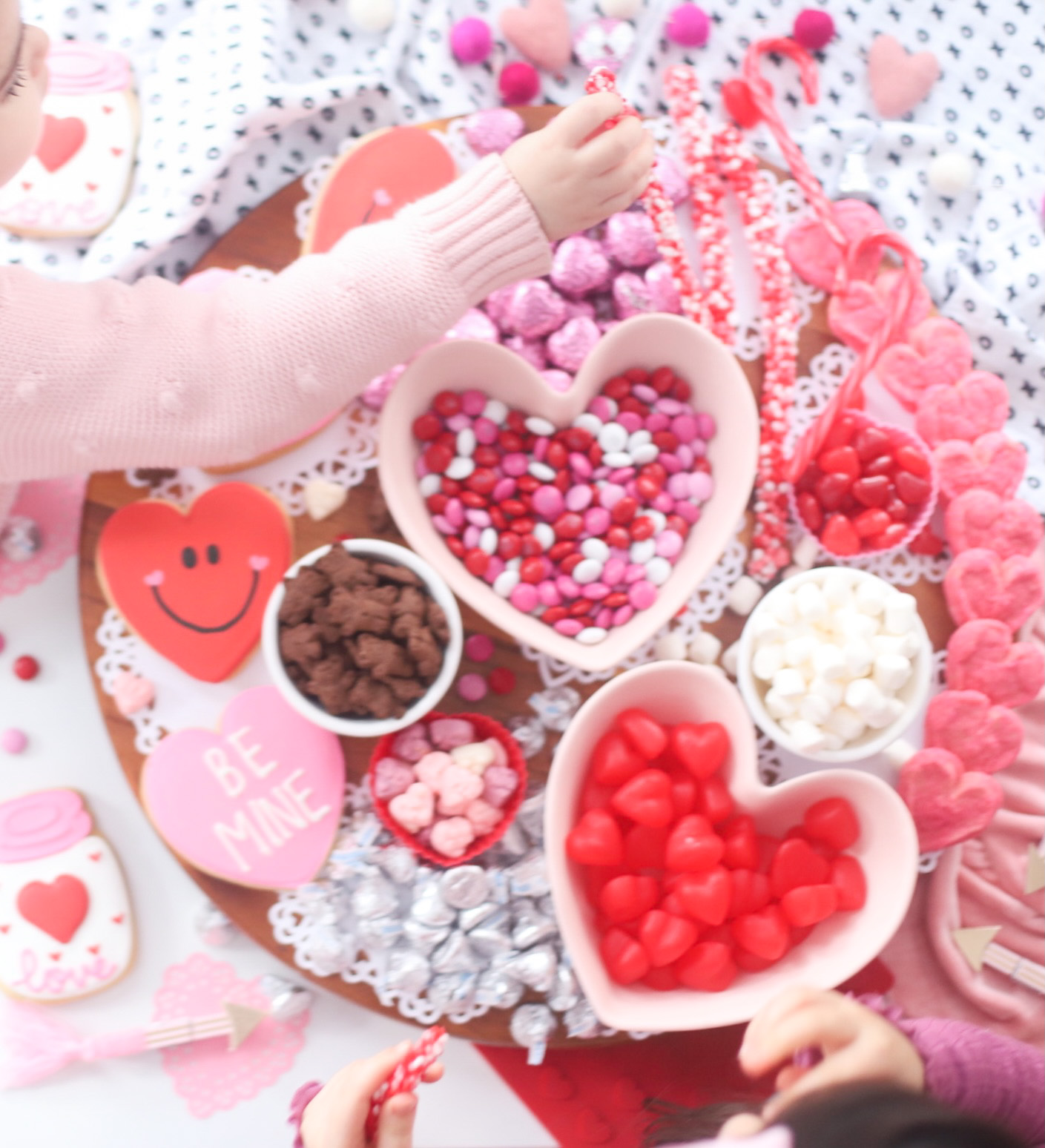 The beauty of a dessert board is that you can adjust the size to fit your celebration. Make a smaller scale board for a festive afternoon snack for the kids or a Valentine's Day date night in; scale up for a family treat.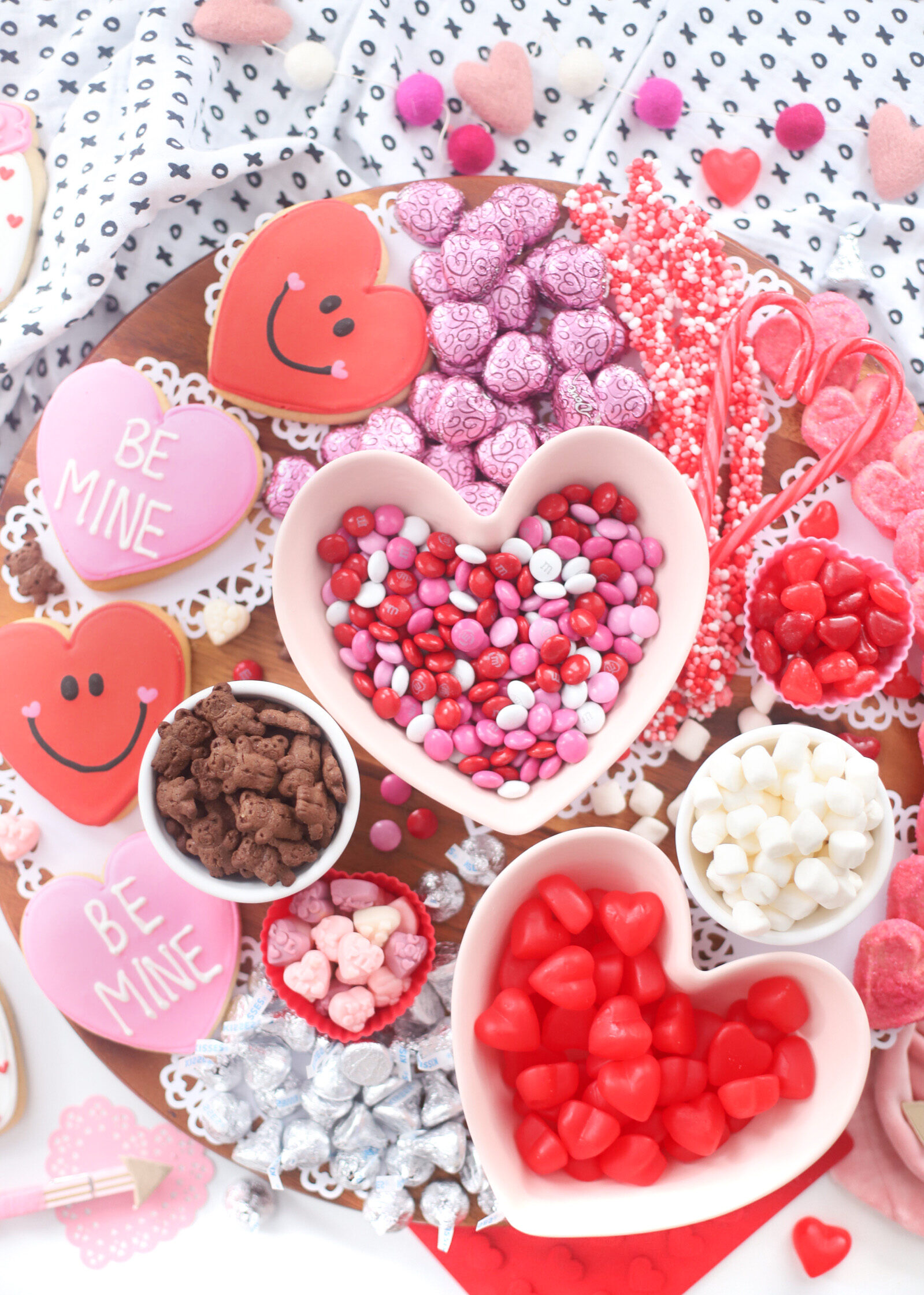 Valentine's Day Dessert Board
Put together your own beautiful dessert board inspired by the holiday of love. Gather all of the festive pink, red and white sweets of the season, and make this delicious dessert spread for your loved ones!
What You'll Need

How to Create the Dessert Board
Start with a large wood board, platter, or pallet. I actually used a wood lazy susan; we've been loving this turntable for our big charcuterie boards, taco nights, and more, because the kids love getting to spin the board to reach what they want. Set out a few pretty doilies on the board to make it extra festive.
Go with a general color palette. (Colors like pink, white, and red are perfect for Valentine's Day!) Remember, the goal is to make your board look full, delicious, and layered, with a lot of texture and colors.
Place the smaller candies – like M&Ms, marshmallows, and jelly beans – in bowls or ramekins around the board. These bowls add height and dimension to your board and help to contain the smaller pieces. Heart-shaped bowls were extra perfect for this V-day dessert board.
Next I like to layer a cascade of cookies along the edges of the board to give the platter some definition.
From there, and after you've set down the bowls and ramekins of smaller candies, and a bit of an outline with candies and cookies, start to build piles and patterns of larger treats around the bowls.
Start filling in between the cookies and around the ramekins. Fan cookies and candies around the bowls in fun and uniform patterns. To make your dessert board pop, try alternating items based on color, so that you have different shades up against one another, rather than say, three piles of red. The contrast will help to make the whole dessert board look even more aesthetically pleasing!
Fill in any remaining holes with smaller candies. Serve and enjoy!
So there you have it: an easy and epically delicious Valentine's Day dessert board!
P.S. I documented the whole process of building this Valentine's dessert board on Instagram in case you're interested!
P.P.S. Don't forget to have fun with your dessert boards! There's no wrong way to put together a charcuterie board. Simply start adding your food in small groupings and follow simple patterns around the board shape. Get creative and have fun with the layout!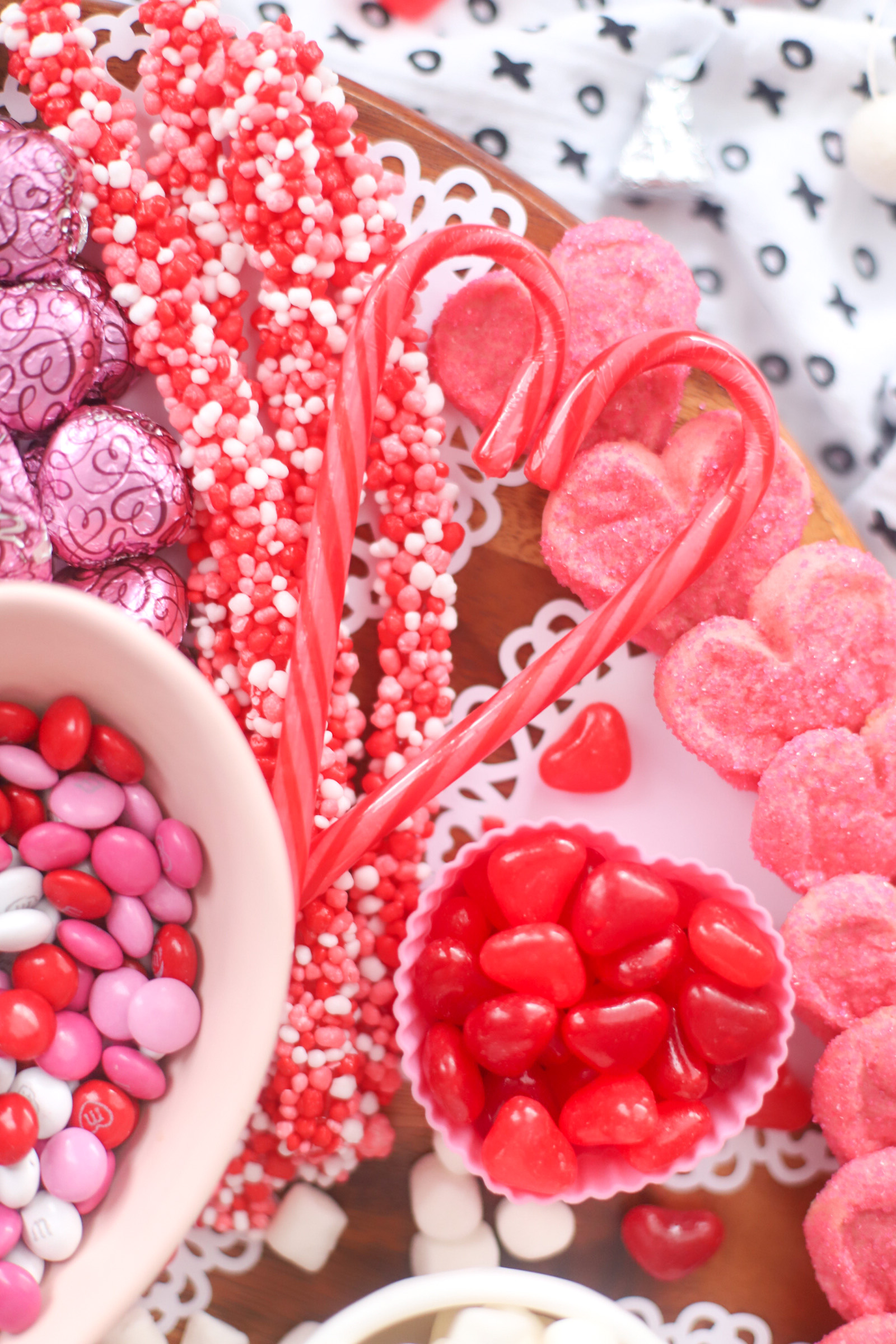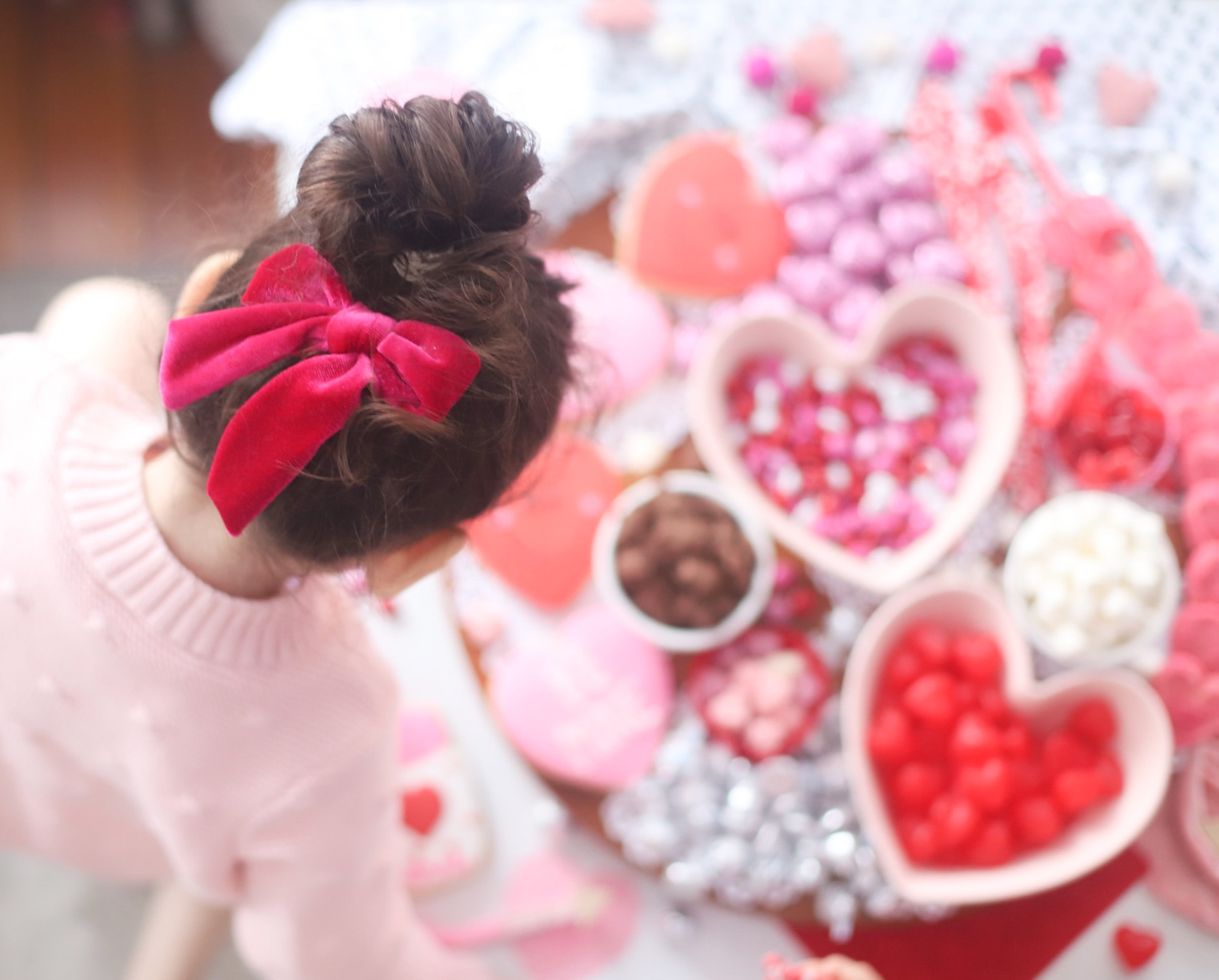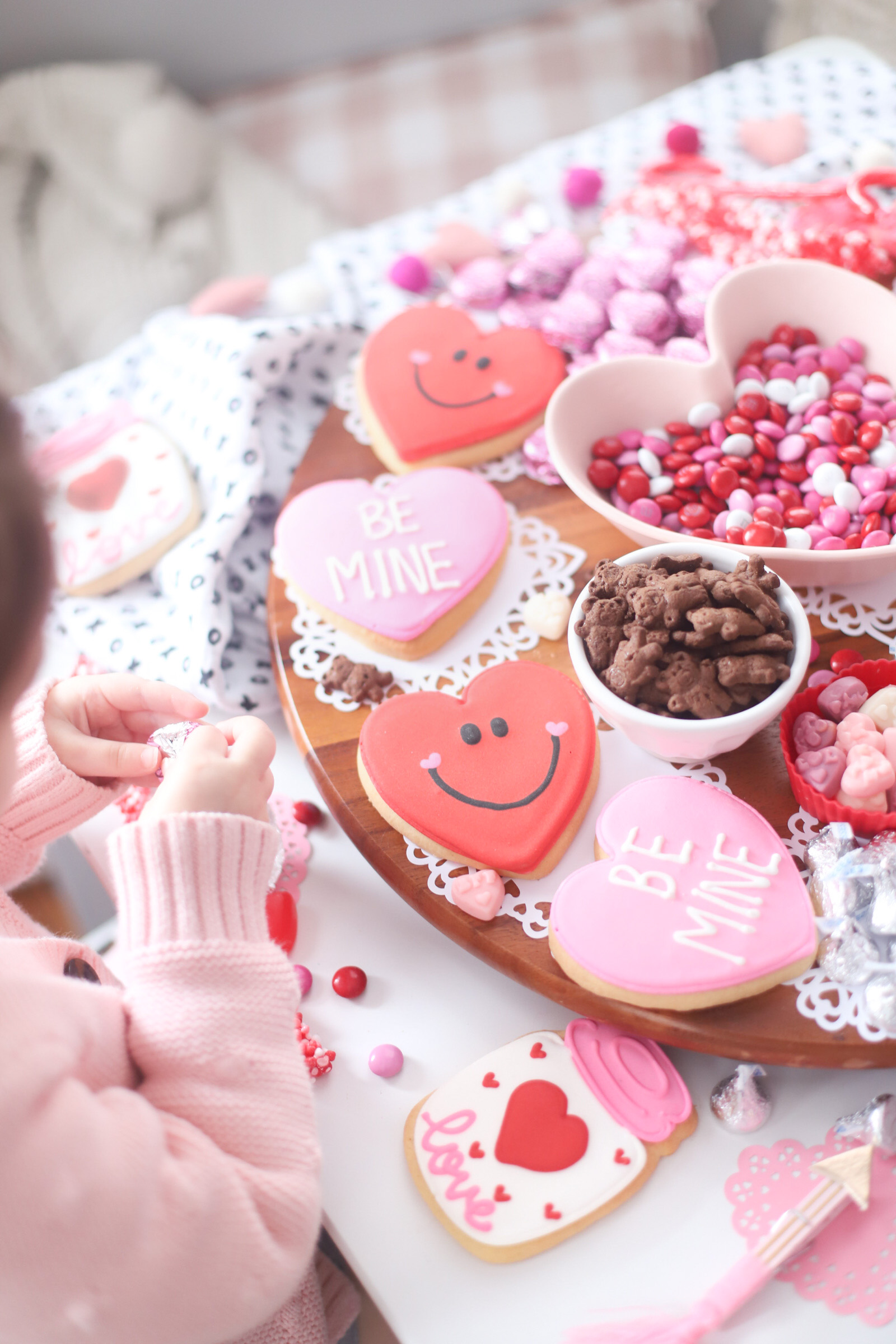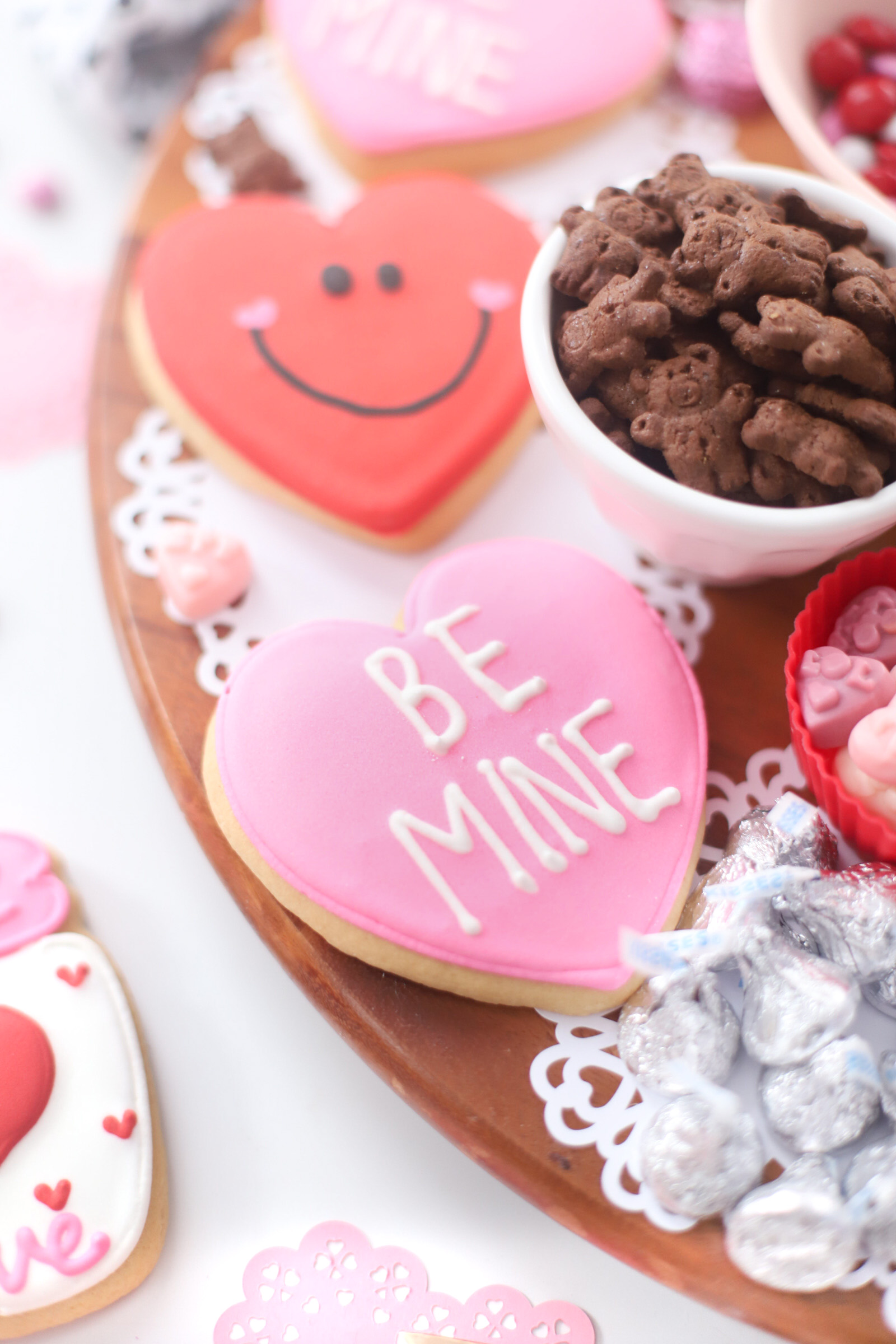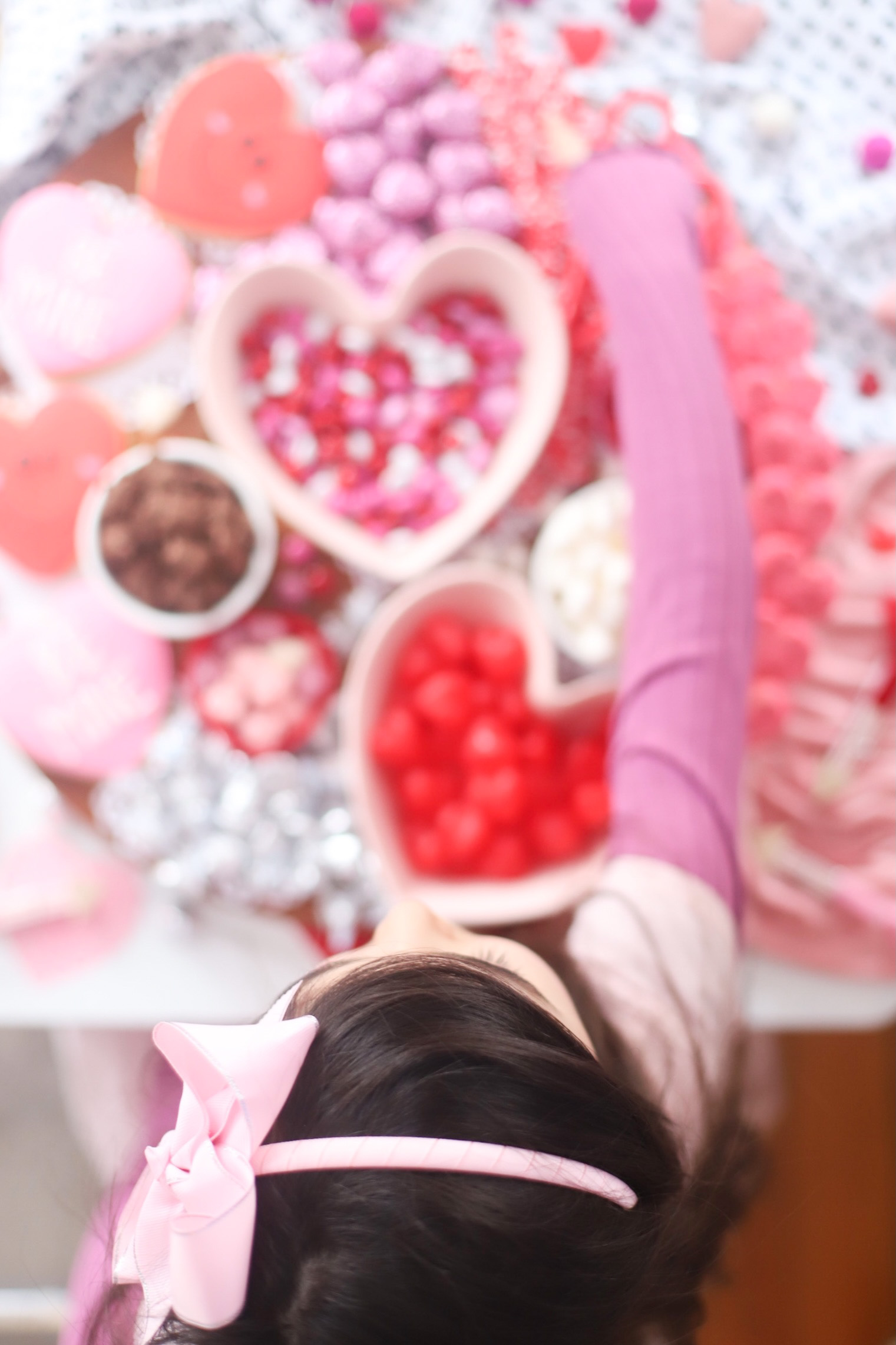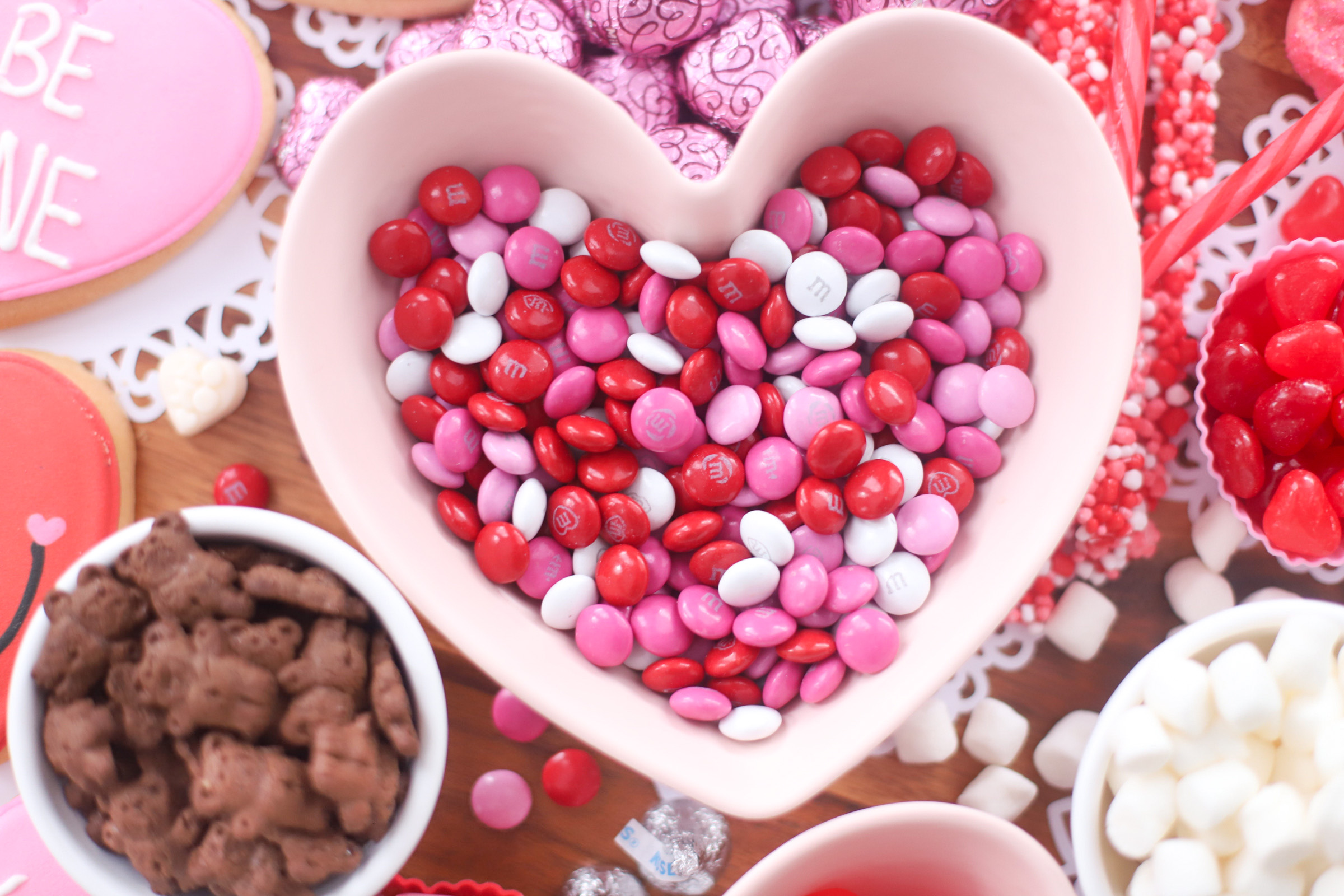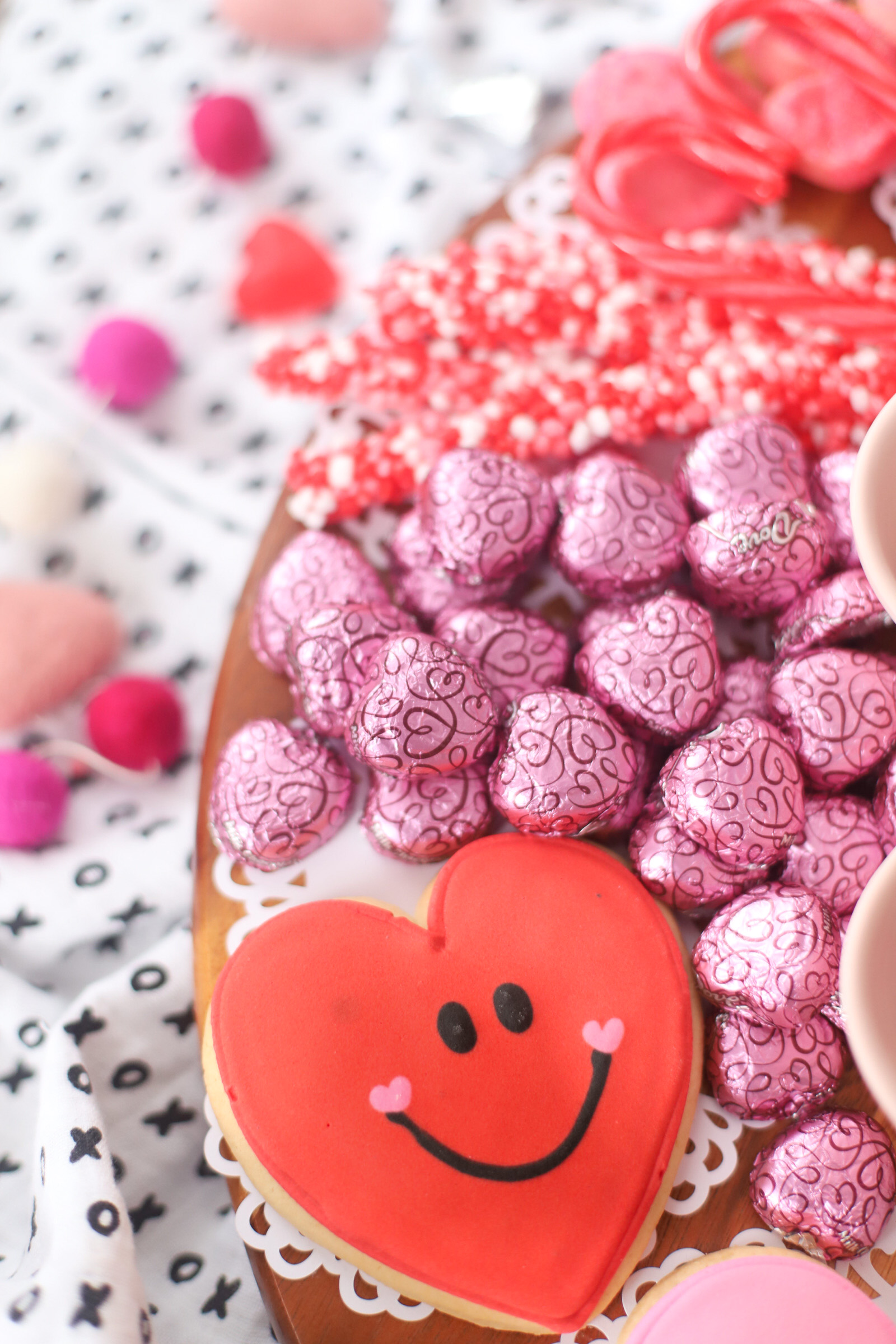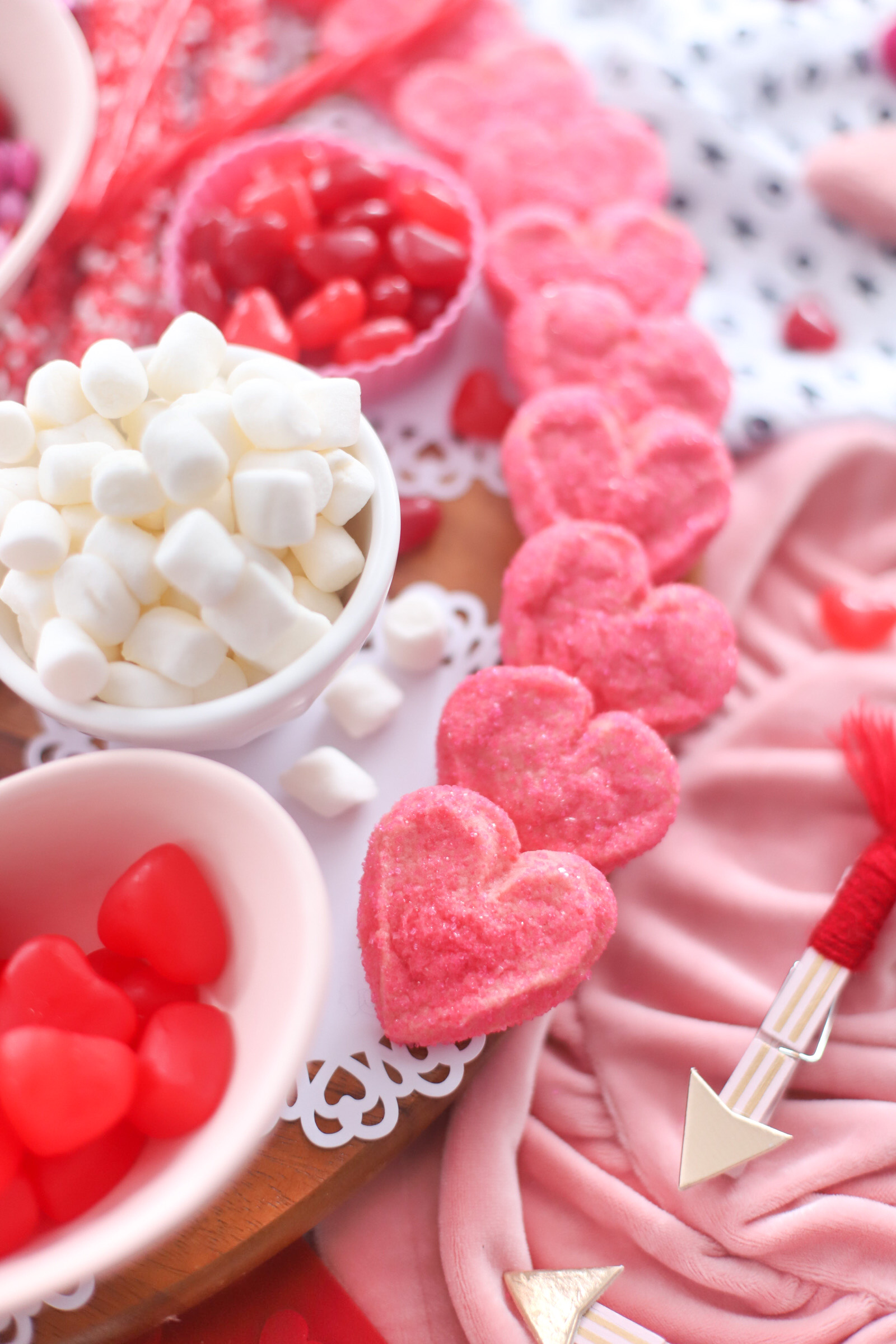 Have you ever made a dessert charcuterie board? How do you like to celebrate Valentine's Day?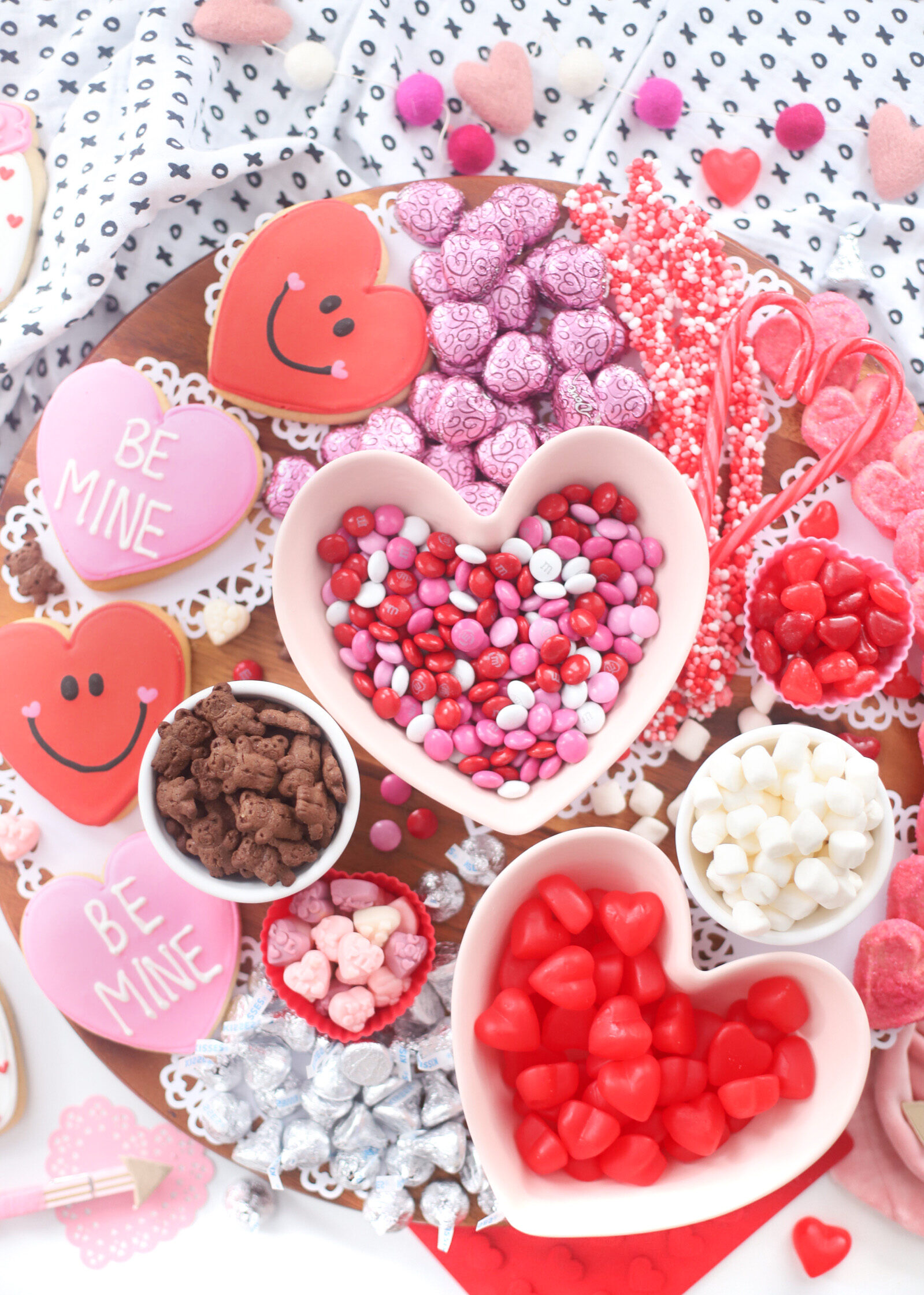 I hope you find that this Dessert Board post is helpful and inspires your Galentine's or Valentine's celebrating!
SHOP THE VALENTINE'S DAY DESSERT BOARD POST | CLICK LEFT & RIGHT ARROWS TO EXPLORE

Love this dessert board? Head to our recipe page to check out what else we're dreaming up in the kitchen!
If you make your own Valentine's Day dessert board, be sure to tag me on social media (@glitterinclexi) so I can live vicariously through all of your sweet creations! Plus, I'd love to see how yours turn out!