This post contains affiliate links, which means that if you click on one of the product links, I'll receive a small commission. Thank you so much for clicking through and helping to support this little blog business of mine! Read more about our site, privacy, and disclosure policies here.
Hands down, the most crowd-pleasing macaroons, these delightful homemade Oreo flavored macaroons are stuffed with heavenly buttercream and Oreo cream fillings. The result: a light, scrumptious macaron that's laced with the classic taste of an Oreo.
Today I'm so excited to share with you another one of Rachel's incredible kitchen creations. I basically begged Rach to make these Oreo macarons for Glitter, Inc. (I mean, how perfect are Oreo macarons for Halloween? And just wait until you see how she decorated them!) She is a macaron wizard (Remember these strawberry cheesecake macarons?) and Oreo macarons are every bit as incredible as you'd hope they'd be. So without further ado, here's Rachel:
As a girl with a serious sugar addiction and an odd obsession with scary movies, it's obvious why I love Halloween. One of my absolute favorite things to do during the week leading up to the 31st is to make loads of Halloween-themed goodies for friends and family. Last year, it was all about homemade Twix bars, pumpkin chocolate chip cookies, and orange Oreo fudge.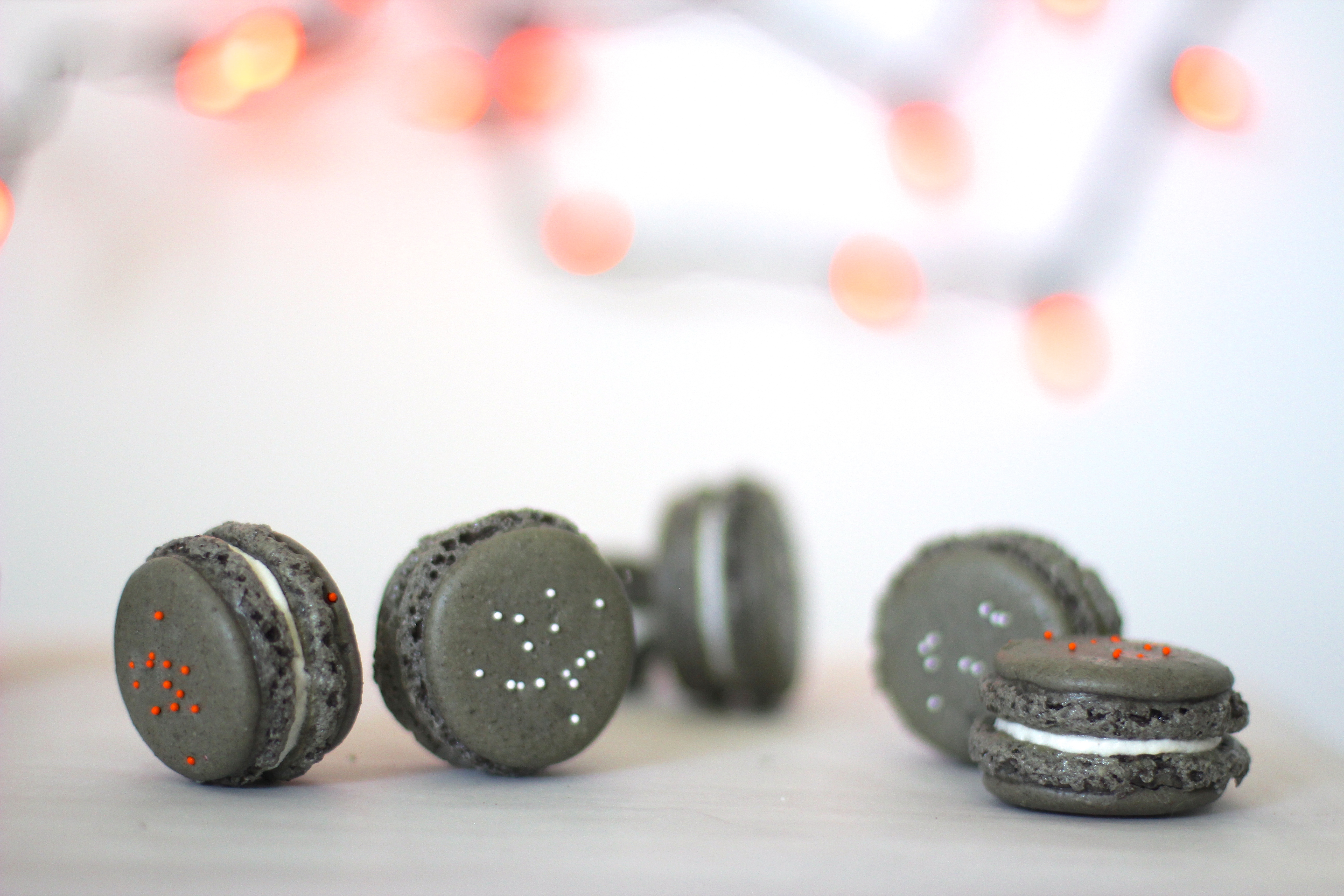 This year's fun begins with Halloween Oreo Macarons! I've made this Oreo Macaron recipe a total of three times and one thing's for sure – this definitely won't be the last time. That's because each and every time I make these Oreo Macarons, they're an instant hit. Maybe it's because macarons are impressive and fancy or maybe it's because they're Oreo flavored (I have yet to meet a person in this world who doesn't like Oreo's.) But for some reason, everybody has to try one! Even the ones who aren't the biggest dessert fans (a.k.a. "the weirdos.")
The shells of these macarons use what I call "Oreo flour" (Oreos cookies, minus the filling, that have been ground in the blender or food processor.) The buttercream in between the macarons utilizes the leftover Oreo cream fillings, (because it would be a crime to let those go to waste.) The result: a macaron that's laced with the classic taste of an Oreo.
If you've never made macarons before, this is the recipe to try! It's practically foolproof, and your guests will be SO impressed if there's a tray of these little guys at this year's Halloween party.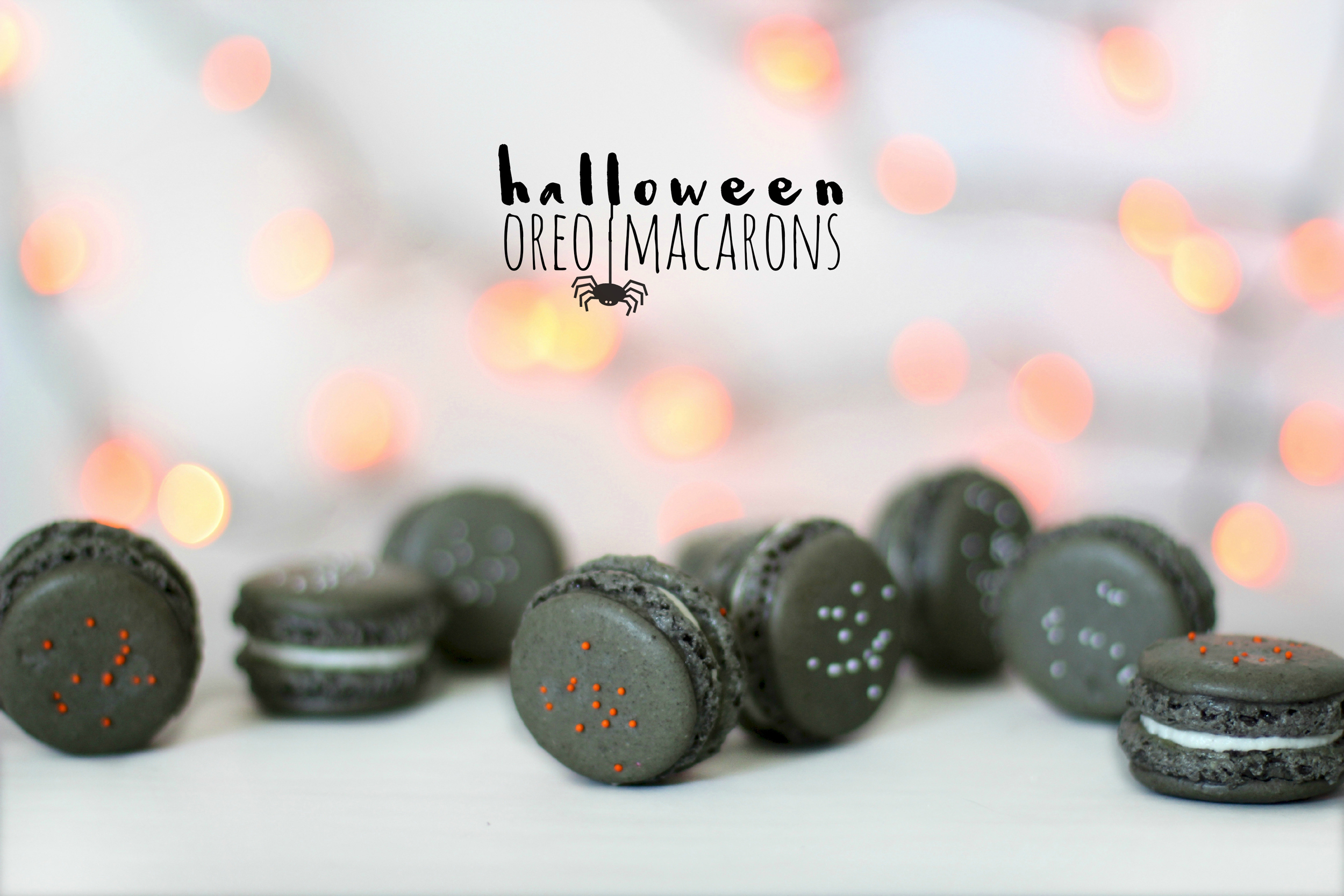 HOW TO MAKE OREO MACARONS
INGREDIENTS
For the cookies…
¾ cup almond flour
¼ cup Oreo "flour" (about 5 crushed Oreos, without the cream filling)
2 cups powdered sugar
3 room temperature egg whites
¼ tsp. cream of tartar
¼ cup granulated sugar
A pinch of salt
¼ tsp. vanilla extract
3 drops of black food coloring (for a silvery gray –add more if you'd like the macarons to be darker)
Sprinkles, to decorate (optional)
For the Oreo buttercream filling…
Fillings of 10 "Double Stuf" Oreos
4 tbsp. (1/4 cup) salted butter
¼ cup powdered sugar
2 tsp. vanilla almond milk
DIRECTIONS
In a medium sized bowl, sift together the almond flour, powdered sugar, and Oreo "flour" through a fine sieve.
In a large bowl, beat 3 room temperature egg whites and the cream of tartar on high speed. Once the eggs become white and fluffy, begin to slowly incorporate the granulated sugar, salt, vanilla, and black food coloring. Continue whipping the egg whites until they form stiff peaks (about 8-10 minutes total.)
Once the egg white mixture is stiff, begin adding the dry (almond flour, powdered sugar, oreo crumb mix) into the wet (whipped egg white mix). Do this by sprinkling on about 1/3 of the dry into the wet at a time – until all of the dry has been incorporated. Slowly and carefully fold the dry ingredients in, making to sure not to deflate the egg whites. (This process should take about 75 folds, if you're willing to count!)
When the batter is completely mixed, it should slowly run off of the spatula in a continuous stream. Load the batter into a piping bag fitted with a large round tip, and pipe out about 40 evenly spaced 1-inch circles onto two parchment lined baking sheets (20 on each sheet). Add sprinkles to the tops of the cookies if desired.
Once the macarons are piped, tap the pan

hard

on the counter several times to release any air bubbles. This is a CRUCIAL STEP! Leave the baking sheets in a cool, dry area to dry out for at least 30 minutes to and hour – until the tops are no longer sticky to the touch.
Preheat your oven to 300 F and bake the macarons for 15-20 minutes, until they can be easily lifted from the parchment paper without sticking. Bake each sheet separately to ensure that heat is distributed evenly.
While the macarons bake & cool, prepare the Oreo buttercream filling. Whip the butter and Oreo fillings together until smooth and fluffy. Then alternate adding powdered sugar and almond milk until you reach the desired consistency (not too thin – or it will ooze out of the macarons.)
Lastly, pair the macarons up according to size, pipe a dollop of buttercream onto every other macaron, and sandwich them together. Store your macarons in the fridge or freezer and serve them at room temperature.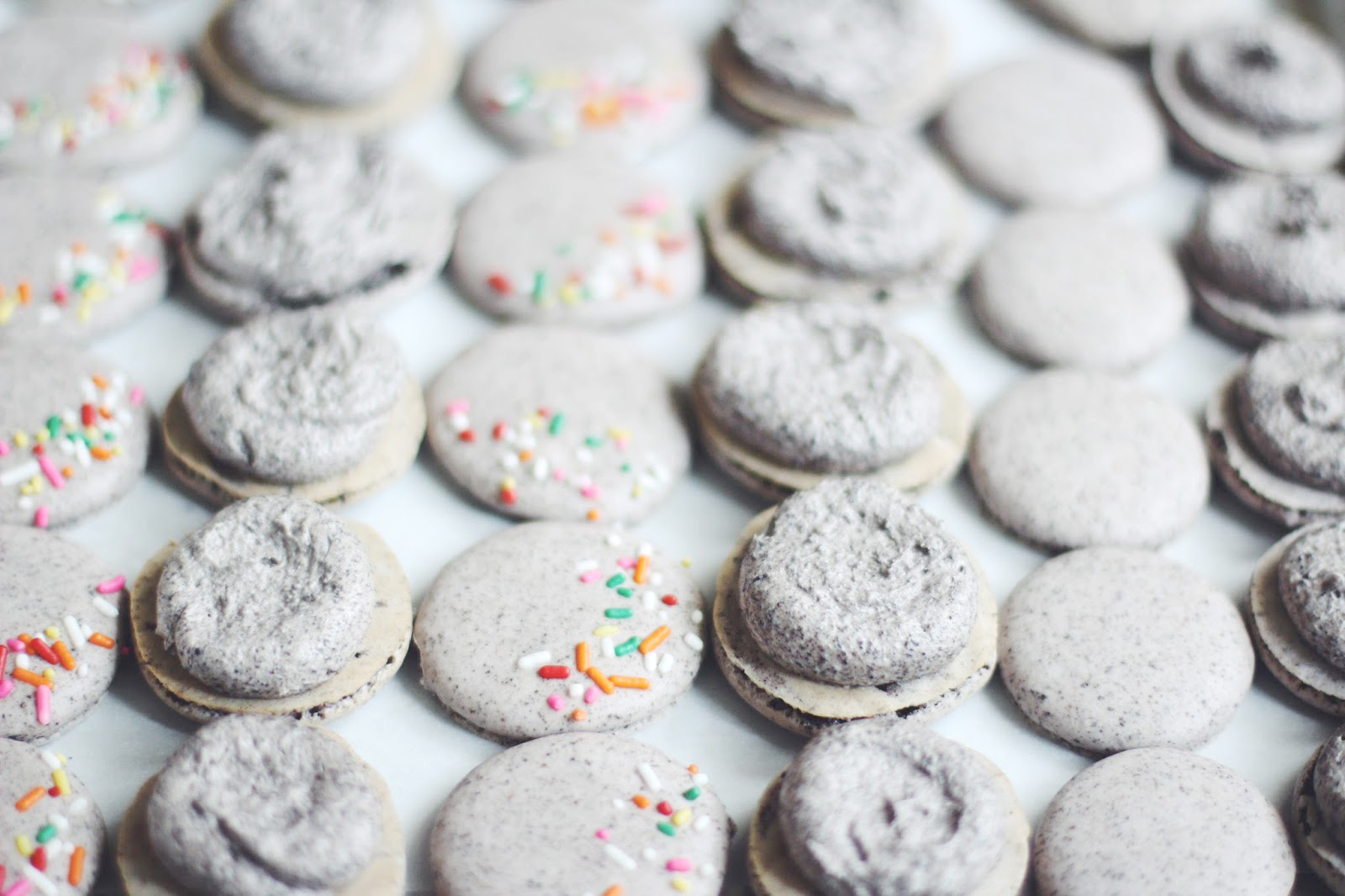 Store your macarons in the fridge or freezer, and ENJOY!
Top your macarons with sprinkles, roll the edges of the cookies in extra Oreo crumbs, or simply leave them as is for a chic black and white look; there are so many cute ways to "style" your macarons for different festivities.
TIP: For a helpful visual guide to making macarons (proper folding technique, etc,) be sure to check out our Strawberry Cheesecake Macaron video tutorial from last year!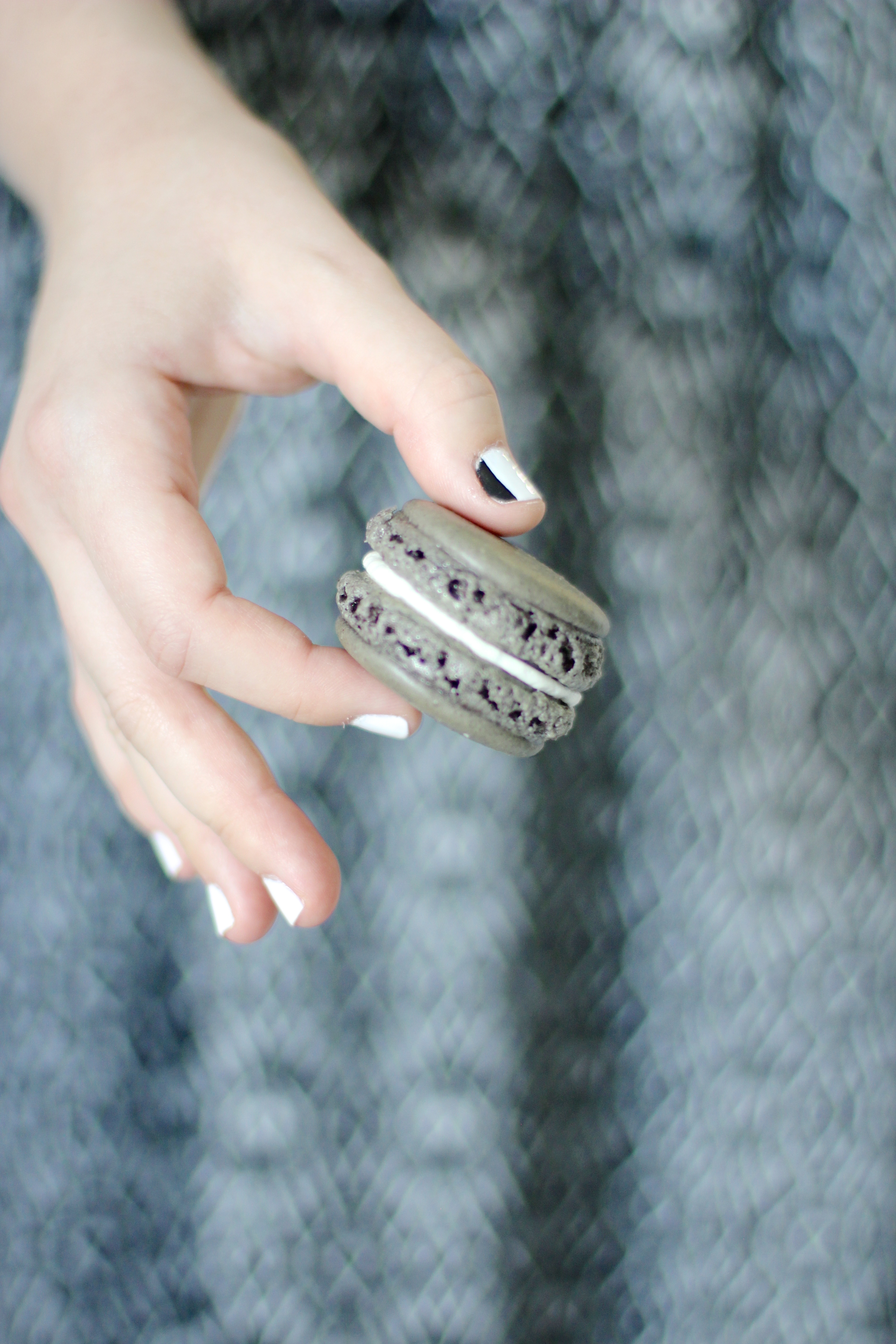 Click through the slideshow to see the step-by-step photos: