Valentine's Day is by far one of my favorite holidays. I am shamelessly charmed by the hearts, the tulle, the streamers, the love notes, and of course, the chocolate. Nothing says cheesy wonderful romance like chocolate and Nutella covered strawberries for Valentine's Day. Nutella swirled in with that melted chocolate … on top of strawberries … well, that's just decadent. This Nutella covered strawberries recipe has it all – plus you can make it in just a few simple steps. Hope you enjoy (and let me know how yours turn out!)
Seriously, I wasn't kidding about the easy part … the very best thing about this Nutella covered strawberries recipe: how unbelievably simple it is. (Oh, also … the Nutella. Nutella is always the best.)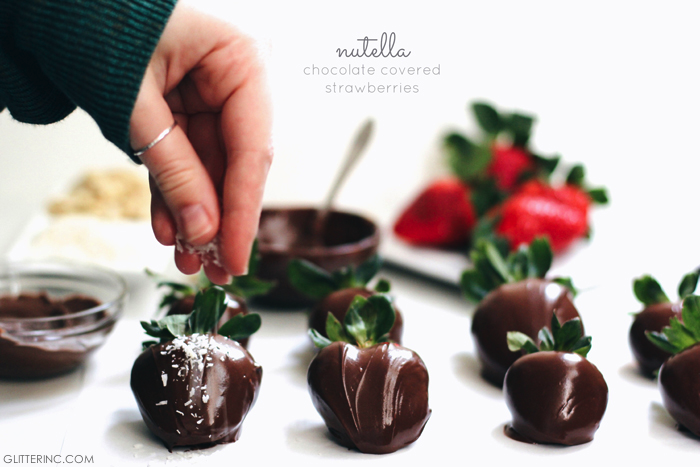 Chocolate and Nutella Covered Strawberries
Yields 12 strawberries.
INGREDIENTS
12 large strawberries
½ cup semi sweet chocolate chips
2 heaping tablespoons of Nutella
Slivered almonds (optional garnish)
Shredded coconut (optional garnish)
DIRECTIONS
Wash and dry 12 ripe strawberries. In a small bowl, microwave 1/2 cup of semi sweet chocolate chips in 30-second intervals, stirring in between. Once melted, stir in 2 tablespoons of Nutella until smooth and completely combined with the melted chocolate.
Carefully, grab each strawberry by the stem and dip it into the warm chocolate mixture, being sure to coat each side evenly. (Tip: Make sure that the strawberries are completely dry before attempting to dip them into the melted chocolate.) Allow excess chocolate to drip off, and then set the strawberry onto a parchment lined baking sheet.
Repeat this process until all of the strawberries are coated. If desired, garnish your chocolate and Nutella covered strawberries with shredded coconut, slivered almonds, white chocolate, sprinkles, etc.
Chill until the chocolate coating is hardened – and serve!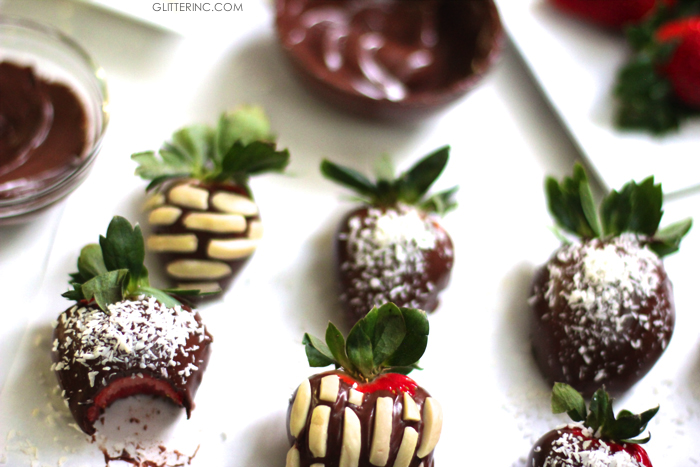 Recipe by Rachel of Sugar-Coated Inspiration for Glitter, Inc.